A log cabin exudes rustic charm, offering a serene connection to nature. It's a versatile outdoor retreat for year-round enjoyment. Ideal for holidays, special occasions, or a quick escape from city life.
Imagine lazy summer afternoons lounging in the cabin's cosy embrace, be it summer or winter. And with a bit of creativity, you can maximise its use more than a tranquil haven.
In this guide, we curated these 100 makeover ideas just for you. Ready to enhance your garden building's potential? Keep reading!
1. Pet shelter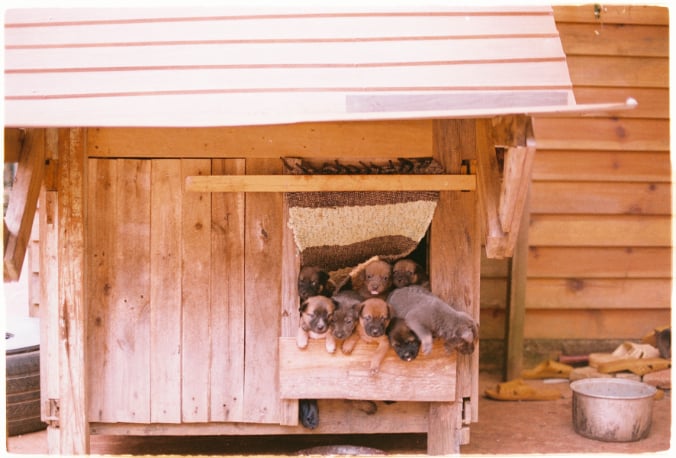 Transform your modern log cabin into a cosy sanctuary for your furry friends. With its rustic charm and sturdy structure, it provides a safe environment for your pets. Moreover, it protects them from the elements while ensuring they enjoy the great outdoors.
2. Writer's retreat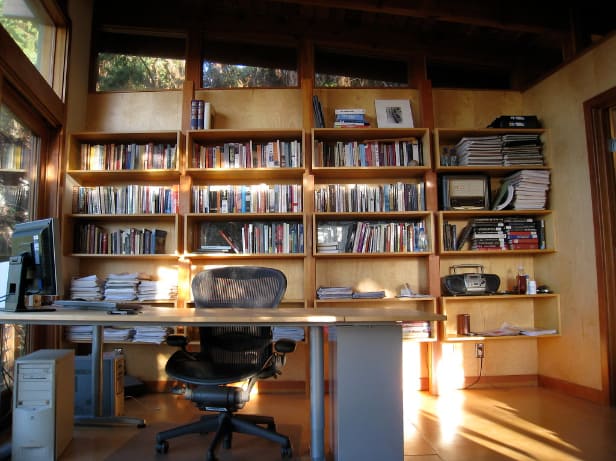 Embrace the tranquillity of your cabin structure as a haven for creativity. Its rustic ambience and natural surroundings make it an ideal space for writers. It offers solitude and serenity, fostering a productive environment for literary endeavours.
3. Backyard studio
Convert your log cabin shed into a versatile backyard studio. Whether you're an artist or just in need of extra workspace, the cabin offers a quiet and inspiring setting. Its rustic appeal can enhance your creative process.
4. Overwintering plants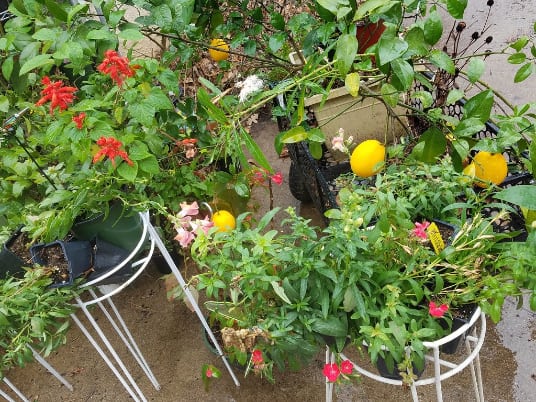 Extend your green thumb's reach using the log cabin to overwinter delicate plants. The insulated structure provides protection from harsh winter conditions. An excellent garden greenhouse alternative, allowing your garden to thrive year-round.
5. Chicken coop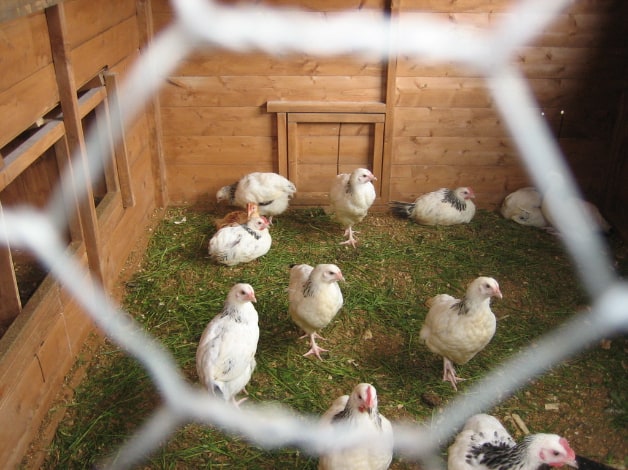 Give your chickens a charming and secure home in your backyard cabin. It offers a rustic yet functional space for your feathered friends. On top of that, it can guarantee their comfort while making egg collection a breeze.
6. Wildlife spotting den
Create a hidden observation point to watch local wildlife in your garden. Choose a spot to situate your cabin for observing birds, deer, and others in their natural habitat.
7. Man cave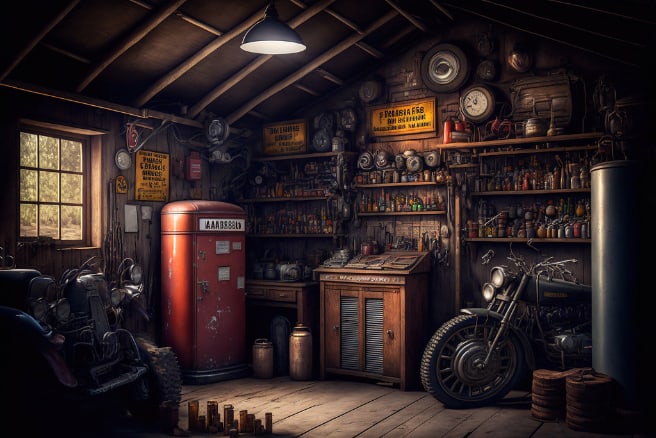 This idea presents the ideal retreat for relaxation and entertainment for the gentlemen. A man cave cabin can offer a rustic and masculine vibe ideal for sports events, gaming, or unwinding. Check out these shed man cave ideas for inspiration!
8. Garage conversion for bikes and cars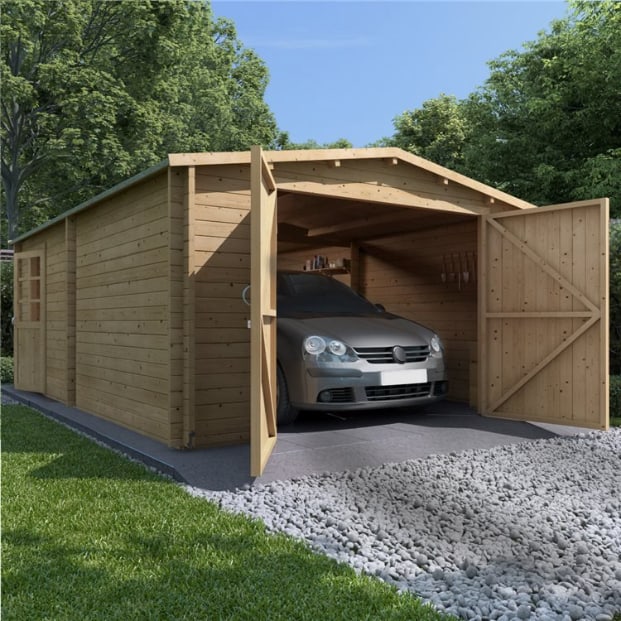 Utilise your garden cabin unit as a secure storage area for bicycles, motorcycles, or even a small car. Its robust construction and ample space protect your vehicles from the elements.
9. Garden bakery
Transform your Winchester log cabin into a charming garden bakery. With a rustic exterior and a cosy interior, it's an inviting space to bake and share sweet treats with loved ones.
10. Couples retreat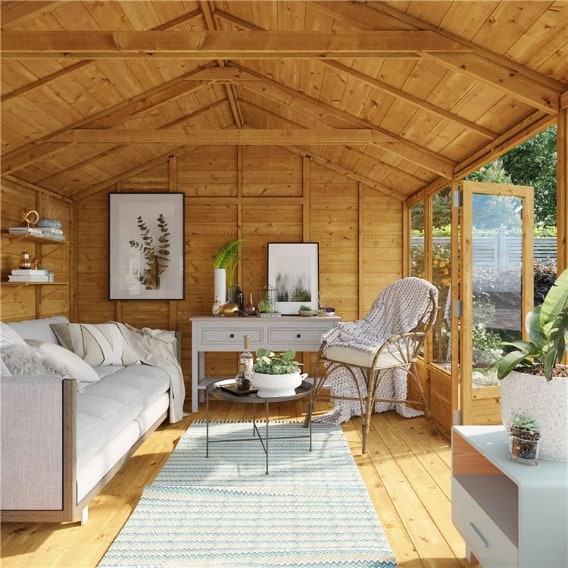 Create a romantic escape within your BillyOh Dorset log cabin. Its intimate atmosphere makes it a perfect hideaway for couples. Enjoy quality time together, whether for a weekend getaway or an extended stay.
11. Hobby room
A cabin garden unit as a hobby room offers seclusion and focus. Maximise natural light with well-placed windows. Organise your space efficiently with storage solutions tailored to your craft. Customise the decor to inspire your creativity, be it for painting, crafting, etc.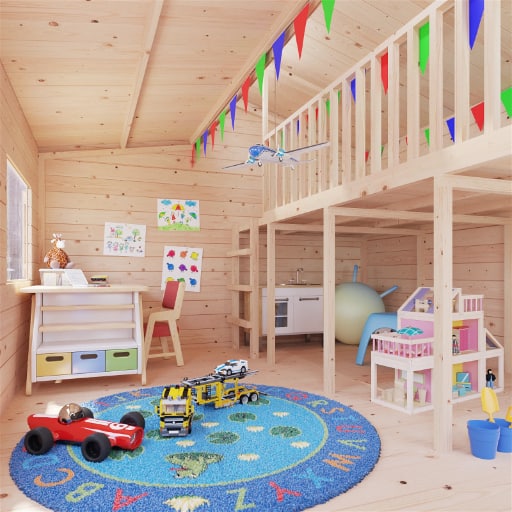 Convert your log cabin into a magical kids playhouse. Add whimsical touches like colourful paint, child-sized furniture, and plenty of toys. Ensure safety with childproofing measures and create a fun and imaginative play environment.
13. Garden bar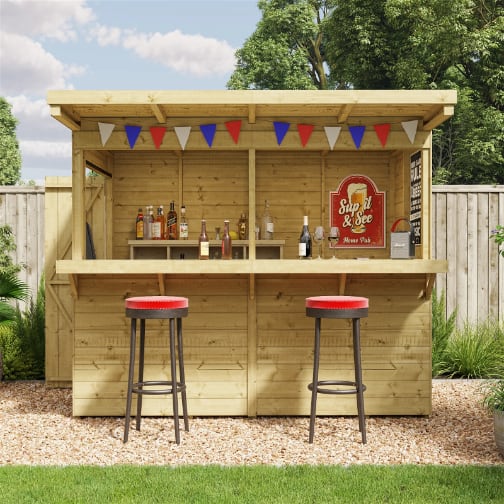 Transform your cabin into an ultimate garden bar shed. Install a bar counter, comfortable seating, and ambient lighting. Stock it with your favourite drinks and take cues from these shed bar ideas!
14. Outdoor dining (al fresco)
Create an enchanting al fresco dining experience in your summer house cabin. Set up a beautiful outdoor dining area with a table, chairs, and ambient cheap outdoor lights. This space allows you to enjoy meals amidst the natural beauty and fresh air.
15. Home office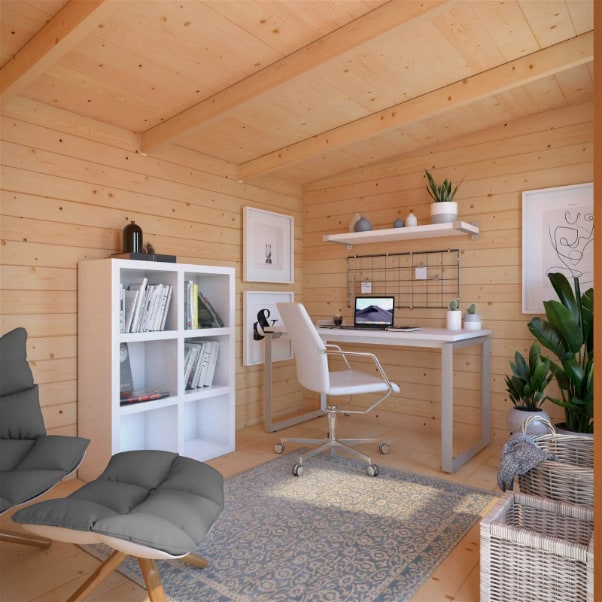 Take this opportunity to create your dream garden office. Ensure it's well-insulated for year-round comfort. Most importantly, equip it with all the necessary office furniture and technology. It's an ideal setting for focused work, free from distractions.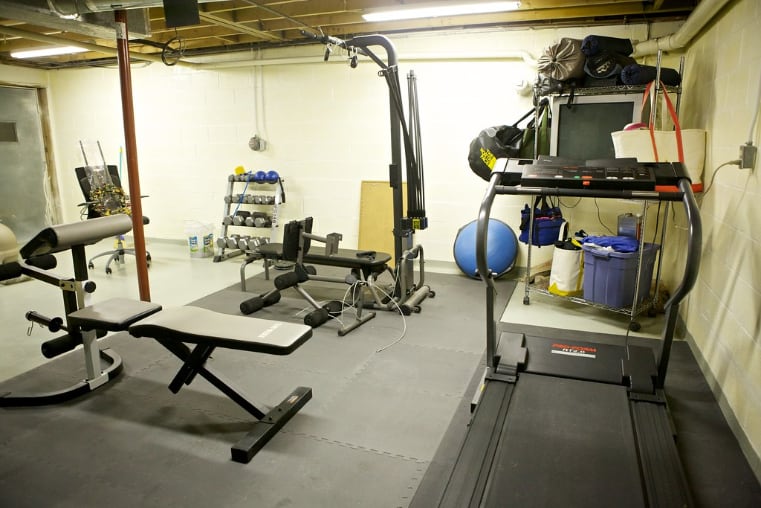 Turn your cabin retreat into a personal garden gym. Install exercise equipment, mirrors, and ventilation for a comfortable workout space. The rustic environment can inspire you to stay active and healthy. Top tip: If you're starting from scratch, our guide to the garden gym shed is a great reference.
17. Living space extension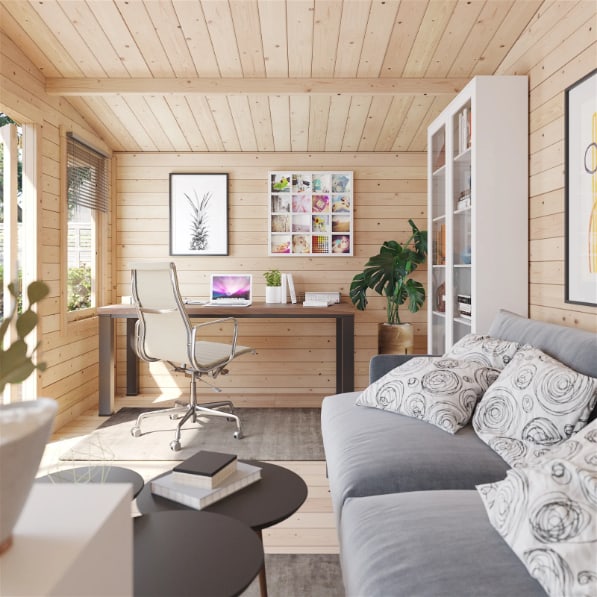 Use the log cabin to extend your living space. Create a cosy sitting area with comfortable furnishings. With the right setup, it can be the extension of your home for relaxation or entertaining guests.
18. Guest room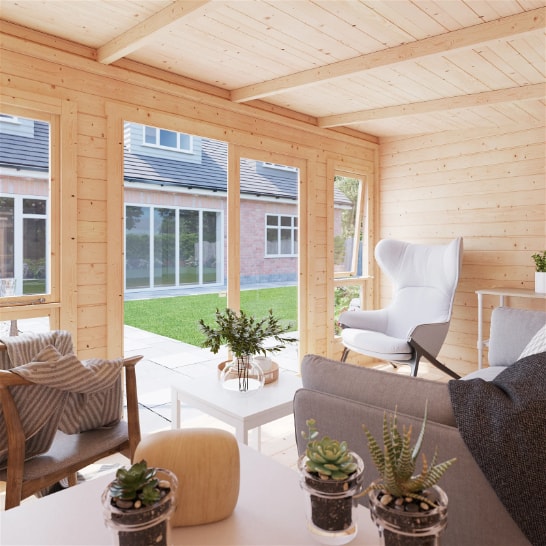 Your log cabin can serve as a charming guest room. Outfit it with a comfortable bed, linens, and basic amenities. Ensure privacy and comfort, making it a welcoming space for friends and family.
19. DIY workshop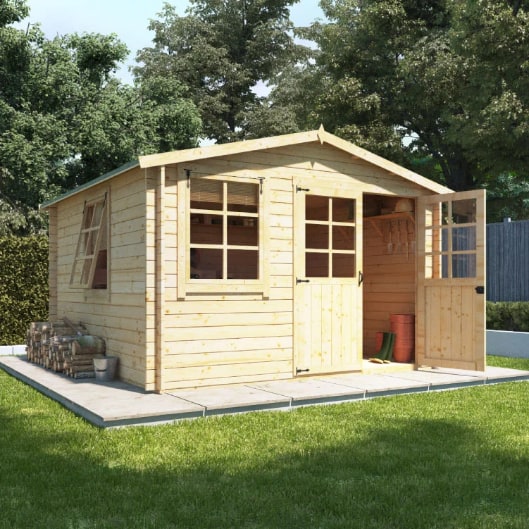 Transform the cabin structure into a functional garden workshop. Organise tools and workbenches for various projects. Adequate storage and workspaces will help you maintain an efficient and creative space.
20. Garden salon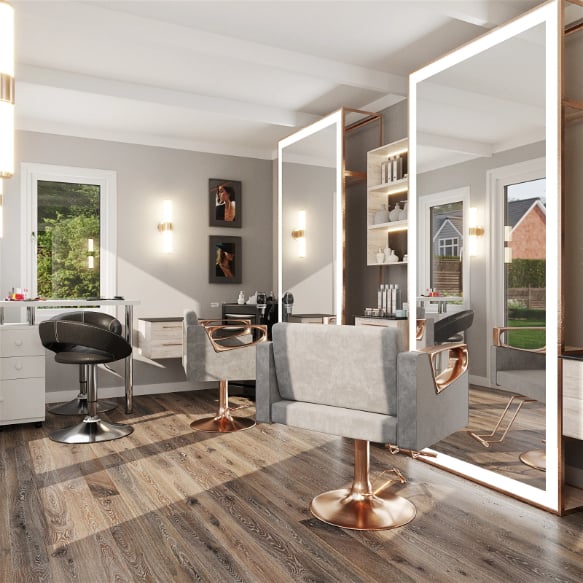 Convert your insulated garden room into a serene backyard salon or spa. Offer beauty and relaxation services in a natural and peaceful setting. Create a calming ambience with soothing decor and amenities for clients to unwind.
21. Child daycare
For this approach, ensure childproofing, colourful decor, and ample educational toys. Comply with local regulations for childcare facilities. Also, consider hiring trained staff to provide a structured and educational environment.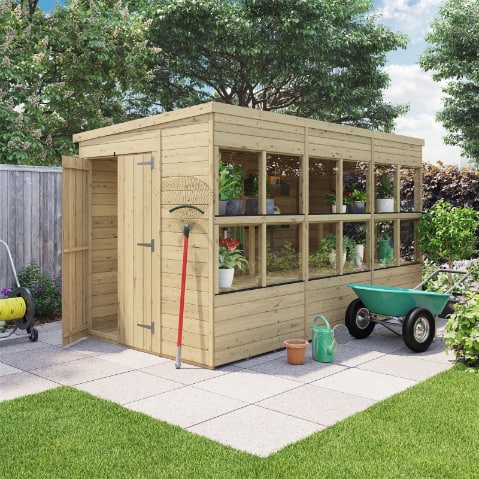 A clever potting shed greenhouse makeshift, furnish it with a workbench. Organise your gardening tools, potting soil, and other essentials. Install shelves for plant storage. Take advantage of the cabin's natural light for starting seeds and propagation.
23. Backyard-barn storage
Maximise space with shelves, hooks, and racks for tools, equipment, and seasonal items. Ensure proper insulation and weatherproofing to protect your belongings.
24. Home cinema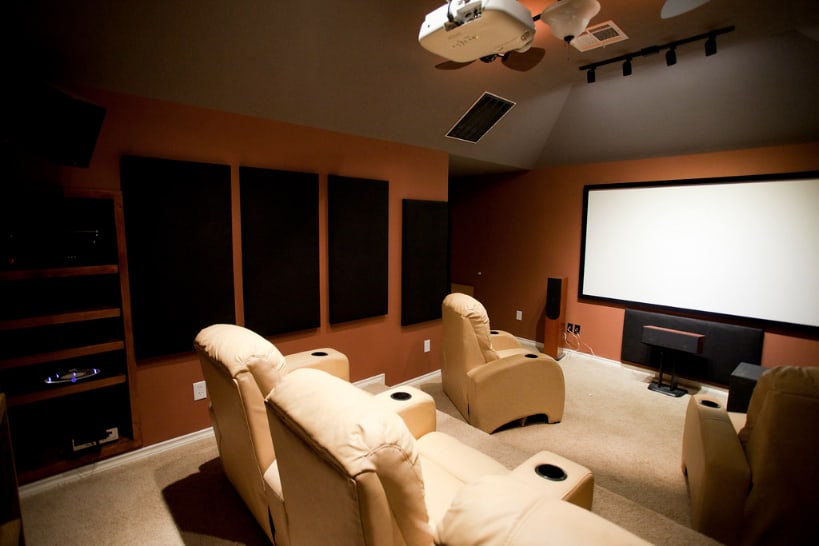 Create a cosy home cinema in the log cabin. Install a projector or large-screen TV and comfortable seating. Don't forget soundproofing for an immersive movie-watching experience. Add dimmable lighting for ambience. For step-by-step instructions, head to our how to make a home cinema guide.
25. Astrology room
Use the garden cabin as an astrology and stargazing retreat. Equip it with telescopes, star charts, and comfortable seating. The rural setting minimises light pollution. This, overall, makes it an excellent space for celestial observation and meditation.
26. Farmhouse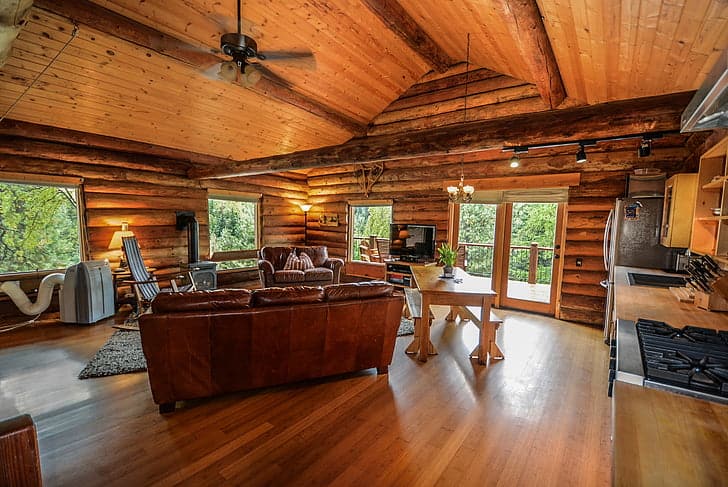 Embrace the rustic charm your outdoor structure provides. Decorate with vintage farmhouse furniture and accessories, creating a warm and nostalgic atmosphere.
Decorate your summer retreat with light and breezy furnishings, and add outdoor seating nearby. This creates an inviting space to relax and enjoy the summer season. Top tip: Consider summer house insulation so you can use it throughout all seasons!
28. Outdoor kitchen
Create an outdoor kitchen in the log cabin's vicinity. Install a BBQ for sale, countertops, and storage for cooking utensils. Enjoy cooking and dining outdoors while appreciating the outbuilding's rustic surroundings.
29. Excellent storage solution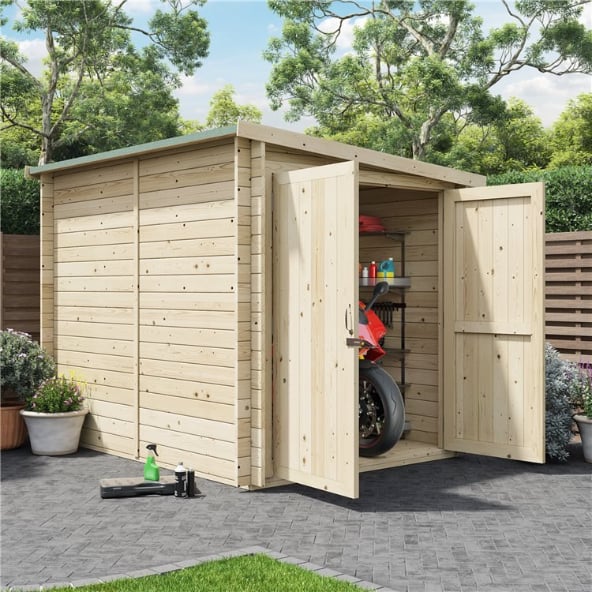 Install customised shelves, racks, and storage units to maximise space utilisation. Use your cabin as a reliable garden storage unit and keep items in place and easily accessible!
30. Warehouse
In need of extensive storage space? Say hello to the cabin warehouse makeover! This idea involved substantial shelving and organisation systems. And potentially climate control for storing goods, equipment, or inventory.
31. Photography studio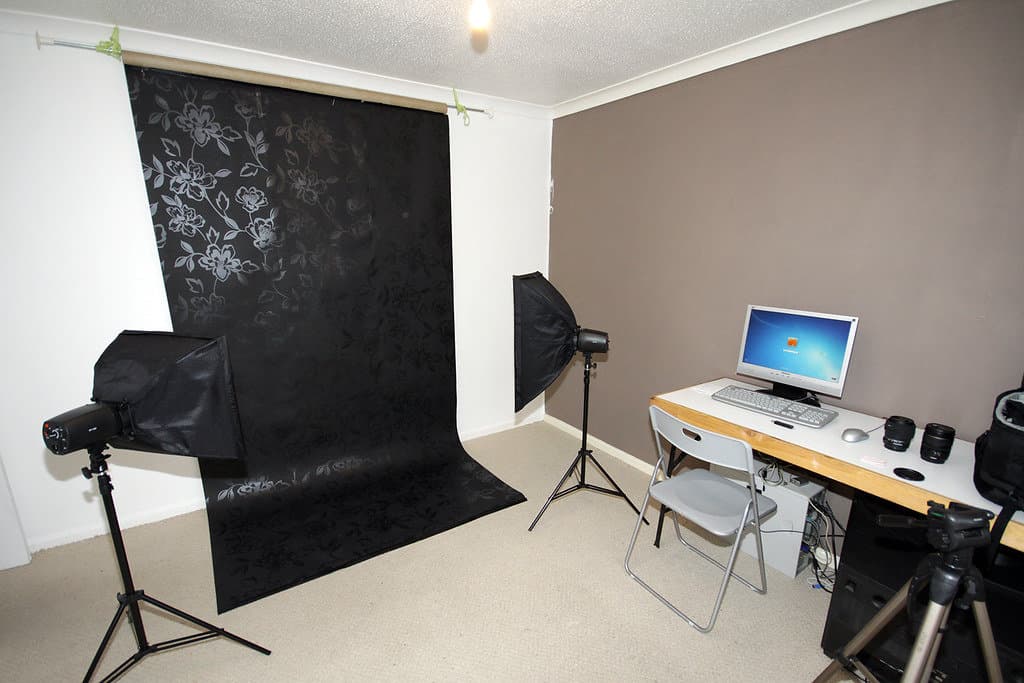 To achieve this transformation, opt for neutral interior colours and install adjustable lighting. Use the cabin's natural surroundings for outdoor shoots. Create a dedicated space for equipment storage and backdrop setup.
32. Personal library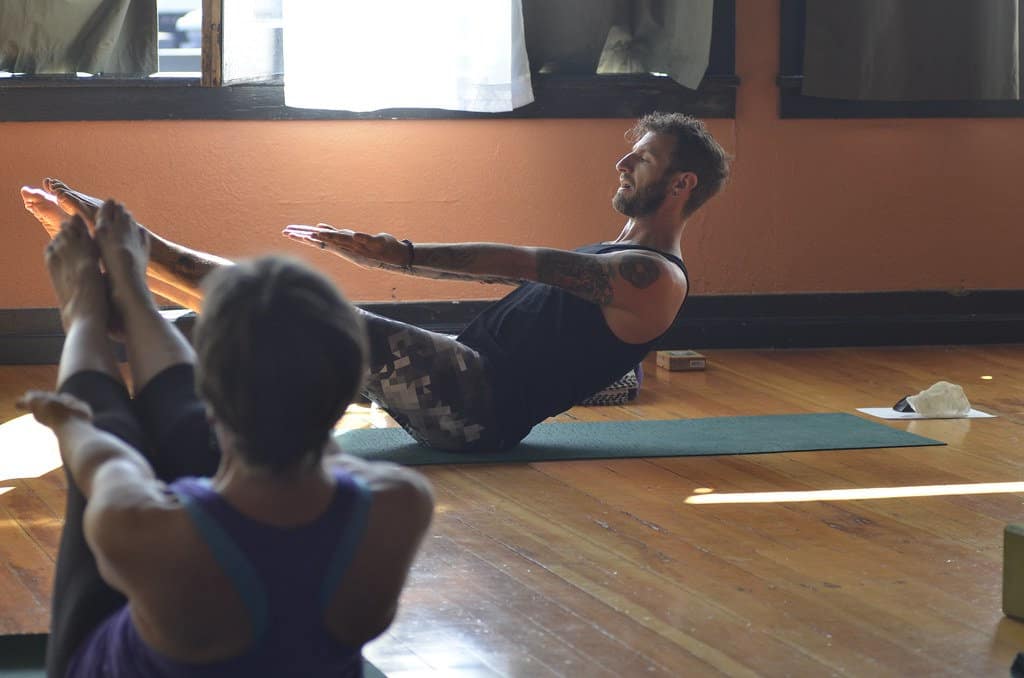 Make your pressure treated log cabin a haven for book lovers. Install built-in bookshelves, comfortable seating, and cosy lighting. Customise the decor to match your reading preferences. Most importantly, enjoy a serene escape into the world of literature.
33. Learning area for homeschoolers
Create an inspiring homeschooling space in the log cabin. Equip it with desks, educational materials, and ample storage. Ensure a quiet and focused atmosphere for learning.
34. Yoga studio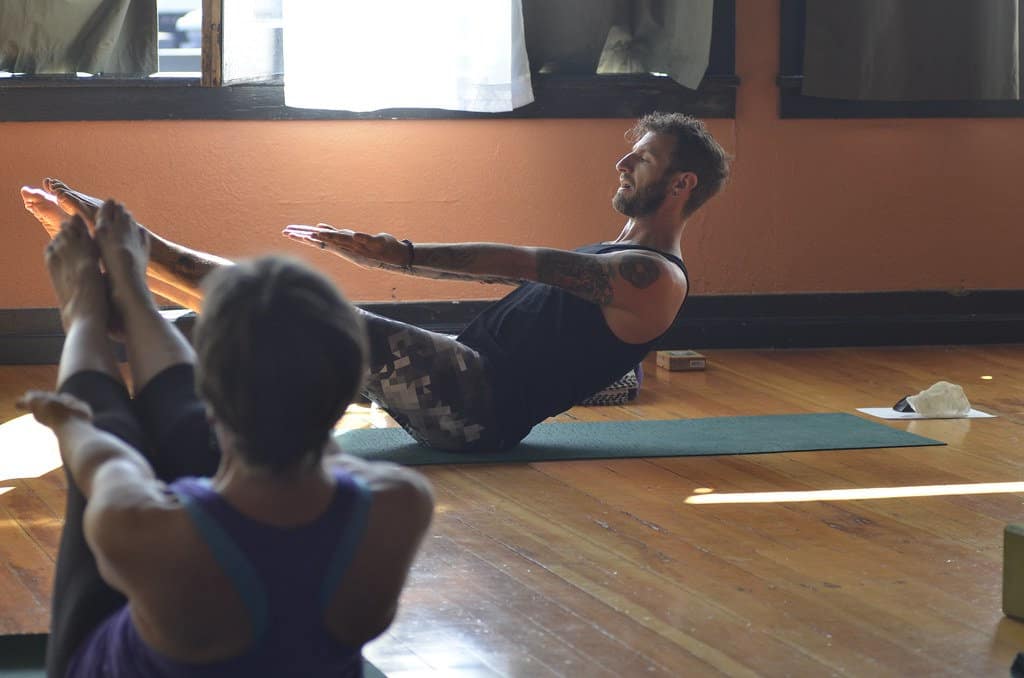 If the space allows in your gym shed, consider squeezing in a yoga spot in the corner. Decorate it with calming colours and add mirrors for alignment. Install a quality yoga mat and provide space for meditation and relaxation.
35. Dance studio
Or why not introduce a dance studio? Install a quality dance floor and mirrors for practice. Create a motivating atmosphere with music and inspirational decor.
36. Smokehouse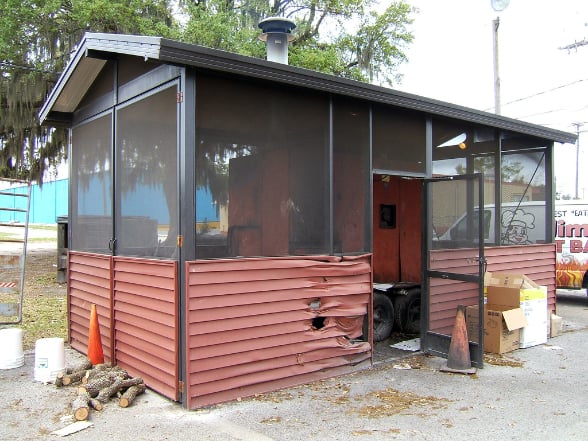 Preserve meats and add flavour with a log cabin smokehouse. Equip it with hanging racks and a temperature-controlled smoking unit. Proper ventilation and insulation are crucial for safety and efficiency. The perfect companion for your trusty dual fuel BBQs.
37. Teenage hangout
Create a cool hangout spot for teenagers. Customise the cabin with their interests in mind, be it gaming, music, or socialising. Provide comfortable seating and a safe space for their activities.
38. Party pavilion
Transform your log cabin into an entertainment hub for parties and gatherings. Install a bar, seating, and party lights. Ensure easy access to utilities for food and drinks.
39. Outdoor aviary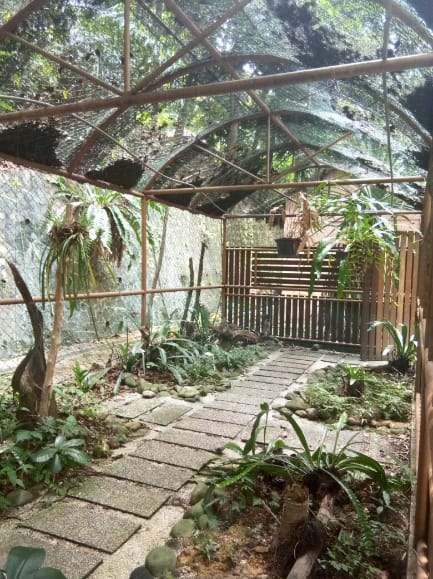 (Image Credit: Wikimedia Commons)
Use fencing and netting to create a safe space outdoor aviary for birds. Add perches and feeders for local and migratory birds to enjoy.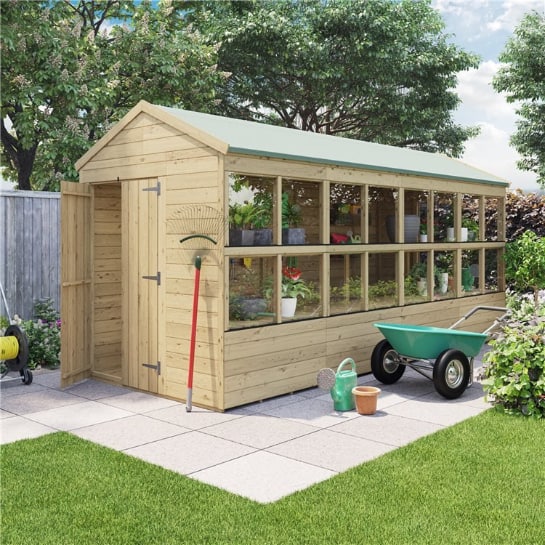 Install shelves and a temperature control system. Customise the interior to accommodate various plants and provide an ideal growing environment. Next, determine what to grow using our beginner guide to greenhouse gardening.
41. Pool house
A log cabin pool house offers a convenient and stylish way to store pool equipment and towels. If there's enough space, consider adding changing facilities. Incorporate large windows for natural light and ventilation. Don't forget to add a bathroom for added functionality.
42. Firewood storage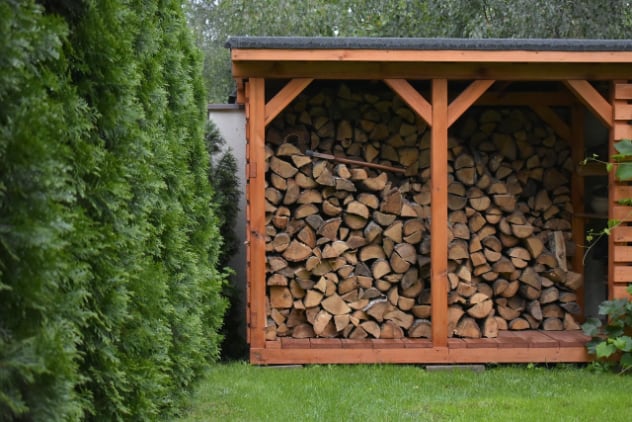 Now's the time to take these log store ideas to create your dream firewood storage! Install sturdy shelving or racks for organised stacking. Ensure proper ventilation to prevent moisture and maintain the quality of the firewood.
43. Barbecue gazebo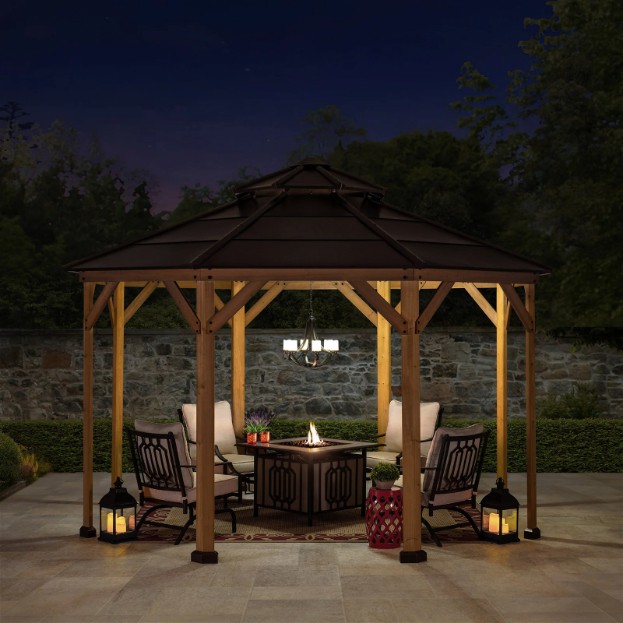 Running out of ideas? Why not turn your cabin building into a dedicated barbecue and outdoor dining area? Install a grill, countertops, and seating. Your BBQ Sunjoy gazebo offers a space to enjoy al fresco cooking and entertainment.
44. Bin storage
Customise the wooden structure for efficient outdoor bin storage. Organise bins for recycling, trash, and compost. Add clear labels and easy access to make waste management hassle-free.
45. Cabin for hunting
Say hello to a rustic hunting retreat! Equip the cabin with storage for hunting gear, cleaning facilities, and comfortable seating. Ensure firearm safety and follow local hunting regulations.
46. Boat garage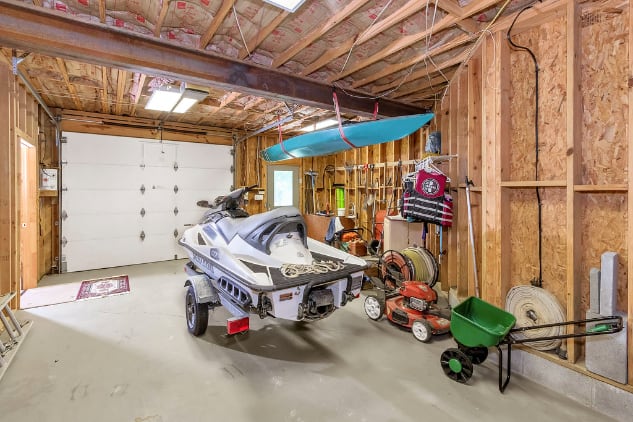 Another idea is a secure boat garage conversion for protecting your watercraft. Ensure proper measurements to accommodate the boat's size. Add storage for related equipment.
47. ATV and snowmobile storage
A log cabin, with the right setup, can safeguard your ATVs and snowmobiles. Install ramps for easy access and proper storage racks. These additions can keep your investments organised and protected from the elements.
48. Golf cabin
Create a golf enthusiast's haven by using the log cabin for golf equipment storage. Add racks, shelving, and a dedicated space for cleaning and maintenance. Organise clubs and accessories for easy access.
49. Farm tool storage
Take advantage of the cabin's secure storage space for farm tools and equipment. Hang some sturdy racks and shelving, and ensure proper ventilation. Put up tools for quick and easy access during farming tasks.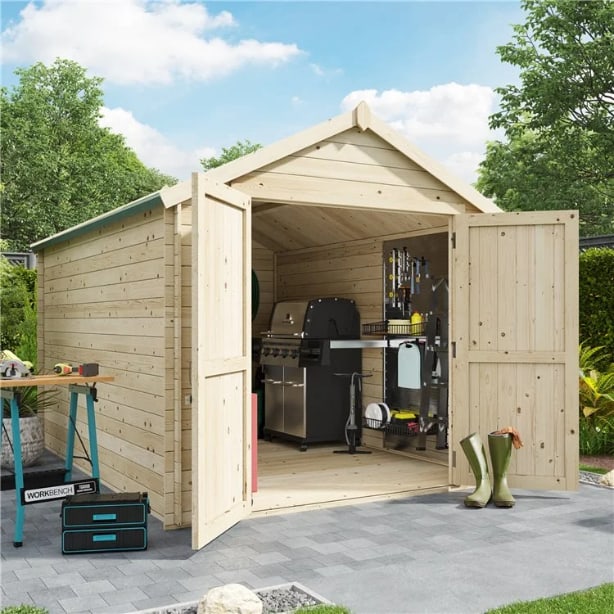 This idea particularly comes in handy during the off-season. Install adjustable shelving. Store garden seat pads and cover your patio sets from dust when storing them in your apex log cabin.
51. Gaming room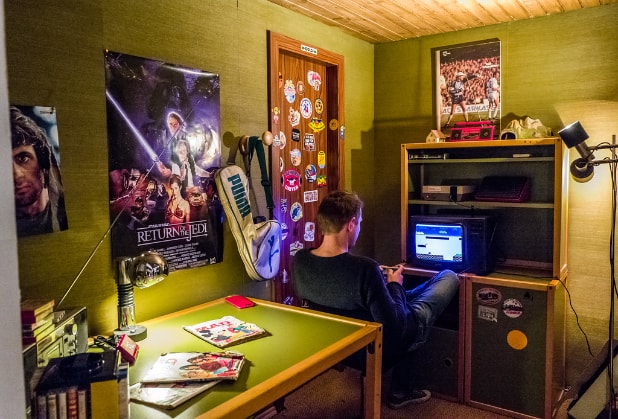 Treat yourself to a dedicated space for video games and other recreational activities. Equip it with gaming consoles and comfortable seating. Add storage for games and accessories to create an immersive gaming experience.
52. Movie concession cabin stand
Enhance your home theatre experience with a shed cabin concession stand. Install shelves for snacks, a popcorn machine, and a mini-fridge for beverages. This adds a fun and authentic touch to movie nights.
53. She shed
A log cabin can become a tranquil she shed — a private retreat for relaxation and hobbies for the ladies. Personalise the decor with your style. Create a space for comfortable seating. Include storage for crafting, gardening supplies, or whatever you need.
54. Handy cubby
Use the log cabin as a practical workspace for DIY projects and repairs. Install workbenches, tool storage, and proper lighting. Organise tools and materials for quick access when tackling home improvement tasks.
55. Toy cabin storage
Keep your backyard tidy with a cabin toy storage space. Keep outdoor toys, bikes, and sporting equipment in place for easy access. Consider adding hooks and shelves for efficient storage.
56. Dog house
Upgrade your pet's living space by transforming your Devon log cabin into a luxurious dog house. Insulate it for comfort, provide bedding, and ensure proper ventilation. Personalise it with your pet's name and add a fenced outdoor area for play.
57. Dedicated space for bicycles and gears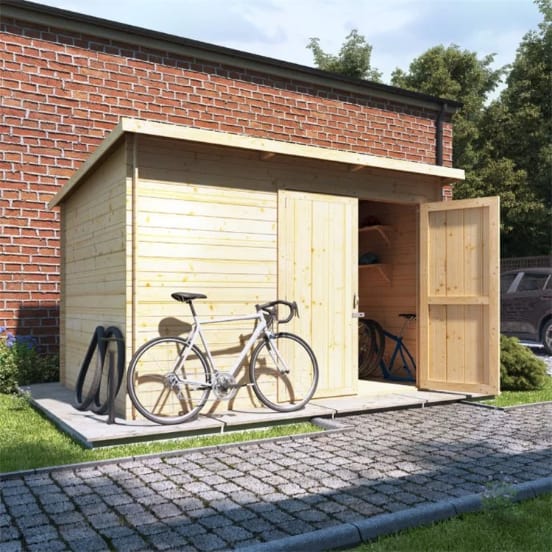 Utilise the cabin building as a home for your family's bicycles and cycling gear. Install bike racks, hooks, and shelves to maximise storage and keep everything organised.
58. Outdoor shower and toilet
Enhance your outdoor experience by adding a cabin outdoor shower and toilet. Ensure proper plumbing and drainage. These ensure convenience during gardening, swimming, or other outdoor activities.
59. Business expansion
Expand your home-based business using the log garden room as a separate workspace. Customise it to meet your business needs. Decorate the space with office furniture, storage, and technology infrastructure. This separation can boost productivity and professionalism.
The larger the cabin is, the better! Take the BillyOh Kent garden office as an inspiration.
60. Storm shelter
Ensure safety by converting your log cabin into a storm shelter. Reinforce the structure to withstand severe weather conditions. Equip it with emergency supplies, communication devices, and an evacuation plan.
61. Animal feed storage
A cabin turned into a storage for animal feed is a treat for both owners and the animals themselves. Ensure airtight containers to keep feed fresh and pest-free. Install shelves for organised storage and label containers for easy identification.
62. Camping cabin
This is your chance to create a rustic camping cabin experience. Add bunk beds, camping gear storage, and rustic decor. Provide amenities such as a fire pit for an authentic camping atmosphere. To keep the inside warm, consider getting an electric stove heater.
63. Trash cabin
A log cabin makes a great wheelie bin storage alternative. Use yours as a concealed trash storage area to keep your property neat and organised. Design it with efficient waste disposal in mind. And, of course, include separate bins for recycling and trash. Ensure proper ventilation to prevent odours.
64. Sports dugout
Enhance your sports activities with a log cabin sports dugout. Add seating, equipment storage, and a whiteboard for game strategies. Ensure it offers shade and comfort during outdoor sports events.
65. Music therapy room
Create a peaceful music therapy space in your fully insulated garden room. Furnish it with musical instruments, cosy seating, and acoustic treatment for sound quality. This tranquil environment can aid in healing and relaxation.
66. Outdoor living space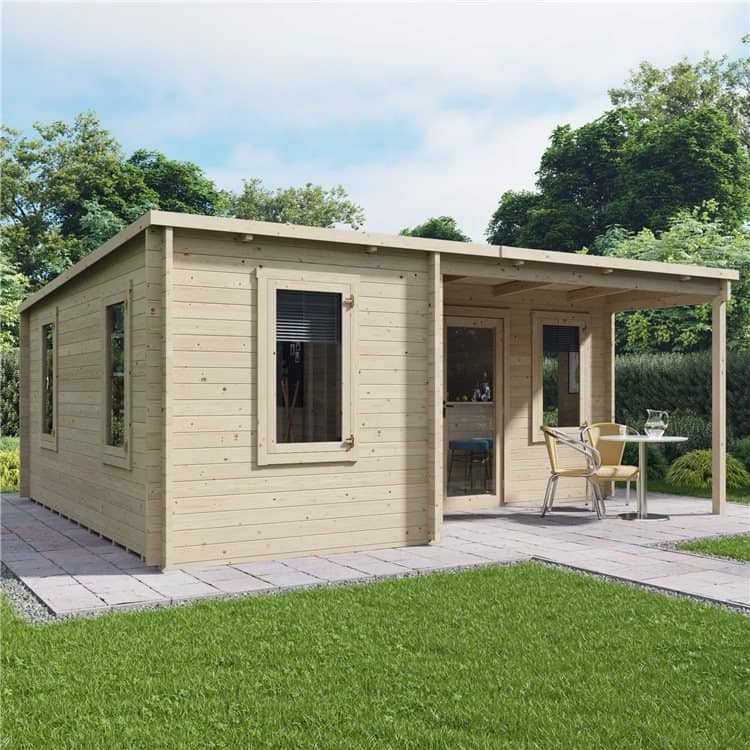 Expand your outdoor living space by incorporating the log cabin. Add a deck or patio and furnish it with rattan garden furniture. Install log cabin wall lights for ambience during evenings.
67. Gardening company
Equip your mini green business with storage for tools and supplies. Don't forget to add a workbench and office space for administrative tasks. Create an inviting space for client consultations.
68. Pet grooming business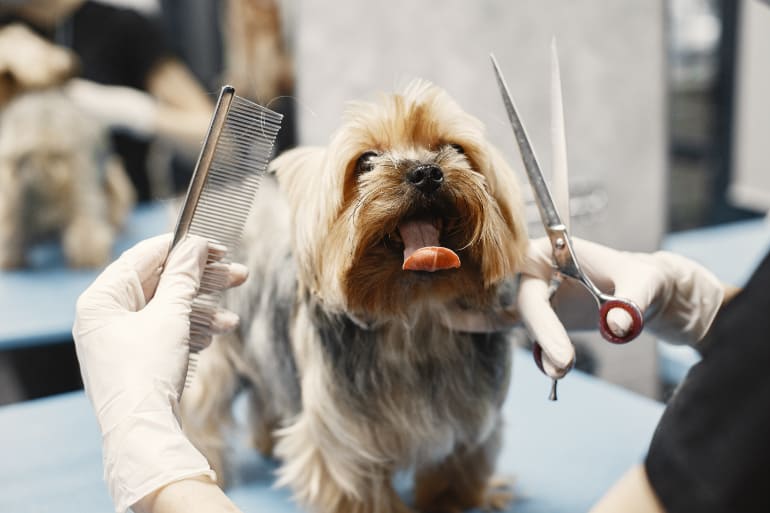 For this concept, ensure proper plumbing and ventilation for grooming stations. Add pet-friendly decor and create a comfortable waiting area for pet owners.
69. Architect's studio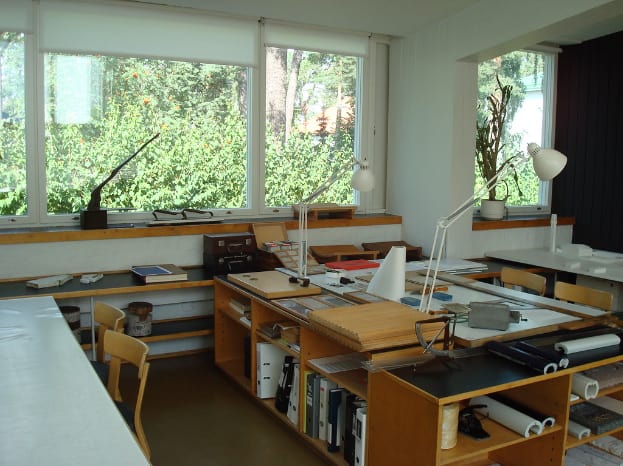 With all these ideas, have you considered turning your cabin into an architect's studio? Well, take this as a sign, especially if you're an architect yourself! Install drafting tables, storage for blueprints, and natural lighting. Focus on creating an inspiring environment for architectural design and creativity.
70. Rental space or Airbnb
Generate extra income by renting out the log cabin on platforms like Airbnb. Furnish it with comfortable amenities and provide clear instructions. Offer a unique experience that takes advantage of the cabin's rustic charm and nature.
71. Farmer's market booth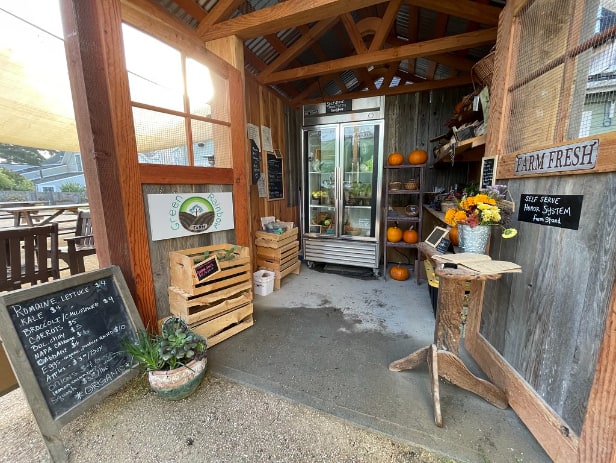 It only makes sense to decorate with artisanal goods and rustic signage. But the highlight here is the fresh produce! Ensure easy access for customers and proper display to showcase your products attractively.
72. Beekeeper (Beehouse)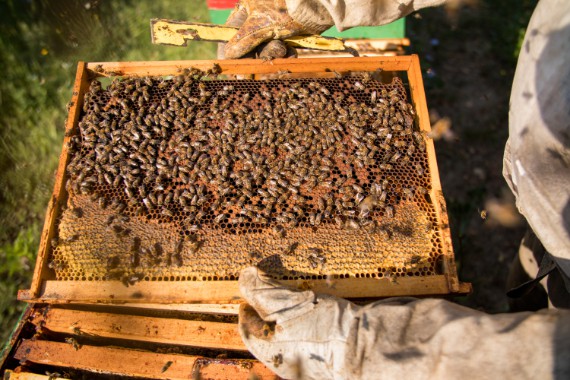 (Image Credit: Wikimedia Commons)
Equip it with beekeeping supplies and space for honey extraction. Ensure safety measures like protective gear and proper ventilation to maintain healthy hives.
73. Car detailing and electronics repairs
Create a service centre for car detailing and electronics repairs. Install workstations with the necessary equipment. Provide adequate storage for tools and supplies. Offer quality service in a comfortable environment.
74. T-shirt printing business
Start a t-shirt printing business in a garden, or anywhere this endeavour will thrive. Set up printing equipment, design stations, and storage for shirts and supplies. Create a creative space that inspires unique designs and quality printing.
75. Recycling service
Use the log cabin as a recycling collection and processing centre. Organise bins for various recyclables and ensure proper disposal methods. Promote recycling awareness and offer convenience for the community.
76. Garden getaway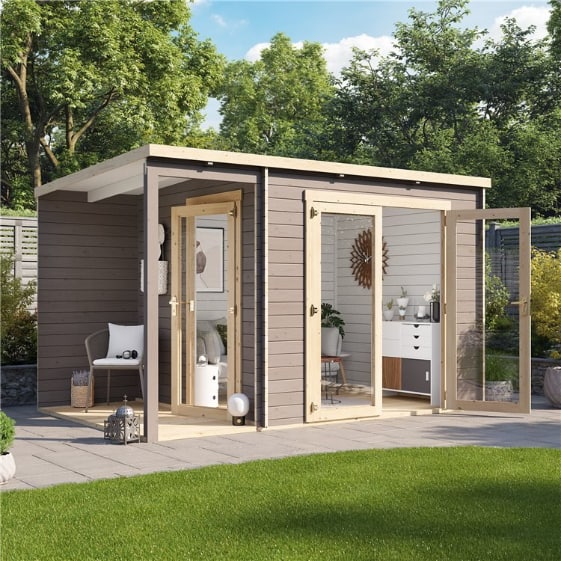 Convert a contemporary log cabin into a getaway where guests can relax amidst a lush garden. Furnish it with homelike seating. Ensure it blends seamlessly with the natural surroundings for a serene retreat.
77. Spa and massage room
Furnish the spa room with massage tables, soothing decor, and ambient lighting. Offer a tranquil environment for relaxation and rejuvenation.
78. Sleepover sanctuary
Make the log cabin a sleepover sanctuary for children's parties. Add bunk beds, cosy sleeping bags, and themed decor. Provide entertainment options and create a magical atmosphere for overnight adventures.
79. Filming room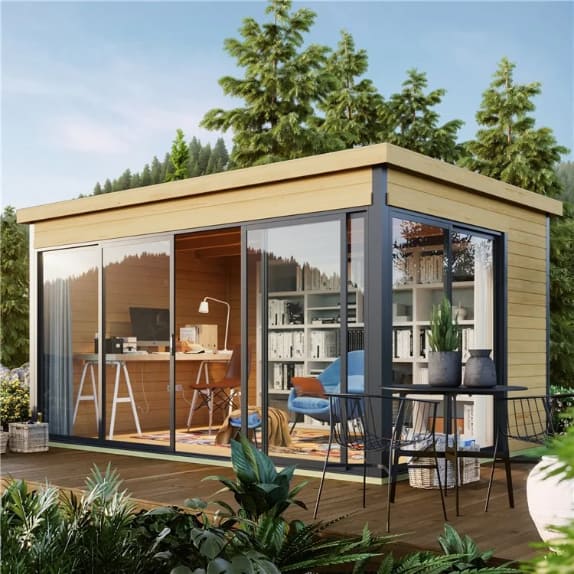 Utilise the log cabin as a filming room for video production. Install soundproofing, lighting equipment, and camera gear storage. Ensure versatility for different filming setups and creative shots.
80. Florist shed
Convert your log cabin with porch into a charming florist shed. Equip it with workstations for flower arrangement and storage for fresh blooms. Create an inviting atmosphere where customers can browse and purchase beautiful floral arrangements.
81. Wood boiler housing
If you don't have a room to store your boiler in your home, your garden cabin is your best bet. Ensure proper ventilation and safety measures for wood storage. This dedicated space protects your heating equipment from the elements, prolonging its lifespan.
82. Pumpkin patch store
Use your Natura Aether log cabin workshop as a pumpkin patch store during the fall season. Decorate with pumpkins, gourds, and seasonal decor. Offer a variety of pumpkins and fall-related items to create a festive atmosphere.
83. Santa's workshop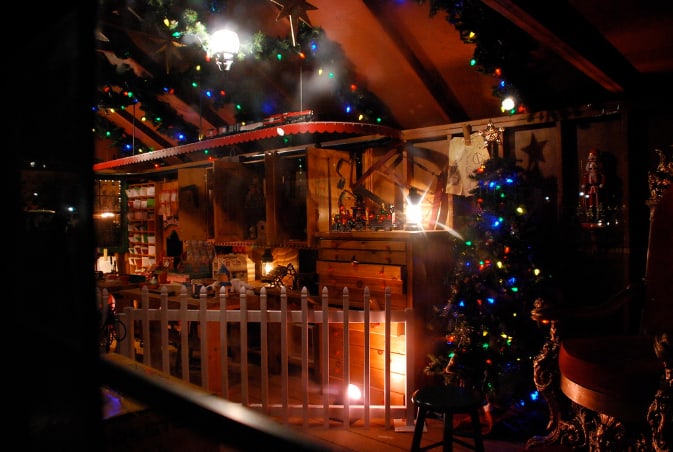 Create a magical Santa's workshop in the Natura Skadi apex log cabin during the holiday season. Fill the room with holiday-themed decor and toys. Offer photo opportunities with Santa and engage in festive activities for children.
84. Community garden cabin
Convert the garden structure into a central hub for a community garden. Provide storage for tools, gardening supplies, and a space for workshops and meetings. A great way to promote a sense of community and collaboration among gardeners, indeed!
85. Outdoor pantry
Running out of space in the kitchen? Take advantage of your cabin and use it as a pantry for storing non-perishable food items. Install shelves and proper storage containers to keep food items organised. Make sure to keep pests and humidity at bay.
86. Backyard coffee shop
Create a cosy backyard coffee shop in the comfort of your garden retreat. Install a coffee bar, seating, and outdoor-friendly decor. Offer a selection of beverages and pastries.
87. Pottery studio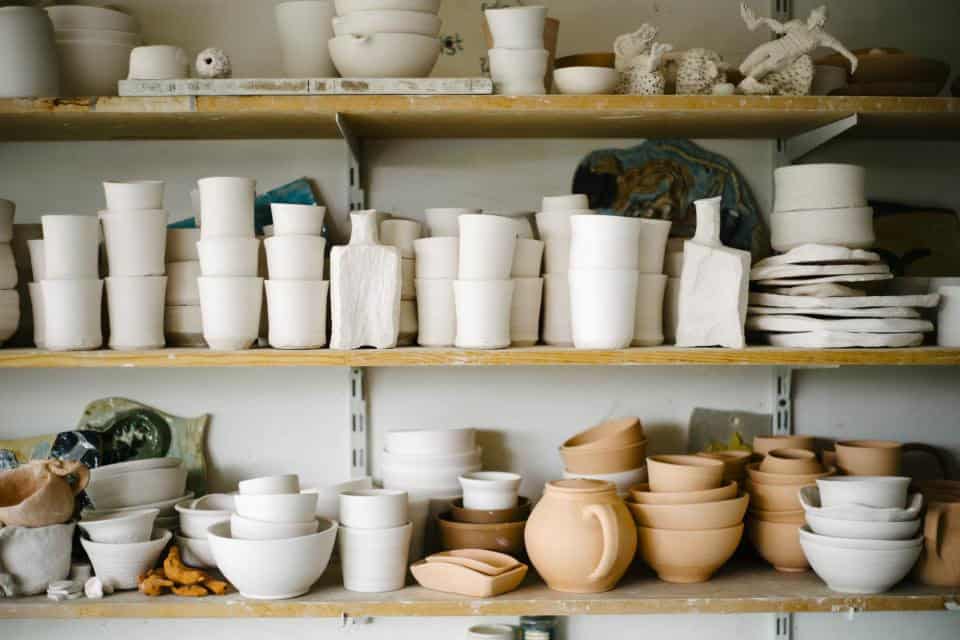 Equip the cabin pottery studio with pottery wheels, kilns, and storage for clay and tools. Provide adequate ventilation and a workspace for pottery enthusiasts to explore their creativity.
88. Sewing and weaving studio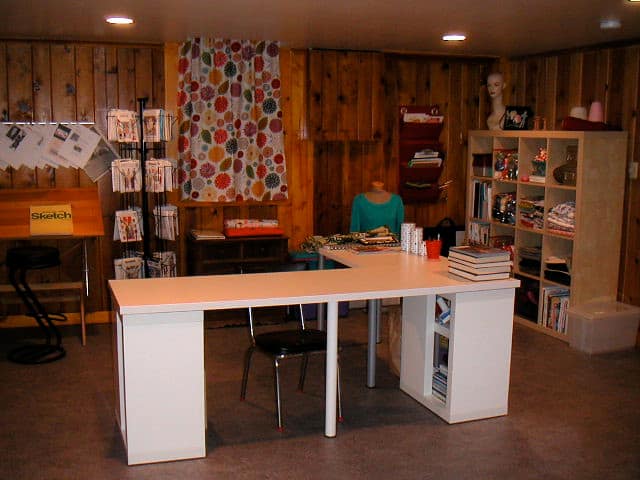 Install workstations, storage for fabric and supplies, and proper lighting. Ensure a comfortable environment for creative textile work.
89. Chemical storage
Optimise the cabin as a secure storage space for chemicals and hazardous materials. Comply with safety regulations. Label containers and provide proper ventilation to ensure safe storage and handling.
90. Plant gallery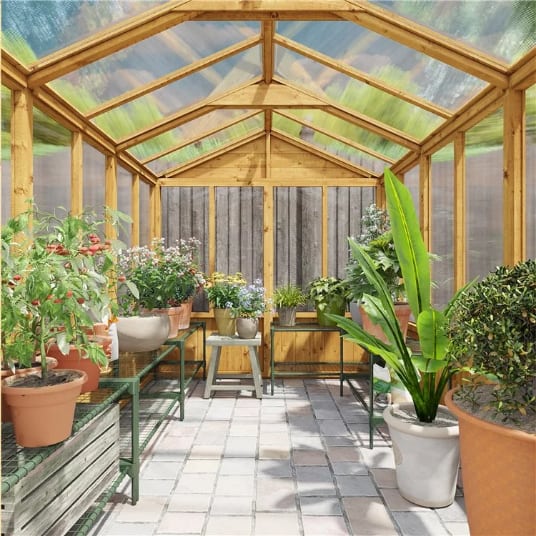 Create a botanical showcase by converting the log cabin into a plant gallery. Install shelving and display a variety of potted plants and flowers. Use the cabin's rustic charm to enhance the natural beauty of the greenery.
91. Hosting room
Decorate your cabin hosting room for gatherings. Introduce a cosy ambience with seating and lighting. Provide amenities such as a mini bar and refreshments to entertain guests comfortably.
92. Food hut
Install a kitchenette and serving area. Offer a unique menu of snacks or speciality dishes. Use the rustic setting to enhance the dining experience.
93. Barbershop
Convert the log cabin into a traditional barbershop. Equip it with barber chairs, mirrors, and grooming supplies. Create a classic and inviting atmosphere for clients seeking grooming and haircare services.
94. Portable building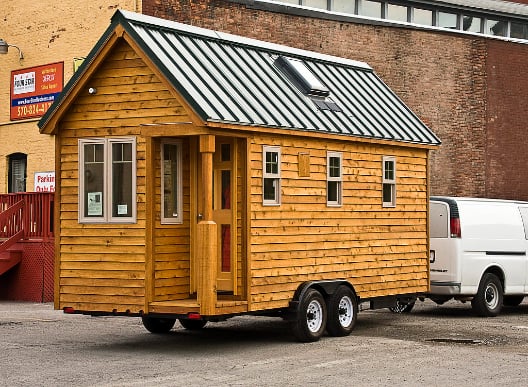 Consider utilising your cabin room as a portable building for events or trade shows. Ensure it's easily transportable and adaptable for various purposes. Add signage and branding to promote your business effectively.
95. Little Marrakech
Have a reminiscent of Marrakech in your garden with a Moroccan-inspired oasis. Decorate with vibrant colours, textiles, and exotic furnishings. Create a cosy retreat for relaxation and cultural immersion.
96. Country pursuits
Use the log cabin as a base for country pursuits like hunting and fishing. Equip it with storage for gear and clothing. Ensure a comfortable and rustic atmosphere for hunters and anglers.
97. Press box
Convert the log cabin into a press box for sporting events. Install viewing windows, seating, and communication equipment. Ensure it offers an ideal vantage point for sports journalists and broadcasters.
98. Winter hideout
Winter is coming! Create a hideout for this season and furnish it with warm blankets, a fireplace, and comfort food. Make it a retreat for relaxation and hygge-inspired moments during the colder months.
99. Space cabin
Give the log cabin a futuristic twist by transforming it into a space-themed cabin. Decorate with space-themed decor and provide educational exhibits on astronomy and space exploration.
100. A Halloween/spooky house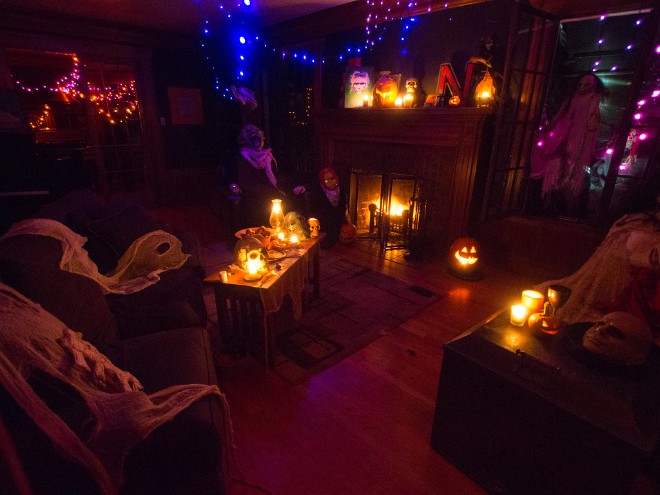 You may or may not like this idea, but use the cabin as a spooky haunted house or other themed events. Decorate with eerie props, lighting effects, and actors in costumes. Overall, this will create a spine-tingling and entertaining Halloween experience.
Round-up
That wraps up our 100 log cabin makeover ideas! With this guide, you won't run short of inspiration, that's for sure. For the ultimate backyard retreat, explore Garden Buildings Direct's range. Our offerings span from log cabins UK to gazebo buildings.
Here's your next read: Insulated Log Cabin Advantages: Why You Need One