Corner summer houses, and their rustic counterpart, the corner log cabin, have boomed in popularity over the past few years. Compact, airy, bright and attractive, they both possess an extensive list of qualities, making them a favourite for U.K. homeowners. Back gardens have never looked better!
But what's the difference between the two?
With similar features, log cabins and summer houses can be easily mistaken for one another. If you're stuck on where to put your money, then you're in the right place.
The classic corner summer house
At Garden Buildings Direct, we've been manufacturing corner summerhouses for years. Our Picton, Penton and Renna models are some of our best-selling buildings. Their most striking and stand-out feature is their five-panel design. As opposed to standard buildings, which have a front, a back and two sides, corner summer houses utilise a pentagonal design. This means they have three forward-facing panels, and two back-side panels, with the doors on the corner of the building. It's stylish, modern and looks so good – which explains why it's one of our most popular styles.
The new corner log cabin
Log cabins aren't just made for winter. We've just released our fresh take on the classic log cabin look – The BillyOh Robyn Corner Log Cabin.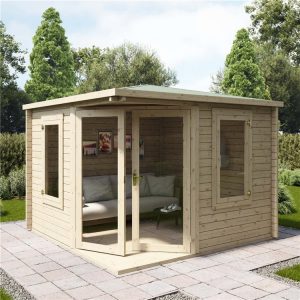 With four windows on three sides, it's optimised to let loads of light in, and in addition, it's super robust and long-lasting. The corner log cabin is a new addition to our range – but we think it'll quickly become one of our most popular options.
The key differences
Wall Thickness
Summerhouses do what they say on the tin – provide a house for the summer. They're ideal for the warmer months – but due to their thinner walls, aren't adapted to provide insulation come autumn and winter. That's the first major difference.
Log cabins are equipped with much thicker walls. The Robyn comes with hefty 44mm planks, but for most cabins, you've got a choice between 19mm, 28mm, 44mm and whopping 70mm thickness levels. In contrast, summerhouses make use of 11mm walls. This style of heavy-duty cladding and construction also works well for storage shed models.
Construction
The second difference is the manner in which they're constructed (or need to be constructed). Our corner summerhouses are pre-assembled on a panel-by-panel basis at our workshop, meaning that you, in essence, just need to fit the five sides together (along with a bit of prep work). Log cabins, on the other hand, are delivered to you in individual boards.
While this might seem daunting to the amateur builder, the tongue and groove construction makes building a breeze. The boards slot together like lego, with the tongue of one panel fitting seamlessly into the other. This makes for a super-strength, resilient structure and also aids water-tightness.
Window styles
Thirdly, log cabins offer the option of two different window styles: single or double glazed. The single glazing is made from styrene, and the double glazing from thickened glass, for an optimal homely vibe. Summerhouses are equipped with the single glazing as standard, with no upgrade available.
Generally, summerhouses come with more windows (for optimal sunshine coverage). Cabins are more heavy-duty, so do have windows, but it might be just one on the side.
The list goes on…
There are benefits to both buildings. As our premium option, log cabins generally get the pick of the bunch when it comes to materials, space and overall optimal design.
Roof structure
Take the roof, for example. Log cabins are reinforced by roof purlins, which are long beams spanning the length dimension of the roof. Corner summer houses make use of trusses – triangular, width-way structures which provide sufficient support but reduce headroom. Thus, in a cabin, you usually have more room to stand up! This is especially true at the front of your cabin if it's a pent roof design.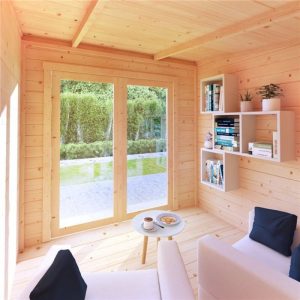 Security
We also offer extra security for log cabins as opposed to summerhouses. You can choose to install a padlock and hasp on your cabin door, whereas summerhouses are not equipped with any security facilities. The windows also lock on a cabin.
Price
All of these factors added up mean that generally, a corner log cabin is more expensive than a corner summerhouse. However, at some sizes, and with some designs and styles, you can get a cabin for the same price as a summerhouse.
Which is best for you?
It all depends on what you're intending to use it for.
Corner summer houses are cheaper and perfect for the sunnier seasons. If you're not planning to keep anything in there for long periods of time, and just want a great outdoor room for a few months of the year, you're better off opting for a corner summer house. Alternately, if you want to be able to use it in winter too, and are looking for a more robust, sturdy building that is more replicative of a living space, a log cabin might be for you. Both styles are great for their own individual purposes.
We've compiled a list of the best corner summer houses and log cabins we've got on offer. You can check it out here to make an even more informed decision on which suits you best.