A corner summer house is a stylish, modern and compact alternative to a classic garden building.
At Garden Buildings Direct, we know how hot they are right now, which is why we've compiled this list. It features a range of top-of-the-range products from BillyOh that we stock ourselves, and will allow to you decipher the jargon and work out which style of corner garden building suits you best.
The Main Differences
Out of the five corner buildings we stock, three of them are classified as summerhouses. The other two fall into the categories of garden sheds and log cabins respectively. While you can utilise any building for whatever needs you may have, they're each designed with specific purposes in mind.
Summerhouses
Summerhouses have thin 11mm walls, lots of windows and double doors. They're usually equipped with a spacious interior and may offer options such as Georgian windows. Some designs have a veranda at the front.
Sheds
Our sheds come in a variety of shapes and sizes. They differ from summerhouses by the way that they sometimes featured braced doors for extra rigidity and sturdiness. They may also feature a windowless design or head-height windows rather than full-length ones.
Log Cabins
Log Cabins are constructed in a different way to summerhouses and sheds and have much thicker walls, so they're great for every season. They generally have fewer windows than a summerhouse or even a shed. That being said, they're generally much more customisable. You can usually choose how thick you want your walls, floor and roof to be, and choose whether you want single or double glazed windows.
Which is best for you?
Every building varies, so it's a good idea to get knowledgeable on the different features of each before choosing. Supposing your mind is set on a corner building, we've explained the main differences between each of ours below.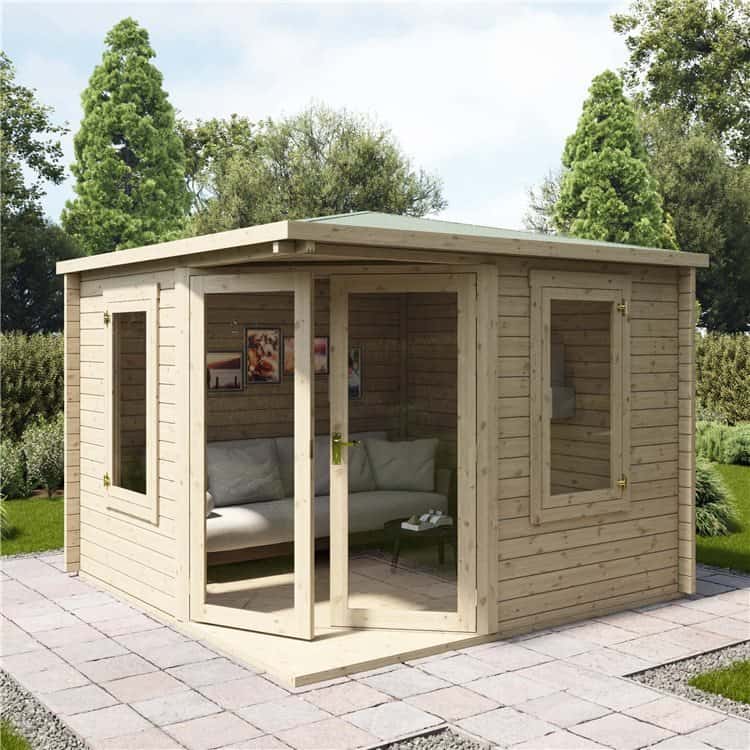 Our first ever corner log cabin is a sight to behold. With mega 44mm thick walls for insulation, glazing on three sides and a stylish new hipped roof, the Robyn Corner Cabin is likely to become our most popular building yet.
It's got the security features and the exterior styling of a log cabin, but fits snugly into your garden like any other corner summerhouse. We wrote about why it's so great in a blog post here.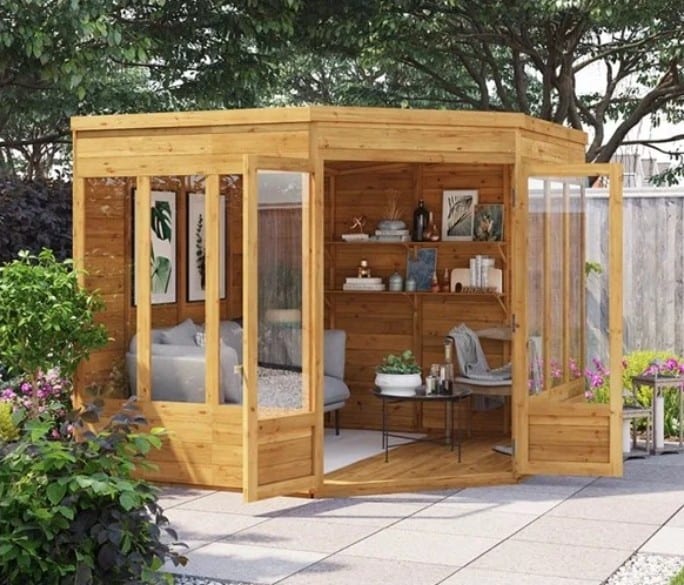 The Picton is our classic corner summerhouse. It's one of our most popular buildings – and we know why! It's super sleek, modern and it lets loads of light in through its six windows. The pent roof allows for loads of headroom, meaning it's suited for anyone and everyone. It comes in a 7×7 size and we also now stock an 8×8 Picton corner summerhouse and includes the option of shelving – perfect if you want to store any small items or memorabilia in there, or simply for decoration.
The Picton offers no end of design possibilities. Check out what some of our other customers have done with a Picton here.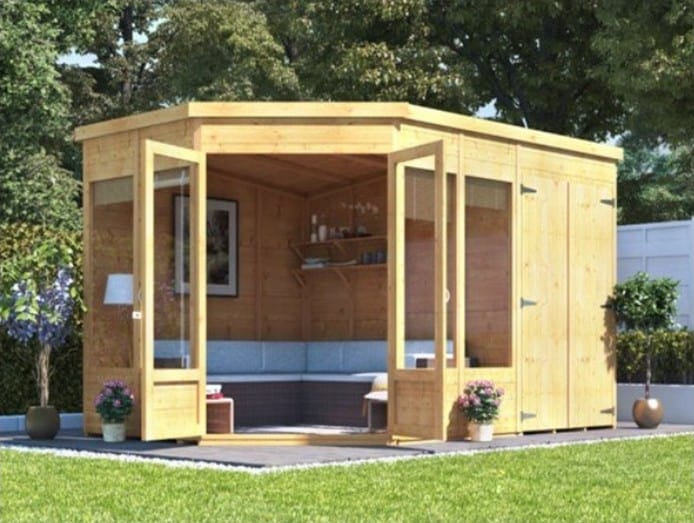 The Penton is styled in exactly the same manner as the Picton, but with the bonus of a side storage unit tagged onto the end. The storage unit measures in at 4x7ft, bringing the total length of the unit to 11×7.
Similar to our Tianna Log Cabin Summerhouse in it's design, it combines the cosy interior of a summer house with the heavy-duty storage capabilities of a shed, meaning you don't have to shell out for two separate garden buildings. It's perfect for keeping bikes, tools or other bits and bobs safe. You can even choose which side your storage unit is on for customisable access.

The Renna Tongue and Groove Corner Summerhouse
The Renna is our premium, extra-long corner summerhouse. Effectively it's the Penton, but with the storage unit replaced for extra room.
It's eleven feet of wide-open space, making it ideal for spending long periods of time in. Furthermore, the eight full-length windows mean the entire room traps sun like no other building in our range. As well as the superior light coverage, it also means the room stays super warm in the sunshine. So make sure it's facing the right way!

The BillyOh Expert Corner Workshop Shed
A modern take on the classic garden workshop, the Expert Corner Workshop is the space-saving version of our popular Expert shed. With tough tongue-and-groove cladding and braced double doors, the Expert is sturdy and dependable.
It comes with the option of shelving, which means you can arrange your belongings in a way that suits you best. You've got a choice on windows. Opting for them will allow you enough light to get on with that DIY project you've put off for years. Alternatively, the windowless version is great if you're storing something more expensive in there, and don't want anyone peeking over the fence at your prized possession.
At 7×7, it's big enough to store garden furniture, bikes or a lawnmower in, but is optimised for a workbench.
Which corner building you opt for will depend on what exactly you intend to do with it. But with a variety of options, you can be sure to get the exact one you need at Garden Buildings Direct.
Check out our range of corner cabins and corner summerhouses via the button below – including our brand new 8×8 Picton corner summerhouse!
Shop Corner Garden Buildings