We love to catch up with our customers to see how they're getting on with their garden buildings. So this week, we caught up with Welsh interior designer Stacey, to find out exactly how she had put her new summerhouse to use!
We come across beautiful properties on a regular basis when speaking with our customers, but Stacey's Victorian renovation might take home first prize when it comes to breathtaking homes.
The craftsmanship she's put into reworking her property is second to none. She's done a fantastic job at converting a run-down building into a home injected with longevity and inner beauty.
Stacey's also done a stunning job of converting her garden space into a serene and placid outdoor retreat. But prior to purchasing her summerhouse from Garden Buildings Direct, she still had space to play with.
Stacey wanted a garden unit which would allow her family to still sit outside on those cloudy grey winter days and set her sights on building the perfect space.
'We've always loved the garden, but good old British weather means that often it's not possible to sit outside, especially as the sun goes down.'
She'd followed Garden Buildings Direct on Instagram for a while and had seen many of our great products over the years. Therefore, we were her first port of call when she decided to go ahead with this project.
'I've followed Garden Buildings Direct on Instagram for a while and I knew that there was a good range of summerhouses.'
After browsing through our range of products, Stacey finally decided that the BillyOh Renna Corner Summerhouse would be the ideal building for her garden due to its versatility and size.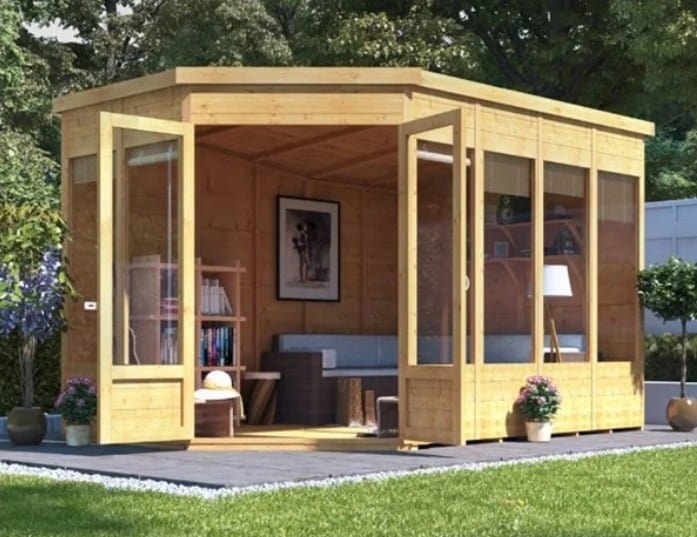 'I wanted something aesthetically pleasing as well as functional, and the corner summerhouse provided this.'
'It had an option to have the doors on either side, which again meant it fit in our space beautifully.'
After a prompt and speedy delivery, Stacey wasted no time in building her new product. And, although she was a little apprehensive at the prospect of constructing such a big building at first, her nerves were settled almost instantly thanks to our prefabricated materials and easy-to-follow instructions.
'Though I was initially a little apprehensive about putting such a large structure together ourselves, I did my research and found favourable reviews on all aspects. And I'm happy to say I wasn't disappointed!'
Upon completion, Stacey began the decorating process in accordance with her perfect vision of a summerhouse. She painted the exterior a pure white and added planters, a fence, and paving around the building. She also hung a pretty wreath above the awning and strung up LED fairy lights for a magical and inviting feel.
The interior followed suit in terms of colouration and lighting and was furnished with comfy seating to seat the full family.
'My top tip would be to invest in a summerhouse! Then think of home comforts – soft cushions, blankets, rugs, lamps, accessories. None of these are off-limits when making it a real home from home.'
You can see the full extent of Stacey's makeover below:
Stacey really has done a fantastic job by decorating her new Renna Corner Summerhouse and she's definitely increased the value of her garden, both monetarily and emotionally!
You can check out more of her adventures and renovations over on her Instagram – @thehawkes_victorianrenovation.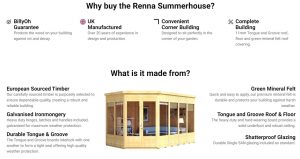 And if you've got a great story about your BillyOh shed, summerhouse, log cabin or playhouse conversion – we'd love to hear it! Simply get in touch with us on our social media pages for a chance to feature here.
And why not check out some more of our customer stories here!
Shop Summerhouses