So you're looking for a modern summer house…
Summer houses are an integral feature of many classic British back gardens. A real statement of summertime, they act an ideal location for both casual meet-ups and tasteful parties.
Saying that, you'd be for given for thinking that a traditional square or hexagonal summerhouse looks a bit outdated.
That's why our corner-style modern summer houses and log cabins are ideal for something that looks a little more fresh.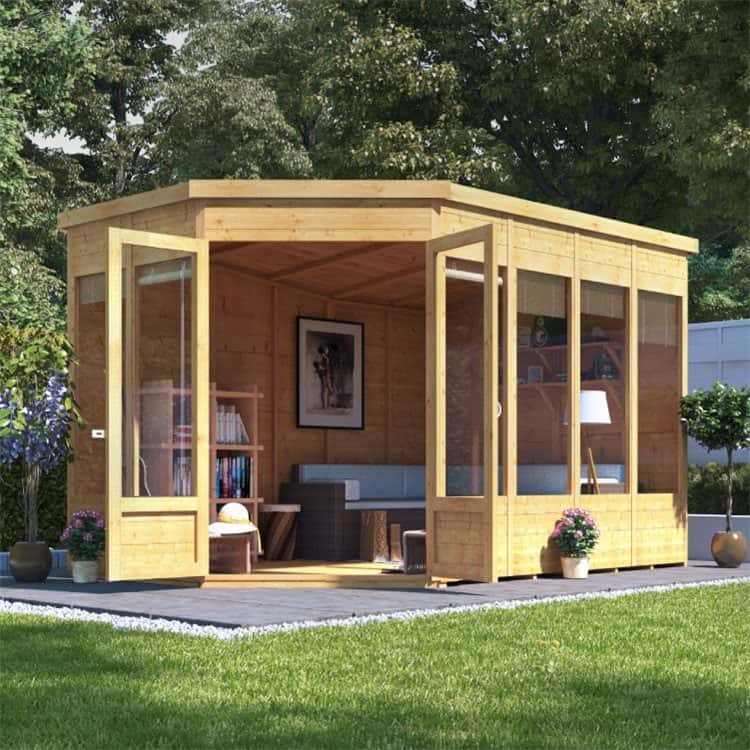 Modern summer house
A corner summer house has five sides, as opposed to the standard four. It's a pentagon, but not in the traditional way. Two 'back' sides are long, with the other three front-facing sides much shorter. There's glazing on all three front sides, which means more light enters than on a traditional summerhouse. And if you're not sold yet, the pent roof design means even the tallest of family members will fit inside with ease.
The main attractive feature of a corner summerhouse is its compact size. It is called a 'corner' summer house for two reasons – it's designed to fit in the corner of your garden, and the front corner is shaved off to create a polygonal building.
We've been stocking corner garden houses for years. But it seems like the trend is finally starting to take off – meaning there's never been a better time to buy.
Cabin vs Summerhouse
Considering we've just released our first ever corner log cabin, it's worth mentioning the difference between the two. If you want extra detail, consult this blog post. But for a short summary, stay right here!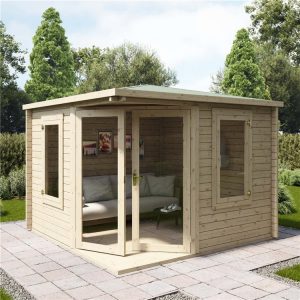 Our Robyn log cabin features 44mm walls as standard, compared to the 11mm walls on corner summer houses. We might be stating the obvious, then, to say that cabins are more suited to the colder months than summerhouses. With super thick cladding, they're actually great all year round, whereas summerhouses are good for, well, summer.
Corner log cabins also include features such as the option of lockable doors and windows for added security, a different roof structure to summer houses, a greater internal height and the option of double glazed, glass windows. This makes log cabins generally more expensive – but that isn't always the case, especially if you're opting for a small cabin.
Attractive Features
As modern summerhouses, all our corner designs feature extra-tall windows all around for optimum light coverage, including on the doors. The single glazing is designed to allow the warmth to flood in during the hotter summer months, whilst still allowing minor ventilation for those humid days. Each and every feature is designed with the summer in mind.
The 11mm tongue and groove floor, walls and roof are thin so as to not feel like an indoor building, while still being sturdy and rigid enough in their construction to be unaffected by the wind.
We offer a variety of options on our modern summer houses, making them as customisable as possible so that they suit your exact taste. You can opt for shelving if you need extra storage, but it isn't obligatory; in the same way, we offer a variety of choices for the roof. You can stick to traditional green mineral felt if that takes your fancy. Alternatively, our EPDM Rubber roofing is super resistant to heat and the weather.
Size options
Our corner log cabins and summer houses come in a variety of styles and designs. Our first corner log cabin, the Robyn, is fresh off the press and has some super new features. The hipped roof (where none of the sides are vertical) contrasts it with the sloped pent roof of the other summer houses. You might notice that none of the designs feature an apex roof, which is considered a more traditional style roof.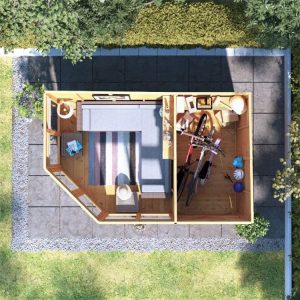 We offer corner summer houses in two sizes: 7×7 and 11×7. Our corner log cabin measures in slightly larger, at 3x3m (equivalent to almost 10x10ft). We've done a comparison on the difference between a corner log cabin and a summerhouse which you can check out here if you're not sure which suits you best.
We can't predict fashion trends. But we do know that a corner summer house is a modern summer house and you won't find better summer houses than here at Garden Buildings Direct. There's a reason why everyone's buying them! They're practical, modern and look fantastic, and make a great change from a traditional box style summer house.
Shop our corner summer houses or our corner log cabin today at Garden Buildings Direct.