A corner summerhouse is a unique and versatile unit designed to fit snugly into the garden nook. This feature makes it an ideal solution if you want to maximise even the smallest of available space. Being the ultimate space-saver it is, no wonder why it's becoming even more popular in the UK market.
With a wide range of sizes, styles, and materials, there's a corner summerhouse to suit every taste and budget. If you're considering investing in one soon, this guide is for you! We'll cover everything you need to know, including the advantages, so read on.
Garden Corner Summer Houses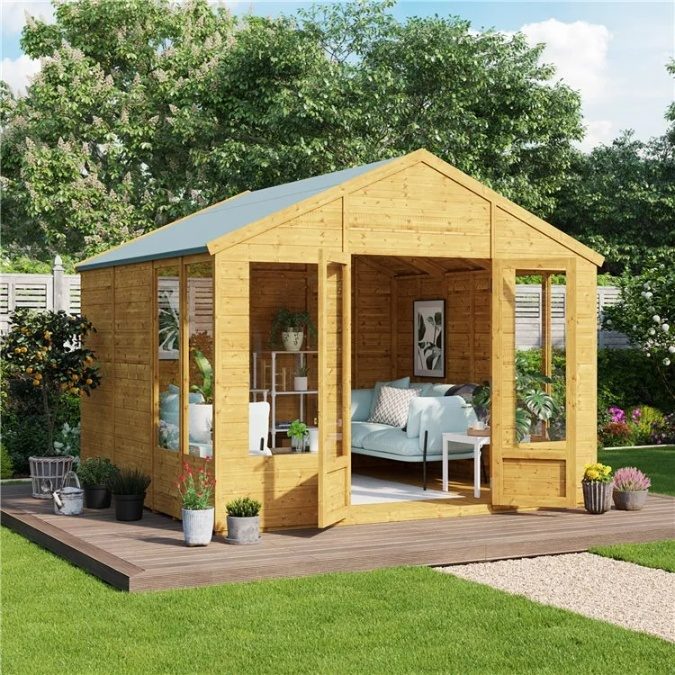 The history of summerhouses can be traced back to the 16th century in Europe. They were primarily used as a place for the wealthy to entertain guests and enjoy the outdoors.
It wasn't until the 19th century that they became more accessible to the middle class. Since then, summer houses have been used for leisure and relaxation in many home gardens. As time went on, the design began replacing the more elaborate and traditional ones. Manufacturers also embarked on experimenting with new shapes and styles. Cue corner summerhouses.
The corner summerhouse was born out of a desire to maximise the use of space in small gardens. Particularly the forgotten yet with potentially awkward corners. The shape can either be octagonal or rectangular. One way or another may appear unusual, but it makes up for the cosy getaway you seek for relaxation. 
The complex and flexible structure sums up this corner design. By appearance, it's easy to distinguish it from standard garden summerhouses. To give you an idea, look at one of the BillyOh corner summerhouses, Renna.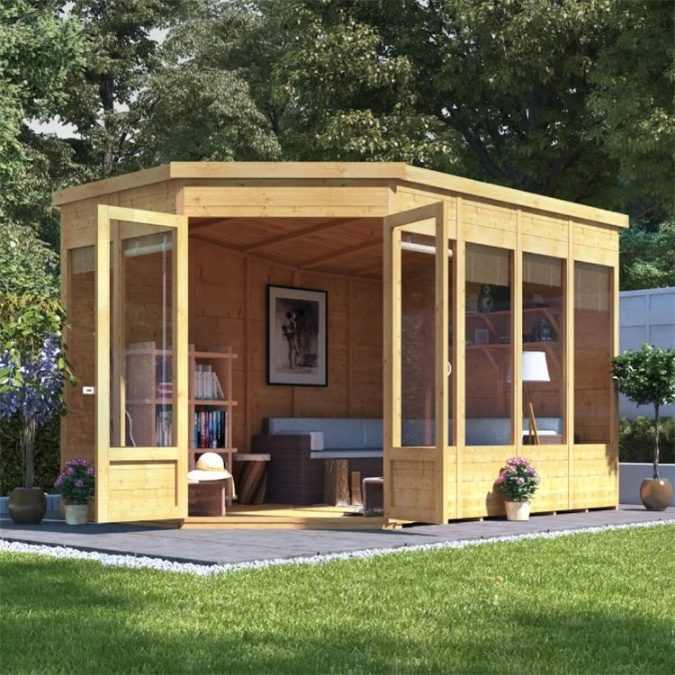 With a unique corner scheme, the Renna offers a room to make it your own – even with an awkward space. The modern design doesn't stop there! It has the option for the doorway to be placed on the left or right corner. This allows the unit to fit seamlessly into the corner of your outdoor space.
The pent roof follows on from the tall windows and doors with a modern style and beautiful finish. With adequate internal space and a tall roof height, you can have room to relax in an absolute breeze.
Log Cabins vs Summer Houses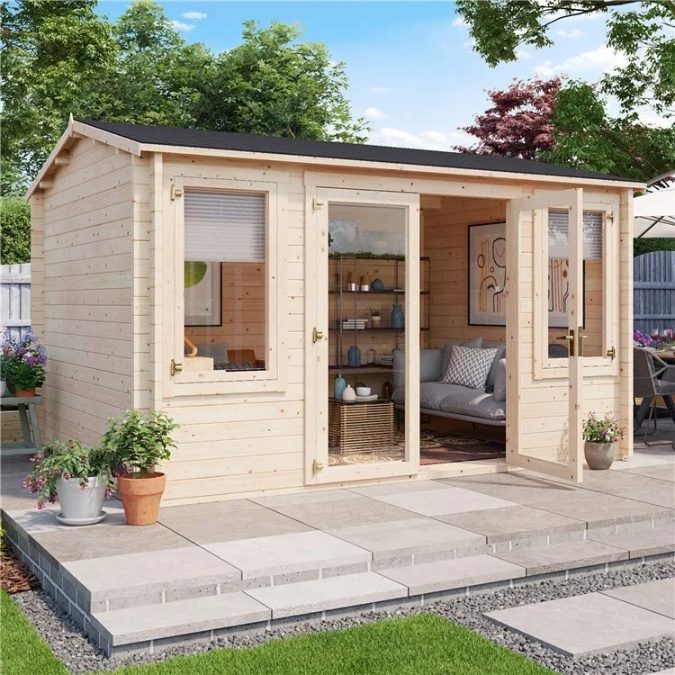 Garden log cabins and summer houses are popular outdoor structures in the UK. The main difference between the two lies in their size, log thickness, and intended use.
Log cabins are typically larger and more spacious, often used as a home office or guest room. They're often made of thicker logs and are suitable for year-round use.
Summerhouses tend to be smaller and more compact. They're usually used as a relaxation or entertainment space. Although the name states "summer", they make a perfect hangout spot for all seasons.
If you can't choose between the two, this is where the log cabin summer house combo comes into the picture. This type of garden building combines the features of a cabin and a summer house into a single structure. 
Log Cabin Summerhouses
More and more people started to spend more time outdoors. This results in increased demand for versatile and stylish garden buildings. Log cabin summer houses were later introduced, offering the best of both worlds.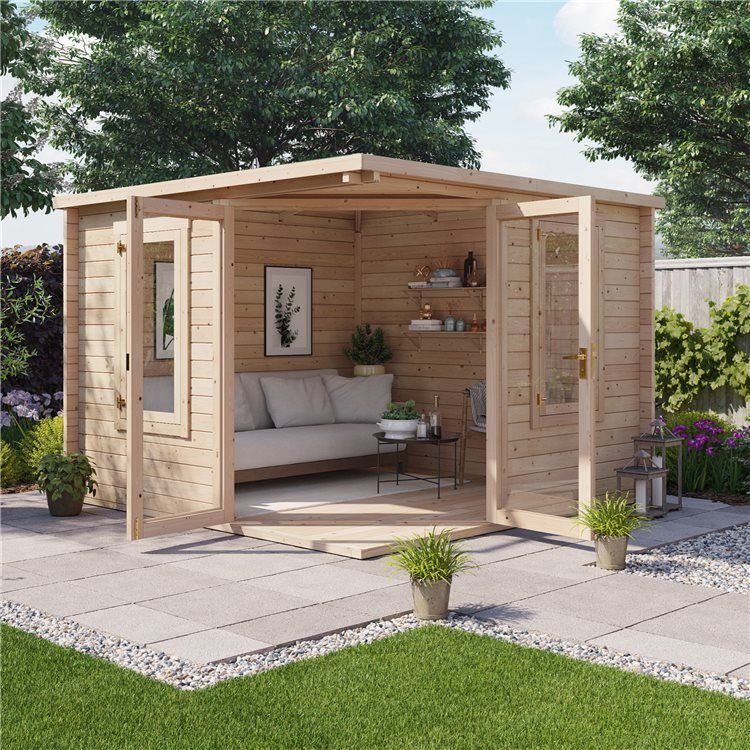 Even at a quick glance, the semblance stands out more than Renna. Although both were constructed using T&G throughout, the Robyn exceeds in thickness.
Design insights: thick 44mm walls, two opening windows and wide double doors. The heavy-duty 44mm interlocking log walls come with a robust 11mm floor and roof and roofing felt. You can upgrade the floor and roof to a more robust 19mm floor and roof for more intensive uses.
The large opening windows and tall glazed double doors invite natural light in. The high ceiling gives off a gorgeous internal framework thanks to the hipped roof. Plus, the slight roof overhang at the entrance provides shade as well as protection from the rain.
Robyn comes with a 10-year guarantee. For an extra level of protection, we recommend the pressure treatment option. Size available: 10×10.
Size Options
Consider the available space you have and your specific needs. Here are some ideal size options (in feet) for reference:
6×6.

This is a popular size for a small corner summerhouse accommodating two people.

8×8.

This size provides a bit more space than first, making it ideal if you want a slightly larger summerhouse.

10×10.

A larger size option, offering ample space for a seating area, extra storage or workspace.
Note: The size of your wooden summerhouse will also depend on the shape and layout of your garden.
The Advantages
Corner summerhouses come with a lot of perks that make them a worthwhile investment, such as:
1. Space-saving design
The unique design of a corner summer house allows them to fit snugly into the garden nook. This helps save valuable space and makes it an ideal choice for smaller gardens.
2. Versatility
Corner summerhouses are incredibly versatile and can be used for a range of purposes. Be it a quiet retreat, a home office or a playroom for children, the possibilities are endless!
3. Increased living space
Even the smallest outdoor space can benefit from an increased living space! Not only that, but a corner summerhouse allows you to enjoy your garden through all seasons.
4. Aesthetically pleasing
Corner summerhouses come in a range of styles and designs. You can choose one that complements your space and personal taste, adding a touch of style and charm.
5. Privacy
One can provide a secluded space where you can unwind from all the hustle and bustle.
So why not consider investing in a corner summerhouse today and enjoy all the benefits it has to offer?
Round-up
With their unique design, corner summerhouses are an excellent addition to outdoor spaces. Our BillyOh corner summerhouses are made from high-quality timber and T&G cladding. And better yet, they're designed to fit into even the smallest of gardens! Shop by clicking the button below: