Whether you're a new summer house owner or considering the prospect, tons of questions may be on your mind. Queries like where to position your garden retreat and which type suits you best. Including how to ensure its long-term upkeep might be on your list.
In these situations, our BillyOh summerhouse guide becomes your go-to resource. Read on to get all the essential knowledge you need to make informed decisions.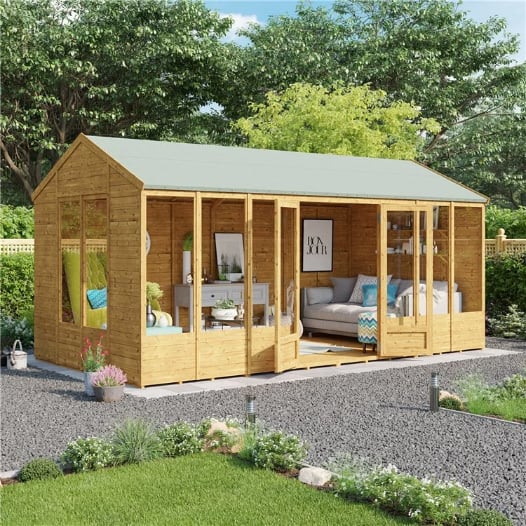 Summer houses, delightful wooden garden structures, reside outdoors and offer versatile utility. These open-air sanctuaries boast generously sized windows and doors, inviting copious natural light.
In the quest for added charm and functionality, some come with porch steps. You may also find welcoming verandas or protective canopies in other units. Meanwhile, multi-functional models feature two designs in one. Take log cabin summerhouses, for instance. They often emulate the rustic allure of cabin houses, blending aesthetics with practicality.
These garden buildings are not solely for adornments but also are versatile havens. With the right summer house interior ideas, you can utilise them for everything. From relaxation to creative pursuits, you name it!
Types of Summerhouses
Summer houses come in a myriad of styles, each with its unique features and appeal. So, what sets them apart?
1. Contemporary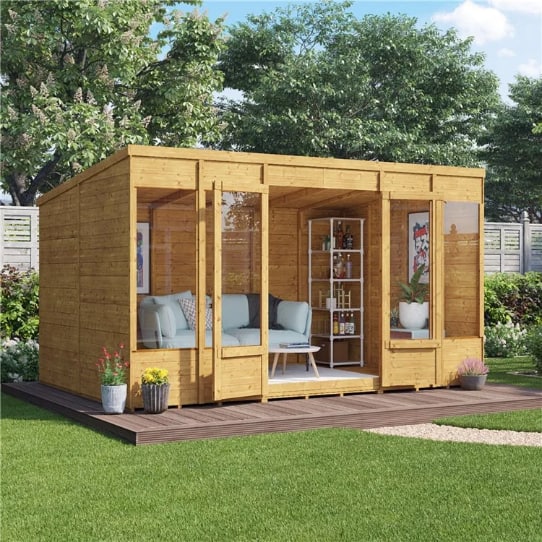 Contemporary summerhouses are characterised by sleek, modern designs. Their structures blend harmoniously with modish outdoor aesthetics.
These structures often feature large, unobstructed windows for maximum natural light. What's more, with minimalist lines and innovative materials. Perfect for those seeking a stylish retreat that complements their up-to-date lifestyle.
2. Traditional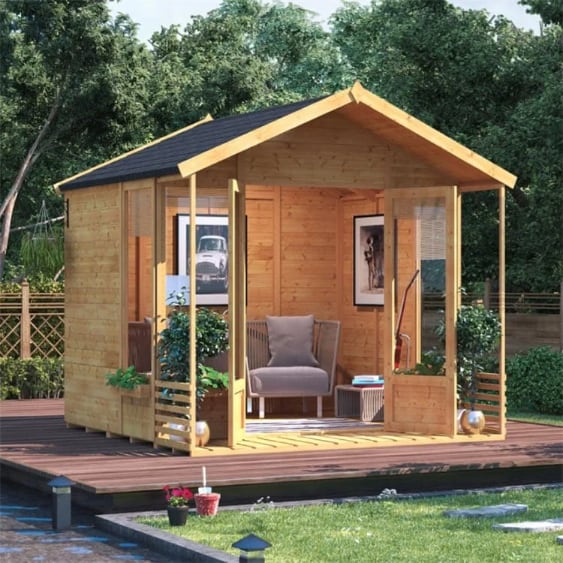 Traditional summer houses exude timeless charm and are reminiscent of classic garden structures. Typically, they feature pitched roofs, wooden or shingle cladding, and ornate details.
These outbuildings are ideal for those who appreciate the rustic beauty of a bygone era. And if you're one of them, a cosy, traditional retreat like the BillyOh Ivy is your best bet!
3. Corner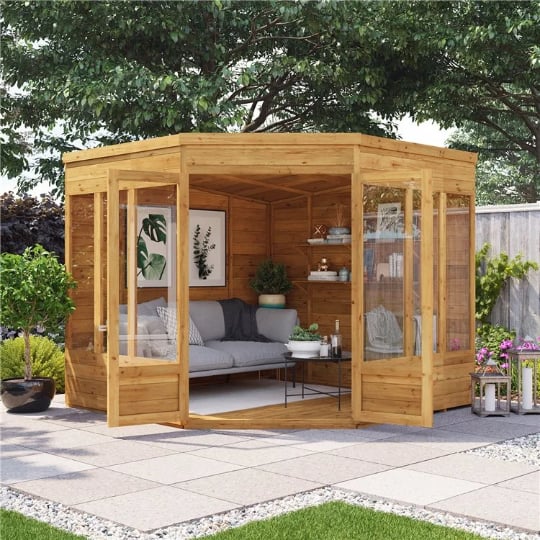 Corner summer houses are cleverly designed to make the most of limited garden space. They fit snugly into corners, maximising usable area without sacrificing style or functionality.
With various sizes and styles available, these structures offer a versatile solution. So, if you're thinking of creating a home-like nook or an extra living space, you might want to consider this style.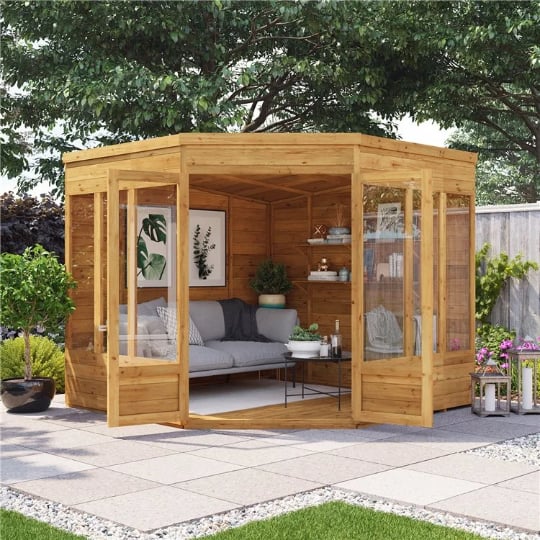 Log cabin summerhouses combine rustic aesthetics with modern comfort. Built from sturdy logs, they offer a traditional, cabin-like ambience. These structures are excellent choices for individuals who crave a woodsy garden retreat. Whether for relaxation, entertainment, or hobbies, you can never go wrong with this one!
5. Shed union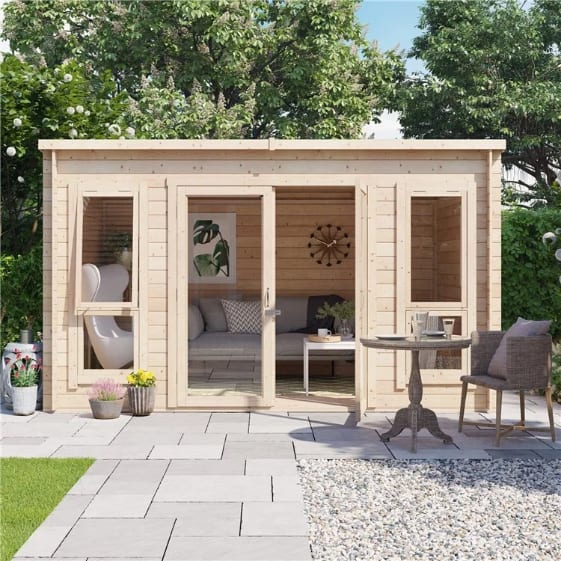 A summer house and shed combo provides the best of both worlds. For one, they offer storage space and a relaxing garden retreat in one structure. They typically have a dedicated shed section for garden tools, along with a cosy living area. Ideal for those who value practicality alongside their relaxation space.
6. Insulated
An insulated summer house is designed to offer year-round comfort. These structures feature high-quality insulation materials on the walls, roofs, and floors. This added insulating property provides excellent temperature control.
If you want to enjoy your garden room retreat in all seasons, consider investing in one!
7. Pressure treated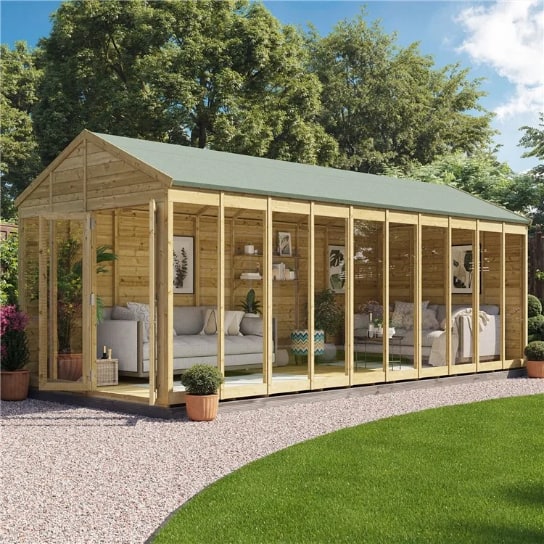 A pressure treated summerhouse is built to withstand the elements. The wood used in the construction is treated with chemicals under pressure. This makes these buildings highly resistant to decay, insects, and rot. What's more, this treatment ensures longevity, reducing the need for frequent maintenance. They are a wise choice for those looking for a durable and low-maintenance garden retreat.
The Potential Uses
There are many ways summer houses can be used, including the following: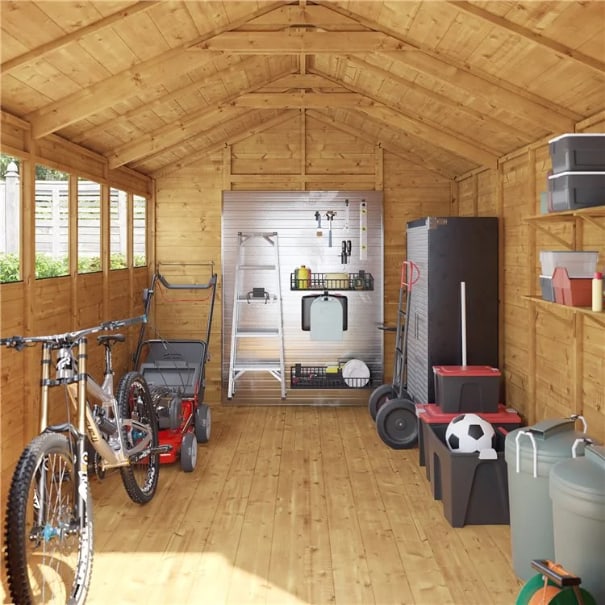 Garden summerhouses make fantastic workshops for DIY enthusiasts or hobbyists. They offer a peaceful and well-lit space to work on projects, be it woodworking, crafting, and more. The close connection to nature can be inspiring. Plus, the added seclusion allows for focused productivity!
Garden dining area
Transform your summerhouse into a charming outdoor dining area. With the right garden furniture and decor, it becomes a cosy space to enjoy meals with family and friends. Whether for a casual brunch or an intimate dinner, it provides shelter from the elements. At the same time, it allows you to savour the beauty of your landscape surroundings.
Personal office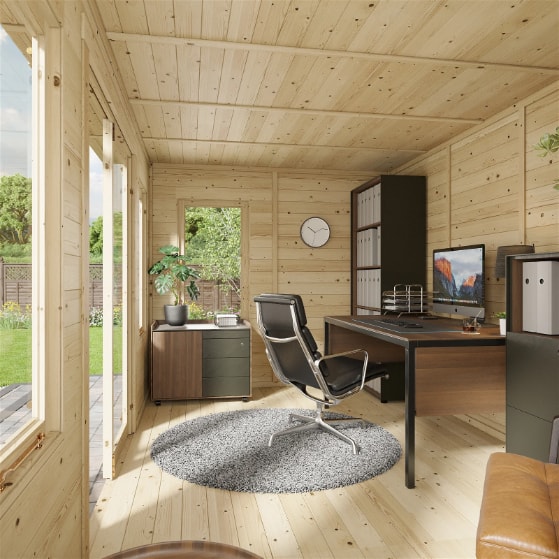 This summer retreat can be a serene garden office space. Away from the distractions of the main house, it offers a peaceful environment. Ideal for remote work or running a small business. With the right setup, it can enhance productivity and work-life balance.
Children's playroom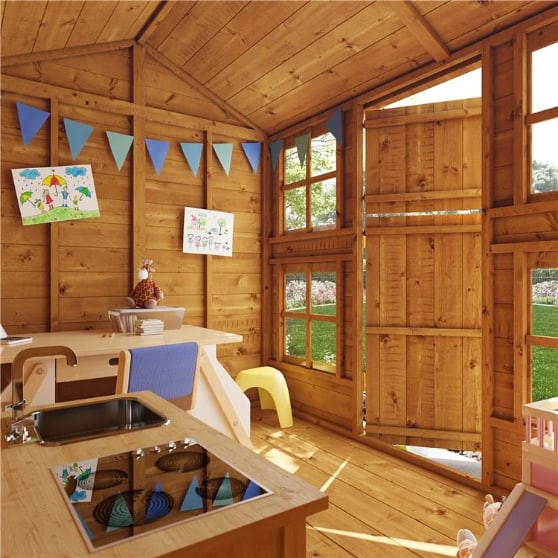 Convert a summerhouse into a safe and enjoyable playhouse for kids. It provides a dedicated space for the little ones to:
unleash their creativity

play games

stay engaged while being close to nature
Top tip: Adding insulation and child-friendly furnishings can make it an all-season retreat.
Relaxation room
This garden building is an idyllic place to unwind and de-stress. Set it up with comfortable seating, soft summer house lighting, and maybe a bookshelf. It becomes a haven for reading, meditation, or simply enjoying the peace and beauty of your garden. It's a retreat where you can rejuvenate your mind and spirit away from the hustle and bustle of daily life.
Planning and Positioning Tips
Orientation:

Position the summerhouse to maximise natural light. You'll also want to take advantage of scenic views. Consider the path of the sun throughout the day for optimal lighting.

Foundation:

Ensure a stable and level foundation. For instance, concrete pads or a treated timber base. The right

wooden shed base

ensures sinking or uneven settling prevention.

Accessibility:

Plan for easy access from your home and other key areas of your garden. Create pathways or stepping stones if needed.

Regulations:

Check local zoning laws and regulations, e.g.,

planning permission

. Comply with any necessary permits or restrictions.

Utilities:

Do you plan to use the summerhouse year-round? If so, consider access to utilities like electricity, water, and heating – such as with a

stove heater

. This may require professional installation.

Landscaping:

Integrate landscaping elements around the summerhouse. These include flowerbeds, shrubs, or a small patio to enhance its visual appeal.

Privacy:

Consider your privacy needs and the orientation of neighbouring properties when positioning. Strategic placement and the use of screens or trellises can provide privacy.

Functionality:

Plan the interior layout based on the intended use. Make sure it accommodates furnishings and storage. Allow space for furniture, shelving, and any equipment you plan to use.

Ventilation:

Install adequate ventilation to prevent condensation and maintain a comfortable interior climate. This is especially important for summerhouses used year-round.

Maintenance:

Position the unit in a way that allows easy access for maintenance tasks. For instance, for painting, repairs, and cleaning.
Maintenance
There's nothing worse than purchasing your summer house but not looking after it. Maintenance is essential in ensuring you can enjoy your garden retreat for years to come. Here are some simple upkeep tips to make this routine easier for you:
Regular cleaning:

Keep the exterior and interior clean. This practice will prevent dirt buildup and deterioration.

Inspect the roof:

Check the roof for loose or damaged tiles, shingles, or roofing material. Repair as needed.

Repainting:

Apply a fresh coat of paint or sealant every few years. Doing so will protect the wood from weathering.

Seal windows and doors:

Ensure windows and doors are properly sealed. Otherwise, drafts and moisture infiltration are likely to occur.

Pest control:

Regularly inspect for signs of pests like termites or rodents. Use preventive measures or consult professionals if needed.

Gutter maintenance:

Clean and maintain gutters to prevent water buildup.

Wood treatment:

Apply a

shed wood stain

or preservative. This will help maintain the structural integrity of the summerhouse.

Seasonal checkups:

Conduct seasonal inspections to address any issues right away. This is especially important before harsh weather conditions.
Round-up
A well-chosen summerhouse can turn your garden into a haven of leisure and creativity. With the right planning, positioning, and maintenance, it becomes an enduring asset.
Whatever you plan to use it for, it's a versatile retreat waiting to be discovered. Use the wisdom shared in this guide to create your own oasis of tranquillity and inspiration.
For a worthy brand to invest in, Garden Buildings Direct is your all-in-one destination. On top of summerhouses, we offer a wide selection of outdoor structures. From gazebo buildings to greenhouses UK, we've got you covered!
Next on your reading list: Summer House Ideas: Types, Designs, and Uses