Are you dreaming of having a summer house to call your own? If so, then purchasing a summer house from a trusted online retailer such as Garden Buildings Direct is your first step. Ensuring your outdoor building's longevity is your second goal, and is absolutely essential if you want to be able to enjoy your garden building for years to come. One of the best ways to ensure a long-lasting garden building is by utilising a summer house base.
Considering your summer house base is a crucial factor. While installing a summer house on the ground is straightforward enough, if you do so without a level surface for your summer house to be built upon, then problems are likely to occur later down the line.
If you're unsure about what the best base for your garden building is, then our summer house base guide will come in very handy!
Importance of a Summer House Base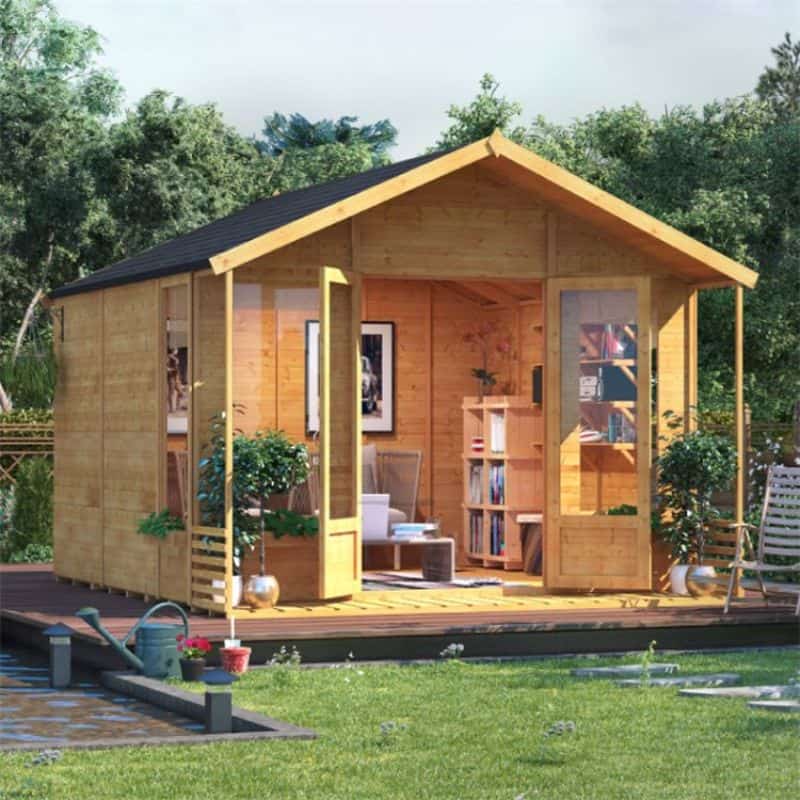 Most garden buildings, including Garden Buildings Direct's products, are designed with a pressure treated timber bases to aide with longevity. But to make the building last even longer, a firm, level foundation is crucial to protect the base of your summer house.
If your summer house building has direct contact with the ground, it can absorb moisture—causing premature rot and decay. Placing it on an uneven surface will also cause structural damage e.g. the warping of the timber walls and floor.
But when placed on a level surface, this will help your garden building to stand strong for years to come, while allowing the doors to function properly, making accessing your summer house much easier. Moreover, this will also guarantee your garden shed has proper water drainage and ventilation underneath.
Building a summer house base requires some manual labour, as well the need to consider what kind of base you should go for. But, by reading this article, we'll not only give you some tips to ensure your base for your summer house is right, but we'll also help you choose the best summer house base that will suit your needs!
Let's get started!
Preparations for Choosing the Best Summer House Base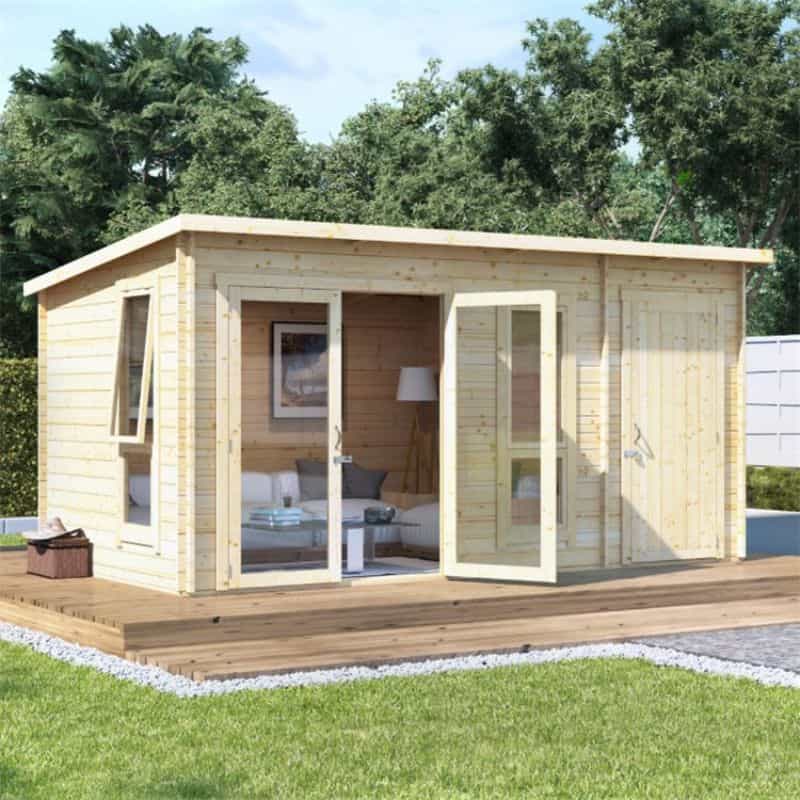 When it comes to choosing the base for your summer house, there are various options available, including:
While these three options have their own unique advantages, they also have their own set of disadvantages. Also, keep in mind that some of these foundations only suit certain garden buildings types and sizes.
We're going to break down the essential things you need to know about these three options.
1. Concrete Bases
This type of summer house base is suitable for larger, heavier timber garden buildings, such as summer houses, log cabins and garden offices. If you wish to opt for a smaller summer house or shed, concrete foundations may be a little excessive.
Having the foundations raised slightly above the ground encourages water to run off, preventing it from collecting and pooling around the base of the summer house and thus avoiding damp and rotting wood. For concrete base installation, our experts recommend putting at least a 7-10 cm layer above 7 cm of compacted hardcore.
Pros
Concrete foundations are:
Permanent.

Stable.

Non-shifting.
Concrete foundations provide a floor for:
Cons
It's not an eco-friendly option – its production causes a significant release of carbon dioxide (a greenhouse gas).

It's relatively expensive compared to other options.

It doesn't allow water to drain away, so your summer house may suffer from damp problems.
In conclusion, with its pros and cons, concrete bases are often a popular choice as they're low-maintenance. The potential problems with damp and rotting timber can be avoided with thorough maintenance of the building, including a sensible wood treatment such as pressure-treatment or a cheaper option that you can perform yourself.
2. Paving Slabs
Paving slabs are best suited for smaller garden buildings and are not recommended for larger summer and log cabins. Having them raised slightly above ground level will help water to run off.
So when installing them, the slabs should be evenly laid, and firmly butted together. In addition, they can be applied on a base of sand and cement, with anchor points at the corners.
Pros
Easy to lay.

Low maintenance.

Stable.

Easier to remove than a concrete base.
Cons
Like concrete, they don't allow water to drain away.

If placed directly onto grass, gravel or soft soil, the paving slabs may subside which can cause warping of the timber.
Again, applying wood preservation treatment on your summer house can protect your building against damp and rot.
3. Timber Decking
What's good about timber decking is that it's a much more attractive option which works well with summer houses, as well as log cabins of most sizes. But just like its concrete and paving slabs counterparts, your summer house structure must be treated or pressured-treated to withstand dampness.
Pros
The decking can be used as veranda,

Ridge decking allows water to run off.

It prevents damp around the walls of the buildings.

The space underneath the decking allows air to circulate and prevents dampness from rising.
Cons
Not suitable for larger summer houses.

Even with pressure-treated timber, regular maintenance and wood treatment will be necessary.

Annual wash treatment with decking oil is generally required.
If you don't have enough time and resources to treat your wooden summer house, then the majority of our summer house collection comes with the offer of pressure treatment.
Pressure treatment is a type of treatment which involves blasting wood with protective treatment before the timber is stacked and left to dry. This process offers longer-lasting protection than the dip-treating alternative. 
Owning a wooden summer house comes with a lot of perks: Such as natural insulation, less planning permission required, as well as the multitude of applications to which it can be used for. 
These advantages can be further enhanced by purchasing a summer house base or making your own.