Searching for ways to enhance the functionality and beauty of your outdoor space? One of the latest trends is to build garden bars made out of sheds and equipped with a bar.
Cue garden bar sheds – a great alternative to a traditional gazebo with a modern touch. Perfect for your entertaining space, building your own may just be the ticket!
Here, not only a step-by-step guide awaits you (DIY route), but also a few garden bar ideas to complement your setup.
Maximising Your Garden Building's Potential
Garden sheds make the best storage solution, but why stop there? Think beyond shelves and cupboards for extra storage, and get creative. Start transforming yours into the ultimate hangout spot with a bar space in the mix.
Take those rakes and spades out, and fill the blank canvas with a personal touch. Invest in good quality garden furniture pieces to put together your shed pub.
Or, if you want to do it in an old-fashioned way, build your own! You don't have to be a master handyman to do so. With the aid of a few basic tools and materials, you can have your dream outdoor garden bar.
Either way, this post aims to give you a head start on putting together your garden bar design.
Building Your Garden Bar Shed
We outline the tools and materials you'll need and step-by-step instructions to follow: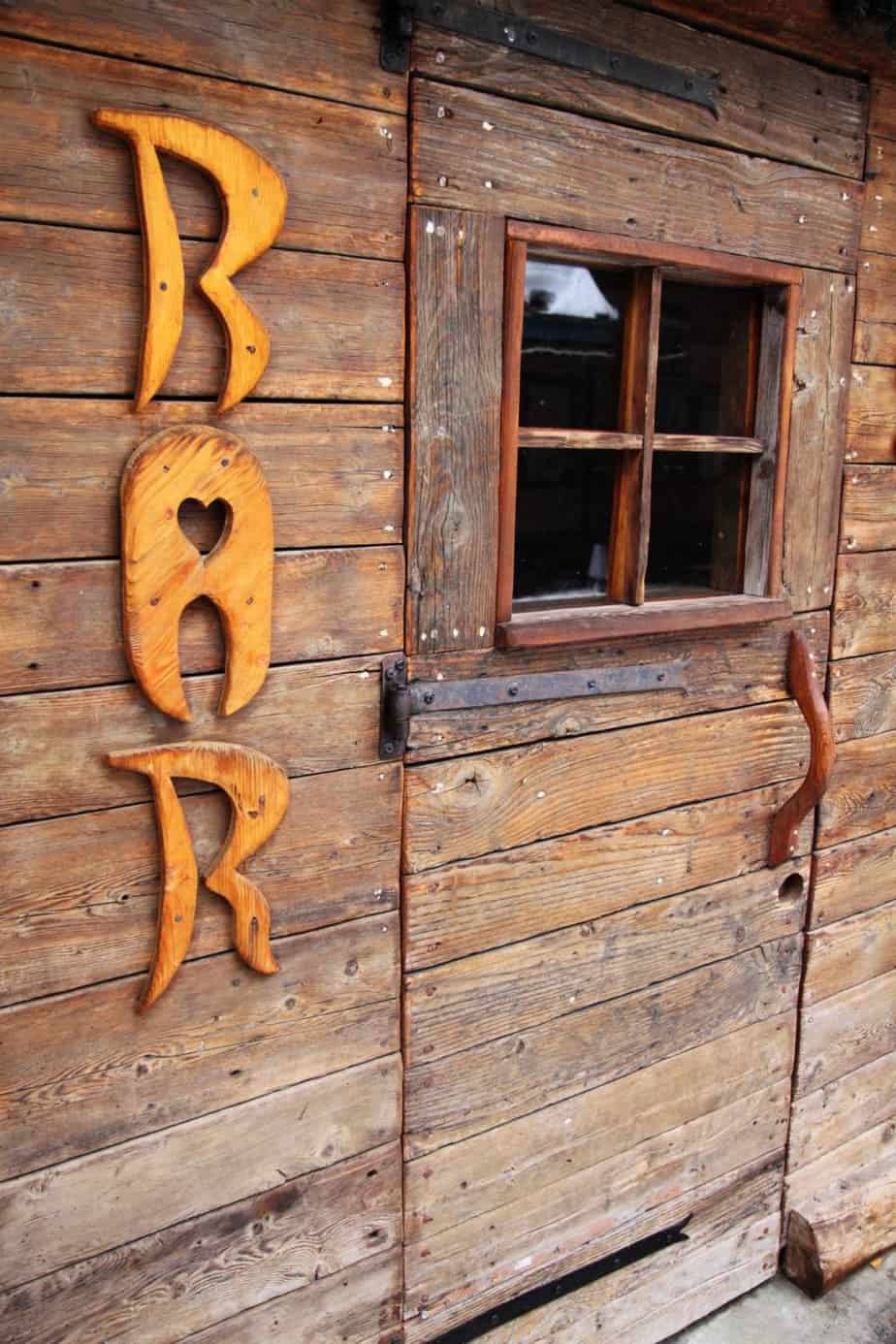 1. Build the bar frame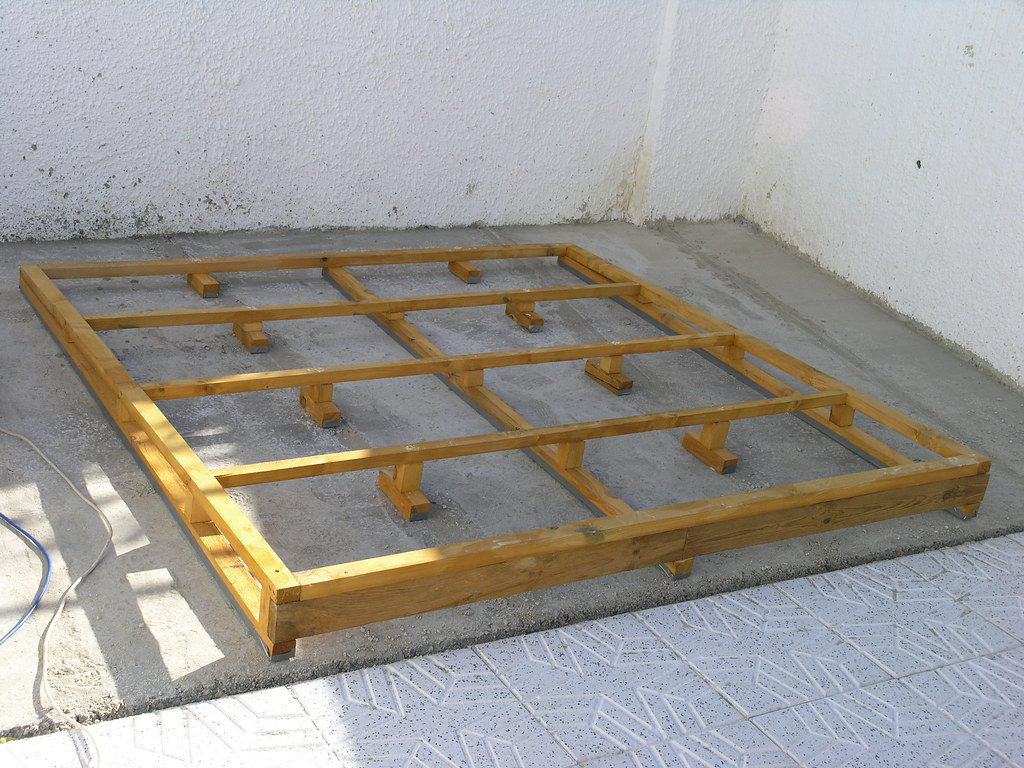 A wooden frame base offers maximum support and sturdiness. To make the foundation:
Step 1: Measuring.

Choose where you wish your outdoor bar to stand. Check the area and measure it with a measuring tape. Be sure to leave enough space for

decking boards

to extend at least one metre at the entrance.

Step 2:

Prepare the timber. Cut the bearers with a chop saw to fit your measured space. Leave at least four inner joist pieces for the

outer frame

. Next, put your collected piece into place on the ground.

Step 3: Assemble the base.

Consider the

outer frame

, also known as

sills

, your first piece. Drill all the holes it needs, then insert the

decking screws

. You may also infix the inner joist lengthways alike.

Step 4: Install the supports. Prepare your wood-cutting tool and cut the lengths of timber to 30cm. Next, hammer them into the ground to support the wooden frame.
2. Putting together the wooden frame structure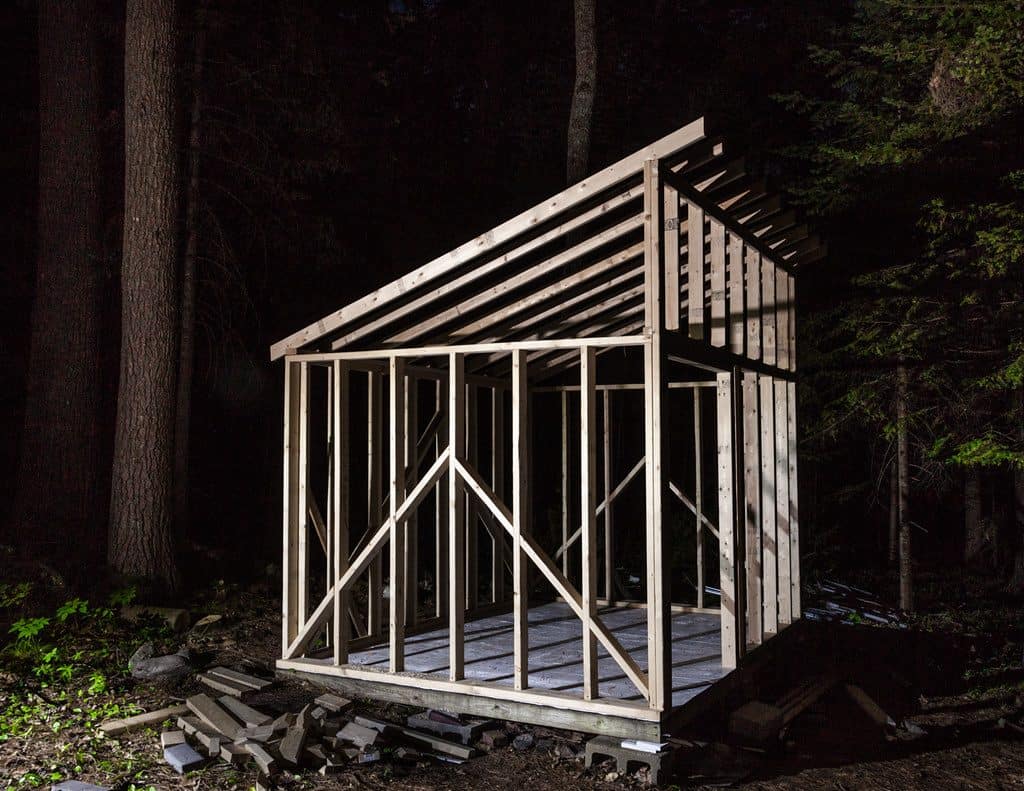 Step 1: Lay down the flooring.

When installing the shed flooring on the base, make sure that every part of it is level.

Step 2: Raise the walls.

One of the crucial phases where you'll need someone's help to hold the walls in place while you do the drilling work. Or vice versa.

Step 3: Insert the ridge bar.

The next step is to place the ridge bar between the two gables. Ensure the top corners sit flush with the top points.

Step 4: Fix the frames.

Using 30 mm screws, fix the two eaves frames to the edge of each roof sheet. You may use any

decking screws

supplied with the shed kit.

Step 5: Set the roof sheets.

To ensure your roof sheets match at the top, consider fixing them beforehand. The sheets must be attached to the ridge bar.

Step 6: Lay down the felt.

Take advantage of the remaining felt from the kit by laying it down on the roof frame over the centre of the apex.
3. Constructing the decking boards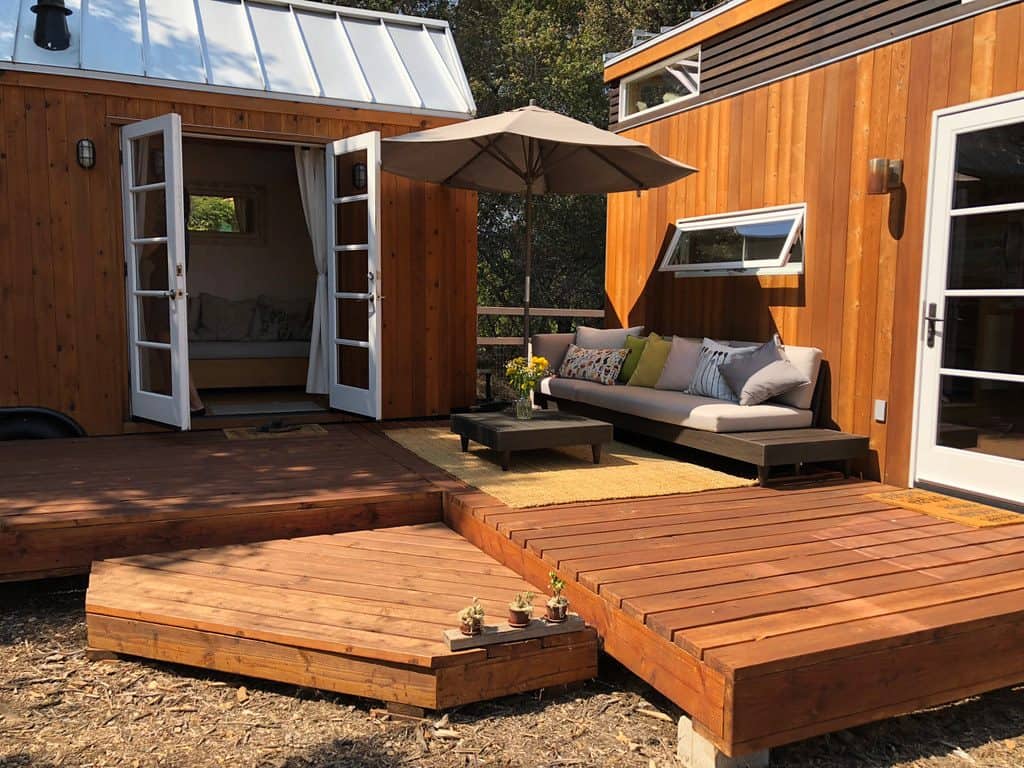 No matter how small your shed pub is, deck boards are a great way to extend the space. You may add more bar stools where guests can hang out while you impress them behind the counter.
Follow the steps below to build deck boards:
Step 1: Ensure the surface is level.

Use a

spirit level

to achieve an even surface to lay down the decking.

Step 2: Measure, cut, and then place.

Cut the

deck boards

to size according to the recommended measurements. Fix them together using 50 mm

decking screws

. Leave enough space so the boards will fit on the base without overlapping.

Step 3: Insert the newel posts.

Cut a pair of metre-long sections from the wooden beams you used for the base. Use them as the newel posts to support the handrails – attached to the front of the base using three 5.0 x 100 mm screws.

Step 4: Attach the half-newel posts.

Using a

spirit level

and measuring tape, cut down two lengths of the wooden beams. This will ensure they are levelled with the newel posts. Fix the half into the shed's wall and the decking using 5.0 x 100 mm screws.

Step 5: Put in the railings.

The railings should fit between the newel and posts. Fix the base rail first and then the handrail using 4.0 x 50 mm screws.

Step 6: Add on the spindles.

Trim the spindles so they fit into the space between railings. Then, space them out evenly using spacers laid down between the spindles. Fix both the spacers and spindles into place using a nail gun. Start from the middle spindle and work your way out.
The BillyOh Nightjar Garden Bar
When building garden bars from sheds, it pays to use good quality timber and screws. Whether it's from the frame or counter, they'll ensure the entire structure is much sturdier.
Speaking of the bar counter, you need a piece that can hold everything from cold drinks in glasses to pints. Have a look at the BillyOh Nightjar Garden Bar. It offers a generous 1.2m x 1.2m space with a classic L-shaped design and room to sit 3-4 people. The 1.0m height also means it's perfect for bar stools or standing and making drinks.
Designed to fit any BillyOh Log cabin over 3.0m x 3.0m, with fixings for the wall and floor. Perfect for a corner bar shed idea! It also comes with comprehensive assembly instructions, saving more time for construction.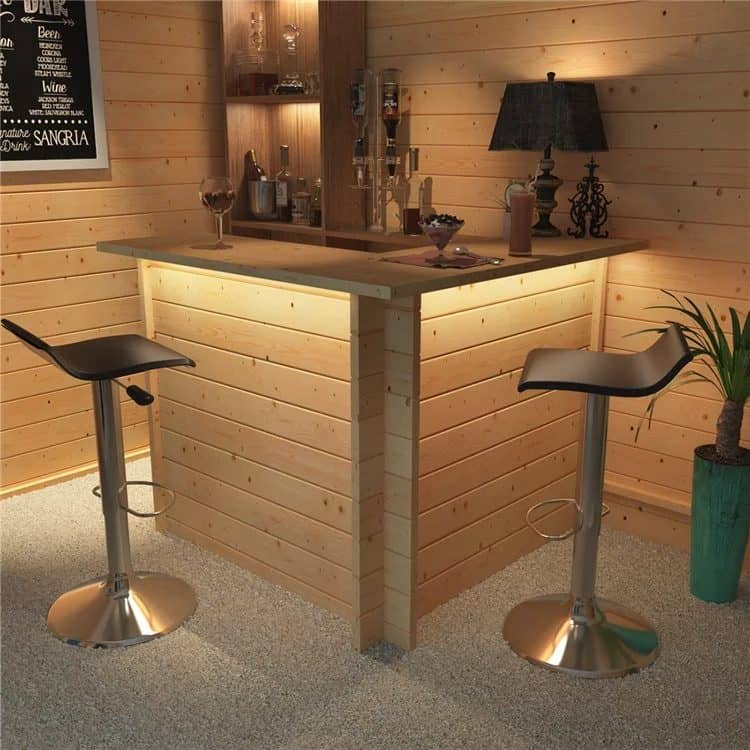 Picking the Best Outdoor Furniture
When it comes to shed pub furniture, consider the following qualities:
Weather-resistant.

Your

outdoor piece

should be able to withstand Britain's harshest weather conditions. These include heatwaves, frost and snow.

Low-maintenance.

Cleaning furniture can be a very daunting task. But with low-maintenance pieces, you don't have to worry about keeping the set in shape all the time.

Practical.

Your

outdoor piece

or

garden furniture sets

must be designed for year-round use.
Check out our experts' top picks from our collection below. They're all-purpose, highly reliable, and a good pairing with shed garden pubs.
Grey Outdoor Bar Table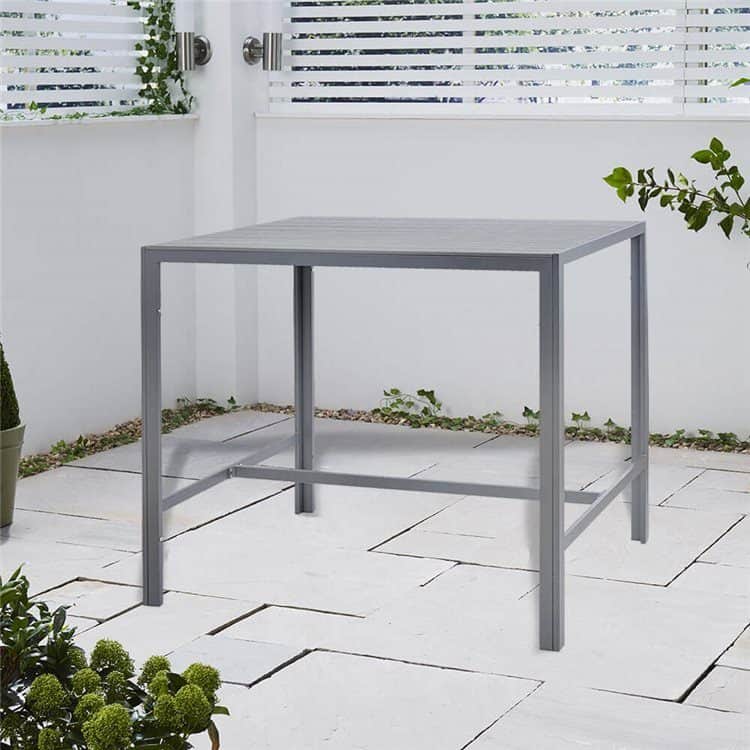 Be ready for parties and get-togethers with the Grey Outdoor Bar Table! It looks stylish and can comfortably withstand rough and wet weather. Built from a sturdy aluminium frame with a synthetic wood tabletop.
Solid Teak Hardwood Sherford Folding Bar Stool Chair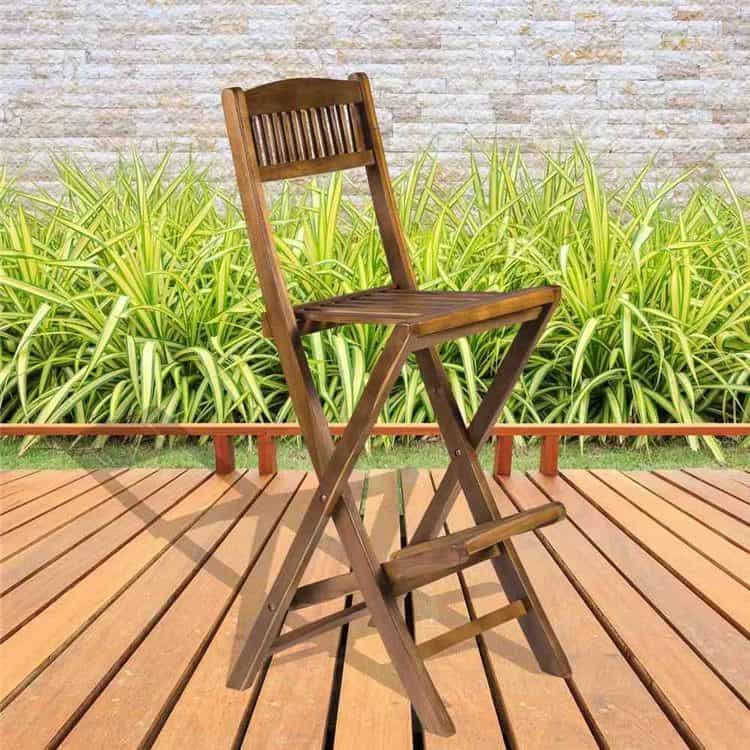 Ideal for use at any home and garden bar. The warm natural tones of the golden solid teak hardwood offer a great atmosphere at any time. Relax under the warm sun or enjoy a wonderful barbecue on the patio.
You can leave Sherford Folding Bar Stool outdoors, thanks to its weatherproof qualities.
Sherford Teak Hardwood Round Bar Table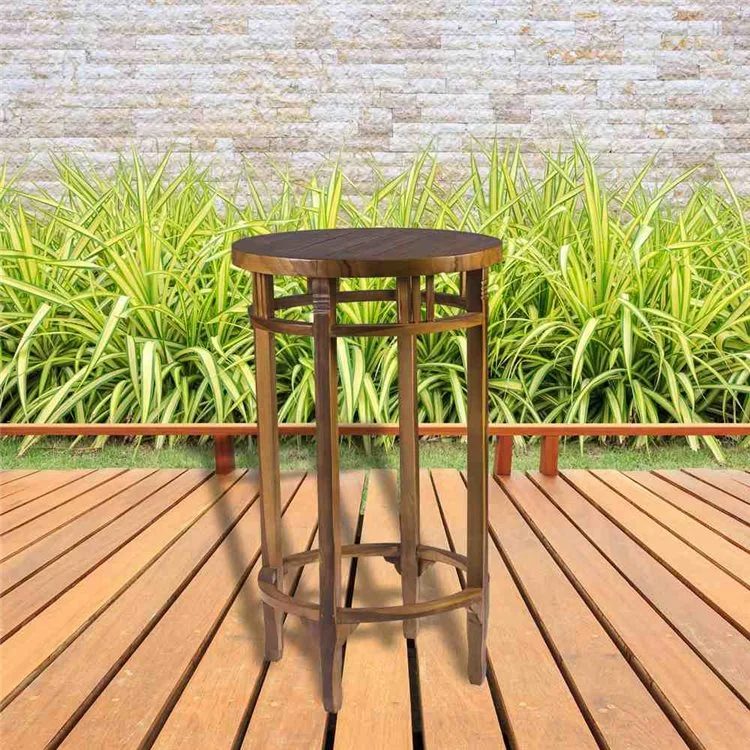 Make the most of your pub shed this summer with this beautiful Sherford Classic Bar Table. Made from stunning solid teak hardwood, it's the perfect table to sit at for hours.
Take in the sun and live life how it should be: relaxed and at ease with the world. It is both practical and elegant, making it an easy fit for any garden environment.
Creating a Cosy Ambience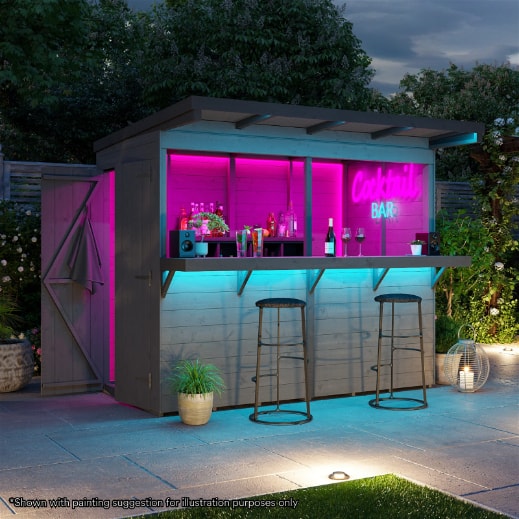 Creating a cosy ambience is essential for enhancing the atmosphere of your bar shed. Here are some tips to help you achieve that through lighting and decor.
Opt for warm, soft lighting options such as string lights, fairy lights, or lanterns. These types of lighting fixtures create a cosy and inviting atmosphere. You can hang them around the bar area or drape them along the walls to add a charming glow.
If your garden bar shed has access to sunlight, consider installing solar-powered lights. These eco-friendly lights charge during the day. They automatically illuminate the space at night, providing a soft and enchanting glow.
Use accent lighting to highlight specific features in your garden bar shed. For instance, use spotlights to draw attention to a decorative element or a piece of artwork.
Add cosy decor elements such as throw pillows and blankets to create a comfortable space. Choose soft textures and warm colours that complement the theme of your garden bar shed.
Bring nature indoors by incorporating potted plants. Greenery adds freshness and liveliness to the space, creating a calming atmosphere. Also, consider adding mirrors to help distribute light. This trick also helps make the space feel larger and more inviting.
Remember, the key is to create an inviting space that reflects your style and preferences.
BBQ and Grilling Area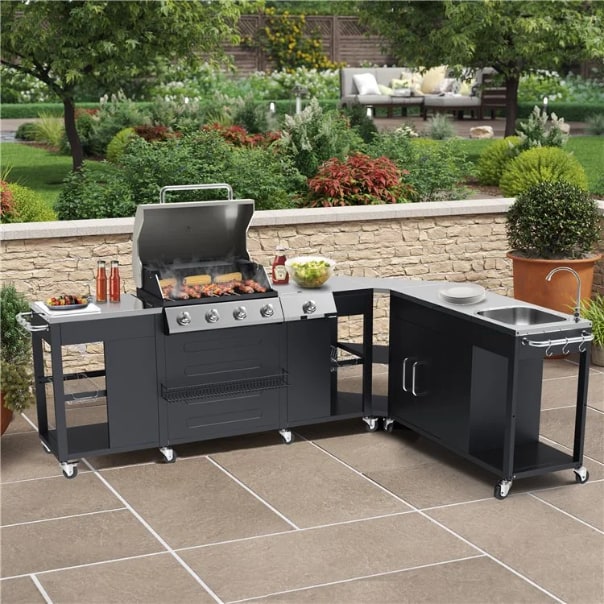 Adding a BBQ to a garden bar shed enhances the overall functionality and enjoyment of the space. Having a dedicated grilling area, for one, allows you to cook and entertain in one centralised location. This makes it easier to prepare delicious meals for your guests. There's no need to travel back and forth between the garden bar and the main cooking area!
Such an addition also creates a focal point for socialising. It encourages guests to gather around, chat, and enjoy the cooking process together. What's more, you can keep the cooking process separate from the main bar area. This, in return, reduces smoke and odour near the seating and lounging areas.
Outdoor Entertainment
Adding outdoor entertainment can greatly enhance the overall experience of the space. Let's start with an outdoor TV or sound system. With one, you can transform your bar shed into the ultimate entertainment hub! It allows you to host watch parties for sports events, movies, or TV shows. This creates a unique and immersive experience for you and your guests.
Incorporating outdoor entertainment also extends the functionality beyond just a drinking space. It provides options for various activities. These include watching movies under the stars, playing video games, or streaming music.
Outdoor entertainment encourages socialising and relaxation. It creates a focal point for conversation, laughter, and shared experiences. This makes your garden bar shed a go-to spot for friends and family to gather and unwind.
A good sound system also contributes to the vibe! It sets the mood, elevates the ambience and creates a memorable experience.
Top tip: Choose weatherproof and outdoor-rated equipment. Consider the placement and installation to ensure proper protection from the element.
Finishing Touches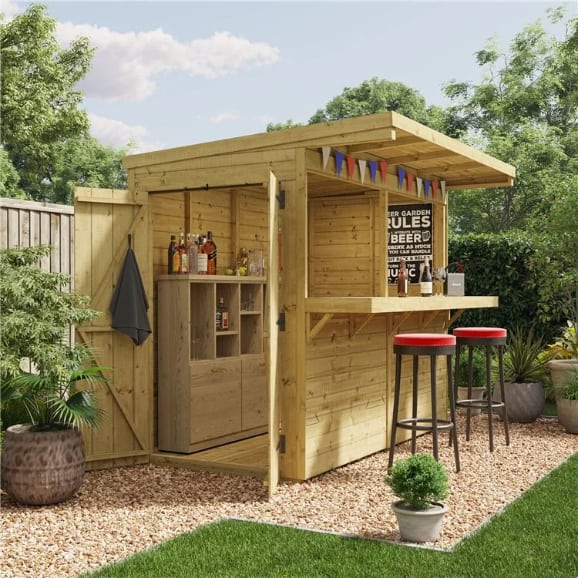 Your garden bar shed wouldn't be complete without the must-have barware essentials. Stock up on a variety of glasses, including pint, wine, and cocktail glasses. With this selection, you can cater to different drink preferences. Equip your bar area with shakers, stirrers, and bar tools to ensure you're ready to mix up everyone's drinks!
To add a touch of elegance, display clever decor pieces throughout your garden bar shed. From the interior to the exterior, consider hanging vintage signs and beer mirrors. Also, strategically placing fairy lights creates an inviting and charming ambience.
Pay attention to the details and personalise your space with the following:
customised coasters

monogrammed napkins

a chalkboard menu to showcase your drink selections
These finishing touches will leave a lasting impression on your guests. Most importantly, enhance the overall atmosphere of your bar shed.
The finishing touches are what make your bar shed truly unique and reflective of your personality. So, have fun with the decor and select pieces that create an enjoyable atmosphere for your guests.
Round-up
The British have always had a gardening tradition, with sheds as their companion. Garden sheds, to speak, were traditionally a place to store tools – now, they are simply an extension of that.
Building or decorating your own can take your social life into your own hands. What's more, it allows you to create something that'd make you and everyone want to stay in.
Now you know how to build a shed pub and the best outdoor pieces to pair it with, it's time to show off your barista skills! Or, if you're thinking of investing in a quality shed to transform into a pub, check our range of garden pubs and bar rooms.