Imagine a warm summer evening with friends and family gathered in your backyard. What could make this scene even more delightful? Hosting your own garden pub party!
The trend of bar shed, and it's no wonder why. But how do you ensure your garden pub soirée is a smashing success? In this guide, we'll walk you through the steps to create a memorable experience. From setting the stage to planning the perfect menu and everything in between, we've got you covered.
Step 1: Setting the stage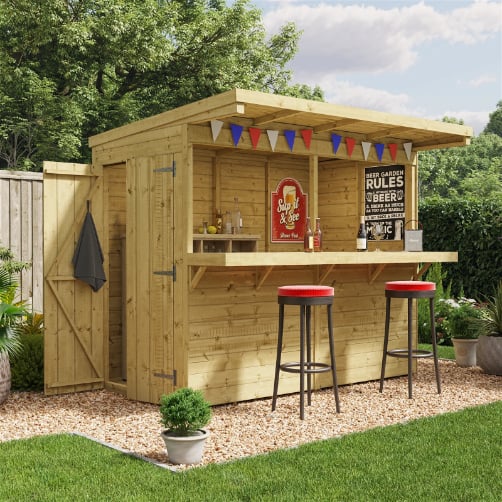 Preparing your backyard pub is the first step in ensuring your party's success. Imagine your garden as a canvas and your garden bar shed as the centrepiece of your masterpiece. To make it truly shine, cleanliness is key. Sweep away the cobwebs and ensure everything sparkles.
Next, turn your attention to decoration; it sets the mood. Outdoor lighting, such as this Edison Bulb Outdoor String Lights, works wonders. Also, consider your seating arrangement carefully. Make sure there's ample room for guests to mingle comfortably.
Ultimately, it's all about creating an atmosphere that beckons. You'll want every guest to feel welcome and eager to revel in the garden pub charm.
Step 2: Plan the menu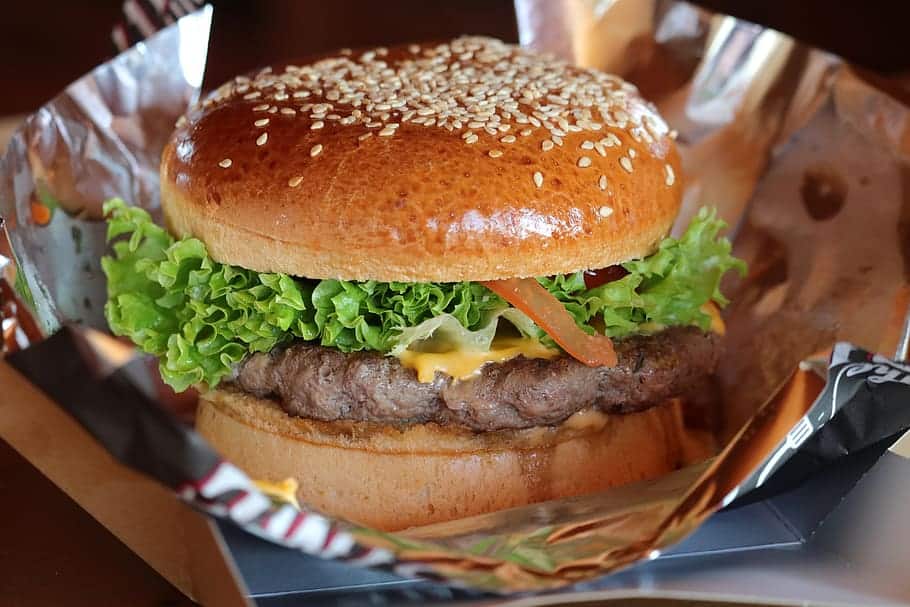 (Image Credit: Wallpaper Flare)
A well-thought-out menu can elevate your garden pub party from ordinary to unforgettable. It's the heart of your gathering, where flavours and conversations intertwine. First, consider variety. Offer a range of drinks to cater to diverse tastes. Include craft beers and cocktails, as well as non-alcoholic options like mocktails.
Fire up your BBQ and complement those libations with appetisers. You can never go wrong with the classic burgers, grilled skewers and chicken wings. Top tip: Ensure the grill is positioned at a safe distance. This guarantees to minimise the risk of heat or flames coming into contact with the wooden shed.
Think finger foods like bruschetta, sliders, and fresh fruit platters. Don't forget to have vegetarian, vegan, and gluten-free options. This ensures every guest can savour your garden pub delights without restriction. 
Consider veggie skewers, hummus and gluten-free crackers, fresh fruit platters, and vegan dips. A selection of gluten-free beer and wine also sounds perfect! Ensure clear labelling for allergen info to make it easy for guests to enjoy the offerings.
Remember, your menu will be a conversation starter and a highlight of the event.
Step 3: Entertainment ideas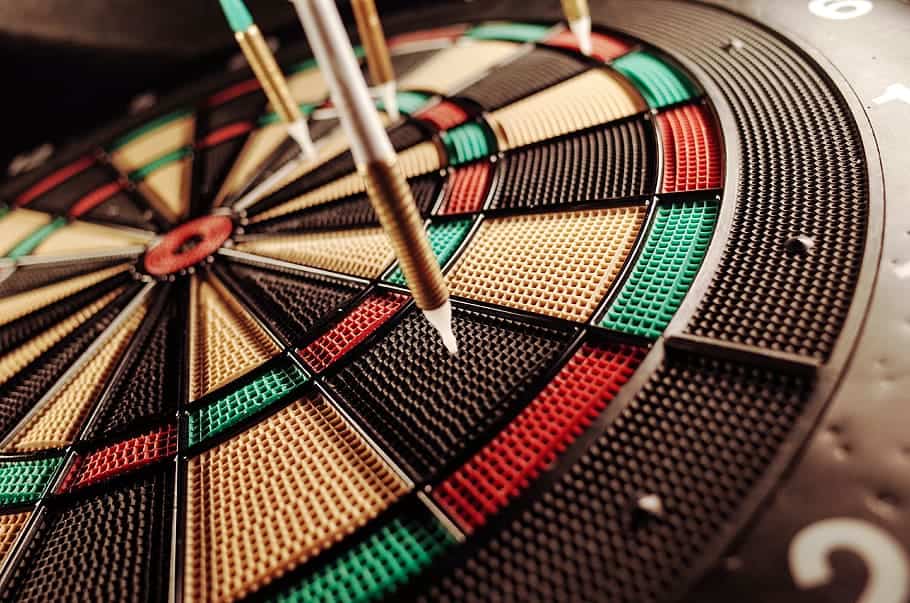 (Image Credit: Wallpaper Flare)
Entertainment is the soul of a memorable garden pub shed party. It's the secret ingredient that turns an ordinary gathering into an unforgettable soirée. Consider your audience and tailor your entertainment choices to their preferences.
Start with music; create playlists that set the mood. Your choices could be laid-back acoustic melodies, upbeat dance tunes, or a blend of genres. Add live music or a talented DJ for an extra spark.
Incorporate fun games like lawn darts, cornhole, or a pub quiz to keep everyone engaged. Themed activities, like outdoor movie screenings, can also infuse creativity into the event. Set up a large screen or projector and ensure good sound quality. Arrange comfy seating with blankets and cushions. Have a variety of snacks and drinks available.
Step 4: Safety and comfort
Safety and comfort always come first, ensuring everyone enjoys the party. Start with proper lighting to ensure pathways and gathering areas are well-lit. Check seating stability; wobbly chairs can lead to spills. Sturdy, reliable seating is a must. Consider comfort items like garden seat pads and blankets. They add cosiness and encourage guests to relax for hours on end.
Lastly, emphasise the importance of responsible drinking. Arrange for designated drivers or transportation options for guests who consume alcohol.
Step 5: Invitation and guest list
To craft a perfect guest list, start by listing friends, family, and colleagues you'd like to invite. Include everyone who'll fit comfortably in your outdoor bar shed space.
For invitations, you can go traditional with paper invites or embrace digital options. Ensure the invitation clearly states the date, time, location, and RSVP details. RSVPs are crucial for planning, helping you gauge the number of guests.
Step 6: The big day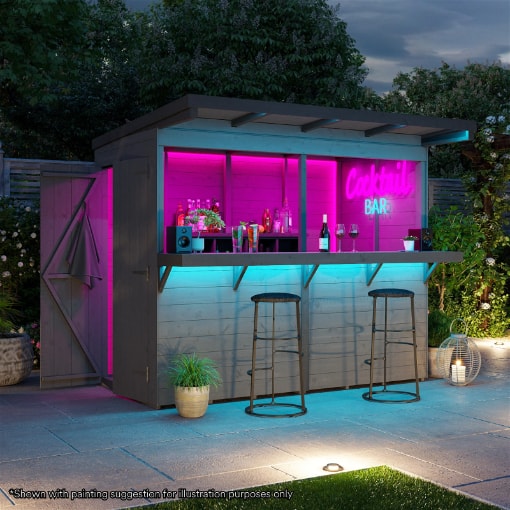 Stay organised on the big day by creating a checklist with a timeline. First, set up decorations a day or two ahead to avoid last-minute stress. Arrange seating strategically for optimal socialising and ensure there's enough for everyone.
Pre-stock the bar with drinks and garnishes to avoid running out during the event. Lastly, designate a prep area for quick access to utensils and serving essentials. This makes it easy to replenish snacks and keep the party running smoothly.
Remember, it's your party, too, so don't let stress steal your joy. Delegate tasks when possible, and savour the moments with your guests. A relaxed host sets the tone for a delightful garden pub party, so enjoy the process as much as the event itself.
Step 7: Prepare for unexpected changes
Another thing to consider is the unpredictable nature of the weather. Be prepared for various scenarios, including rain or extreme heat.
For rain, have a backup plan in place. Consider renting a tent or marquee to shelter your guests from the rain. Ensure the tent is sturdy and adequately anchored to prevent it from getting blown away in the wind.
In the case of extreme heat, provide shade with heavy duty parasols or awnings. Additionally, offer plenty of cool beverages to keep everyone refreshed.
Flexibility is key, so monitor the weather forecast as the day approaches and be ready to adapt. Having some indoor space available or an alternative date in mind can be a lifesaver.
Step 8: Post-party cleanup
After the garden pub party ends, cleanup is essential to restore your outdoor space. Here's how to make the post-party recovery process seamless:
Cleanup process:

Start by gathering all trash and recyclables. Assign designated bins for disposal and recycling. Enlist the help of friends or family to speed up the process.

Recycling and waste disposal:

Separate recyclables like bottles and cans from general waste. Compost organic materials when possible. Be mindful of local recycling regulations and adhere to them.

Equipment return:

If you rent any equipment, ensure it's cleaned and returned right away. Check for any damages and report them if necessary.

Garden restoration:

Replace any furniture or decorations that were moved during the party. Repair any damage to the garden, such as trampled plants or lawn areas.

Final inspection:

Do a final walk-through to make sure you haven't missed anything. Look for small items, like forgotten cups or utensils.
By following these steps, you'll have a well-organised post-party cleanup.
Round-up
As we wrap up our guide, remember that the heart of any great gathering lies in the details. Besides the welcoming ambience and delicious menu, prioritise safety. Stay organised, and, above all, savour every moment. Cheers to your garden pub soirée's success!
Looking for tables and chairs? This Grey Outdoor Bar Table would look amazing on your modern setup. Meanwhile, the Sherford Teak Hardwood Round Bar Table fits a traditional setup best. If your pub shed space allows, the BillyOh Nightjar Garden Bar solves the problem!
For more inspiration, here's your next read: How to Host a Party in Your Summerhouse