In this blog, we'll explore a collection of inspiring garden bar sheds, showcasing their:
design elements

innovative ideas

creative use of space
We've curated a selection of our customer review blogs to provide you with inspiration and tips. Each garden bar featured here offers a distinct style, catering to various tastes. Ready?
Emry's Fraya Cabin: A Cozy Retreat for All Seasons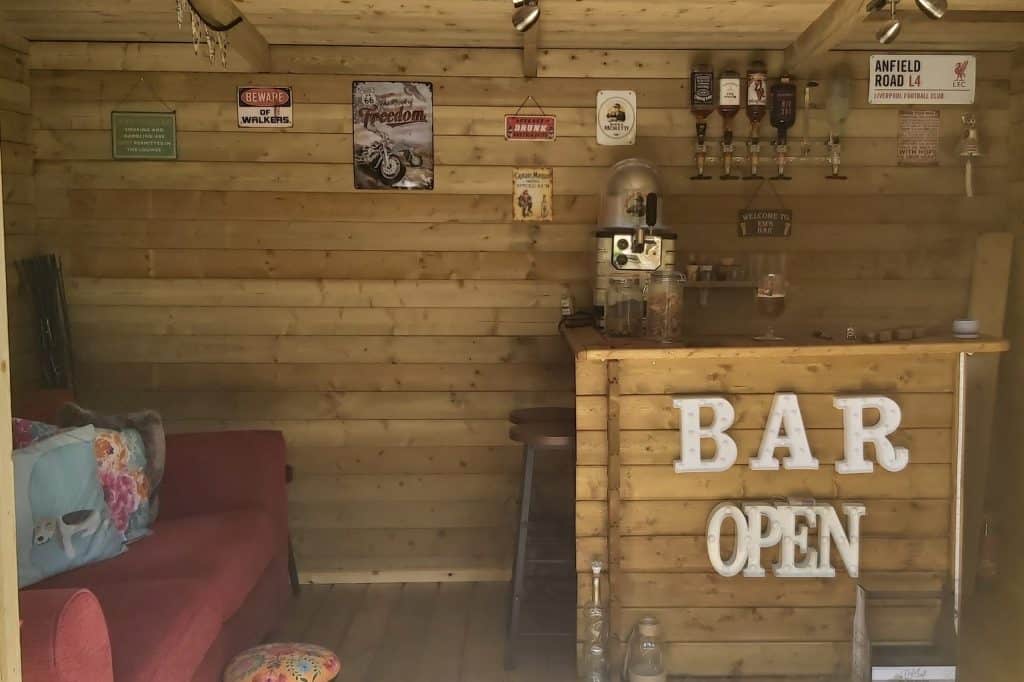 In the featured blog post, Emry's Fraya Cabin stands as a captivating example of a garden bar. The Fraya provides an ideal foundation for converting it into a stunning outdoor pub.
Emry's cabin boasts a spacious layout, allowing ample room for an inviting bar area. Its large windows flood the interior with natural light. The cabin's sturdy construction makes it suitable for year-round use.
When envisioning the Fraya as a garden bar, focus on comfort, style, and functionality for the interior. Start with the seating arrangements, ensuring they are both inviting and accommodating. Opt for comfortable bar stools encouraging guests to relax and enjoy their time in the bar area.
Storage options are crucial, allowing you to keep supplies and accessories neatly organised. Use built-in shelves or a bar counter to store glassware, bottles, and other bar essentials.
Ambient lighting plays a significant role in setting the mood. Install soft, warm lighting fixtures and dimmers to adjust lighting levels. Accent lighting is great for highlighting specific areas like the countertop.
To tie the garden bar concept together, blend natural elements with the rustic charm of the Fraya. Introduce plants to add a touch of nature and freshness. Enhance the rustic aesthetic by incorporating wooden accents in the furniture or decor.
Sonia's Picton Cabin: An Enchanting Garden Hideaway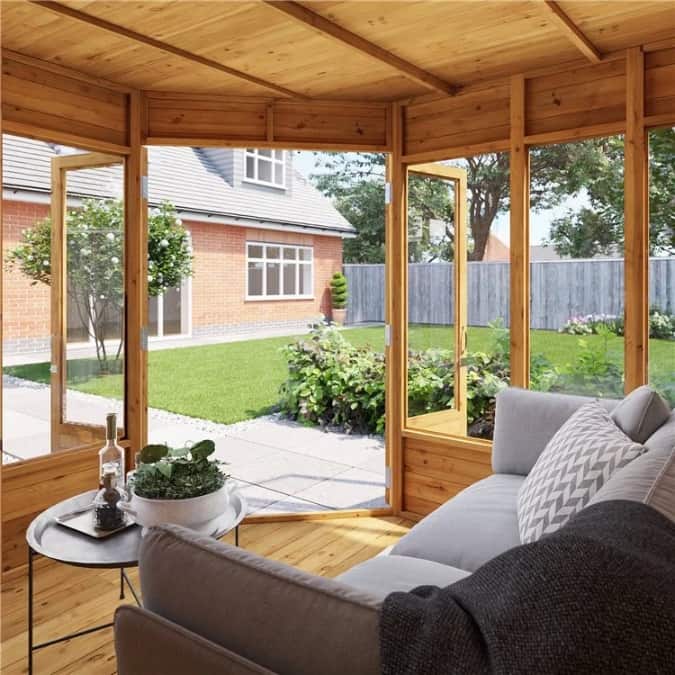 Sonia's Picton cabin presents a charming and enchanting option for a garden bar. Picton boasts unique features that make it an excellent inspiration for a pub room.
The Picton corner design allows it to fit snugly into your outdoor space. This maximises the available area without overwhelming the surroundings. When envisioning it as a garden bar, capitalise on its rustic aesthetic to enhance the charm of the space.
Introduce design elements that complement the surrounding landscape. Start with the choice of materials and colours. Opt for wooden furniture, bar stools, or a counter that mimics the cabin's construction.
Install an outdoor rug for a cosy underfoot experience. Add outdoor cushions, throws, or decorative pillows on the seating to add comfort and style. To further enhance the corner summerhouse's charm, ensure sufficient lighting. Solar-powered pathway lights or string lights can add a touch of magic and create a warm ambience.
Sara's Fraya Cabin Bar: Elegant Entertaining at Its Finest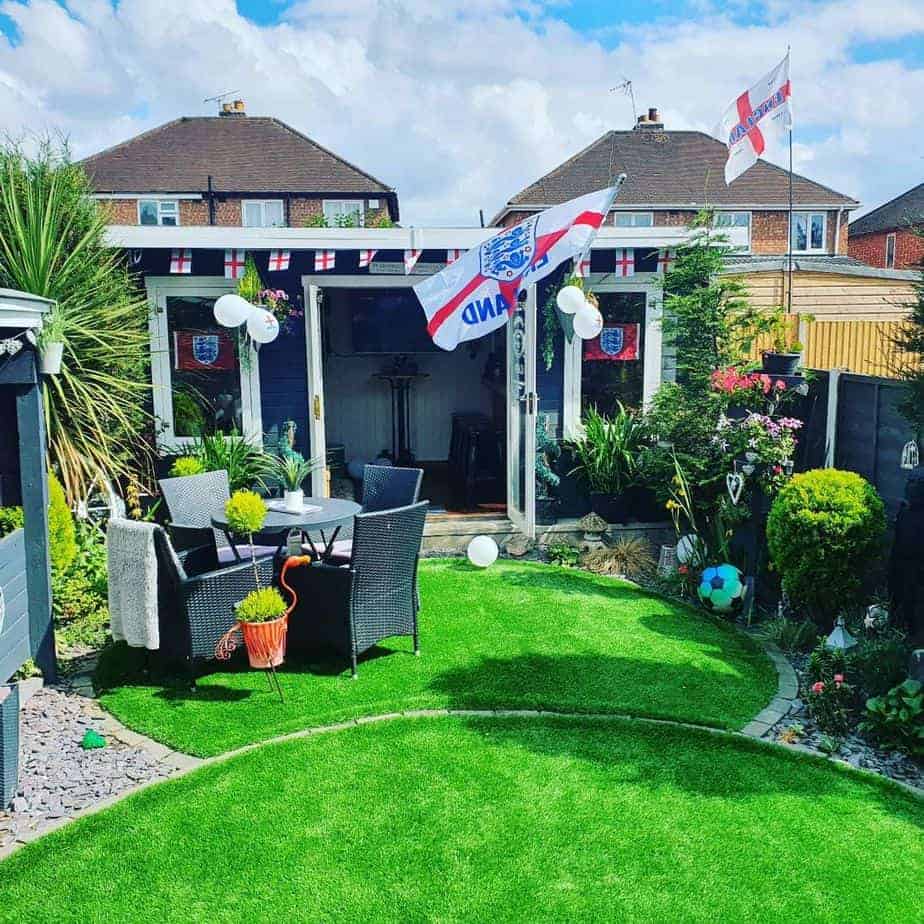 Sara's Fraya Cabin Bar emanates a sense of sophistication and elegance. This stylish cabin bar offers a wealth of design elements that make it a great source of inspiration!
Sleek lines and modern finishes characterise the Fraya-turned-into-bar's elegant design. The spacious bar counter is a major plus! Its contemporary aesthetic sets the stage for a refined outdoor entertainment experience.
A well-stocked bar area is essential for a sophisticated garden bar. Incorporate a variety of glassware, from elegant wine glasses to sleek cocktail tumblers. Display bottles of premium spirits, mixers, and garnishes on the bar counter.
Arrange the seating in a way that fosters conversation. Opt for lounge chairs or bar stools that complement the cabin's modern aesthetic. Arrange the seating in clusters or groups, ensuring ample space for guests to mingle.
To elevate the outdoor entertainment experience, add a BBQ station! Whether integrated into the cabin or positioned nearby, it can add a culinary element to your gatherings. Best of all, it provides a space for grilling delicious meals.
By drawing inspiration from Sara's, you can create a pub room with a sophisticated aesthetic!
Katie's Carmen Summerhouse Bar: A Stylish Retreat with a Touch of Luxury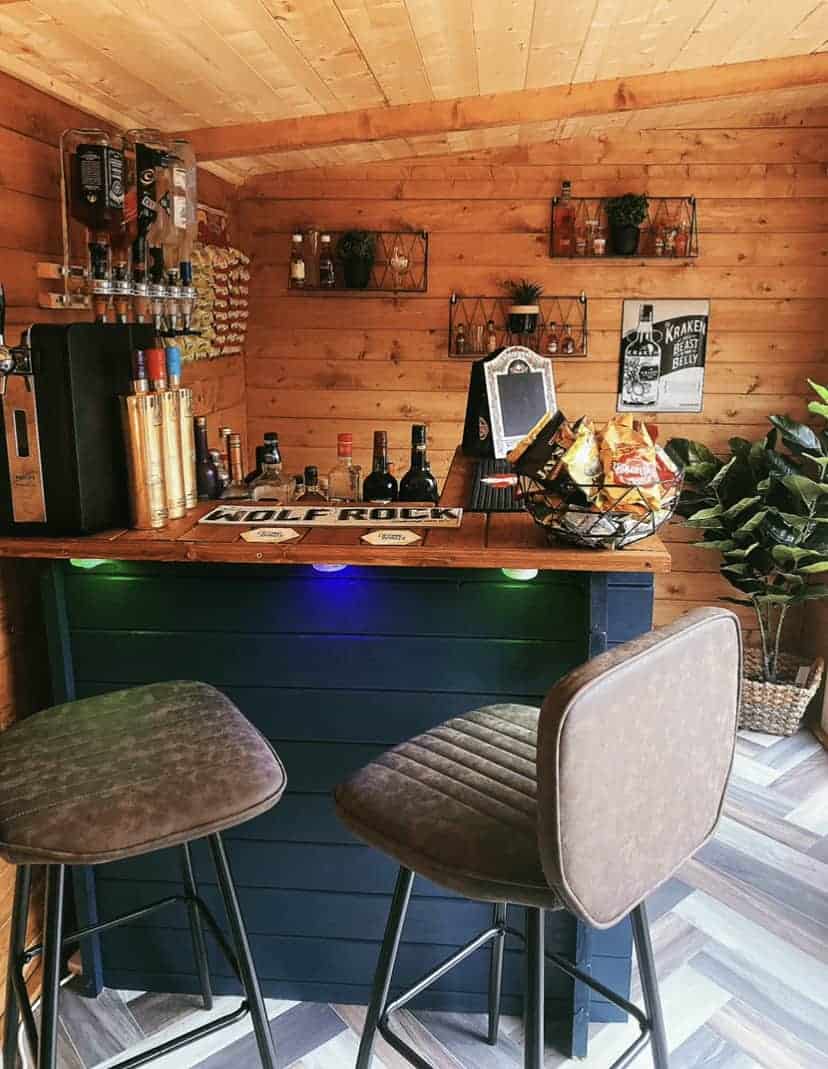 Introducing Katie's Carmen Summerhouse Bar, the epitome of a luxurious garden pub. This summerhouse offers a range of design elements that can spark your creativity!
When creating your version, add personal touches that reflect your style. For the furniture, invest in high-quality sets that exude comfort and elegance. Choose plush seating with stylish cushions. Also, add a mix of textures, such as synthetic rattan, to add visual interest. Introduce side tables or coffee tables to create functional spaces. Browse through our range of garden furniture for reference.
To enhance the overall aesthetic, pay attention to the finer details. Add greenery to infuse natural beauty into the space. Incorporate outdoor rugs, statement lighting fixtures, and artwork.
Carmen's covered veranda makes the structure a multi-functional space. This covered outdoor space extends the usable area of the garden bar. It becomes a stylish transition between the interior and exterior. This added feature creates a seamless flow and enhances the overall experience.
Add a BBQ or an outdoor kitchen area to expand the possibilities for culinary delights. Integrate a cosy seating area with outdoor sofas or lounge chairs where guests can relax. A parasol is also worth considering for added shade.
With this inspiration, your garden bar will become a haven of indulgence and refinement, that's for sure!
Round-up
We hope the featured garden bar inspirations have inspired you to create your own oasis. From the rustic charm of Emry's Fraya to the corner elegance of Sonia's Picton and the sophistication of Katie's Carmen, each design offers its own distinctive appeal.
Key takeaways include the following:
utilise comfortable seating

incorporate practical storage options

create ambient lighting for a cosy atmosphere.
Also, consider blending natural elements, such as plants and wooden accents. But remember, these inspirations are just the beginning. Let your creativity flow and adapt these ideas to suit your style and available space.
Cheers to the joy of outdoor gatherings and the magic of a well-designed garden pub!