We love to catch up with our customers to see how they're getting on with their garden buildings. That's why it was such a pleasure to hear from Sara, who has turned her Fraya Log Cabin into an amazing social space with a fully-equipped bar!
Sara and her family of four were in need of extra space at home. They wanted a place to socialise, but also space for the family to relax and for the kids to chill out with their friends. She also had dreams of having her very own home bar – but had nowhere to put it.
With extra space for everything in dire need, Sara turned to us at Garden Buildings Direct – where she found our Log Cabin range.
She was immediately impressed with the choice of cabins on offer and our reliable and affordable prices. But it was our website, and our own customer stories, that really gave her the confidence to buy.
"It was great to be able to see how different people have used the buildings and fit them into their space."
Inspired by our previous customers, Sara decided upon the Fraya Log Cabin. As well as the modern design, she particularly liked the roof design and the easy-access double doors. But it was the size that really sold it – big enough for a home bar and a socialising space. For Sara and her family, it was simply perfect!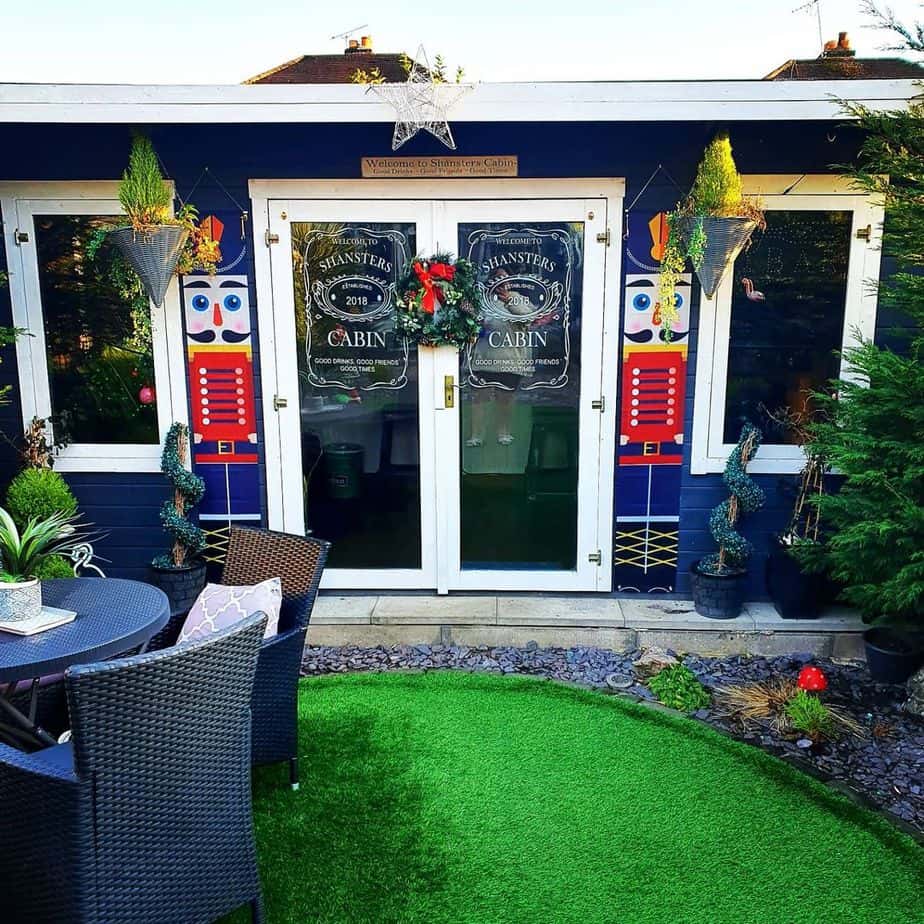 After a swift delivery and easy assembly, Sara put her artistic skills to great use by decorating the cabin in a modern industrial style. 
She left the wooden floor exposed to give it a rustic appearance. She complimented this with wooden tables, shelves and black iron accessories like plant pots and lanterns. 
But, of course, Sara's family's biggest triumph was the home bar they built inside – which is so impressive you might think it was nestled in a real bar! Take a look at their handiwork in the images below.
Sara's Fraya Cabin Bar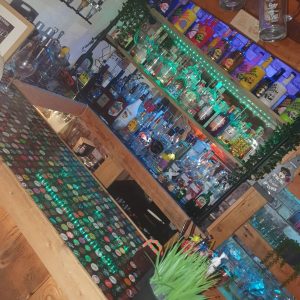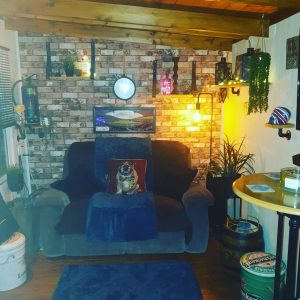 It's safe to say that Sara, her family, and her friends, have all made good use of their new cabin.
"My favourite part of the cabin is that it brings friends together – but also gives us as a family more individual space."
We couldn't ask for a better review or a better customer (we're definitely not tearing up a little over here)!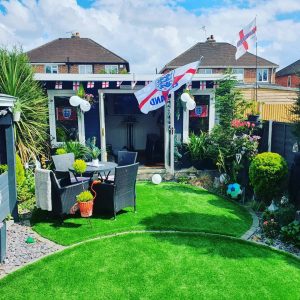 "We're very pleased with the experience, and would always recommend Garden Buildings Direct!"
We asked Sara if there were any tips she'd give to someone considering creating their own log cabin retreat. To our delight, she had some wise words!
"Go for it! Make it enjoyable for all: grown-ups, kids, friends, and family – you'll never regret it."
In such difficult times, it's so lovely to see someone spreading the love! Thank you, Sara – we hope you have many more years of laughs, smiles, and good times in your Fraya Log cabin.
If you're interested in buying a Fraya of your own, or want to view our other log cabins, you can browse our wide range using the button below.
Alternatively, you can read our other customer spotlights using this link!
Shop Log Cabins