We love to catch up with our customers to see how they're getting on with their garden buildings. You can bet that hearing about Sonia's new Picton Corner Summerhouse made our day, so we're sharing her story here so everyone can get inspired!
Modern life has us spending more time at home as we adapt to working from home and the life changes that come with it. Even if you're not working at home, there's no doubt you've dreamed about a space in your house where you can totally relax. 
Sonia had the same idea – she wanted a new space in her house where she could entertain guests or just relax on a summer's evening with a drink. An outdoor cabin, she thought, would be perfect.
So, she searched for a garden building that could do the job. After an extensive google search, Sonia came across us at Garden Buildings Direct. From there, our great prices showed her that we were the best place to buy an outdoor retreat. 
And once she came across the beautiful Picton Corner Summer House, Sonia found what she was looking for.
"We loved the look of it and the size was perfect for our garden."
They especially loved the garden bar additional feature, so she added that to her cabin and got it ordered straight away. After delivery, Sonia found that she needed a replacement part, but once we'd got it to her she went straight ahead and got her garden bar and retreat up and running.
With a perfect corner space in her garden, the Picton fit right in in Sonia's garden. Take a look at it below – nice and snug. We think it fits perfectly!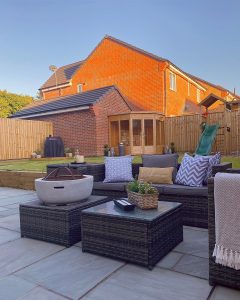 "My favourite parts are the large full glass doors."
Once it was constructed, they kitted it out with the full garden bar, some fancy bar stools, and ambient lighting to create a great vibe.
Now Sonia uses it as a fully-fledged entertainment space, bringing friends and family there for a drink in the evening or as a place to sit and relax when the sun is out. With the corner design of the Picton Summerhouse, it slots right into the corner of Sonia's garden and gives her a relaxation space that she couldn't have otherwise.
When we asked Sonia about her best tips for anyone who wanted to get a retreat of their own, she had some fantastic advice:
"Make it completely your own. Make sure it suits your needs with great lighting and ambience."
If you want to follow in Sonia's footsteps and get hold of a relaxing retreat or bar building that suits your garden, visit our range of Summerhouses and Corner Summerhouses by clicking one of these links or the button below.
Alternatively, check out how some of our other amazing customers have personalised their garden buildings in our other customer stories!