We love to catch up with our customers to see how they're getting on with their garden buildings. That was certainly the case when we heard back from Mark, who has done amazing things with his very own 4000 Lincoln Wooden Greenhouse. To find out how he made it his own and fitted it out for success, keep reading!
---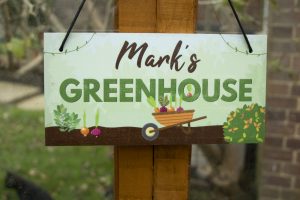 While the UK climate is fantastic for growing all sorts of things, there are some species that can't handle it all by themselves. Avid gardeners and horticulturists will be fully aware of this and, when they want to expand their growing efforts, they know there's only one thing that can do the job: a Greenhouse!
Mark was one of the many growing enthusiasts who wanted to step up his game and buy a dedicated starter greenhouse. He had very precise specifications for the type of building that would fit his garden.
"We spent some time searching for a greenhouse – our requirements were quite specific."
He wanted a wooden model with large windows, an accessible front door, a roof vent, and the ability to add drainage to the model. During his search, he came across a model that ticked every single one of his boxes – our 6×6 BillyOh 4000 Lincoln Wooden Greenhouse.
"I loved the look of this one…it fitted well in the space we had available for it…and a great price too."
Despite his requirements, our Lincoln model with its opening roof vent, clear-wall windows, and additional guttering fitted into exactly what Mark was looking for. It didn't take him long to make his decision and order his brand-new Lincoln Greenhouse! We're happy to report that his experience with our delivery service was seamless.
After a stress-free delivery and effortless construction, Mark had his Lincoln Greenhouse up and ready for growing. But he had some handy and impressive additions to add before he began.
"The experience was excellent, communication was great from start to finish. Overall I was very pleased."
He added additional staging for extra structural solidity, growing shelves, shading for the roofing panels to soften harmful UV rays, and a sign. All that, as well as a comprehensive drainage system that feeds into a water butt for water storage. They're even considering adding a power supply for indoor heating and fan cooling!
Take a look at his handiwork below: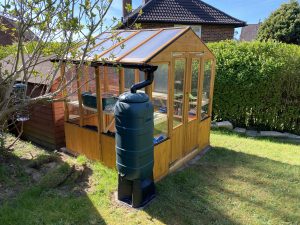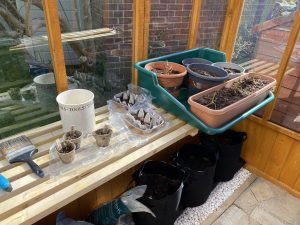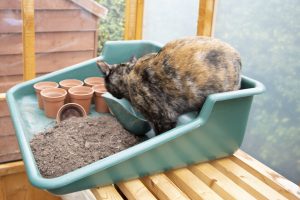 We absolutely love what Mark has done with his Lincoln Greenhouse, especially all the upgrades like the water-saving storage tank fed from the guttering. He's just as happy to have it up and running! He also shared what his favourite part of his new Greenhouse was:
"The size I think, it's perfect as a starter greenhouse, big enough to grow lots of plants…yet small enough to keep clean and tidy."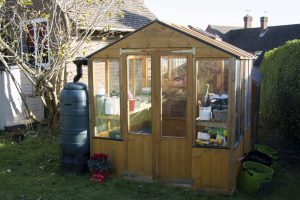 The Lincoln Greenhouse has allowed him to grow more from seeds, as it provides enough protection to let them grow safely until they're ready to plant outdoors. 
Currently, Mark is using it to grow tomatoes from seedlings, and he's already learned to provide the crops with support so they don't fall over! When asked if he had any tips for others considering buying a greenhouse, he delivered some great advice.
"Don't just buy the biggest one that fits…decide what you want to grow, as this has a massive bearing on the choice of greenhouse."
Well said, Mark. We're very happy to hear that you're getting on well with it and we wish you every success with your growing ventures in the future! If reading this has inspired you, and you want to get a Greenhouse of your own, then click the link or click the button below! Alternatively, you can explore more of our wonderful Customer Stories.