We love to catch up with our customers to see how they're getting on with their garden buildings. Hearing about their projects and experiences never fails to make our day, and this was just the case when we heard back from Fiona who had brought one of our amazing Lincoln Polycarbonate Greenhouses.
Achieving your growing and planting ambitions can be difficult in a smaller garden. You might not have the space for a huge planting plot or the room to get a huge greenhouse. 
This was Fiona's conundrum. As an avid gardener, she wanted a place where she could really let her hobby shine. For her garden size and layout, it was difficult to find a wooden greenhouse that would fit, look good, and come at the right price. 
That was until she came across the great Greenhouses here at Garden Buildings Direct and the superb 4000 Lincoln Polycarbonate Greenhouse.
Fiona immediately knew she was on to a winner. Not only was it the ideal size for the plot in her garden, but the price point was just what she was looking for too. She selected the Lincoln model with opening roof vents so she could provide easy ventilation on those hot summer days. Best and most important of all, it looked good.
"You had just what I wanted…a wooden greenhouse that looked attractive."
There was nothing else that took Fiona's fancy, so she decided on our great-value Greenhouse and had it ordered straight to her door.
After a "very good" experience and quick delivery, Fiona did not waste time constructing her new Lincoln Greenhouse. 
She didn't stop at building it, too. Decorations were very much in order. She chose a superb plum colour that gives the greenhouse a traditional feel. She also added some bunting to add to that rustic feel. Take a look at the fantastic finished product below!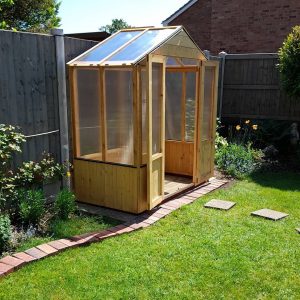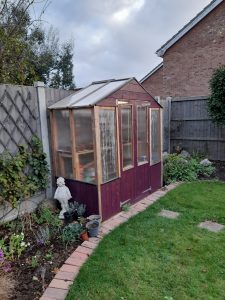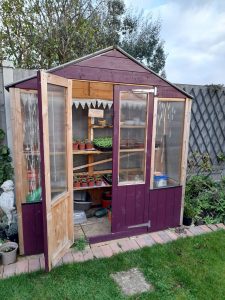 "It looks perfect in my modest Garden. So cute."
We couldn't agree more, Fiona – we love what you've done with it! Fiona brought this Greenhouse with the ambition of expanding her growing capabilities and doing things she's never done before. With the Lincoln now in her hands, she's managed to do just that.
"I love propagating seeds in the Spring and growing melons and luffas during the summer. I also bring in and store dahlias and cannas over winter."
Sounds like the introduction of her new BillyOh Greenhouse has really let Fiona take it up a notch!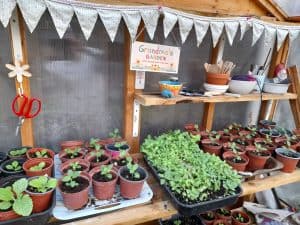 We also asked Fiona whether there were any tips that she would share with anyone else buying a greenhouse. Having now spent months using and tending to it in her garden, she had some more than useful tips.
She recommended that, if you live in a location that experiences turbulent weather – particularly strong winds – then you should consider choosing a glass greenhouse over a polycarbonate plastic one. This is simply because the polycarbonate panels might have trouble standing up to inclement weather.
We'd like to thank Fiona, both for trusting us with her Greenhouse purchase and for getting back in touch with us to share her story! If you're feeling inspired to begin a Greenhouse journey of your own, then click the button below to check out our Greenhouse range.
Alternatively, click here to explore more of our wonderful Customer Stories.