We love chatting to our customers and finding out how they're coming along with their new garden projects. That's why this week, we caught up with Christine to see how she was putting her newly purchased greenhouse to use.
Artists draw inspiration from almost everything. This inspiration is what makes them unique from one another. It's also what drives them to create the beautiful art that they produce, no matter in what timeframe.
Christine came to Garden Buildings Direct seeking a different type of inspiration though. As a keen artist in her spare time, she needed a creative space to sit in and be innovative – a place where she could be at one with a blank canvas and let her creative ideas run wild and free.
Christine decided that she would go ahead and purchase a garden unit where she could complete her crafts. After a short time spent browsing through our quality products, she fell in love with our 4000 Lincoln Greenhouse due to its vast natural lighting allowance and serene feel.
'It was easy to use your website. I bought the wooden greenhouse as I wanted to use it as a Winter Art room. I chose the 4000 Lincoln as the size is perfect!'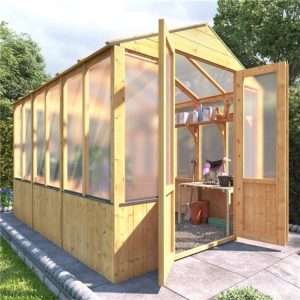 Christine was massively impressed by our speedy delivery turnaround, and appreciated the quality of customer service she received throughout the transaction – from initially ordering to product arrival.
'The delivery guy was brilliant. As mentioned in your literature I left a signed note on the front door asking for it to be left. We woke up Saturday morning to find it had been silently and wonderfully unpacked and was waiting for us on the drive! Perfect!'
Upon receiving our pre-cut timber and helpful step-by-step installation guide, she wasted little time in piecing together her new greenhouse, screw by screw, pane by pane.
And in a flash, she had a brand spanking new polycarbonate greenhouse in the foot of her garden, ready for her to 'do her thing' with.
'I painted it with Cuprinol wood stain. I've put in a carpet and I used the shelving to make myself a desk.'
You can see Christine's full product transformation below: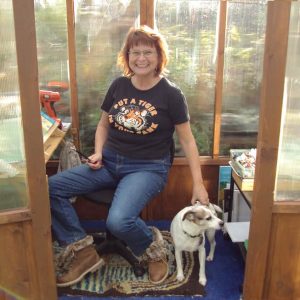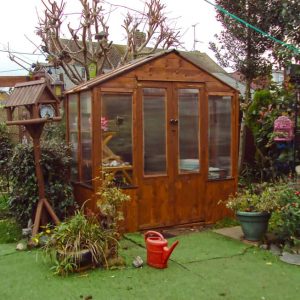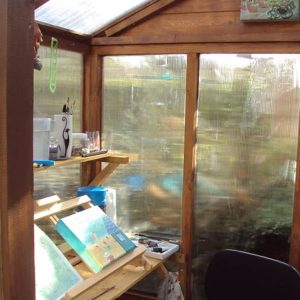 'It has lots of light. My husband and my brother put it together. It took a couple of hours Saturday afternoon and another couple Sunday morning.'
Christine's artistic ideas led her to transform the greenhouse into a silent sanctuary like no other. It's become a disturbance-free zone that she can always go into to find the peace she needs while putting together expressive artwork.
Our sheds, summerhouses, and log cabins have found their way into the hearts of tradesmen, sports-enthusiasts, mechanics, and artists alike. And you too can find something perfect for any use with the wide range of buildings we offer.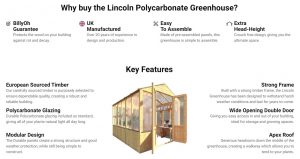 If you've got a great story about your BillyOh shed, summerhouse, log cabin or playhouse conversion – we'd love to hear it! Simply get in touch with us on our social media pages for a chance to feature here.
And why not check out some more of our customer stories here!
Shop Greenhouses