We love to catch up with our customers to see how they're getting on with their garden buildings. So to hear back from a loyal customer like Dean, who has used his brand new Greenhouse to enhance the capabilities of his fantastic vegetable patch garden. 
We loved to hear about his growing community, as well as how much he's loved his new 4000 Lincoln Greenhouse. Keep reading this Customer Story to find out just how he got on!
---
For avid and experienced gardeners, the best way to up their game is to invest in a Greenhouse. These buildings can help gardeners do tasks that they're simply not able to do without one while making things easier all year round. 
Choosing one of these buildings isn't a simple choice, either, as many gardeners want a greenhouse that suits their garden and makes it look – just as their plants do – a better and more beautiful place.
Dean runs his own online gardening community with his own Facebook group and has years of experience creating his own specialised vegetable patch. He'd brought a greenhouse from us a few years ago, but needed to upgrade to a new one. Having had such a great experience the first time, he came straight back to us at Garden Buildings Direct.  
A big fan of the classic greenhouse appearance of our models, Dean selected the fantastic 12x6ft 4000 Lincoln Wooden Greenhouse.
"The old stylish look of a greenhouse is my favourite thing about the Lincoln…the size was perfect for what I needed."
Just like his first time, Dean put his trust in us to get his new building to him quickly and without any fuss whatsoever. We're proud to say that we got it to him fast and safely while maintaining clear and constant communication – just as we do every single week with hundreds of customers just like Dean.
"From start to finish [you were] always in contact with me for when to expect delivery."
Post-delivery, the experienced Dean assembled his greenhouse and began to kit it out to suit his growing needs. 
He added two large growing benches on either side of the greenhouse, giving him a massive 24 feet worth of bench space! He also opted for the wrap-around shelf option, which served as the perfect space for a half-tray. Let's take a look at what it looks all set up and in action!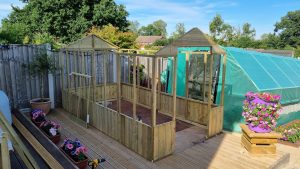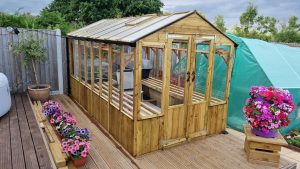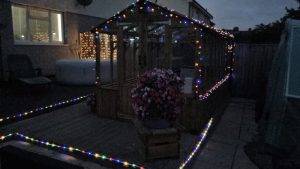 We're just in love as you are, Dean! Since the greenhouse is so close to his house, he's been able to install electricity and supply both light and heat to the building which further increases its capabilities. With his Lincoln now in running order, his growing operation has been taken to new heights.
"I use it for selling and cuttings – I can store over a hundred cuttings in the greenhouse that I'll be overwintering ready for spring."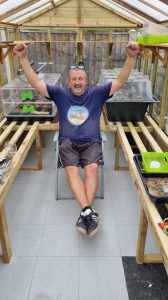 We also asked Dean if he had any tips for those considering getting a greenhouse of his own, and he was kind enough to offer up some of his experience:
"Make sure the base its going on is level. Plus, wooden greenhouses are easier to put up than polycarbonate [buildings]."
Sound advice, thank you Dean – we wish you all the best with your greenhouse, growing efforts, and your growing community. If you've not already, check out his facebook page!
If reading this has inspired you to follow in his footsteps, then why not check out our superb Greenhouse range with loads of models and sizes available. Or, if you want to keep reading about how our garden buildings are put to great use, check out more of our customer stories.