We love to catch up with our customers to see how they're getting on with their garden buildings. Emmy got in touch with us about her new Relaxing Retreat, our Picton Corner Cabin, and we couldn't be happier to hear how it had all gone!
Getting the most out of your garden can be tricky at times. Utilising the space as best as possible isn't easy to begin with – and it can be disheartening to see it go unused. However, if you've got the space and time, a Garden Cabin can be just what you're looking for to start really getting the most from the space you have available.
This idea is exactly what came to Emmy's mind. She wanted a space in her garden to sit, relax, and enjoy the sunshine. 
A Log Cabin seemed to be the ideal solution, but there was a sticking point: she needed a design that would fit into a very particular space in her garden. This could have been a problem, but everything fell into place when she found us here at Garden Buildings Direct.
"We saw an advertisement for your company online and your prices were perfect for our budget."
Emmy looked through our selection of Log Cabins and home Garden Buildings and quickly found one that suited her and her garden perfectly in the Picton Cabin. 
The size and corner design of the cabin made it ideal for the particular space they wanted to fill in their garden, while the open, comfortable feel suited the garden retreat summerhouse feel she was looking for. It didn't take Emmy long to order her new Cabin – and within days we had it delivered straight to her garden.
"It was delivered on time and we didn't have to wait long for it. It was easy to put together with clear instructions. Great Service."
After assembling her new Picton Cabin in her garden, Emmy got to decorating it – and she didn't do half a job! Seeking a nostalgic 1970s theme, she opted for pink paint, cane furniture, and macrame plant hangers filled with cacti and spider plants. See how it went for yourself in the pictures below.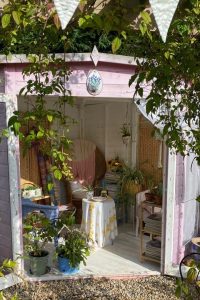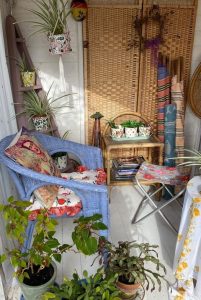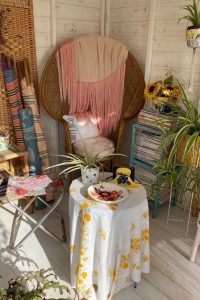 We're not the only ones who love the decor. Emmy has fallen firmly in love with her relaxing retreat.
"It's so great having an outside room. It enables us to use the garden virtually all year round, from March to November."
Emmy's favourite thing to do in the Summer house is sitting in the warmth of the sunshine all throughout the year. We can't imagine anything more relaxing than that! She has now had it for four years – and it's still as perfect as when it was first constructed. Not only is that a testament to our reliable Garden Buildings, but Emmy's maintenance too!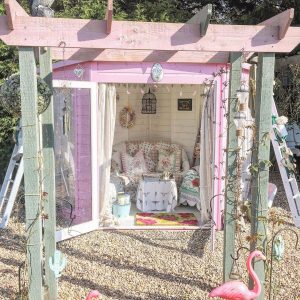 As someone who now has heaps of Garden Building experience, we know that it would be useful for Emmy to share some of that with everyone thinking of buying a cabin retreat of their own. We asked what her top tip for those looking to buy is. She had a great answer:
"Position your building where you will use it the most. If you work all day, position your building where it gets the evening sun so you have a lovely place to sit at the end of the day."
Wonderful advice, wouldn't you agree? 
We'd like to thank Emmy for reaching out to us about her Summer house experience. It made our day to hear how much she loves her Picton Cabin. If you want to follow in her footsteps and get a cabin of your own, you can find our full selection of Log Cabins here, or click the button below to explore the Picton.
Alternatively, read more of our fantastic Customer Stories by clicking here!