We love to catch up with our customers to see how they're getting on with their garden buildings. So today, we've got someone special with a great story about how they transformed their BillyOh purchase.
Hi there, what's your name?
Hey, I'm Elodie.
And Elodie, which outdoor garden building did you go for?
I went for the BillyOh Picton Corner Summerhouse.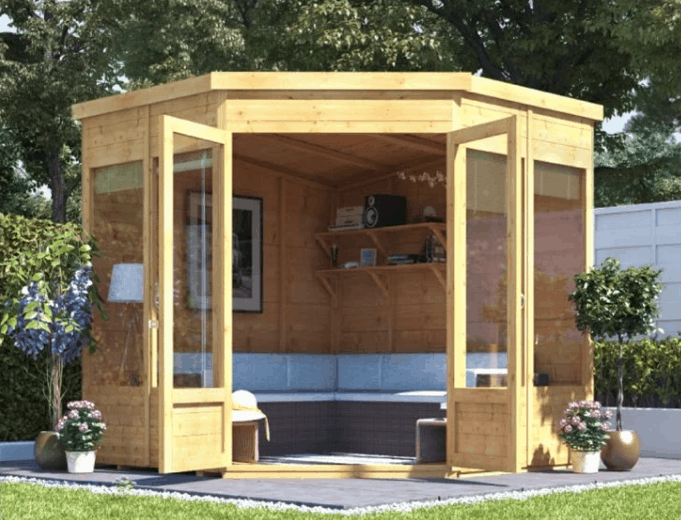 What made you pick this particular model?
Going into the lockdown last year, we knew we'd be spending more time outside. We wanted somewhere we could cosy up as a family and use as an outdoor room.
We had a random corner in our garden we couldn't think of what to do with. When I was scrolling through the website and saw this corner summerhouse, it was perfect! We don't have loads of space and didn't want anything too overpowering. This gives us the outdoor room we wanted but without taking up lots of space.
Sounds like you made a great choice! So, what're you using your outdoor building for?
We use it as an outdoor room and sometimes as a more adult space for having a drink in the evening with a blanket and the doors open.
In the daytime, it gives us the ability to see the children playing in the garden and also chill with them – having snacks or watching their iPads.
BillyOh Picton Corner Summerhouse Interior
What would you say your new garden building has allowed you to do that you couldn't before?
It's allowed us to spend so much more time outside no matter what the weather. We've even been out there in the winter with our coats and blankets on, it really is usable all year!
Fantastic. Have you decorated your garden building then?
We painted the outside in a Valspar outdoor woodwork colour to match our windows. The inside we did in Cuprinol white garden shades paint.
We made our own seating as we really struggled to find some to fit nicely inside. We used fence posts to build the frame of the seating and long pieces of wood screwed over the top. We wanted it to feel like a room, so we bought some shelves, IKEA artificial plants, and a small console table too!
Wow – sounds like you've really made it homely. What's your favourite thing about your building?
The fact we are able to use it as a functioning room but also enjoy the fresh air and garden.
And what made you choose Garden Buildings Direct?
Value for money and reviews were really good!
Nice to hear, Elodie. And how was your experience with us?
Great!
BillyOh Picton Corner Summerhouse Exterior
Almost done – any top tips for anyone wanting to create their own relaxing retreat?
Be brave. If you're unsure whether to take the plunge and buy one or not – do it! It genuinely transforms how you use your garden and gives you a usable room to get you out in the fresh air.
We couldn't agree more Elodie. Where can people see more of your garden building?
They can find me at @our_countryside_journey on Instagram. 
Wow, it sounds like Elodie is really making the most out of her BillyOh Picton corner summerhouse. So if you've got a fantastic story about your BillyOh shed, playhouse, or even a log cabin conversion – we'd love to hear. Simply get in touch with us on social media for a chance to feature here.