We love to catch up with our customers to see how they're getting on with their garden buildings. So this week, we spoke to Suffolk-based Elodie to see how she was making the most of her new summerhouse!
As a self-proclaimed 'lover of do-it-yourself & reclaiming', Elodie has undertaken many projects since she purchased her countryside retreat a few years ago. And once the house was renovated and retouched to her liking, she decided that the garden could do with some TLC of its own.
Elodie started by having a small patio fitted, purchasing and installing a playpark for the little ones and generally tidying her plot up. Then she decided that she wanted a shady summerhouse for those hot afternoons.
However, due to the peculiar layout of her back garden, she required a specific corner shaped unit to bring her idea to fruition. Lucky for her, she found the perfect match here at Garden Buildings Direct with our BillyOh Picton Corner Summerhouse.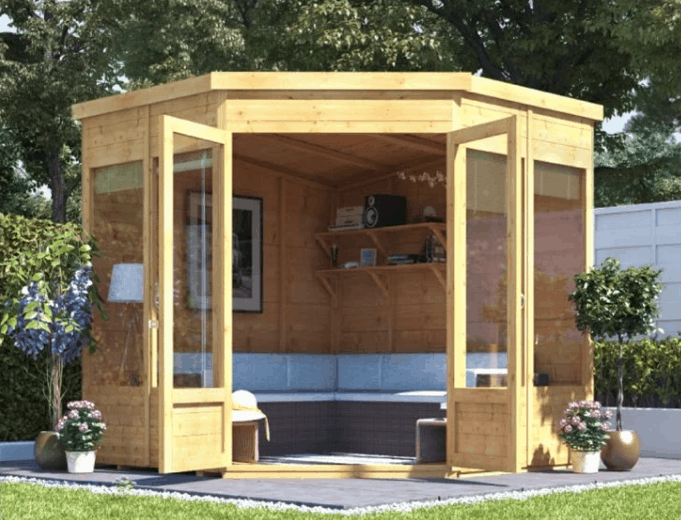 'We had a random corner in our garden we couldn't think of what to do with. When I was scrolling through the website and saw this corner summerhouse, it was perfect!'
With her newly acquired unit, complete with easy-to-follow assembly instructions, Elodie got straight to work on the construction and decorating process.
'We painted the outside in a Valspar outdoor woodwork colour to match our windows. The inside we did in a Cuprinol white 'garden shades' paint.'
Elodie also furnished her own seating for the unit to save on costs and decorated the interior with shelving and foliage to give it a nice homely touch. She also had a custom-made sign created for the outside, displaying her nickname for the building – 'the Hubbard's Hut'.
'It's allowed us to spend so much more time outside no matter what the weather. We've even been out there in the winter with our coats and blankets on, it really is usable all year!'
Elodie found a dual-use for her summerhouse, in a quaint playroom for the boys during the day, turned adult snug on an evening. The perfect place for her and her partner to enjoy a quiet drink and a cuddle on those balmy Autumn nights.
'We use it as an outdoor room and sometimes as a more adult space for having a drink in the evening with a blanket and the doors open.'
You can see the full extent of Elodie's makeover below:
All in all, Elodie nailed the conversion of her stunning summer house – fit for use year-round!
If you want to see more of Elodie's custom conversion, or check out her breathtaking country cottage renovations, then be sure to check out her instagram page – @our_countryside_journey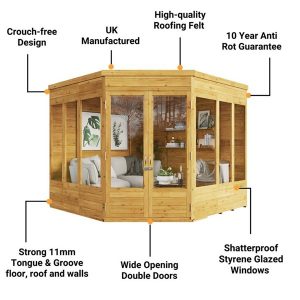 And if you've got a fantastic story about your BillyOh shed, summerhouse, log cabin or playhouse conversion – we would love to hear it! Simply get in touch with us on our social media pages for a chance to feature here.
And why not check out some more of our customer stories here!
Shop Summerhouses