We love to catch up with our customers to see how they're getting on with their garden buildings. Hearing back from Emyr, who had chosen one of our Fraya Log Cabins, was wonderful and we're here to share how he made his new cabin into a relaxing bar retreat!
Read more of this Customer Story to find out how Emyr decorated and uses his new Log Cabin, and get some inspiration for your very own cabin.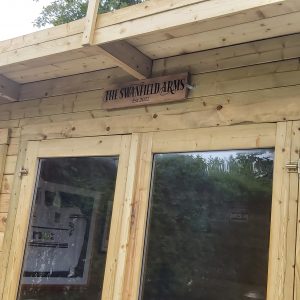 Finding a Cabin
Emyr's journey started when he decided to start using the bottom of his garden more. In the past, he had filled this space with wooden decking – but this soon became obsolete when he added another section of decking to his garden.
With a large space to fill, Emyr wanted options that would let him really make the most of his outdoor space. That's when he had the idea of a Log Cabin Garden Bar.
Like many of our customers, Emyr found us here at Garden Buildings Direct after a quick search on the internet. He was immediately impressed with what he saw, especially "the range of buildings" that we have on our site. After browsing through our wide range, he found what he was looking for: the Fraya Pent Log Cabin.
"I chose the Fraya as I liked the design of it."
Building a Garden Bar
Once Emyr had selected the Fraya Log Cabin and chosen his size, 4m x 3m, as well as adding the classic NightJar Garden Bar to make his Garden Bar dreams a reality, he pressed the magic order button and we got his cabin to him in no time at all. In fact, Emyr was extremely impressed with the entire experience.
"Excellent from ordering all the way to delivery. Can't fault it."
After delivery, they got to work building the Fraya Cabin on a secure concrete base. After a straightforward construction, Emyr got around to personalising the Cabin into their own garden bar – and he went all out with it!
"I have put up some signs, a mirror, some optics, and a framed rugby shirt. We have got a couple of bar stools, a lovely sofa from a charity shop and an up-cycled chair."
It looks amazing – and don't just take our word for it, take a peek at the finished product below!
Great work Emyr! The colourful signs give the cabin a real sense of personality, while the garden bar is well-placed and ready to serve drinks! We're also big fans of the coloured lighting, which creates a lovely ambience at night.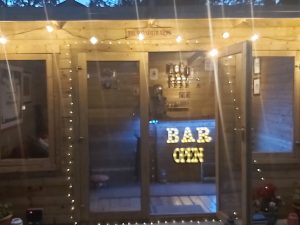 The End Result
We're always happy to see Customer's garden building visions come to life, and seeing Emyr's journey from unused garden space to a fully-complete Garden Bar has been great.
We're not the only ones satisfied with it, either! Emyr is overjoyed with being able to use the whole of his garden again.
"This bar has now allowed us to use the whole of our garden again. I just love spending time down there listening to my music."
We couldn't be happier that Emyr is getting the most out of your cabin and garden. 
He even had some great tips for those of you looking to make a cabin retreat of your own, stressing that you need to "get the base the building is going on right". Without a good foundation, things could get tricky. But he has a solution too: "I put a concrete base down and it's fantastic."
Fantastic advice – and some that will surely help other garden bar enthusiasts!
If you want to get a cabin of your own like Emyr's check out our great range of Log Cabins here, or click the button below to explore the wonderful Fraya Cabin. You can also check out more of our customer stories by following this link.