We love to catch up with GBD customers to see how they're getting on with their garden buildings. So this week, we caught up with Katie who transformed one of our Carmen Log Cabins into a back-yard bar!
Over the past couple of years, the idea of setting up a pub from the comfort of your own garden has become very popular. Households across the country have stepped up to the plate and converted garden buildings into boozers.
With lockdown and restrictions across the country, pubs and bars were forced to close due to social distancing measures. But many still craved the authentic experience of visiting a 'local' to relax and unwind with family and friends after a hectic week at the office. (We know we sure did!).
So Katie – like many others – came to Garden Buildings Direct with the vision of creating her own bar in her very own back garden. Lucky for her, she found the perfect set-up in the form of our Carmen Log Cabin Summer House.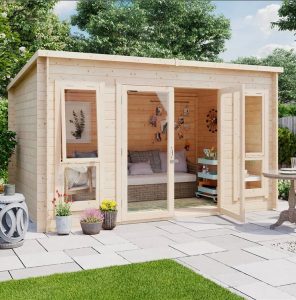 'It's been a well-needed change of our home environment during lockdown! And the building and designing kept me busy during the weekends when we had nothing else to do!'
Katie set her eyes upon the Carmen Log Cabin as it was the ideal size for her property, and it's reasonable price was well within her budget. She also decided to couple it up with our Nightjar Garden Bar and got to work on decorating after a speedy delivery.
'Garden Buildings Direct were the most competitively priced summer houses we could find and had the quickest lead time for delivery!'
She decided to paint the exterior a solid white with a standout grey trim for a minimalistic look. (Which we just love).
Katie also wanted the homely feel of an authentic bar on the inside, so she decided upon a rustic colour scheme with a grey vinyl floor. She also installed shelving, optic drink dispensers and a wood burner stove to add to the ambience on cold winter nights!
'If you can, I would say get the biggest summer house you can possibly fit in your garden! You'll really enjoy the extra space!'
You can see the full extent of Katie's makeover below:
At Garden Buildings Direct, we're very pleased with Katie's use of our log cabin and nightjar bar. And we want to help offer you the same quality garden building and service!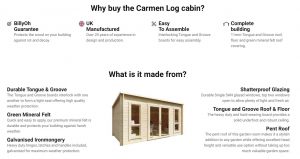 If you've got a fantastic story about your BillyOh shed, summerhouse or log cabin conversion – we would love to hear it! Simply get in touch with us on our social media pages for a chance to feature here.
And why not check out some more of our customer stories here!
Shop Summerhouses