A tidy backyard alone already adds value to a home. The addition of a garden building, however, a garden room can be a real draw for potential buyers or give you loads more room without the need for planning permission.
A dedicated space to work or study, for hobbies or entertainment, a garden room is an ideal solution. It provides the perfect balance between in and out.
The design can be as simple as you want. But here, we're all about creating a seamless space that offers functionality and a homelike experience.
If you have the same vision as us, then our garden room ideas will give you the perfect inspiration. Read on!
1. Indoor-outdoor concept
A modern approach that provides an open but still covered garden room area. Perfect for housing your outdoor hot tub or chill-out lounge all under one roof.
This design gives you more outdoor living options for entertainment.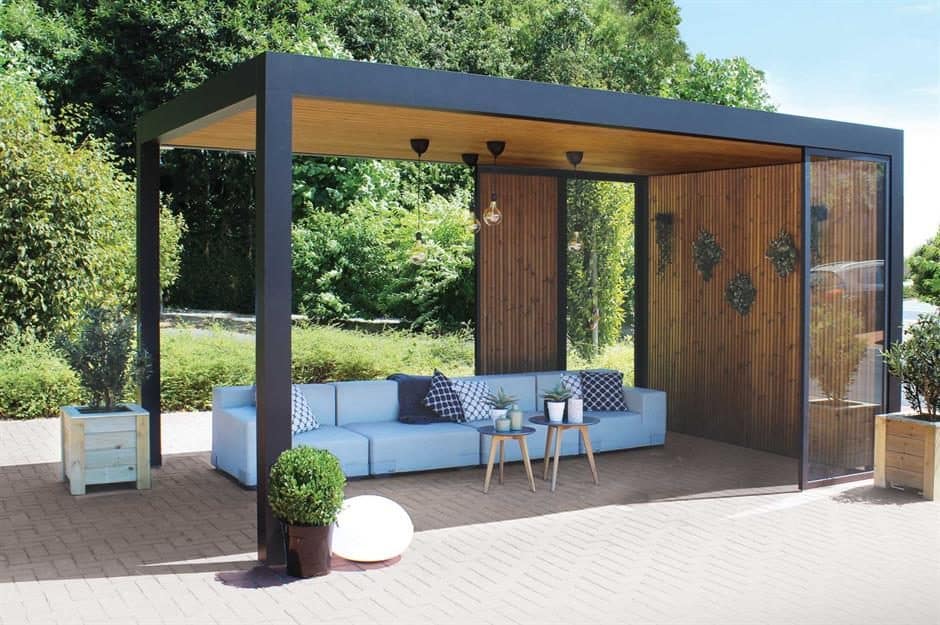 2. Outdoor living space extension
Consider popping up a garden room and expanding your living space area. This could be a room to escape to, write, read, or host small get-togethers.
Surrounded by your garden, there are no interruptions but the singing of the birds.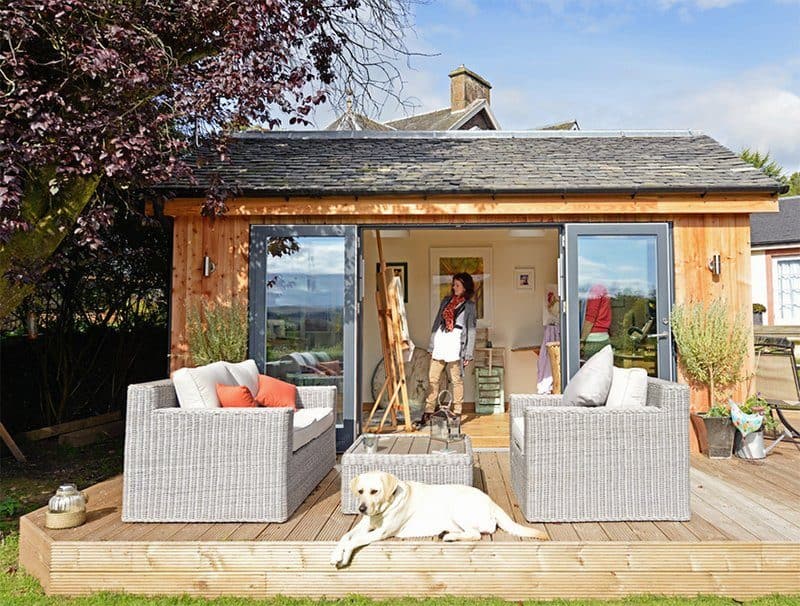 3. Outdoor kitchen hideaway
Natural materials like stone, wood, and rattan blend in with the landscape. The corner kitchen is equipped with a stovetop, oven, sink, and fridge.
The outdoor seating facing toward the kitchen gives a sense of a garden bar. Draw inspiration from this with a modular shed or log cabin.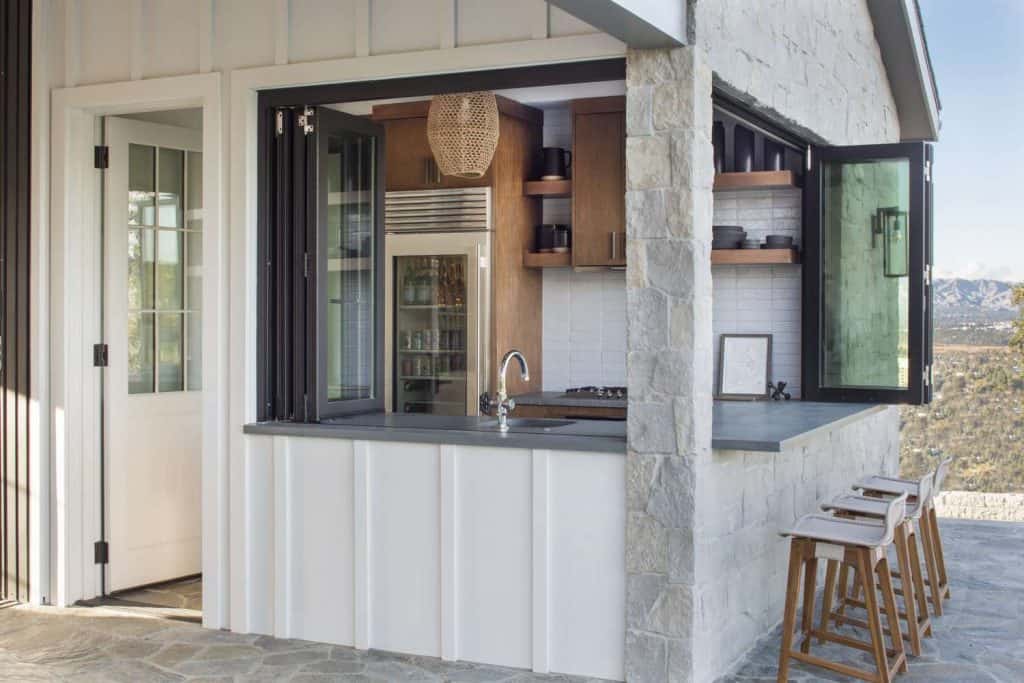 4. Dedicated space for working
A small and compact shed office featuring an asymmetric pitched roof. The white frame door and window invite the natural light in, giving the workspace airy and cosy.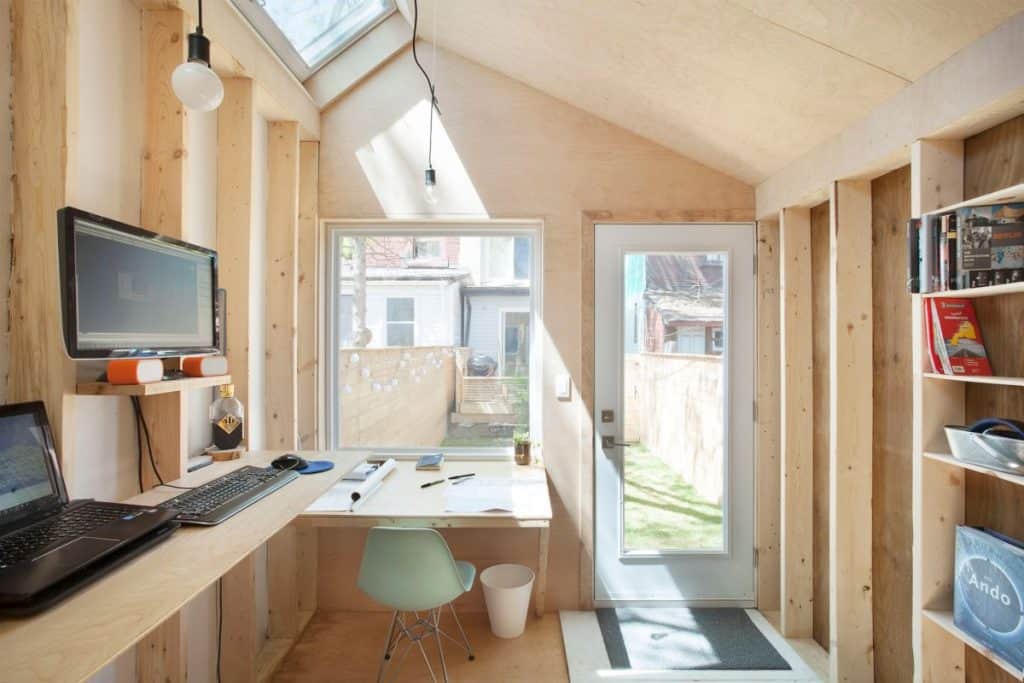 5. The Muji hut
Go minimal with your garden room design. This simple cabin immediately invites you to a whole new life. Take note of the construction, and who knows? This could be your next DIY project for your small garden!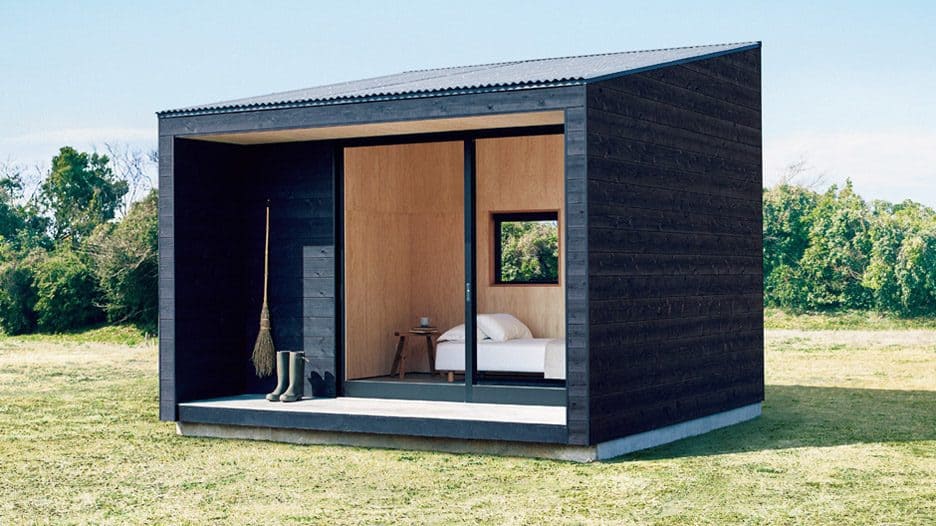 6. Garden gym
No more running in circles in the yard. Stay physically fit without leaving home with your own garden gym! Our list of garden gym ideas offer you more design inspiration, so make sure to check them out.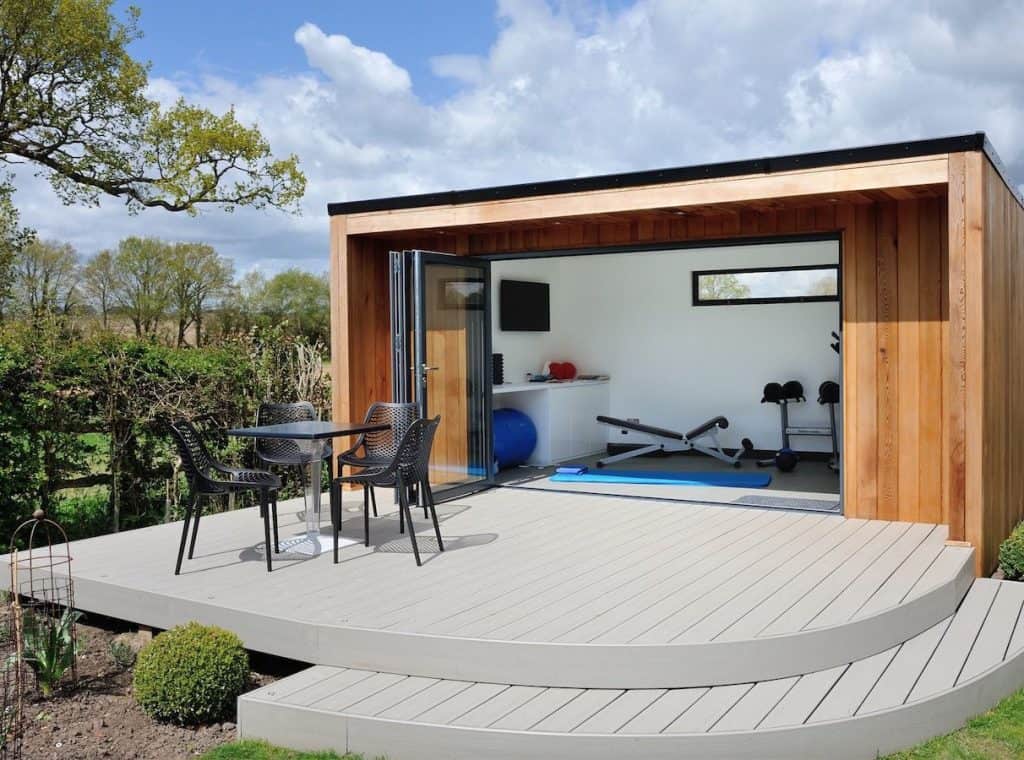 7. Go thatched
Treat yourself to an entertaining outdoor spot with a real sense of a vacation. A thatched roof, for instance, gives you that summer and Hawaii getaway experience.
Make the garden room open, add dining, snug and a bar area.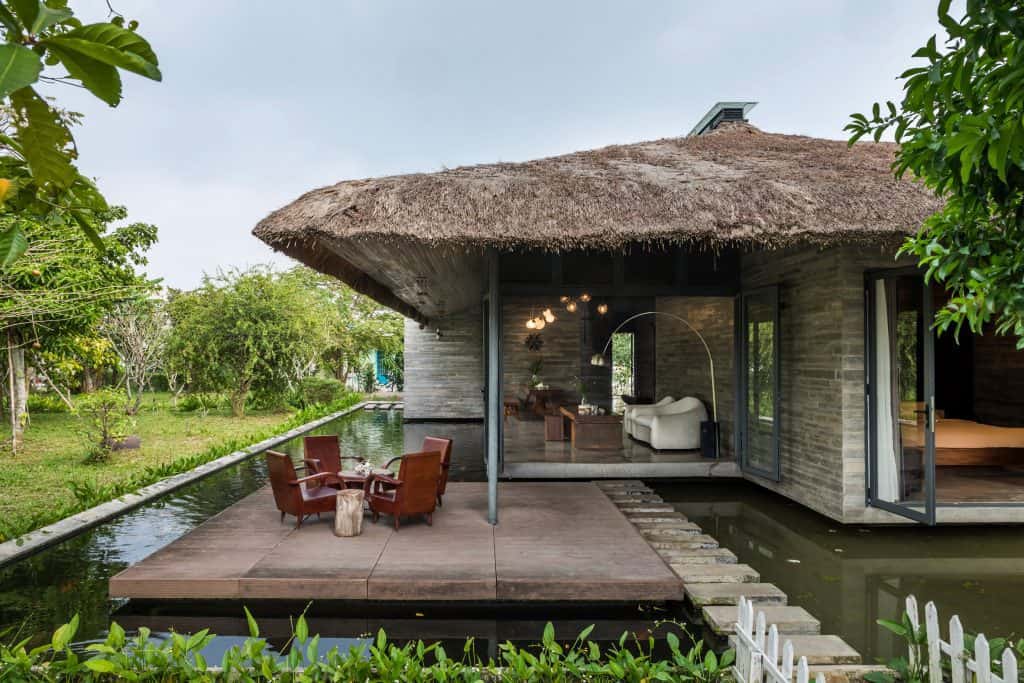 8. Modular design
Modular garden rooms are perfect for long backyard landscapes. Choose an L or P footprints or go long and narrow layouts.
The roof can be pitched or pent style. Plus, openings for windows and doors are scaled and positioned where needed.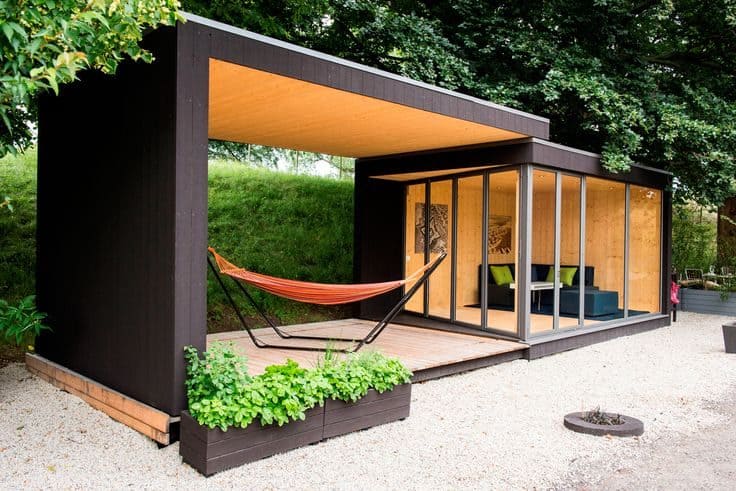 9. Backyard pub
There's no need to leave the house when you've got the most sophisticated garden bar in the neighbourhood! This is like owning a wine cellar, but bigger and more functional.
Make the space ideal for a night of fun while enjoying a drink or two or more!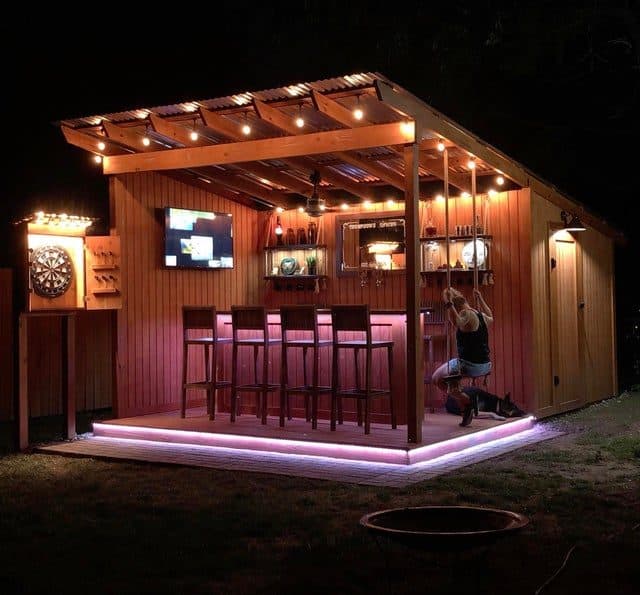 10. A shepherd's hut
This charming wheel-based hut features a curved roof and timber structure. Perfect for rural locations, this type of garden room makes characterful garden retreats! You can use it as a study space or a cosy guest accommodation.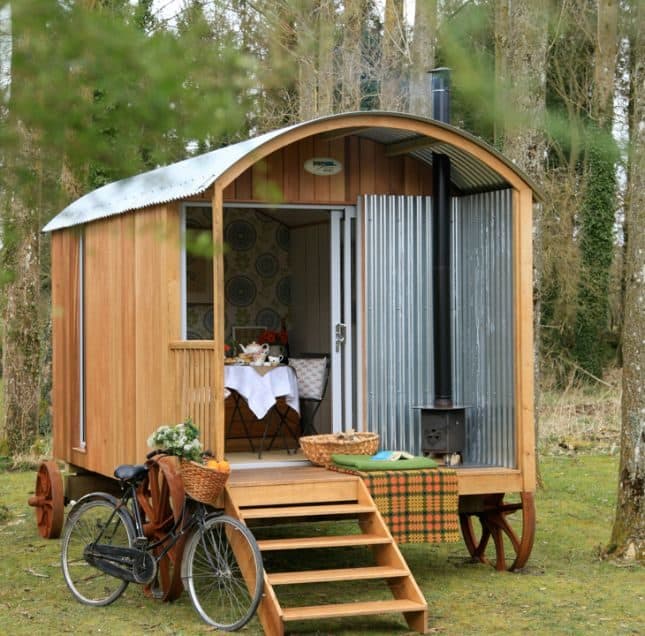 11. Garden pod
Arguably the most menacing of all shapes in our list! This polyhedron garden room is a UFO-like garden house. The front deck that looks like floating made the design more futuristic.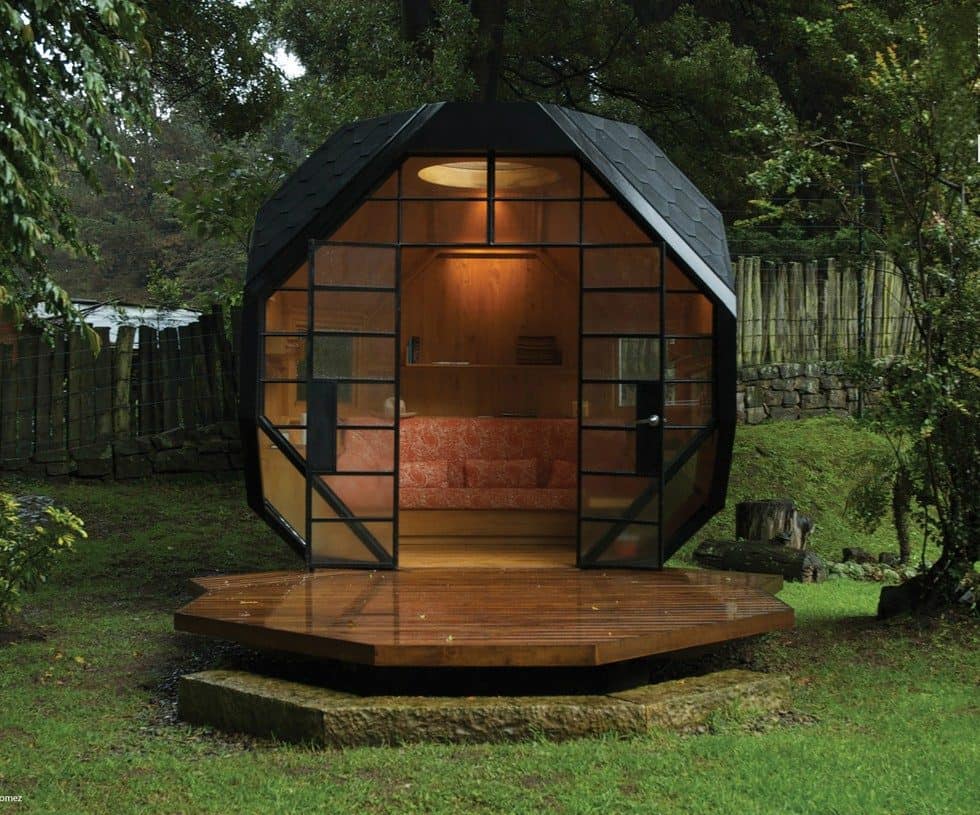 12. Playhouse for the kids
Playhouses ensure that children have somewhere safe to play in the comfort of your yard. You buy a ready-made unit, but building your own adds extra fun and personalisation.
Take a cue from this geometric playhouse with a borrowed design from a box with some holes in it.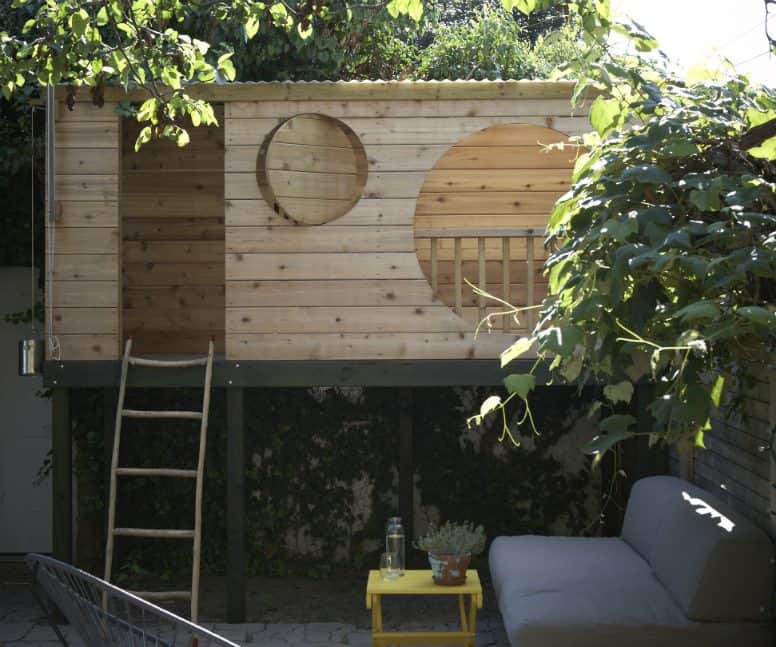 13. Combine the design into the garden
Small landscaping details can bring harmonisation between a garden room and its setting. Adding a part of greenery is a perfect way to achieve this concept. It helps the building blend perfectly into its surroundings.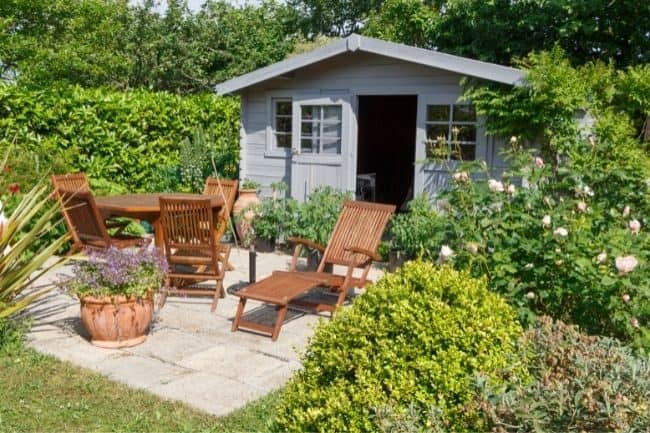 14. Octagonal summer house
Summerhouses are quintessentially British, offering timeless elegance. Octagonal designs sit beautifully either in the centre or corner of a garden. Inside they can fit a small garden furniture set, perfect for afternoon tea.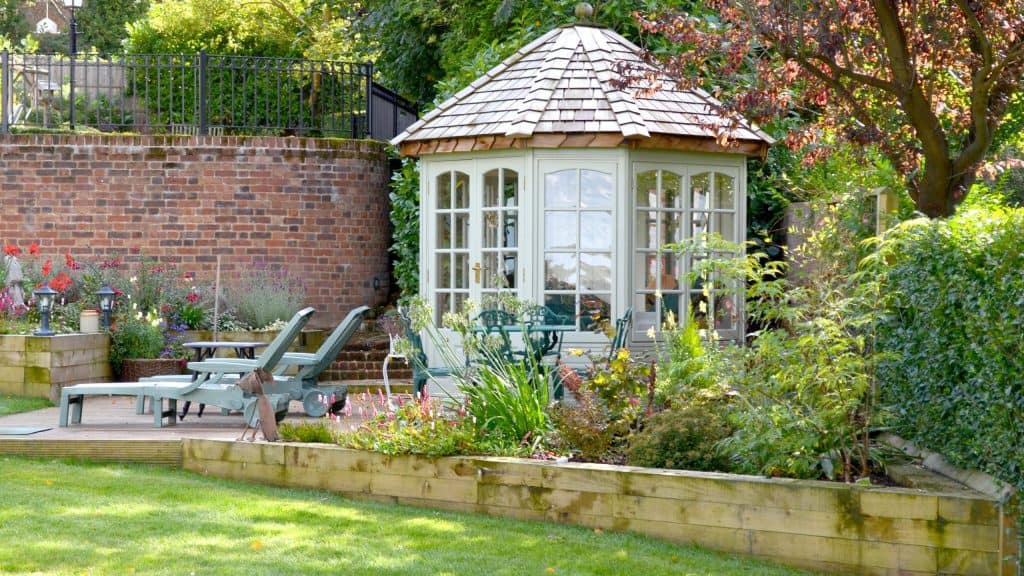 15. Storage solution
When it comes to garden solutions, sheds stand out in this category. Give your gardening and outdoor equipment some TLC by housing them in a safe environment. You can either purchase one or build your own.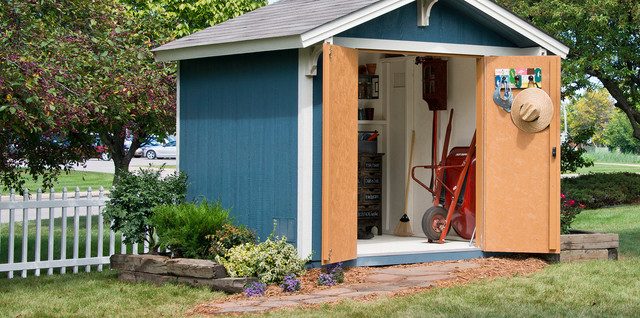 16. Pool house getaway
Take your backyard pool to the next level by adding a stunning garden room alongside it. This gives you a practical space that can be used for different purposes.
It could be a changing room with a shower area, an entertainment lounge, or a kitchen area and a bar.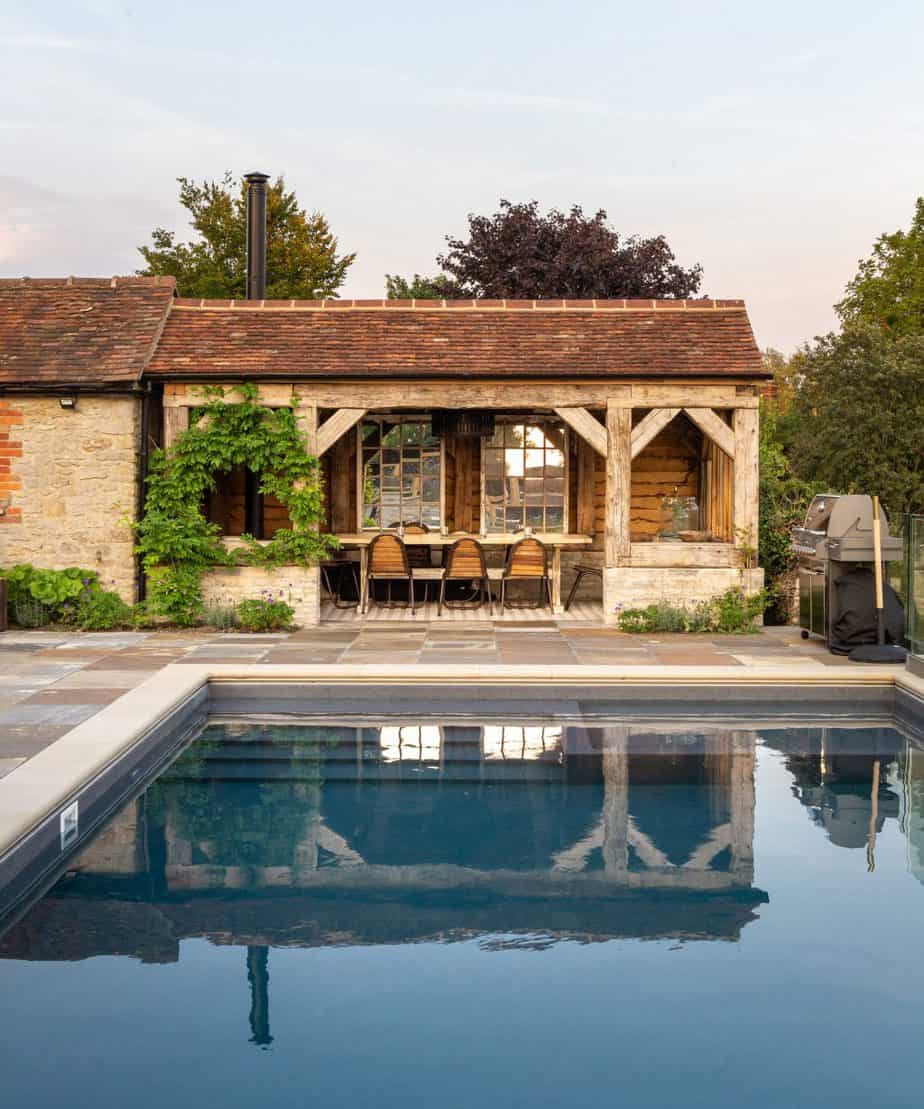 17. A treehouse
Get a little more adventurous with your garden room idea and consider a treehouse. Let your imagination run wild with these coolest treehouse design ideas from the web!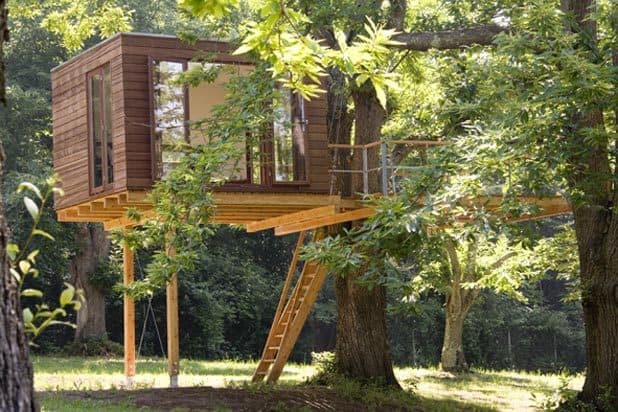 18. Art studio
Get yourself a room for your hobby and art collections; an art studio sounds like a good plan. You can use any type of outbuilding and use the space for painting and storing your works.
Fill it with lush greenery to create a calming environment.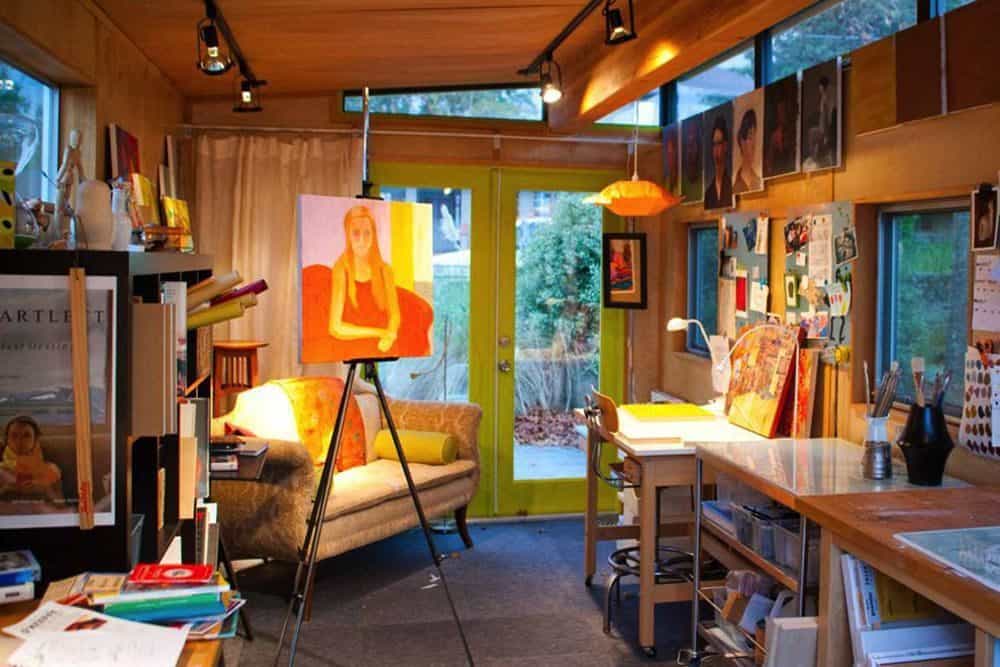 19. House a hot tub
Outdoor hot tub ideas add instant luxury to backyards. Draw inspiration from this cabin hot tub below. The setting lets you enjoy a warm outdoor soak even when it's raining and cold outside. The open-space layout makes the space airy and warm.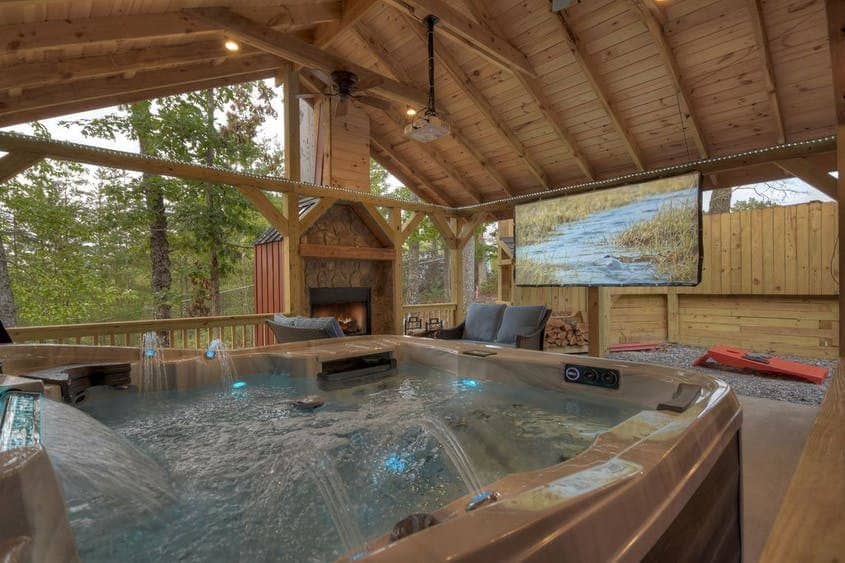 20. The Hobbit house
If you're a fan of The Hobbit, the Lords of the Rings – in general, you're going to love this garden room idea! Fulfil your childhood dream and invite Gandalf for some tea at your own Hobbit house.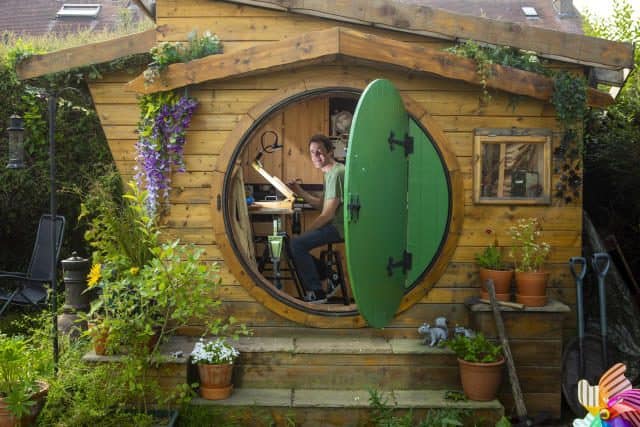 21. Walls of charred cedar
Described as a dark jewel, the 12m² garden room was designed to provide a space for work, a playroom, and yoga. The design hints a play of a dark box in the garden. The contrast of its square geometry in its natural setting makes it work well.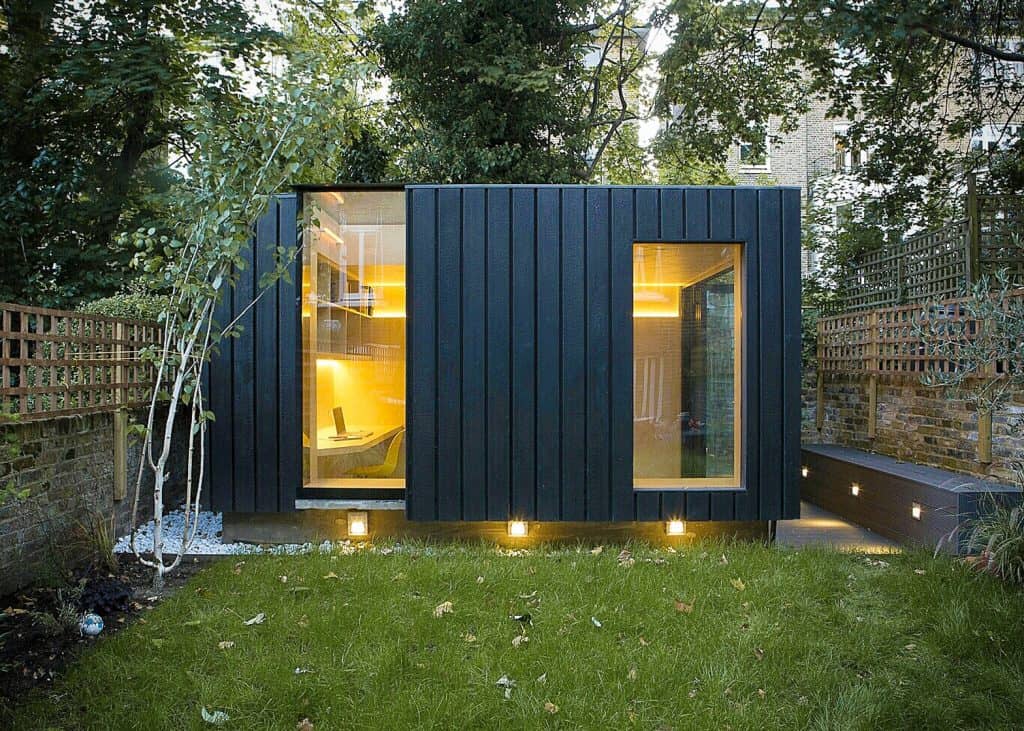 22. Include secret storage
Give your garden room extra flexibility by adding clever storage, such as this bike storage solution. This contemporary garden office incorporates an exterior partition for added bike organisation.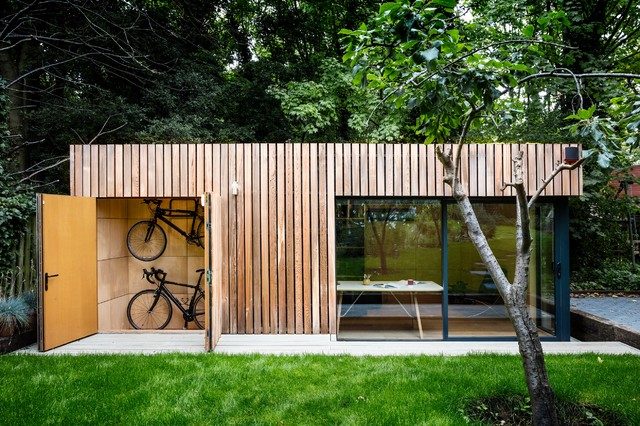 23. House-like garden room
Why not consider making your own house replica in your garden? A self-built cabin like this will add impressive living space. It's a woodland cottage complete with rustic cladding and dormer windows.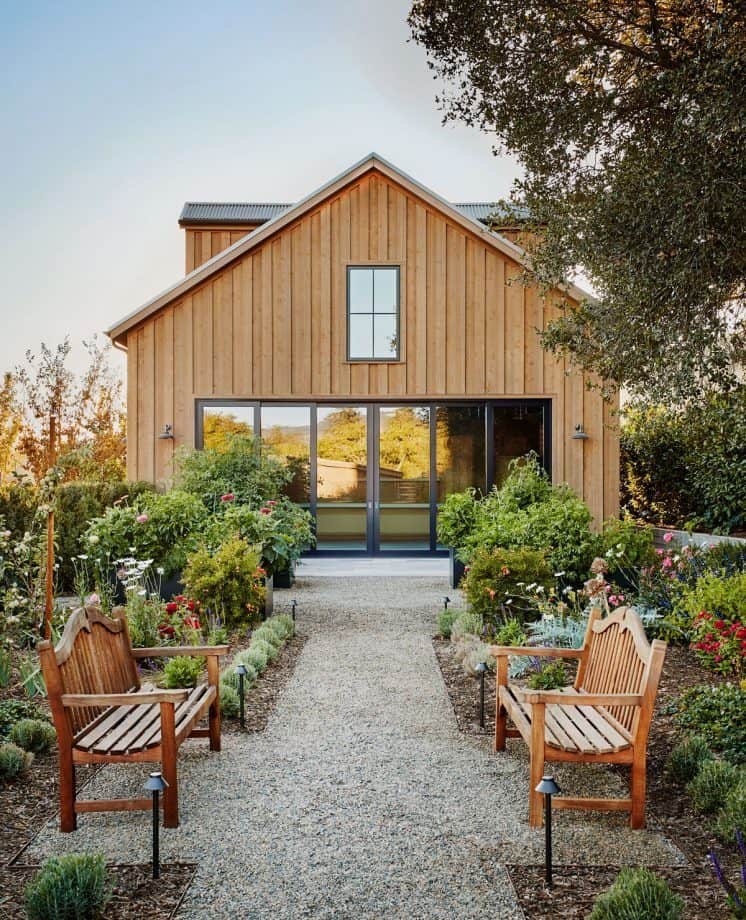 24. Woodworking workshop
If you enjoy wood crafting for different projects, having your own wood workshop must be a dream. Converting your existing garden building into one is a great starting point. You might as well have a look at our workshop building offers!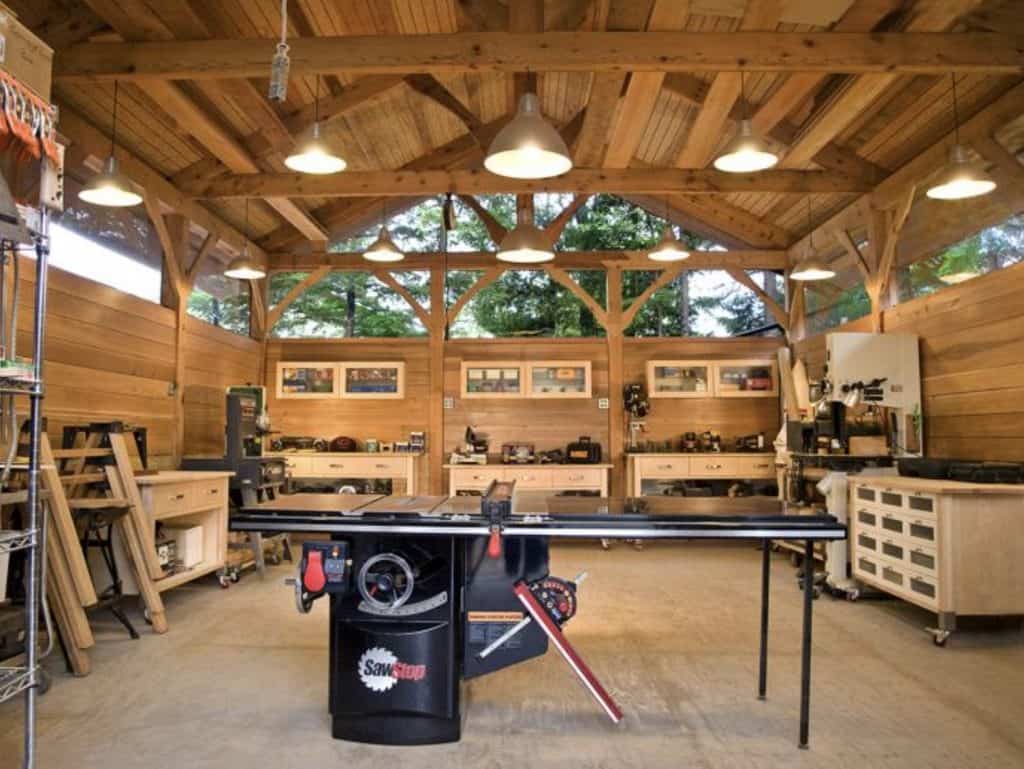 25. Tiny pond house
A 64.5m² pavilion nestled amongst the trees at the water's edge, making it a perfect garden pond idea! The small timber frame structure is cantilevered over a reservoir. A glazed end wall frames a view of the garden.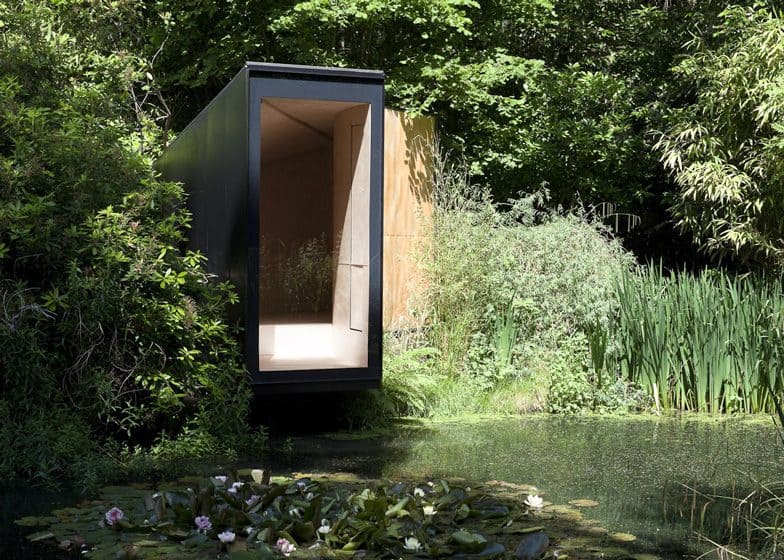 Garden Room Ideas: Round-up
It's no secret that we've all been spending more time at home. With that comes the need for extra space, somewhere that creates a nice bit of separation.
This is where garden buildings come into the picture. Whether it's a log cabin or a summer house, you can set up a little luxury in your backyard.
We hope our list of garden room ideas will help you fire up your imagination. Most importantly, see the potential of that empty space in your backyard.
Shop The Studi Garden Room