A tidy backyard alone already adds value to a home. The addition of a garden building, however, a garden room can be a real draw for potential buyers or give you loads more room without the need for planning permission.
A dedicated space to work or study, for hobbies or entertainment, a garden room is an ideal solution. It provides the perfect balance between in and out.
The design can be as simple as you want. But here, we're all about creating a seamless space that offers functionality and a homelike experience.
If you have the same vision as us, then our garden room ideas will give you the perfect inspiration. Read on!
1. Indoor-outdoor concept
A modern approach that provides an open but still covered garden room area. Perfect for housing your outdoor hot tub or chill-out lounge all under one roof.
This design gives you more outdoor living options for entertainment.
2. Outdoor living space extension
Consider popping up a garden room and expanding your living space area. This could be a room to escape to, write, read, or host small get-togethers.
Surrounded by your garden, there are no interruptions but the singing of the birds.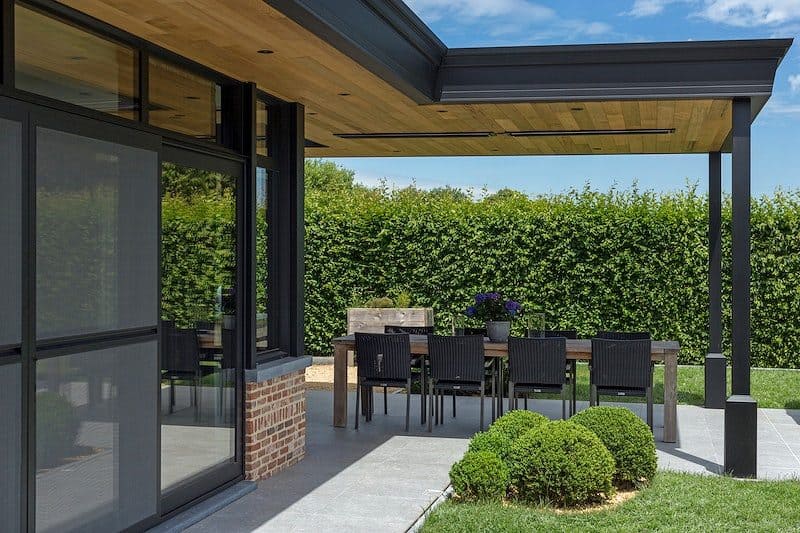 3. Outdoor kitchen hideaway
Natural materials like stone, wood, and rattan blend in with the landscape. The corner kitchen is equipped with a stovetop, oven, sink, and fridge.
The outdoor seating facing toward the kitchen gives a sense of a garden bar. Draw inspiration from this with a modular shed or log cabin.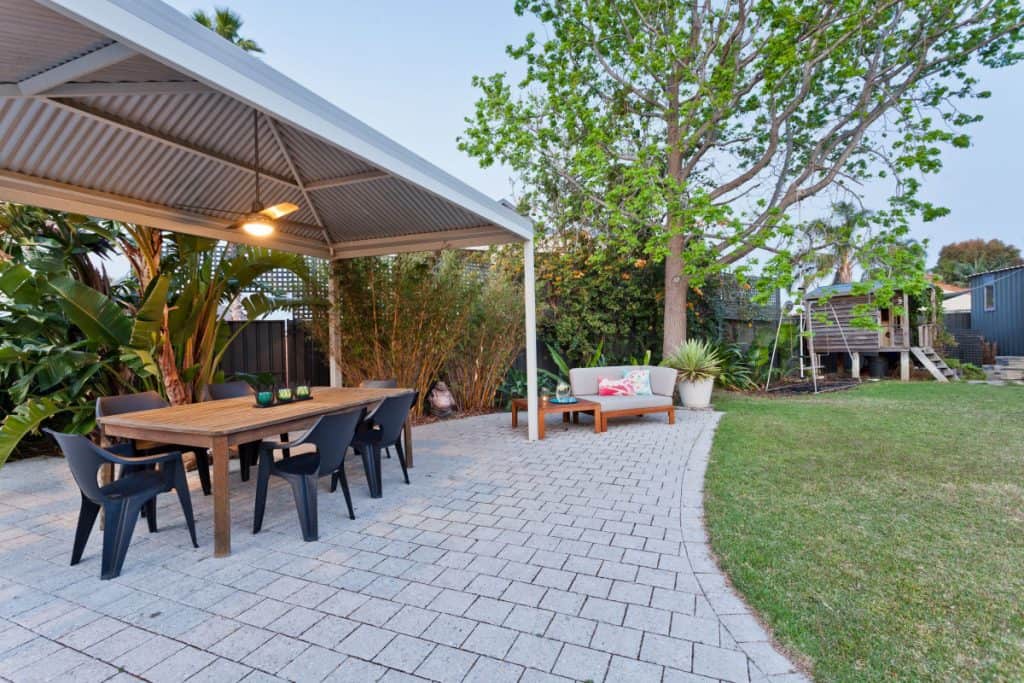 4. Dedicated space for working
A small and compact shed office featuring an asymmetric pitched roof. The white frame door and window invite the natural light in, giving the workspace airy and cosy.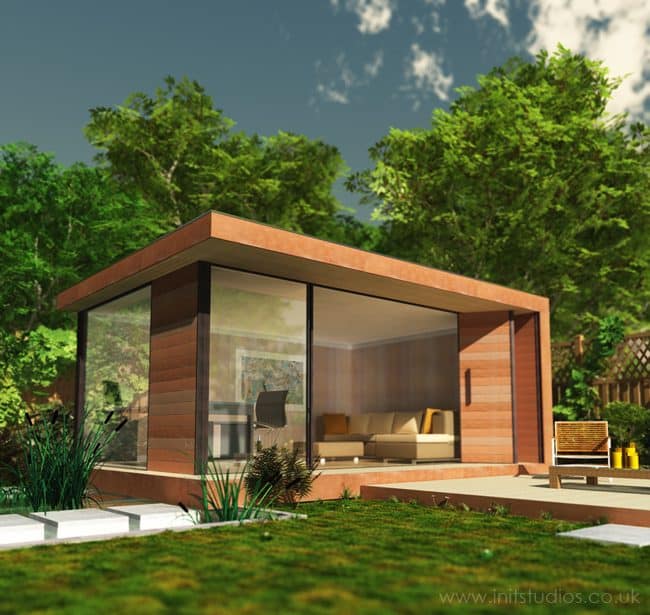 5. The Muji hut
Go minimal with your garden room design. This simple cabin immediately invites you to a whole new life. Take note of the construction, and who knows? This could be your next DIY project for your small garden!
6. Garden gym
No more running in circles in the yard. Stay physically fit without leaving home with your own garden gym! Our list of garden gym ideas offers you more design inspiration, so make sure to check them out.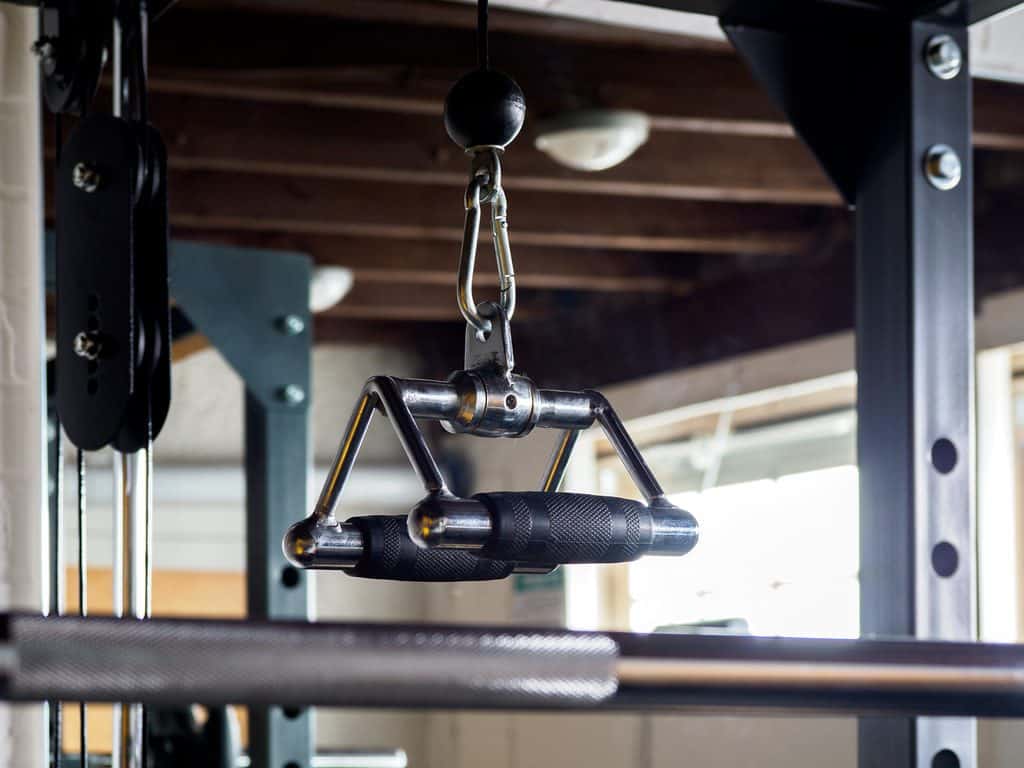 7. Go thatched
Treat yourself to an entertaining outdoor spot with a real sense of a vacation. A thatched roof, for instance, gives you that summer and Hawaii getaway experience.
Make the garden room open, add dining, snug and a bar area.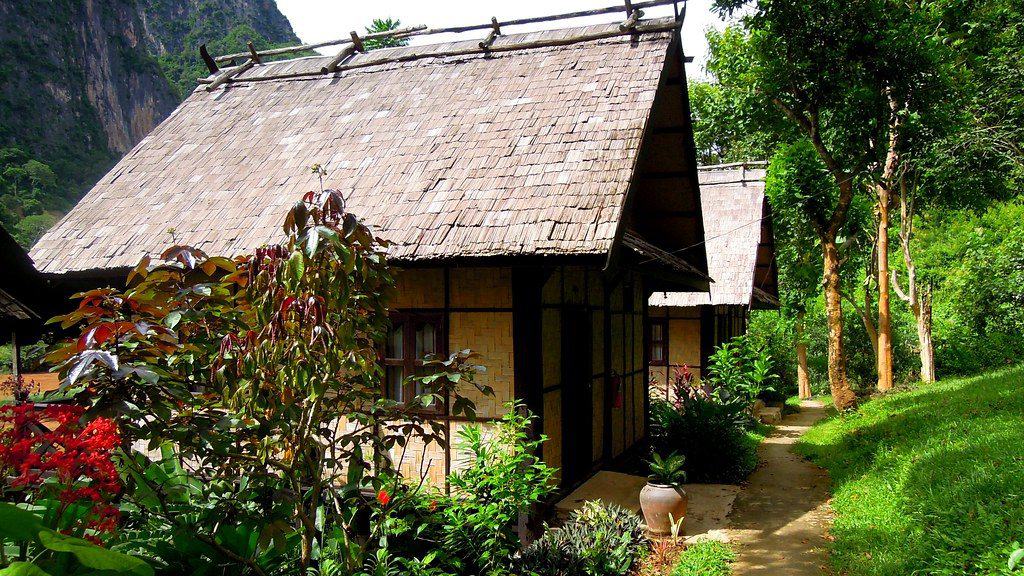 8. Modular design
Modular garden rooms are perfect for long backyard landscapes. Choose an L or P footprint, or go with long and narrow layouts.
The roof can be pitched or pent style. Plus, openings for windows and doors are scaled and positioned where needed.
9. Backyard pub
There's no need to leave the house when you've got the most sophisticated garden bar in the neighbourhood! This is like owning a wine cellar, but bigger and more functional.
Make the space ideal for a night of fun while enjoying a drink or two or more!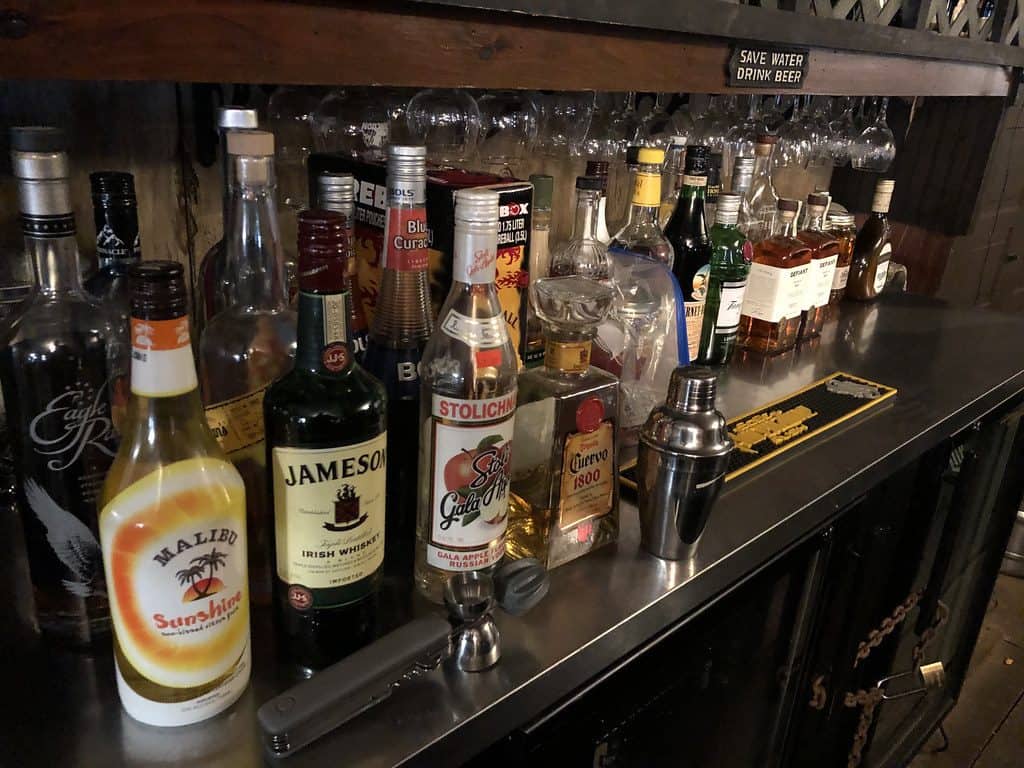 10. A shepherd's hut
This charming wheel-based hut features a curved roof and timber structure. Perfect for rural locations, this type of garden room makes characterful garden retreats! You can use it as a study space or a cosy guest accommodation.
11. Garden pod
Arguably the most menacing of all shapes on our list! This polyhedron garden room is a UFO-like garden house. The front deck that looks like floating made the design more futuristic.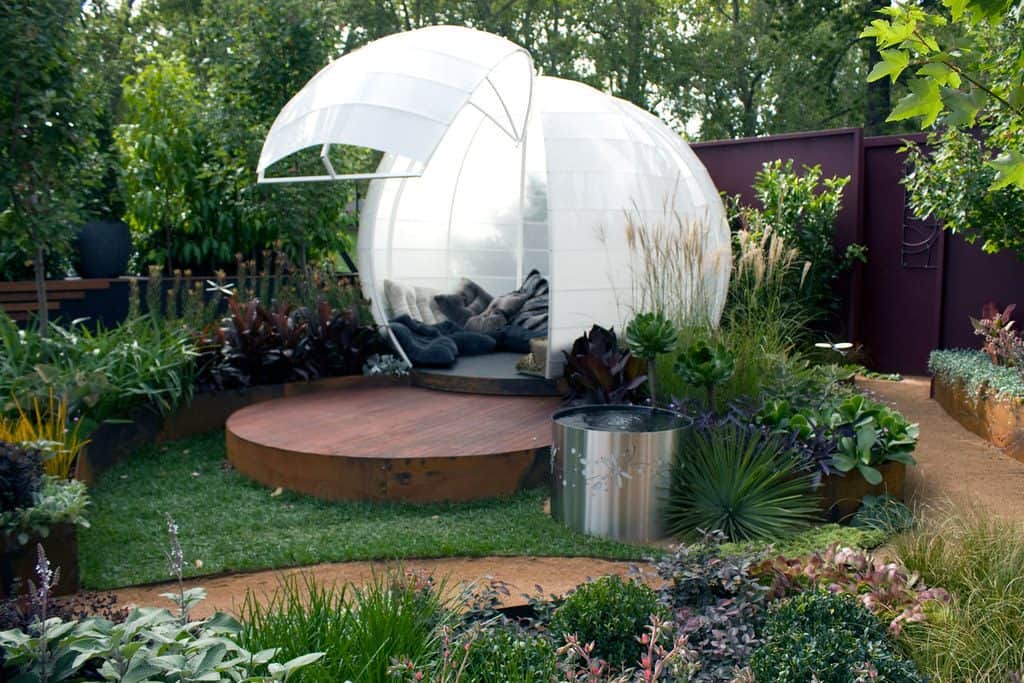 12. Playhouse for the kids
Playhouses ensure that children have somewhere safe to play in the comfort of your yard. You buy a ready-made unit, but building your own adds extra fun and personalisation.
Take a cue from this geometric playhouse with a borrowed design from a box with some holes in it.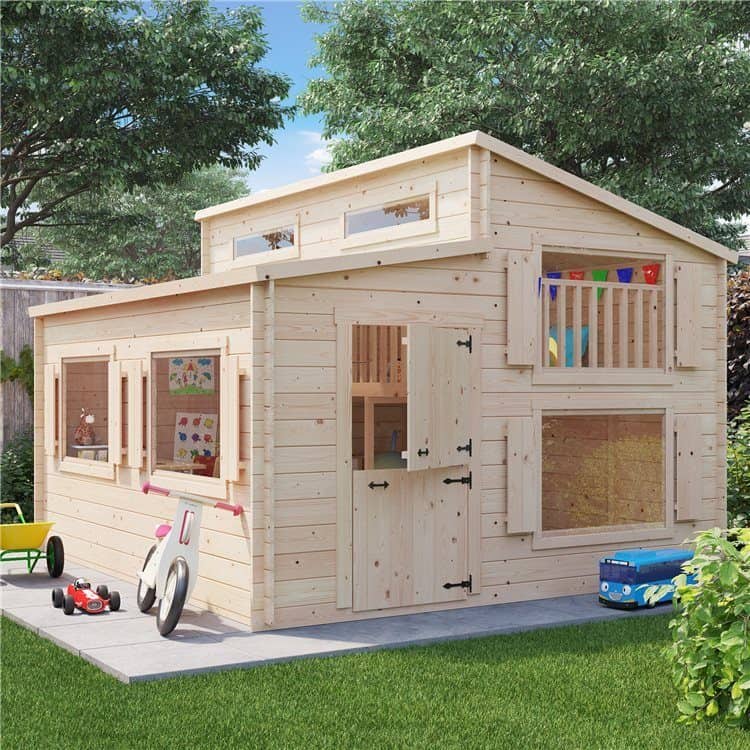 13. Combine the design into the garden
Small landscaping details can bring harmonisation between a garden room and its setting. Adding a part of greenery is a perfect way to achieve this concept. It helps the building blend perfectly into its surroundings.
14. Octagonal summer house
Summerhouses are quintessentially British, offering timeless elegance. Octagonal designs sit beautifully either in the centre or corner of a garden. Inside they can fit a small garden furniture set, perfect for afternoon tea.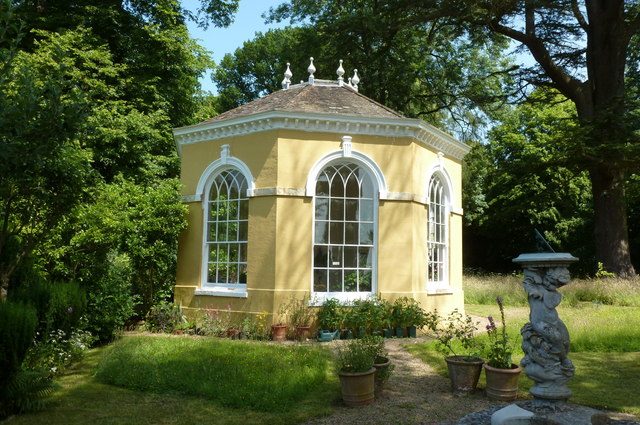 15. Storage solution
When it comes to garden solutions, sheds stand out in this category. Give your gardening and outdoor equipment some TLC by housing them in a safe environment. You can either purchase one or build your own.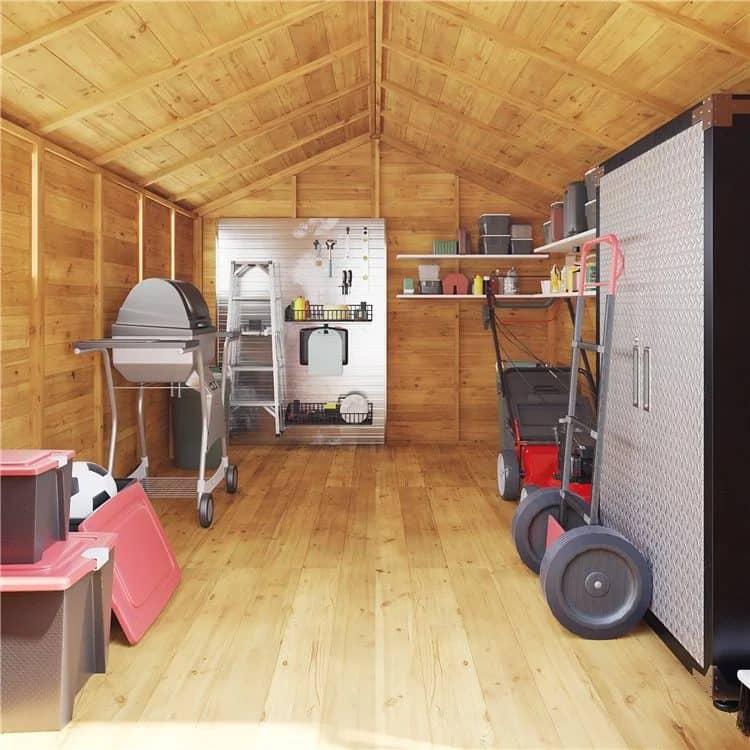 16. Pool house getaway
Take your backyard pool to the next level by adding a stunning pool house alongside it. This gives you a practical space that can be used for different purposes.
It could be a changing room with a shower area, an entertainment lounge, a kitchen area and a bar.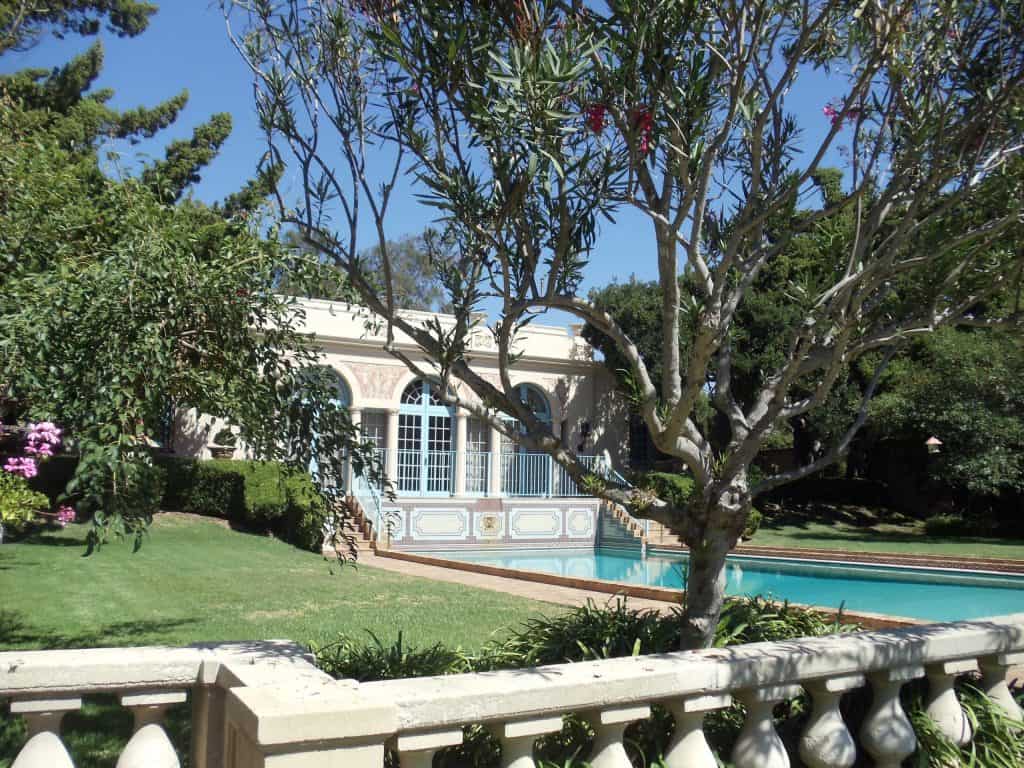 17. A treehouse
Get a little more adventurous with your garden room idea and consider a treehouse. Let your imagination run wild with these coolest treehouse design ideas from the web!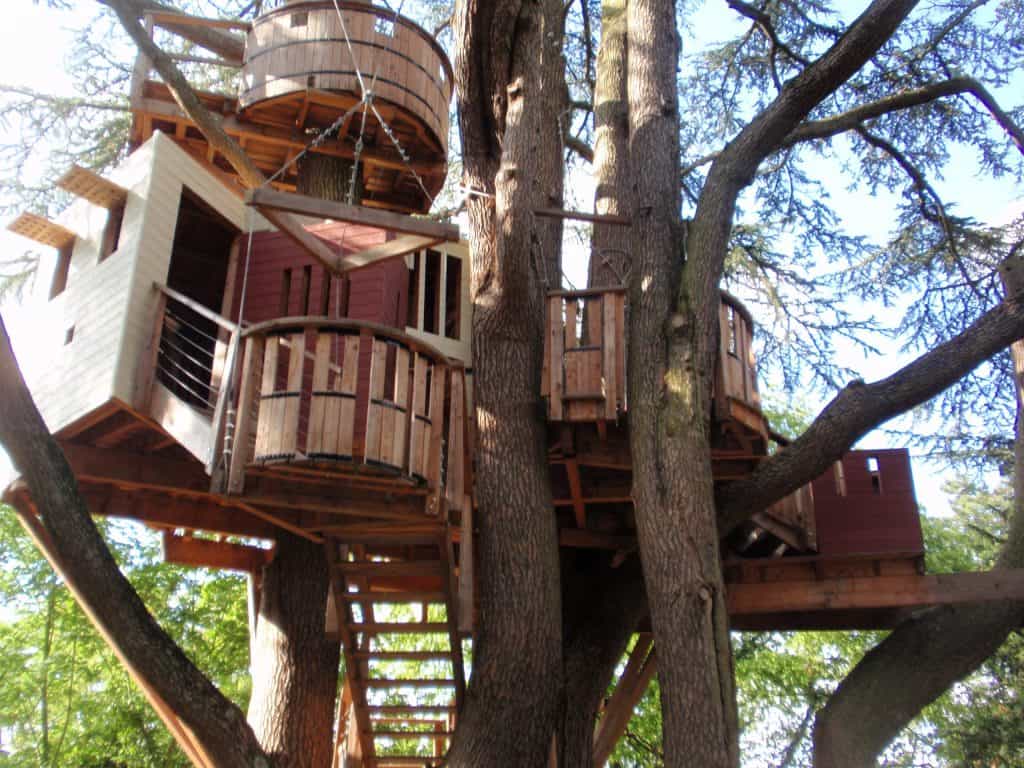 18. Art studio
Get yourself a room for your hobby and art collections; an art studio sounds like a good plan. You can use any type of outbuilding and use the space for painting and storing your works.
Fill it with lush greenery to create a calming environment.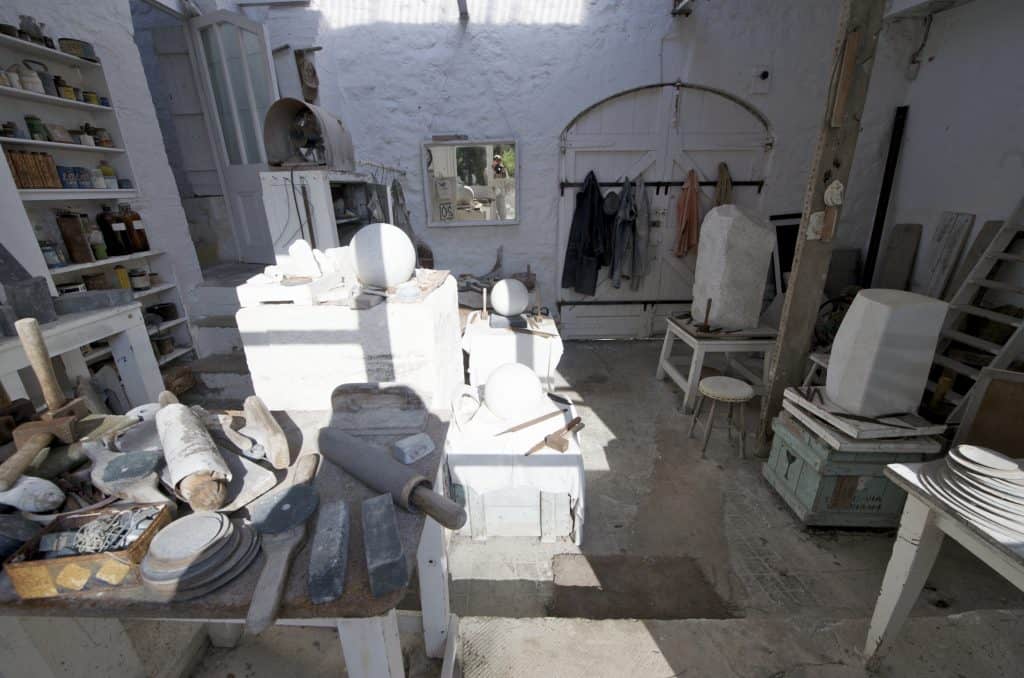 19. House a hot tub
Outdoor hot tub ideas add instant luxury to backyards. Draw inspiration from this cabin hot tub below. The setting lets you enjoy a warm outdoor soak even when it's raining and cold outside. The open-space layout makes the space airy and warm.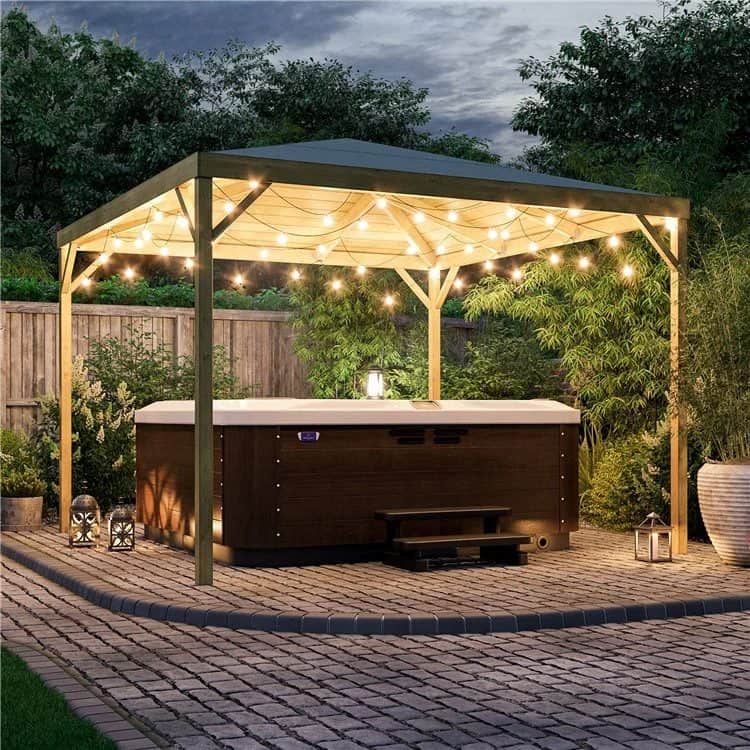 20. The Hobbit house
If you're a fan of The Hobbit, the Lords of the Rings – in general, you're going to love this garden room idea! Fulfil your childhood dream and invite Gandalf for some tea at your own Hobbit house.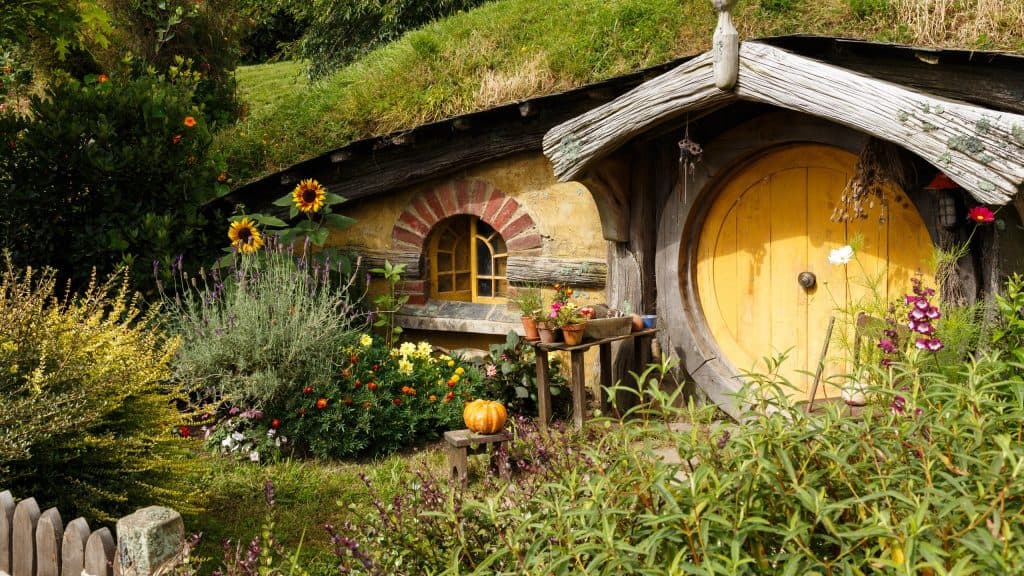 21. Walls of charred cedar
Described as a dark jewel, the 12m² garden room was designed to provide a space for work, a playroom, and yoga. The design hints a play of a dark box in the garden. The contrast of its square geometry in its natural setting makes it work well.
22. Include secret storage
Give your garden room extra flexibility by adding clever storage, such as this bike storage solution. This contemporary garden office incorporates an exterior partition for added bike organisation.
23. House-like garden room
Why not consider making your own house replica in your garden? A self-built cabin like this will add impressive living space. It's a woodland cottage complete with rustic cladding and dormer windows.
24. Woodworking workshop
If you enjoy wood crafting for different projects, having your own wood workshop must be a dream. Converting your existing garden building into one is a great starting point. You might as well have a look at our workshop building offers!
25. Tiny pond house
A 64.5m² pavilion nestled amongst the trees at the water's edge, making it a perfect garden pond idea! The small timber frame structure is cantilevered over a reservoir. A glazed end wall frames a view of the garden.
26. A touch of Marrakech
Marrakech is a stunning city known for its beautiful architecture and bright colours. Furnish your garden room with cushions, throws and wall hangings.
Opt for bohemian decorations, and focus on patterns and sophisticated accents. Choose any pieces that flawlessly execute the Moroccan decor trend.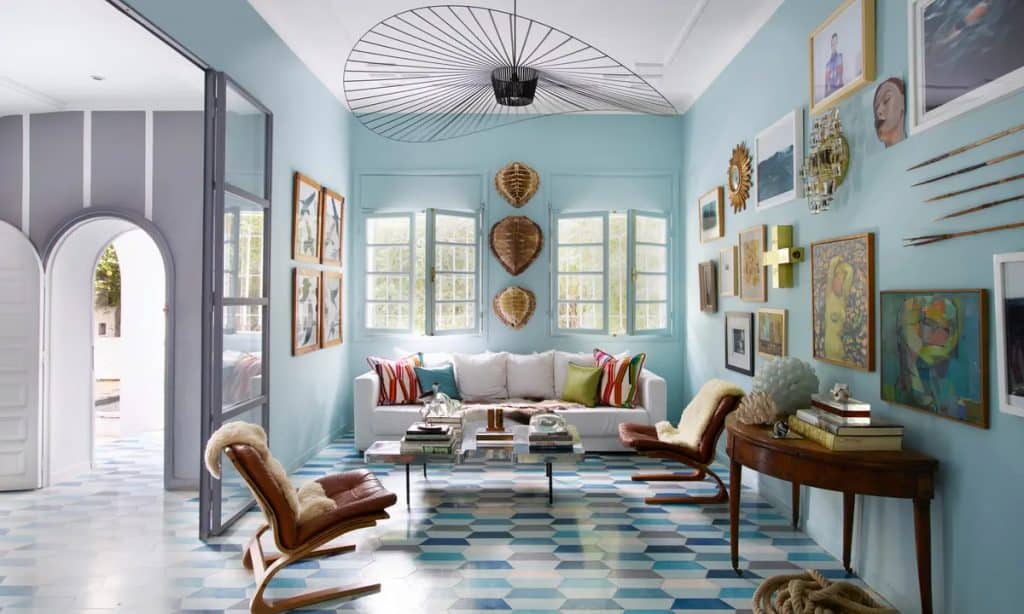 27. Retreat for the music lovers
Convert your garden building into a music room! That way, you can have the perfect place to rehearse and play music freely. Fill the room with your instruments, a couch for entertainment, and a space for recording.
28. Particular space for potting
If you sow and pot up seedlings on makeshift tables, potting shed ideas make a dream garden addition. You can either transform your mini shed into one or invest in an actual unit. If it's the latter, have a look at our offer below!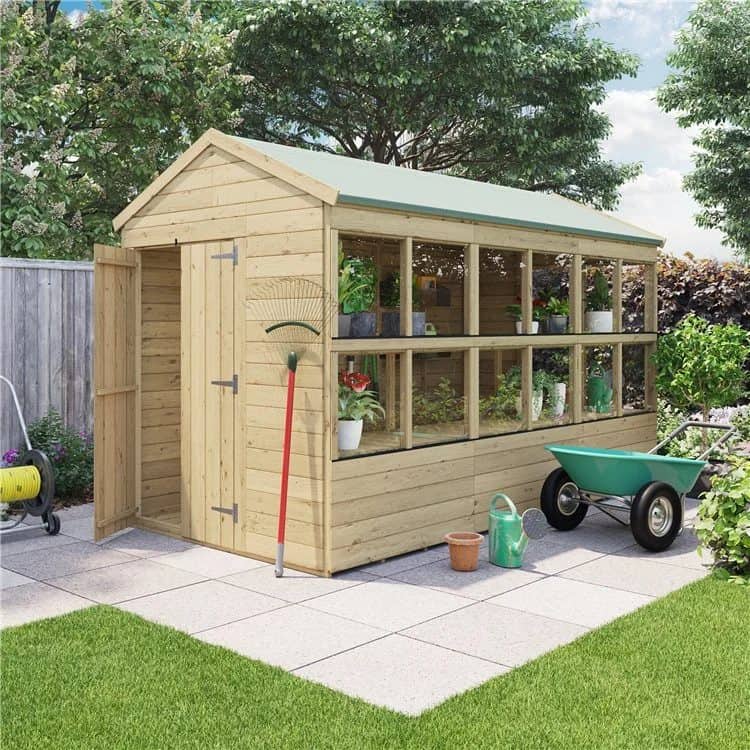 29. Cabin salon
If you're thinking of starting your career in wellness and beauty, consider a cabin salon. A garden room as your creative workspace gives you control over the size and layout. And generally, putting your salon together.
30. The ultimate man cave
Man caves provide personal sanctuary for indulging hobbies and guilty pleasures with freedom. A space uniquely designated for masculine energy and interests.
You'll need man cave ideas for games, entertainment, bar, seating, and even decorating.
31. Writer's retreat
A quiet and calm place helps writers think deeply and focus on their crafts. Thus, having a working space to separate their home life from their passion will benefit them. 
A shed or cabin makes an excellent option for a writing room and, at the same time, a home office.
32. The guest room
If you often have people staying over at home, it's time to accommodate them in a new room. A garden room makes up for a guest retreat. Decorate the space home-like to make them feel at home.
33. Cabin theatre room
This sophisticated cabin theatre room is a dream for many movie lovers! Enjoy a theatre-like experience without having to leave your garden.
By this, we meant fulfilling your dream home cinema through your garden room, such as a cabin or summer house.
34. Astrology room
On cold winter nights, it can be hard to focus on stargazing – out in the garden. A dedicated room where you can look up at the stars in comfort is a fulfilled fantasy. Plus, a space for you to keep your telescope safe and sound.
35. Personal library
Create a cosy hideaway with books surrounding you for relaxation. A small shed, cabin or summerhouse unit makes an excellent reading nook.
A garden room that provides you with a peaceful space for you to read to your heart's content.
36. Multi-purpose garden room
Make the most out of your garden room and use the versatile and adaptable blank canvas as you please! For one, a garden office can double as a cinema and a gaming room.
Make it multi-purpose with simple furniture choices. Or use a partition wall system to create completely separate rooms. 
37. Christmas cabin retreat
The beauty of versatile garden rooms is they can be used year-round, no matter the season. This Christmas, there's no need to travel abroad if you have a cabin retreat made for the holiday period.
38. Meditating space
A detached garden room makes for the perfect meditation space. It provides a natural environment within an outdoor setting. Open space, minimalist design and natural light are three key features.
39. The BBQ room
If you love hosting BBQ parties, nothing beats having your own room or gazebo where you and your guests can make the most out of it! A place where everyone can relax while waiting for the grilled foods to be served.
40. Garden golf simulator room
This lets you build a simulator outdoors when you don't have enough room at home. A golf simulator shed or cabin must be long enough to allow you to make a golf swing.
A generous amount of space also lets the ball fly and collide with your impact screen or net.
41. For gaming and entertainment alike
True gamers agree that a gaming chair alone isn't enough. What they need is an exclusive space for their hobby or pastime.
42. Something for the ladies
With man caves, it's only fair for the women to have their own garden retreat. A 'she shed' as what they call it – it's a space where they can breathe and ease anxiety and stress. 
43. Outdoor shower and toilet
A place to rinse off outdoors is a big plus if you own a backyard pool or reside near the beach. Here, a mini shed is used as a toilet and changing room area, with an outdoor shower found in the corner.
44. Storm shelter
A sturdy and high-quality garden building can act as a storm shelter. A storm shelter like this can protect you during a destructive storm.
Everyone can get to it easily, eliminating the risk of travelling to a storm shelter down the street.
45. Dog house
You can bring your pooch to their dog house throughout the day and let them come in at night so they can sleep with you. After playing and rolling around the yard, let them enjoy their meal or treats in their own house!
46. For storing chemicals
A small garden room can house chemicals, particularly flammable and toxic ones. Add shelves to organise everything in one place. If you use containers, make sure you label everything.
47. Sewing studio
A log cabin can act as your dedicated sewing studio. No matter the size, invest in a sewing kit organiser to keep small items in place. This will help keep your sewing studio as neat and organised as possible.
48. Wood boiler housing
Garden buildings like sheds and log cabins make a clean, safe, and cost-efficient way to house a wood boiler. With an outdoor wood boiler, you can heat your home and reduce your fossil fuel consumption.
49. Pottery atelier
If you have a garden room, you're one step closer to building your own pottery studio! Fill the space with an all-purpose wheel suitable for different pottery skill levels.
A work table, of course, as well as a shelf for storing your equipment, clay materials, and finished pieces.
50. Backyard coffee shop
The answer to your dream garden coffee shop is having a log cabin, and then the rest is up to your barista skill! Do a little garden room makeover, add mini tables and chairs, and decorate.
Garden Room Ideas: Round-up
It's no secret that we've all been spending more time at home. With that comes the need for extra space, somewhere that creates a nice bit of separation.
This is where garden buildings come into the picture. Whether it's a log cabin or a summer house, you can set up a little luxury in your backyard.
We hope our list of garden room ideas will help you fire up your imagination. Most importantly, see the potential of that empty space in your backyard. And if you're considering a garden office, here's how you can choose the best home office for your needs.
Shop The Studi Garden Room
FAQs
No. A detached garden room usually doesn't require any planning permission. For Permitted Development, the garden room is designated as a detached outbuilding.
Yes, a toilet can be installed in a garden room as long as it meets building regulations approval.
Of course, so long as your log cabin isn't being used for permanent residence. You're more than within your rights to sleep in your cabin without requiring planning permission.