Seeking makeover ideas for your garden shed to transform it into something special? Look no further than turning your garden building into the ultimate man cave. And lucky for you, the process can be simple, especially if you have a guide like this!
Whether it's a place to watch sports, get on with some DIY, or play some games – a man cave or Hobby Shed is the ideal solution for the men out there seeking a place that is all their own. Explore our guide below and find out how you can create a man cave of your own.
Shed-themed Man Cave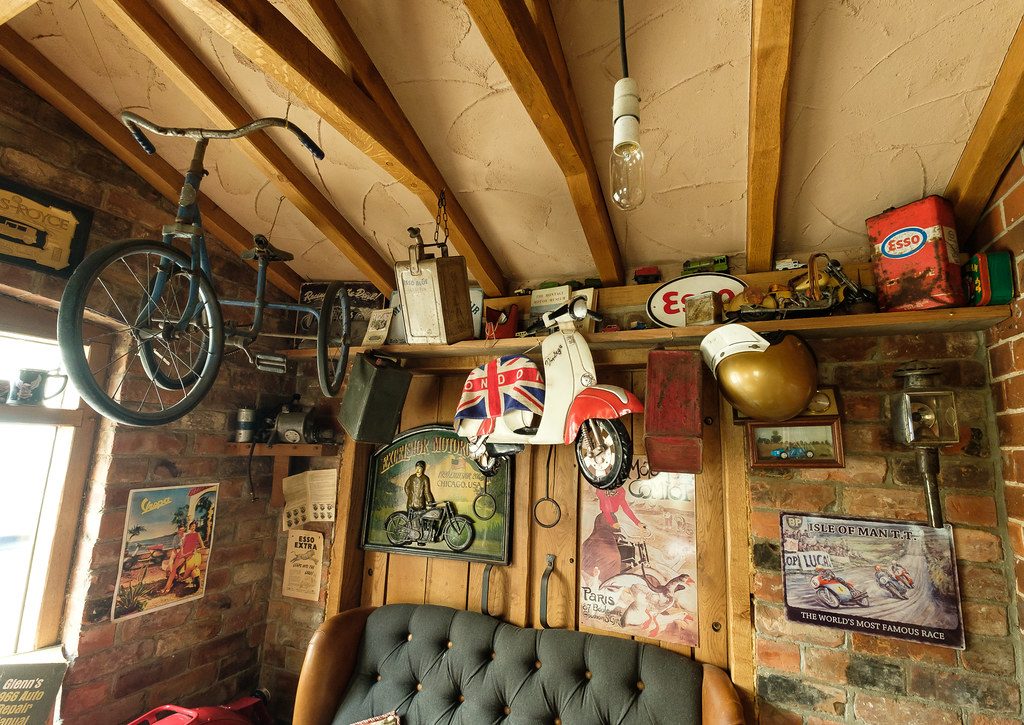 It's no secret now how versatile garden sheds are, making them reliable for a variety of purposes. Not only can they be used as an outdoor storage facility, but they also make great extra living spaces. With added basic amenities, such as lighting and insulation, the possibilities are endless.
One out of thousands of possibilities is converting your shed into your dream man cave. Garden man caves offer the perfect space for the gentlemen to call their own.
Basically, it's a private area within a shed to escape, have fun and hang out with friends. Depending on the layout, it can double as a cave bar. The interior usually consists of furniture, gaming systems, and TVs, to name a few.
If you haven't found the right spot to have your man cave, the shed is a great starting point. With some planning and creativity, you can have your own relaxing retreat. Keep reading for a step-by-step guide.
DIY Outdoor Man Caves
With a bit of elbow grease, your shed can be turned into a personal refuge, a.k.a. a man cave space that's perfect for hosting friends, pursuing hobbies, and just getting away from it all! Here are some tips on how to make it happen:
1. Get into planning
First things first, consider what kind of man cave you want. Could it be a modern-themed or rustic man cave? Maybe you're thinking of using it for a dual purpose, such as a gaming room and a bar man cave.
Whatever you have in mind, list all the things you'd like to do, and then the 'requirements' come next. Suppose you'll go for the latter, then your shed needs main electricity and room for the consoles and the bar area.
If you want to use it as a garden gym, it will require a concrete base, ventilation and anti-fatigue mats on the floor. And if you're thinking of utilising your shed man cave year-round, insulation is a must.
2. Positioning and the aspect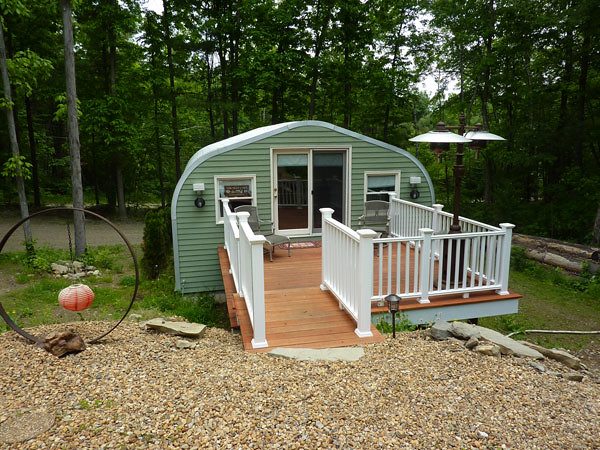 This factor is especially important if you're buying a new shed rather than converting an old one. Decide how close you want it to be to the main house. If the WiFi isn't an issue, it'll be more peaceful if it's further away.
Overall for the position, make a note of the surrounding area. Are there any trees nearby that could block the light or access of the shed man cave in the future?
As for the aspect, is natural light essential to your hangout place? If so, south-facing windows offer direct sunlight. Indirect light, in contrast, from the north causes fewer shadows.
If the light isn't vital for your day-to-day use of the shed, opt for a south-facing position. Natural light can also help heat your man cave on a sunny day. Top tip: If natural light will cause inconvenience for gaming, put up blackout blinds.
3. Prepare the renovation
For your existing shed, take stock of its current condition. You'll want to make sure it's structurally sound before starting any renovations. If everything is in working order, start by emptying it and cleaning up the space. As much as possible, avoid storing items inside as it'd look more like storage than a man cave.
Once emptied out, give it a good cleaning – this will help you identify the mould that might be present inside. If you spot any, take the time to get rid of them so you'll save yourself a lot of headaches in the future.
For wooden walls or floors, now is also a perfect time to sand down any splinters. A new coat of paint is always a nice touch too! Other renovation considerations include:
Damp-proofing.

For mould problems, damp-proofing your shed is your best bet. Here, make sure air can circulate properly – with ventilation, and the roofing felt must have no leaks. Double-check if the shed is built up off the ground to ensure the moisture is out. Treating the exterior with a

wood preservative

also helps. You may use a dehumidifier if dampness persists, to add.

Insulation.

Insulation will help to keep your man cave in top condition. The added layer will also provide protection against dampness and even soundproofing qualities. To get the most out of your insulation, install it in the walls, floor, and ceiling.

Read this

shed insulation guide

for more!
4. Think of the layout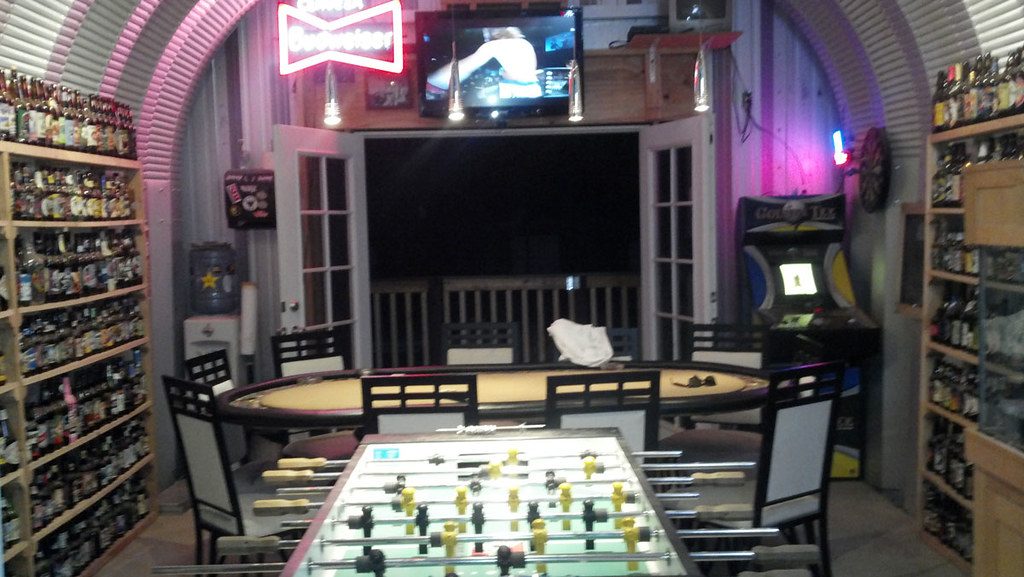 Now the hard work is done, plan out your modifications and think about exactly what you want to do in your man cave. For the layout, think of the decor you wish to install, depending on your chosen theme or function. This also includes the essentials, such as furniture, a television, or a gaming setup. Plus, what types of utilities you'll need?
Is the shed large enough to accommodate a mini bar in the corner, a bathroom even? Does it have enough windows and doors to invite natural light in – if not, consider installing a few when needed.
These are just a few to consider during the planning phase. You may sketch your ideas on paper or hire a professional to design your dream man cave. If it'll be used as a gaming room, then you'll find these steps helpful.
5. Install utilities
It's always a good idea to have electricity in a shed man cave. If you're going to add a bathroom or a wet bar, you'll need a water connection as well. Plumbing and wiring are best done by experts unless you have the pro-skill to do so.
Let the pros do the most difficult step of your conversion endeavour for you. But you can help them speed up the process by preparing the following:
Number and location of proposed power sockets and light switches. Also, where do you want your surround sound installed?

A list of the utilities you'll be running in the man cave, e.g. gaming console, TV, or instruments.

A clear path for the mains cable trench to the shed from your house.
Top tip: If you're planning on using a lot of electricity, prepare enough outlets and add a circuit breaker or two.
6. Light up the space
Choosing the right indoor lighting is important for both functional and atmospheric purposes. You may go for sustainable energy, e.g. a solar-powered light if you plan to use the man cave as a library space. But if you wish to utilise the structure as a high-tech gaming suite and a bar, here are your options:
Fluorescent overheads.

Useful if you want to spread bright light across your shed man cave. This type of lighting is energy efficient and low-cost.

Halogen.

Bright and good for working on detail-oriented hobbies, like 3D model making. They also work well in spotlight and track lighting.

LED lighting.

Versatile, cheap to run, and essential for a 12V system. Adjustable LEDs are great if you want to direct

bright light

to certain parts of the man cave. 

Lamps.

Inexpensive and easy to install and move around, yet they take up the floor and might not be bright enough.

Novelty lights.

Themed shades, which use normal light bulbs, are decorative statements and functional. Neon lights, e.g. vintage signs, also provide drama and

aesthetic appeal

.
You may ask for a skilled electrician's opinion on which lighting is best for your setup. They may even recommend reliable products from reputable brands like Garden Buildings Direct!
7. What to put in your shed man cave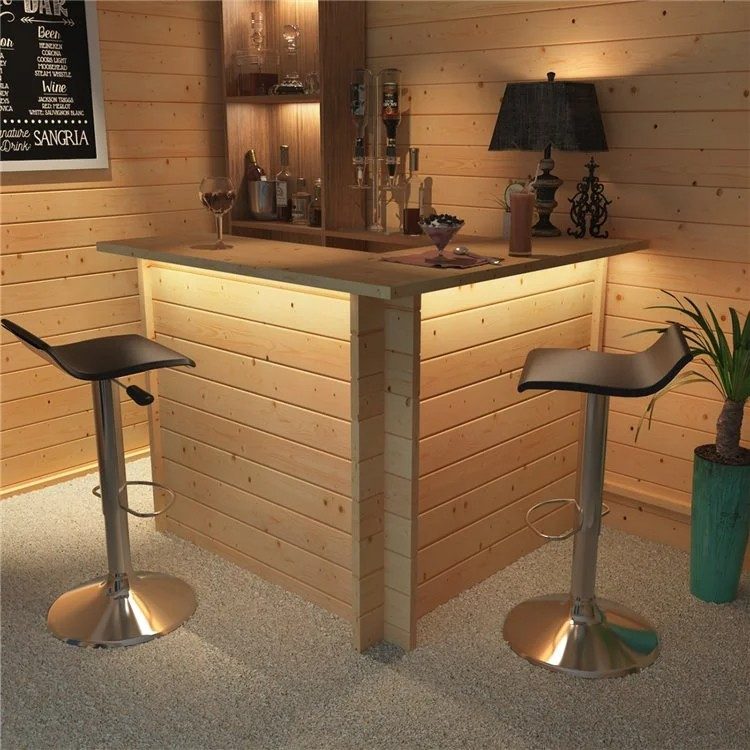 Think of your man cave theme and decide what decorative items will suit you best. For comfort and entertainment, add a couch and recliner to the setup with a console and a TV installed. A mini fridge and bar cart are great alternatives for a full bar setup. If the space allows, you may even fit a pool table.
Little touch-ups like rugs can provide a warm, homely space while making the room look great. Dartboards are space-savers, so you might also want to consider adding them.
Decorate the space depending on the theme, function, and size of your shed man cave. Most importantly, with things you personally enjoy and like to have around. Here's what you should read next for more shed man cave ideas.
8. Security
With all your utilities in place, it's time to secure the shed before putting in your man cave valuables. A combination lock simply doesn't suffice as they're easy to get past them with a couple of movements or a cutter.
Consider putting locks and blinds on all the windows. If you have a sliding door, put a bar along with the regular lock. Or this BillyOh Deluxe 50mm Padlock Protector: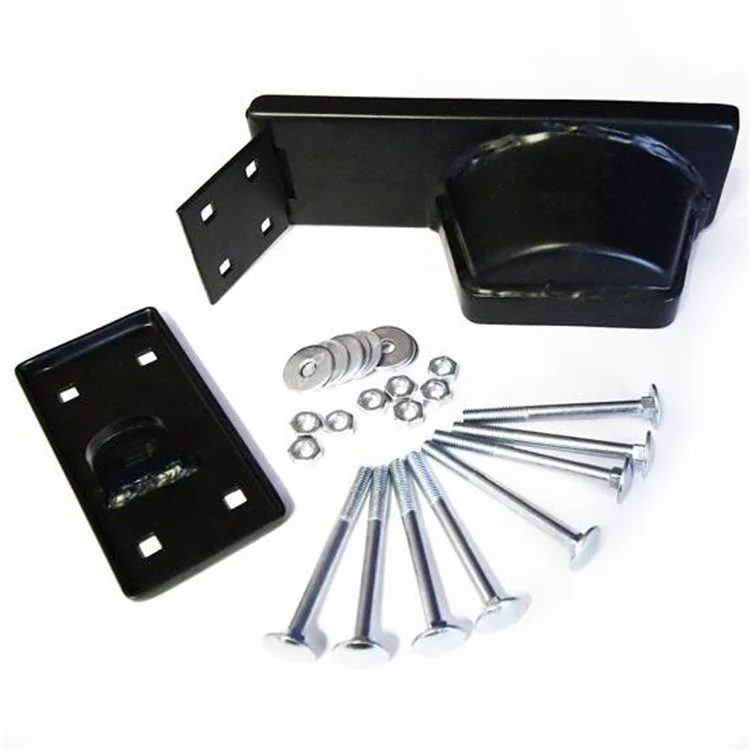 It's a cheap but surefire way to keep your shed man cave safe and secure. The padlock creates a shroud, so the padlock can't be cut with bolt cutters or axle grinders. Alarms also make a great addition and investment for deterring would-be thieves!
Round-up
Now that you know how to turn a shed into a man cave, make your dreams a reality and build the perfect room for your leisure. If you don't have a garden building, start from scratch using this 'build a shed' guide. All the sweat, blood, and tears you put into your shed man cave will pay off in the end!
To browse our sheds and start creating your very own man cave, click the button below.
Shop Garden Sheds