The cost of living crisis is taking its toll on budgets across the country, leaving many of us with less money to spend and a sinking feeling in our stomachs. As the price of food and drink goes up, so does the cost of going out – even if that's for just a pint at the pub or a cocktail at your local bar. 
Nobody wants to lose out on such a vital part of our lives. But nobody wants to pay inflated prices either. Fortunately, there is a solution: a garden bar room or pub.
A Pub Shed or Bar is a great solution to these problems, saving you tons of money in the long run while making it even easier to take the edge off after the end of a long week. But what are they – and what are the best garden pubs for sale? Keep reading and get all these questions answered!
---
What is a Garden Pub Building?
A Garden Pub or Bar Room is a nifty addition to your garden, giving you a personalised place to enjoy that Friday night drink without paying the costs of going out. Customise it to suit your tastes, and get your friends around to enjoy a discounted drink.
The buildings that make the best pub sheds are, unlike the name might suggest, Log Cabins and Insulated Garden Buildings. These models are robust and comfortable, providing a secure place to relax while being well-suited for the furnishings of a bar or pub environment. 
No matter what your ideal place to get a drink looks like, a refined cocktail lounge or a classic pub, the best thing about buying your own garden bar is that it can take any and any form you want – and be accessible just a few steps from your door!
The Star of the Show: The Garden Bar
The first thing you'll need in creating your very own drinks spot is a place to drink it at – and that's where our garden bar comes in.
The Nightjar Garden Bar is our very own, specially-designed garden bar. Fitting naturally into any of our outdoor buildings bigger than 3mx3m, the L-shaped Nightjar is ideally sized to get you, or you and your guests, around for a relaxing drink.
Building your ideal cabin bar is easy, as we offer the Nightjar as an addition with all of our selected bar and pub buildings and at a discounted price too.
But what about the buildings themselves? Well, to help you choose we've put together this list of the Best Garden Bars and Pubs – all you need to do is read on and find the one that suits you!
The Best Garden Pubs for Sale
An ultra-modern insulated garden building, the Canvas makes for a fantastic garden bar thanks to its roomy interior and insulated features. Keep cosy while you have a drink or two thanks to its uPVC windows and in-built EcoQuilt multi-foil insulation. Like all our other cabins, the Canvas has a strong structure thanks to its tongue & groove log cladding.
Set up with a garden bar and some contemporary furnishing to make the ideal modern-looking garden cocktail bar. The insulated design also allows for multipurpose use, meaning your bar room can double as a coffee spot or even a lounge area.
Canvas Design Insights
Insulated With High-Performance Multi-Foil Insulation

Fully Customisable Modular Garden Room

15mm Insulated Panel Construction – Our Thickest Panel!

15mm Tongue And Groove Floor And Roof

Premium 27x44mm Interior Framing

14mm Double Glazed Windows For Year-Round Use

White Or Anthracite uPVC Glazing Upgrade Available

Wide-Opening Double Doors For Ease Of Access

Optional Side Window For Additional Natural Light

Optional Pressure Treatment For Longevity

High-Security Multi-Point Locking System

Complete With Felt, Fixtures And Fittings
For those of you searching for a personalised drinking spot that comes just about ready to go, then our Premium Studi Insulated Garden Room is just what you've been seeking. Outfitted with premium SIP panels with EPS insulation, a pre-finished exterior that you can purchase in a variety of designs, and even pre-primed interior walls that are ready for you to decorate. It is also equipped, by standard, with a multi-point locking system to keep its content safe.
Snug, cosy, and beautiful, the Studi is our most advanced Garden room and makes for a fantastic Garden Pub or Bar.
Set it out with a Nightjar and decorate it in the style of a traditional pub or, if you prefer, a fancy bar environment. The best thing about the Studi is that it is versatile, comfortable, and a striking centrepiece for any garden.
Studi Design Insights
Advanced Structural Insulated Panels (SIPs)

High 2.2m eaves height

Fully integrated 65mm walls with EPS foam insulation

Pre-primed ready-to-paint interior walls

Heavy duty 44x88mm and 44x44mm framing

uPVC 27mm double-glazed doors and windows

19mm log floor foil insulation and 45mm foam roof insulation

Protective EPDM rubber roofing as standard

High-security multi-point locking system
One of the most popular choices for a garden bar from our collection of buildings, the Fraya is a spacious and rustic building that makes for the ideal garden pub. Available in a variety of sizes, allowing you to get a model that fits your garden, and built with strong tongue and groove cladding, the Fraya is a versatile Log Cabin that you can easily come to rely on. The building can also be brought with pressure treatment, a process than ensures extra reliability and longevity for the wood. 
The Fraya makes for a fantastic bar or pub with its timber design, and that's just what many of our customers have done – just explore how Emyr or Sara transformed their cabins into the ideal spot for a weekend drink!
Fraya Design Insights
All Year Round Family Room

Extra High Double Door For Easier Access

Choice of 28 or 44mm Tongue & Groove walls

Optional Pressure Treatment

Floor and roof included as standard

Complete with felt, fixtures and fittings
---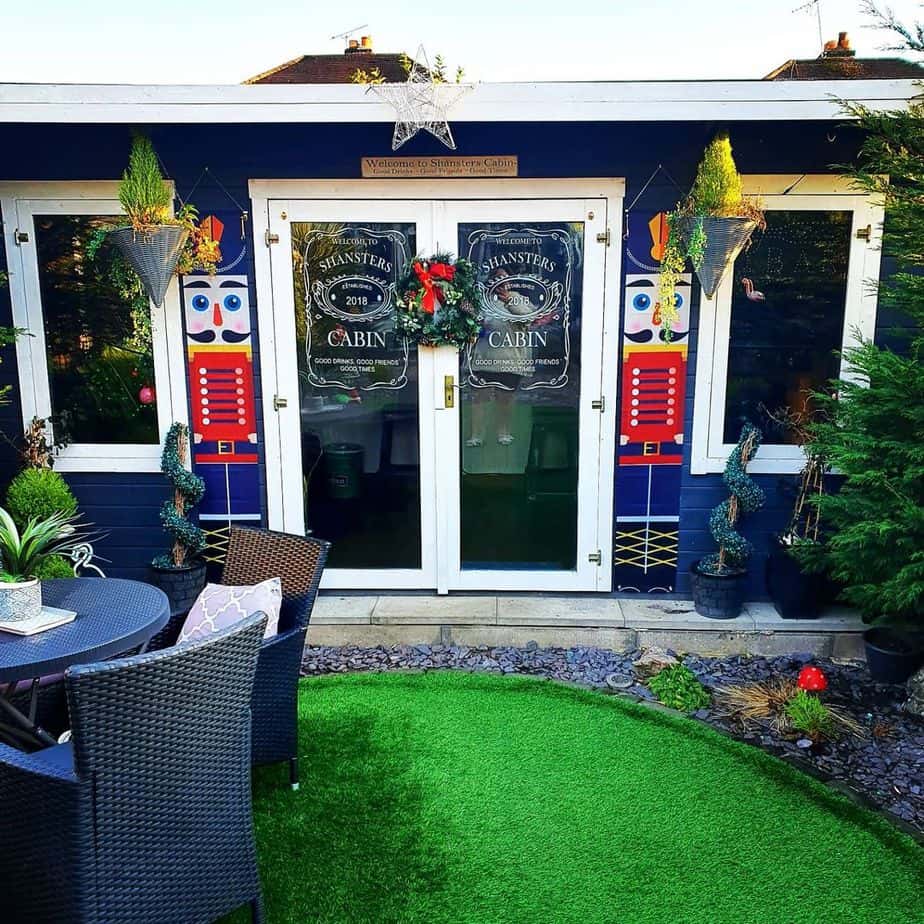 Buy Your Garden Bar
Creating your dream garden and saving money can go hand in hand by creating your very own garden pub or bar with one of our high-quality buildings. Choose from one of the great models above or browse the rest of our Garden Pub and Bar Rooms using the button below!