Your garden bar, garden pub or pub shed can take care of all the summer BBQs, get-togethers, and special occasions. But don't let it earn the whole credit and have your bartending skills go to waste. Fill those pitchers with delicious recipes of mocktails!
Here, we'll explore the art of making this elevated drink form, including the must-try recipes.
Serving 'Mocktail Version' Drinks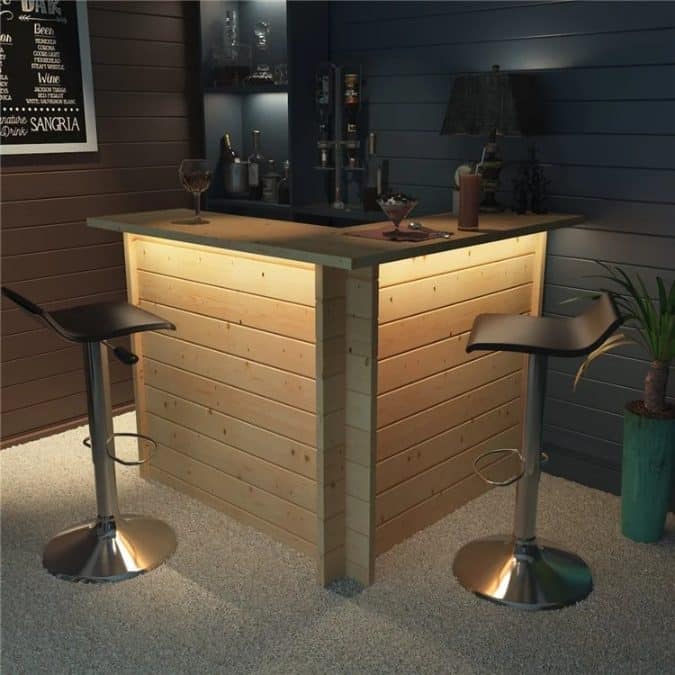 It's not the end of the world for non-alcoholic drinkers; they can still enjoy a glass of 'liquor' (kind of) and call it a shot! Just one magic word: mocktails — a.k.a. the virgin versions of alcohol cocktails.
As a good host, it's always best to dedicate a menu for guests who don't consume alcohol. This will make them feel included and enjoy themselves. Mocktails can be just as good and visually appealing as alcoholic drinks, nonetheless.
What are mocktails?
Mocktails are non-alcoholic drinks meant to mimic classic cocktails without the alcohol content. They are usually made with fruit juices, syrups, herbs, and other flavourful ingredients. Not only do they taste great, but they're also crafted with as much care as alcohol cocktails.
Making a refreshing mocktail requires a bit of experimentation and creativity. Let these mocktail recipes help you out!
The Best Mocktail Recipes
These non-alcoholic spirits must be presented in a cocktail glass, complementing the drink. Don't forget the garnishes, rimming salt or sugar. Best of all, be bold to blend multiple unique ingredients for interesting flavours.
1. Thai basil, lemongrass, and lime mojito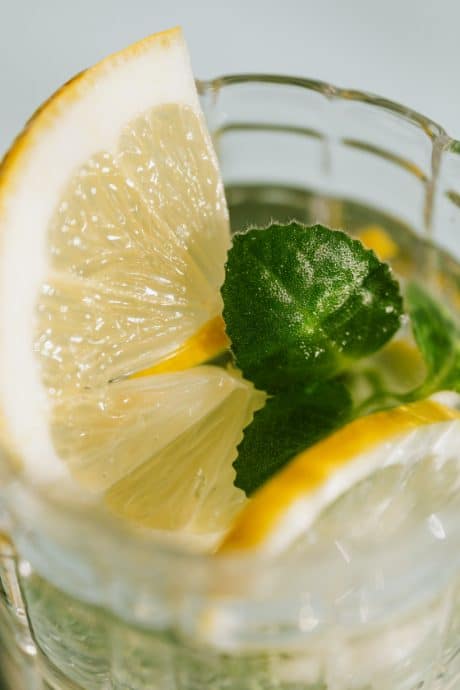 Take your homemade lemonade drink to the next level, but this time go for the herb. This take on the modern virgin cocktail has its own refreshing sense, perfect for summer.
Ingredients:
50 grams sugar

2 stalks of lemongrass

2

lime slices

into eight wedges

A large handful of Thai basil

A simple syrup of lemongrass

Soda water (sparkling water)

Extra lemongrass stalks to use as stir sticks (optional)

Ice cubes
To prepare:
Put 1/2 teaspoon of sugar into four cocktail glasses.

Add 1 lime slice into each glass along with Thai basil and muddle together.

Pour in 60ml or more lemongrass syrup.

Top with ice and soda water and stir.
Enjoy!
2. Sparkling blood orange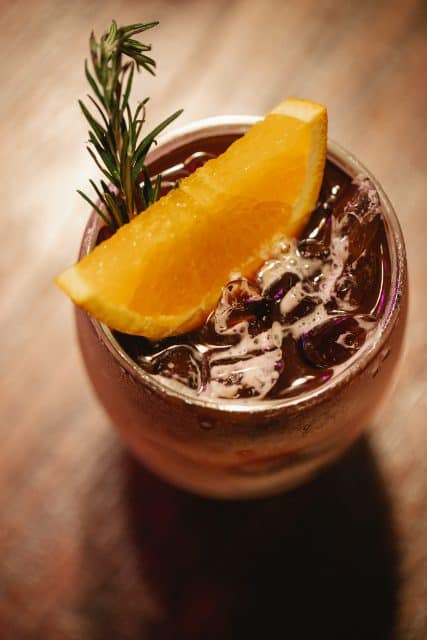 Blood orange mocktails are a fizzy treat for winter celebrations. A perfect drink for Dry January, made with blood orange juice, honey, and vanilla. Gory name aside, blood oranges are, in fact, healthy and rich in Vitamin C, to add.
Ingredients:
4 oz. lime sparkling water

8 oz. of freshly squeezed

blood orange juice

½ teaspoon of vanilla extract

1 tablespoon of honey

Blood orange slices for garnish

Ice cubes
To prepare:
Squeeze the

blood orange juice

(unchilled) into a

cocktail shaker

or mason job with a lid. Add the honey and vanilla extract, shake, and then add ice to cool it down.

Pour into two ice-filled

tall glasses

and top with sparkling lime water and a slice of blood orange on top.
Cheers!
3. Watermelon-mint Agua Fresca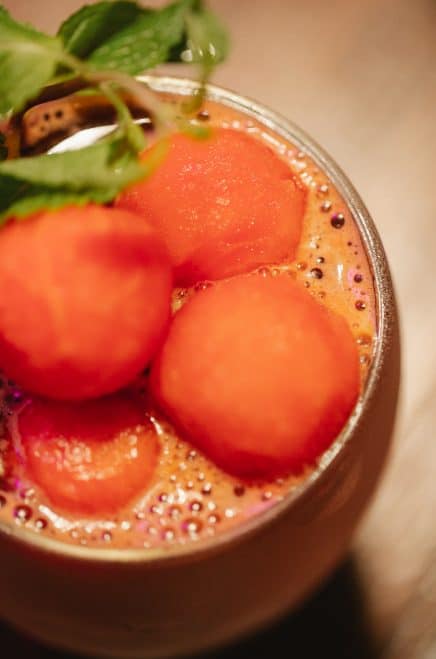 There's nothing more refreshing than a chilled watermelon slice on a hot summer day. Except, perhaps, if you blend and sweeten it with a mint-infused syrup and serve over ice. What a way to soothe heat-tingling tongues!
Ingredients:
Mint maple syrup:
2 cups granulated sugar

1 cup water

½ cup packed fresh mint leaves, plus more for serving
Agua Fresca:
8 cups chopped seedless watermelon (about 2½ lb.)

2 cups water

¼ cup

fresh lime juice

(from 3 limes)
To prepare:
Combine sugar and water in a saucepan. Cook over high and whisk for about 4 to 5 minutes until sugar dissolves.

Remove from heat, and add mint. Let stand uncovered for 15 minutes. Strain into a bowl without the mind, and chill the syrup until ready to use.

Blend the

watermelon chunks

, strain them into a large pitcher and discard the solids. You should have about 4 cups.

Stir the

watermelon juice

, water,

lime juice

, and ½ cup syrup in a pitcher.
Serve over ice and garnish with mint sprigs!
4. Mango mule mocktail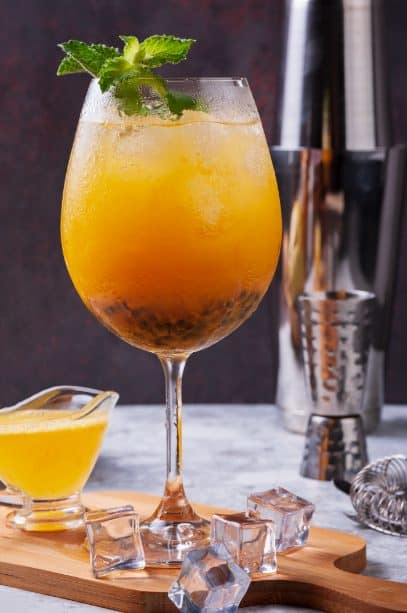 Mango is a delicious and soothing fruit. The ginger beer adds just enough kick to this recipe, giving it a unique cocktail-like profile.
Ingredients:
5 slices of cucumber

1⁄2 oz of

simple syrup

1.5 oz of mango puree

1.5 oz of fresh

lime juice

2 oz of ginger beer

Mint, lime and cucumber for garnish

Ice cubes
To prepare:
Mix cucumber and

simple syrup

in the bottom of a

cocktail shaker

.

Add the mango puree and

lime juice

, and then shake with ice.

Pour the drink into a cocktail glass and add more ice.

Top it off with ginger beer, then stir.

Garnish with a lime slice, cucumber slice, and a sprig of mint.
After a few sips, you might think you are on holiday somewhere!
5. Citrus pomegranate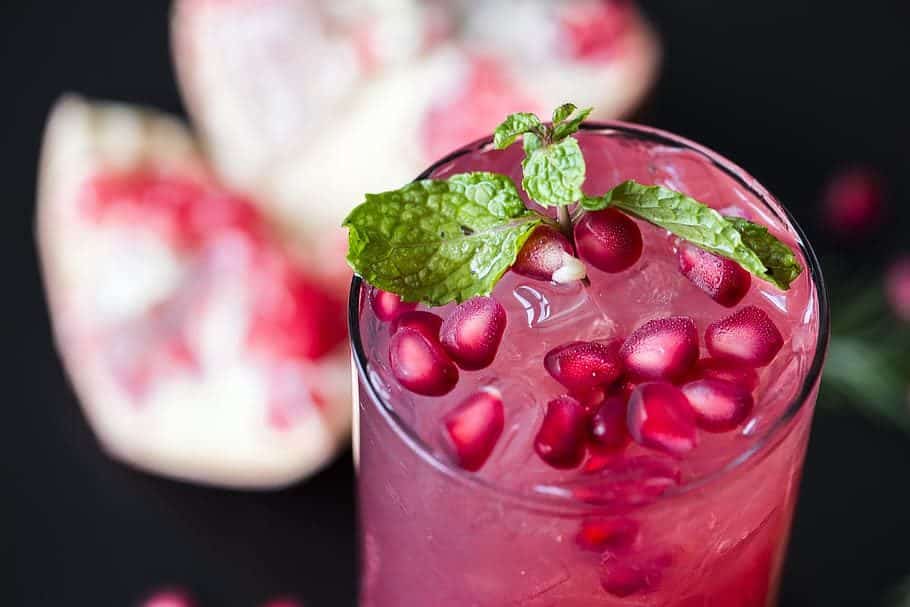 (Image Credit: Wallpaper Flare)
A bright, crisp drink that has a delicious sweet-tart flavour. A glass is just enough bubbles to keep things fun. Perfect for all holiday seasons!
Ingredients:
Pomegranate juice

Fresh squeezed orange juice

Ginger ale

Fresh lime

Pomegranate seeds, lime slices, orange slices, or mint leaves for garnish

Ice cubes
To prepare:
Fill a glass with ice and add one ounce of

pomegranate juice

.

Juice the fresh oranges and add one ounce to the glass.

Top the glass with

ginger ale

and make sure to pour slowly. Use more or less, depending on your taste.

Add a squirt of fresh

lime juice

and top it off with a garnish of your choice, and serve.
You may rim your glasses with sugar for a fancy touch!
6. Pineapple cobbler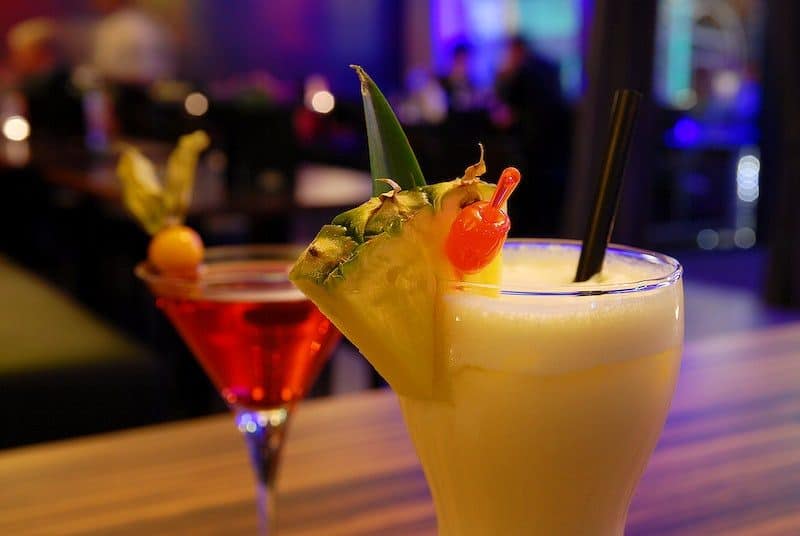 A refreshing beverage made with a mix of pineapple and strawberries. It's a delicious treat to prepare during the peak summer season or any special occasion.
Ingredients:
6 pieces of pineapple chunks

15 ml strawberry syrup

30 ml

pineapple juice

15 ml sugar syrup

Sparkling water

Pineapple slice for garnish

Ice cubes or crashed
To prepare:
Fill a hurricane or hi-ball with crushed ice.

Add pineapple chunks, strawberry syrup, lime juice and sugar syrup.

Mash all together and add crushed ice.

Add an ounce of pineapple juice topped with sparkling water.

Garnish with pineapple slices and serve.
A great kick start to a dinner party!
Note: A highball is a mixed drink that combines alcohol with a larger portion of a non-alcoholic mixer.
Round-up
These mocktail recipes are the answer for those who want to enjoy a chilly drink without the buzz. Plus, they add variety to your drink sets, which can say a lot about your barista expertise.
Ready to whip up drinks in your garden bar and impress your friends and family at your next party? Click the button below to browse bar sheds and make your own garden retreat.
Garden Bar Buildings