Picture this: a starry night, a gentle breeze, and the soothing warmth of an outdoor hot tub. It's a dreamy escape right in your own backyard. To help you transform your outdoor space into a haven of relaxation and luxury, read on.
Here, we'll give you ideas, from inflatable hot tubs that bring flexibility to log cabins to house the tub. Let's dive in and explore the possibilities!
Inflatable Garden Hot Tubs
1. Affordable and portable relaxation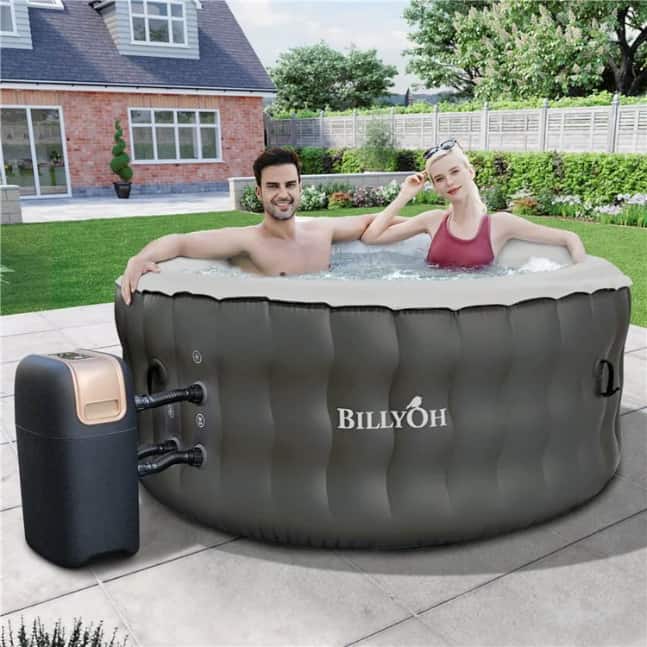 In recent years, the popularity of inflatable hot tubs has skyrocketed, and it's not hard to see why. These portable wonders offer an affordable and flexible way to enjoy the relaxation and therapeutic benefits of a traditional hot tub without a permanent commitment. Among the standout options is the BillyOh Respiro Inflatable Hot Tub with Jets. Designed to accommodate 4-6 people, it's a perfect choice for families or gatherings.
This inflatable gem boasts a range of impressive features: 1.) powerful jets that provide a soothing massage experience, 2.) rapid heating for on-the-spot relaxation, and 3.) robust yet portable design for easy setup and storage.
It's the ideal choice if you're seeking a hot tub that combines convenience with luxury. Explore its features in detail and make your outdoor space the go-to destination for relaxation and quality time with loved ones!
2. Cosy and compact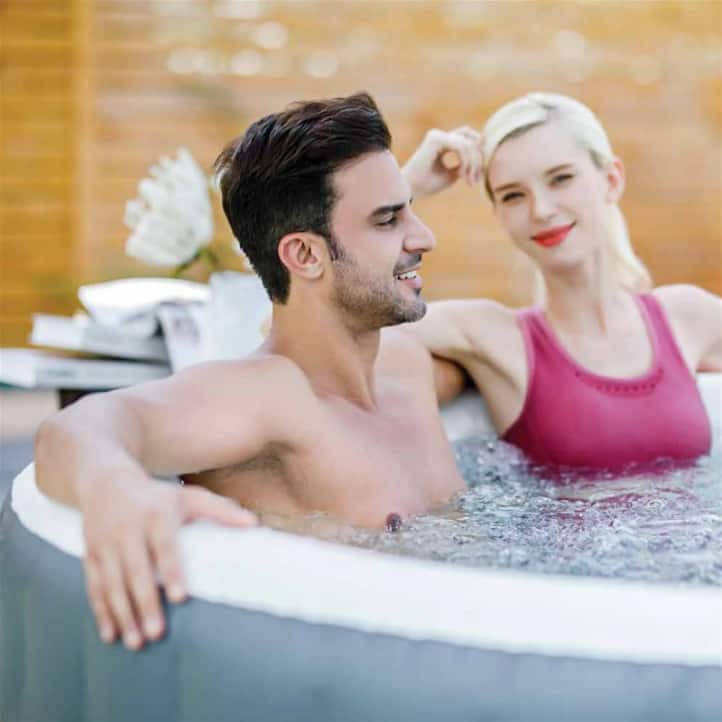 Looking for intimate relaxation in smaller outdoor spaces or romantic getaways? Then the BillyOh Respiro Round Inflatable Hot Tub is a dream come true! Designed to accommodate 2-4 people, this hot tub is the epitome of comfort and convenience.
Key features:
Space-saving design:

The round shape of the Respiro maximises space efficiency. This makes it perfect for compact yards or balconies.

Hydrotherapy jets:

Despite its size, this hot tub doesn't compromise on luxury. It features powerful jets that deliver a rejuvenating hydrotherapy experience.

Easy setup:

Setting up the Respiro is a breeze. It comes with a simple-to-use control panel for hassle-free operation.

Durable materials:

Built with high-quality materials, it's designed to withstand the elements.
Ready to turn your small space into a cosy oasis? Explore the features of the BillyOh Respiro Round Inflatable Hot Tub. Discover why it's the perfect choice for couples or those with limited outdoor space.
1. The cabin experience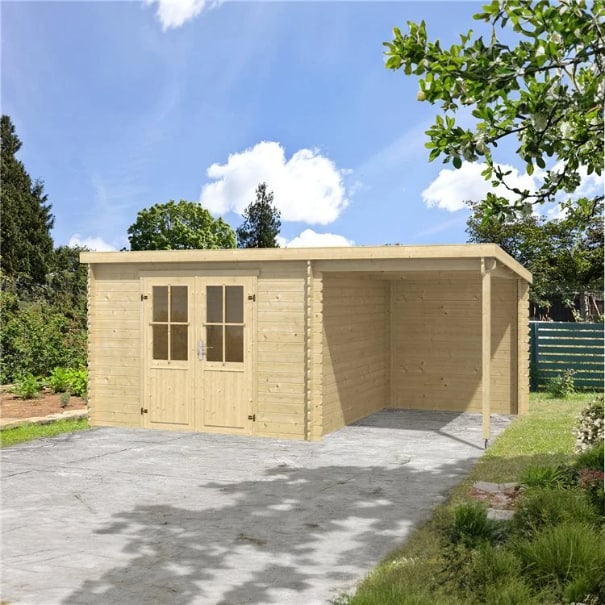 Imagine the serenity of soaking in a hot tub, surrounded by the rustic beauty of a log cabin. The combination of woodsy aesthetics and warm, bubbling waters creates an enchanting atmosphere. This beckons relaxation and escape from the daily grind overall.
Introducing the Natura Quest Log Cabin with Side Porch. It's a quintessential piece for those seeking this idyllic experience. Crafted with precision and attention to detail, it offers a retreat that's both cosy and inviting.
Key features:
Spacious design:

The Quest Log Cabin offers ample room for your hot tub and more. It ensures plenty of space for relaxation.

Side porch:

The side porch enhances the cabin's appeal. It provides an outdoor area to savour the surrounding nature. The size should be enough to fit a mini inflatable hot tub there.

High-quality timber:

Crafted from sturdy timber, it's built to withstand the elements. And that includes the splashing of water from the tub!
Transform your outdoor space into a rustic haven of relaxation with the Natura Quest. Unwind in the embrace of nature and experience the allure of a log cabin hot tub getaway.
2. Spacious and luxurious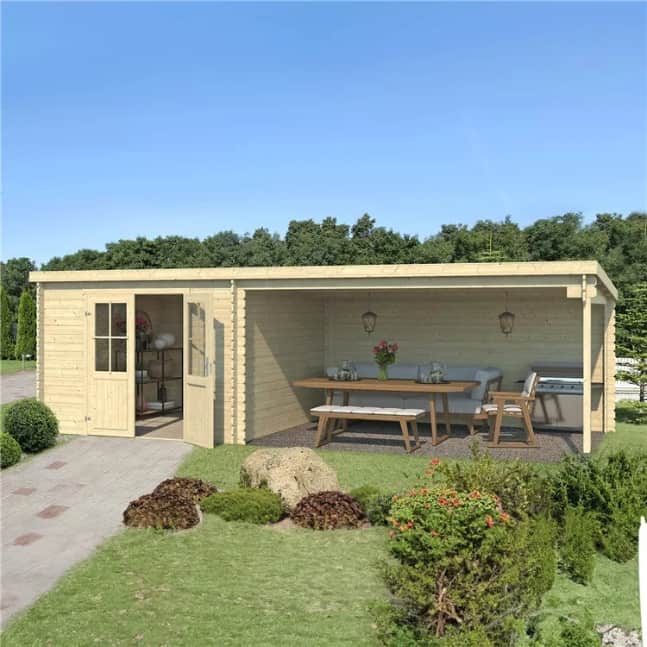 For those seeking a generous blend of space and style for their hot tub retreat, the Natura Voyager Log Cabin is the epitome of luxury and comfort. With its attached side porch, it promises an expansive and charming escape.
The Voyager offers a spacious interior that can easily accommodate your hot tub. Even better, it leaves enough room for relaxation, socialising, or even a mini lounge area. Crafted with precision and an eye for detail, this log cabin exudes timeless elegance. The side porch serves as a versatile extension, too. It's for unwinding before or after your hot tub soak.
Ready to turn your outdoor space into a haven of style and relaxation?
Creative Hot Tob Placement Ideas
1. On a deck with a view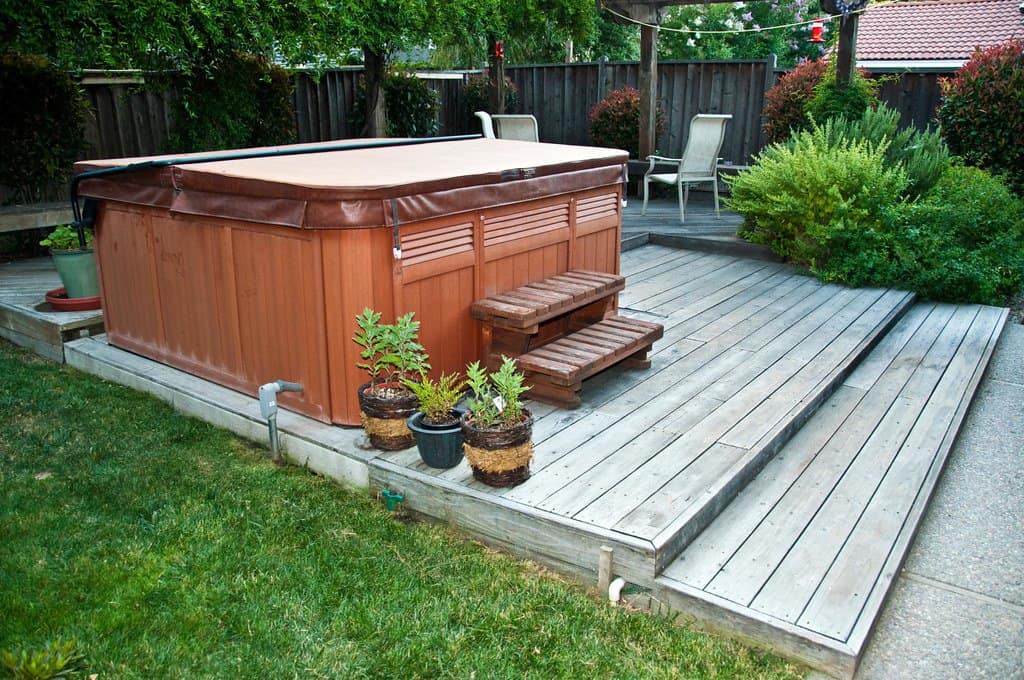 Placing your hot tub on a raised deck can elevate your outdoor relaxation game to new heights. The deck provides a stable foundation and offers breathtaking views of your garden. Imagine unwinding in warm, bubbling waters while gazing at picturesque landscapes!
Check out these decking ideas UK for more inspiration.
2. Sunken hot tub oasis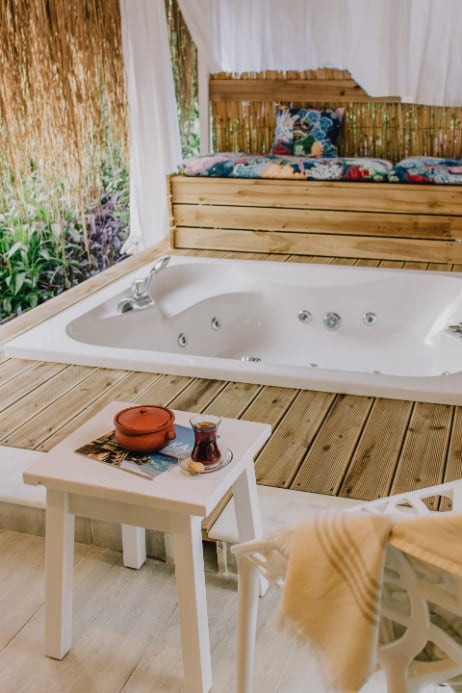 For a touch of luxury, consider a sunken hot tub oasis. This design integrates your hot tub into the landscape, creating a private retreat. The lowered elevation adds a sense of intimacy and style. You can enhance the oasis with landscaping elements like lush greenery or stones.
3. Under the stars
There's something truly magical about soaking in a hot tub under the starry night sky. It's an experience that combines relaxation with a touch of enchantment. To amplify the charm, consider adding outdoor lighting around your hot tub area. Solar lights or built-in LED fixtures can create a cosy and mesmerising atmosphere. Enjoy the celestial show while immersed in the warm waters of your outdoor hot tub.
4. Lakeside serenity
Imagine the tranquillity of a hot tub retreat by the lakeside. Nestling your outdoor tub close to a peaceful lake or pond creates a serene ambience. The gentle lapping of water and the reflection of the surroundings add to the relaxation. To enhance this setting, incorporate natural elements like pebble pathways and aquatic plants. It's a fantastic way to merge the calming powers of water and hydrotherapy.
5. Garden hideaway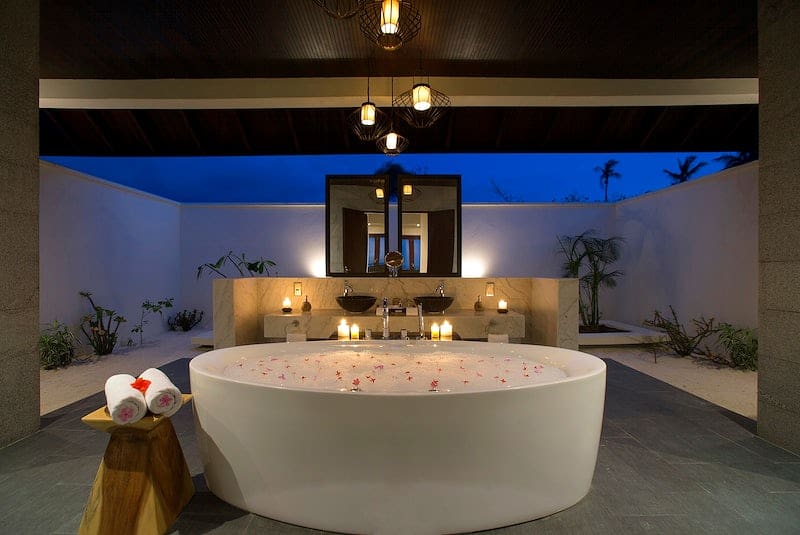 Transform your garden into a hidden hot tub haven. Placing it amidst lush greenery provides a secluded and rejuvenating experience. Surround the area with vibrant flowers, shrubs, and tall foliage for privacy. To create an enchanting ambience, add garden lighting such as fairy lights, torches, or even a fire pit. A garden hideaway is a perfect retreat for those seeking nature's embrace.
Round-up
In the realm of outdoor relaxation, outdoor hot tubs become gateways to tranquillity. Let your imagination flow and embark on the journey to create your personal hot tub paradise. With the right setting and design, your outdoor space can be transformed into a haven of bliss!
Enhance the ambience with the perfect outdoor lighting ideas and fire pit garden. If space permits, consider adding rattan garden furniture for extended lounging.
Next on your reading list: Deck Furniture Ideas