Garden decking can take the outdoor living experience to the next level. It elevates the plot and is a versatile landscape material for gardens.
Perfect for creating new areas and defining spaces, decks can also work with any design. Regardless of the size or shape of your yard, there are plenty of brilliant styles to choose from to fit your home.
Create a fabulous outdoor zone designed with garden heaters electric for year-round use. A decked pathway to the bottom of your garden or a sturdy platform for hosting alfresco dining or BBQ.
These garden decking ideas are sure to provide you with plenty of inspiration!
1. Different flooring for zoning
Using different flooring choices helps zone out the outdoor space. This trick works well with limited spaces, making them actually look bigger.
Draw inspiration from this style. Create a separate decking area for alfresco dining that wraps around the patio. If you're thinking of furnishing it, check out these garden furniture for small gardens.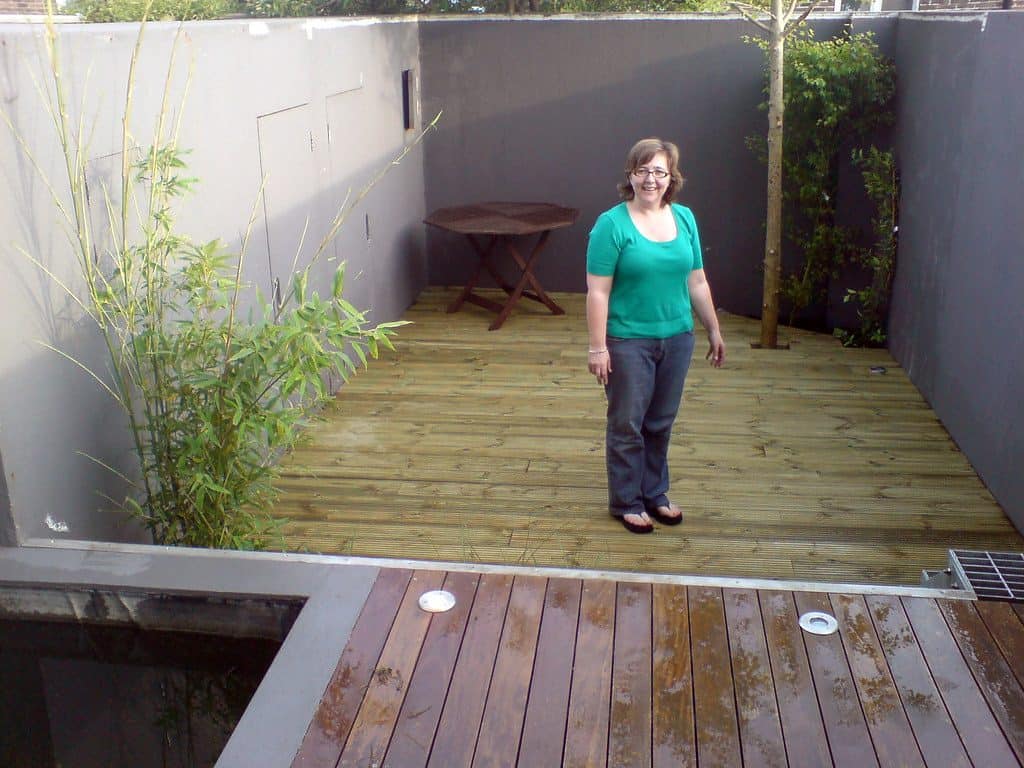 2. Modern covered deck
Consider a covered deck built with pressure-treated framing for a robust structure. The concept allows you to make the most of your outdoor living space, no matter the weather. It also opens an opportunity to add a Sunjoy gazebo into the setting!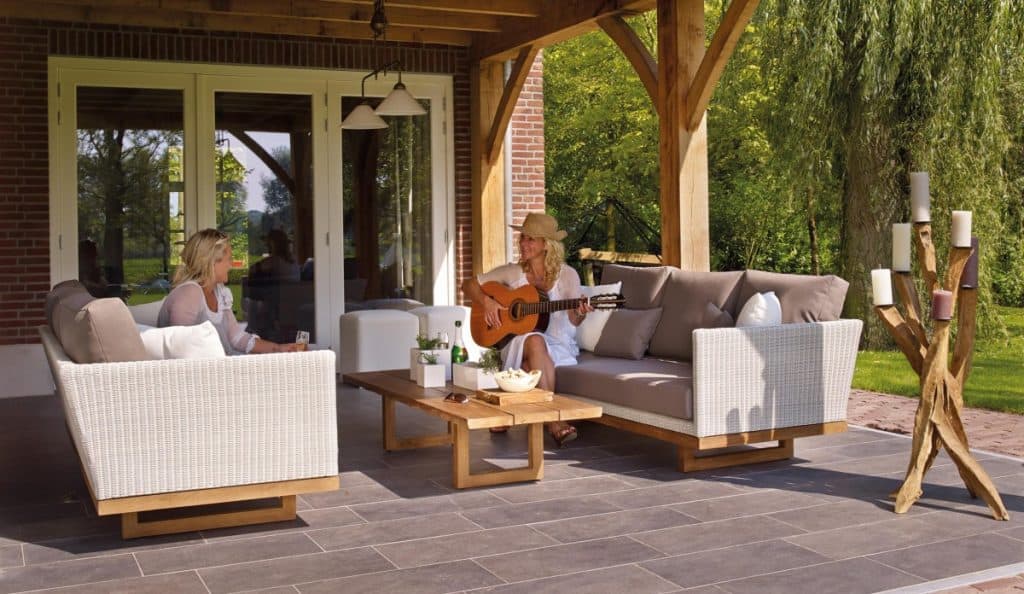 3. Mix and match pool deck
Choose a stylish and non-slip decking material. Use more than one material, such as the rich combination of redwood and stones, to add character to your pool. This fusion crafts an engaging visual tapestry that complements your pool's oasis.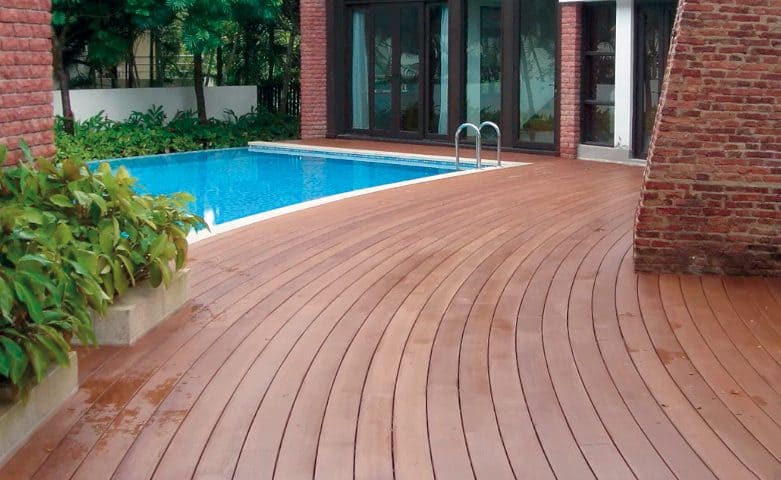 The flammable decking material is recommended for this concept. It should be strong enough to support the decking with fire pit design you have in mind. Install a flame-resistant surface to hold the fire pit and catch sparks.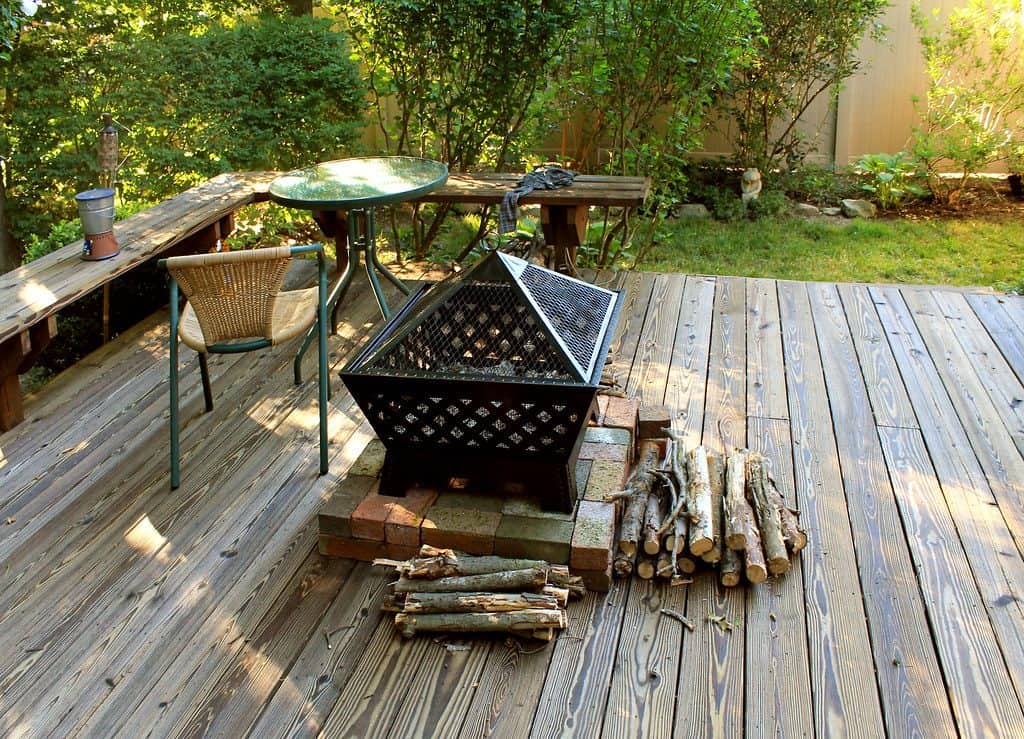 5. Koi pond from above deck
Your deck needs a view that offers melodic and soothing sounds, a.k.a. a Koi pond! Take a cue from this style; it leads to a stone path that follows the stream. Relax on the patio with a great view of this water garden.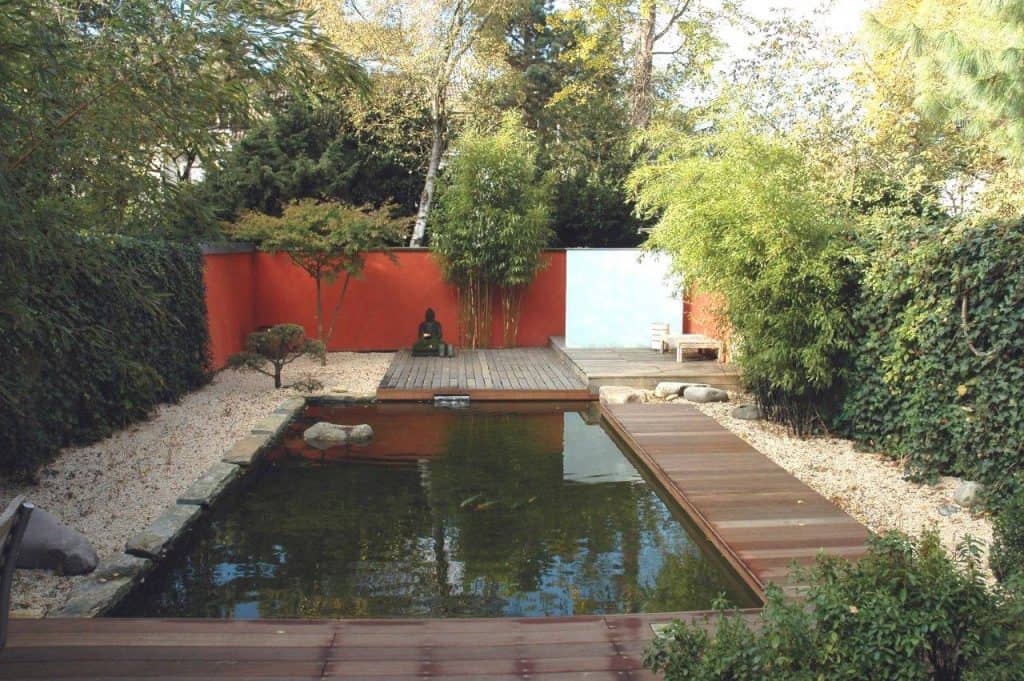 6. Garden room with decking area
A deck around a garden room provides more floor space for various purposes. The frontage in this two-tiered decked summer house offers a space to sit or dine outside.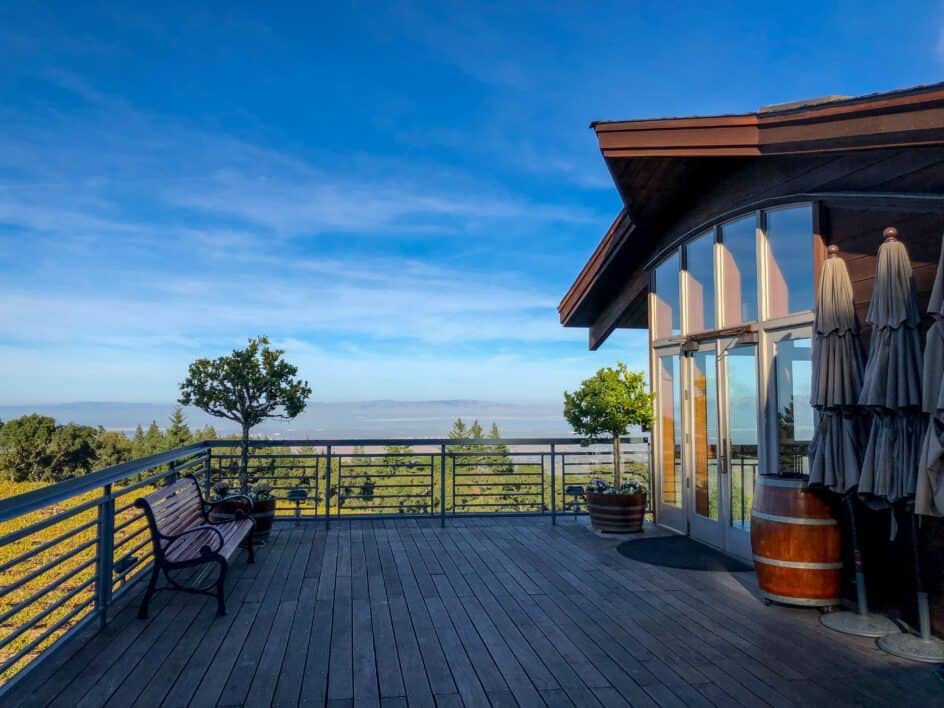 7. With a built-in mini succulent garden
A small succulent patch can keep your decking looking fresh and modern. Plus, it helps make a lovely centrepiece to the space, and they're incredibly easy to look after. All they'll need is a little watering during hotter months.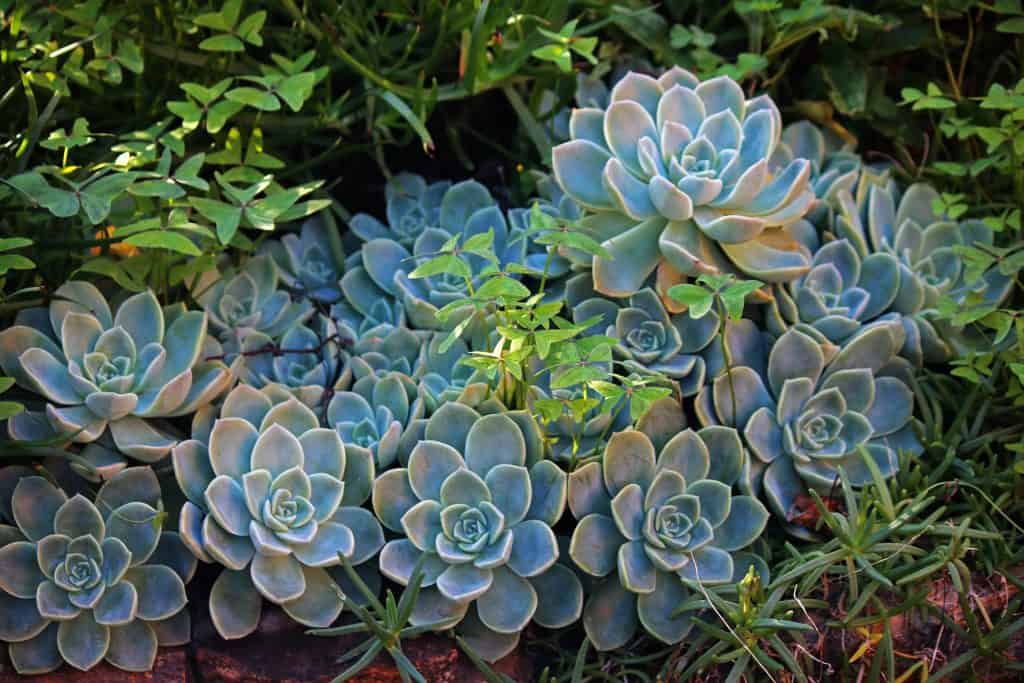 8. Make it weatherproof with an anti-slip treatment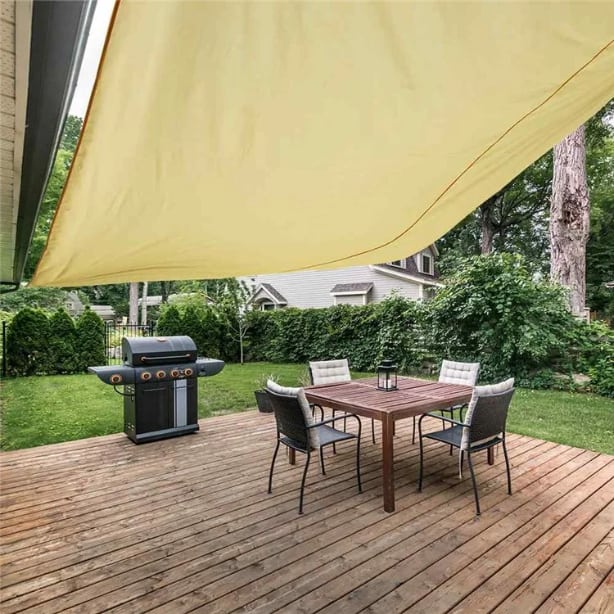 When talking about garden shade ideas, a sail canopy is one of the cheapest options. It also makes an excellent anti-slip treatment for decking by keeping the rain off. Remember, decking plus rain can equal danger.
9. Create a boardwalk
Decks are perfect for creating a pathway through gardens. A boardwalk style like this can give your yard more of a seaside feel with white pebbles. The design also helps keep weeds at bay.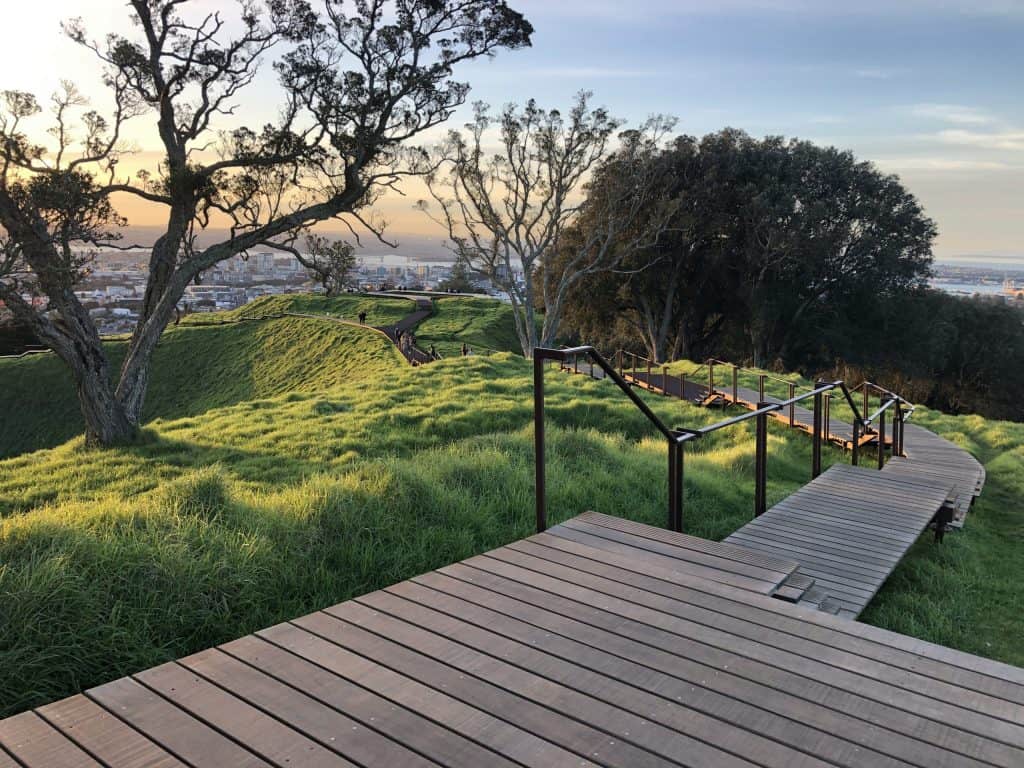 10. Stylish sun deck
Natural wood decking looks good when paired with black, giving off a classy sense. Keep everything in the same colour or add a bit of variation to create a fluidity of design. Beautify the area with greenery.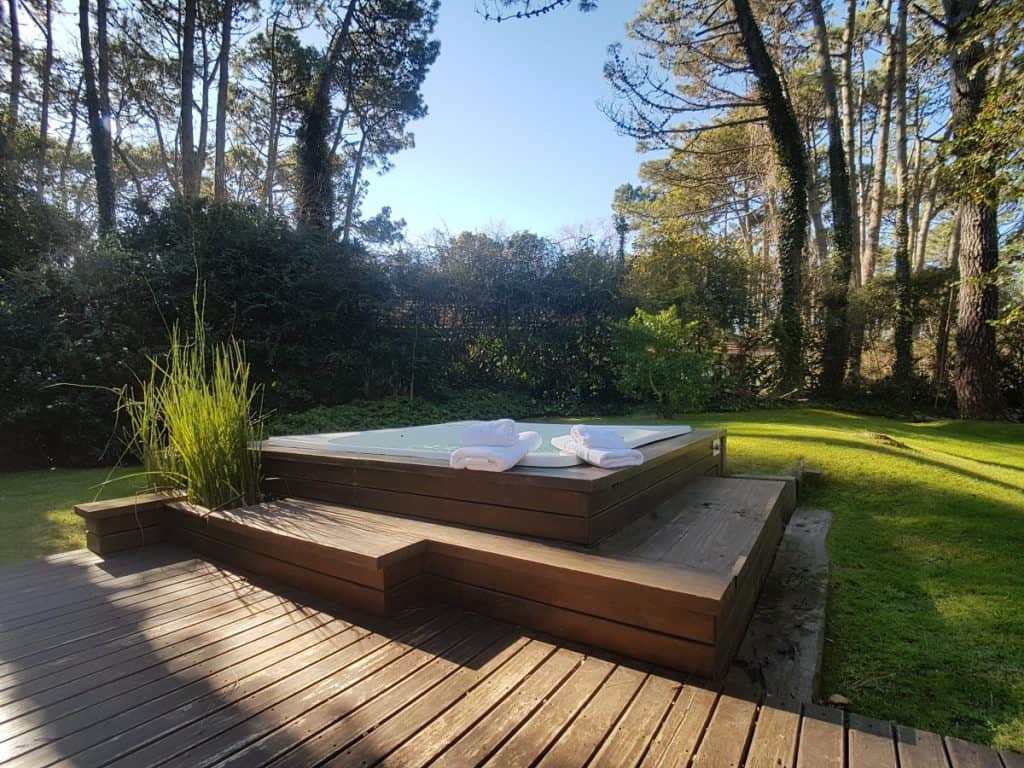 11. Section it off with railings
Ideal for modern corner garden ideas, railings can help enhance a sectioned patio. It gives off an indoor-meets-outdoor approach. Top tip: Complete the look with a 3 seater rattan sofa.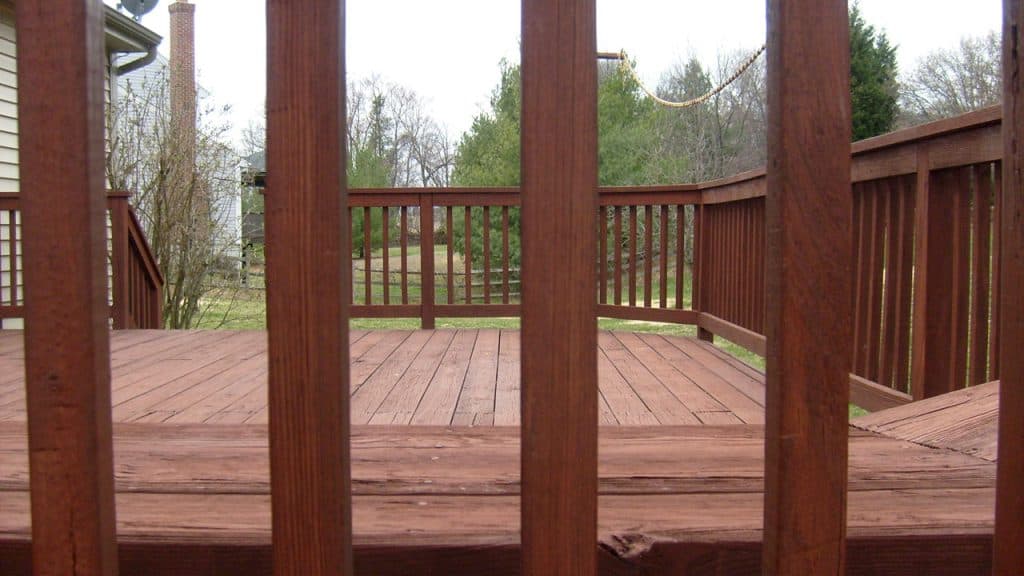 12. Go weathered decking
Recreate this look by choosing a material that weathers well to add rustic appeal to your space. Surround the decking with perennials, and consider building in a shallow pond below to add more interest.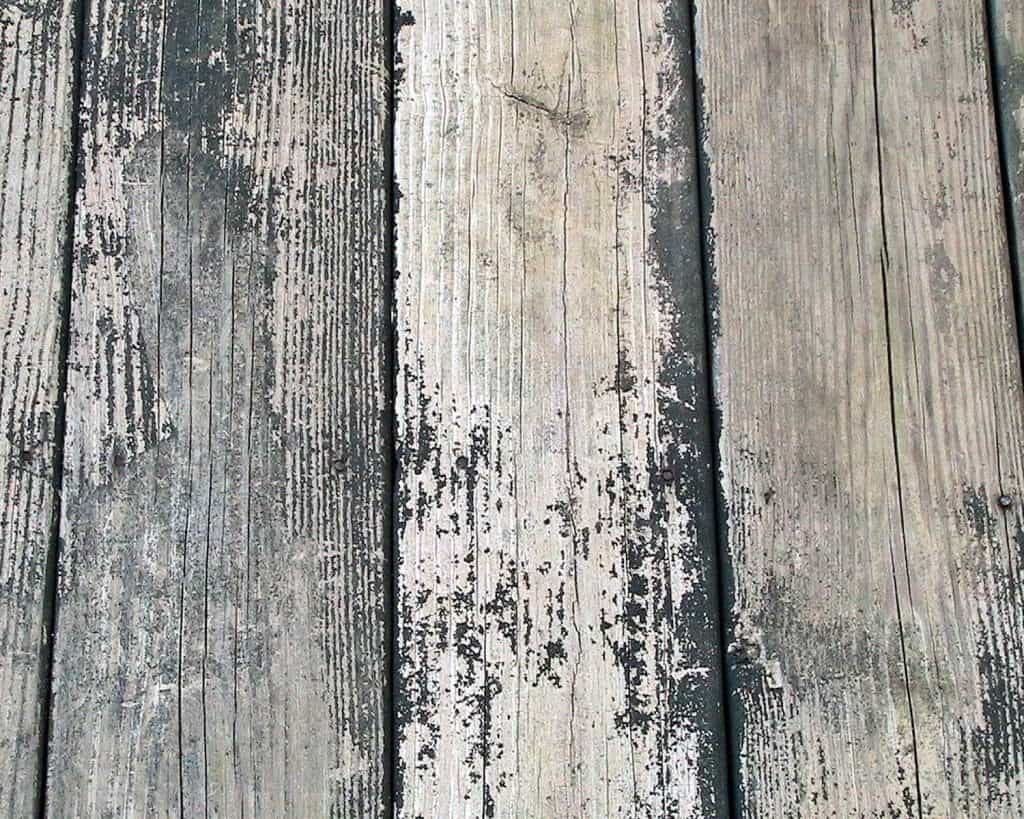 13. Natural stone all the way
This luxurious backyard features a free-form pool surrounded by natural stone. Instead of the usual wooden or composite decking, the owner used stones and artificial rocks.
Three extra-large urns and a stone water feature with custom fountains add ambience.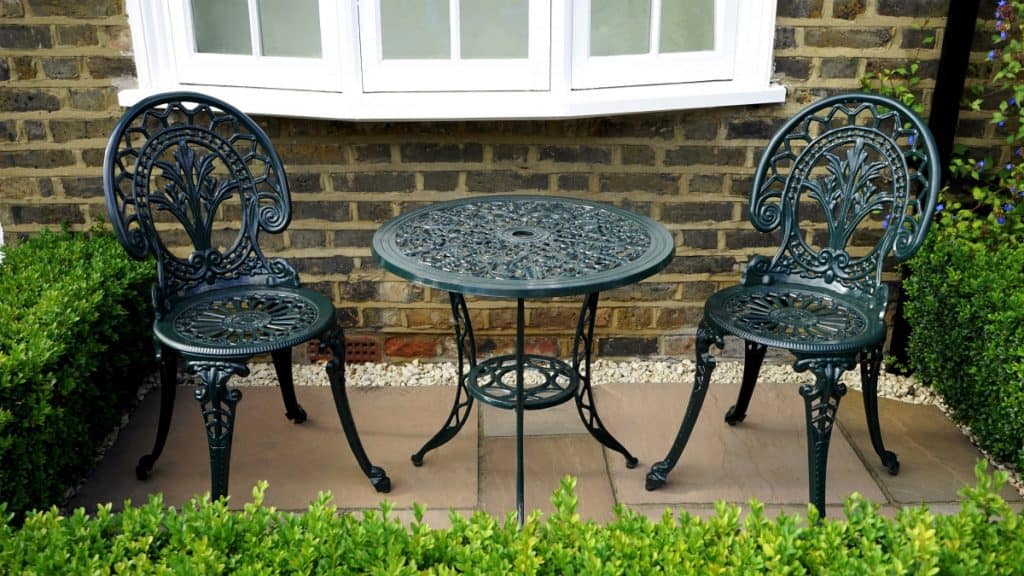 14. Parquet balcony deck
Think outside the box and lay a deck in a pattern, such as in the style of parquet flooring. Unlike the usual parallel lines, parquet decking also exudes an interesting aesthetic.
15. In contrast with bricks
It turns out that wooden decking blends well with bricks and other stone patio materials. Here, the two elements somehow mimic the yin and yang form, divided into two halves by a curved line.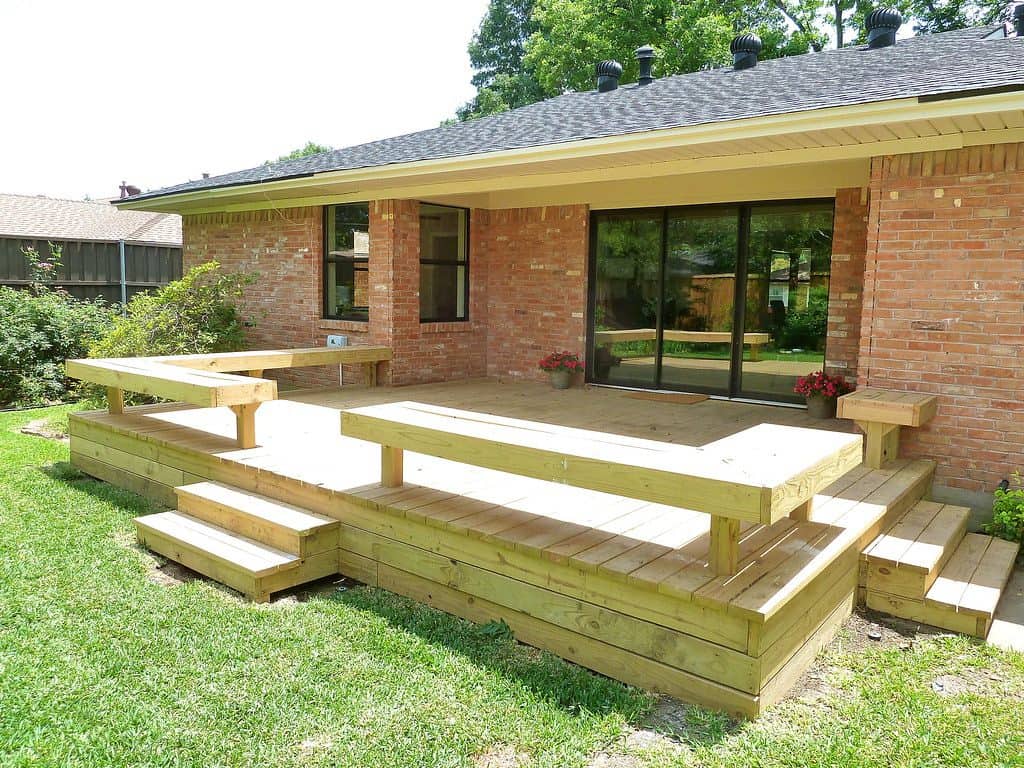 16. Made for two
If you want to install decking to your small patio, take inspiration from this budget garden deck. The homeowner created a small area that's big enough to fit a BillyOh Windsor 0.6m Square Bistro Set For 2. Fill any extra spaces with loose bark or more lawn to extend the area.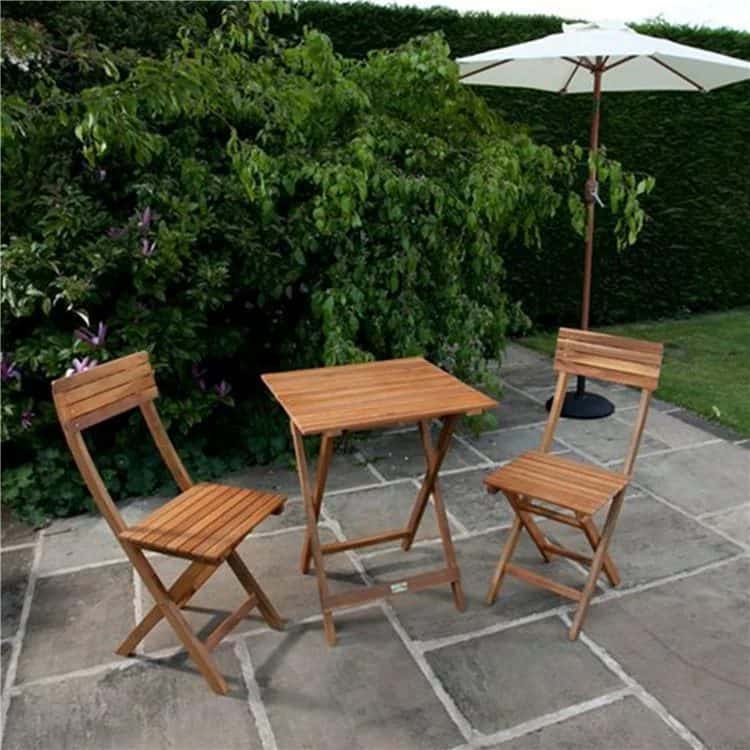 17. Decking and artificial grass
Timber decking and artificial grass make a good pair, and this backyard proves it! When you have kids and pets around, they'll enjoy the garden more with a grassy area to play on.
The faux lawn in this patio breaks up an otherwise entirely brown space. It adds shape and size to the space with its eye-catching curved design. Don't miss out on these artificial grass garden ideas UK for more inspiration!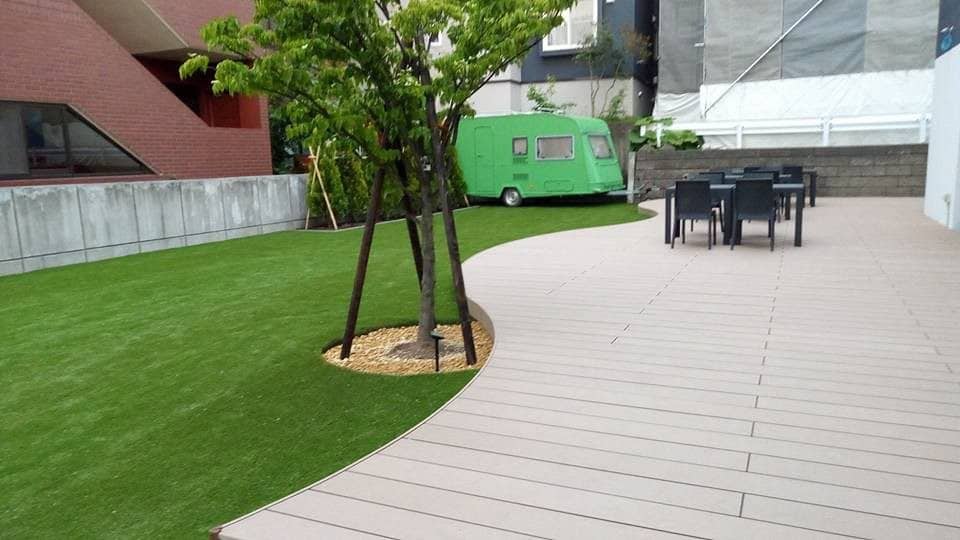 18. Deck the hot tub
An outdoor hottub in a garden is a big catch, and with the addition of decking, you can create a backyard oasis. Take a cue from this Jacuzzi hot tub complemented by a wooden decking surround.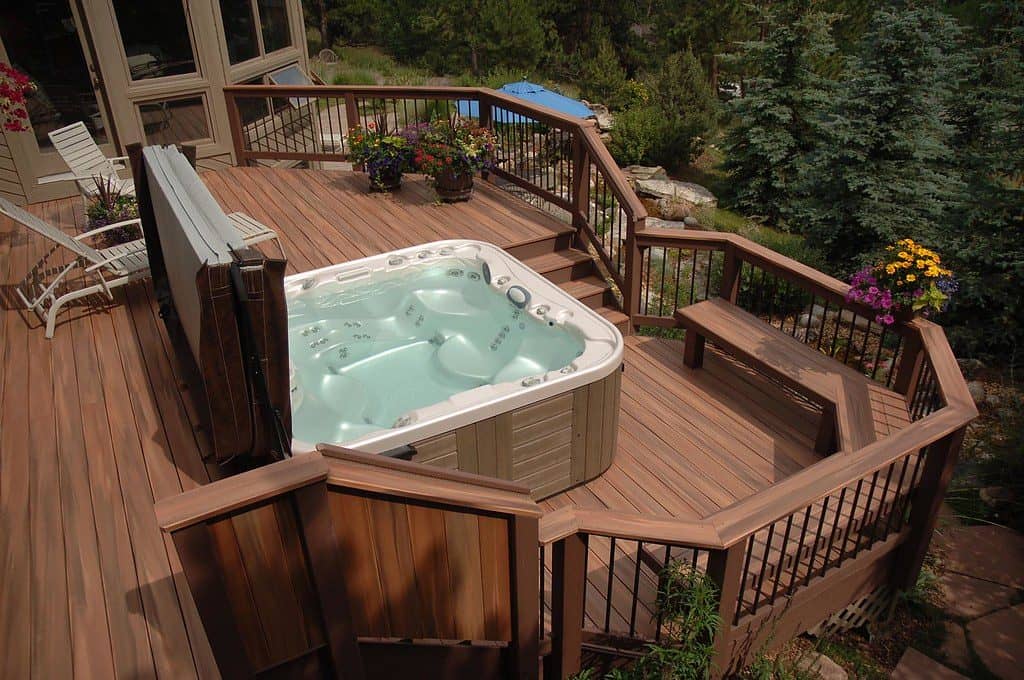 19. Enclose your decking
An enclosed decking can be an extension of your home. This deck cover scheme adds both style and shelter to the plot. It allows you to stay outside for longer, keeps your furniture covered, and more!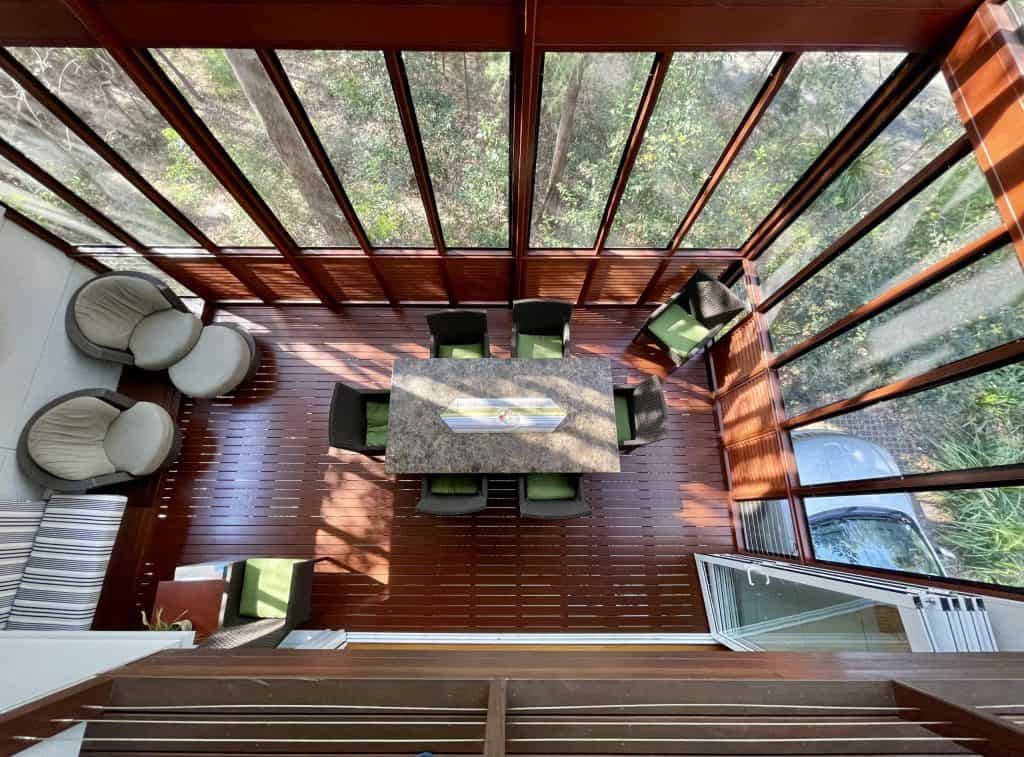 20. To mark your boundary
Although garden fences are great, you could also use decking to create boundaries. This is especially ideal if you have raised decking.
The natural line between the end of the decking and the wild blooms beyond in this garden is a perfect example.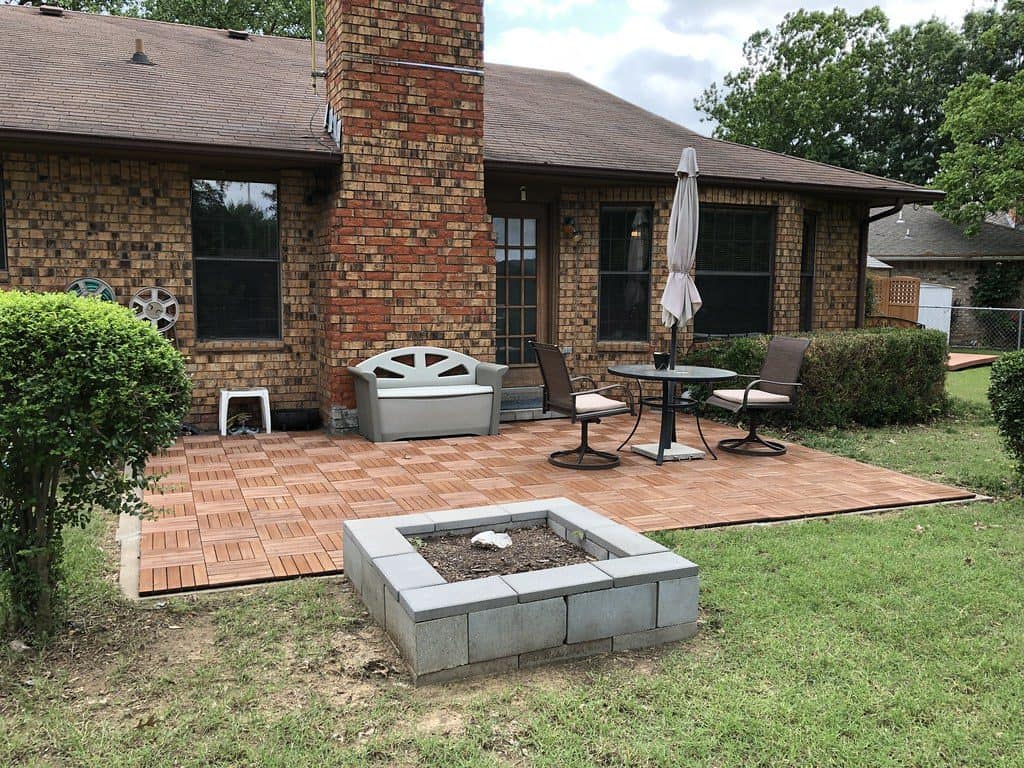 21. Feature a landscape
This raised deck features landscaping, looking natural with nature surrounding it. The warm wooden decking contrasts nicely with greenery and pebbles.
What a clever way to bring a touch of jungle landscaping to a plain urban backyard!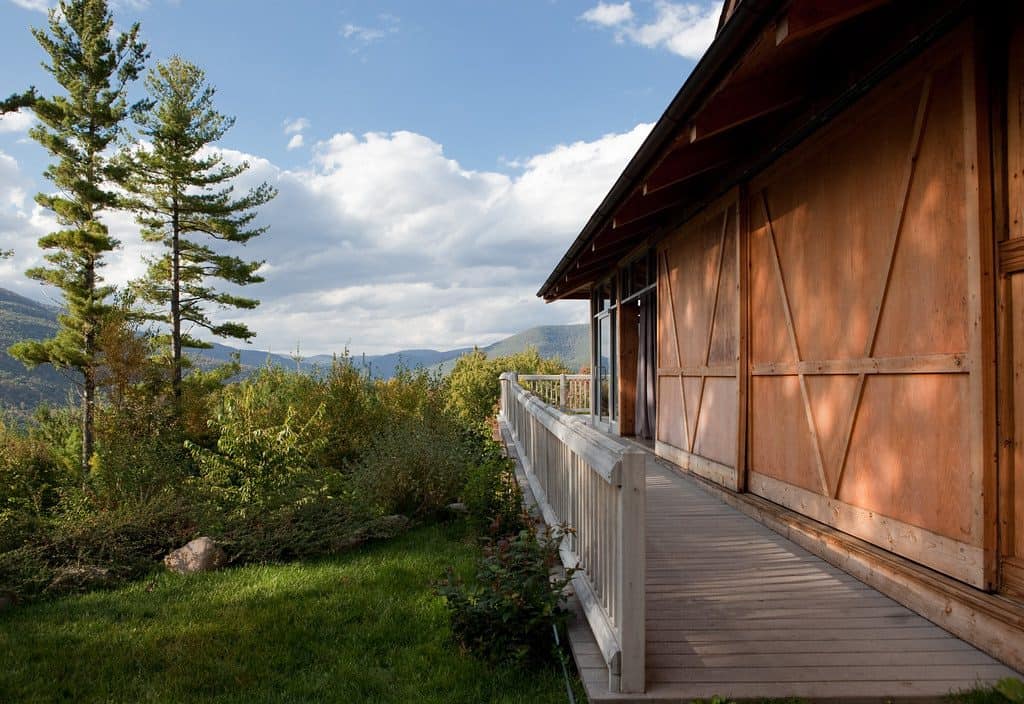 22. Incorporate lighting fixtures
A combination of backyard garden lighting ideas on decks can add drama and interest. The lighting lights up the area while casting an inviting, warm glow. On this patio, the fire pit ring and candles inject more warmth into the space.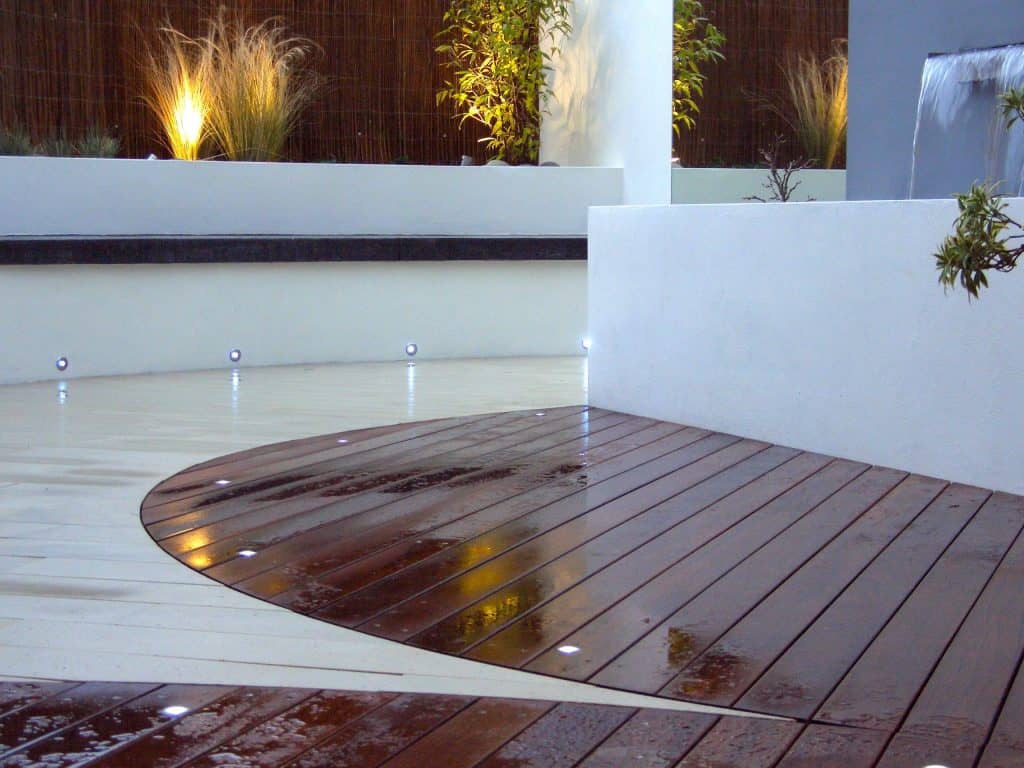 23. Front garden decking
When talking about simple front garden ideas, decking could be the last thing you'd consider. But here, a wooden deck has been installed on a firm foundation. This is ideal if you want to build a porch and make your front space more functional.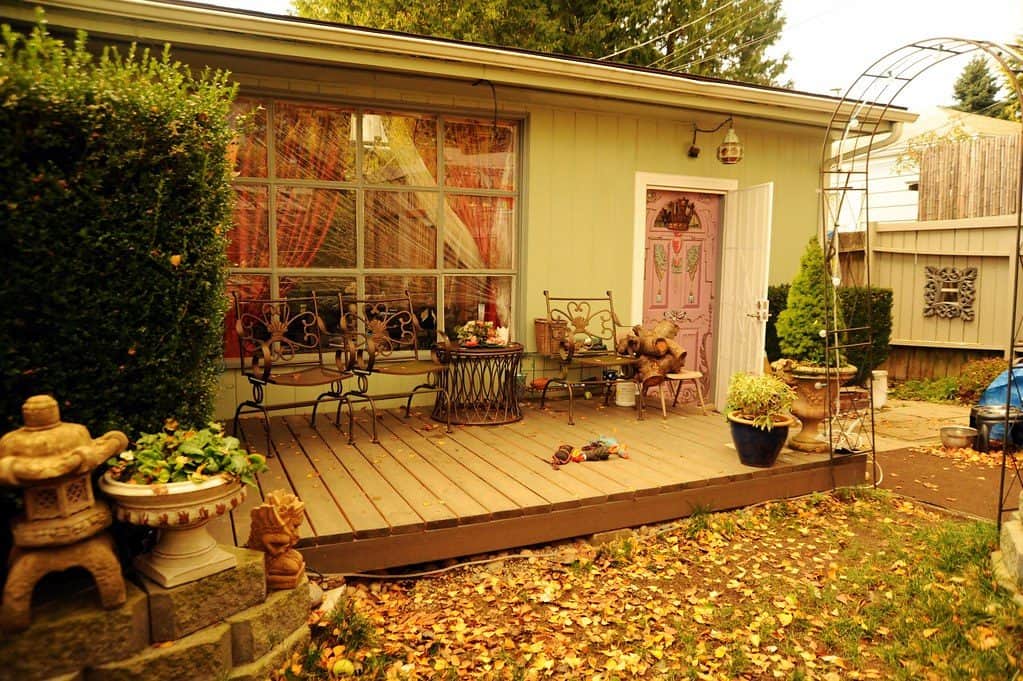 24. Add some fun
An elevated deck makes it possible to install a slide on it. It's the best way for kids to slide down from an elevated deck, while adults can use the stairs. Fair enough.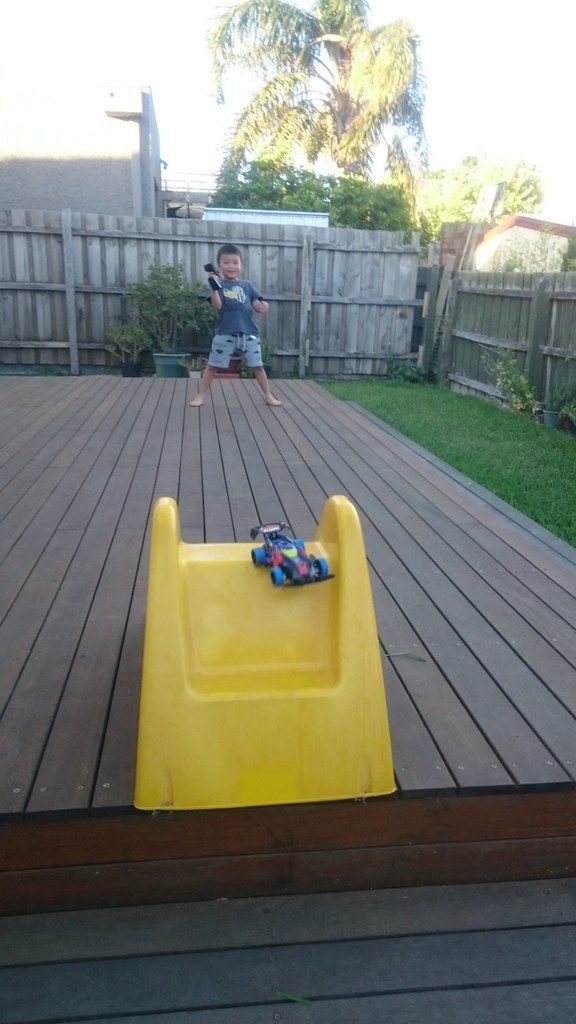 Wicker seats, cheap sun loungers UK, or even dining tables and chairs can be used on a deck. But if you're looking for something permanent, consider a built-in bench. The material used in this bench is similar to the decking, making the design seamless.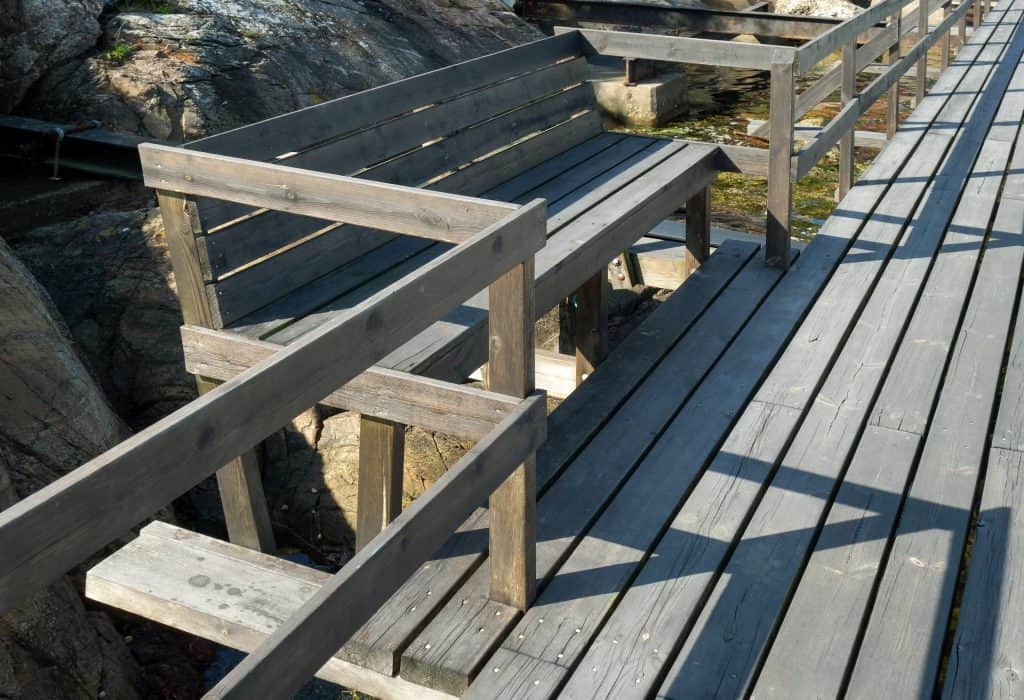 26. A canopy over your decking
If you want a sturdier shade option instead of a sail, opt for a pergola canopy. Not only does it provide shade, but it also protects against the wind and keeps the rain off. Not to mention that it looks good!
27. Build a new space
A quick and easy way to add some height and a new area to your garden is a decked terrace. Ideal for entertainment and alfresco dining, this can also give your property extra curb appeal.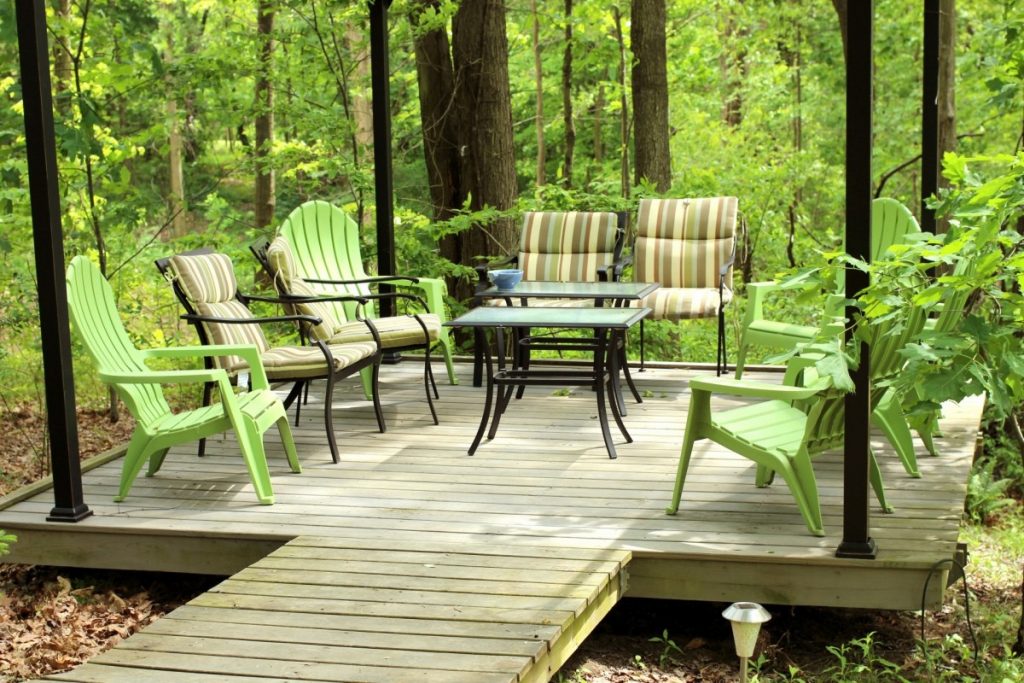 28. Zone out with glass borders
A glass frame wraps around this decking idea. The clear border frames the views and offers a sleek contrast to the rooftop garden. To enjoy the view into the late evening, consider adding patio heating ideas.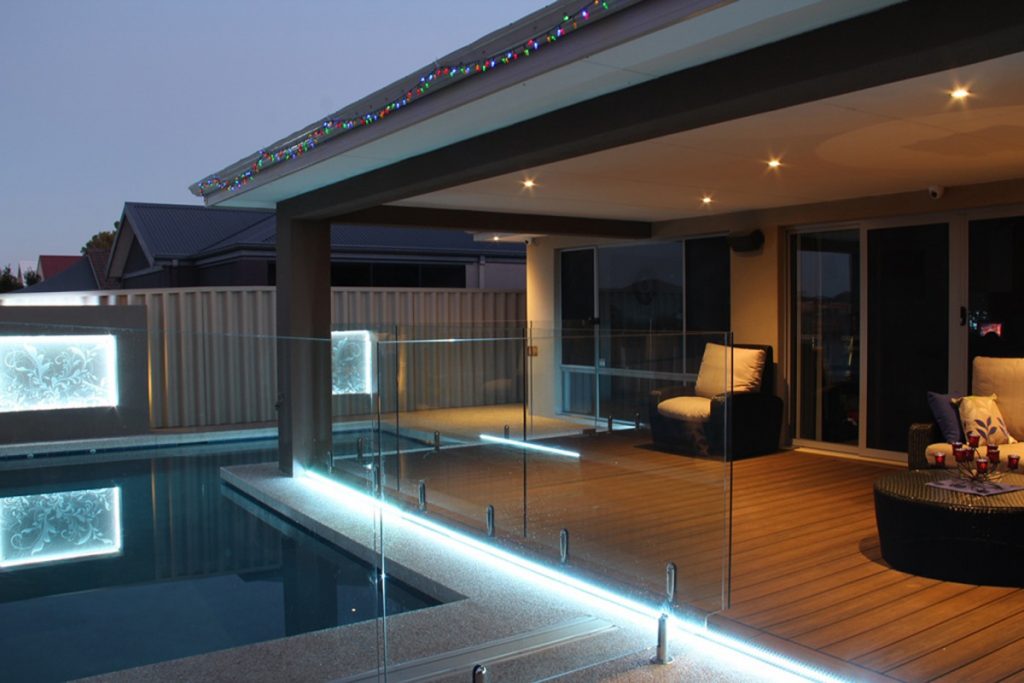 29. Match it with planters
Adding bench seating on the deck is an excellent way to make use of the space. To further the functionality, add built-in planter boxes. Decked steps can also double up as planters and banquette seating.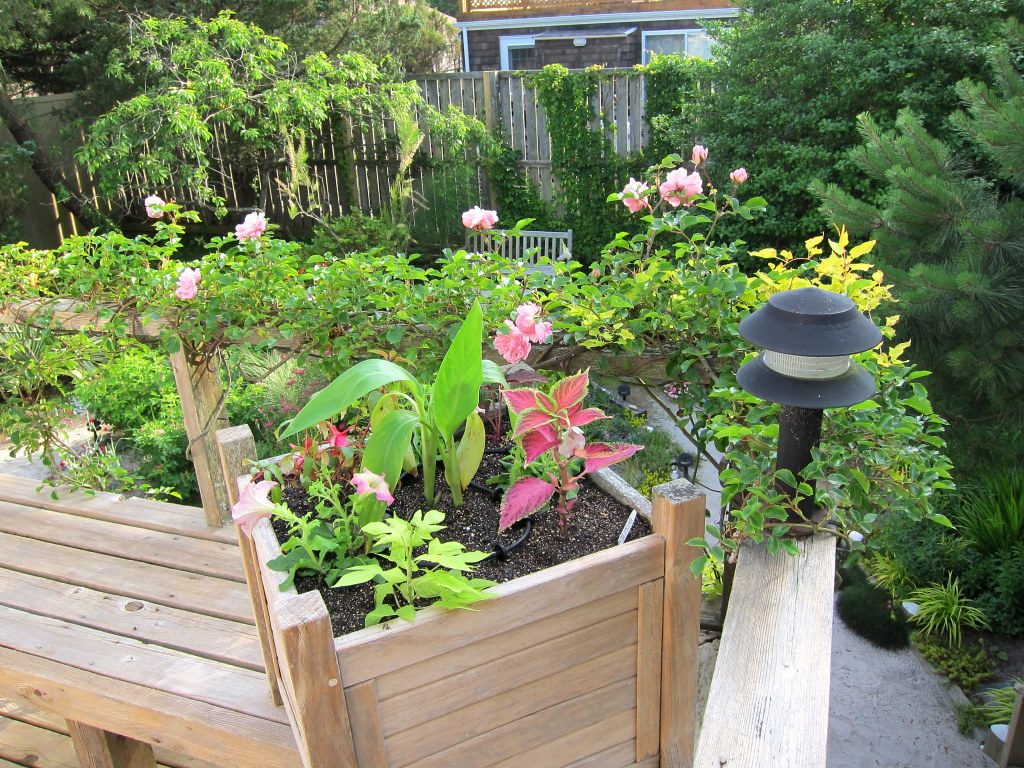 30. With skylights for the basement
If you have a basement under your patio, it's worth considering adding skylights built into the deck. This will channel extra daylight into the ground floor.
To add a focal point, place a fire pit and surround it with lounge seating.
Garden Decking Ideas: Round-up
Garden decking is an excellent addition to outdoor living zones, including around pools. Even better, when paired with hot tub garden ideas for an ultimate hot soak bath experience!
If your garden has sloping sections, adding a deck is a smart way to zone out the space and make it more practical. And if you have a small yard, a decked terrace can be a stylish and low-maintenance option for your landscape.
The possibilities are endless, especially if you have a bit of know-how and a guide like this to get started! And so, we hope you can translate our list of inspirations into a real-life deck in your own garden.
Explore Garden Buildings Direct's exquisite BillyOh garden furniture collection. Enhance your patio deck with the allure of our rattan effect furniture pieces. Don't miss the opportunity to elevate your outdoor space!
We've also prepared some FAQs below to answer more of your questions:
Shop Decking
FAQs