Artificial grass ideas are very common in garden and patio settings. It's even becoming more and more a staple in many homes around the world.
A 'faux turf landscape' as what they call it, but even so, it adds dimension and a pop of colour as if it's genuine. There's almost no difference at first glance – our artificial grass ideas are living proof!
Various forms of fake grass are used in gardens. Our team has compiled the best possible low lawn maintenance for you.
1. Double it as a cushion for the kids
Artificial turf makes the perfect play surface for your kid's playhouse. It provides soft underfoot and cushioning from falls. Even better, it's mud-free, durable, and withstands wear and tear.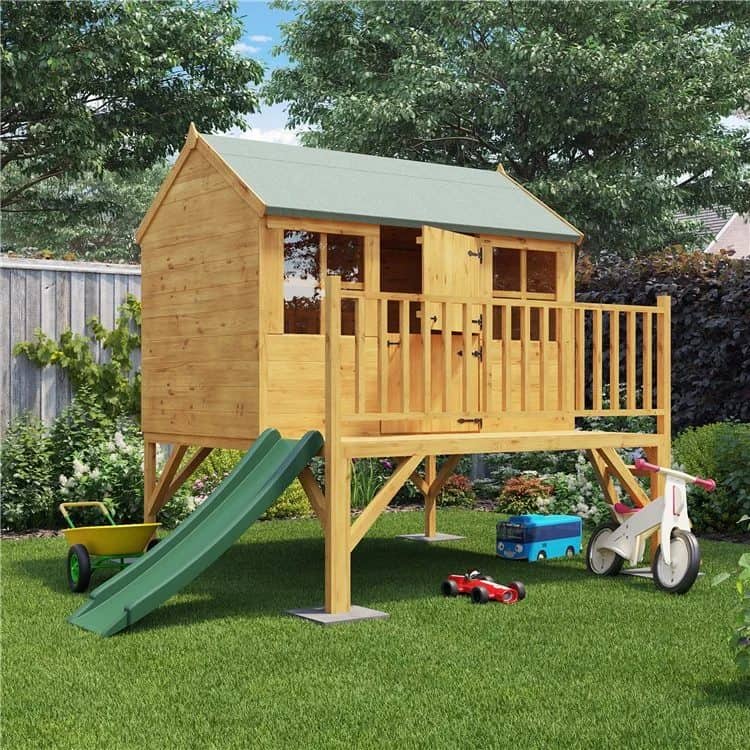 2. Dress up your front yard
Create unmatched curb appeal by donning your front yard with artificial grass. It never has to be watered, making for an eco-friendly upgrade that also saves you money on water bills.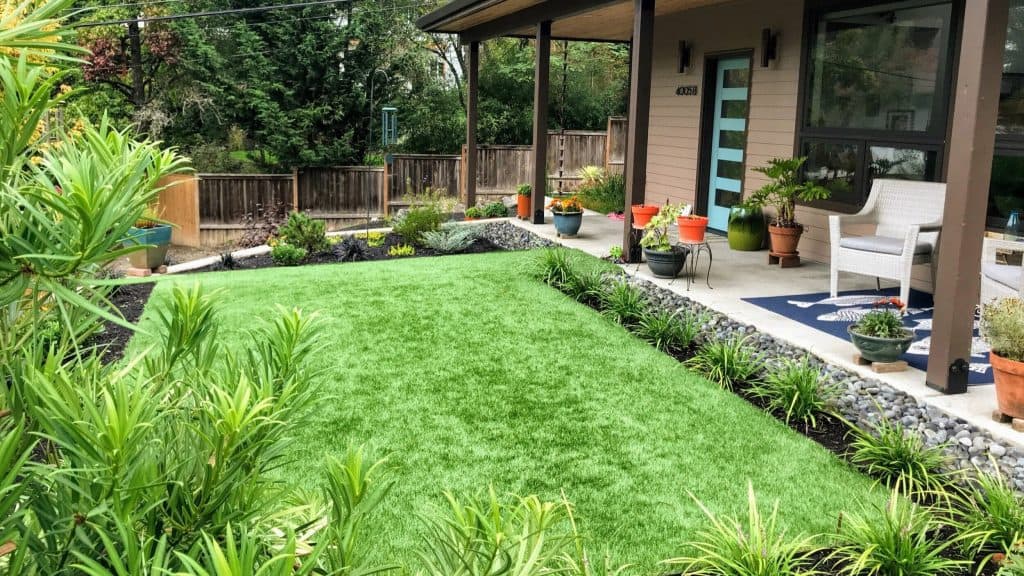 3. Square and modern
Artificial grass can serve as the focal point in your small garden idea, providing contrasting textures and colours. Here, the rooftop creates a sleek outline that makes the fake lawn the yard star.
The addition of rattan garden furniture and BBQ make the space more functional.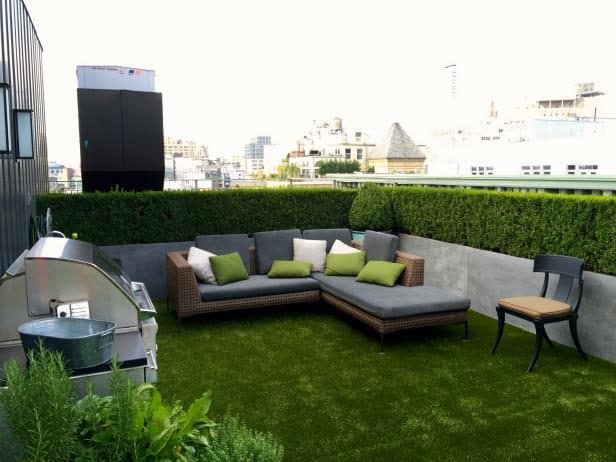 4. Solution to muddy waters
If you own a water feature in your garden, chances are its surroundings are often muddy and barren. This is particularly true if it's circled with a lawn.
Installing synthetic grass can solve that problem. Keep that 'wow factor' as if nothing changed.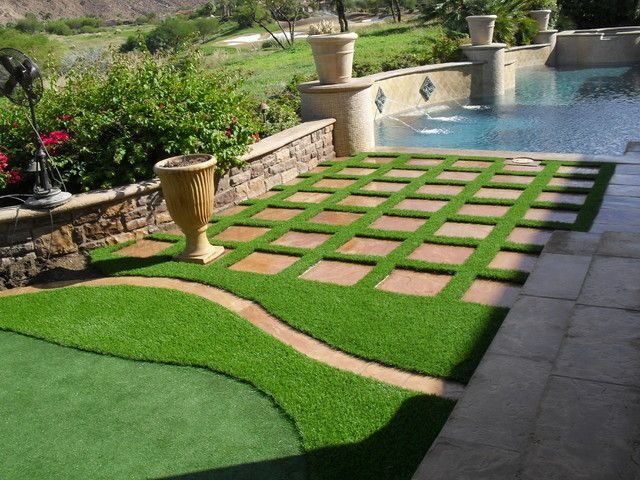 5. Between pavers
Maintaining real grass between pavers can be a tricky business. But even the use of a small patch of artificial lawn can solve that problem. Ideal for large garden ideas.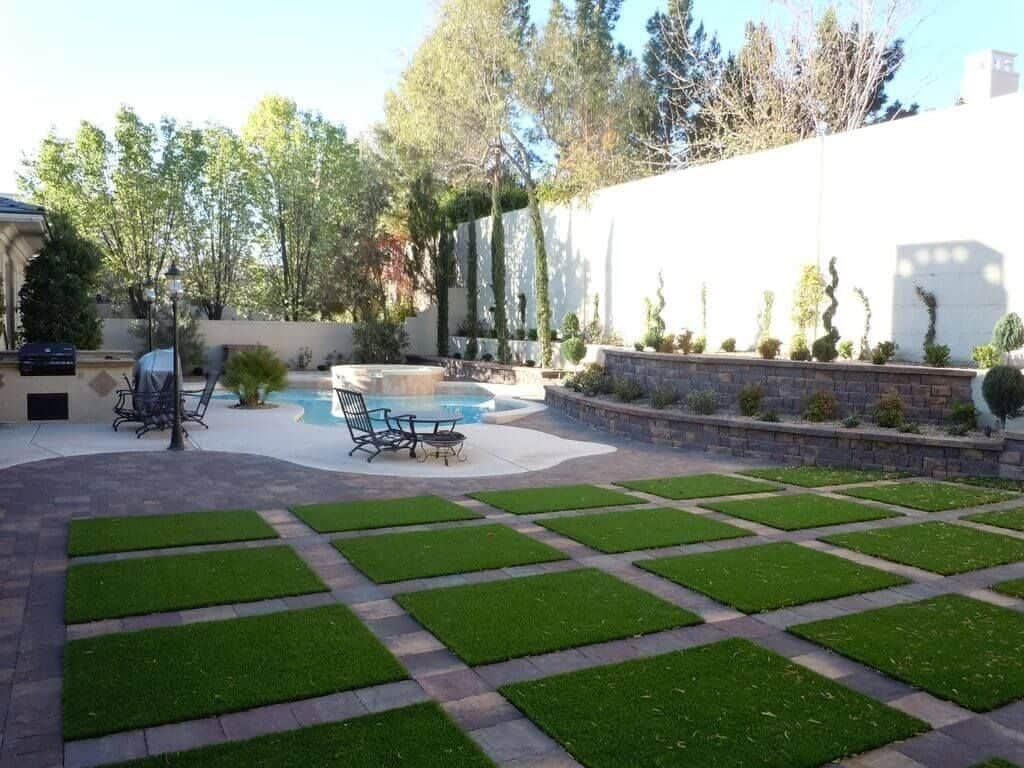 6. Pool paradise
If you look at the photo below, everything looks real – and you wouldn't even think that the turf is fake. Artificial grass around the pool allows for barefoot comfort.
After a refreshing dip, it also provides safety for wet feet. There's no worry about slippery surfaces, too!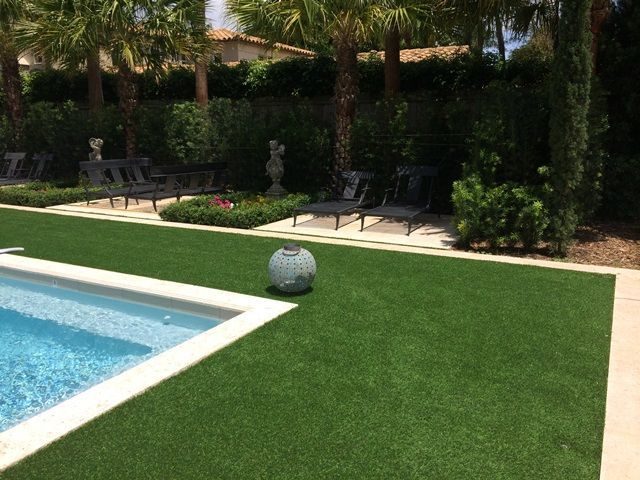 7. Convenience for your car
Unlike real lawns, the right artificial grass type lets your vehicle drive smoothly in your garage. Opt for Nylon material as it returns to its original shape quicker after being walked on.
Plus, it keeps its original form better and for a longer time.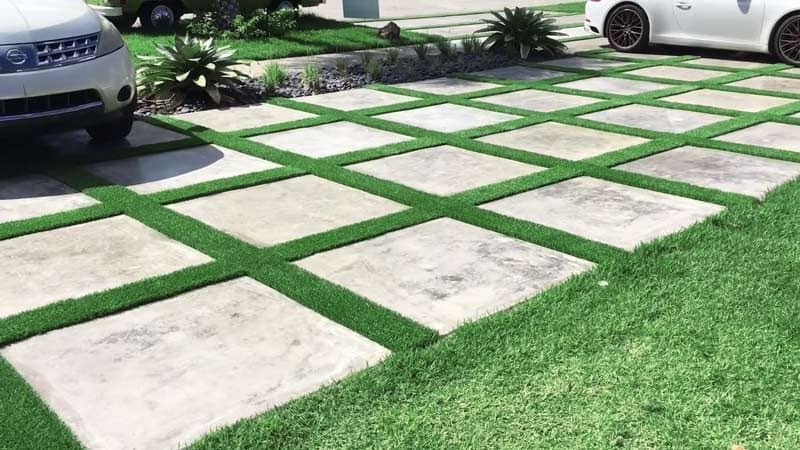 8. Low-cost golf garden
Golf courses require a metric ton of water to keep green. For homeowners with golf gardens, many have opted for artificial lawns due to this reason.
In terms of texture, artificial grasses are designed to mimic the feel of real grass.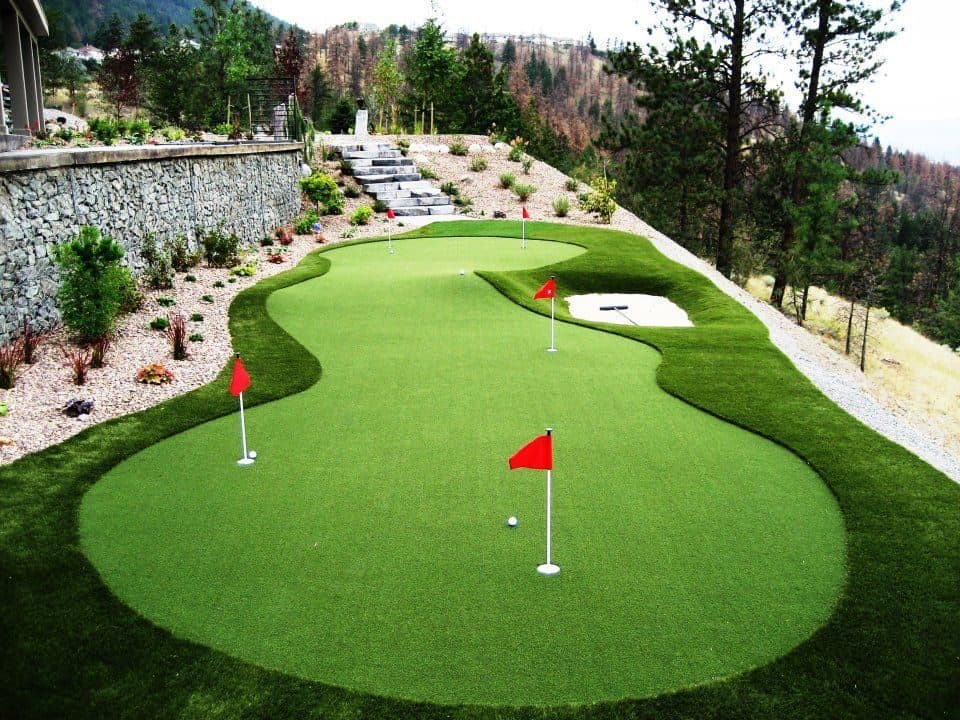 9. A treat for your furry companion
Artificial grass doesn't get affected by the elements, unlike authentic lawns. This gives your dog a lot more freedom to be outside, no matter the weather. They get the exercise they need to be healthy and happy!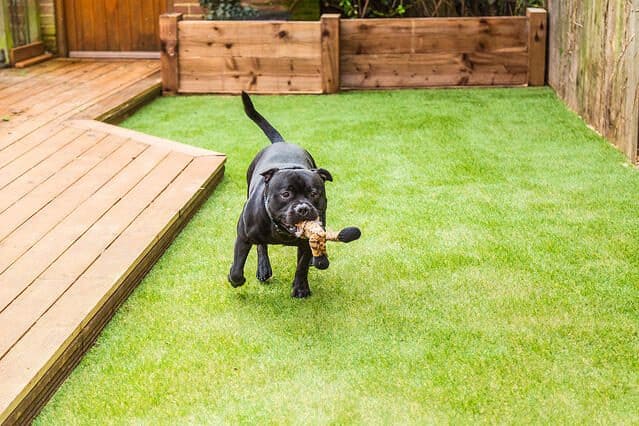 10. Additional touches for a more natural look
Bordering artificial grass with soft grasses such as evergreen will give your garden a more natural look. Ornamental plants are also low-maintenance and easy to pair with faux turf. Take inspiration from this small backyard.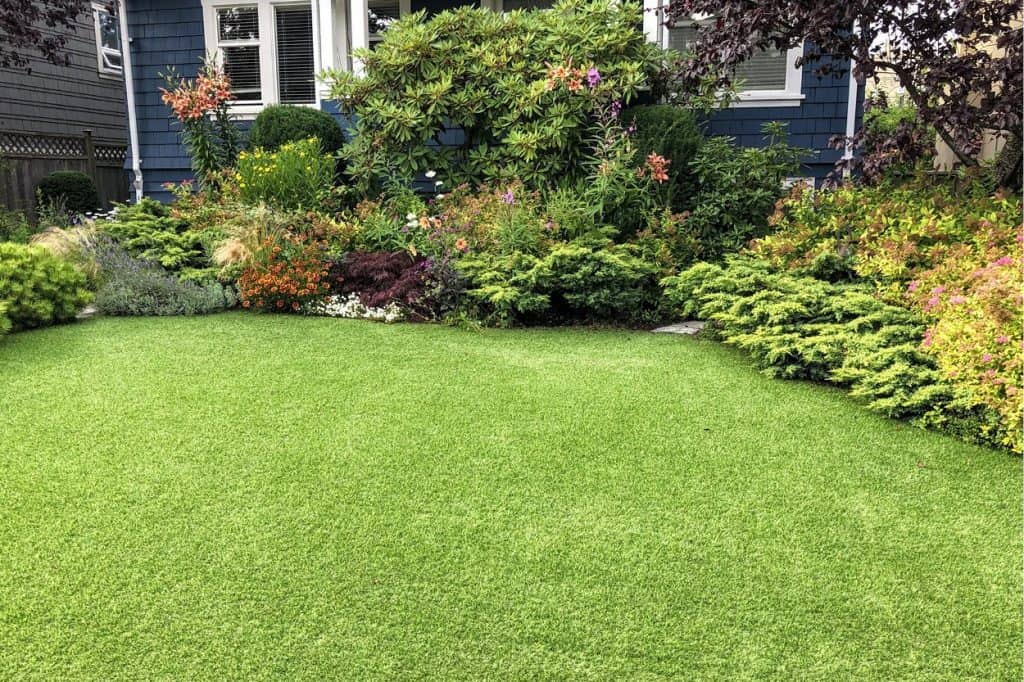 11. Maintenance-free mini oasis
Create a low-maintenance oasis and complement the yard with artificial turf. The addition of greenery, such as asparagus fern, can give your humble space a paradise feel.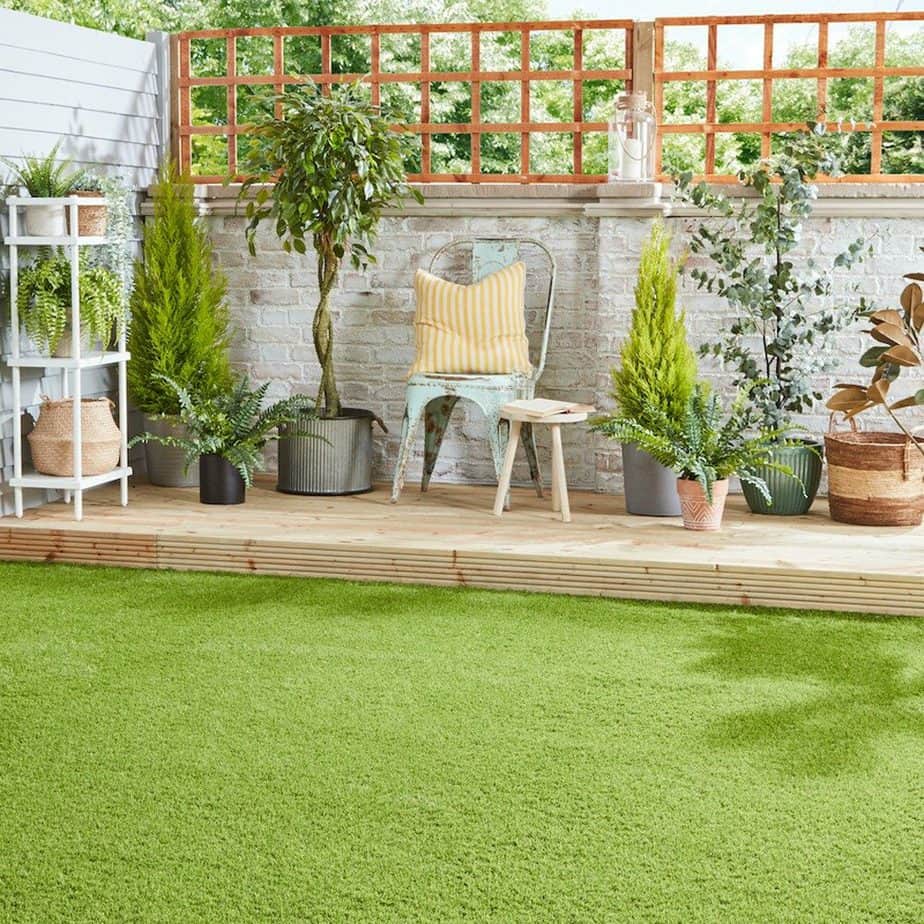 12. Paired with hardwood decking
Integrate the synthetic turf with hardwood decking to give your yard an organic look. They're a perfect match for creating the ideal space for socialisation.
Regardless of the size of your patio, a simple landscape design like this is sure to make a statement!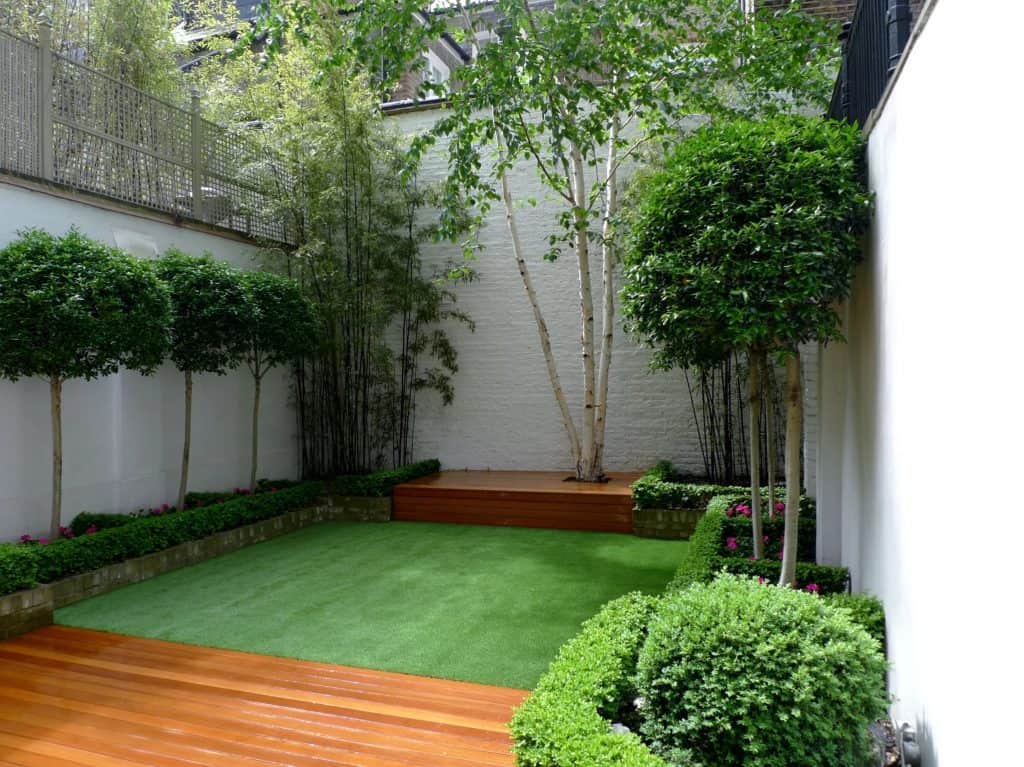 13. Artificial mixed with genuine greenery
Artificial grass on a balcony allows you to enjoy outdoor green space, despite living in the city. With plant containers, faux turf can provide you with the garden oasis you've been dreaming of.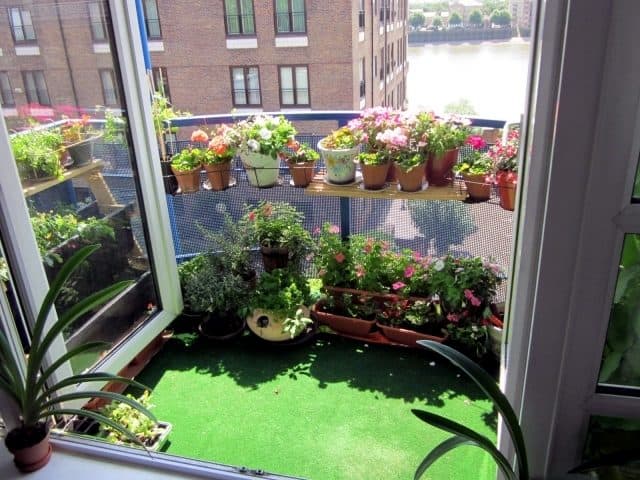 14. Play with shapes
This artificial grass edging adds interest with curved, sweeping lines. It adds texture and colour, surrounded by a pebble garden bed and small trees. The lawn looks as green and vibrant as the real shrubs and bushes.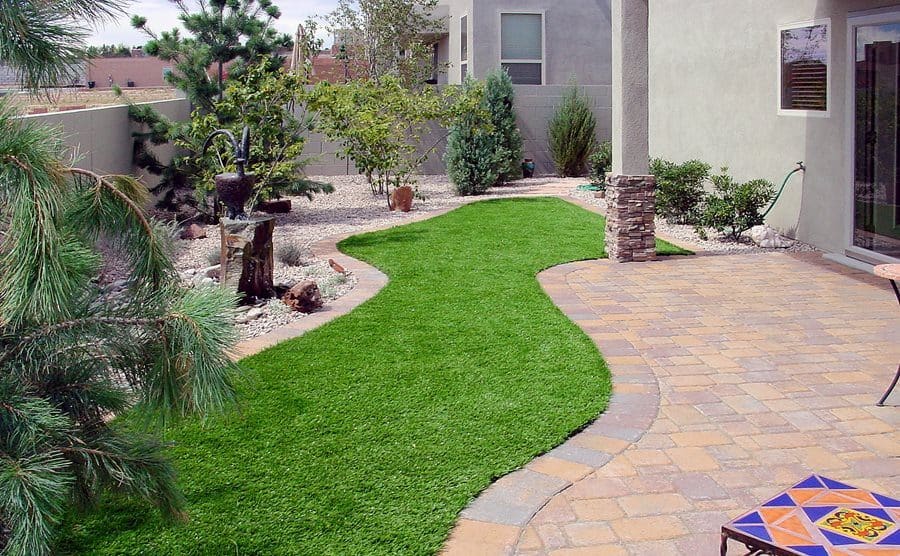 15. Lay the faux turf on balconies
Synthetic grass is a common choice among apartment owners who want to add green to their balconies. The location of your balcony won't matter, as intense lighting won't damage the decoration.
Clean it regularly using a vacuum cleaner for some TLC.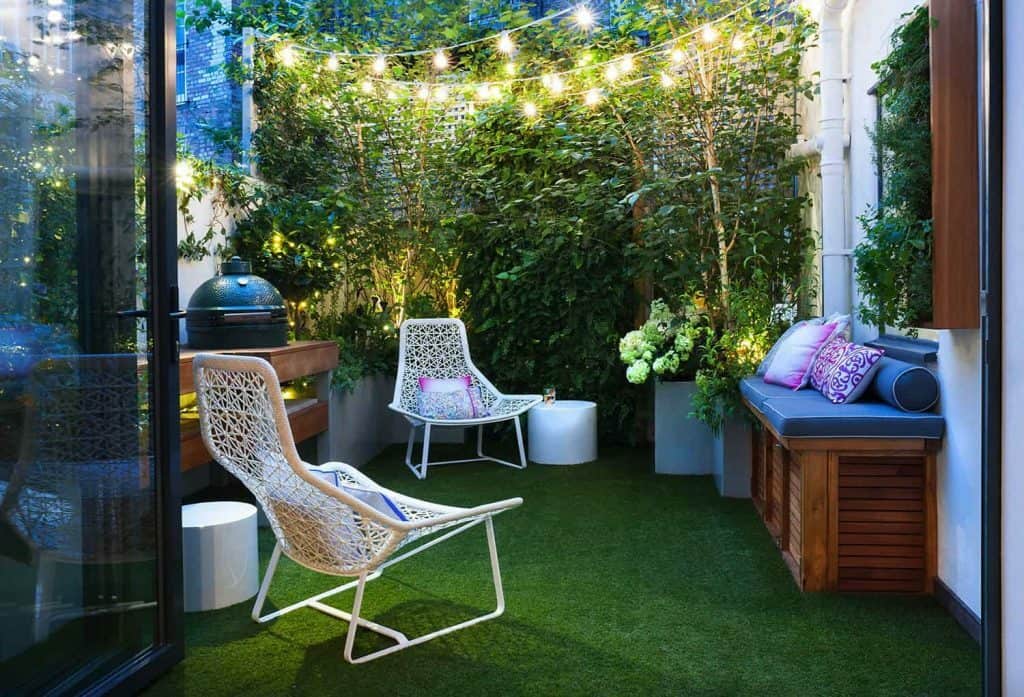 16. With decorative elements
This design uses decorative elements like potted plants and garden screening ideas. The scheme helps create a variety of focal points without overwhelming the space.
The synthetic grass is laid in an arranged pattern, perfectly contrasting the surface.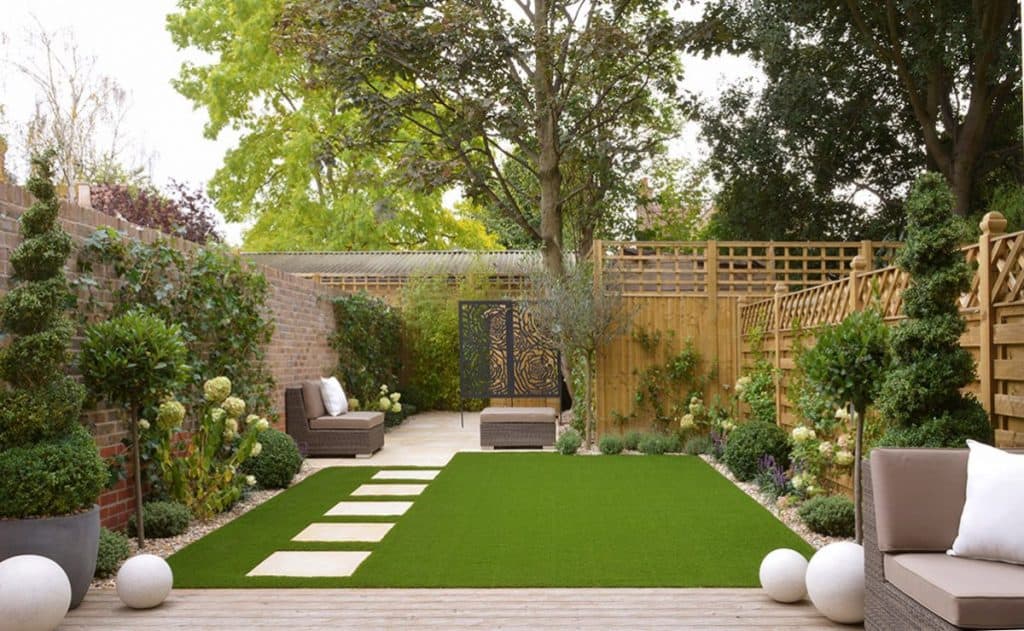 17. Mediterranean feels
The lush greenery in the background makes it possible for the artificial turf to blend in and look real. With the burst contrasts of green, all elements come together. In return, a simple Mediterranean-vibe garden idea is achieved!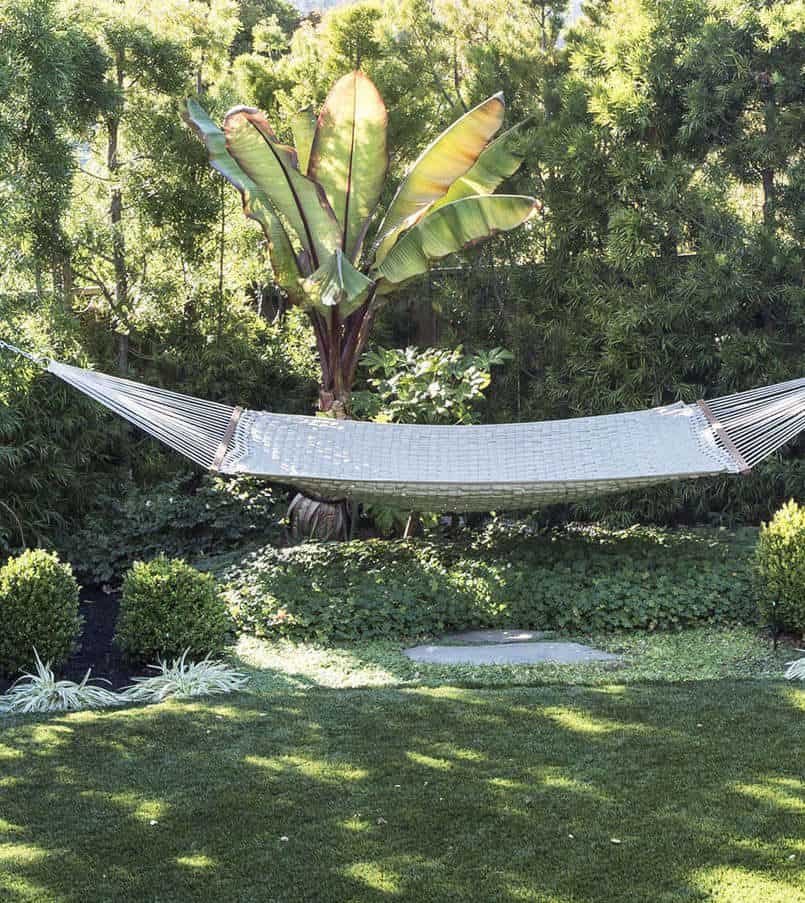 18. On the porch
Ideal for the contemporary landscape, the clean lines make this porch look modern. Maintenance costs can also be kept at a minimum with this setting. Just one of the many perks of artificial grass in open areas.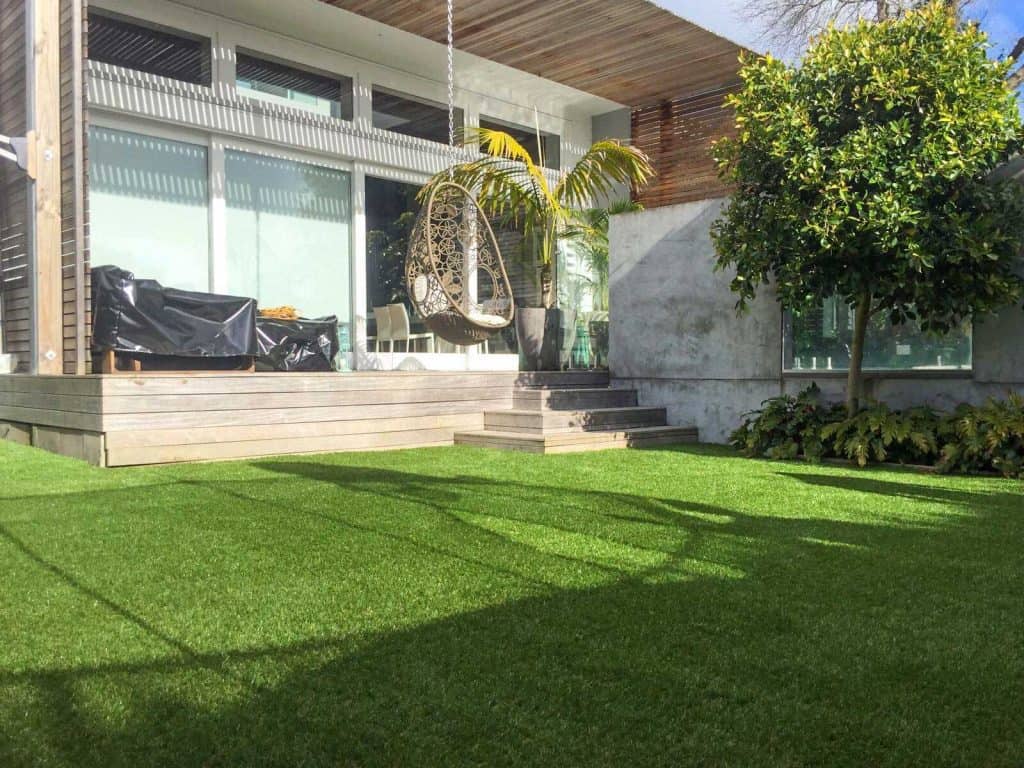 19. Non-linear design
Lawn, including artificial ones, doesn't have to exist within a boundary. Take inspiration from this luxurious porch in Beverly Hills! The playful design and modern seating inject youth into a rather mid-century state.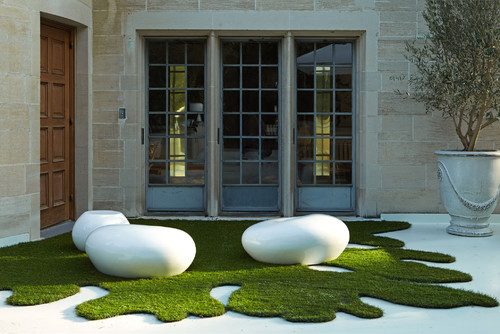 20. Add a pop of colour
Make an area of faux turf more lively by adding colour contrasts through furniture or decors. Here, the owners used colourful cushions with unique patterns on the built-in bench. The vibrant pots are a big plus!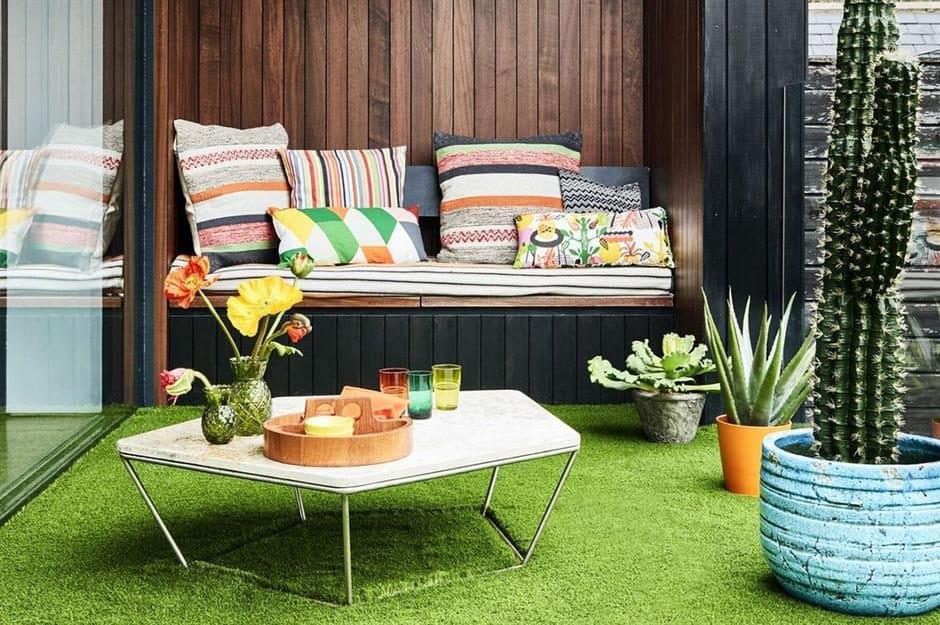 Round-up
If you don't have the time to look after natural grass, faux turf is the best alternative! They've evolved to a real-life look that it's impossible to tell the grass is fake until you touch it.
Give a natural touch to your garden, patio, or balcony with our artificial grass ideas. The combinations of materials, colours and live plants compliment these inspirations.
FAQs