When it comes to British gardens, having a covered space in your yard is very rewarding. There are great approaches to this. One is to invest in garden rooms, and the other is to opt for a low-cost DIY shelter alternative.
Either way, both serve the same purpose. And that is to provide cool shade and extend the use of your outdoor living space. Plus, protect your plants and BillyOh garden furniture from harsh elements.
Here's a round-up of garden shelter ideas to get you inspired. Not only are they practical, but they also curb appeal boosters!
1. Take cover with a patio umbrella
One of the simplest ways to add shelter and sunshade to your outdoor space is through a patio umbrella or parasol. The BillyOh 2.7m Cantilever Parasol, in particular, does a great job.
It provides the perfect cover from the sun or rain – perfect for hosting a mini alfresco get-together under. The right fabric canopy can also offer great protection from harmful UV rays.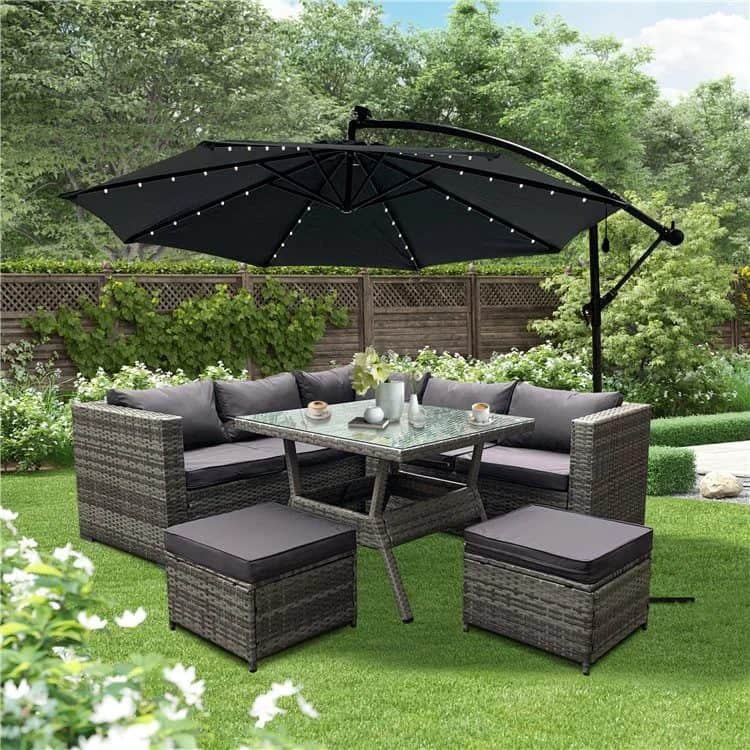 2. Keep it cool with a shade sail
Most designs are stylish, practical, and affordable. Most of all, they're made from weather-resistant material.
A variety of shapes are available, including squares, rectangles, and triangles. Suspend one that suits your space from the corners of nearby walls, fences, or trees to beat the heat!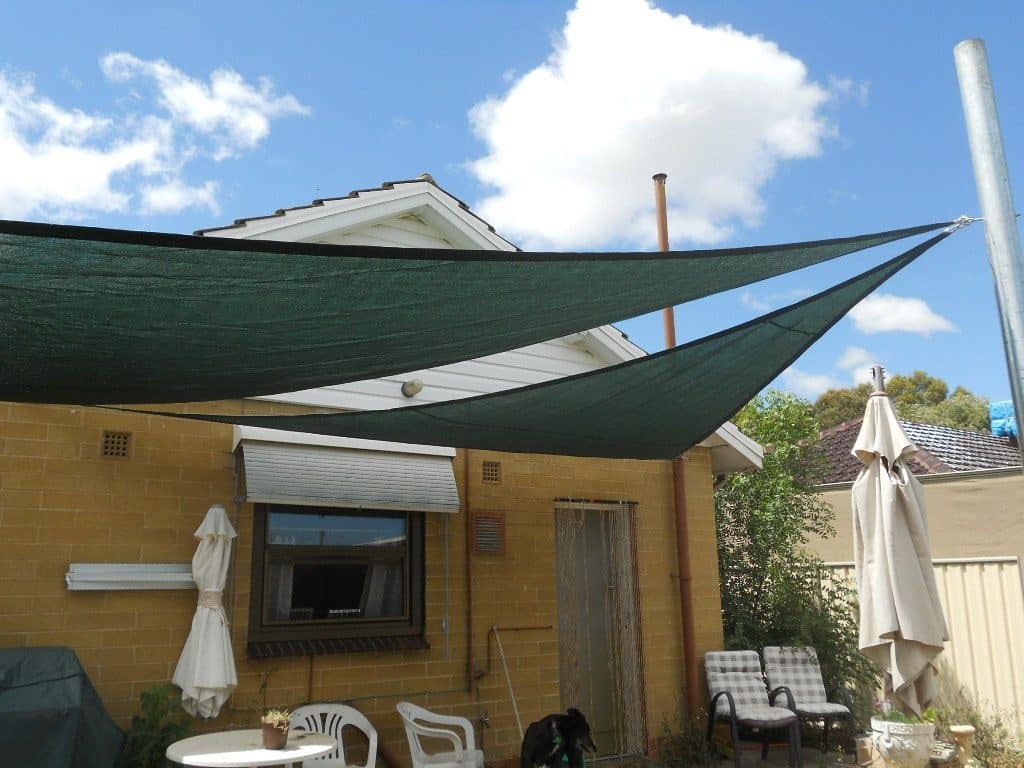 3. Invest in awning
An awning canopy delivers extra shade without adding a fixed structure to your home. Attach it to the exterior wall for a retractable source of shelter from the foul weather or bright sun.
Especially ideal for patios and decking ideas UK that get bombarded by UV radiation.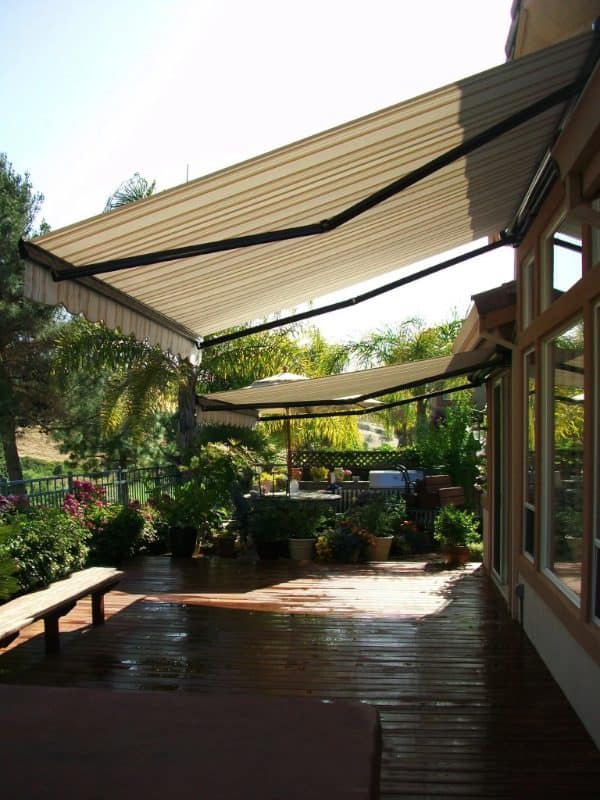 4. Enjoy the outdoors in a gazebo
Garden gazebo ideas are a little bit pricey but surely are worth the investment. This wooden gazebo, for one, can create a cooling sun shelter anywhere in your garden.
There are cheaper options, too, like this BillyOh Pop Up Gazebo 3m x 3m.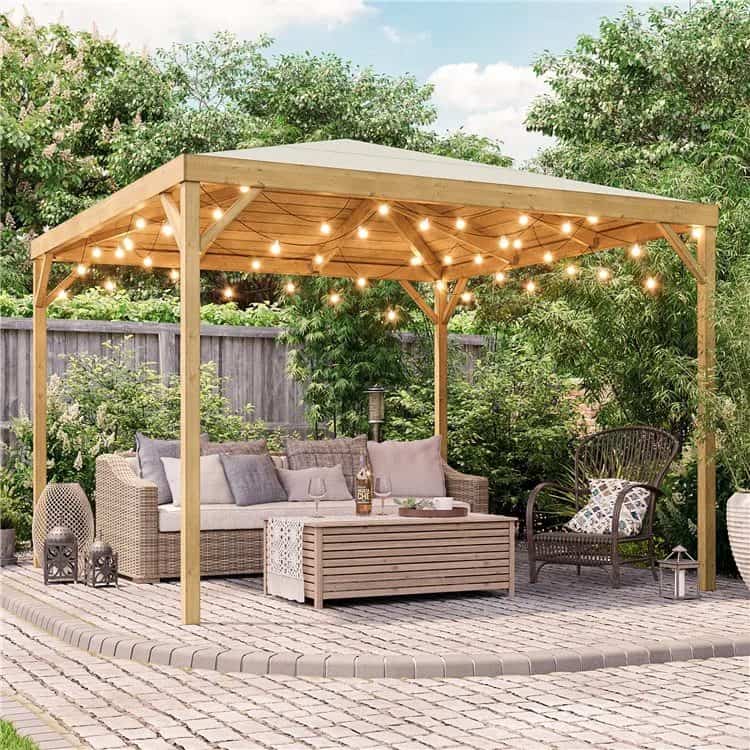 5. A pergola for your open-air living space
If you can't get enough of the outdoors, lounging, and alfresco dining, you can never go wrong with a pergola. It's defined by vertical pillars and overhead rafters that allow natural light through but provide shade when needed.
It brings a stylish aesthetic and improves the usability of your space.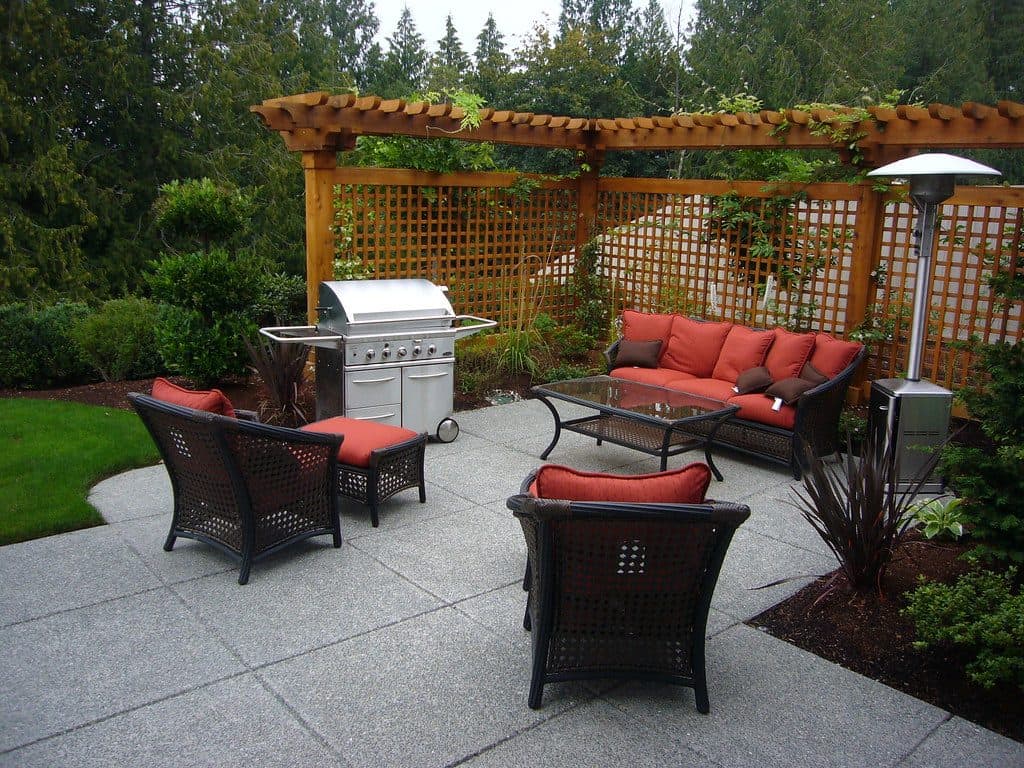 6. Stick to basics with patio curtains
Not only do outdoor curtains add dimension to patios, but also they make a great source of shelter and even privacy. Besides blocking out harsh sunlight, they can also withstand harsh wind and rain (if the material is waterproof).
Moreover, they can be opened and closed whenever you want, maintaining shady areas or air circulation.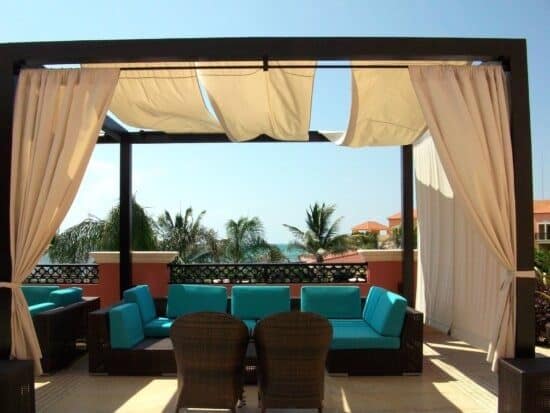 7. Garden screening and trellis combination
A garden shelter isn't all about overhead covers. A privacy wall is a quick approach to this. It works well with trellis panels, even better when covered in climbing plants.
Add a subtle shelter with a trellis screen to your yard, and don't forget to add high back garden chairs!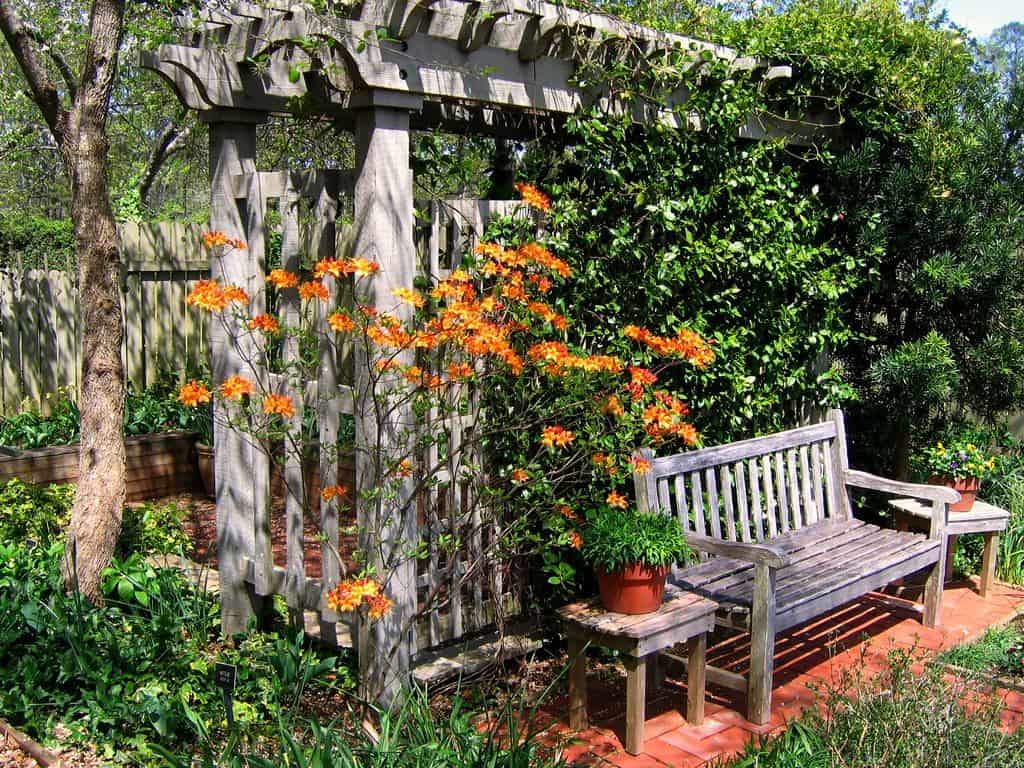 8. Swing your worries away
Covered swing benches offer the height of relaxation. Position it on your patio, where it'll make the most popular seating option in your plot. Or alongside a pool for post-swim chill-outs.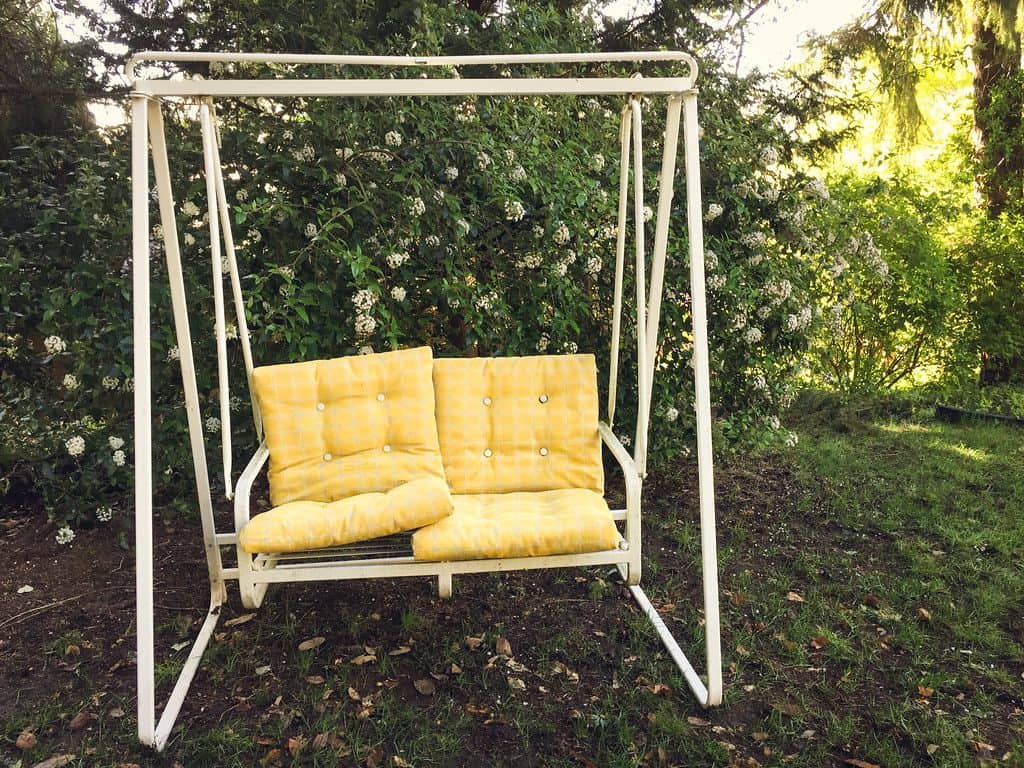 9. Use fabrics as a makeshift shelter
Fashion your own patio shelter from a piece of fabric suspended on walls or trees. While it won't keep out the rain, it works well for providing a bit of respite on a hot summer's day.
Stick to a plain white curtain for a subtle look, or opt for a patterned design to add serious style points!
10. Build a tent for garden picnics
Create the perfect sheltered base for a family garden picnic with a tent hideaway like this! It wouldn't be too tricky to recreate the structure yourself with a few materials.
An old sheet, tent pegs, and a couple of poles to assemble the tent are all you need.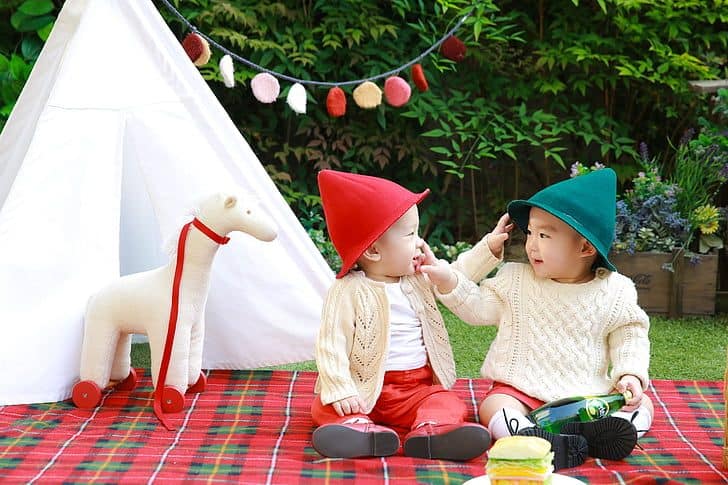 11. Relax in a poolside cabana
If you own a backyard pool, a cabana is a perfect addition. A cabana is a hut-like shelter designed to offer shelter with full shade. It's often used alongside a pool, at resorts or on beaches, offering a tropical or Mediterranean vibe.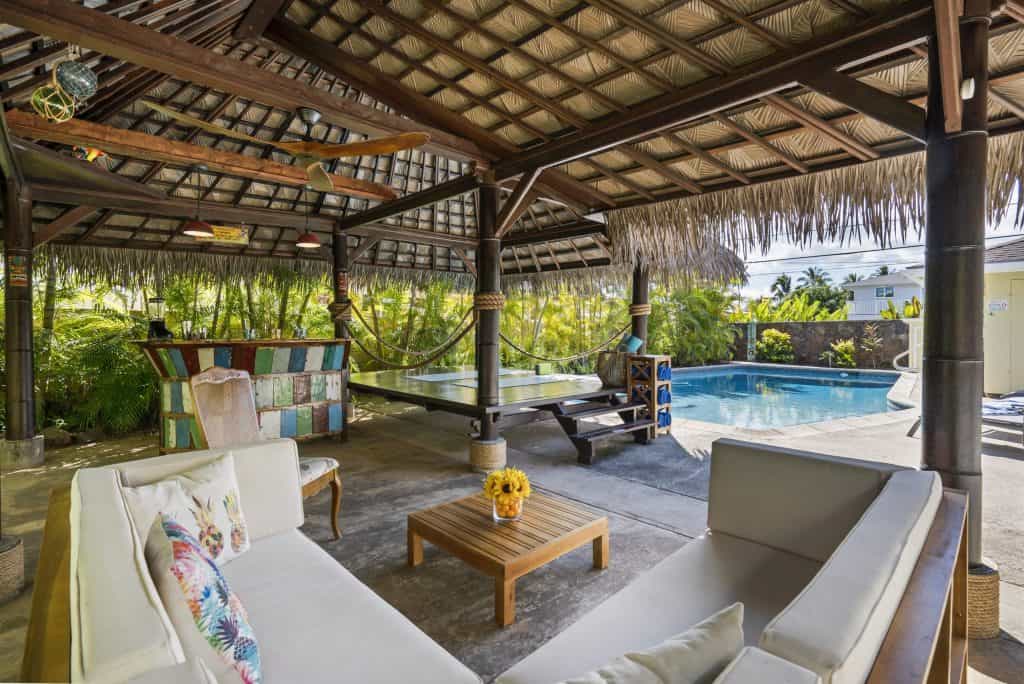 12. Consider a covered conversation pit
This sunken conversation pit and dining area isn't your ordinary sheltered living space. Covered by a pergola, it includes a U-shaped lounge that wraps around the interior edge. And the design looks out toward the sunken dining area.
13. Seek shade in a garden room
A variety of garden outhouse ideas can offer a private place to sit away all year round. They're ideal for permanent garden shelter solutions.
Depending on the design, it can be attached to an existing wall or house or freestanding. A contemporary log cabin, for one, is designed to fit in the corner of your garden.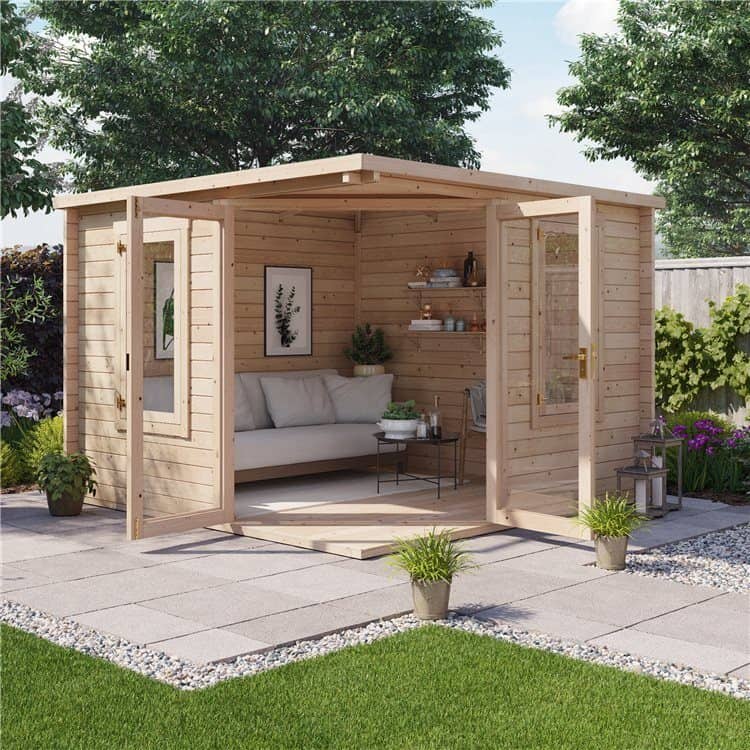 14. Go extra with a massive umbrella
A cantilever crank and tilt parasol is fine, but a bigger version like this will keep you sheltered no matter where the sun is. Opt for a double-sided design for maximum shade.
To shade a large area without any obstruction from the central pole, choose a cantilever model.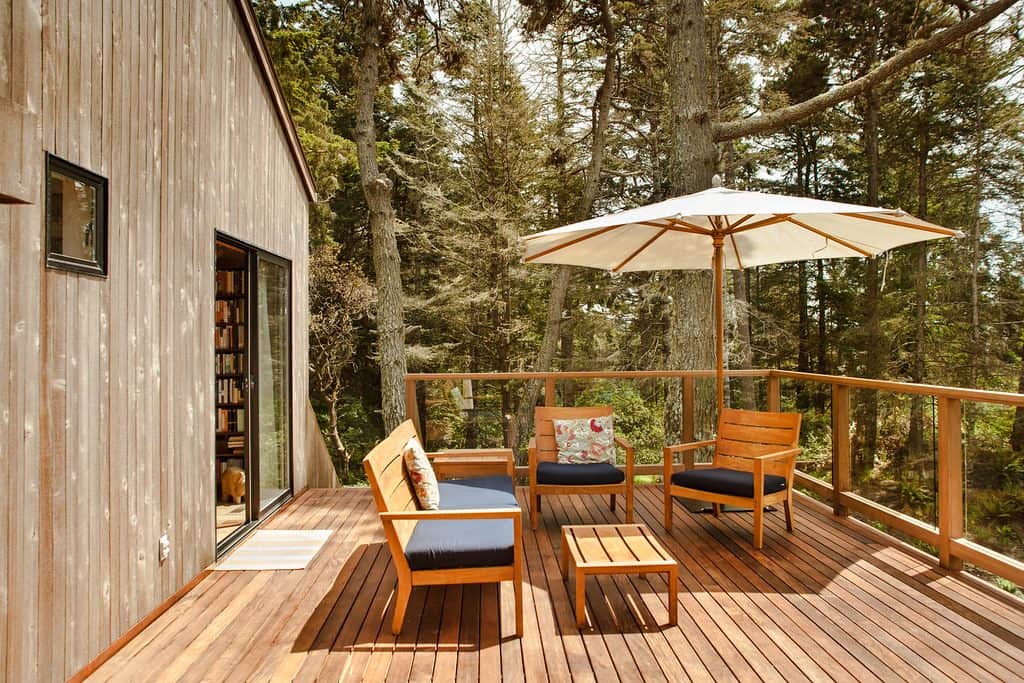 15. Equip your patio with a rolling sunshade
Rolling sun shades for garden are the perfect blinds for patios, balconies, and other outdoor shelters. They help increase your privacy and protection from the sun.
They can also be attached to standing structures, like pergolas, for maximum shade.
16. Recreate this DIY bamboo canopy
This canopy shelter shows the versatile use of bamboo. The material is an excellent choice if you want to create a natural feel in your outdoor living space.
Here, the bamboo shelter is paired with creeping vines, adding a sense of privacy along with the shelter it provides.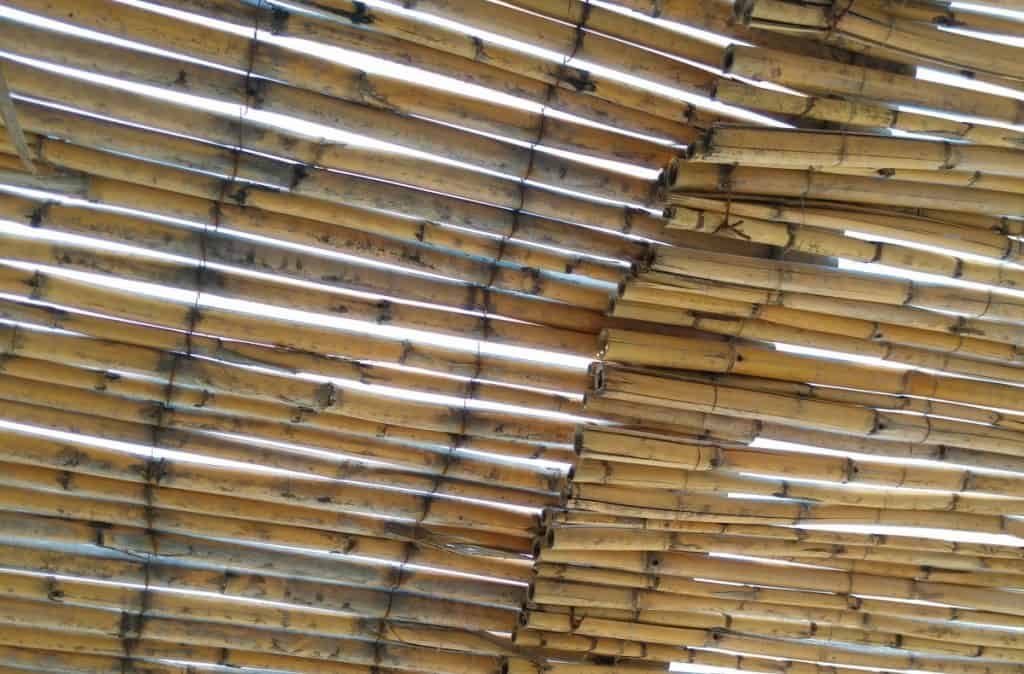 17. An arch arbour covered in climbers
For this approach, you have to look to nature for inspiration. An arbour with a deeper shade of greens is a good case in point.
Fill it with climbers and shady plants for a shady meadow-like vibe. Place a plastic bistro set nearby or in the tunnel-like structure to maximise the shaded area.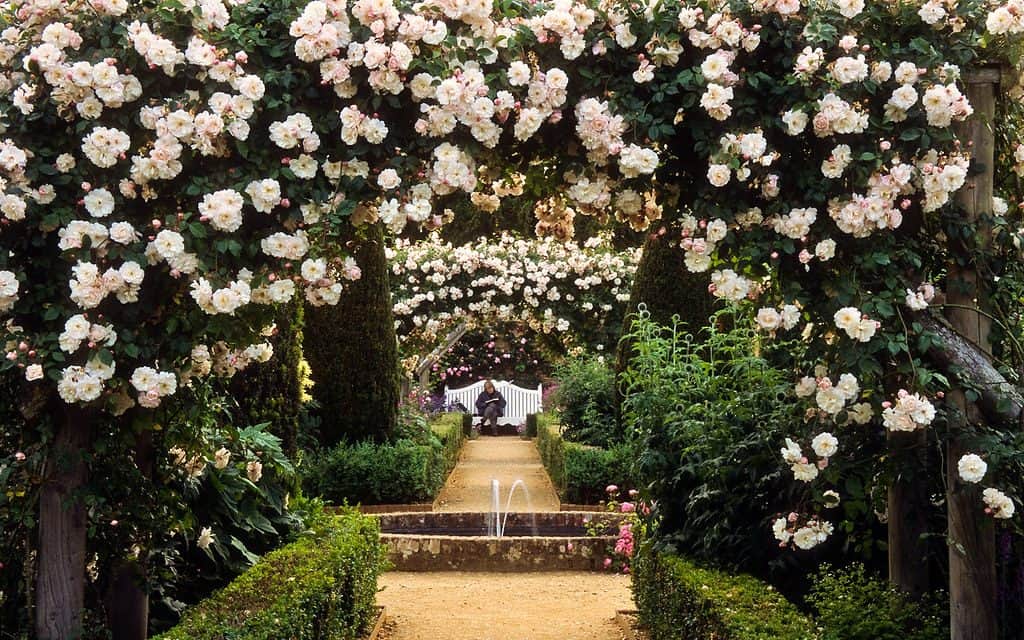 18. Take the natural approach
Nothing's more natural than taking advantage of what the landscape has to offer when it comes to outdoor shelter and shade. Take this shaded pathway, for example.
It is surrounded by trees and a wide swath of shade-loving plants. Add a cheap garden bench or a hammock to mark your lounging territory.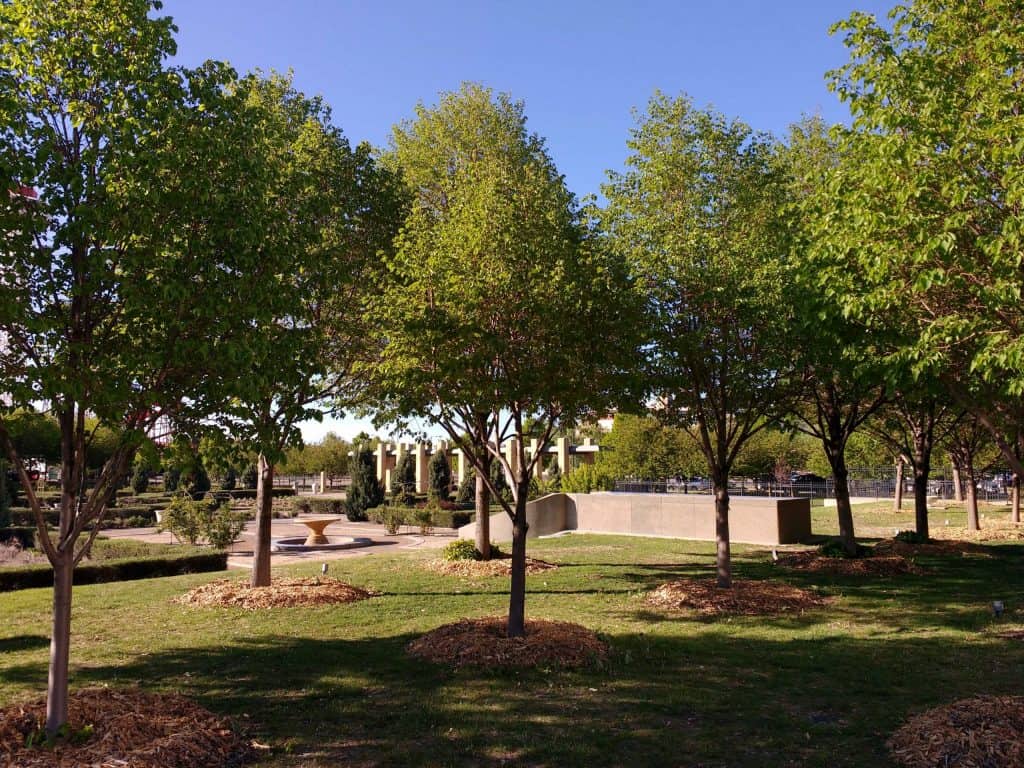 19. Get creative with a sunshade hoop
This DIY sunshade hoop is made from a PVC canopy. For a project that only takes an hour to create, you can have a sheltered spot that completely blocks the sun!
You can have your morning coffee, watch the kids play, or enjoy your garden view under this.
20. Unwind in a daybed canopy
A daybed canopy is more like an upgraded version of a rattan lounger, offering a refuge against the sun. The canopy acts as a shield from UV rays. This lets you lounge and entertain in comfort during the midday sun.
21. A backyard retreat for your little ones
Setting up a playhouse for kids will give them more than just a shaded place for playing. But also somewhere where they can build their curiosity and develop muscle skills, to name a few.
You can DIY or invest in a model like this BillyOh Lookout Log Cabin Playhouse!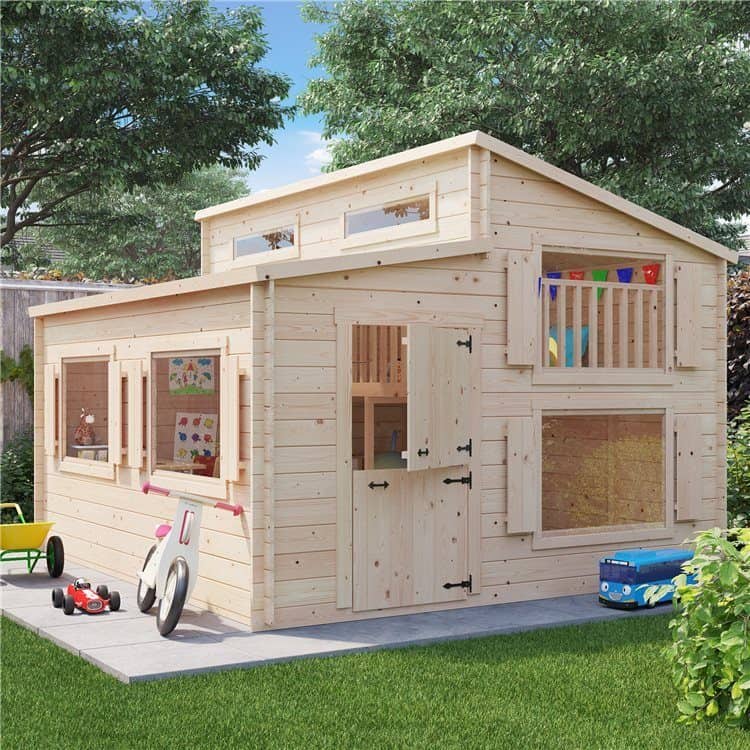 22. Choose a marquee for bigger events
If you often use your garden as the party's event place, a marquee can be your organising companion. Best suited for big events, you can have a birthday, a wedding, or a BBQ themed party without booking a venue.
Marquees are similar to the BillyOh Hexagonal Pop Up Gazebo but are larger and offer more stability.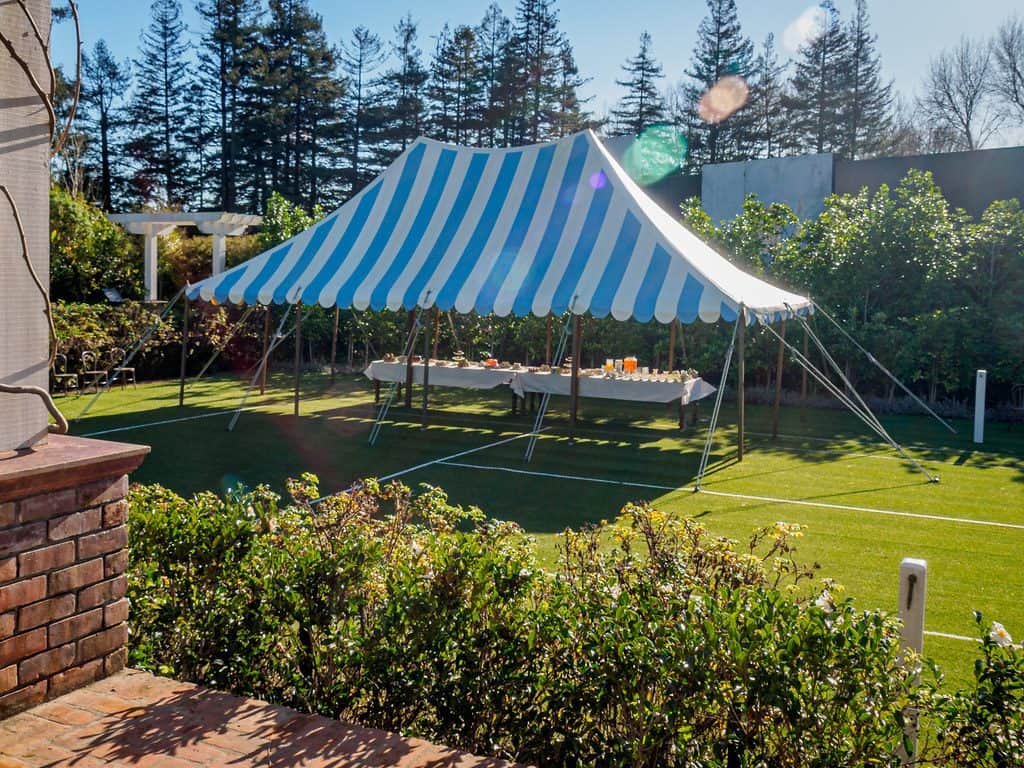 23. Take a break in an arbour bench
Perfect for small gardens, a seated arbour bench doesn't take up too much space, and it fits well at the corners too! It's a permanent structure featuring a bench with a built-in roof.
It provides enough shelter and offers a private space for your me time.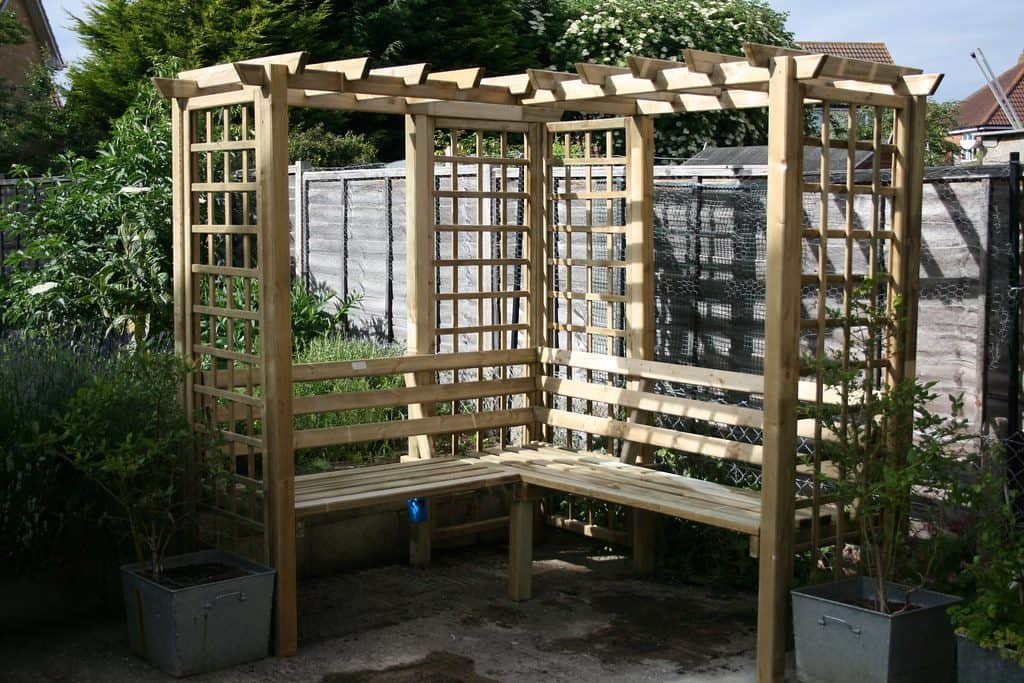 24. Go for a pop-up gazebo
Looking for another inexpensive shelter idea? A pop-up gazebo is an excellent option. Not only does it provide greater shelter, but it also can make your garden look refined during gatherings.
Most come in various designs and can cost around £100-500, depending on the material. But lucky for you, the pop-up garden gazebos that Garden Buildings Direct offer are below £100!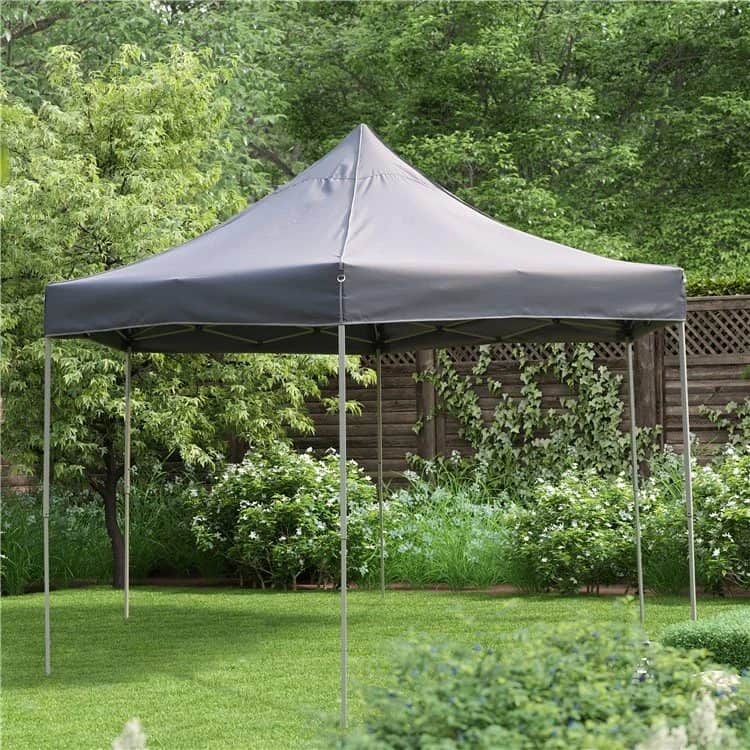 25. Don't forget your grill station
If you love hosting outdoor cookouts, chances are you spend lots of time in your BBQ station. You'll want to ensure you can fire up the grill no matter the weather!
This shelter provides protection for your and your BBQ grill area.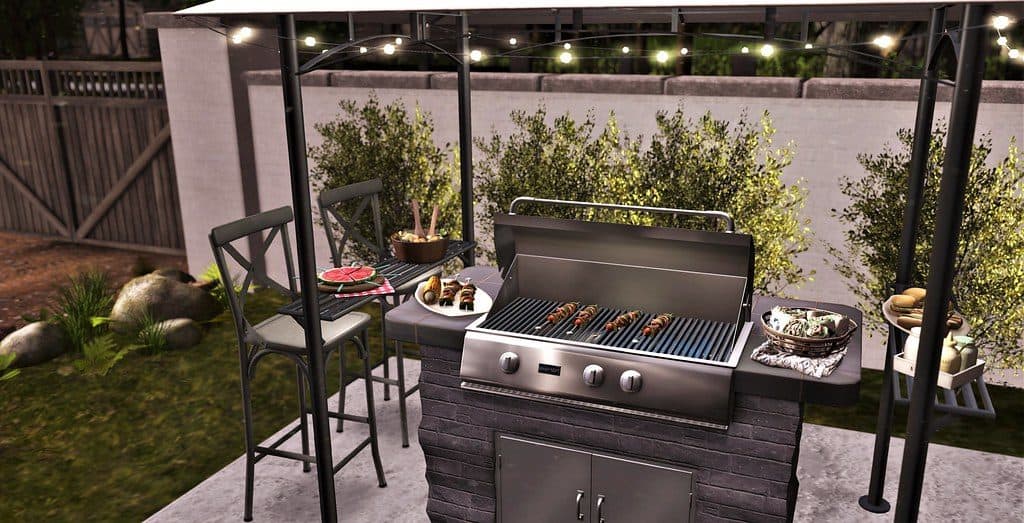 26. Pitched roof design
A patio that offers full protection from the elements will make the space feel like a true living room. The pitched roof on this patio, for one, features a corrugated metal roof.
Besides the comfortable sitting porch, an outdoor kitchen can also be seen at the back.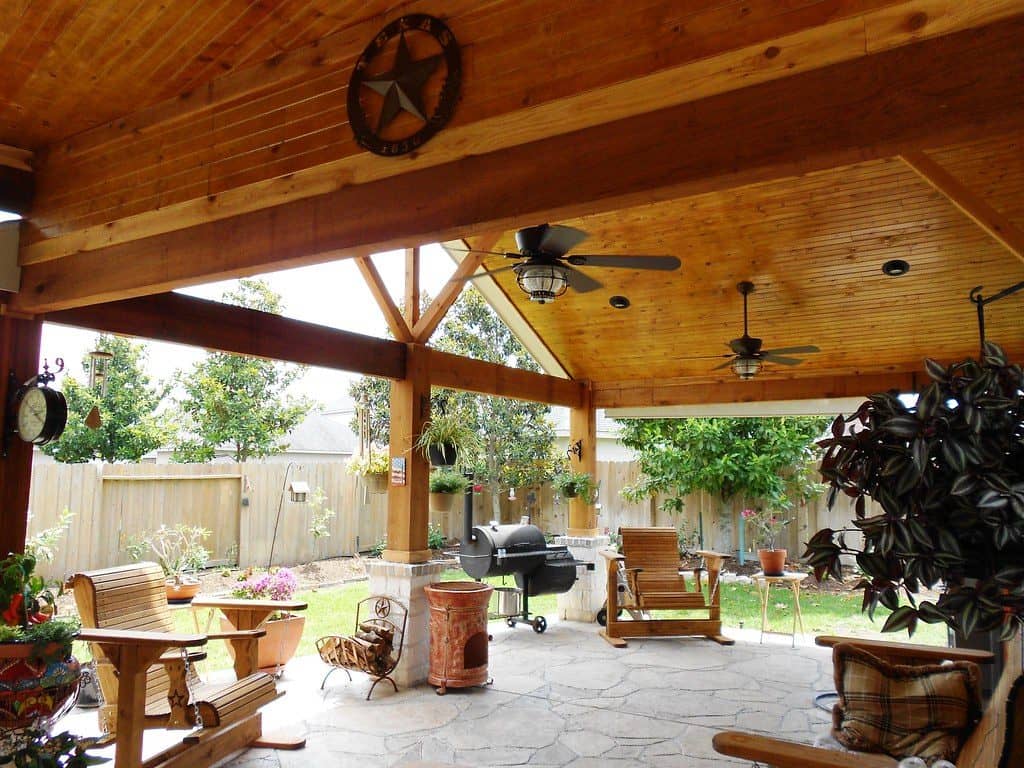 27. Own a luxe focal point with a glass pavilion
A frameless glass structure provides a free-flowing sight line. It offers just the right shelter while giving you 360° of your garden, the forest, or the mountain.
Picture a modern glass pavilion, paired with wood that features an inflatable jacuzzi nestled into the woods. Dream garden retreat!
28. Go bespoke and artistic
Your modern patio scheme can benefit from a contemporary-designed pergola like this. It complements the garden design without being too intricate or an eyesore.
29. Tucked in a green corner
Here, the corner patio doesn't have much going on with its structure. But what made the area serene and sheltered was the greenery surrounding it.
The mature trees and shrubs create much-needed shade while the vines offer cover.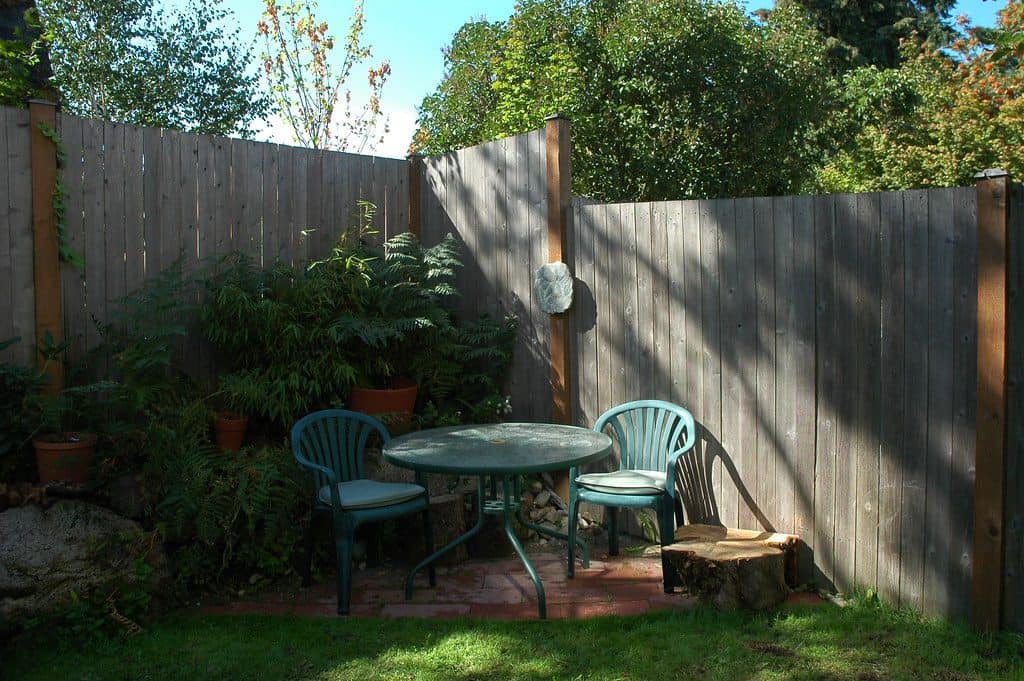 30. Shade in the shed
Other than log cabins, garden sheds are a fantastic backyard refuge. Again, the trees and shade-tolerant plants in this plot increase the shade and privacy.
The clean lines and an uncluttered facade also allow the robust backyard to shine.
Round-up
When doing a garden makeover, adding some sort of cover comes with promising benefits. The best shelter and shade will protect you from the sun, rain, wind and cold and let you get more out of your garden.
Even better, be a stylish feature of your outdoor space – taking your alfresco living to another level! At Garden Buildings Direct, we offer the best outdoor living products to furnish your retreat. Take this opportunity to introduce a garden arch trellis too!
Moving on to your next read:  Garden Shade Ideas For a Shady Backyard Oasis
Shop Garden Rooms