Gardens are a great place for relaxing or entertaining friends and family on a warm, sunny day, whether it's in a summerhouse or by the pool. 
But what if the sun becomes unbearably hot? You need to make sure there's some shade to cool off in. 
That's why we've found the 30 best solutions for creating shade in your garden from around the web, whether it's natural or by design. 
Let's take a look!
1 – Retractable Canopy
The main perk of a retractable canopy is the flexibility to adjust the sun exposure at any time. You can retract the roof to allow more sunshine on a sunny morning, then extend it to block the hot sun during the warmer midday hours.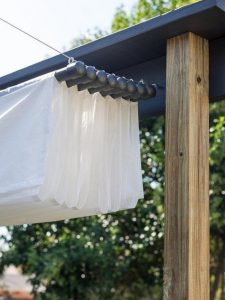 2 – Net Trellis
A super simple way to create some shade along your pathway, whilst giving vine plants the perfect place to thrive.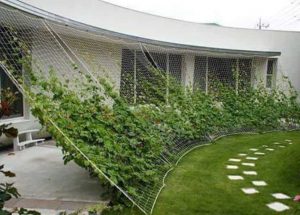 3 – Shade Cover for Plants
Too much sun can lead to poor growth or spoiled produce in plants, so protect them from those harsh sun rays with a shade cloth.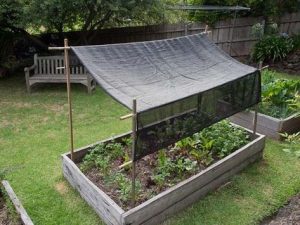 4 – Sail Canopy Cover
Simple but stylish, sail canopies come in different shapes and sizes to create the perfect spot of shade in your garden.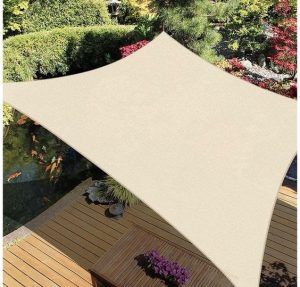 5 – DIY Patio Cover
If you prefer a fully shaded area to relax in your backyard, add a cover to your pergola to provide shelter from both the sun and rain.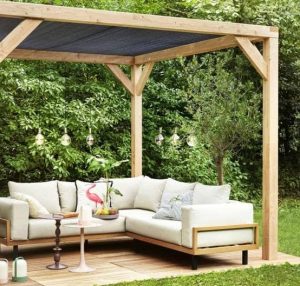 6 – Triangular Cover
Sometimes all it takes is a strategically-placed sail to give you the shade you crave during the hottest hours of the day.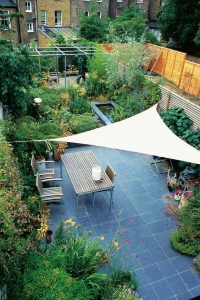 7 – Pergola with Lights
Pergolas provide some light relief on hot, sunny days. You can continue enjoying your garden into the evening by adding some hanging lights.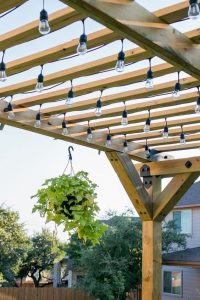 8 – Wooden Curtains
For a really unique way to stay cool on summer days, add wooden blinds to your pergola that can be rearranged at your leisure.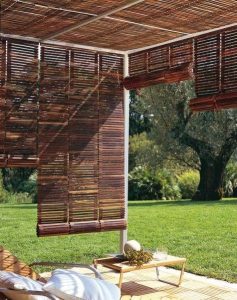 9 – Corner Triangular Canopy
If it's just a shaded corner you're looking for, a triangular sail will work perfectly.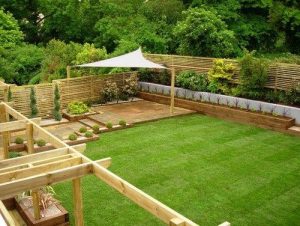 10 – Simple Rollable Canopy
Simple but stylish, rollable blinds give you the flexibility to choose whether you'd like to enjoy the sun or grab some shade to cool off without having to move seats.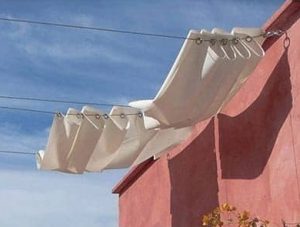 11 – DIY Canopy with Lights
Add some string lights under your canopy to create an amazing spot to enjoy a warm evening with friends.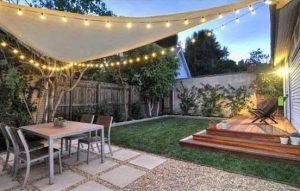 12 – Modern Garden Tent
This contemporary design will help you gain some shade whilst still enjoying the warmth of the sun.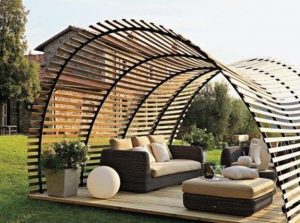 13 – Small Grey Bench
A cosy arbour will provide the perfect spot for an afternoon cuppa in the shade.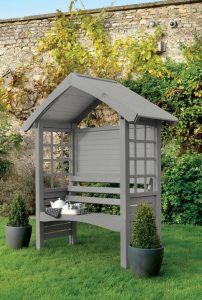 14 – Knitted Wooden Canopy
A simple and budget-friendly hack to create some shade in your garden.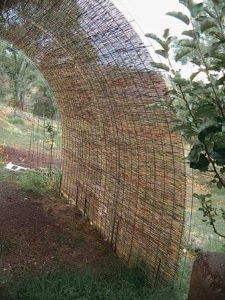 15 – Embellished Shade Sail
Protect yourself from the heat without giving up the light with a pale-coloured sail.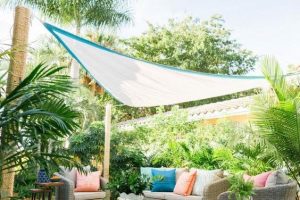 16 – Wooden Trellis and Sail
Create your own stylish seating area in the shade with some trellis-style fencing and climbing plants, plus some modern sails to protect you from the sun's rays.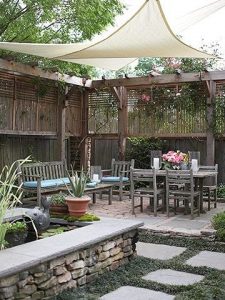 17 – White Pergola with Flowers
A classic wooden pergola with beautiful climbing flowers creates a magical escape from the summer heat.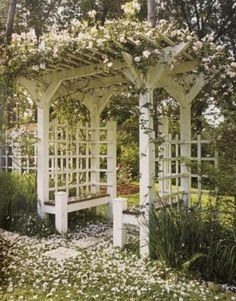 18 – Simple Canopy and Curtain
If you're on a budget, fashion yourself a simple DIY canopy with some bamboo rolls and curtains to protect you from the sun.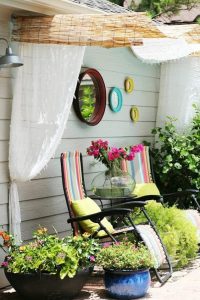 19 – Trellis Tent
Build yourself a one-of-a-kind tent and weave some climbing plants into the trellis. It will take some time to flourish into a fully shaded space but it will be worth the wait!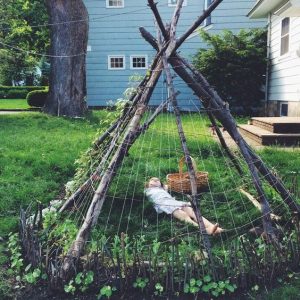 20 – Wooden Corner Cabin
Add some cushions to create a comfortable seating area with added privacy using a corner-shaped pergola.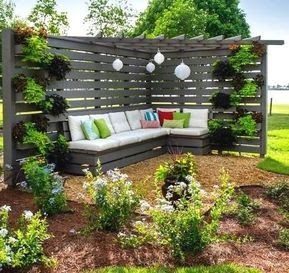 21 – Small Corner with Table
A small corner-shaped pergola with some leafy greenery works great for shading a small bistro set.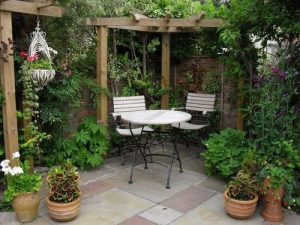 22 – Large DIY Shade Sail
Fit a large sail to cover your whole garden and grant you shade all day.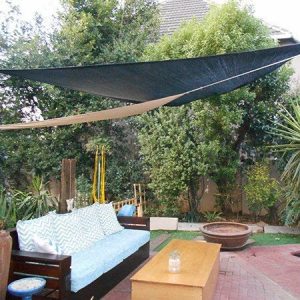 23 – Modern Wooden Shelter
Create a comfortable but chic outdoor lounge on your decking, and add some privacy and roof panels to protect you from the sun and heat.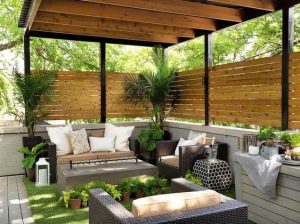 24 – High Walls in Narrow Garden
If your garden is on the narrow side, add some extra fencing above your walls to create shade and additional privacy.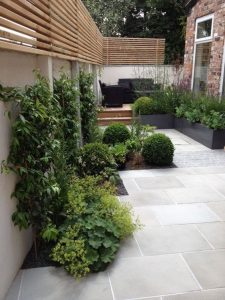 25 – Tree Bench
If you're lucky enough to have a tree in your garden, make the most of the natural shade underneath it! Add some seating to relax on hot, sunny days.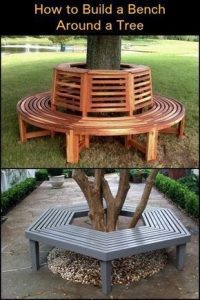 26 – Modern Tall Corner
Add some modern seating and translucent glass for an amazing oriental finish.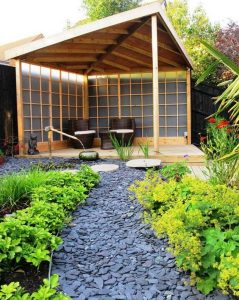 27 – Tree Shade
Make the most out of trees and other natural shade sources in your garden.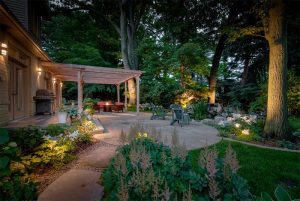 28 – Rustic Trellis Pergola
Climbing plants that grow around your pergola are a simple way to provide soft shade for your dining area.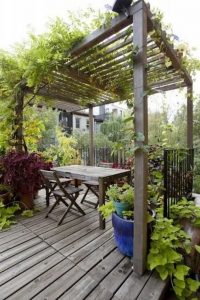 29 – Slide on Wire Hung Canopy
A good way to cast a large amount of shade on your garden is to elevate the canopy. When you want to catch some rays, just open it up!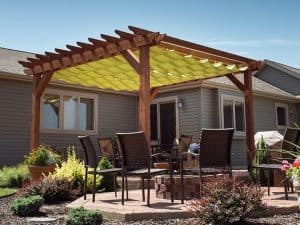 30 – Vertical Garden Shed
Some plants are shade-lovers, so design the perfect home for them under a canopy. You can even hang some pots from the roof!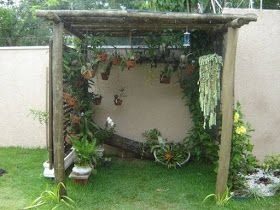 Round-Up
Shading is a great way to keep yourself or your shade-loving plants cool in the summer months, and it doesn't need to be expensive.
We hope this range of shade ideas will give you some inspiration to suit your garden and your budget!
Shop Summerhouses