Immerse yourself in the tranquil ambience of a warm, sunny day. Picture yourself unwinding in a summer house or by the pool with family and friends. But, amidst the bliss, the scorching sun can steal your comfort away.
Fear not! We've put together a list of shade ideas that will transform your garden into a haven of cool respite. Read on and discover the art of creating serene pockets within your outdoor space.
1. Retractable Canopy
The main perk of a retractable canopy is the flexibility to adjust the sun exposure at any time. You can retract the roof to allow more sunshine on a sunny morning, then extend it to block the hot sun during the warmer midday hours.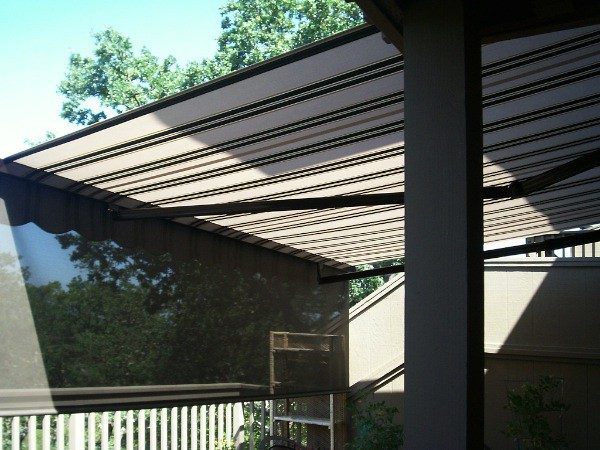 2. Net trellis
A super simple way to create some shade along your pathway, whilst giving vine plants the perfect place to thrive.
3. Shade cover for plants
Protect your precious plants from the scorching sun with a shade cover. A shade cloth will shield them from excessive sunlight. It also helps guarantee optimal growth and prevents spoilage. Win-win!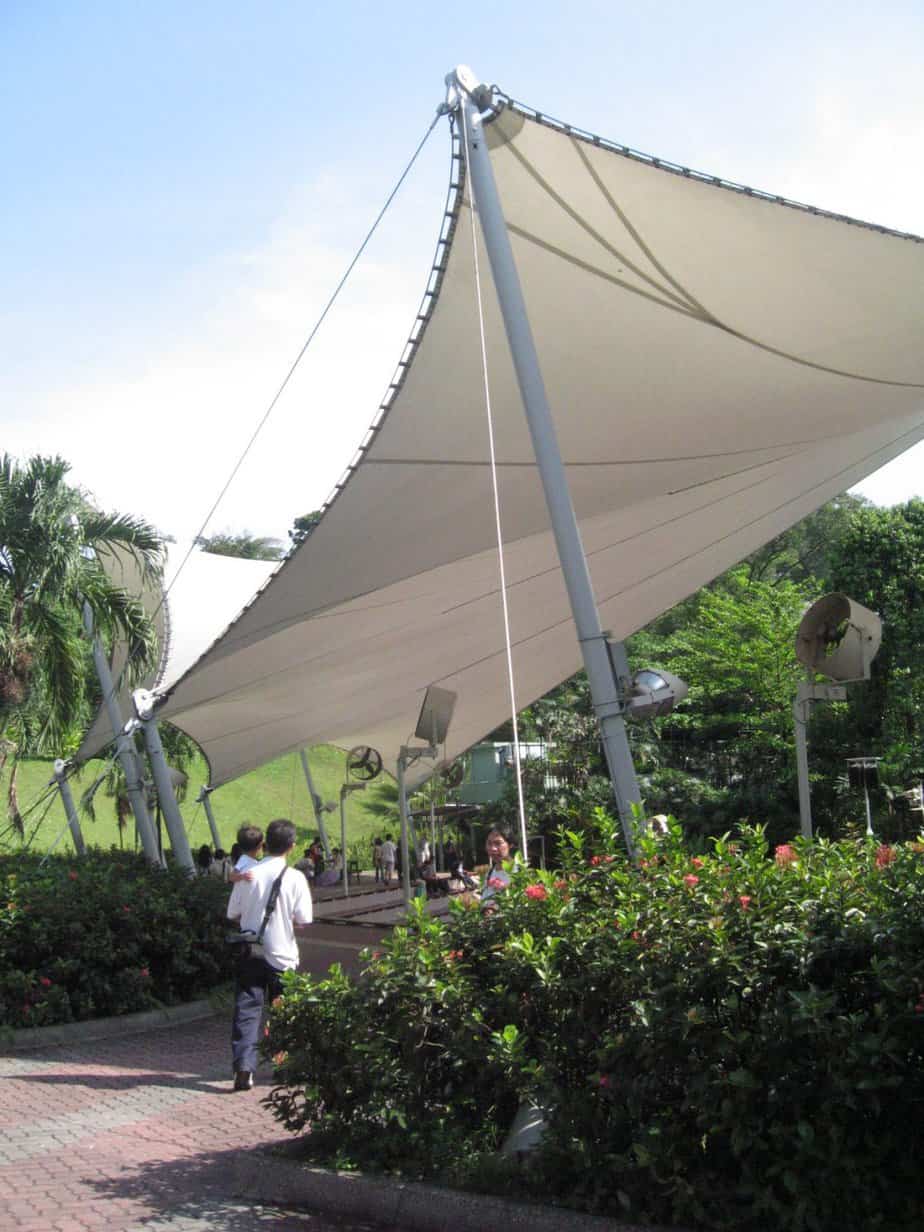 4. Sail canopy cover
Add a touch of simplicity and style to your garden with a shade sail canopy cover. These versatile canopies come in various shapes and sizes. They offer a chic and effective solution for creating shaded areas.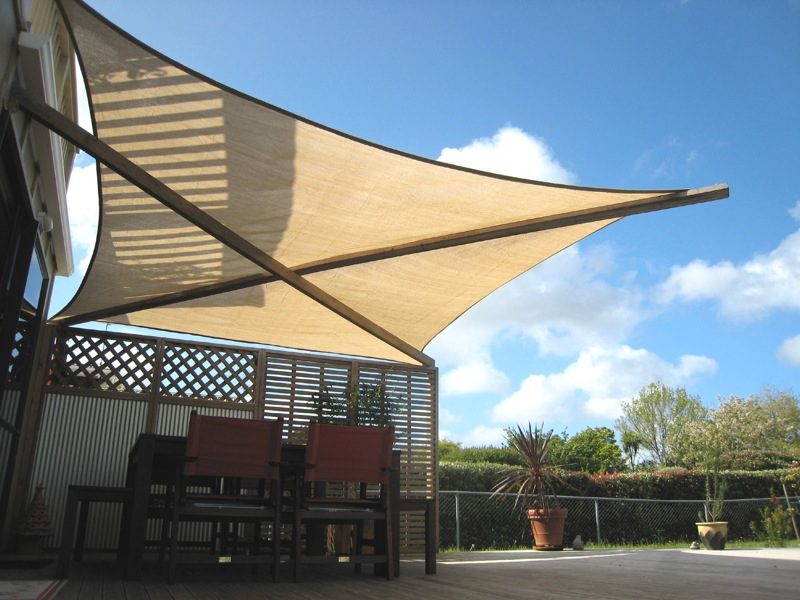 5. DIY patio cover
Transform your patio into a fully shaded retreat by adding a DIY cover to your pergola. This addition shields you from the sun's rays and provides protection from rain. With one, you can enjoy your backyard oasis in any weather!
6. Triangular cover
Experience instant relief from the blazing sun with a strategically-placed triangular cover. Whether on a deck or a patio, it can provide the shade you desire during the hottest hours of the day.
7. Pergola with lights
Make your pergola even more delightful by adorning it with charming biard lighting. As the sun sets, these lights illuminate your space. It lets you bask in the cool ambience while extending your patio enjoyment into the evening.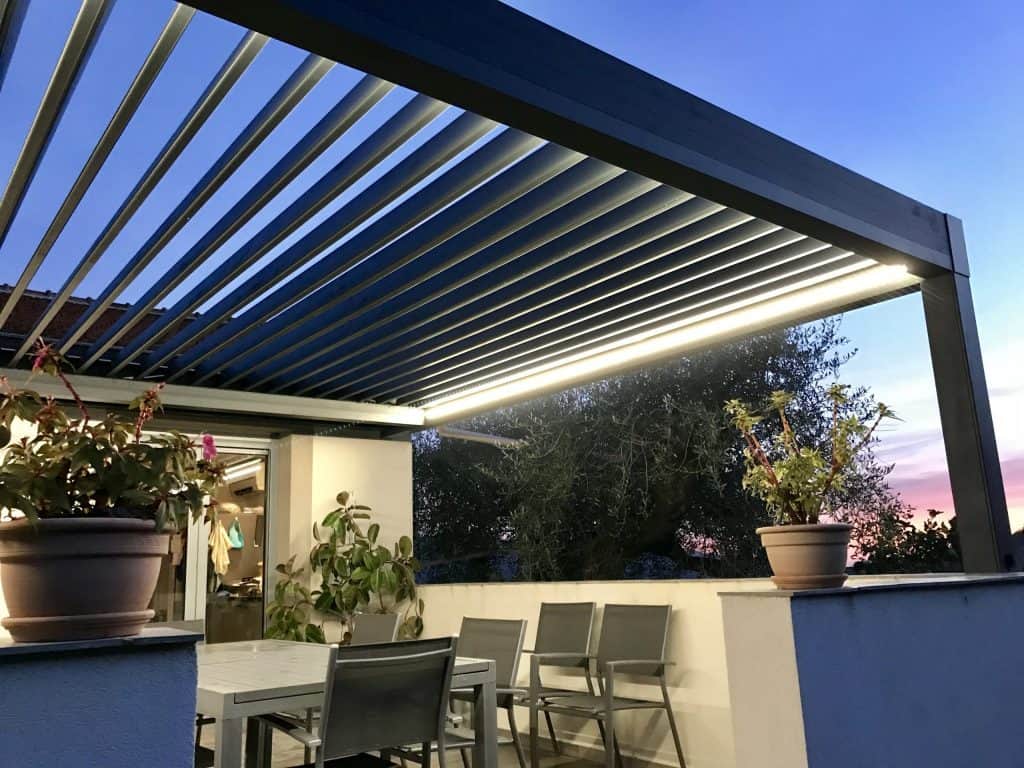 8. Modern garden tent
Embrace a contemporary tent that offers a perfect balance between shade and sunlight. This sleek solution allows you to enjoy the warmth of the sun while still seeking respite from its intense rays.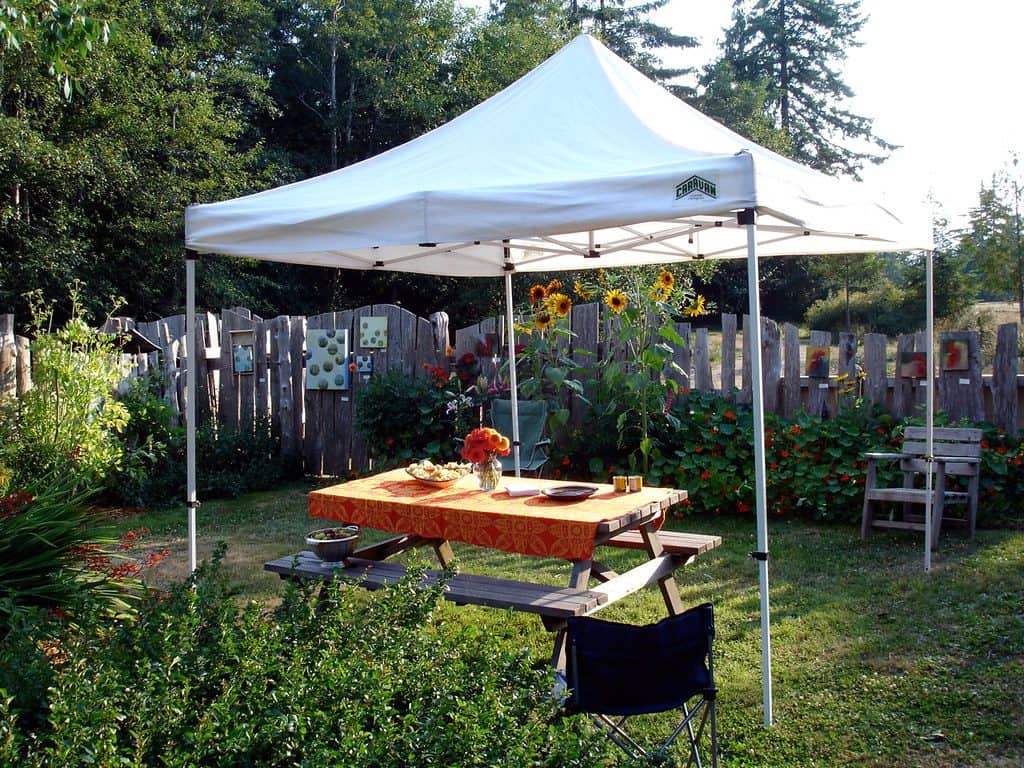 Create a cosy nook in the shade with an arbour bench, providing a serene spot for sipping an afternoon cuppa. This charming addition adds both comfort and aesthetic appeal to your garden sanctuary.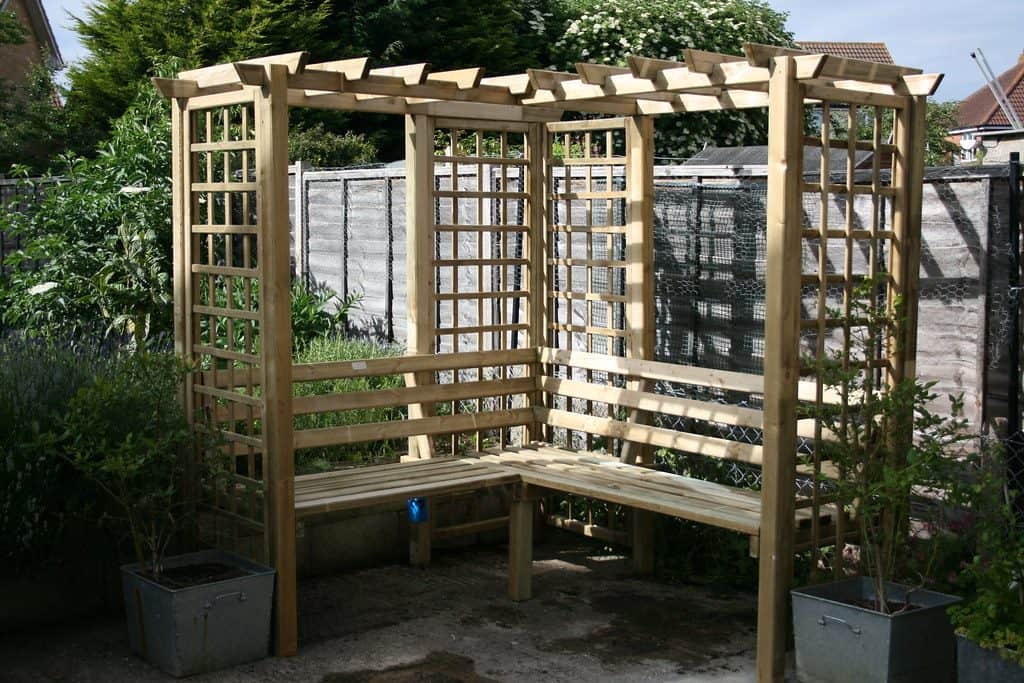 Stay protected from the heat without sacrificing natural light by opting for an embellished sail shade canopy. With a pale-coloured sail, you can enjoy a cool and shaded environment while still enjoying the soft glow of sunlight.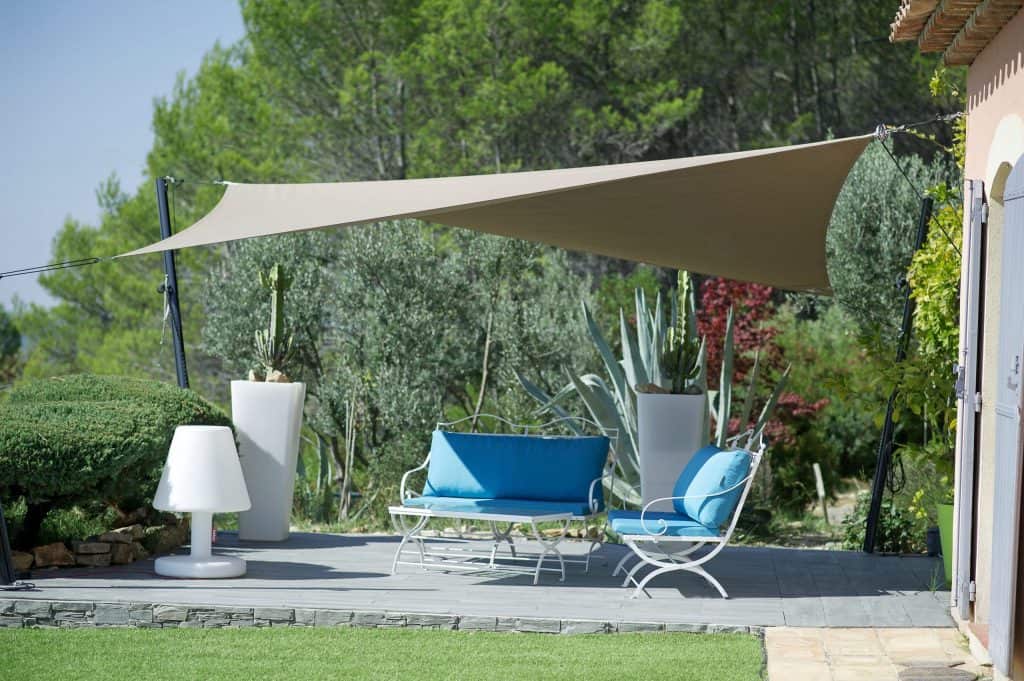 A stylish seating area in the shade using wooden trellis fencing and climbing plants. Enhance the ambience with modern sails that shield you from the sun's rays. This approach creates a tranquil space for relaxation and gatherings.
Transport yourself to a magical oasis! To achieve this, incorporate a classic wooden pergola adorned with vibrant climbing flowers. This picturesque combination not only provides respite from the summer heat but also adds a touch of enchantment to your garden.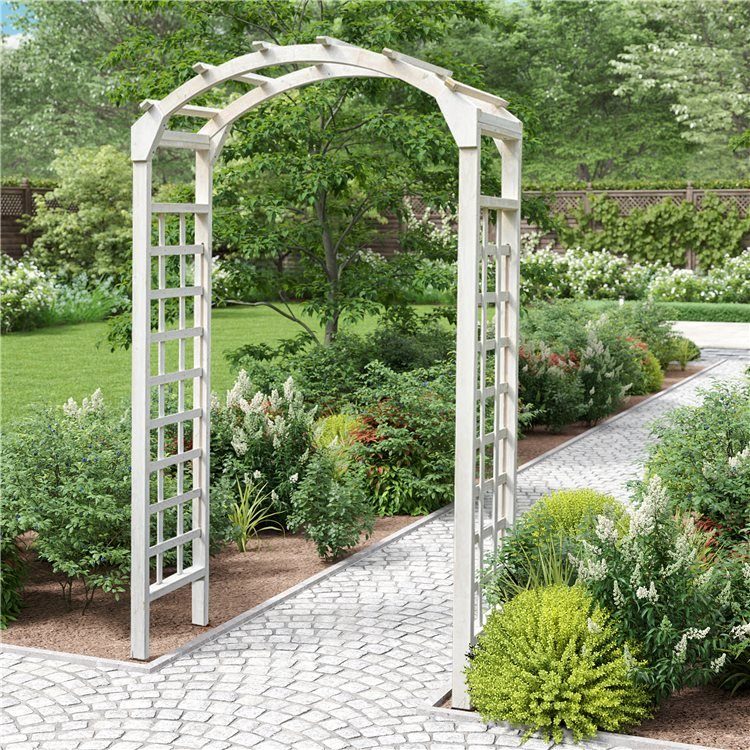 13. Trellis tent
Build yourself a one-of-a-kind tent and weave some climbing plants into the trellis. It will take some time to flourish into a fully shaded space but it will be worth the wait!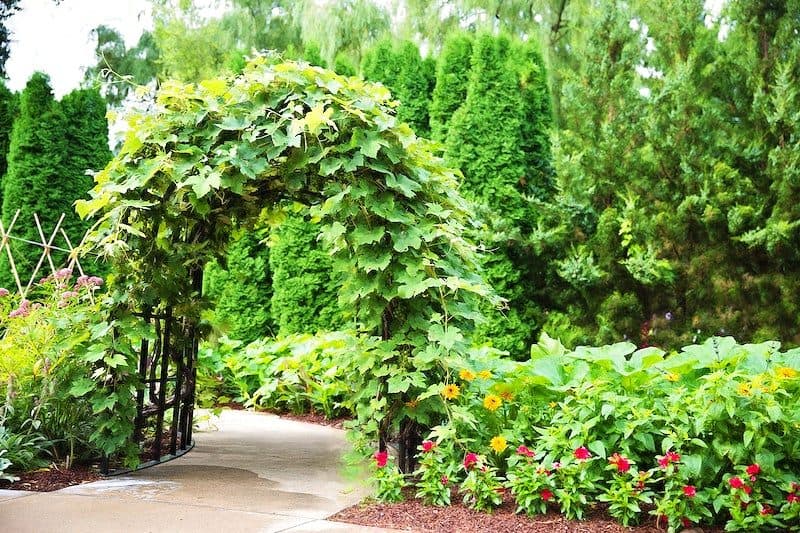 14. Modern wooden shelter
Create a comfortable but chic outdoor lounge on your decking, and add some privacy and roof panels to protect you from the sun and heat.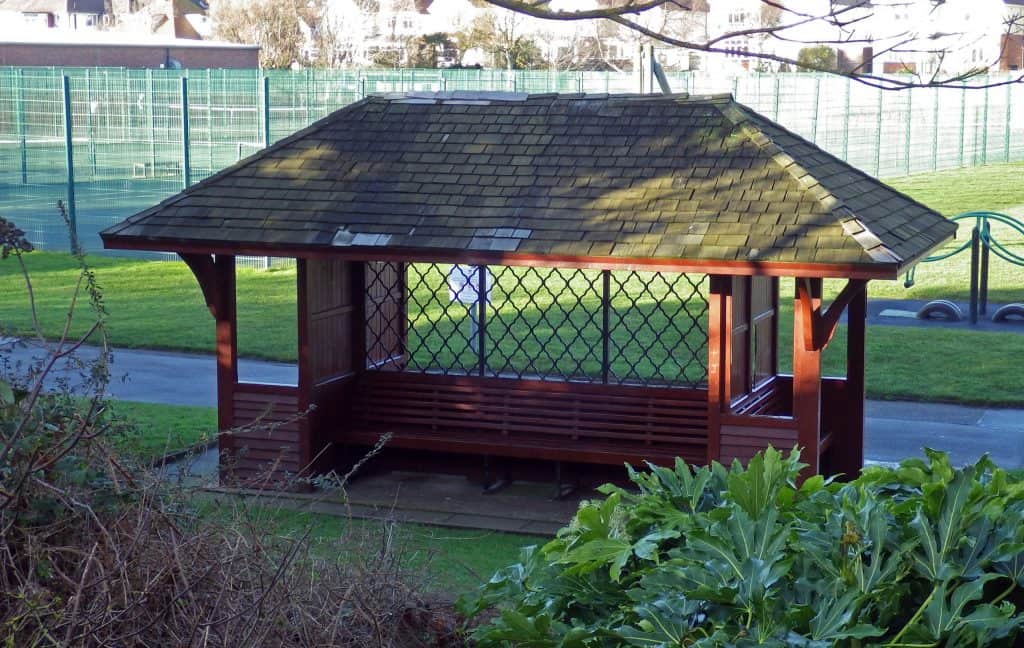 15. Tree bench
If you're lucky enough to have a tree in your garden, make the most of the natural shade underneath it! Add some seating to relax on hot, sunny days.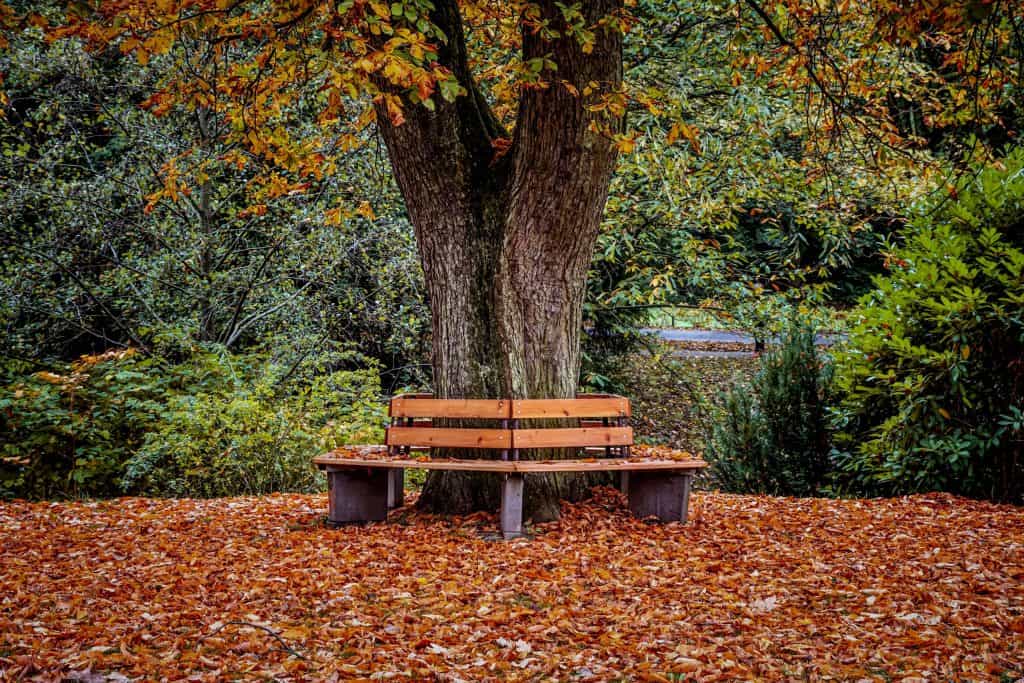 16. Tree shade
Capitalise on the natural shade provided by trees and other elements in your garden. Strategically position your seating areas or outdoor activities to make the most of these natural sources of cool relief.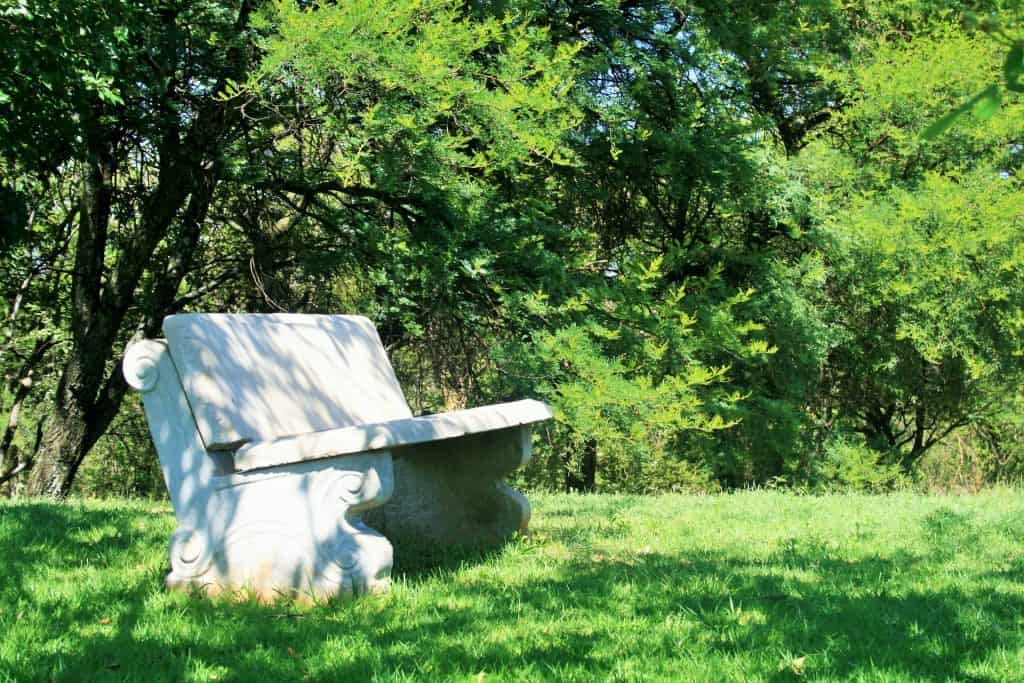 17. Rustic trellis pergola
Achieve a rustic charm by allowing climbing plants to envelop your trellis pergola. These flourishing greens create a soft and soothing shade. They create an inviting dining area where you can savour meals in a tranquil atmosphere.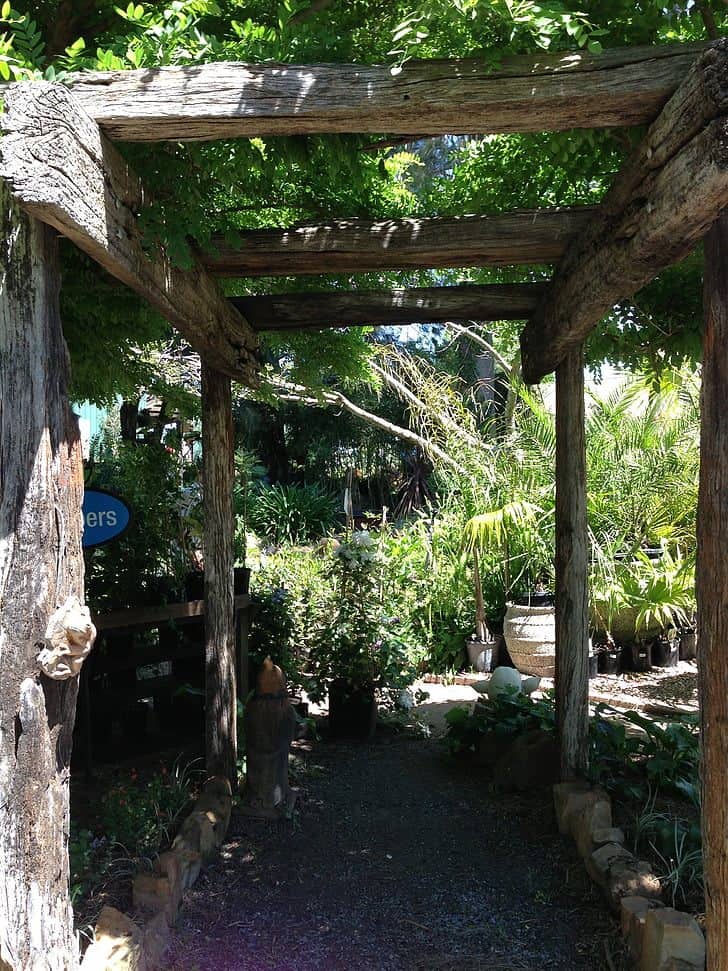 18. Slide on wire hung canopy
A good way to cast a large amount of shade on your garden is to elevate the canopy. When you want to catch some rays, just open it up!
19. A home for the plants
Some plants are shade-lovers, so design the perfect home for them under a canopy. You can even hang some pots from the roof!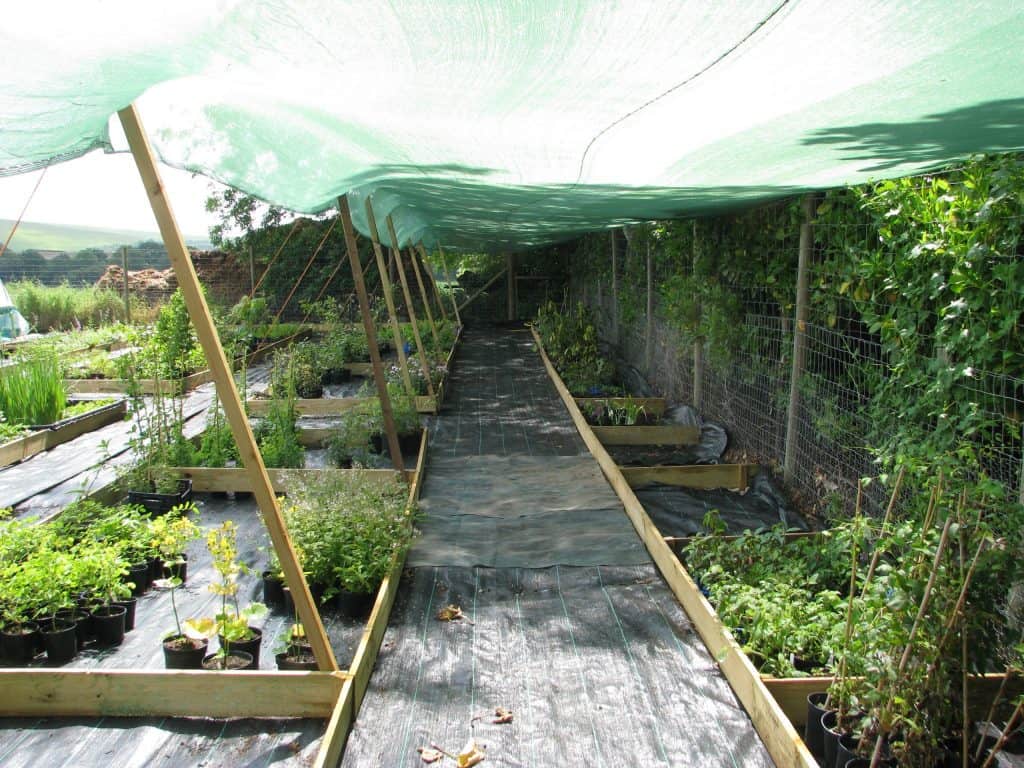 20. Invest in patio umbrellas
One of the fastest ways to add sunshades to your outdoor space is patio umbrellas. They're perfect if you love hosting a mini patio gathering, providing you with enough shade in no time!
Provide the perfect shade or spark of light for your garden with the BillyOh 2.7m Cantilever Parasol.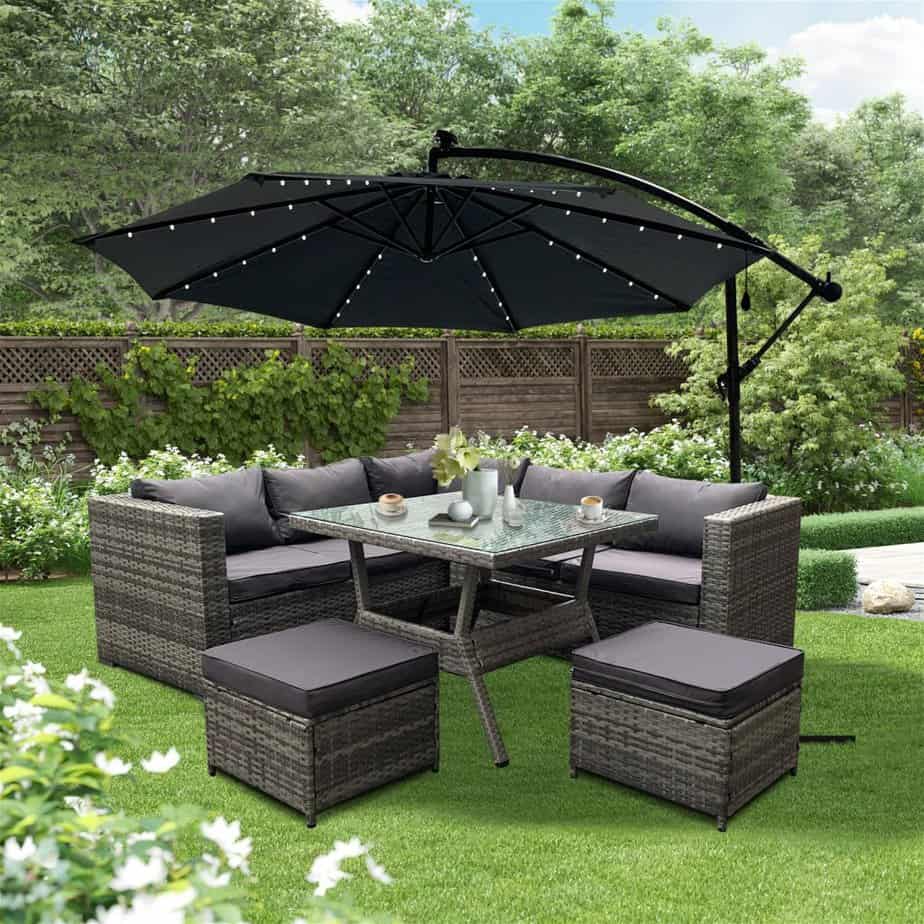 21. Attach an awning canopy
Having an awning attached to the rear exterior wall can offer you a retractable source of shade. Excellent addition to patios that get bombarded by UV radiation! Ideal for garden decking space, too.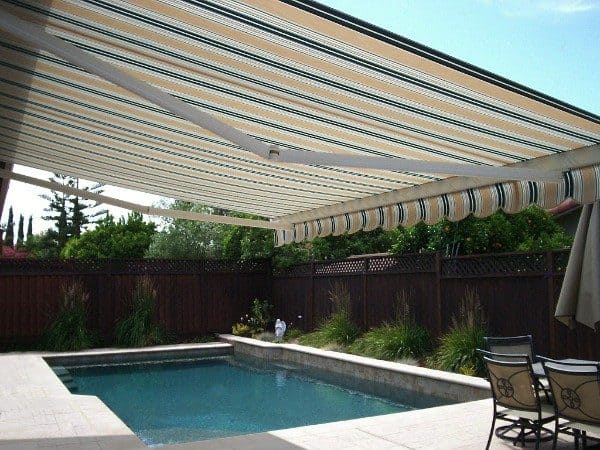 22. Get yourself a gazebo
A small garden gazebo is enough to provide a covered seating area on your patio. If you want an open structure, investing in a gazebo like the one down can be worthwhile.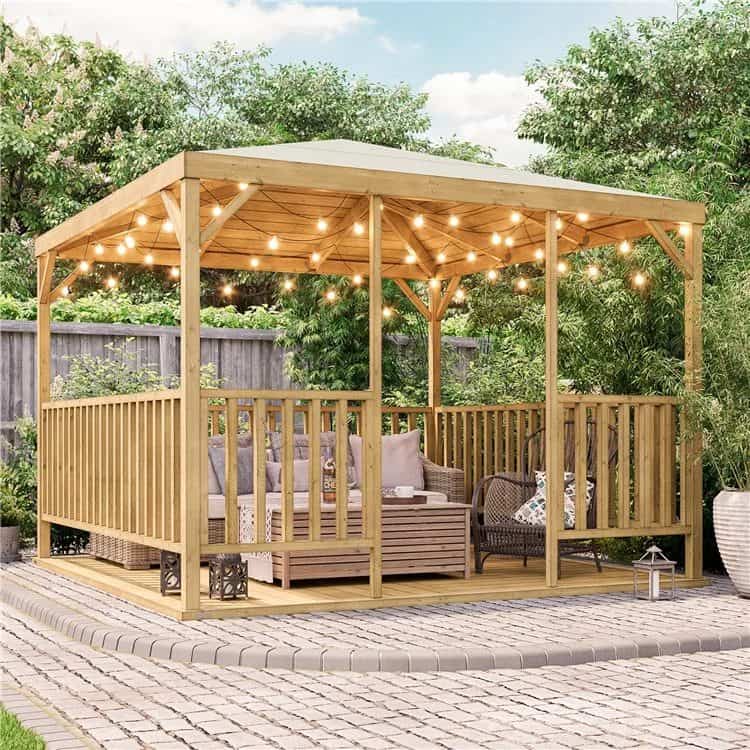 23. Hang patio curtains
Another quick and inexpensive way to add shades to your patio is by hanging curtains. Even better, curtains can be opened and closed as the sun moves.
This also means your outdoor space can maintain shady areas and air circulation.
24. Plant privacy plants
There are so many options you can explore when it comes to adding shade and privacy to your outdoor space. One of the best and most natural ways of doing so involves planting fast-growing plants.
Lucky bamboo, for instance, is the quintessential privacy plant.
25. Fencing works well too
Although fences don't offer full sun protection (overhead), they can still provide shade later in the day. They make a great companion to a covered patio or canopy.
And on top of light shade, they also add a sense of privacy.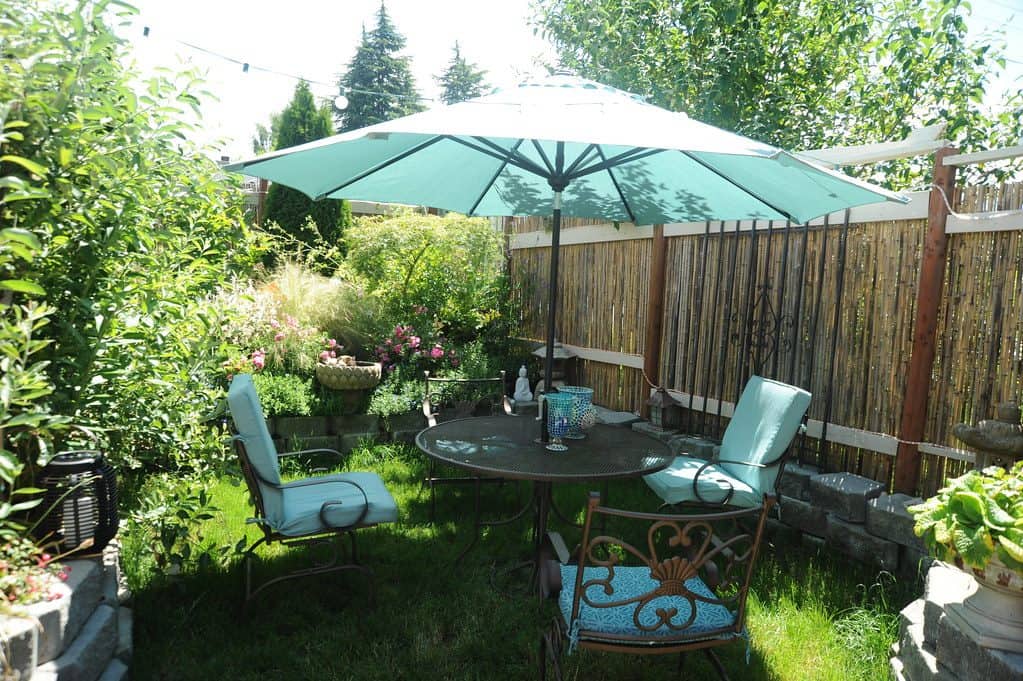 26. Grow vines
Growing vines can enhance the shade offered by pergolas, fences and walls. Grow them between a fence and a pergola or your arbour to achieve a living marquee.
For a fast-growing vine that provides even more shade, opt for Virginia creeper.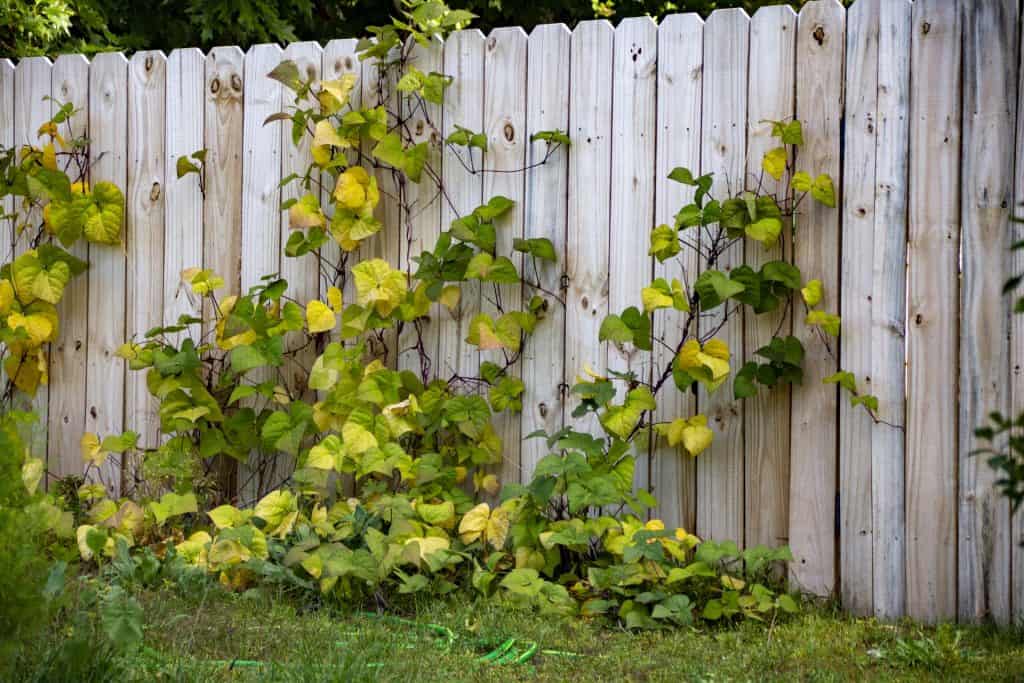 27. Relax in shade with a cabana
Cabana is a hut-like shelter designed to offer full shade. It's often used alongside a pool, at resorts or on beaches.
If you own a backyard pool, a cabana would be a perfect addition. Use it as a changing room or a resting area, or both!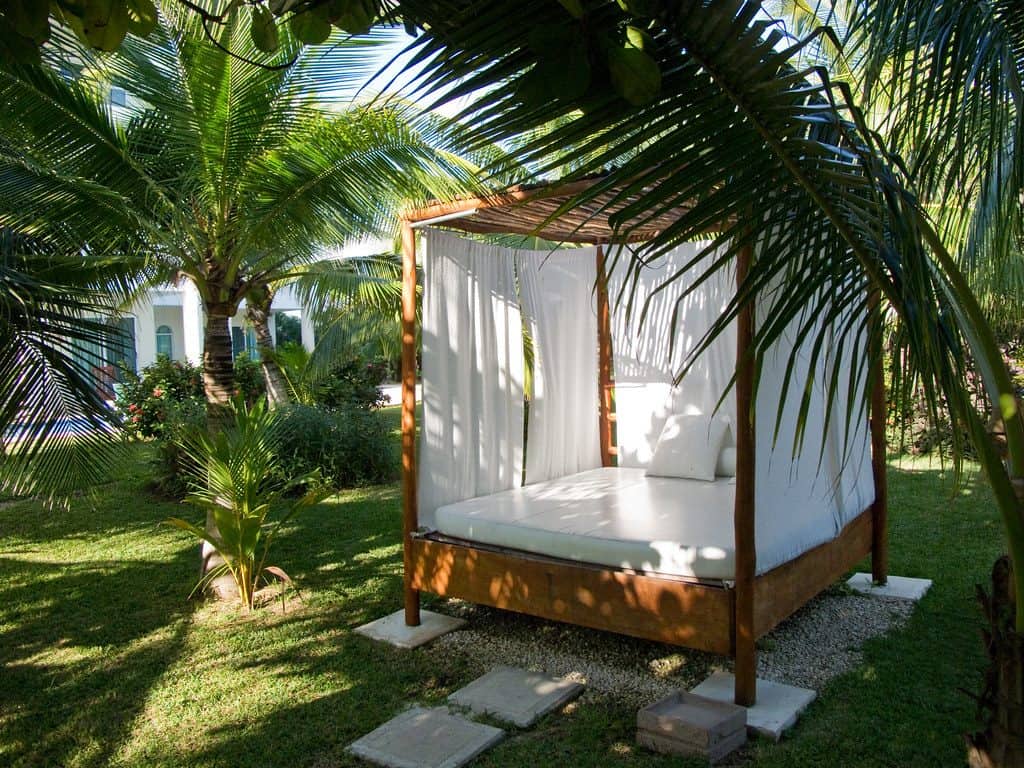 28. Arbour addition
Arbour is a vertical structure often seen in many garden landscapes. The trellis it features allows vines to grow up and over the arbour to provide shade. Besides shade, it provides shelter and privacy and serves as an accent.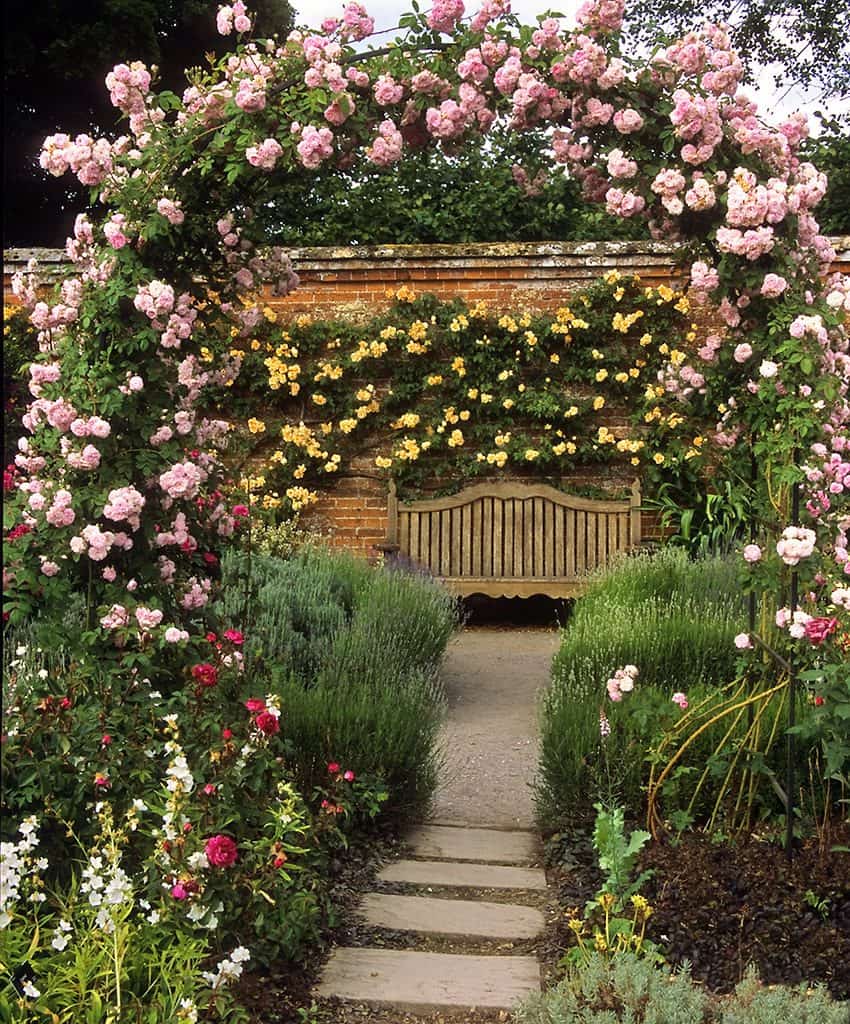 29. Start growing trees
The best thing about having garden trees is they can do much more than protect us from UV radiation. As well as looking beautiful, they provide oxygen and help with climate change.
Maple trees offer the best protection from the UV sunlight. Other recommended species include crimson king maple, swamp white oak, and copper beech.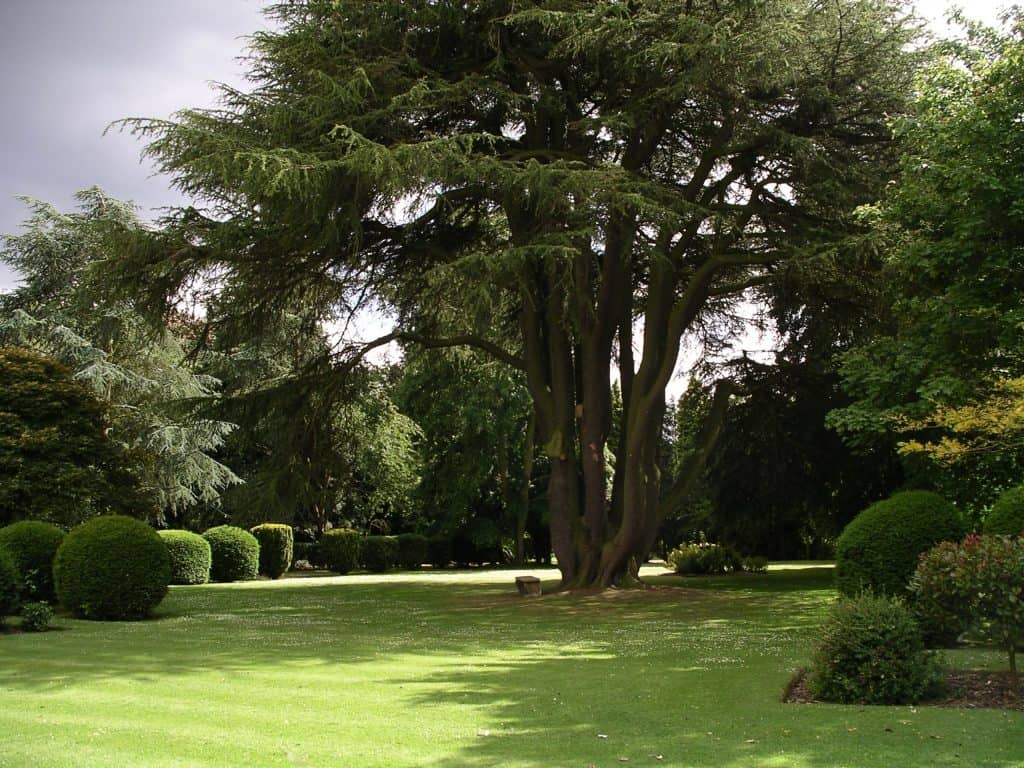 30. Get tropical with a palapa
A palapa is an open-sided structure featuring a thatched roof. It's almost like a pavilion, but unlike other shade structures, it has a tropical vibe.
If you have a tropical-themed garden, this might be the perfect shade solution for you.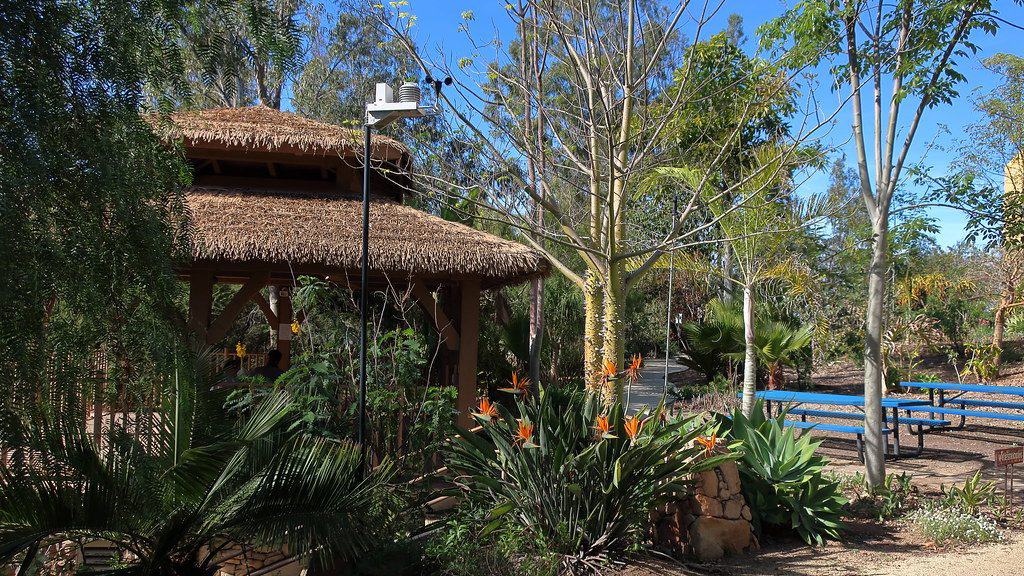 31. Consider a covered decked dining area
Seeking shade has never been more inviting in this simple covered patio dining. A shaded roof is a fantastic investment for relaxed alfresco dining all year round.
For a natural route, train climber plants, such as Ivy, to form an arbour. Then accessorise with string lights.
32. Seek shade in a garden room
A variety of garden room ideas can offer a private place to sit away from the glaring, harsh sun rays. Depending on the design, it can be attached to an existing wall or house or freestanding. 
This approach may not be a cheap option, but it's well worth the investment.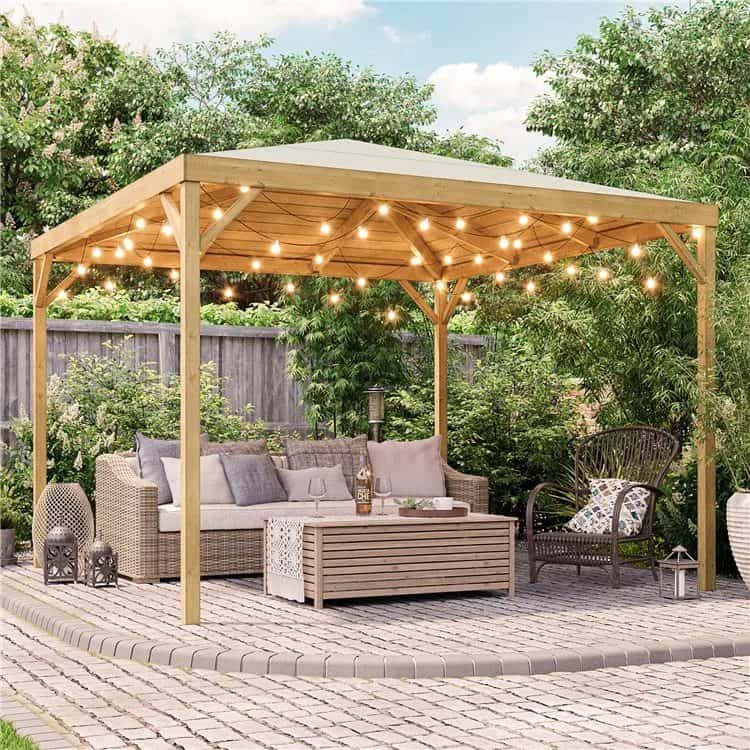 33. Partial pergola design
Looking for ways to add shade to your backyard without covering your entire patio? A partial pergola design is your best bet.
Here, the pergola features a half-grid line for creeping plants, shading only the corner of the patio.
34. Go with an extra large umbrella
Sure, a normal-size patio umbrella is fine. But a bigger version like this will keep you covered no matter where the sun is in the sky. A double-sided design, as the name suggests, gives you double shade and maximum shelter.
35. Equip your patio with a rolling sunshade
Rolling sunshades are the perfect blinds for patios, balconies, and more. They can also be attached to pergolas or other structures for maximum sun protection. Plus, they're adjustable!
36. Relax in a daybed with a canopy
An upgraded version of a sun lounger is a poolside daybed with a retractable canopy. Creating shade and a focal point, a stylish daybed like this is great for lounging and entertaining.
Don't worry about the UV rays because the canopy helps shield you from the heat of the midday sun.
37. Tiki umbrellas
Can't get enough of palapas and bamboo-style garden shade ideas? A tropical tiki umbrella is worth considering, especially if you have a backyard pub.
Or, if you have a Hawaiian or beach-themed garden, this can fit in the poolside or anywhere you need shade. Look for one with a tilting design for easy angle change according to the sun's location.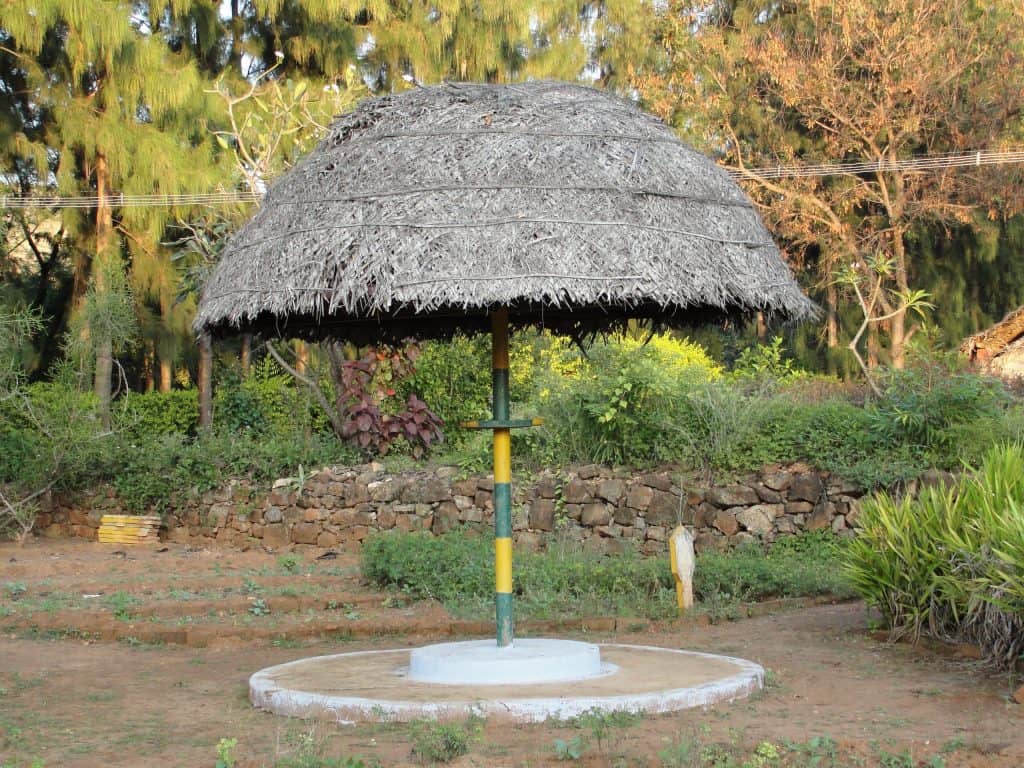 38. DIY bamboo shelter
Running out of garden shade ideas? Your last resort could be your own product of creativity. Try making DIY rolling shades with fabrics or rice straws with bamboo posts.
Take inspiration from this charming bamboo shelter. The green wall with creeping vines also adds a sense of privacy.
39. Get unique with an architectural element
The old meets new trend in garden design ideas is becoming a hot topic. Take a cue from this contemporary outdoor dining with a modern pergola structure.
The material is concrete, matching the furniture and flooring. The posts also take a modern partial shade approach.
40. A shaded garden path
Nothing's better than enjoying your own backyard with a shaded path to walk on. Keep only a small section of turf in the pathway area. Then surround it with a wide swath of shade-loving plants.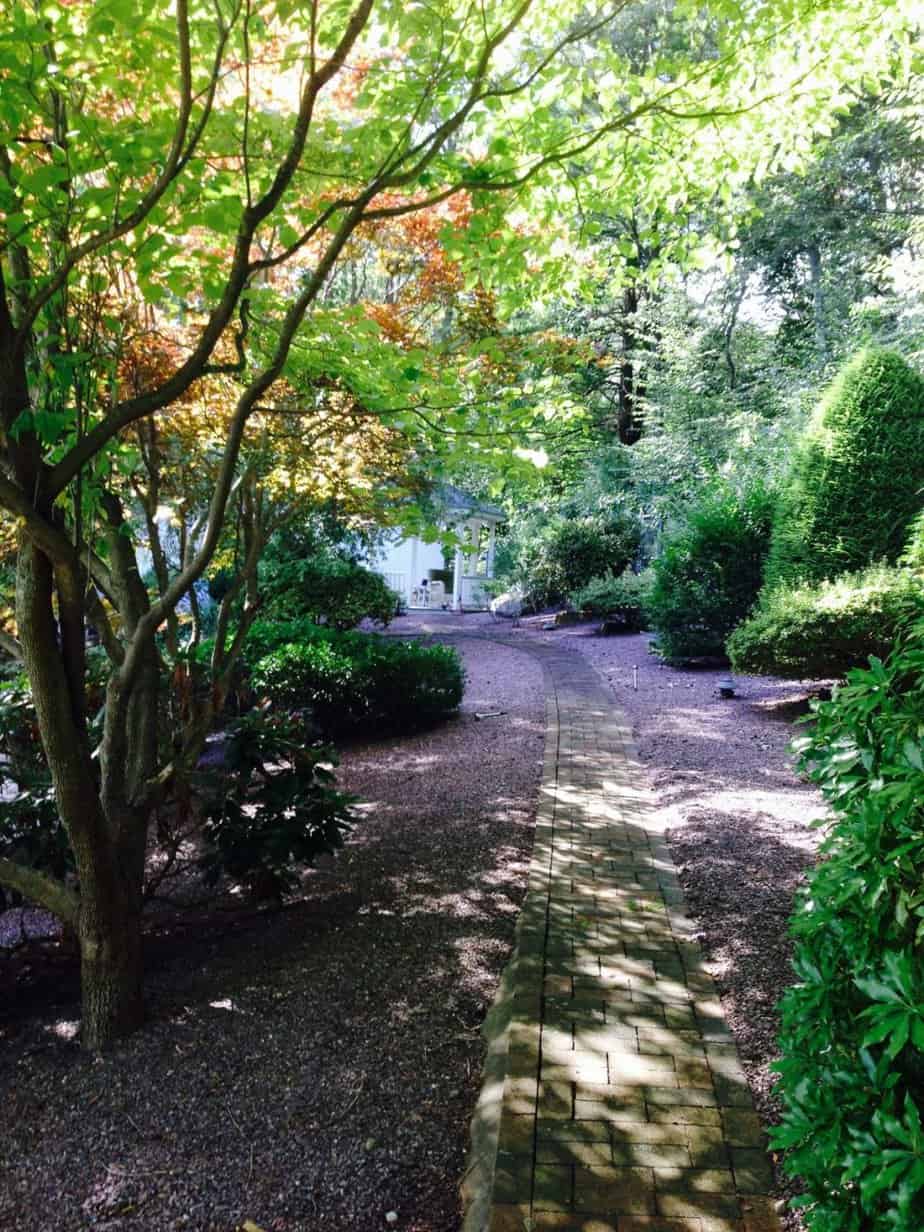 Garden Shade Ideas: Round-Up
Shading is a great way to keep yourself or your shade-loving plants cool in the summer months. It doesn't need to be expensive either. With these ideas, we hope we got some inspiration to suit your backyard and budget!
Explore Garden Buildings Direct for shades for garden products. Besides trellis arches, we have cheap garden parasols and Sunjoy gazebos
Next on your reading list is: Wooden Gazebo Ideas: Designs and Decorations
Shop Summerhouses