Gardens, regardless of their size, should be a source of joy for homeowners and their families. These serene spaces offer the perfect retreat to unwind and immerse in nature's beauty.
Small garden spaces may seem limiting at first, but don't be disheartened. Numerous creative ideas can maximise a limited plot's potential. One such idea is to select the right garden furniture carefully.
Opt for pieces that allow you to fully enjoy your garden without overwhelming the space. Avoid bulky six-seater dining tables or oversized sofa sets that can crowd the area. Alternatively, consider investing in a shed that can snugly fit into a corner of your garden.
Our list will help you make the most of your petite space and create a harmonious outdoor haven. Read on and discover the best garden furniture options for small gardens!
1. Garden bench
A garden bench is an ideal choice as it exudes class and simplicity while conserving space. Placing it against a wall allows you to enjoy the garden without obstructing the area. Its slim profile ensures that it doesn't overwhelm the limited space. With one, you can relax and enjoy your small retreat while having ample room to move around freely.
Traditional wooden benches are a popular option. But for added convenience, consider a design like our BillyOh Windsor Traditional Bench.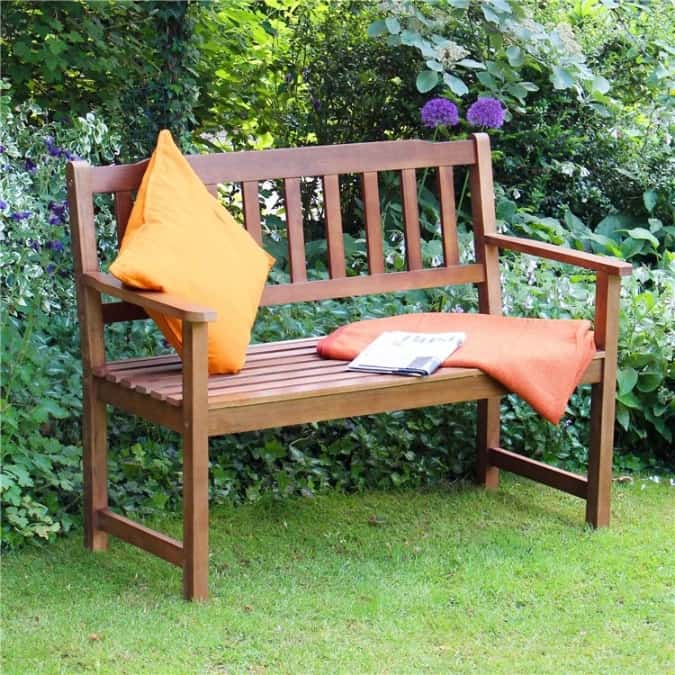 This acacia-made bench offers you the opportunity to lounge outside in your garden. The traditional design provides a stunning addition to any outdoor space. And the high backrest isn't only an attractive feature but also adds comfort. We offer multiple size choices, so you can tailor your wooden bench to your garden.
2. Sun loungers
For creating a serene and relaxing space, sun loungers are a fantastic choice. Their design allows you to place it in a quiet corner, maximising the use of available space in a compact garden. What's more, their foldable feature adds to their appeal as they can be easily stored away when not in use.
And did we mention the comfort they offer, especially when paired with deep cushions? Such a combination ensures that you can unwind and enjoy the warmth of summer on your humble patio.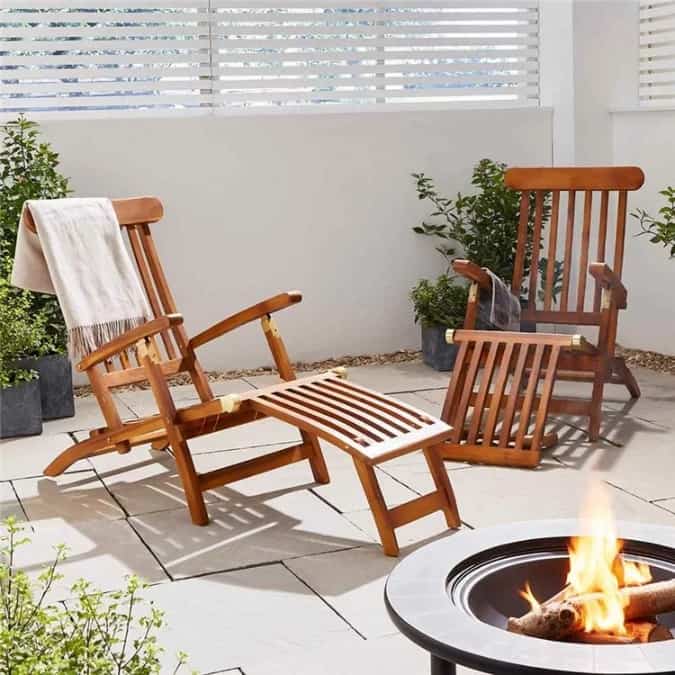 Have a look at this Bantham Teak Hardwood Steamer Lounger. It offers a natural rustic charm to patios and poolside, giving off a timeless classic. It's long-lasting and maintenance-free, with adjustable backrest positions for added comfort.
3. Bistro sets
Designed specifically for small spaces, bistro sets consist of two chairs and a table. These sets come in various materials, such as metal, wood, and rattan. They often feature slimline designs to fit even the tiniest patio or balcony.
To maximise your petite patio further, opt for a bistro set with fold-up chairs and a table. You can easily store them indoors or in a space-saving shed, e.g. the BillyOh Master Tall, during colder months. Or simply position them against a wall when not in use.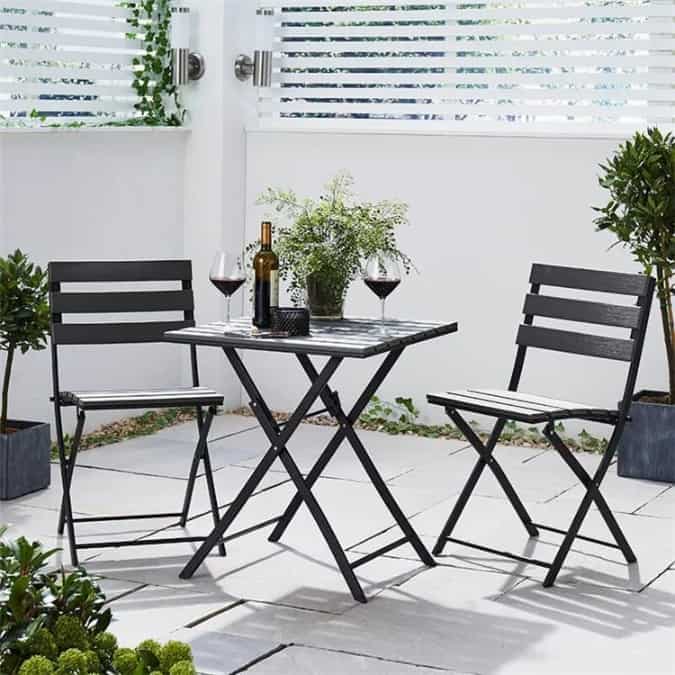 The Sölback Grey Bistro Set is a prime example. It is designed with a robust aluminium frame and durable synthetic HDPE surfaces. Meaning it can take on the weather and come out the other side looking and feeling as good as new! Lightweight and easy to clean, the set includes one table and two accompanying chairs.
4. Fold-up chairs
If space is at a premium and other furniture options are not feasible, add a couple of fold-up chairs. These versatile chairs can be easily set up or stored away, offering flexibility. Fold-up chairs are also an excellent budget-friendly option. Overall, perfect for savouring an evening drink during the warmer seasons.
For durability, the BillyOh Windsor Folding Chairs are an ideal choice. The perfect multi-use seat for relaxing in your garden! Set it up at your garden table, in a sunny spot, or pack it for a day trip.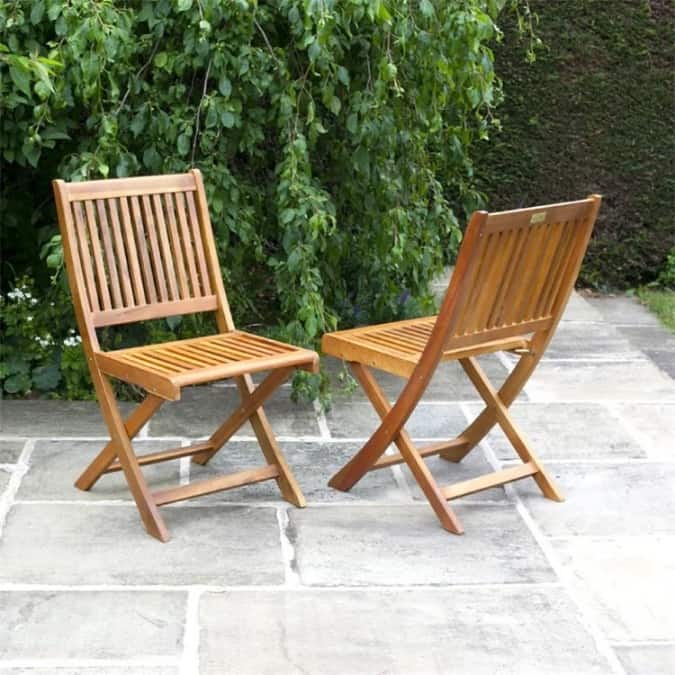 Their foldable, lightweight design is a big plus! Made from acacia hardwood to be strong and durable, this is guaranteed quality in a garden chair.
5. Space-saving rattan furniture
Rattan sets have gained popularity as outdoor furniture due to their:
durability

weather resistance

lightweight nature

low maintenance requirements
They are also excellent space-saving options. Rattan cube sets, in particular, allow you to tuck everything under the table when not in use neatly. The design makes them compact while accommodating more people when needed. Take the BillyOh Modica 8-Seater Cube, for example.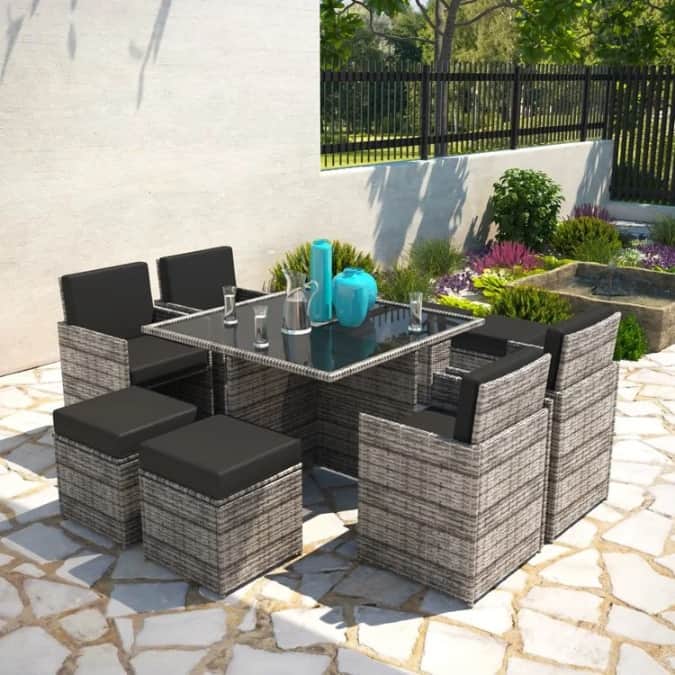 Stylish and compact, the Modica 8 brings a touch of class to any garden. Conveniently tucked away into a cube, this compact set contains 4 armchairs and 4 stools. With a weatherproof weave and removable padded cushions, it can be outdoors year-round!
Round-up
When it comes to choosing the best garden furniture for a small garden, it's essential to prioritise:
functionality

space-saving designs

comfort
Opting for the furniture we've outlined in this blog can help you make the most out of your limited outdoor space. These carefully selected pieces add charm and style to your small garden. At the same time, ensure that you can relax, unwind, and enjoy nature without overwhelming the area.
So, have you found the right furniture choices for your humble outdoor space?