Not all homes boast sprawling gardens. But what if I told you that even the most petite outdoor spaces could undergo a unique transformation? The ingredient for this success lies in the addition of space-saving garden rooms. Sheds, log cabins, summer houses, and greenhouses – you name it!
These structures are capable of turning a modest backyard into a functional oasis. In this guide, we'll explore the myriad of possibilities offered by these buildings. Get ready to unlock the full potential of your small garden space!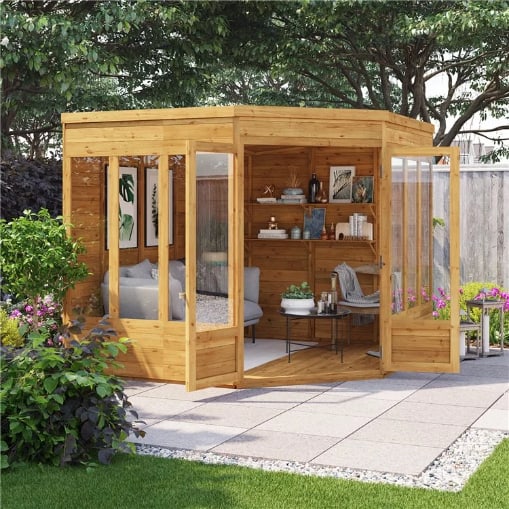 Creating an outdoor haven in compact outdoor spaces can be quite challenging. And in some cases, this makes standard garden buildings seem impractical. If you've been yearning for a home summerhouse, consider corner designs.
As the name suggests, a corner summer house is designed to blend with intricate areas. This applies even in the most limited or irregular spaces. It offers an opportunity to revel in the perks of a garden retreat.
Explore our comprehensive collection of space-efficient corner summer houses for sale. Discover how you can transform those hard-to-use corners into cosy retreats!
Note: This guide on corner summer house ideas can be a valuable resource, so be sure to give it a thorough read.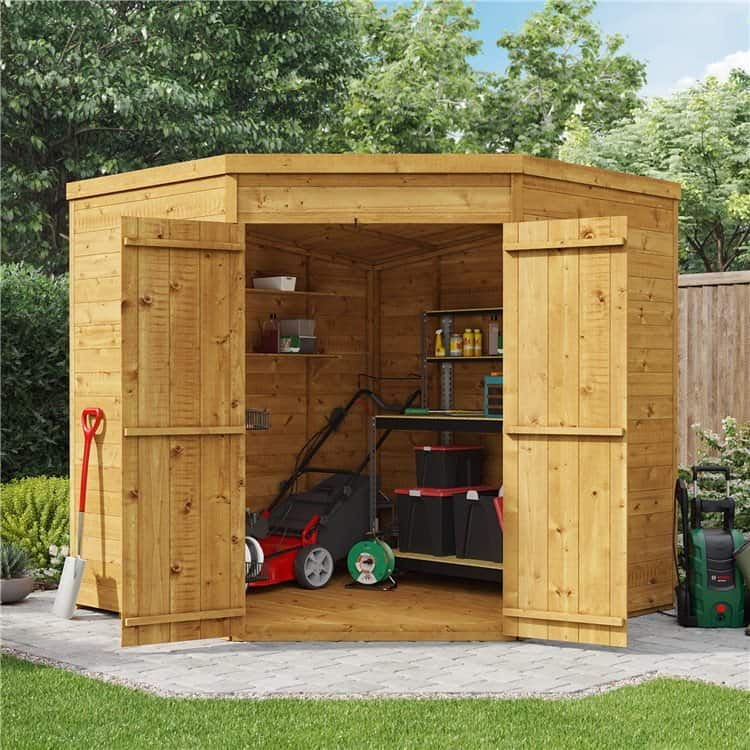 A corner shed is an excellent addition to a small garden for several reasons. Among those is it optimises space utilisation by fitting snugly into corners. This design choice frees up the central space for other purposes. At the same time, it keeps the shed from dominating the landscape.
To maximise storage in this unique wooden shed, consider these tips:
Shelving:

Install shelves along the walls to use vertical space efficiently. Adjustable shelves can accommodate various-sized items.

Hooks and pegs:

Install hooks and pegs to hang tools and equipment. This technique will keep the floor and workspace clutter-free.

Storage bins:

Use labelled containers to keep items organised and easily accessible.

Wall-mounted racks:

Put up racks for bicycles or long-handled tools to save floor space.
By implementing these strategies, you can make the most of your shed's storage potential.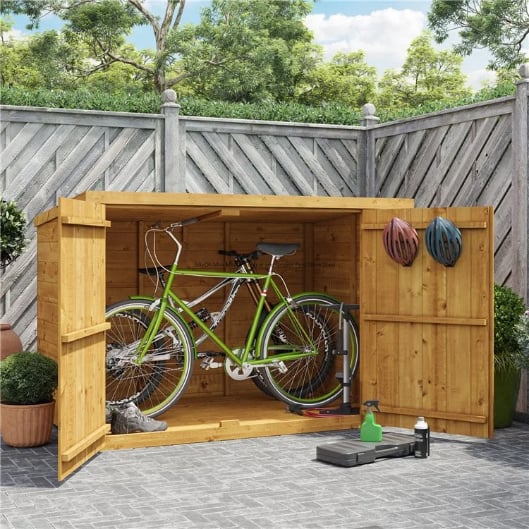 Reclaiming garden space becomes a breeze when you tackle your kids' bikes clutter. A practical solution for this is to introduce outdoor bike storage.
This mini garden store sets a prime example. It's notably sleeker than traditional sheds, allowing you to position it against a wall. Beyond accommodating bicycles, it can also house various garden tools, providing a multifunctional solution.
4. Tall box storage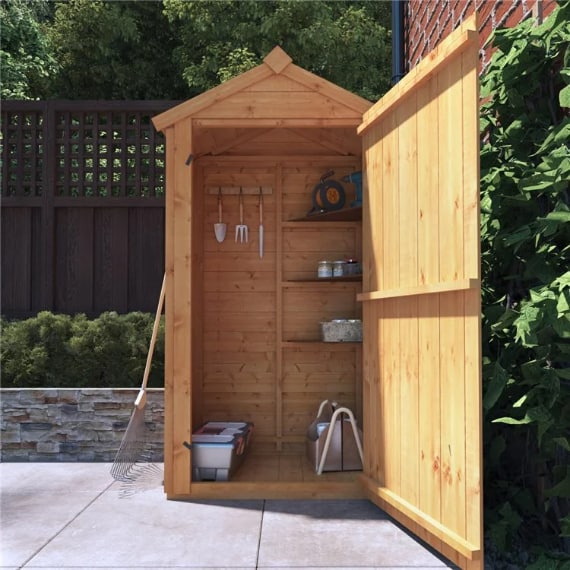 An orderly, clutter-free garden opens up opportunities for diverse outdoor activities. When seeking storage for your petite garden, consider investing in a tall shed.
Have a look at the BillyOh Tongue and Groove Tall Sentry Box Grande, for instance. It facilitates vertical storage, liberating your ground area for other purposes. Even better, it comes equipped with corner shelves, providing a convenient hideaway for items. With a high apex roof, tall door and strong tongue and groove panelling, it's ideal for easy access and storage.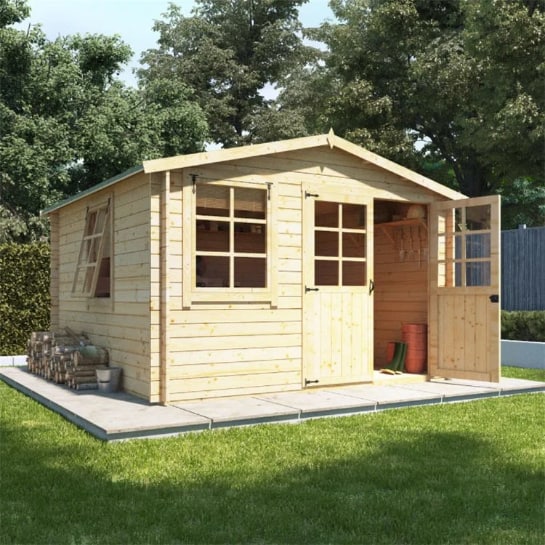 Adding extra living space and storage into a small garden often involves a challenging trade-off. However, our innovative '2-in-1' shed log cabin defies this limitation. That's right – it offers you the perfect fusion of both. This versatile solution addresses two essential needs: storage and space expansion.
The cabin's main area can be transformed into a garden office, gym, playhouse for kids, or whatever you have in mind. Discover the ultimate synergy of comfort and functionality with this remarkable addition!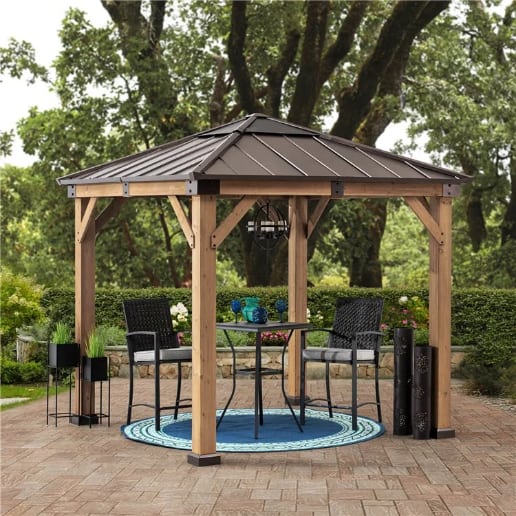 A wooden gazebo is a splendid addition to a small garden for several compelling reasons. To start, its open-sided design creates a sense of spaciousness. This means it can make your garden appear larger than it is. It serves as an inviting focal point, adding character to your outdoor space.
Moreover, a gazebo like the Rapi offers versatile functionality. It can be a cosy retreat for relaxation, an al fresco dining area, or a tranquil spot for entertainment. To make the most out of it, even in a small garden space, consider these tips:
Opt for a compact model that suits your available space without overwhelming it.

Choose space-saving, foldable, or stackable

garden furniture

to accommodate seating or dining needs.

Use subtle

cheap outdoor lights

, such as lanterns, to create a cosy atmosphere.
With these techniques, you can create an enchanting, functional space despite limited dimensions.
Round-up
In the world of garden retreats, small spaces can yield big possibilities. With the right structure, you can unlock the full potential of your humble outdoor haven. And these ideas have shown that size doesn't limit your garden's charm or functionality!
Our garden buildings come in a diverse array of sizes, designs, and materials to suit your needs. We have metal sheds for storage and the 2-in-1 log cabin summer houses for leisure.

What's next on your reading list: The Best Garden Furniture for a Small Garden