Having a shed pub in the comfort of your outdoor space is a dream come true, especially if you're someone who takes pleasure in hosting chilled out nights at home.
Whether you wish to purchase a new shed or utilise your existing one, this is the perfect time to transform your garden building into your dream pub shed, and have the most envied hangout in the neighbourhood!
While this article focuses on some fantastic pub shed design ideas, allow us to introduce you to some helpful tips, especially for when you're planning to build your pub shed from scratch.
Building Your Dream Shed Pub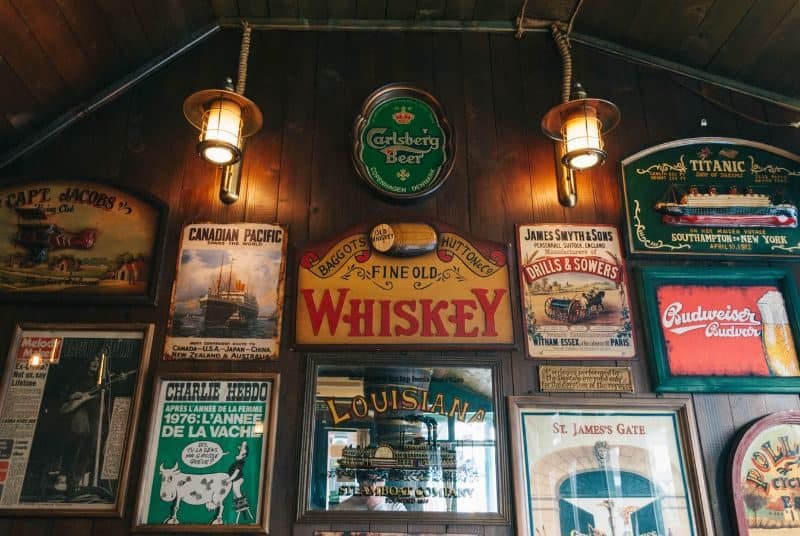 Owning your own pub shed comes with tons of perks, one of these being sociability, which is perfect if you love to host evening get-togethers from the comfort of your own outdoor space.
But with outdoor gatherings on hold for the moment, why not start working on your pub shed and get yourself a private bar that you don't have to queue at to get served!
Amazing Shed Pub Designs
1. Holiday-Themed Tiki Bar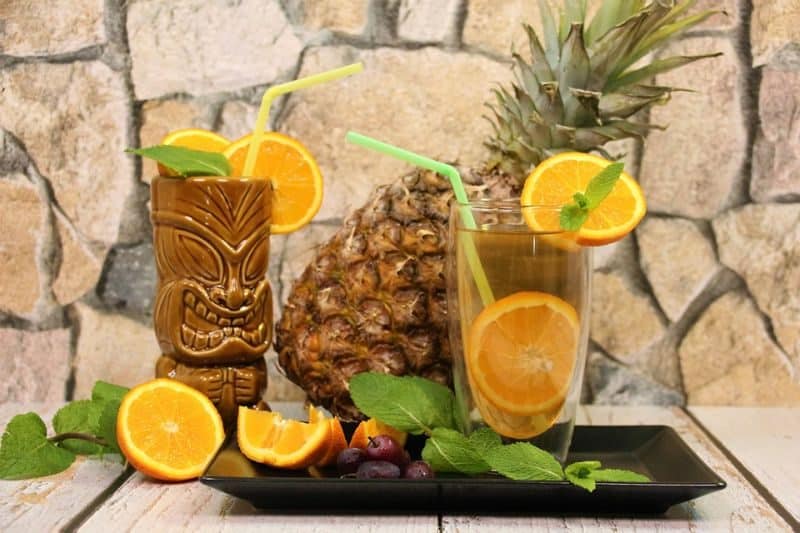 Considering the current situation that we're facing, as much as we want to go to the beach, we need to avoid large crowds and practice social distancing. But that doesn't mean your dream beach get-away should be put on hold until next year.
Sometimes, all you need is to be creative and bring the beach vibe to your back garden! With your pub shed, you can execute a DIY holiday-themed tiki bar.
The idea is to install bamboo panelling on your shed's wall, plus some LED lights fixtures that can light up the sheltered bench seating. And of course, don't forget your tropical-themed cocktails.
2. Mediterranean Shed Pub
Imagine chilling in a place that reminds you of your romantic memories of your last Southern European holiday with your go-to drink. 
With touches of ceramics, wood, wrought iron and cotton brings, you don't have to travel far away as a Mediterranean-inspired pub shed will take you back in time!
To conjure an even more authentic ambience, you can add a fire pit paired with outdoor rattan furniture so your pub shed can be enjoyed late into the night.
3. Farmhouse Outdoor Bar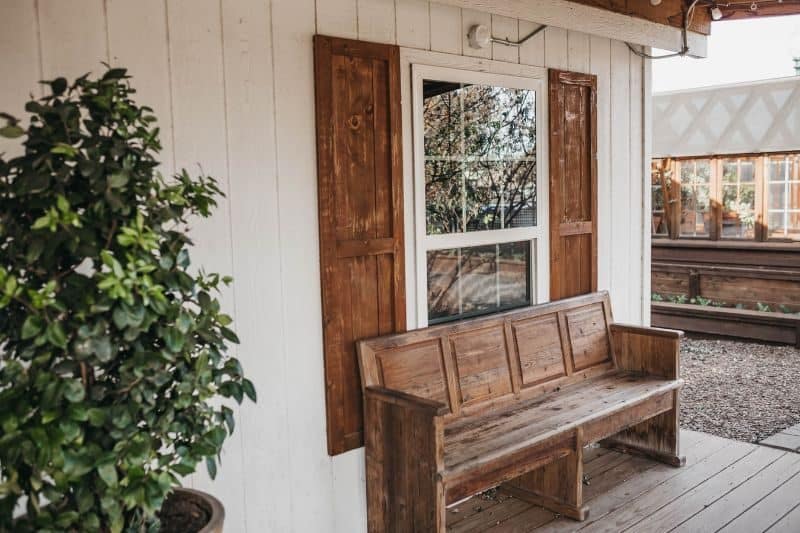 Add a farmhouse touch and rustic charm to your outdoor space with a country-barn-turned-pub shed! 
Combining sleek, clean lines of contemporary design and characterised by natural textures and materials, such as wood or galvanised steel, a modern farmhouse style sounds like a good plan for your garden bar.
Bring the warmth, simplicity and aesthetics of a uniquely fresh take on country living in the comfort of your back garden. Other than cream, you can use neutrals, bright and bold hues.
Don't forget some natural wood accents as they are a must-have for any farmhouse-inspired interior, e.g. counter top, chairs, wall decor and more.
4. French and Italian Shed Pub
Combining French and Italian elements in your garden bar will add a natural Mediterranean touch to your outdoor space.
To create a nostalgic design, paint your shed with the faux painting technique and add some stone countertops or tables for your drinks. Then incorporate a French Country-Tuscan colour palette, such as:
Varying shades of greens that can represent grapevines,

Bright accent colours like yellow, lavender and red to represent sunflowers, lavender and poppies,

Cobalt blue for the bright sunny skies and majestic clear waters of the Mediterranean region.
Make sure to consider light, coastal-inspired colours for authentic country furniture.
5. Mexican-Inspired Garden Bar Shed
With a crushed stone bar counter and upholstered wooden stools, plus rustic furnishings and Native American influences, a Mexican-inspired pub shed is a perfect choice for those obsessed with vibrance.
The idea here is to incorporate elements from mixing rustic wood and wrought iron furnishing with over-the-top, bright, vivid colours. Paint your shed with warm colours, e.g. rich earth tones like brick or clay.
As for the accents and fabrics, make sure to style your bar ware essentials with decorative materials that have primitive prints and patterns.
6. Rustic Shed Pub
An American style pub shed is perfect if your looking to crack open a cold one with the guys.
Integrating natural materials like stone and raw wood, you can create an interior for your pub shed that resembles the rustic American dream, transporting you to an 80's US tavern.
Since wood is the primary element used in rustic home interiors, your shed alone is already a win-win! But to give your garden shed a more earthly and natural look, we suggest adding some pine, cherry, hickory, and alder as decorative pieces.
For a more rustic approach, wrought metals may also be incorporated into your pub shed. And with the right rustic bar accessories, your rustic pub shed is complete!
7. Pub Game Shed
Adding a dartboard and other board games in your pub shed is always a great idea if you want to get that whole pub package and at the same time, provide your family and friends with hours of entertainment.
If your building structure offers enough space, consider adding a PlayStation, Xbox or table games for a fun afternoon with your buddies in between drinking sessions.
8. The 1950's Bar Shed
Step through this basic looking barn and be taken to a 1950's inspired bar! Perfect for vintage lovers, this 50s style is an excellent interior inspo to incorporate a retro look into your pub shed.
Black and white checkerboard flooring patterns are a must! And to integrate the 1950s vibe in your shed, consider opting for tables and chairs in vintage colours. Lastly, paint your cabinets or storage area white and replace the door handles and hinges with chrome fixtures.
9. The Fully-Loaded Shed Pub
This class act of a pub shed comes fully loaded with a bar and TV which will keep you and your family entertained for hours! If space allows you, feel free to add a couch and of course, don't forget about the bar stools and dartboards.
If you're a huge football fan, why not pop in a huge flat screen and make it your go-to sport watching place? Deck out the interior with your club's colours and memorabilia.
10. Man Cave Style Shed Pub
Imagine having a place where you can get away from the stresses of a modern, fast-paced lifestyle, while at the same time, relax and enjoy your favourite drinks with your friends after a long day at work. If this kind of leisure appeals, then combing the man cave and shed pub sounds like the perfect idea!
If your shed offers enough space, then we suggest adding some classic games, such as a dartboard and pool table for hours of fun. You can also add a space which is dedicated to your music collection, in order to ensure the best atmosphere.
Of course, your man cave inspired shed bar wouldn't be complete without the must-have bar essentials, from glasses and shakers to stirrers, trays, coasters, and of course, drinks! 
Don't forget about the interior decor e.g. garden bar signs, beer mats, etc. While each of these elements may seem minor, they make a big difference when combined.
Building a Wooden Frame Base for your Garden Bar
Creating a wooden framed base for your garden bar ensures that your new addition is strong and stable, whilst keeping everything off the ground. Follow these four simple steps to create your ideal frame base.
Step 1: Measure the Area
Using a measuring tape, check the area where you want to build your bar shed. You'll want to make sure that you leave a one-metre space for the decking to extend into the entrance. Also, consider leaving enough room around your space for access.
Step 2: Prepare the Timber
Cut your wooden bearers with a saw to fit the space you've measured out for your garden bar and decking. Ensure that you have enough pieces for the outer frame – at least four inner joints. Then put your collected pieces into place on the ground.
Step 3: Assemble the Base
When assembling the outer frame—also known as the sills—drill all the holes you need before inserting the screws. Next, insert the inner joist lengthways evenly.
Step 4: Add the Supports
Cut the lengths of timber to 30cm and hammer them into the ground to support the frame.
Note: For an in-depth guide, you can also check out the guidelines here.
In conclusion, you can customise your shed pub however you want!