Garden decking takes any outdoor living experience to the next level. Decks can work with any design, but choosing deck furniture can be trickier.
Lucky for you, various layouts, styles, and materials can help maximise your deck space. And deck furniture pieces can be minimal, whimsical, or as breathtaking as any grand interior piece.
Create a list of furniture styles and elements you like, then see how to make them workable outdoors. Browse through this curated list of deck furniture ideas to get started!
1. Invest in a rattan bistro set
Turn your bare deck into a little bistro nook that looks like something straight out of Paris. Perfect for small outdoor spaces, this egg-shaped bistro set will be a great choice for you.
The set features a pair of comfy chairs in a lovely modern style. It comes with a glass-topped table that can also be stored inside the chairs.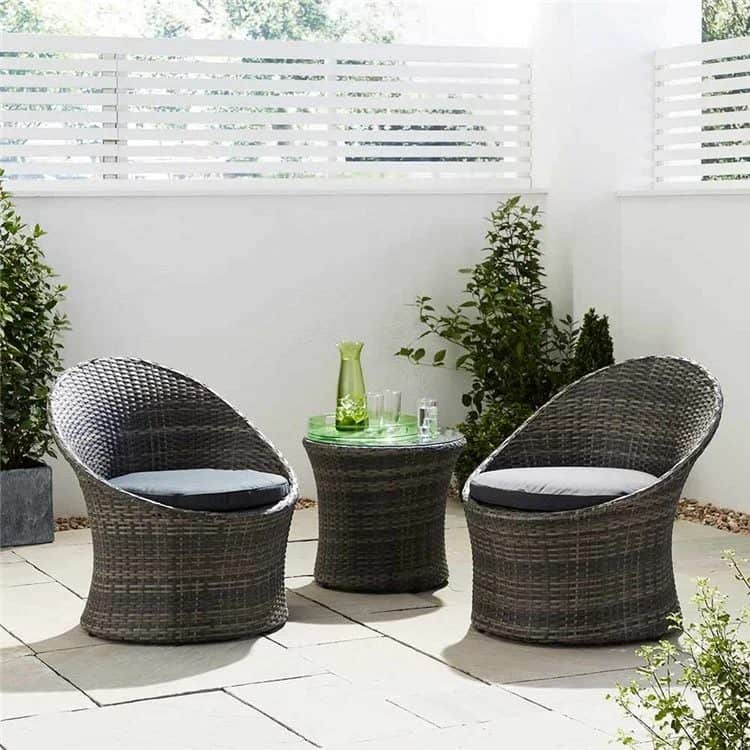 2. Seating at a variety of heights
You can fit as many seats onto your deck as possible without cluttering the deck. The goal here is to work with different types of seating at a variety of heights.
Floor cushions on a woven rug look great when contrasted with hanging egg chairs!
3. Have a matching coffee table
The silhouette and clean line make this coffee table a perfect addition to a modern deck. It's sleek, modern and made of cedar, and it pairs perfectly with the sofa and chair.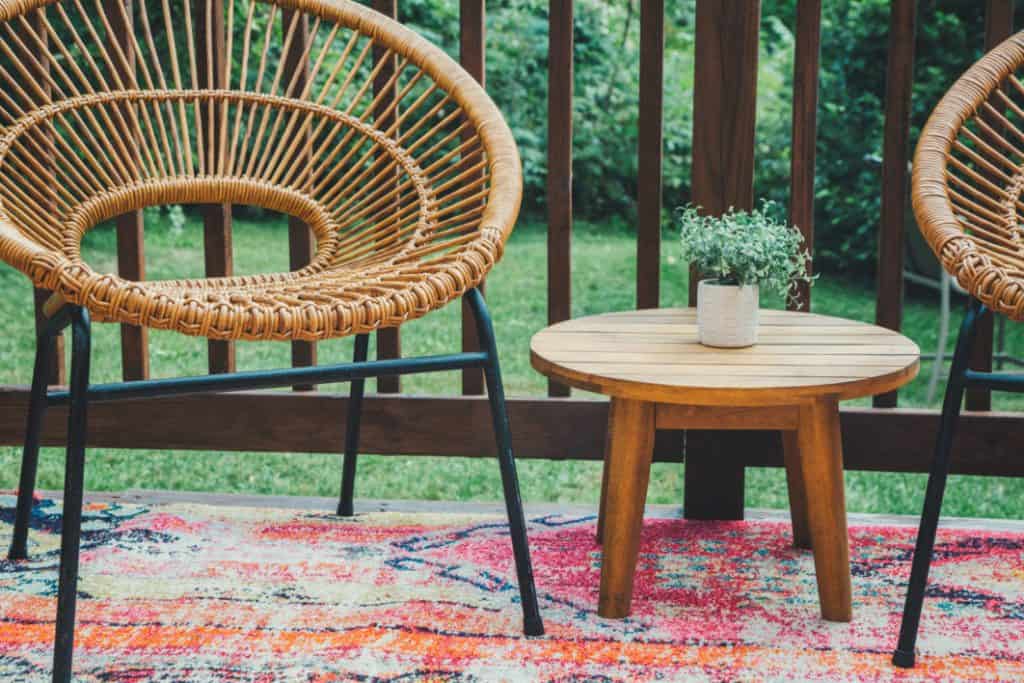 4. Dine on a fire pit table
Enjoy an incomparable alfresco dining experience on your deck! The unique concept of a fire pit dining table features a table and fire pit in one.
This Sicily set has enough space for eight people to sit comfortably.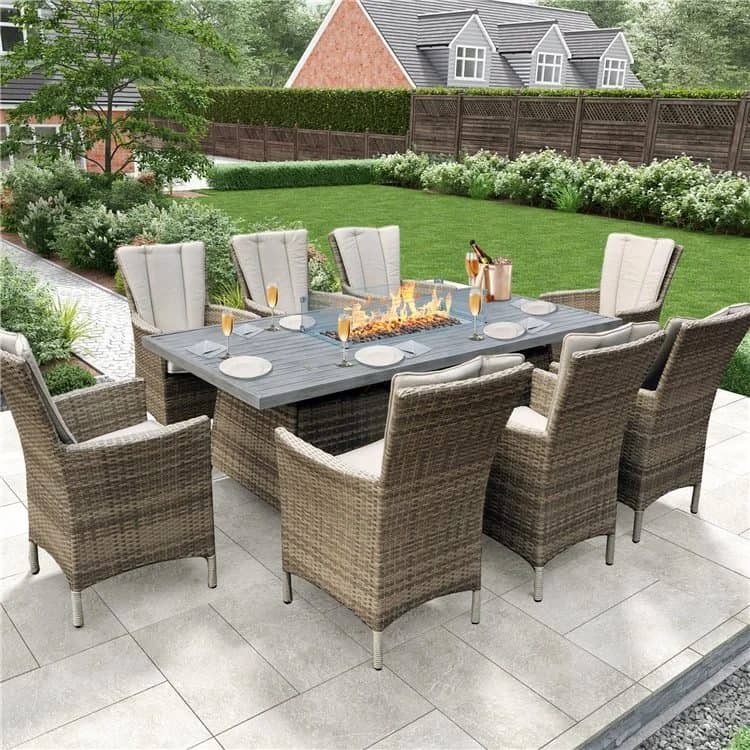 5. Statement lighting as as focal point
String lights are lovely, but it's hard to beat the wow factor of big, gorgeous pendant lights. Imagine hosting a late al fresco dinner on this decked patio, under their warm glow.
The setup will make you feel like you're lounging in a cabana resort.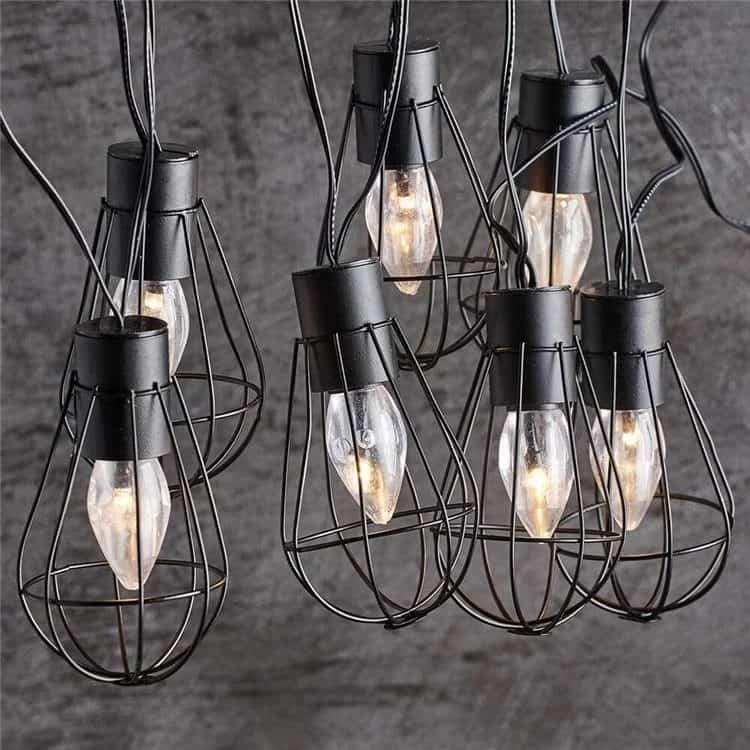 6. Hang a basket swing
Hanging a basket swing adds more fun to your garden decking. Not only does it offer a comfortable place for rest but also a beautiful decorative accent.
Depending on the design, it can also offer shade on sunny days.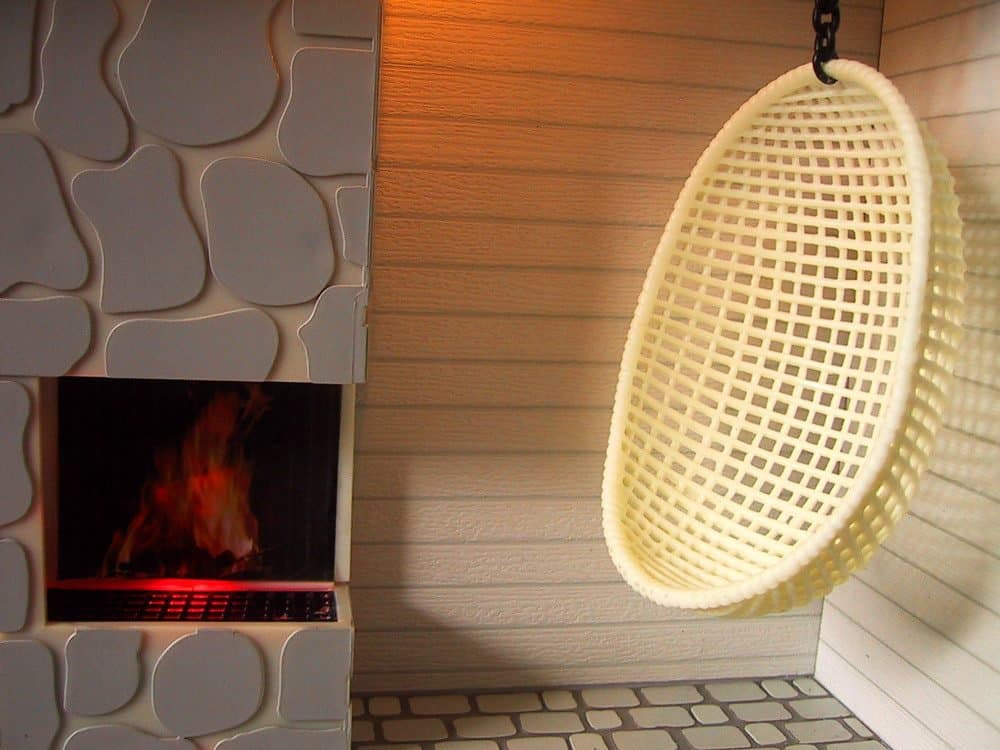 7. Made to fit the corners
If you have a small deck, you can create a lot of seating without taking up too much floor space. In this case, a corner sofa is your best bet.
Take a cue from this set-up. The sofa is paired with butterfly chairs and rounded pots to contrast the straight line.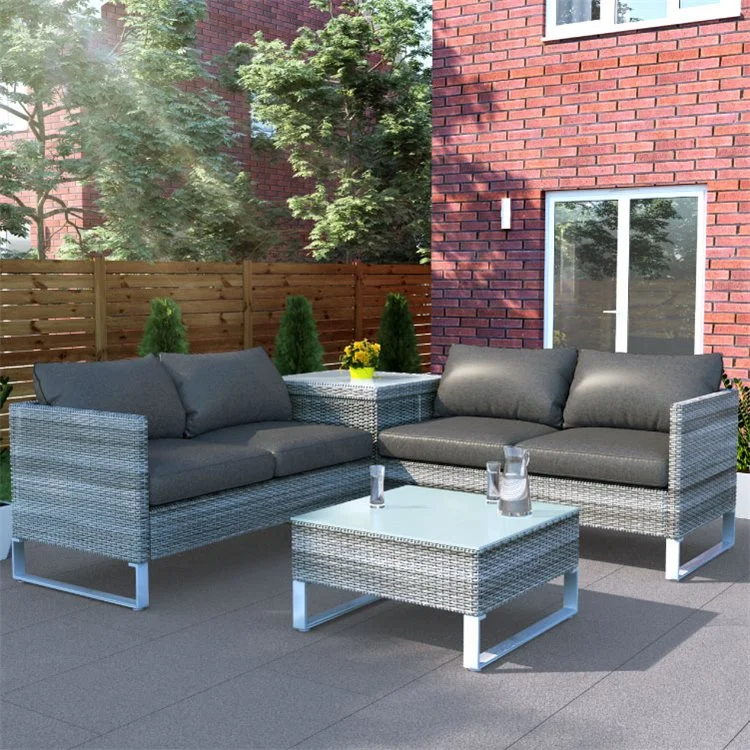 8. Sunbathing area with sun loungers
Do you have decking around a pool or a nice view of the lake from your backyard? Relaxing in the sunshine and enjoying the view has never been so easy with a sun lounger!
This weatherproof sun lounger is sure to add a new dimension to your outdoor space that's fit for use year-round.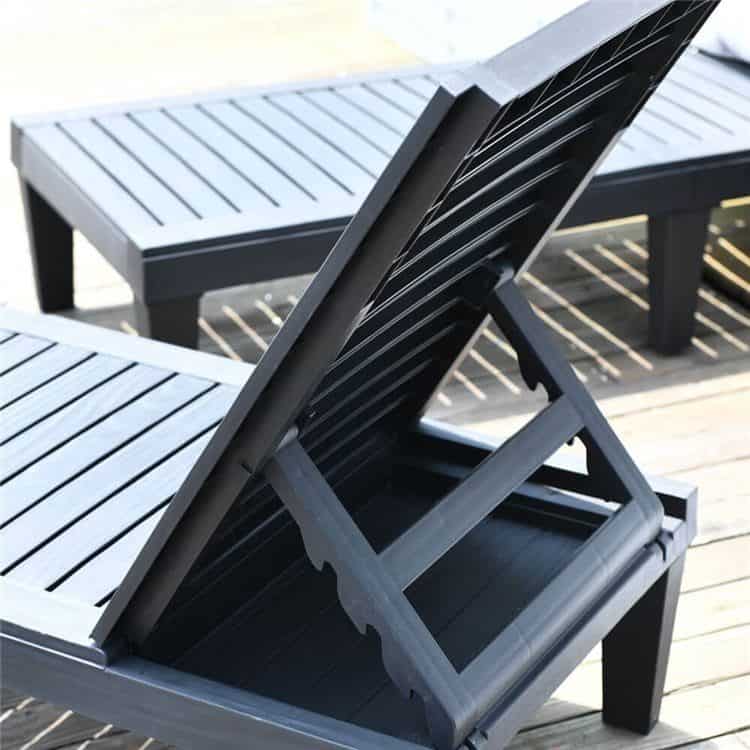 9. Open things up with a mirror
Garden mirror ideas add visual interest while opening up outdoor living spaces. When installing one, ensure the mirror is firmly secured to the wall.
10. Artificial turf deck
Adding faux turf on your rooftop deck may sound silly. But it actually works well as a decorative enhancement.
For one, if everything on your deck is hard, sleek, and modern, a lively lawn can bring in softness and texture.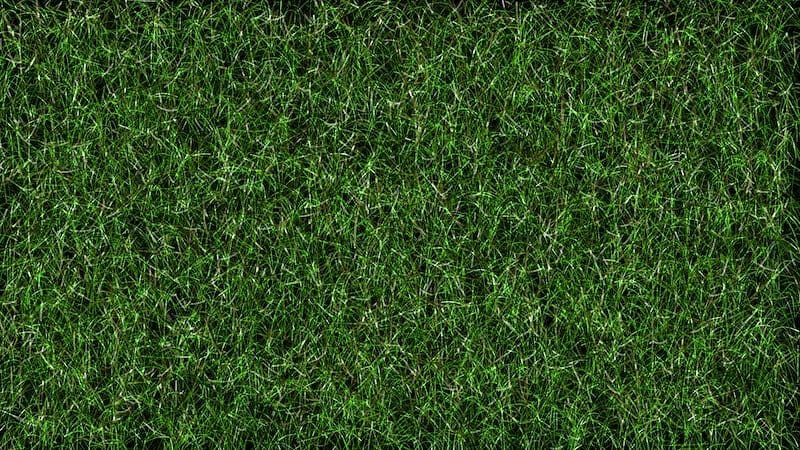 11. Sip a glass of wine on bean bags
Bean bag seats can blend harmoniously with a natural hardwood deck. But what makes them a great piece of furniture is the ergonomic design.
The design lets them mould to your body, helping to prevent back pain. A comfy seat and a glass of wine – a match made in heaven!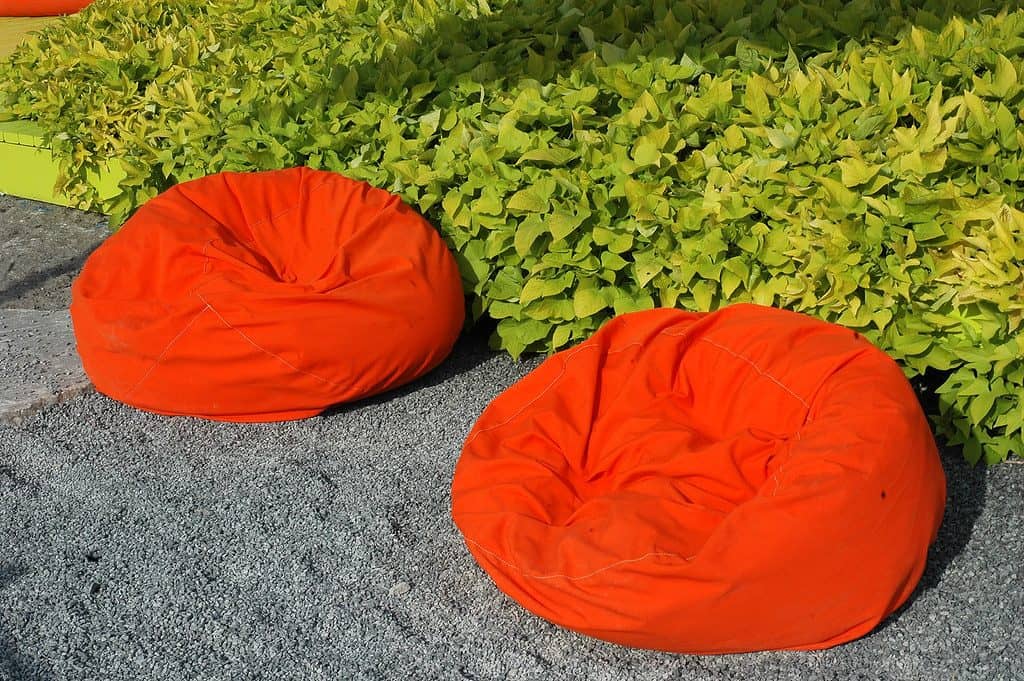 12. DIY end table with built-in cooler
If you have sun loungers, it's only natural to have a table to sit between them. For one, sun lounging is thirsty work.
This DIY end table is not your ordinary patio table; it comes with a built-in cooler! Fill the tub with ice and beverages, and you have a sturdy surface for them.
13. Lounge on a daybed
Complete your deck furniture arrangement with an all-weather daybed or two. Daybeds look stylish on patios, rooftops, by poolsides, and more!
For added shade and privacy, fix four posts and hang sheer curtains.
14. Build-in hammock hangout spot
Equip your sun deck with a built-in hammock, like this creative woven rope hammock. Alternatively, you can hang one anywhere around your yard – use a hammock on a stand for easy placement.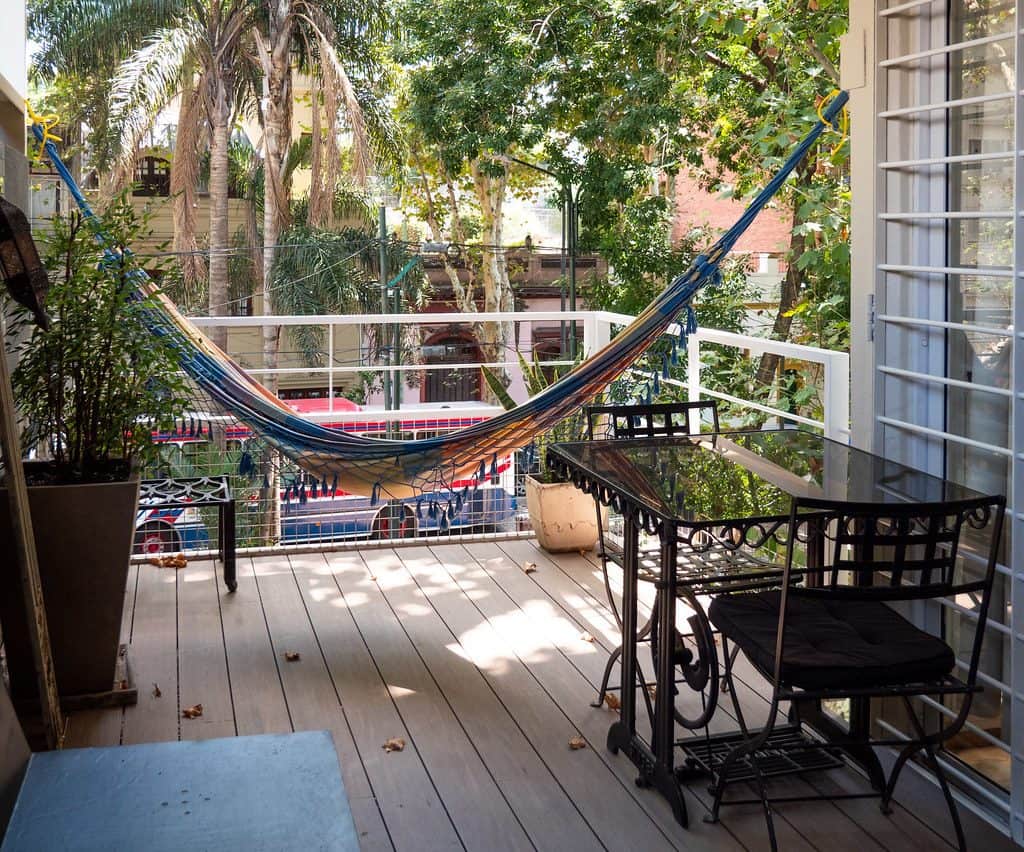 15. Entryway seating area
Decks can also serve as an entrance into your home. Warm it up by creating a cosy living room atmosphere with a sofa set. Add interior touches like a coffee table and decorative plants. Add a rug to tie the entire indoor-outdoor look together.
16. Relax on Adirondack rocking chairs
Adirondack rocking chairs give you the best lounging experience. They offer the best porch seat where you can enjoy the morning view while you slowly rock.
This teak rocking chair can also take on those sunny afternoons in comfort.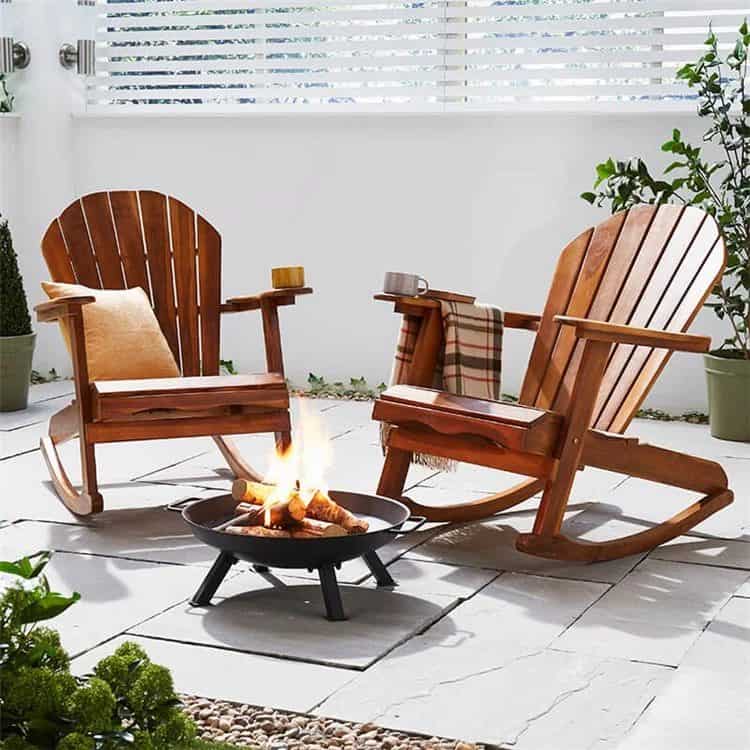 17. Shade in style with an umbrella
Although trees make excellent natural shade, sometimes you need a dedicated umbrella. Especially as the sun moves, a patio tilt umbrella can shield you from the harsh UV rays.
Opt for a garden parasol with an easy-to-adjust crank handle with a tilt function.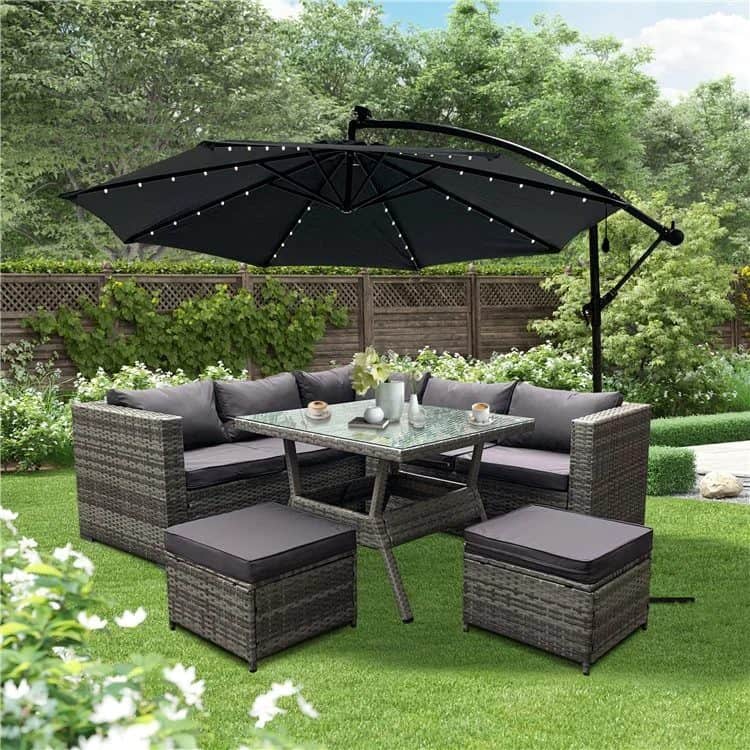 18. Add a cube dining set
Cube-type furniture is designed to fit together into a cube form in a space-saving manner. If you have a small garden decking and want to host a mini get-together, this makes a great dining set choice.
Here, the 8-seater rattan cube is stylish and compact, featuring four armchairs and four stools.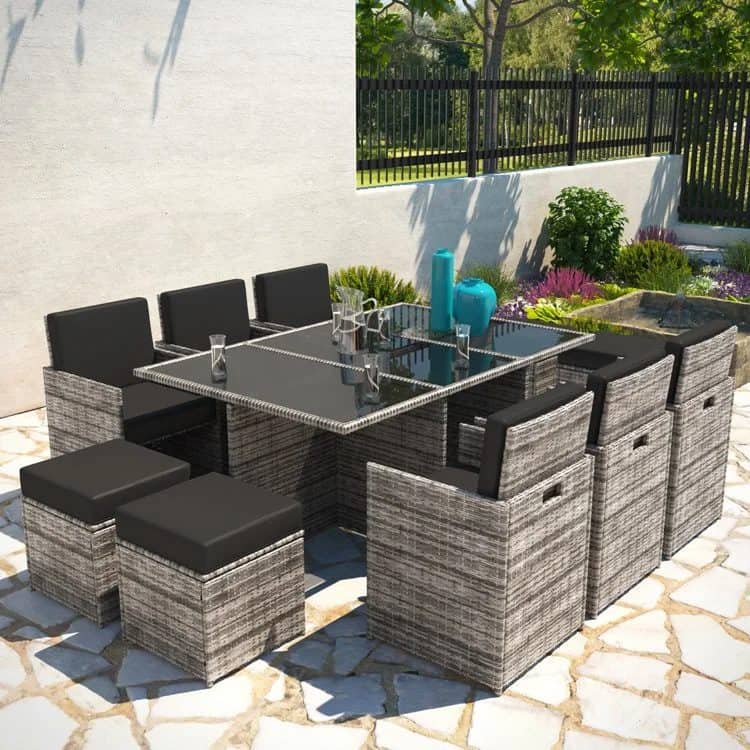 19. A garden bar countertop
A tropical-looking bar top like this will complete the look of your summery garden pub set up. Here, the patio bar is adjacent to the outdoor kitchen.
20. Dine on cast aluminium furniture
Besides wooden and rattan, aluminium furniture is among the favoured patio pieces in the UK. The gentle curve of the seats adds a subtle touch of vintage elegance.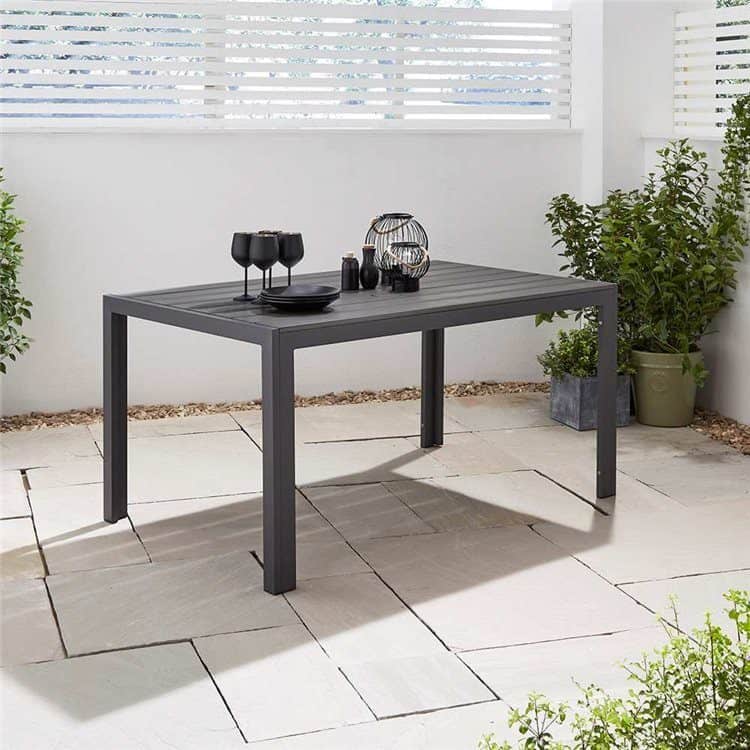 21. Enjoy a warm soak in an outdoor hot tub
Who wouldn't admire this beauty? The entire area looks warm, inviting and relaxing – and the outdoor hot tub is an added bonus! The covered garden deck also features plants and a good view of the trees from the glass window.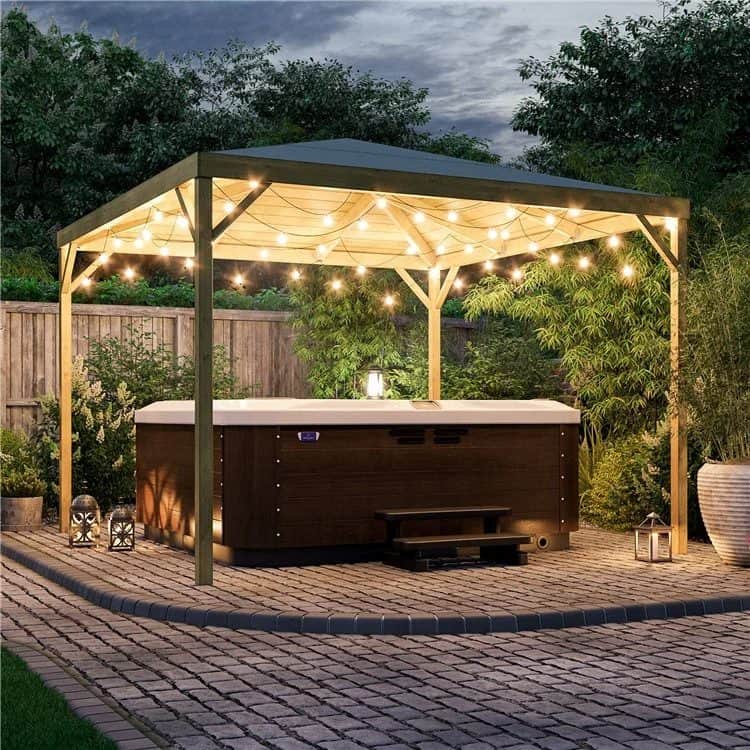 22. Less is more
Perfect for a minimalist garden setting, stackable chairs are a simple seating option. As you'd expect, they can be stacked for easy storage, offering up more floor space.
Couple that with a cover, and you're in good shape all winter.
23. Mix and match 
There's no such thing as one size fits all when it comes to outdoor furniture ideas. The mix-and-match approach can add visual interest to your deck.
Mix upright wooden chairs, reclined lounging chairs, and weather-resistant padded furniture. Use neutral colours to create a relaxed look without it feeling all over the place.
24. Include a stone gas fire pit into the mix
A stone gas fire pit is a safe and secure idea for decks. It brings comfort and warmth to everyone visiting the place while manifesting safety.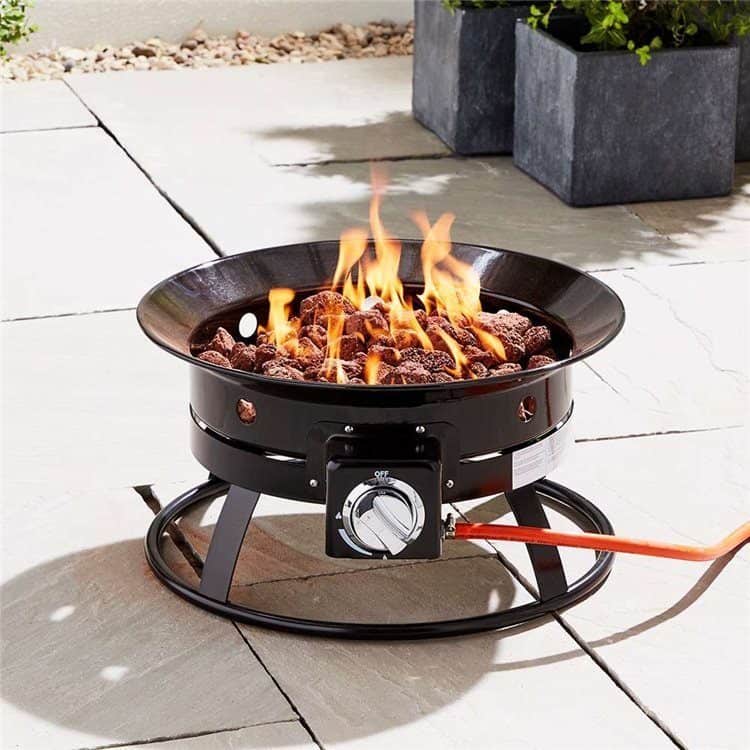 25. Add a foosball table for extra fun
Even a modest furniture arrangement can create a fun multi-purpose entertainment space. Add a foosball table and a white screen to have a designated area for fun activities and outdoor movies.
The secret to creating an inviting entertainment space is using easy-to-rearrange furniture.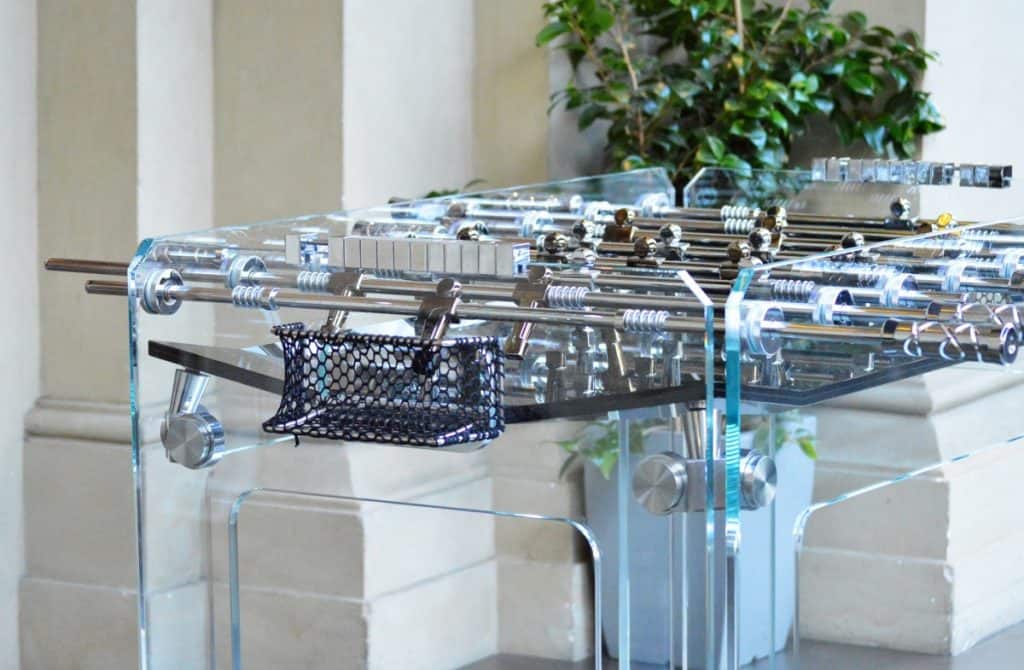 26. Get a bar-height dining set
A bar-height dining set is perfect for a small patio deck. Some models come with foldable chairs that are easy to set to the side when you want more floor space.
If you value good quality material, go for a mix of aluminium and Polywood, like this garden table and stool set!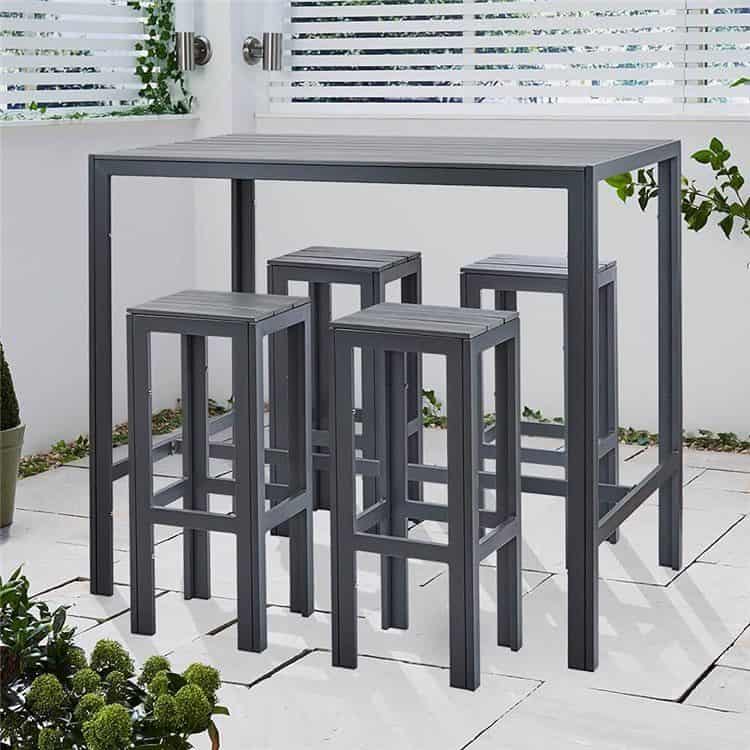 27. Outdoor pouffes all the way
Pouffes offers the best footrest, handy seat or table for your outdoor living space. Some even double as ottomans, combining ultimate comfort and utility.
Opt for those with water-resistant polyester fabrics for year-round use.
28. Deck out the bar cart
Roll out all the stops at your next alfresco event with a timeless bar cart like this! Choose a unit with good storage for making your go-to cocktails and practical tools to whip up orders in a pinch.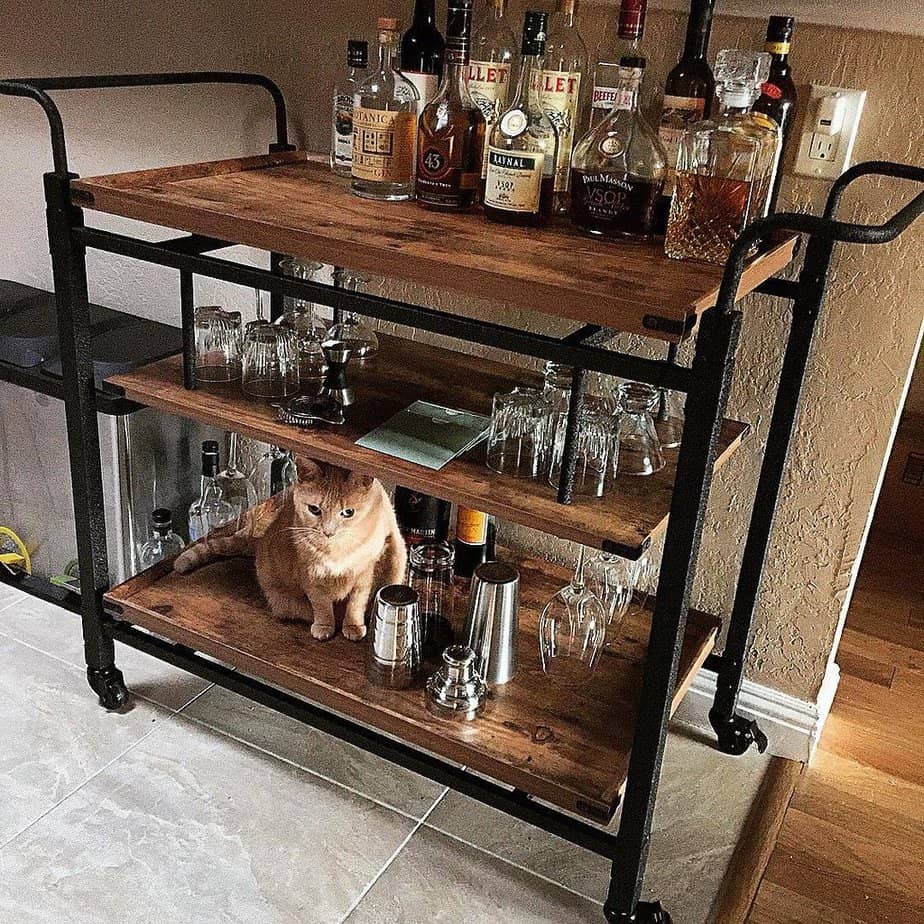 29. Round wooden picnic table
Eat brunch, play board games or share drinks with friends around this round picnic table. Consider two sets if you have a large deck space, particularly if you host big backyard parties.
30. Snooze on a reclining lounge chair
Catch some rays with a reclining lounge chair! It's somewhere between a chair and a bed, like a sun lounger. Depending on the design and size, it may also function like a daybed.
Round-up
Too much furniture can clutter up any space. But too little and the area might appear sparse or uninviting. And deck furniture arranging can seem overwhelming at first.
But the right inspiration can take your deck from bland to grand. Take a cue from these deck furniture ideas! They'll serve as a great way to impress guests and create a more comfortable outdoor living space.
Shop Garden Furniture