Garden decking is the perfect way to add that extra bit of life to your garden, regardless of how much room you have or what you want to use the space for. 
At an affordable price, and with a range of uses, wooden decking is ideal if you want to revolutionise your outdoor space. They also work great if you're simply looking to add that finishing touch to your garden masterpiece.
Whatever ideas you have in mind, there's nothing you can't achieve with a few deck boards, some must-have decking tools, and a little bit of inspiration.
Let's take a look!
Affordability
Wooden boards are renowned for their affordability, meaning you can fulfil your decking dreams even with a tight budget. 
A natural wood deck kit is the perfect thing to use if you want to build your deck design on a budget – and it's much cheaper than patio stones too. Of all the types of decking materials, wood is the best for building your perfect deck.
While they may be cheap to buy, wooden boards aren't pushovers, especially if they're pressure treated. Pressure-treated boards have been treated to increase their resistance to rot and insect damage.
This means that they will be able to maintain their great appearance for longer, while still being cost-effective.
A Deck For Any Shape Or Size
Using wood gives you the added advantage of being able to easily adapt and cut the boards. This lets you fit the size and shape you want, something you just can't do with plastic, metal, or composite decking.
This gives you the benefit of being able to shape your wooden deck to a length, height, and size that fits you and your garden. Plus, you get the added accomplishment of completing your own decking project!
From a small patio deck in an urban garden to a long-stretching wooden deck in a large rural space, there really is no limit to where your deck can go.
Size is no issue with wooden decking either – it will fit anywhere!
Level Out Your Garden Space
If you have a steep garden with uneven ground or one that simply seems too flat, decking can help you change the space to suit you better.
Change things up by using decking and wooden steps, and easily turn a rough garden into one which you can use as you please. You could even add extra decks for an inventive effect and easy access.
A Huge Number Of Uses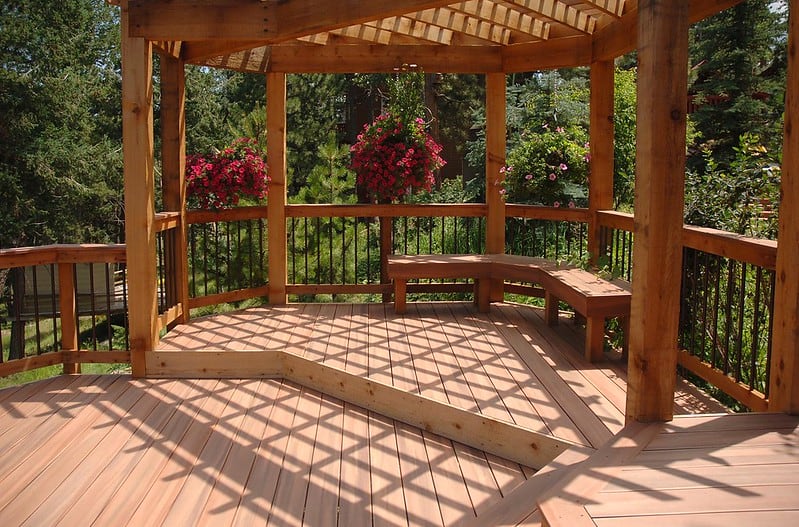 The true merit of wooden decking is the wide range of uses it has – so many that it is almost impossible to list them all at once. Let's run through some of the best and most garden decking ideas:
Indoor room extension
If you have a room that overlooks your garden, using decking to extend it outside is a perfect way to make a combined indoor and outdoor space. 
Simply lay wooden decking next to the room, matching the height of the floor and doors, and extend it out into your garden as far as you want.
Outdoor dining area
Perfect for those summer night meals with friends and family, decking boards provide the perfect base for when you want to eat outside. 
Whether you prefer a small, intimate table setting, or one big enough to host parties, garden decking can and will suit your dining needs. You just need to choose the right table!
BBQ zone
Fancy yourself a master of the grill, but don't have a place to put your BBQ? Look no further than a decking kit!
Stable and sturdy, timber decking can provide the perfect base for your BBQ while giving you space for all the decking accessories you want to surround it with. Just make sure you keep hot flames or embers away from the boards, as the wood will be flammable.
Cosy firepit
A fire pit set can be the perfect place to gather around when the sun goes down, and there is no better place to set one up than on your own piece of wooden decking.
With either a fire pit table, or an enclosed fire pit bowl, you can create the perfect place to keep warm even on cold nights. As long as there is no contact between fire or any hot surfaces and the wooden decking, combining it with a fire pit is completely safe.
Shed platform
Are you in desperate need of a shed, but don't have anywhere level to put it? Garden decking is the ideal solution. 
Easy to assemble and adaptable to fit the size and shape of your shed or workshop, a deck provides the ideal base to support your shed at a low cost. Make sure you get strong, pressure-treated decking boards to hold the weight of your shed and everything in it.
Shaded haven
If you're seeking some shade in a sunny garden, a shady parasol and a garden deck can give you space to stretch out in a reclining chair or Rattan sun lounger. Even better, this idea can suit all kinds of gardens and budgets. You'll be able to soak up the sun in your own secluded spot!
Plant Garden
Deck boards can be the perfect way to break up and organise your own plant garden. Whether you just want some small succulent plants or big banks of colourful flowers, decking lets you to build a garden design that suits your ideas and your space.#
Place the beds alongside the decking, and make a deck path that is surrounded on both sides by your selection of flowers and plants. 
Summerhouse area
Whether you already have a luxurious summerhouse, or you're looking to improve the one you already have, garden decking is a great pairing for your outdoor retreat.
Use the deck as a base, and extend it out from the front door of the summerhouse to create a comfy patio area you can sit and relax in. Equip it with a decking balustrade to give it that extra bit of flair. Or, alternatively, use deck boards to make a play area for the kids so you can relax inside!
Frame a water feature
If you're considering getting a water feature in your garden, a garden deck can provide a smart-looking border for it. Garden decking has the added advantage of being flat, too, which is essential for many water features.
Either fit your deck around an existing feature or build and fit a completely new one – the choice is yours!
And many more!
The ideas don't stop there! Whatever you want to use your garden for, decking can help you achieve it. Deck your whole garden, or just a small part of it – whatever suits your needs. There really are an unlimited number of garden decking ideas out there!
Don't Worry About Slip Ups
Wooden decking may have a reputation for being slippy when wet due to the qualities of the material, but this is an issue that can be easily fixed. Chemical non-slip treatments like Otrawol provide a grippy overlay to the wood, meaning that you can walk over it even when the decking is soaked.
Simply apply one of these treatments to your deck, and you won't have to tread lightly when the rain pours!
The Round Up
Wooden decking has so many advantages, it's almost impossible to look past it if you want to reinvent your garden or add that little something that perks it up. Let's take a look at all those benefits once more time:
Affordability:

Wooden decking is much cheaper than its counterparts, while still being of good quality and durable. 
Adaptability:

With some simple tools, hardwood decking boards can be easily cut and chopped to any size you desire. This makes them perfect if you don't have much space to work with, or if you have some unique design ideas in mind!
Level ground:

If you have an uneven garden, or you want to add a flat surface somewhere, a deck can solve the problem. Building decking and stairs is an attractive and easy way to provide access to a higher level of your garden.
Unlimited uses:

Whether you need to provide a base for a shed or summerhouse, or want a new space to relax, there really is nothing decking can't do. Water features, fire pits, shady havens – for your outdoor living spaces, don't look anywhere else but a garden deck!
Hard to slip up:

Applying a simple non-slip treatment to your decking boards is an effective and effortless way to take the risk out of wet boards. This ensures you can use your garden whatever the weather!
There are so many benefits to garden decking, it's impossible to ignore. Whether you want to relax, decorate, or change the make-up of your garden, there is nothing a deck can't do.
If you're interested in assembling a deck of your own, then don't hesitate! Shop our wooden decking materials and garden furniture using the button below!
Shop Decking Board
FAQs
Even if you're now convinced decking is right for you, you might still have some questions. Below, we'll try to answer some of your most-asked queries: