Like garages for cars, bikes need somewhere safe when not in use. Unless you want to lose your two wheels to theft or have them cluttering up the house, ensure they're safe and secure.
The right bike storage ideas can save you a heap of trouble. Security and practicality play an important role, so it's worth taking the time.
Your choice will also depend on the number of bikes you wish to store. Luckily for you, we'll cover all the best bike storage ideas for you to consider.
1. Keep them safe in a bike shed
Let a bike storage shed do the job, keeping your bicycles safe and secure no matter the weather. Metal storage, for one, can take a beating, such as during heavy snowfall and driving rain.
Take this Lotus 6×6 Bike Store with strong and attractive galvanised steel walls.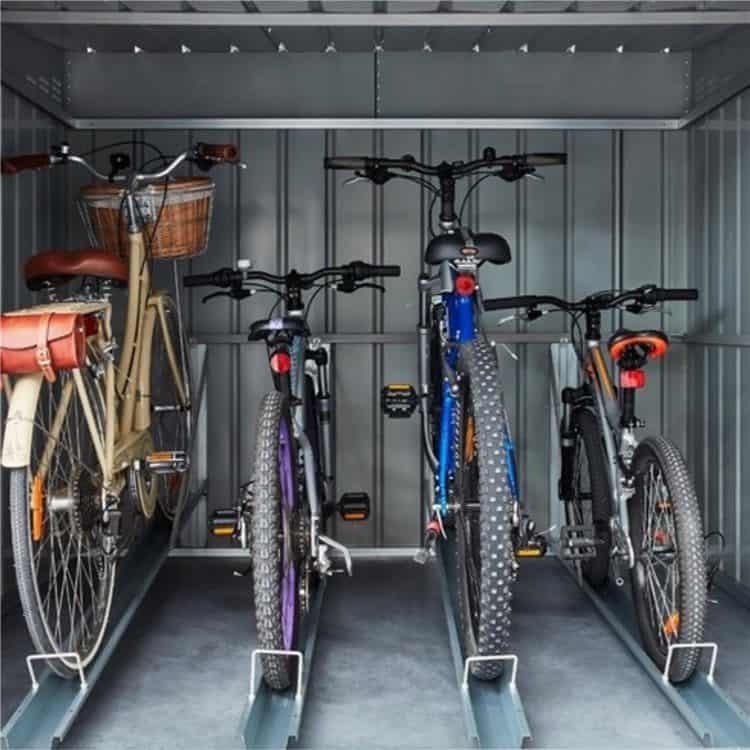 2. One with a green roof
This concept makes a positive environmental impact, thanks to the plant-covered roof. It also protects the bike store from freezing temperatures and sun damage. A great bespoke design worth trying.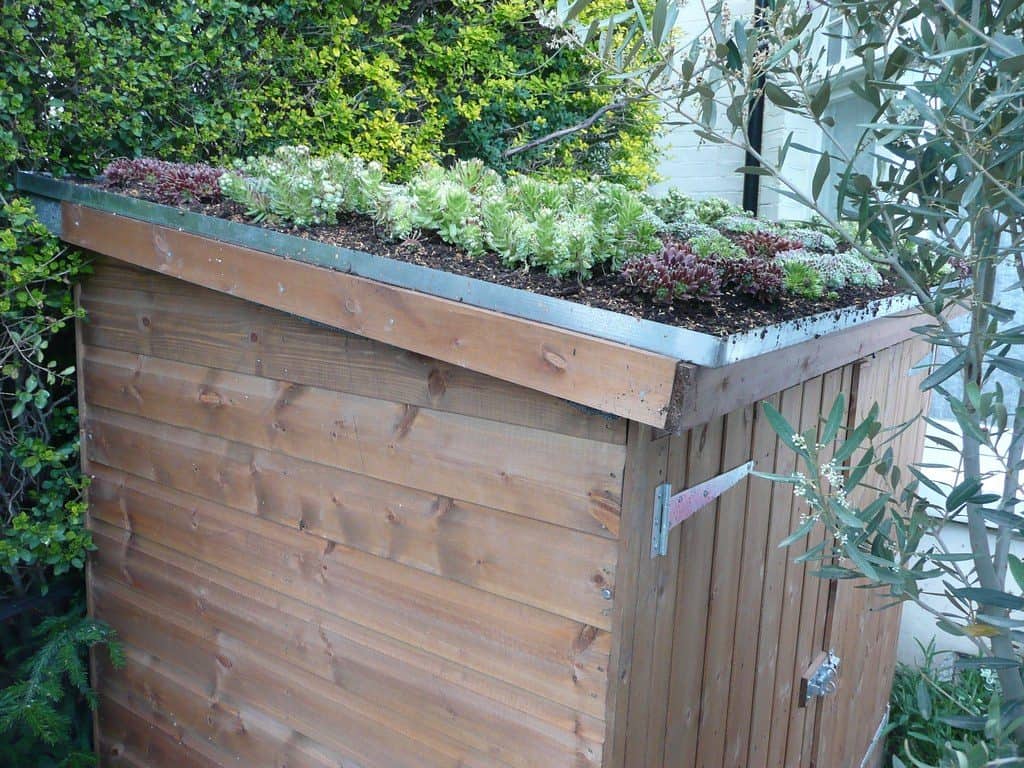 3. Vertical wall mount approach
A garage that lacks floor space can still be of use for storing bikes. The secret is to install vertical wall mounts, where the frame is hung vertically. Note that enough floor-to-ceiling space is required.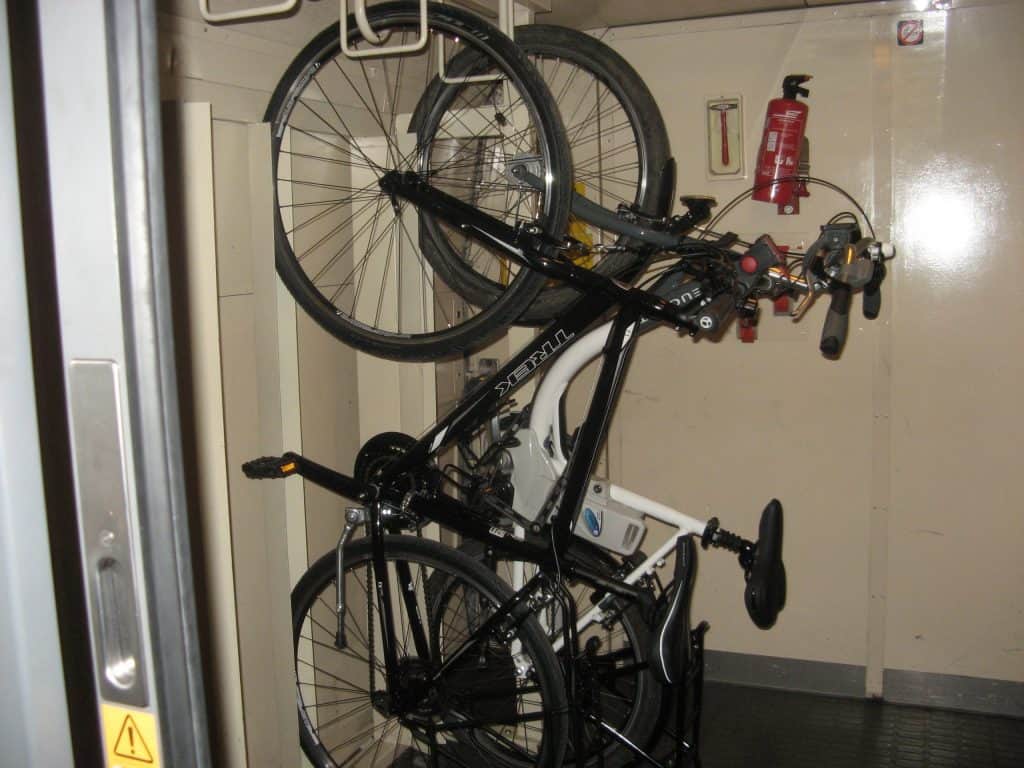 4. On the ceiling
Ceiling racks can clear out the floor space in a garage or basement while the bikes dangle from above. With this, you can park your car as usual without bicycles getting your way.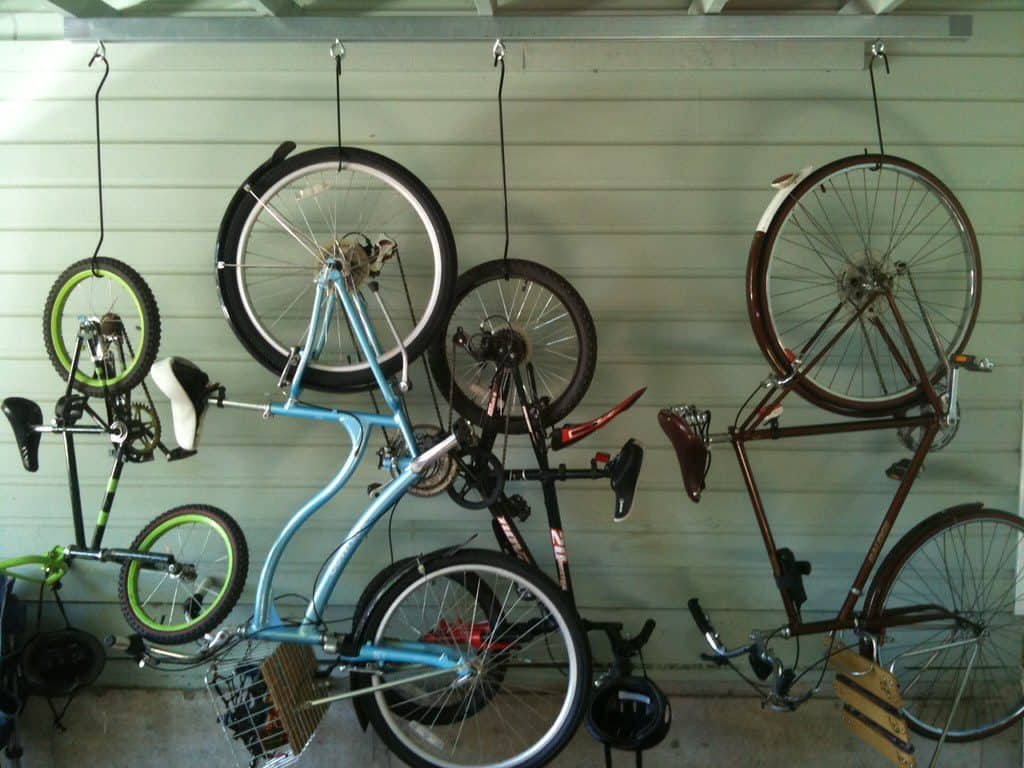 5. Wooden makes a great storage material
Wood is relatively cheap, strong, easy to work with and looks fantastic in a garden setting. A well-kept wooden shed also ensures to provide bikes with great protection from the weather.
Have a look at the BillyOh Mini Keeper Overlap Apex Bike Store.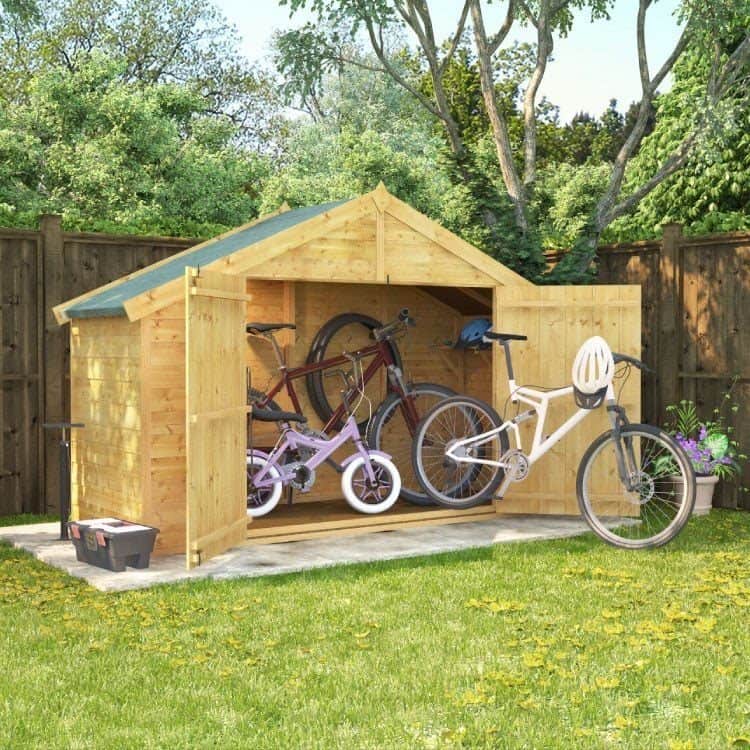 6. Go freestanding
A freestanding rack can store two bikes horizontally without causing any wall damage. It can also easily be moved anytime, ideal for indoor and garage use.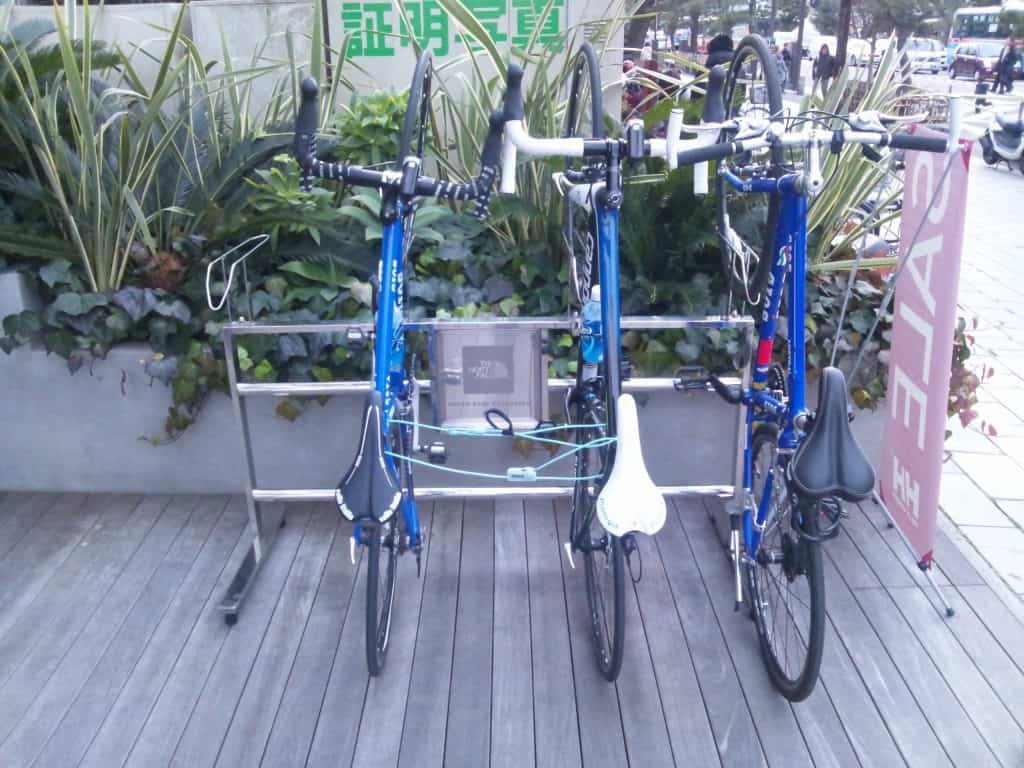 7. Storage pole alternative
For a less obtrusive alternative to the freestanding rack, consider a storage pole. Make sure the pole is supported with two rubber ends from floor to ceiling.
The pole should also be snugged and stable before mounting the bikes on the hooks.
8. DIY wooden bike hanger
Oak wood is easier to work with, robust, and is the perfect material for this DIY project! Whether it is a bike hanger, bike hook, or wall mount, you can do it yourself!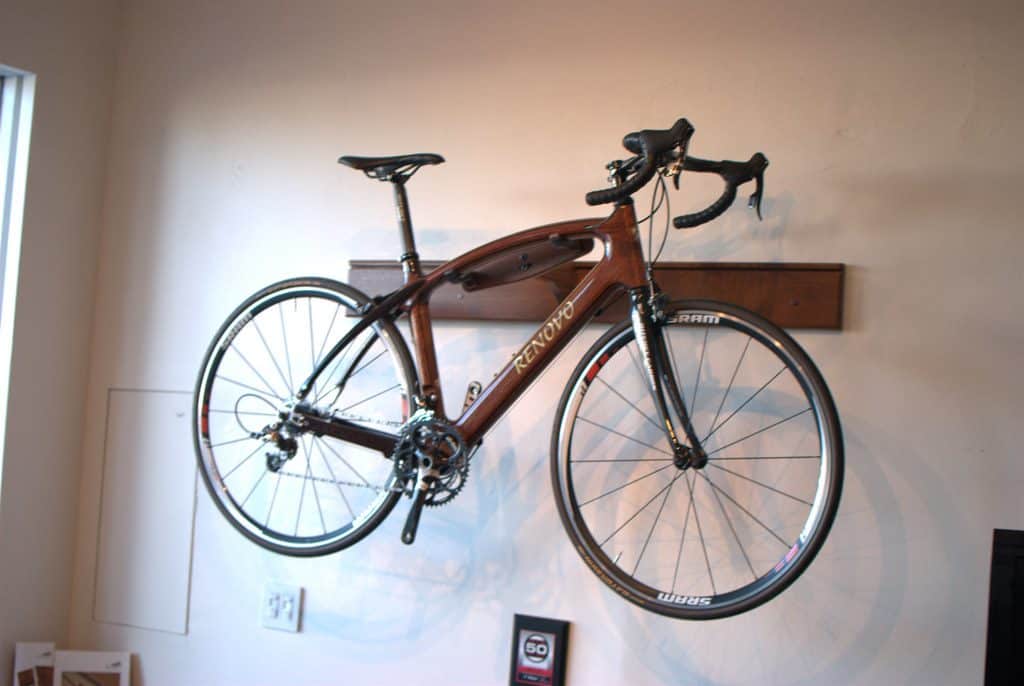 9. Invest in a motorbike store
This storage solution will best meet your needs if you own two or more bicycles and/or a motorbike. This motorbike shed offers compact, convenient storage with enough space to store helmets and tools.
The extra security offered by the wide-opening and lockable doors ensure safe storage.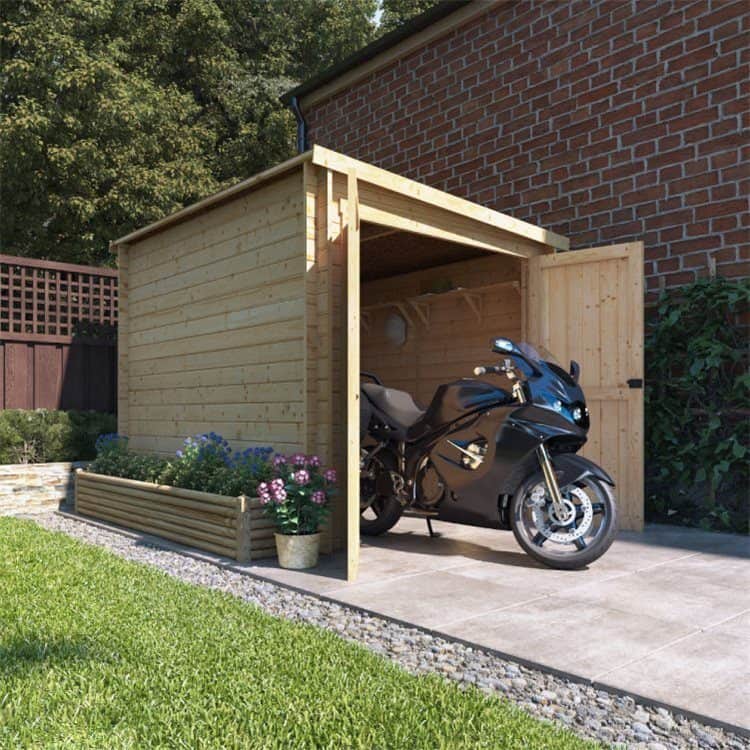 10. Cool and space-efficient using copper
To recreate this space-saving hanging rack, you'll need more than just copper pipes. Complete the important materials with copper T fittings, felt, steel wool and epoxy.
11. The power of two dowels
This affordable and quick solution involves attaching two large dowels to the wall. A minimal and bespoke way to hold the frame of your bicycle. Best for lightweight bikes.
12. Made from sturdy PVC
A PVC rack is another cheap and easy-to-build bike storage solution. Simply take a large PVC pipe and cut it down at an angle using a cutting tool like a handsaw.
Smooth down the edges with sandpaper, so it doesn't scratch your bike, then attach to the wall.
13. Hang them upside down with hooks
For this, you'll need not just ordinary hooks but heavy-duty ones. Opt for galvanised steel with a soft, non-marring, non-slip coated finish. Install them on the ceiling, and you're good to go!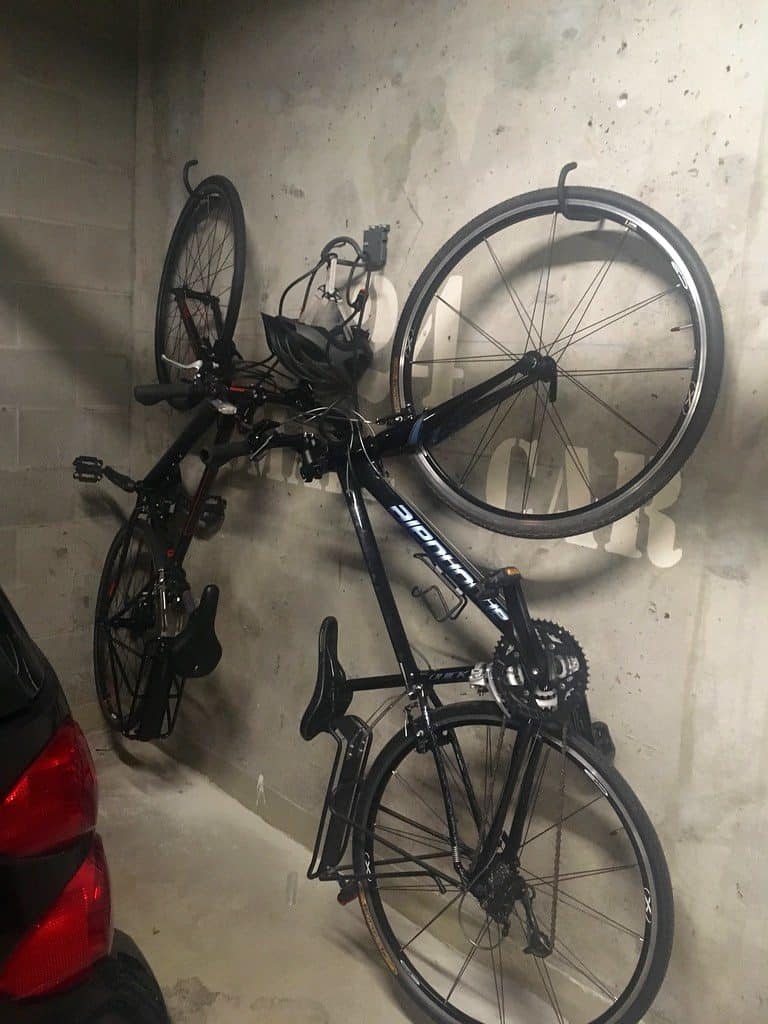 14. Pallet rack with storage
You only need one piece of plywood (or pallet) for this DIY bike rack. Cut the wooden piece on the table saw into three parts that will become the top, bottom, and all the dividers.
15. Multipurpose wall pallet storage
You can use pallets in many ways for bike storage ideas. If you want a multipurpose rack, take a cue from this hanging wall pallet storage. Attach hooks to support your bike, and add a few shelving units for books!
16. Consider a gravity stand
Most gravity stand bikes are made of industrial-grade powder-coated steel. On top of its promising quality, the look is sleek and modern and an ultimate floor space-saver.
Lean the rack against a wall, and gravity will keep your bikes secured.
17. Fold-away wooden bike holder
When not in use, this wooden bike holder can be easily folded away so that it doesn't take up any space or ruin the interior. It fits perfectly in homes, garages, or sheds that have wooden structures or walls.
When opened, the small shelf is great for storing a helmet and bike locks.
18. State-of-the-art hanger
This exclusive oak-made bike hanger is a work of art itself. Its aesthetic feel can complement the looks of your bicycle and your home's interior.
An excellent investment and is guaranteed to make you proud every time guests visit.
19. Floor parking stand
This type of bike rack is known for its quick and easy "push-in" system rather than lifting it. It offers extra stability making it an excellent option for heavier mountain bikes. Also, it works wonders for a variety of bike styles, as seen in the photo.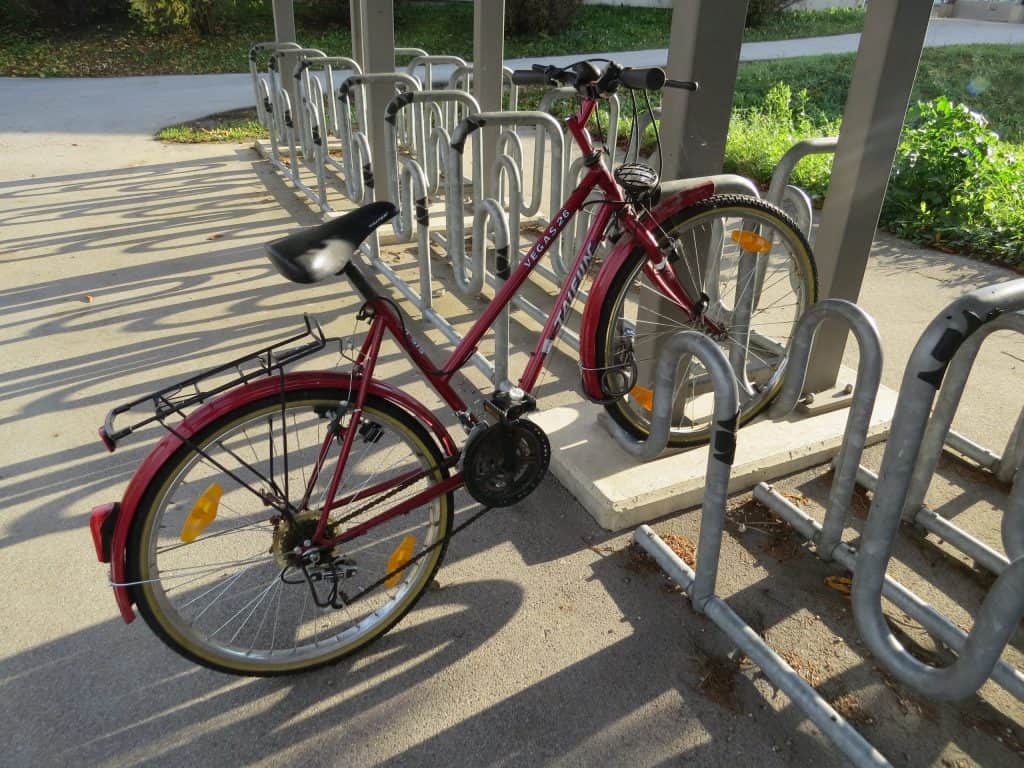 20. The pulley method
When there's nowhere to go with your bike but up, a pulley system is worth trying. It takes up your two wheels in the air easily and safely. Best used in the garage or shed with ceilings up to 12 feet.
21. Vertically and commercially-designed
These vertical storage hang bikes vertically on a wall or a freestanding mount. Consider the total vertical height of your space, bike length, and the ground and lifting clearance.
22. A shelf and hooks bike rack
A DIY shelf can extend across the full length of your garage, holding up to 12 bikes. Use heavy-duty hooks and take advantage of the shelf above for storing other items.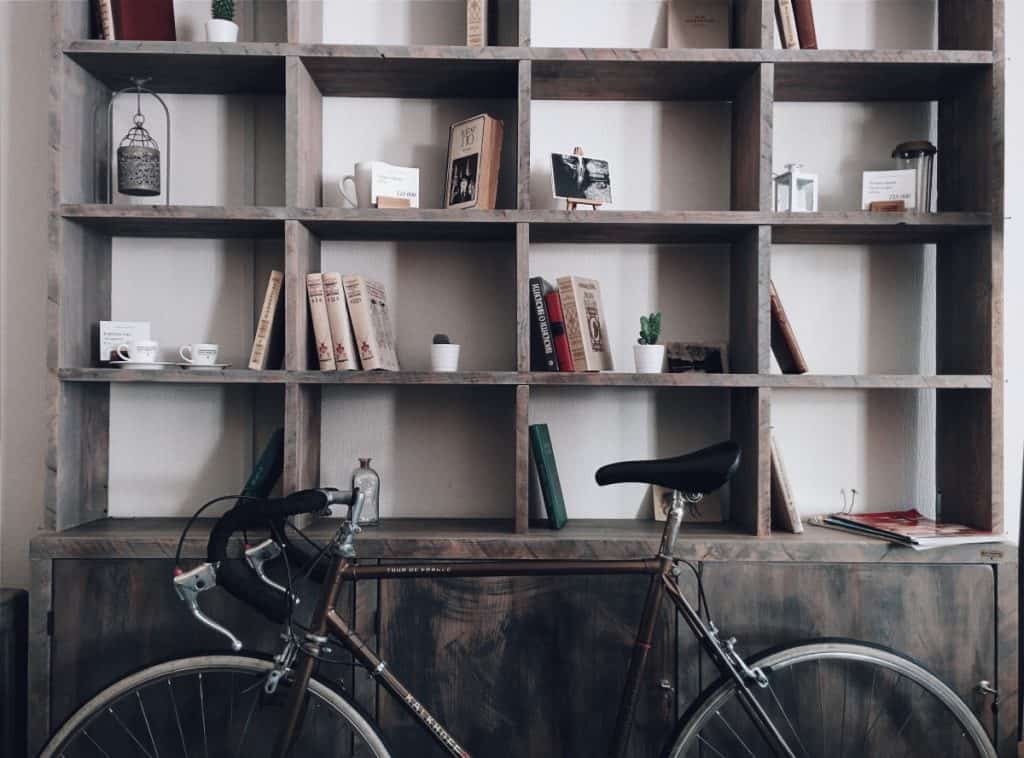 23. Classic steady rack
By hanging on your wall, this bicycle rack keeps your two-wheeler off the ground. Plus, a hanging rack helps keep your tires inflated and makes it less likely for your bicycle to fall over. It's easier to get your bike off the wall, too.
24. Make use of the old bicycle parts
These old handlebars and seat parts make a great faux deer antler mount! You'll also need a wooden plaque as the base for the rack.
The final look serves a double purpose: one for aesthetics and another for keeping the bike out of your way!
25. Cost-effective exercise bike stand
This DIY stationary bike stand is a money-saver and easy to build! Plus, the smartest way to make use of the bike for exercising while storing it away.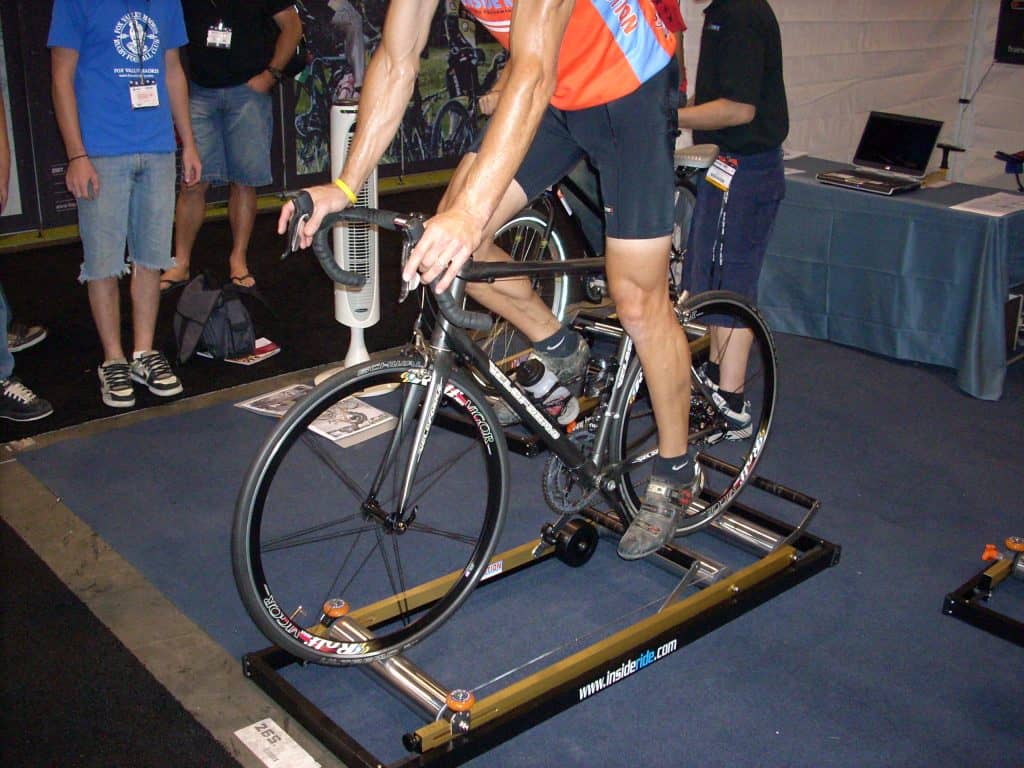 26. Suspended on a shelf bracket
Covered with cork, a simple shelf bracket can do the job too. These brackets are covered with thick pieces of cork and then sealed to keep them clean and intact.
27. From a tree trunk
Transform an old trunk into a cool, functional bike rack! With a bit of labour, you can recreate this innovative bike storage idea in less than an hour (with a ready-cut trunk). It may take some floor space, so it's best to put it outdoors.
28. Bike cover alternative
Thinking of storing your bikes outdoors? Bike storage idea #27 can keep them in one place, but you also need to put protection against the sun and elements.
A bike cover works wonders! Ensure to install a ground anchor for added security.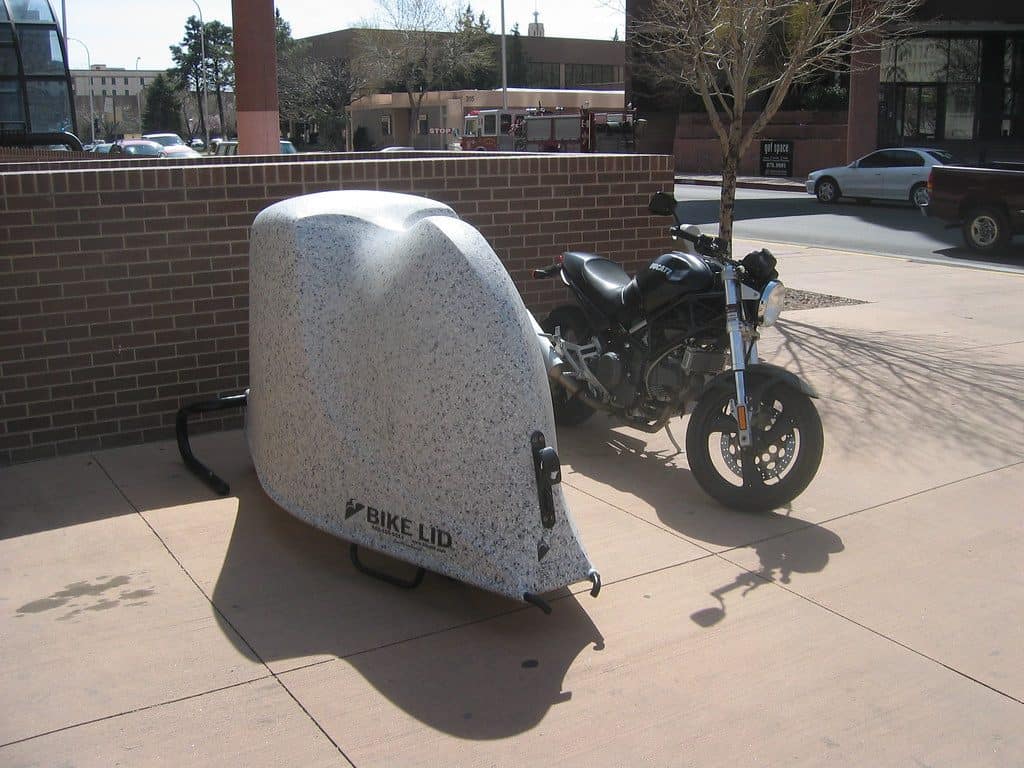 29. DIY cedar bike storage
Using cedar wood, you can build a safe place to keep your kid's bike and helmets in one place for a clutter-free garage. The design is more like lean-to-shed storage, but you can always make adjustments to suit your needs.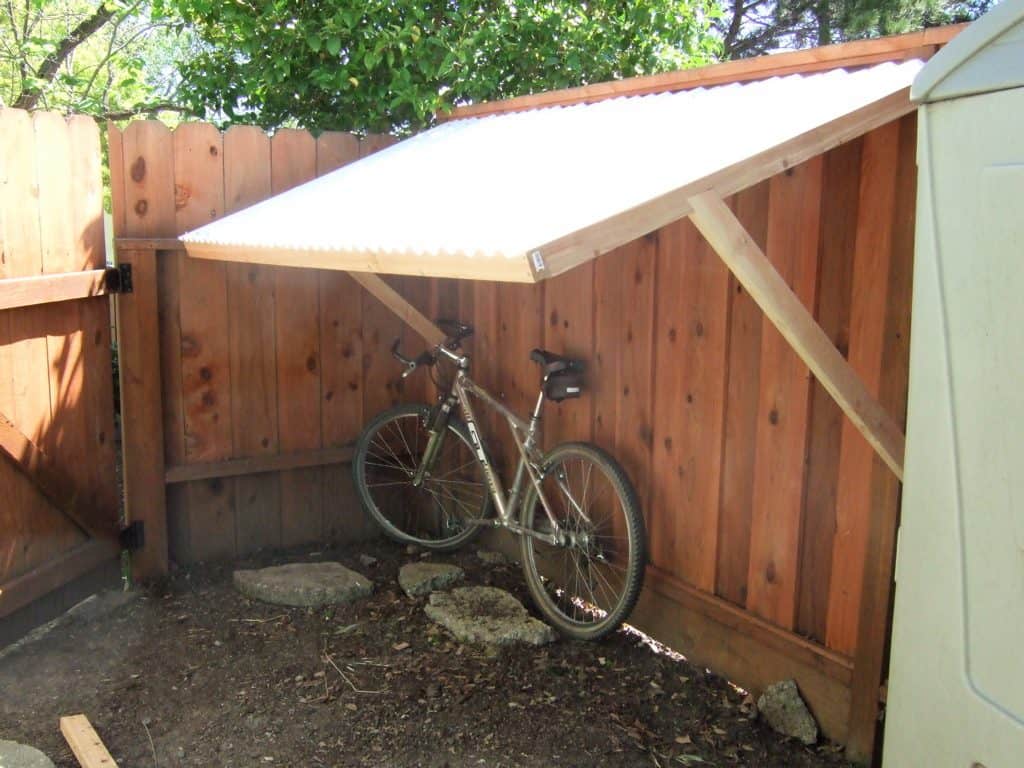 30. Hang them indoors
If you have enough wall space in your living room, you might want to consider hanging your bike indoors. A sturdy, wall-mounted rack with hooks can keep the bike suspended, adding a focal point to the space.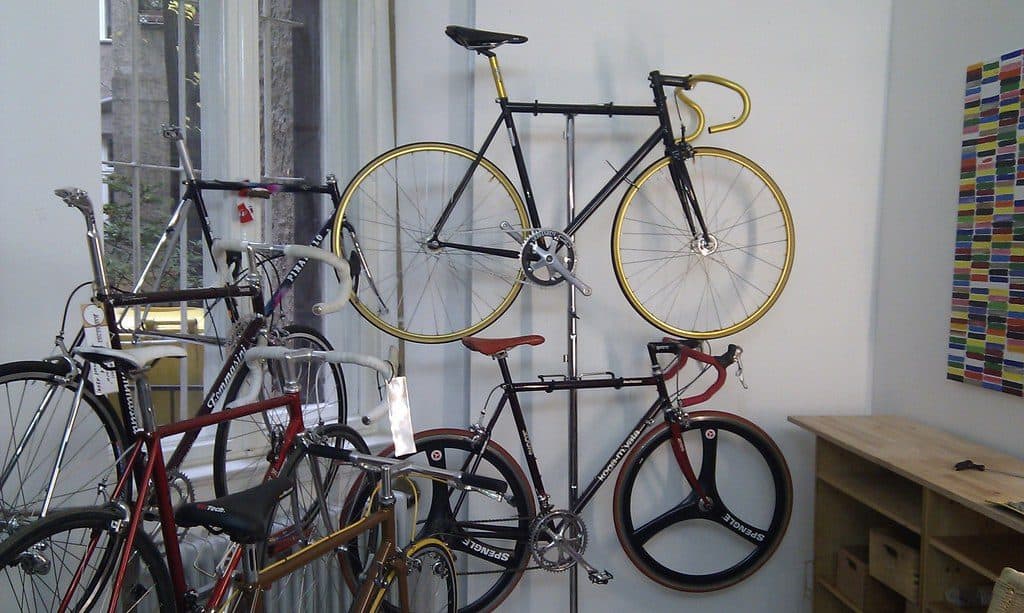 Bike Storage Ideas: Round-up
There are tons of bike storage ideas to make the most of whatever space you have. But an important factor is that your bikes should be secure, quick and easy to access.
If you're thinking of investing in a shed, think of the size and your space availability. The budget, security, durability and maintenance levels you want are also worth noting. Check out these best selling cheap units to get started!
With our list, we're confident you'll find something valuable you haven't considered!