Garden sheds are traditionally used for garden storage purposes. They're great for housing everything from tools to mowers and garden furniture. 
So how do you choose a storage shed that's good? What are the factors that make one storage shed better suited to your needs than another?

Well, we're going to help you answer that question – we've rounded up the best storage sheds we've got for 2021. Keep scrolling to see:
Pictures
Prices
Designs insights
Dimensions
and more
so you can pick the right garden storage shed today.
Best Storage Sheds (2021): Amazing Features and Benefits
Strong and Secure Tongue & Groove Cladding
Built using tongue and groove panels (although we also offer overlap models0, our best storage sheds are designed with security and stability in mind. These high-quality timber panels interlock, creating a smooth finish with a tight seal which both enhances the style and strength of our storage sheds.
With 11mm tongue and groove roofing and flooring as standard, your storage shed will be protected at all points of its thermal envelope. And for added security and insulation, our log cabin storage sheds start with 19mm cladding as standard with the option to upgrade to 28mm!
Tongue & Groove Roof Included
The roofs on our storage sheds are made using the same T&G technique as the rest of the storage unit, offering a secure and durable covering. The panels of the roof interlock to form a strong bond, preventing water ingress and anything that could ruin your storage shed's contents.

Complete with felt as standard, our storage sheds are designed to keep whatever they're holding dry and maintained.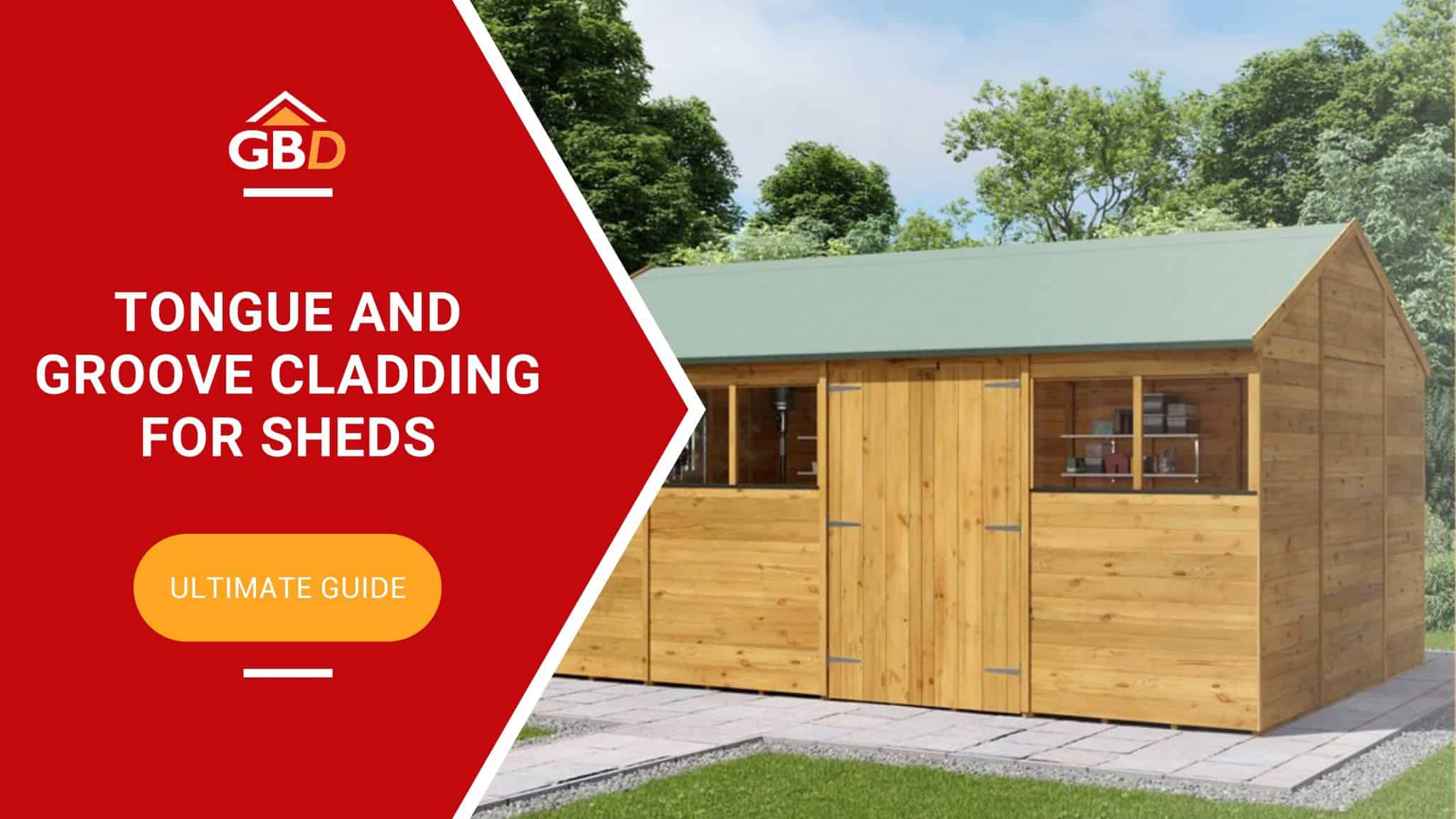 Tongue & Groove Flooring
Like our storage sheds roof, premium flooring options are also available including the option for thicker tongue and groove panels and pressure treatment.

Pressure Treated Options Available
By pressure treating timber in a vacuum, preservatives and chemicals penetrate much deeper. Because of this, your storage shed would be better protected and for longer against even the harshest of UK weather.
That's why we can offer our BillyOh 15-year guarantee against rot, decay, and insect infestation on all our pressure treated sheds (10 years on regular sheds).
Now we've got design insights out of the way, let's have a look at:
Garden Buildings Direct's Best Storage Sheds (2021)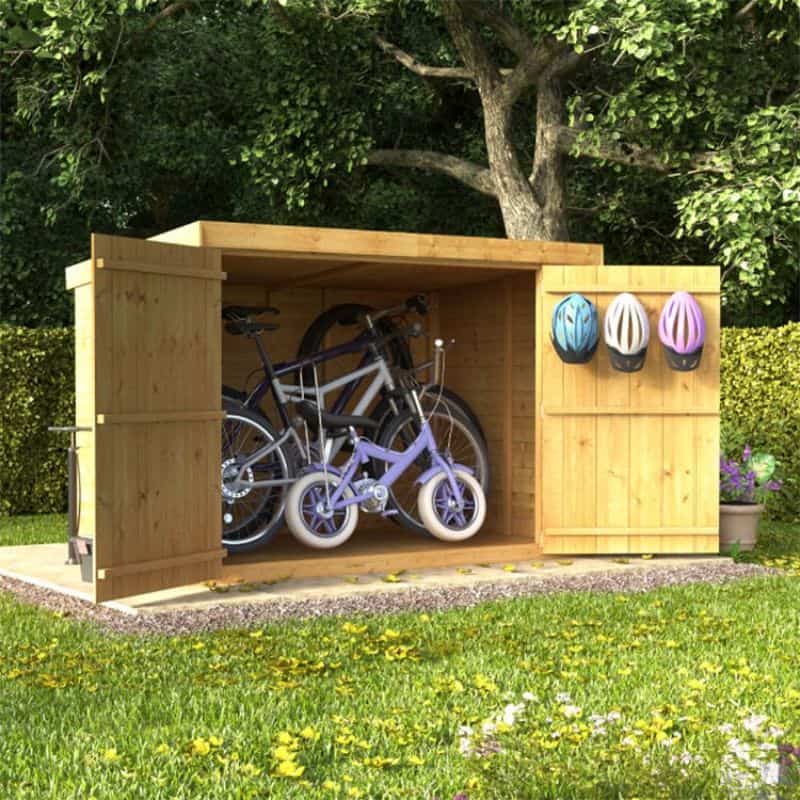 If you own a bike and use it on a daily basis; whether you cycle to work or school, or even on family days out, you'll want to make sure your bicycle is properly stored and protected against harsh weather conditions.
The BillyOh Pent Bike Store is a great outdoor storage solution. It guarantees to shelter and protect your bikes from the elements, keeping them in good working condition year-round! Available in a range of sizes, this storage shed is spacious enough for a variety of adult and children's bikes/accessories.
This type of shed isn't just limited to storing your bikes, however. You can also utilise it as storage for bulky gardening materials/tools, and even as housing for firewood.
So to de-clutter your garden, and keep your tools and bikes safe and out of sight, this pent storage shed is the perfect solution.
The Mini Master Pent Store Shed is available in:
| | |
| --- | --- |
| 6 x 3 T&G Pent Store | £373 |
| 6 x 4 T&G Pent Store | £407 |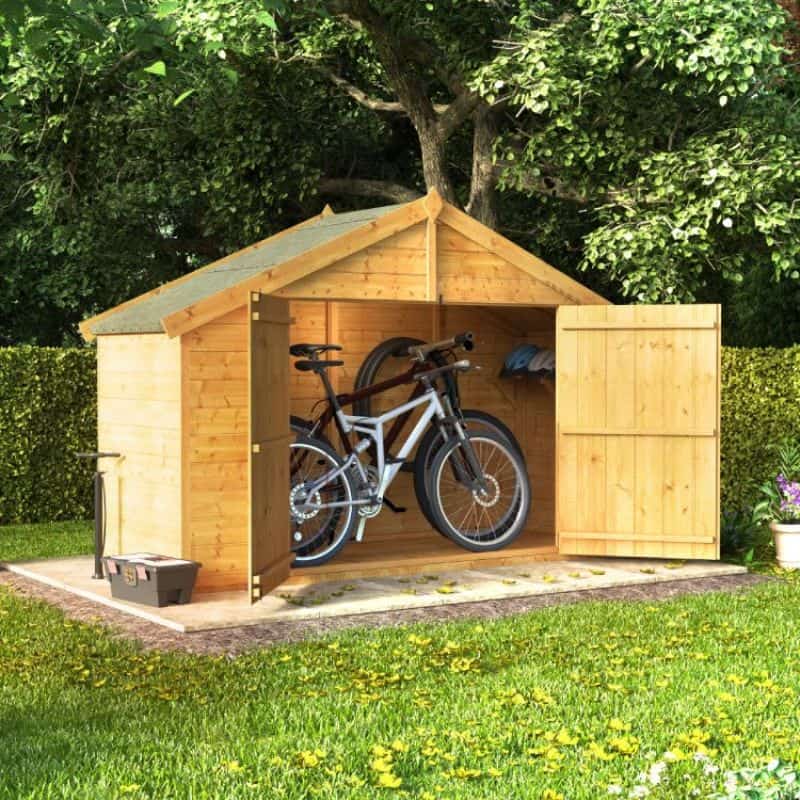 If you want a bike storage shed but with a little more headroom, or for larger bike models, then this superior storage unit – the BillyOh Mini Master apex bike shed, is a winner.
Perfect for bike storage, this versatile alls offers a great way to store more than just bikes. Unlike the pent roof bike store, this models' apex roof gives you extra room up top for storing things like helmets. It also comes in a larger base size for families with more bikes.
With central wide-opening double doors, you can not only get your bikes in and out easily but utilise extra space for hooks. And with customisable shelving options upon purchase, you can use every inch of your Mini Master bike store.
The Mini Master Tongue and Groove Apex Bike Store is available in:
| | |
| --- | --- |
| 3 X 6 T&G Apex Store | £369 |
| 4 x6 T&G Apex Store | £427 |
| 4 x 8 T&G Apex Store | £487 |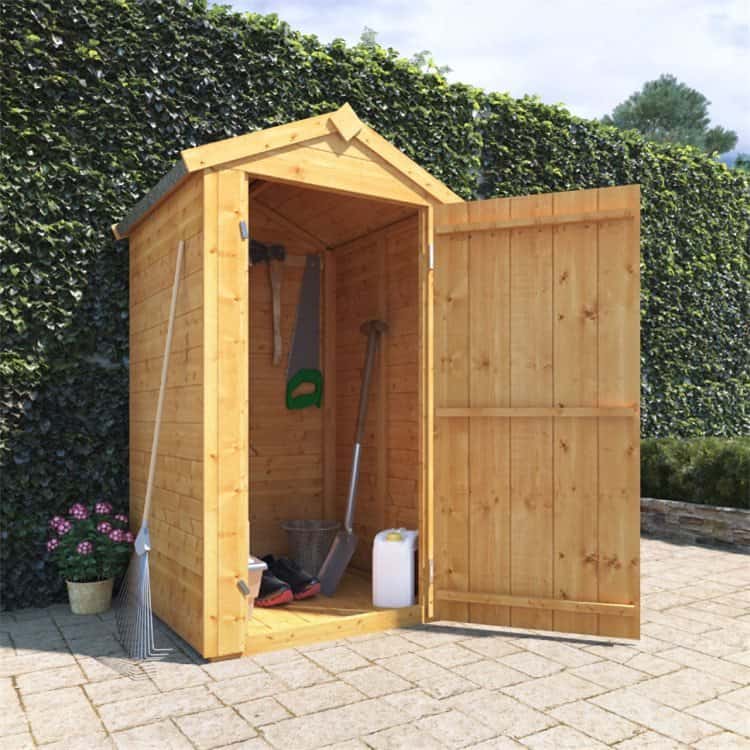 If you just have some garden tools or a bit of furniture to store, and you want something that's big on utility – look no further than the Master Tall store.
With ample vertical storage, this shed excels at keeping things like:
Rakes
Crowbars
Spades and shovels
Brooms
Upright, whilst still offering lots of usable space to install shelves and hooks for:
Saws
Hammers
Helmets
Lawn products
And more! So for a storage shed with a wide-opening door that let's you tidy up the garden, check out the Master Tall store – perfect for smaller gardens.
The BillyOh Master Tall store is available in:
If you liked our T&G pent bike store but wanted something a bit more budget-friendly, you'll love our Mini Keeper overlap store.
Whether you're an avid gardener in need of a bit more space, a woodsman who loves to store logs for the winter, or a family of cyclists, this is a fantastic storage solution. For those who need a quick fix without compromising on quality, this is it.

With rustic overlap cladding, this bike store has a traditional aesthetic that won't look out of place in your garden. Overlap cladding allows for great water runoff and ventilation as well as weather-resistance properties to keep your bikes safe.
With wide-opening double doors and options for thicker floor cladding, you can get even heavy-duty bikes and equipment in and store it safely. For peace of mind at an attractive price, you can't go wrong with the Mini Keeper Overlap.
The BillyOh Mini Keeper Overlap Pent Store Shed comes in a 6 x 3 model (£323)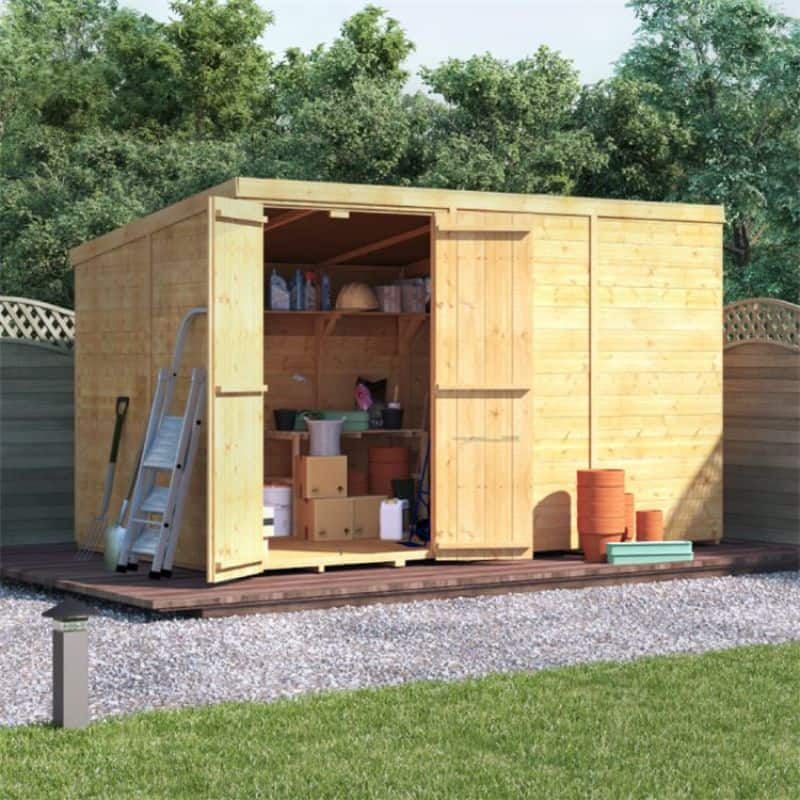 The BillyOh Master Pent Shed is the ideal garden storage solution for families with various needs. Boasting robust tongue and groove construction, the Master is weather-resistant, tightly sealed, and hard-wearing – perfect for storing valuable tools and anything that needs to kept dry.
Available in a range of sizes with customisable options for pressure treatment, as well as flooring and even paint colours – this storage shed is well-up to the task.
Suitable for even storing garden furniture and BBQs, the pent roof also offers a modern-looking aesthetic. The pent roof also allows for excellent runoff of both water and debris, which means less maintenance and pressure on your sturdy tongue and groove roof.
The The BillyOh Master Pent Shed is available in:
| | |
| --- | --- |
| 4 x 6 | £453 |
| 8 x 6 | £635 |
| 10 x 6 | £845 |
| 12 x 6 | £939 |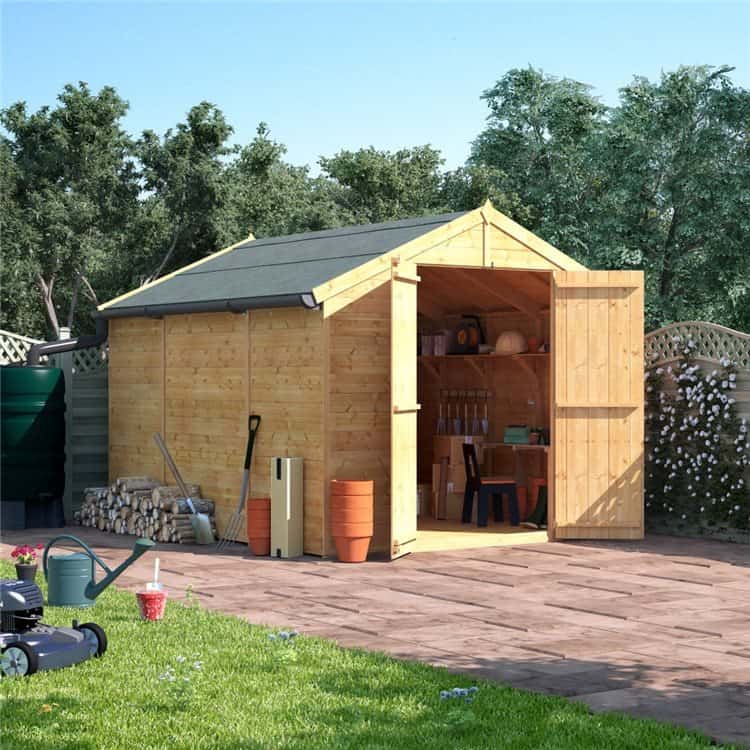 Available in a range of sizes suitable from small to large gardens (as well as budgets and needs!), the Master Apex is one of our most versatile storage sheds.
The Master Apex also comes in either windowed or windowless models. So, depending on whether you want to maximise on security and keep prying eyes away, or if you want some natural light to turn your storage shed into a DIY workshop; you can choose the one that suits you.
With tough double-framing and tear-resistant felt, the Master Apex is a seriously sturdy model. And with the high-quality European sourced timber we use in all our storage sheds, it's built to look good and last.
The BillyOh Master T&G Apex shed is available in:
| | |
| --- | --- |
| 4 x 6 | £469 |
| 8 x 6 | £605 |
| 6 x 8 | £759 |
| 8 x 8 | £859 |
| 10 x 6 | £855 |
| 10 x 8 | £1,055 |
| 12 x 8 | £1,175 |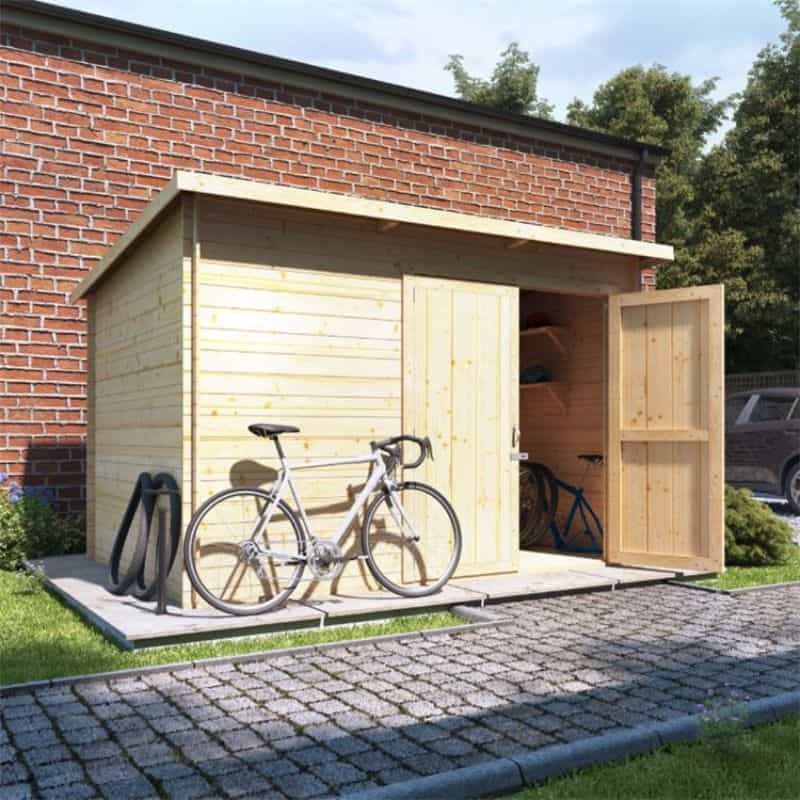 Our wide range of bike storage sheds features everything from pent to apex roofs and store to workshop designs.
But for a modern and aesthetically pleasing storage solution that's big on security, you can't miss out on the Pent log cabin heavy-duty bike store. Perfect for bikes and even motorcycles, the range of sizes on this model means you can find the right one for your garden and budget.
With galvanised ironmongery on the fittings and hinges, a windowless design, and 19mm log cabin cladding (upgradable to 28mm), you can keep your garden valuable stored safely.
The Pent heavy-duty bike store will keep your belongings not only out of sight but out of the elements with the weather-resistant seal afforded by tongue and groove cladding that defends against any water ingress.
So for a modern-looking bike store and storage shed that's also forward-thinking about security, check out the BillyOh heavy-duty bike store.
Our Pent heavy-duty bike store is available in:
| | |
| --- | --- |
| 8 x 6 | £1,088 |
| 10 x 6 | £1,390 |
| 12 x 6 | £1,580 |
| 10 x 8 | £1,630 |
| 12 x 8 | £1,870 |
| 14 x 8 | £2,120 |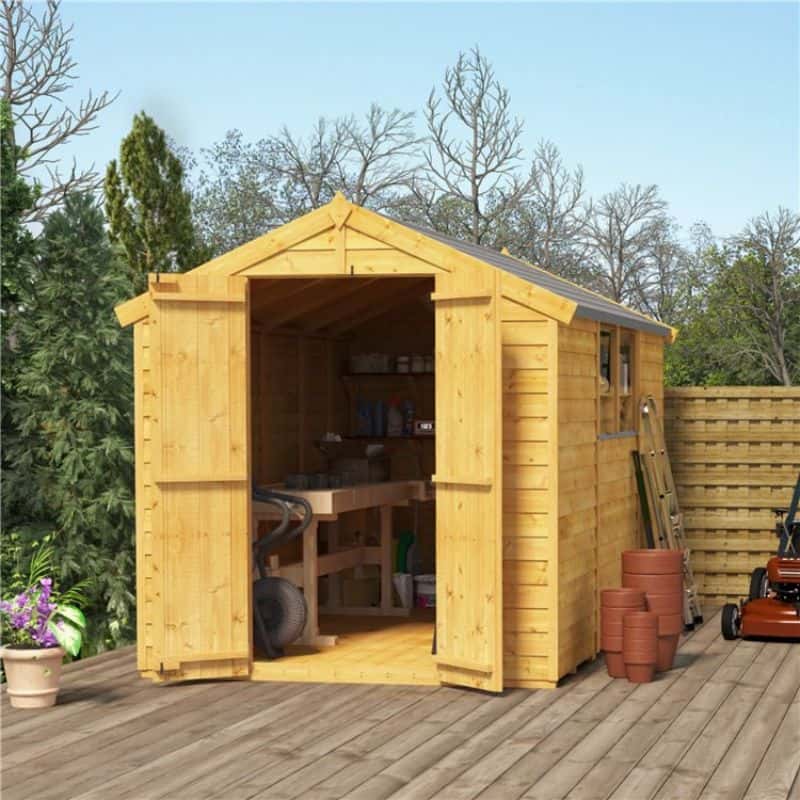 The BillyOh Keeper is the ideal option for:
Those with simple garden storage needs
New homeowners
Homeowners with a smaller garden
If you need a classic storage shed for garden tools, bikes, toys, and more – then the keeper overlap is a great budget-friendly option.
Like our Mini Keeper overlap bike store, this apex shed utilises overlap cladding. Great for ventilation and runoff, just because it's low on price doesn't mean it's low on quality!
We use the same high-quality European timber in all our storage sheds – the only thing different here is the construction method. So if you need a storage shed with extra headroom (either for you or storing tools) and apex design is the way to go.
And, combined with a gorgeous rustic look, the Keeper Overlap also features:
Tear-resistant felt

Double doors for easy access

Windowless option for privacy or s

hatter-resistant windowed option for natural light

T&G floor and roof
Heavy-duty hinges and galvanised ironmongery
Plus, optional extras are available. From choosing the best roof cover to selecting the ideal paint colour and even adding foundation options, you'll be spoilt for choice on more than just size and price!
The BillyOh Keeper is available in:
| | |
| --- | --- |
| 4 x 6 | £369 |
| 8 x 6 | £505 |
| 4 x 8 | £537 |
| 10 x 6 | £709 |
| 8 x 8 | £709 |
| 12 x 6 | £829 |
| 10 x 8 | £885 |
| 12 x 8 | £935 |
| 16 x 8 | £1,195 |
Why Buy From Garden Buildings Direct
Garden Buildings Direct is a leading manufacturer and seller of garden buildings: log cabins, summerhouses, storage sheds and more. We invest huge amounts of time and manpower into ensuring our products are the very best they can be.
All whilst maintaining prices let our customers know they're getting a great deal for the quality of our sheds.
And we like to think that we know a thing or two about wooden storage sheds, so we feel confident in saying that the list above features the absolute best. To shop for the best wooden storage sheds on this list, just click the button below!
Shop Garden Storage
FAQs