Wooden sheds have long been revered for their practicality. They serve as reliable storage to safeguard not only tools but also patio furniture.
So, how do you choose a good storage building? What are the factors that make one storage shed better suited to your needs than another? Fret not, for we're here to answer that question. Keep reading to see our curated list of our best storage units!
Why Garden Buildings Direct?
Our range of high-quality wooden garden sheds combines timeless charm with practical functionality. Crafted from durable materials, they offer a natural look that blends into any garden. Enjoy the benefits of sturdy construction, excellent insulation, and customisable designs.
1. Strong and secure T&G cladding
Experience unrivalled security and stability with our best storage sheds! Each model is meticulously crafted using robust tongue and groove panels. These panels, designed to interlock seamlessly, create a sleek finish and a tight seal. The design elevates both the style and strength of our storage sheds.
With 11mm T&G roofing and flooring, your storage shed is protected at every point of its thermal envelope. For enhanced security and insulation, our storage sheds boast 19mm cladding as standard. Plus, with the option to upgrade to a substantial 28mm thickness.
2. T&G roof
A roof that mirrors the same high-quality T&G construction throughout the unit. The interlocking panels form a formidable shield. This wards off water ingress and any potential harm to the precious contents. Say goodbye to worries of dampness or damage.
Furthermore, our storage sheds come complete with felt as a standard feature. Such an addition ensures optimal protection and maintenance of your stored items.
3. T&G flooring
Thicker T&G panels for the flooring offer added durability to support heavy items easily. Upgrade with our premium options that match the exceptional quality of our roofs. You may also want to consider pressure-treated ones, ensuring long-lasting protection.
4. Pressure treatment options
Pressure treatment fortifies your storage shed against the most relentless UK weather conditions. Through a vacuum treatment process, preservatives and chemicals deeply penetrate the timber. With this, it can offer superior defence and longevity.
The BillyOh 15-year guarantee backs all our pressure-treated sheds!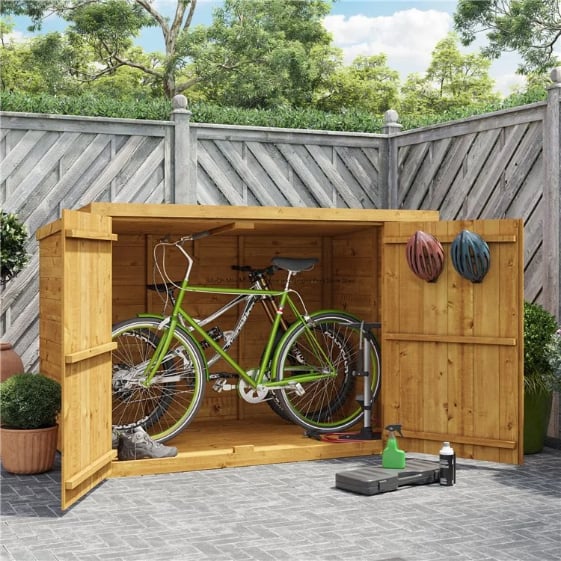 Do you own a bike or valuables that need secure storage? The Mini Master offers an excellent solution! With ample room for storage, this shed combines practicality with modern design.
Pros:
Modern design:

The pent-roof style provides a contemporary look and increases headroom. This allows for convenient shelving and additional storage space for smaller tools.

Quality roof:

The shed comes with quality green mineral

felt roof tiles

. This added feature offers superior weather protection and durability.

Privacy and security:

The windowless design enhances privacy and security. This makes it an ideal choice for storing valuable items.

T&G construction:

The shed features durable 11mm tongue & groove cladding. It provides a robust and classic finish to the structure.
Cons:
Limited natural light:

The windowless design means limited natural light inside the shed. Consider additional lighting options for better visibility.

Fixed design:

The pent roof is fixed. It may also limit some customisation options compared to sheds with adjustable roofs.
Explore the Mini Master for secure, stylish, and weather-resistant storage. Also available in apex design: Mini Master Tongue and Groove Apex Bike Store.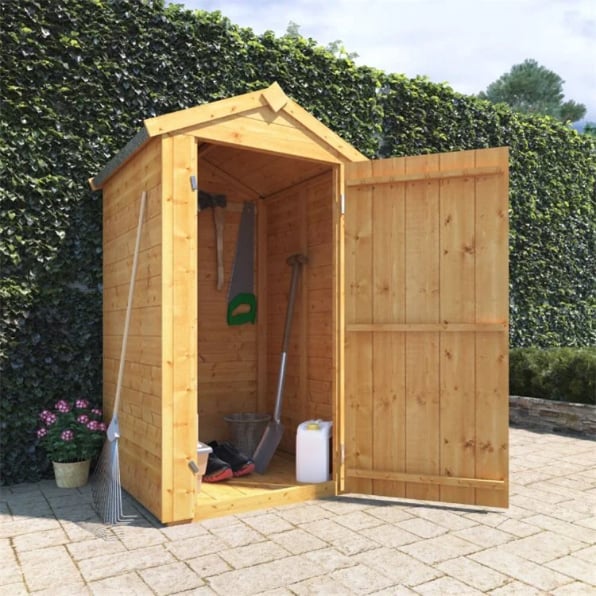 Maximise your space and enjoy quality storage with the Master Tall Store! Available in two sizes, this tall apex design reaches a ridge height of 5.5ft. It can accommodate all your garden tools, like brushes, shovels, and hosepipes.
Pros:
Ample storage:

The tall apex design provides significant vertical space. This unique feature allows you to store various garden tools efficiently.

Corner shelves:

Enjoy the convenience of included corner shelves. They offer extra storage for smaller tools and items while optimising floor space.

Spray-treated:

Both sizes feature a classic gold finish achieved through spray treatment. This can be optional if you want to add a touch of elegance to your outdoor space.

Customisation options:

Once constructed, you can treat or paint the building. This lets you match it to your personal style or complement your garden aesthetic.

Roofing felt included:

Enhance the unit's durability and weatherproofing! The included roofing felt ensures a longer lifespan and protection against the elements.
Cons:
Fixed ridge height:

The fixed ridge height may limit customisation options.

Initial treatment required:

While spray-treated, consider additional treatments, such as a

shed stain

. Such an upkeep can ensure long-term maintenance and protection against weathering.
Discover the BillyOh Master Tall Store for efficient and stylish outdoor storage!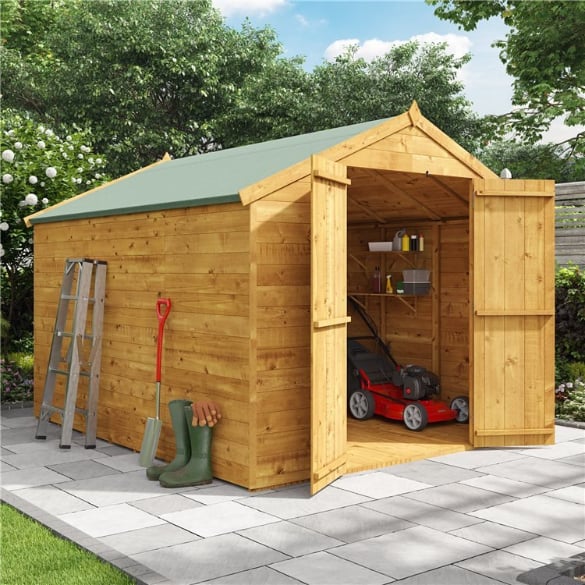 The Master Pent works as an ideal storage shed with customisable features to suit your needs.
Pros:
Versatile sizing:

The Master Pent is available in various sizes. It accommodates different storage needs from 4×6 to 12×6.

Privacy and security:

The windowless design ensures increased privacy and security.

Convenient access:

This shed features wide-opening double doors. This facilitates effortless movement of garden equipment in and out of storage.

Accessible entrance:

The pent roof provides an accessible entrance. Even better, with increased headroom, adding to the convenience.

Roof and floor included:

Comes with an 11mm T&G roof and a standard floor. Plus, an option to upgrade to a more robust 19mm floor.

Pressure treatment option:

Best for enhancing the building's strength and longevity.

Standard green mineral felt:

All sizes include mineral felt for added weather protection.
Cons:
Limited natural light:

The windowless design may lead to a reduced light source inside.

Fixed roof:

The pent-style roof restricts customisation options, unlike those with adjustable roofs.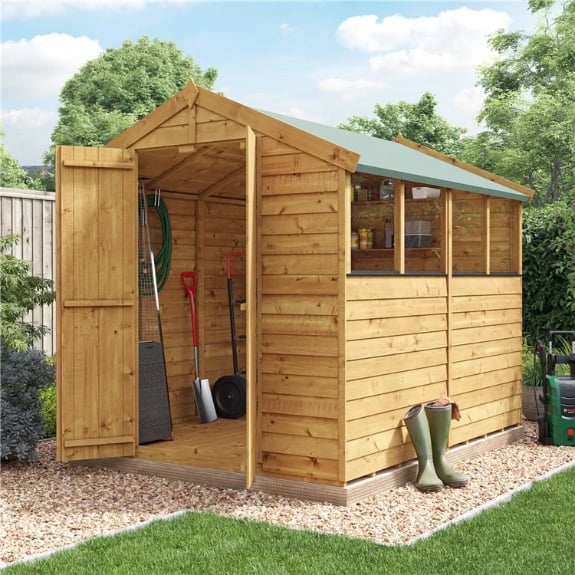 A fantastic, robust storage solution with a range of customisation features. These options allow you to pick a building that fits perfectly into your garden space. Complete with floor, roof and felt as standard.
Pros:
Customisation options:

A fantastic storage solution with various customisation features. This allows you to tailor the building to fit perfectly into your garden space.

Upgradable floor and roof:

The 11mm T&G floor and roof are supplied as standard. It also comes with the option to upgrade to a more robust 19mm thickness. This optional add-on is ideal for higher-intensity usage.

Wide and central double-door entrance:

Facilitates easy movement of large furniture or items.

Durable single SAN glazing:

Included as standard for its UV properties. This offers a tougher finish to avoid breakages.

Range of sizes:

Comes in a variety of sizes to suit any outdoor space. For one, the 8×6 is a particularly popular mid-range option.
Cons:
Standard UV glazing:

While durable, the single SAN glazing is standard. Some users may prefer additional glazing options for specific needs.

Fixed-size options:

Available in various sizes, yes. Yet, the shed's size options may be limited for those with unique space requirements.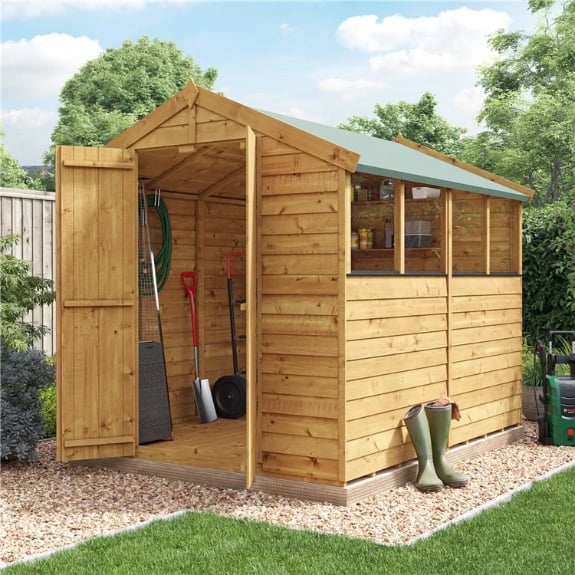 In need of a classic storage shed for garden tools, bikes, toys, and more? The Keeper makes an excellent budget-friendly option!
Pros:
Budget-friendly:

The Keeper Overlap Apex is an economical choice without compromising quality.

Overlap cladding:

Utilises overlap cladding for effective ventilation and runoff. This enhances the shed's durability and weather resistance.

High-quality European timber:

The shed maintains the use of high-quality European timber. Despite its affordable price, this feature ensures longevity and reliability.

Apex design:

It provides extra headroom, making it ideal for both users and storing tall tools.

Optional extras:

Offers optional extras, providing customisation options beyond the basic features. This enables you to tailor the shed to your specific needs.
Cons:
Construction method variation:

The Keeper maintains the shed maintains high-quality materials. However, the construction method differs from other models. This, in turn, may impact certain aspects of customisation.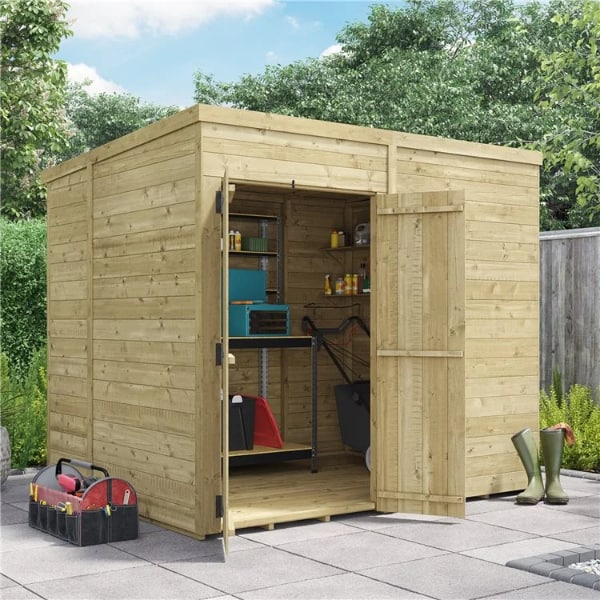 Meet the BillyOh Switch Tongue and Groove Pent Shed! Crafted from durable T&G panelling, it lets you customise door and window positioning. With a wide range of sizes, finding the perfect layout for your storage needs is a breeze.
Pros:
Versatility in design:

Customise door and window positioning. This configuration allows you to suit your garden layout and storage requirements.

Window options:

Choose between windowed and windowless models based on your preference. Windowless for enhanced privacy and security or windowed for ample natural light.

Modern aesthetic:

The pent roof design provides a modern and aesthetically pleasing silhouette. Plus, it ensures efficient drainage, reducing the risk of water ingress.

Weather-resistant construction:

11mm T&G floor, roof, and walls, and mineral roof felt. These features offer robust construction and increased weather resistance.

Pressure-treated:

The shed comes pressure-treated as standard. This reduces maintenance needs and extends the lifespan.

Extended guarantee:

Enjoy a 15-year guarantee against rot, decay, and insect infestation!
Cons:
Limited window placement options:

Customisable, yes. Yet, the window placement options may have some limitations. This often depends on the chosen shed size and design.

May need extra treatment:

Despite the extended guarantee, you may consider additional treatment. This depends on environmental factors and personal preferences.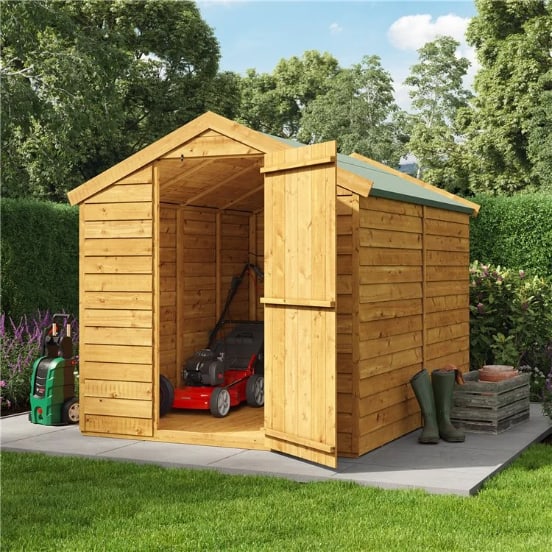 The Super Saver provides versatility and security without breaking the bank. It offers great utility and classic British shed aesthetics, too. But that's not all!
Pros:
Overlap cladding:

The shed uses 7mm overlap cladding. This design creates a strong and hard-wearing exterior. Easy to assemble, these cladding boards offer reliable yet inexpensive protection.

Classic apex roof:

The design grants natural drainage and a tall headroom.

Protective green felt:

Topped with protective felt, the roofing provides added weather protection.

Wide-opening door:

The shed features a wide-opening door for easy accessibility. This allows you to come and go with convenience.

Versatile storage:

Excelling at providing easy and efficient storage for garden equipment. Also, for garden furniture, meeting various storage needs.

Multiple sizes:

Choose from three sizes (4×6, 8×6, or 12×6 feet). Consider the available space in your garden and your specific functionality requirements.
Cons:
Basic aesthetic:

While functional, the shed's design may be considered basic.

Limited thickness:

The 7mm cladding may be thinner than some higher-priced shed options. This may also affect insulation and sturdiness. Top tip: Refer to our guide on

how to insulate a shed

for more information.
Round-up
Choosing the right wooden shed involves a balance of functionality, aesthetics, and budget. Each option from our list caters to different needs. These sheds offer a diverse range to enhance your outdoor storage experience. Make sure to consider your space, storage requirements, and personal style.
Explore our diverse garden storage solutions crafted from durable metal or low-maintenance plastic. Discover outstanding durability with our metal sheds. Or opt for convenience and ease of care with our range of plastic sheds. Shop now for a storage that meets your specific needs and enhances your outdoor space!
Next on your reading list: How Long Does a Wooden Shed Last?
Shop Garden Storage
FAQs