Shed treatments offer increased protection against mould, rot, and insect infestations. As amazing as that may sound, this weather defence decreases over time.
The good thing about these wood preservatives, though, is they can be reapplied as needed. A good quality paint brush, other than the treatment itself, is all you need.
But the million-dollar question remains: how do you treat a garden shed? Lucky for you, this handy guide covers everything you need to know – all for free!
Types of Shed Treatment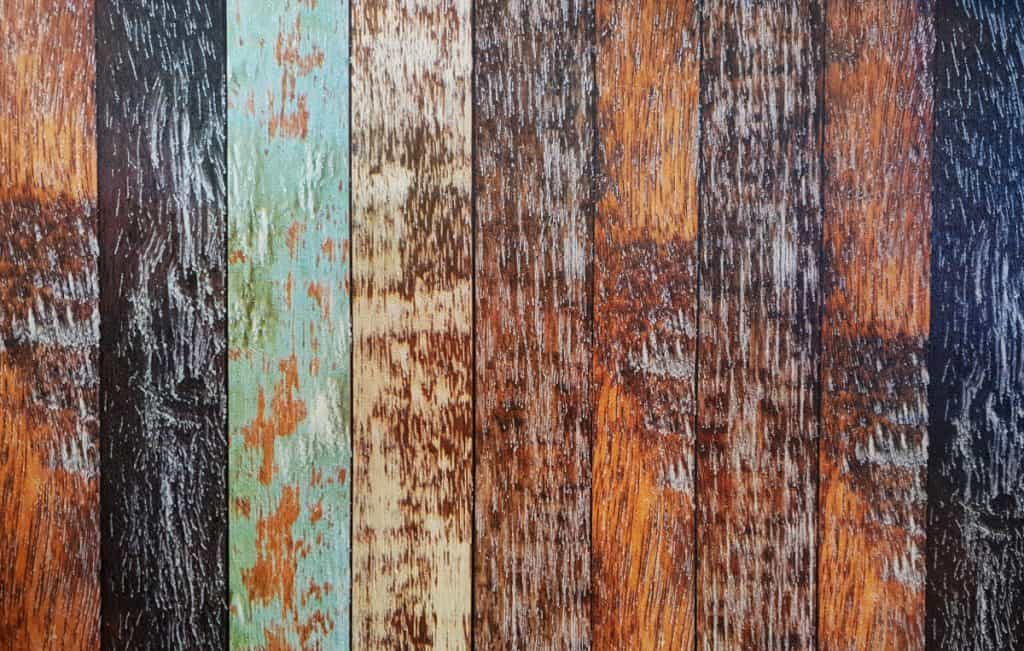 Garden shed treatments come in different varieties and finishes. Two of those are preservers and exterior oils.
1. Preservers
Shed preservers are available in two categories: solvent-based and water-based. Although both have the same key ingredients, there are a couple of differences in how they work.
A solvent-based preserver contains around 75% white spirit. As a result, they have a much stronger, lasting smell. Solvent-based wood stains are also less vulnerable to weather conditions. They have a longer touch-dry time of between two and six hours. You'll have to wait until the next day to re-apply.
A water-based alternative, in contrast, only contains about 10% white spirit. This makes it more eco-friendly than its solvent counterpart. A dry, moderate day is the ideal time for applying, but they have a much quicker dry time. You can "touch dry" your shed after an hour it will be ready for an overcoat in the next couple of hours.
2. Exterior oils
Wood oils can be applied over the top of most preservers, providing a waterproof finish. They enhance the natural colour of the timber while offering hardy weather resistance.
Applying oil-based exterior treatments also helps prevent cracking, splitting and warping. It feeds, seals, nourishes and protects most wood types, including decks, and is suitable for new or old timber.
Depending on the preserver you use, wait for 24 – 48 hours before applying an oil-based treatment over the top. You can choose from clear and coloured wood oils. Reapply yearly to maintain the finish.
A few things to consider
If you're unsure which one to go for, we recommend using both as they complement each other. When used in conjunction, they can provide even more effective protection.
Also, check whether your shed is constructed using Tongue & Groove or overlap cladding. For one, overlap designs are more permeable – this makes spray-on preservatives are ideal. A Tongue & Groove shed, in contrast, is less absorbent, so you're better off with a spread treatment.
And if you plan on painting your shed with paint that doesn't contain a preserver, prior treatment is a must. A wax- or silicone-free preserver is recommended. If the paint already has preservatives, then an extra layer of preserver isn't necessary.
Application and Treatment Process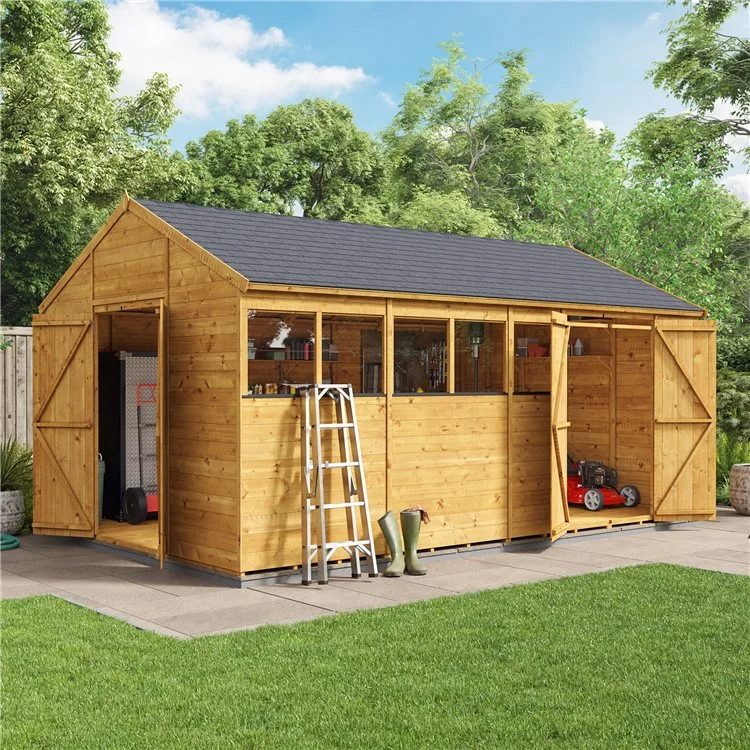 Here's a step-by-step guide on how to treat your garden shed:
1. Prep up your outdoor building
If your shed is newly purchased but made from untreated timber, treat it right away. Ideally with wood preservative and exterior oil.
For older and existing units, there are a few preparations needed before you begin. Start cleaning the exterior; remove any algae, fungi or moss that may have grown on it. Look for any gaps and cover them with caulk. If you're using a silicon-based product, wait about a day or so for it to dry completely.
And for wooden panels that have been previously stained, painted or varnished, strip them back to bare wood. Use sandpaper to chip away at loose or patchy remains.
2. Apply your wood preservative
Once all the exterior preparations are done, apply your chosen preserver with a brush. Make sure to cover the entirety of the shed (inside and out), especially the side panel that will be exposed.
Put on two or three uniform coats, waiting until each layer has fully dried before applying the next one.
3. Add exterior oil
Apply the exterior oil after the preserver to get that extra layer of weather resistance. Wood preservers can take at least a day or two to dry fully, depending on how many coats you've used.
4. Paint it
Give your shed a final touch with colours through paints. Make sure you apply paint in dry conditions, above 5°C. Use a long-nap roller to spread the paint with ease. Invest in specialist shed paints as they tend to last up to five years and have UV-resistance guaranteed.
How Often Does Your Shed Needs Treatment?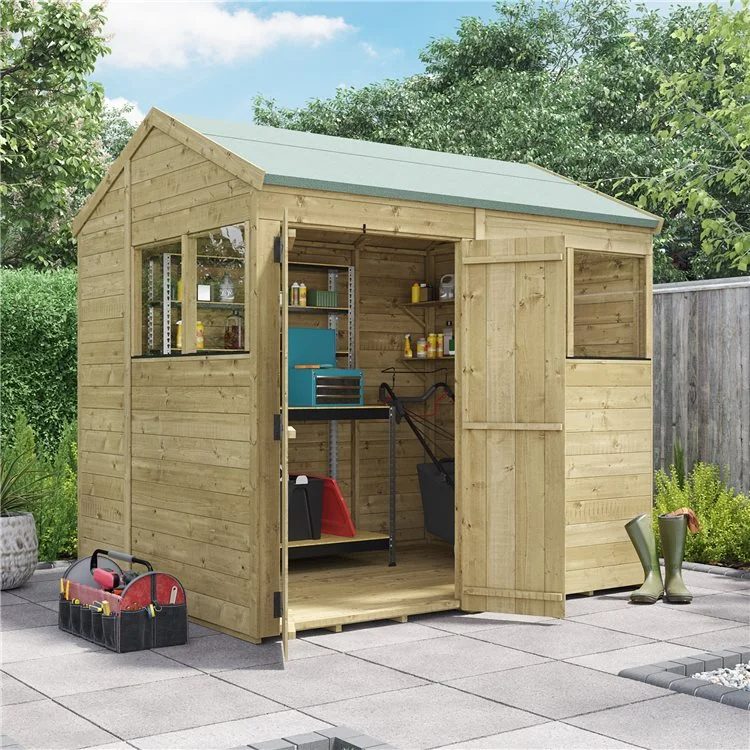 As a general rule, a newly purchased shed that has not been treated needs treatment as soon as possible. Once a year is recommended unless it begins to deteriorate before this point.
During that time frame, the treatment ensures ultimate protection from harsh weather. Whatever you have stored inside is safeguarded.
Top tip: Wait until you get a week of nice sunny weather and no rain in the forecast.
Treating the inside of your shed also makes a difference. Doing so will help protect the interior against condensation and moisture build-up. As for pressure-treated units, wait a decade or two to apply another preservative coating.
Where Can I Buy Shed Treatment?
With brands like us here at Garden Buildings Direct, your shed treatment investment is worthwhile. And we've got a brilliant range of wood treatment products for you!
Note: Offering five years of resistance, a 5-litre tub will suffice for a standard 8×6 shed. But if your outbuilding is larger, you may need more to achieve an even spread.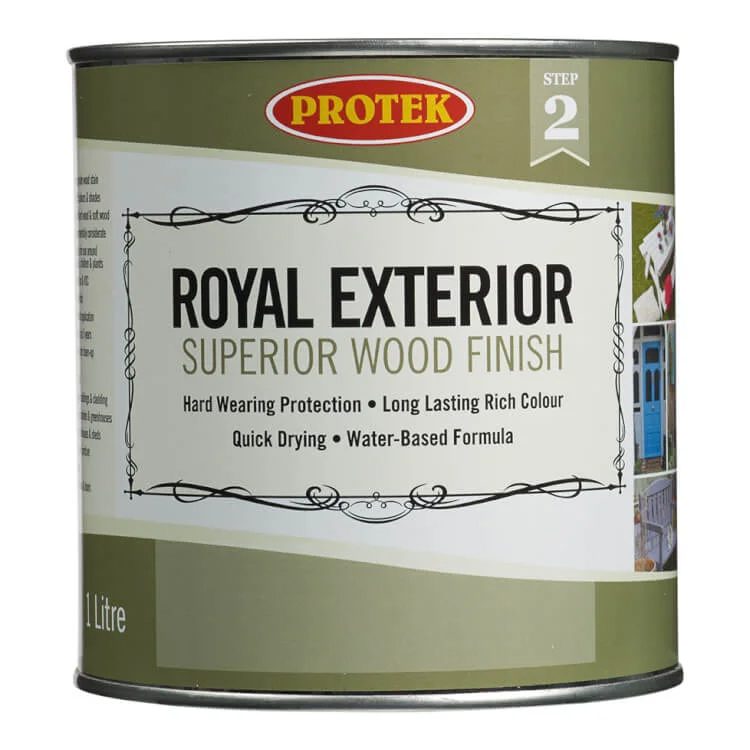 A high-quality finish with a soft lustre that allows the wood grain to show through. Hard-wearing, water repelling, and offering year-round weather protection.
Perfect for use on exterior timber or wooden sheds and even wooden furniture. With a range of options for colour finish, you can protect your shed from harsh elements, mould, and fungi.
Child-safe, low odour and in VOC (volatile organic compounds), and fast drying.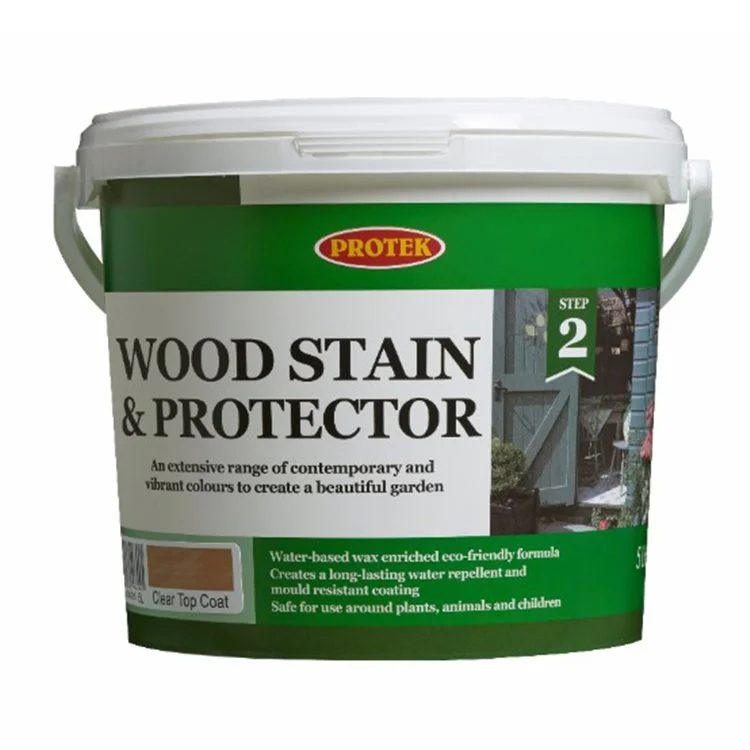 A multipurpose and versatile wood paint with weatherproof qualities. It offers long-lasting protection so that you won't constantly need panel repairs.
Easy to apply, light, fast and quick drying, low odour, and pet and plant friendly. Also available in 1L and 2.5L.
Waterproofing Your Shed
Besides treating the timber, waterproofing is also worth considering. This method provides a bit of extra protection for the panels.
Insulating your shed walls, for one, can help prevent moisture buildup. Bubble wrap and fibreglass wool are the best low-budget options available. But if you prefer something fancier, opt for breathable linings and membranes.
Another way to insulate your shed is to waterproof the roof using shed felt. Although the process is a bit more time-consuming, it is highly effective.
Taking Good Care of Your Shed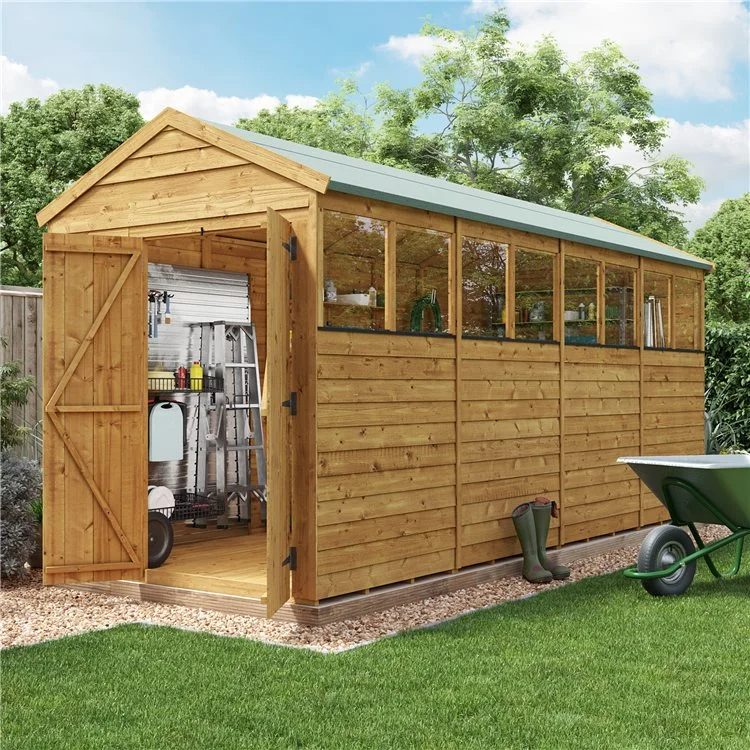 Other than treating wood regularly (or as necessary), look out to see if any of the panels are falling away. Repair any holes or loose boards to lessen the risk of interior damage.
Lubricate the hinges with super glue to give the door extra strength and security. Potential intruders will struggle to prize the door from the hinges if it's secured. And don't forget the windows. A quick coat of wood treatment will stave off dampness and condensation problems.
Keep an eye on the roof as well, including the gutters season after season. Remove the debris, and the felt pins should be secure without any rips. You may replace them every few years to ensure your shed is completely protected from the rain.
Another thing to be wary of is the nearby greenery. See to it there aren't any trees or plants left in contact with the shed, affecting the airflow. Overhanging branches also pose a risk on the roof, so clear them all.
Every now and then, it's worth considering checking the insides, too. Stored items like bikes can soak up a lot of moisture, which, over time, can be harmful to the shed. Take this opportunity to verify if the building still has a good amount of ventilation. Otherwise, this can lead to, again, dampness and mould, affecting the wood.
Overall, invest in your garden building, and it will last a very long time. A little maintenance also means you can treat yourself to a more expensive shed!
Round-up
A brand new garden shed looks superb – even better when it's pressure treated. Either way, it cannot escape the weathering storms, heat waves, and harsh snow.
These elements may lead to wood damage, resulting in cracks and ageing. This is where shed treatments come into play – unless, of course, it has been pressure treated.
As you know by now, these preservatives and oils can stop any shambles, helping you save money in the long run. Above all, a regular treatment ensures it can bear whatever the British weather throws at it. Alternatively, you can learn more about how shed pressure treatment works.
Shop Shed Treatments