In UK outdoor spaces, there stands a comely structure that goes unseen: a garden building. Whether a quaint wooden shed or a Sunjoy gazebo, it can provide more than just storage or shelter. The answer lies in painting.
In this blog, we will highlight why adding a splash of colour can work wonderfully. Read on and discover how a brush stroke of shed paints can unveil the hidden magic!
Aesthetics and Personalisation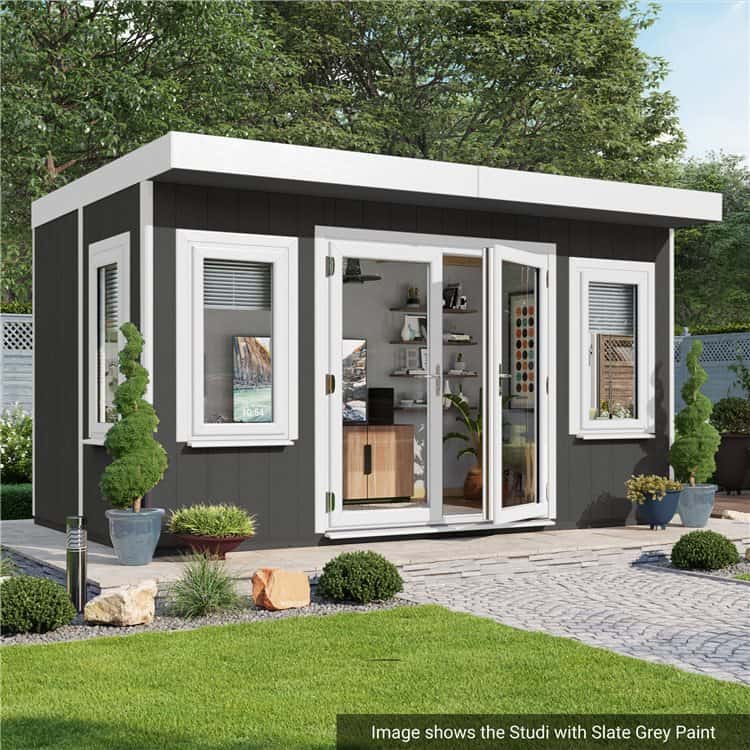 A fresh coat of paint can breathe new life into an old and weathered structure. The right shade does its charm by making it stand out as a focal point in the landscape. Take your log cabin, for instance.
Choose a colour scheme that complements your garden for a cohesive visual appearance. Soft pastels or earthy tones can blend seamlessly with a natural, rustic setting. Both create a calming and harmonious atmosphere for garden buildings. Dusty Rose, Pale Blue, Muted Lavender, Warm Taupe, and Earthy Brown are your best bets.
Meanwhile, bold and vibrant hues might add a splash of playfulness to modern yard spaces. They add energy, personality, and a striking focal point to the structure. Consider Fiery Red, Sunshine Yellow, Hot Pink, Vibrant Orange, or Teal shade.
Painting also offers the opportunity to infuse your style into the garden building. Be it a classic look or a whimsical design, choose a protek shed paint that reflects your style. This will turn the structure into a truly captivating part of the outdoor oasis.
Discover the ultimate "How to Paint Your Log Cabin" guide, designed to assist you every step of the way.
Protection from Elements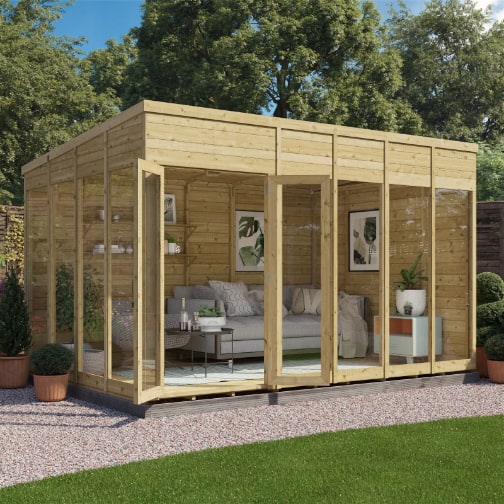 Painting your summer house goes beyond aesthetic appeal. It also acts as a reliable shield against the unforgiving elements of nature. When properly applied, paint forms a protective layer that guards against rain. This helps prevent water from seeping into the structure's surfaces.
Moreover, the paint also serves as a barrier against harmful UV rays. It shields the garden building from sun-induced degradation and colour fading. The same applies to strong winds, reducing the likelihood of erosion and wear over time.
For some timber sheds, a varnish might be a better choice. It can protect the wood and rejuvenate it, making it more weatherproof. This means it's a lot better able to handle the wind and rain. If the structure isn't very old and you don't want to ruin the natural wood, we recommend opting for varnishing it. You can find dark and light varnishes available to match the aesthetic you're aiming for. With this approach, you can protect your shed storage and make it look like new!
Now, how can you make your summer cottage cosy and versatile during hot weather, you ask? Cue insulated garden rooms. Insulation, paired with painting, adds an extra layer of protection against outdoor elements. Such a combination further fortifies the building, ensuring its longevity.
Get started in no time with our "How to Paint a Summer House?" guide!
Increased Durability and Longevity
A well-painted kids playhouse enjoys an extended lifespan and creative imagination. The paint safeguards the children's haven from weather elements, moisture, and UV rays.
Besides weather protection, some paint contains insect-repelling properties. This can deter pests, such as termites, from damaging the wood. For metal structures, such as metal garden rooms, paint inhibits rust and corrosion. Such issues can weaken the building's structure if overlooked.
The right paint can strengthen and seal porous surfaces. Often, it's formulated to withstand the outdoor elements. In turn, it reduces wear and tear over time, ensuring the building remains resilient for years. Top tip: Invest in exterior-grade paint specifically designed for wood, metal, or plastic. Read the label for compatibility to ensure durability and longevity.
Enhanced Property Value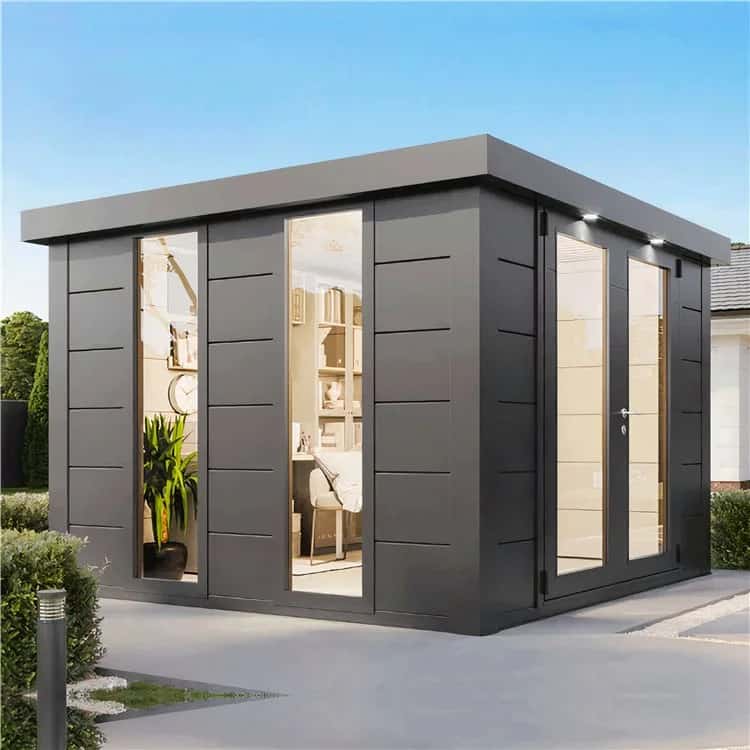 A well-maintained garden building, such as a shed office, can be a valuable asset. When it complements the landscape, it automatically adds to the property's charm. Even better when it's protected with protek paint. For one, it stands as an attractive feature in its own right. Not only that, but it also signifies the care and attention given to the overall maintenance.
A well-preserved garden room also extends the usable space for the property. This offers additional workspace, storage, or a relaxing retreat. Such versatility can lead to higher market value and a quicker sale when the time comes to sell the estate.
To maintain and enhance its value, our experts have put together this maintenance routine:
Check for damage, rot, or pest infestations regularly.

Keep the structure clean. Remove debris from the roof, gutters, and around the building.

Repaint or reseal as needed. This will protect against the elements and maintain a fresh appearance.

Fix any issues promptly to prevent them from worsening.

Ensure proper ventilation to prevent moisture buildup, which can lead to rot.

Put in place termite prevention measures if applicable in your area.

Enhance security with locks and alarms to safeguard your valuable assets stored inside.

Consider landscaping around the building to improve aesthetics and property value.
Transform your WFH workspace with a stunning shack makeover! Don't miss out on our expert "How to Paint a Wooden Shed" guide.
DIY Tips and Tricks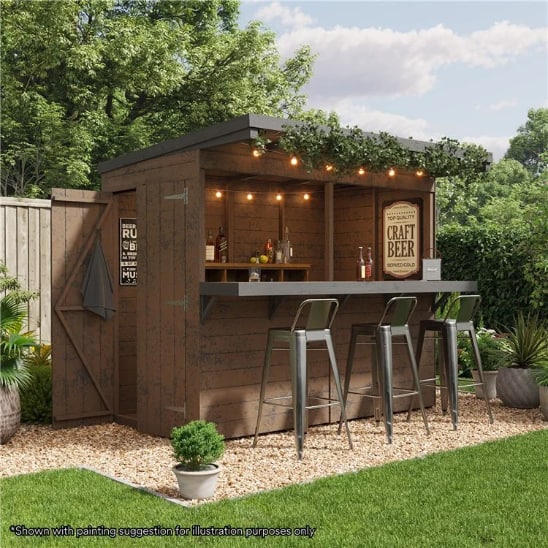 When painting your garden building, consider the following:
Clean the surface thoroughly to remove dirt, grime, and loose paint. Sand any rough spots for a smooth finish.

Fix any cracks, holes, or damaged areas using suitable filler or wood putty. Apply a primer to create a stable surface for paint.

Check the weather forecast. Paint on a dry day with moderate temperatures to ensure optimal adhesion and drying.

Use exterior-grade paint designed for the specific surface material. Opt for high-quality paint to ensure longevity.

I

nvest in good brushes, rollers, and paint sprayers for even coverage. Use

painter's tape

to protect adjacent surfaces.

Wear appropriate protective gear if necessary. This includes gloves, goggles, and a mask.

Apply paint with even strokes. Follow the direction of the wood grain or the building's structure. Start from the top and work down.

Apply at least two coats of paint. Allow for sufficient drying time between each coat.

Clean brushes and tools immediately after use. Dispose of paint waste responsibly.

Regularly inspect and touch up the paint. Doing so will help prolong the life of your garden building.
Start by thoroughly cleaning and preparing the surface, removing dirt and loose paint. Choose a quality paint suitable for your unit's material and climate conditions – we recommend a reliable protek paint. Consider using a primer for better adhesion and durability.
So, what are you waiting for? Unleash the magic of your outdoor room from Garden Buildings Direct with a stroke of a brush! Check our "Tips for Painting Your Wooden Garden Building" post for a step-by-step guide. Top tip: Double the protection with a shed paint and shed treatment clear combination.