Storage hacks are such a life-saver! Our recent post about 'Garage Garden Ideas' is a great example.
But we don't want to stop there as we believe that the more organisation hacks you have, the better. Right?
Luckily for you, we've prepared another handy list for your tools! This time, you take inspiration from these ideas, whether it's for your garden shed or your entire home.
1. Give your tools a home
This toolbox set comes in three different sizes to suit your needs. A perfect investment if you're looking for a place to store your various tools in one place.
On top of its stainless steel construction, it's stackable! Simply store larger-to-smaller tools in each different sized box to know where each one is.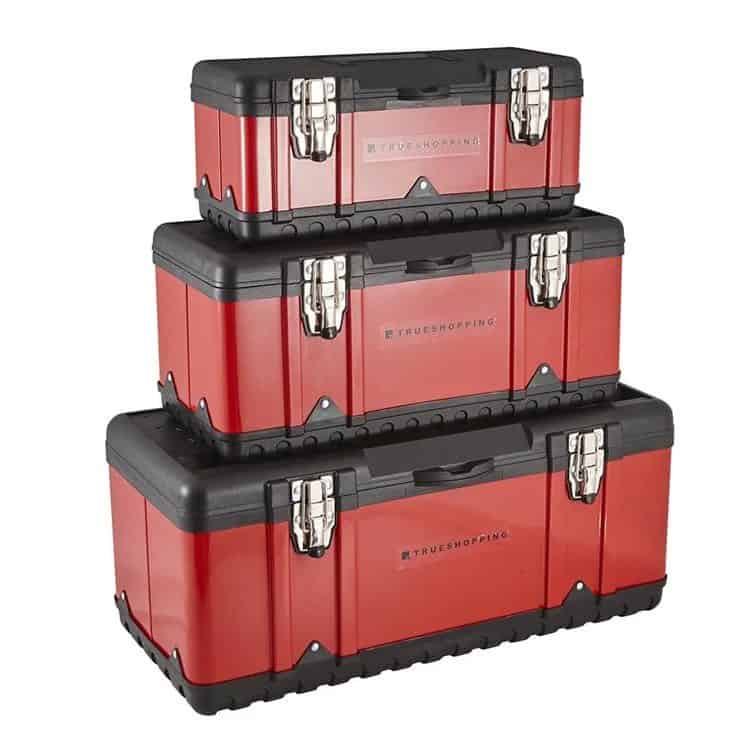 2. From wood to a power tool holder
Don't let your power tools end up scattered around your garage, shed or basement after use. A DIY rack made from pieces of wood works well as a tool docking station. Ideal for drills and as a charging station.
3. PVC pipe rack
A simple DIY project uses two pipe sections, cut at angles to hold tools, and settled against the wall. You can install them on an existing shelf, or build a brand-new one depending on your needs.
4. Hammer storage bracket
You can never have enough hammers, but when you run out of room to store them, say hello to clutter. But good for you as there's an easy way to make quick work of hammer storage – other tools would also fit!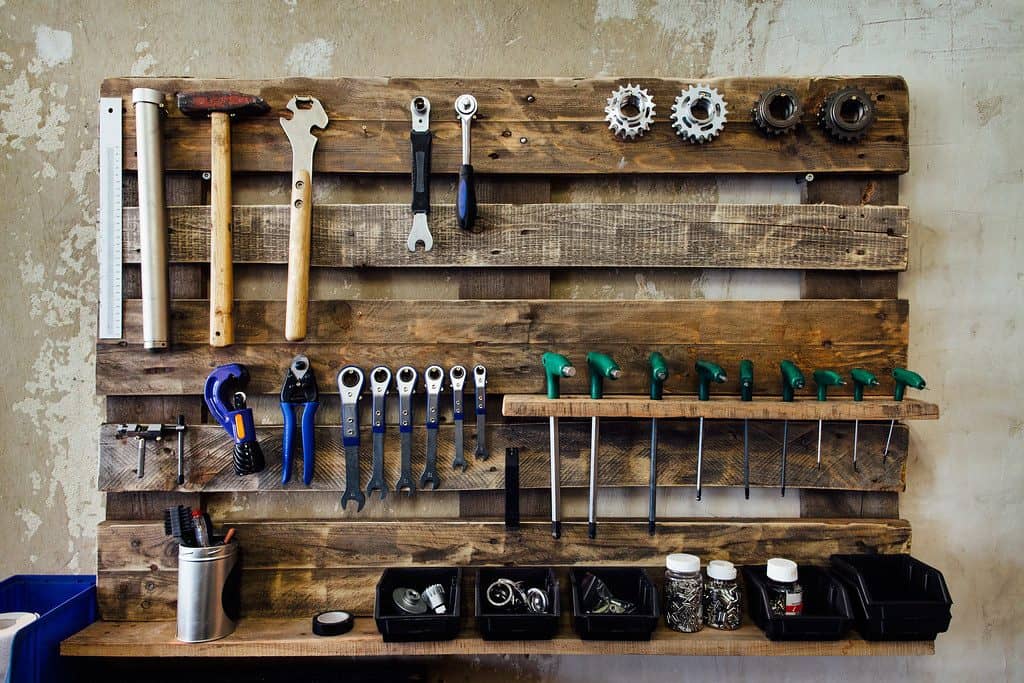 5. Mason jars
This is definitely one of our favourite creative upcycle ideas! It works functional for both storing nails & screws and knickknacks from the household.
Use small plastic jars to sort all types of little items, then mount the lids to the underside of a shelf.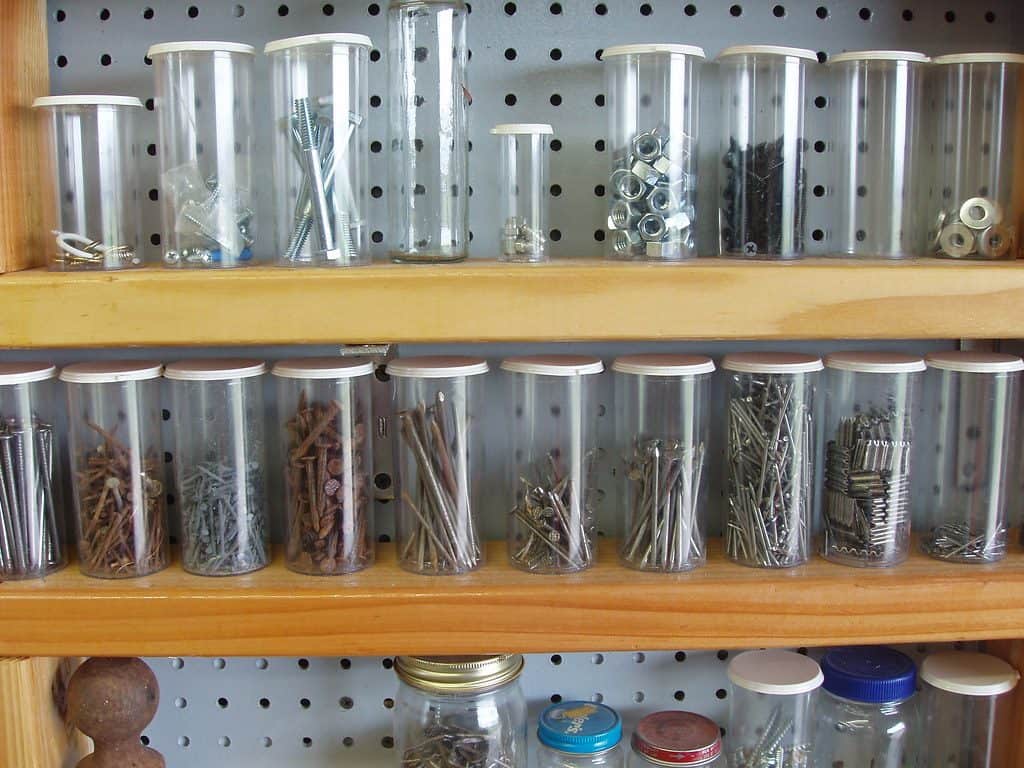 6. The immaculate pegboard
Who says pegboards are for garages only? With the right design, you can use a pegboard to hold everything from tools to tableware and totes.
This DIY wooden pegboard in the kitchen creates usable storage space next to the fridge.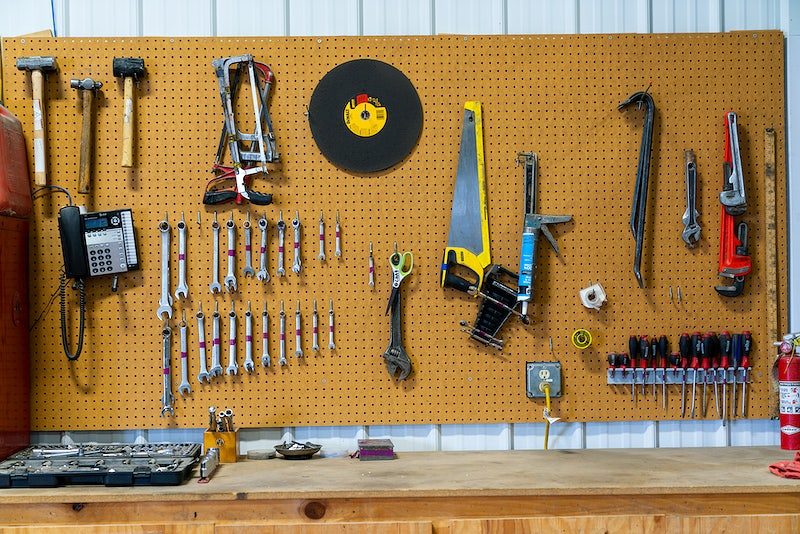 7. French cleat wall
A French cleat  uses 45-degree angles and gravity to create an interlocking joint. The construction makes shelving a breeze. A clever way to utilise any free wall space.
8. The power of magnetic strips
The secret to a supersized storage capacity without moving the walls. A magnetic catchall is great for holding metal tools, kitchen items and jewellery.
Install magnetic strips to keep your little items organised and easy to access. For smaller items like pencils or makeup brushes, attach soup cans.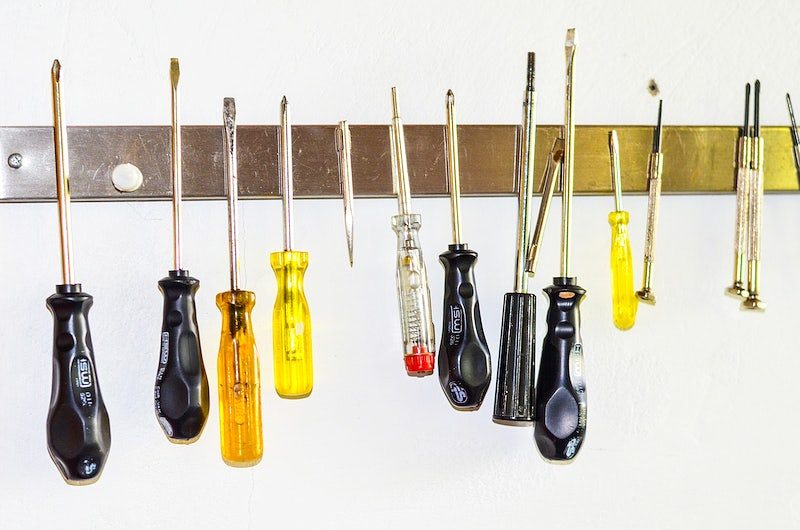 9. Put them in the box
We're not just talking about ordinary boxes here, but a hard-wearing storage box like this! This could be exactly what you are looking for if you're looking for extra storage in your home, patio or shed.
With 460 litres of space available, you'll always find plenty of room to store away a variety of household items.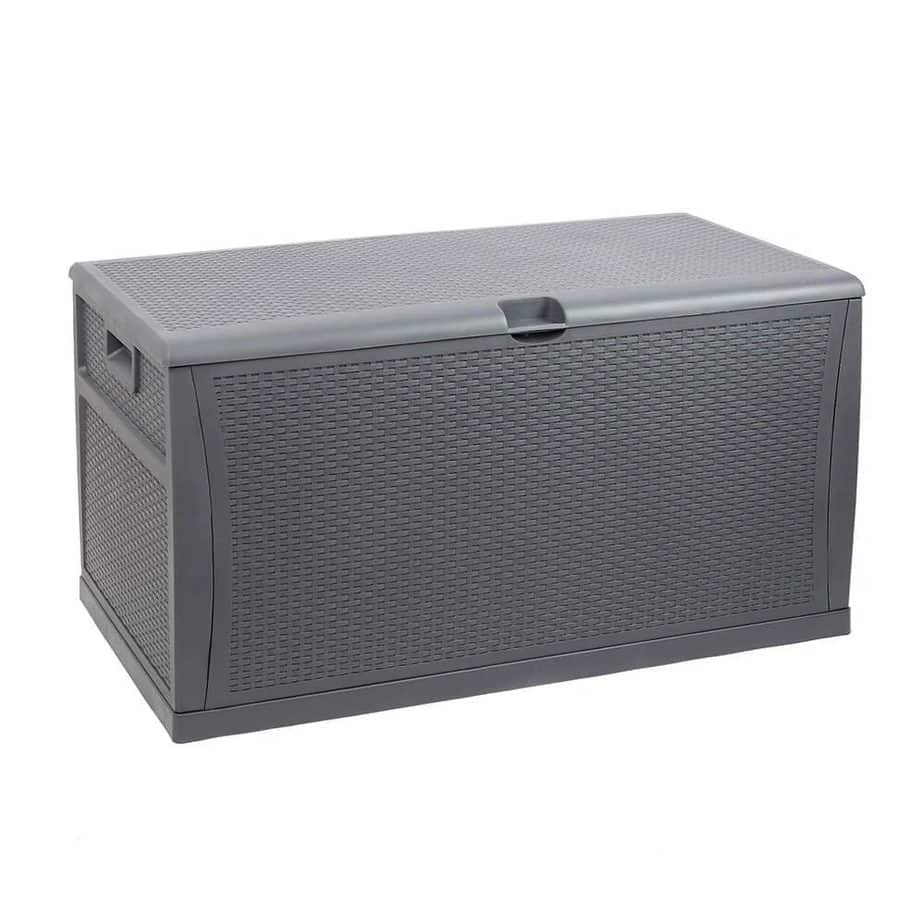 10. Metal tub hose holder
Garden hoses are one of the common equipment in many UK gardens. But they can be a potential tripping hazard, especially if they're just lying on the floor. Solution?
Simply wrap your hose around a metal tub attached to the wall – like this!
11. Clamp rack
Now, this one goes out to the woodworkers. It's always better to have a single place for all your clamps, and that's where this clever slot system comes in. This offers a simple way to keep your clamps organised by size.
12. Mobile workbench
Consider adding a mobile workbench into your workshop or garage. This is also ideal if you have a dedicated room in your home for hobbies, such as painting. The concept of this mobile workbench is to include ample storage space.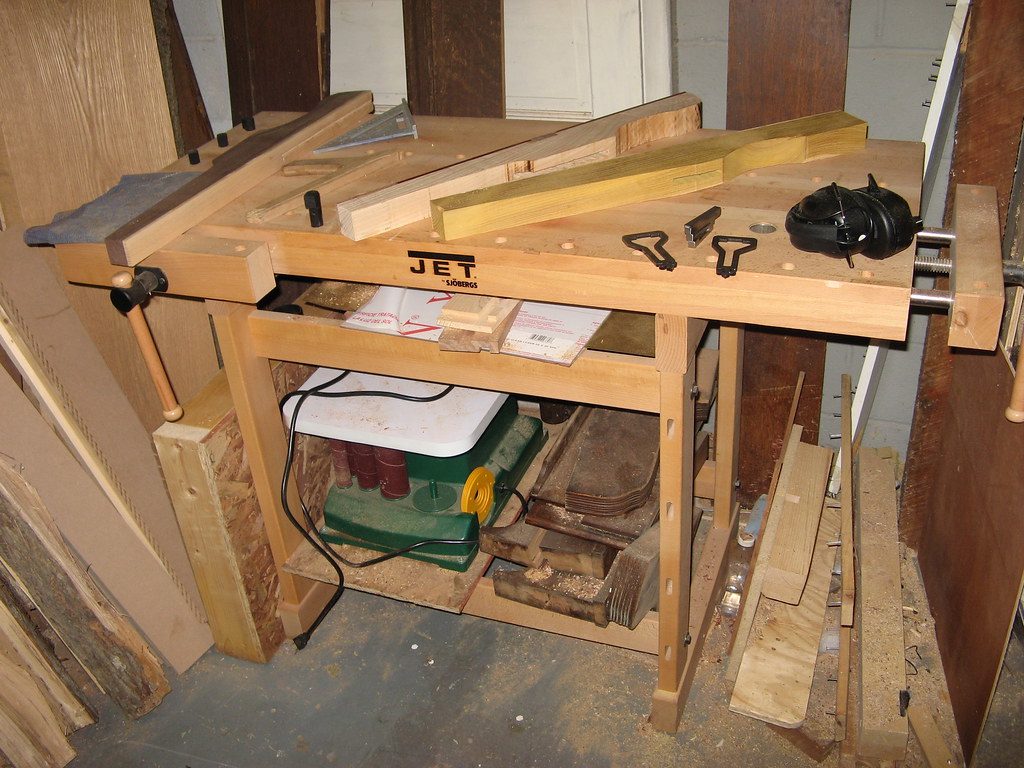 13. Utilise blank space on your cabinet ends
Cabinet ends are usually bare yet can be functional. They make an ideal spot to add extra storage like floating shelves or racks for tools. It could be for your kitchen utensils, DIY tools, or house keys.
14. A pallet storage cubby
Looking for a place to keep your hair care accessories, garden building keys, and what knots? Take inspiration from this idea of a reclaimed DIY pallet storage cubby.
It has been divided into 5 equal sections for individual storage options.
15. Garden tool storage rack
The perfect on-the-go companion for active gardeners! Made from tough durable plastic for year-round usage, it can hold up to 40 different tools. The unit as a whole is lightweight and easy to move around.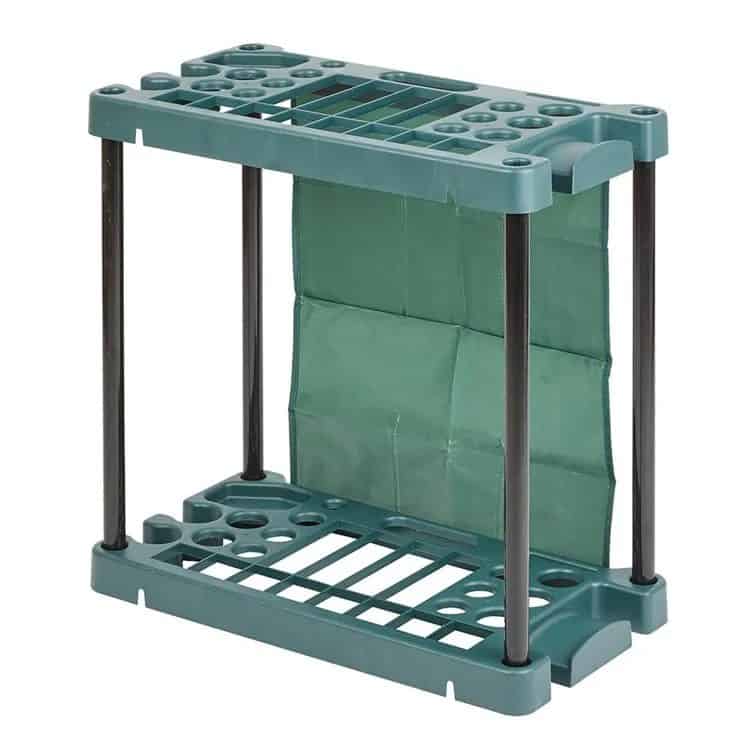 16. Tool apron storage
Tool aprons offer the perfect place to store nearly any household item. To DIY, sew a variety of pocket widths in the aprons. Then, mount the aprons with a wood strip into the door.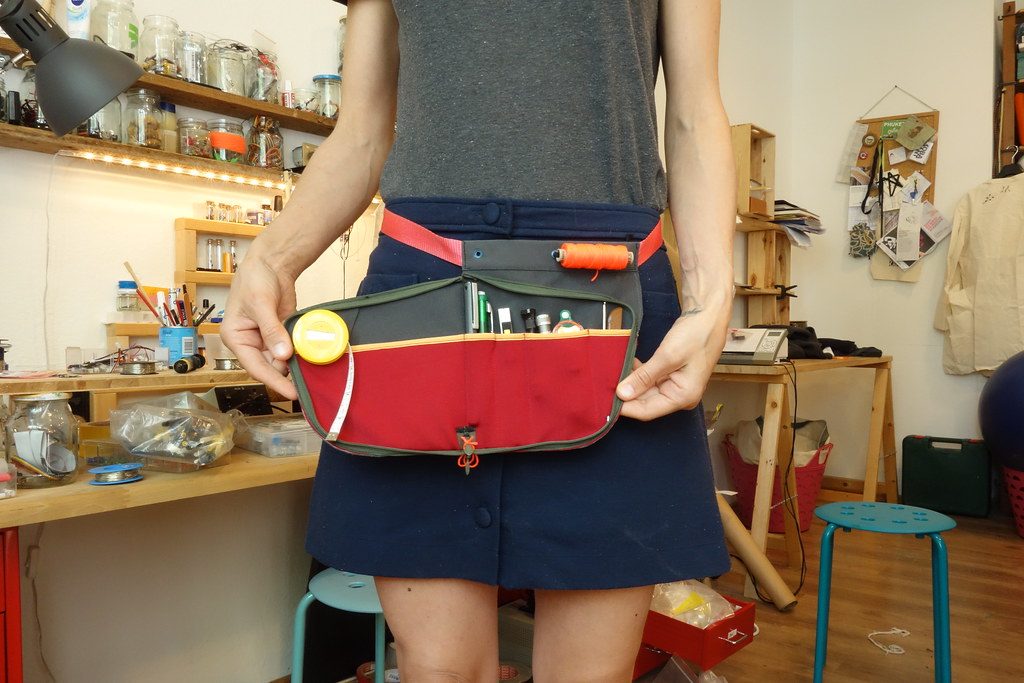 17. Open tote tool bag
Quick and easy access to your tools without having to fiddle around sounds rewarding. This open tote tool bag allows you to do just that!
It provides the most convenient way to carry around your essentials while keeping them organised.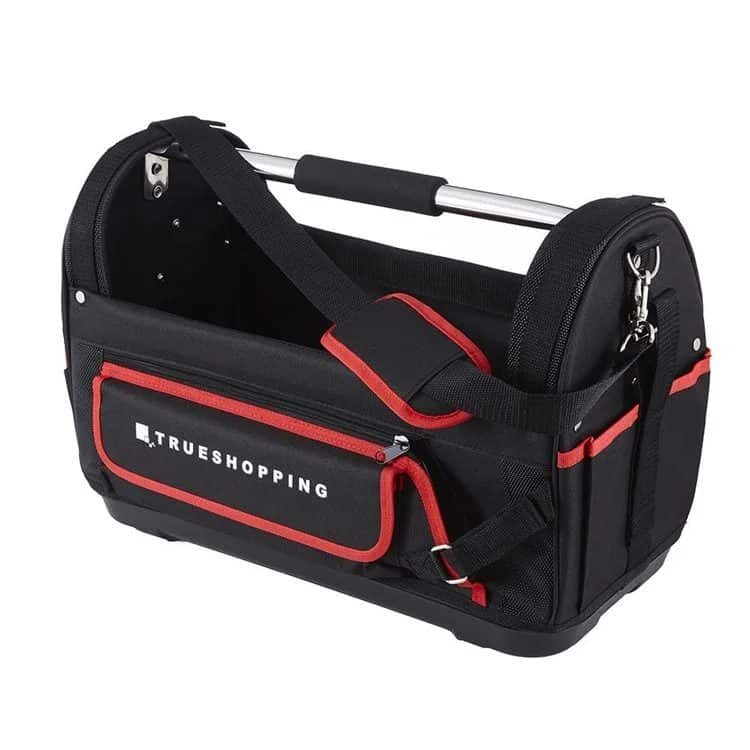 18. Old eyeglass case
Got a drawer full of old eyeglass cases? Repurpose them to store small items, like your kid's crayons or lipsticks. You can also toss your drill bits and screws in the DIY case storage.
19. Flip-through storage rack
Recreate this book-like storage rack to expand your wall space exponentially! You can sandwich the frame between two pieces of your existing pegboard.
20. Trolley tool box set
This 3-in-1 trolley tool box provides an easy and convenient way to store and access all your tools. With two sturdy wheels, it's easy to move.
Plus, it features detachable sections which you can simply unhook and carry to the site of work.
Round-up
Got tools and other necessities lying around everywhere? Be it in your home, garage or shed, we've got you covered! 
We hope our tool storage ideas will give you the inspiration you need and organise your space for good. Remember, with the proper storage, you can tackle those to-dos you've been putting off.
Shop this range of best wooden shed for storage (2022).
FAQs
Tools should never be stored on the ground. Invest in shelving units for smaller tools. Hang a pegboard along your workbench or on a wall for larger ones.
An excellent alternative to a tool box is a pegboard. Pegboard organisers are great if you want to keep tools within easy reach.
First, do a thorough inventory. Then, sort them into categories. For instance, group all the power tools, the small hand tools, and so on. Lastly, create zones and use cabinets or shelving units to keep the items together.