A garage has become a dumping ground for rubbish. It's where the clutter from home always ends up. Sounds familiar?
Garages are likely one of the busiest spots in many homes. It's where you might keep your vehicles, garden tools, and even outdoor furniture.
It's easy to overlook it, and it can easily become a cluttered mess. But imagine how much easier life would be if it was just a bit tidier?
With our clever garage storage ideas, say hello to a clutter-free space! Read ahead and see our best tips and tricks below in action.
1. Cleaning tool hanger
Cleaning tools, such as brooms, mops and dustpans, are one of the causes of clutter. Keep the space clean and tidy by putting them in an organiser; it takes up much less space.
It could be store-bought or, even better, DIY. Scrap wood and some straps or hooks will suffice in recreating this tool hanger.
2. Metal tub hose holder
A hose lying on the garage floor can quickly clutter the space and cause potential trip hazards. If hooking them on the wall won't do, opt for this method instead!
Wrap the garden hose around a metal tub attached to the wall. It's simple, effective and attractive.
3. Rack for spray cans
A garage will always have that miscellaneous corner filled with paint. A wall-mounted rack is a perfect solution to keep spray cans off the floor or on your benchtop.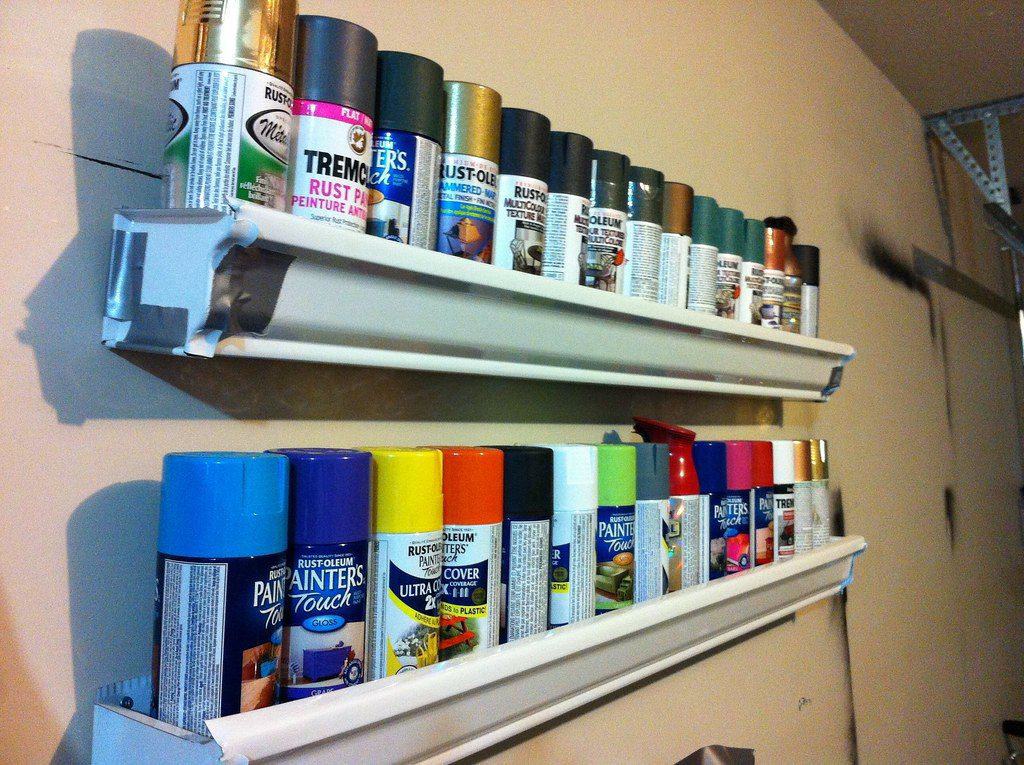 4. Take advantage of the ceiling beams
You're lucky if your garage has exposed ceiling support beams! You can turn them into convenient storage space; take a cue from this idea.
With a bit of carpentry, you can have built-in storage to tuck seasonal items, such as a Christmas tree, out of the way.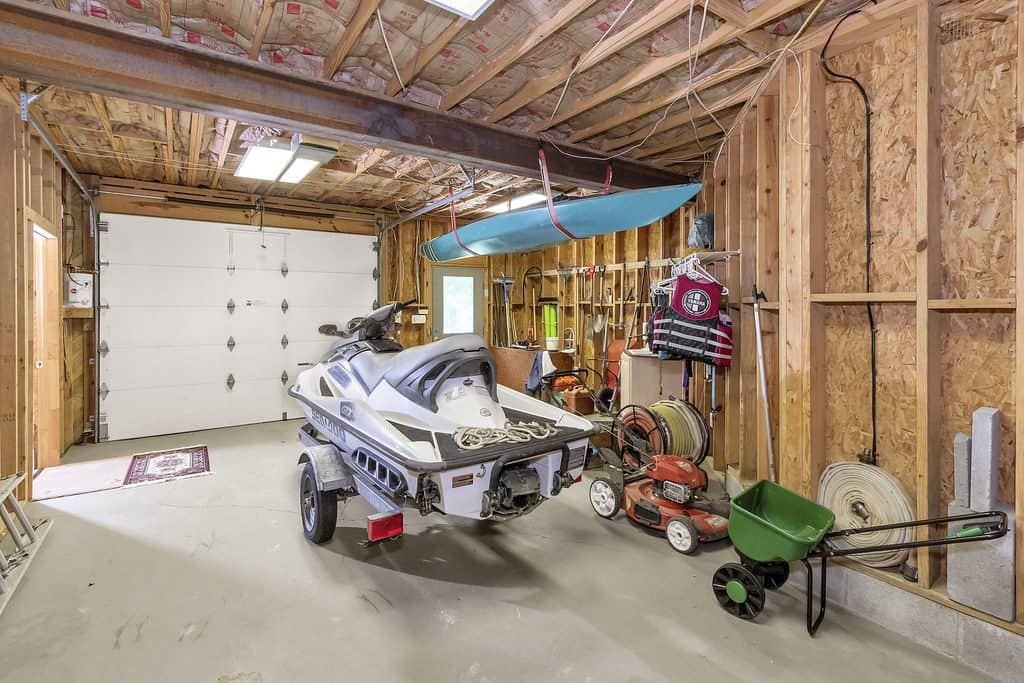 5. The ultimate power tool holder
This is like the spray paint rack but even better! Don't let your power tools end up scattered around your garage. A DIY rack made from pieces of wood or PVC pipes will work as a "docking" station for them.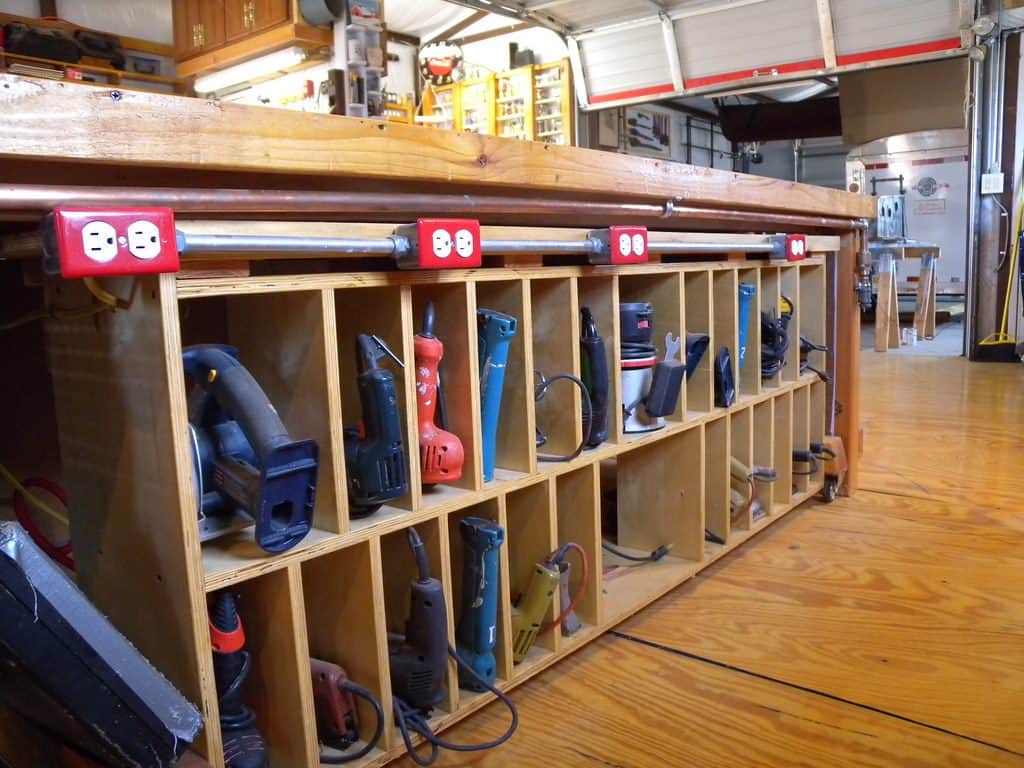 6. Hanging jars for nails and screws
Don't you love creative upcycle ideas when they turn out this pleasing? This strategy for storing nails, screws, and other pieces of hardware is one of the A+s on our list!
Use small plastic jars to sort all types of fasteners, then mount the lids to the underside of a shelf.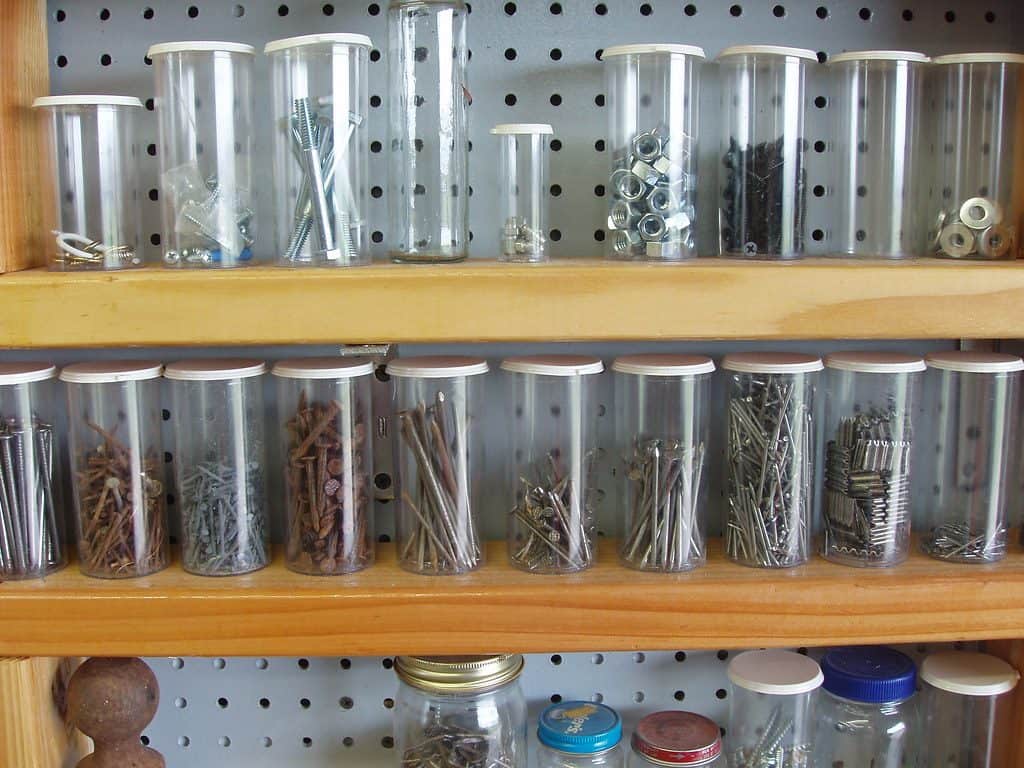 7. Magnetic catchall
One of the secrets to a supersized storage capacity without extending (or selling your car) is here! A magnetic catchall is great for holding paintbrushes and other metal tools.
Install magnetic strips to keep your little items organised and easy to access. For smaller items like pencils, attach soup cans.
8. Hooks on the ceiling for bikes
We get it; you cherish your bike as much as you do with your car. So, who's going to park in the garage? Fret not, this space-savvy bike storage will give your vehicle enough space inside.
Resist the urge to stash-and-dash with placed hooks on the garage walls or ceiling. Bike storage also makes an excellent solution, especially if you have the space for it.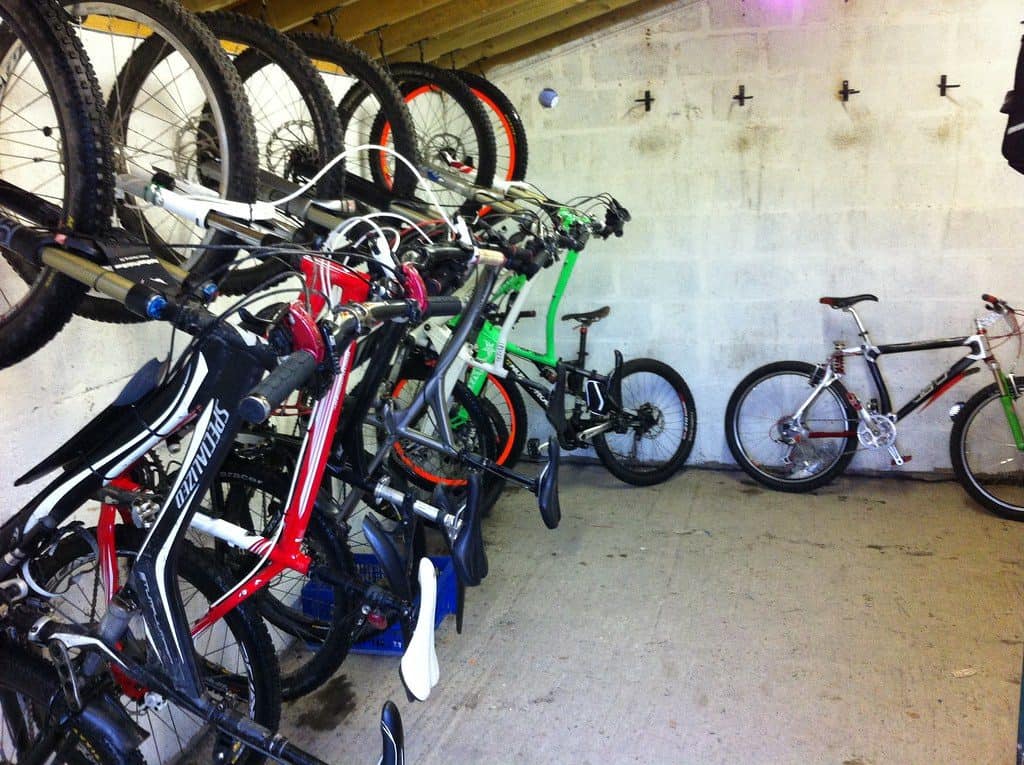 9. Trash bag dispenser
Even though trash bags will eventually end up in landfills, give them somewhere to hang. Not only will it save you from clutter, but it'll also give you quick and easy access. (Make sure the bags are unused!)
Use two curtain rod brackets and a wooden dowel to create an inexpensive rack for trash bags.
10. The power of pegboards
Pegboards make a practical organisation option. They can be used almost anywhere in your garage.
Perfect for hanging tools behind a workbench or even for the heaviest tools like drills. And the best part about a pegboard is that nothing you hang has to be 100% permanent.
11. Lumber rack
Got some wood scraps occupying your garage floor? This wood storage solution will solve your problem! Have them all organised in a lumber rack.
The style should be based on how much space you have and the size of wood scraps you'll store. If you have spare scrap wood, it's best to use them to build the rack!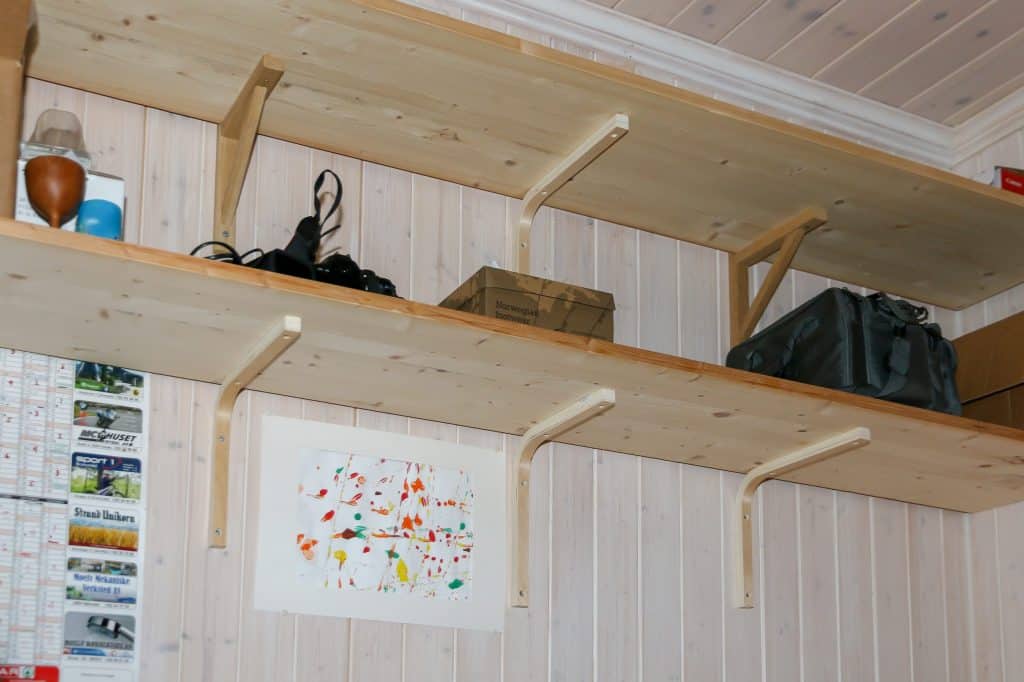 12. Ball holder
A garage isn't only for vehicles and tools; it's also a place where sports equipment is stored. For one, a variety of balls, from basketball and soccer to baseball.
All you need is a few bungee cords and a wooden frame. The best part is that you can adjust the spacing between cords to hold balls of different sizes.
13. Curate a mini gardening zone
Create an easy-access gardening corner with a potting bench. Install some hanging shelving to stash your other equipment and store smaller items.
This is a great way to form a mini leisure pursuit without taking up the whole space and leaving no room for others.
14. Upcycle old filing cabinet
Give old items a new use in your garage, just like this clever old filing cabinet storage. It'd work well if you have a huge workbench, placing the drawers underneath.
You can also use it for keeping long-handled items by turning the locket on its side.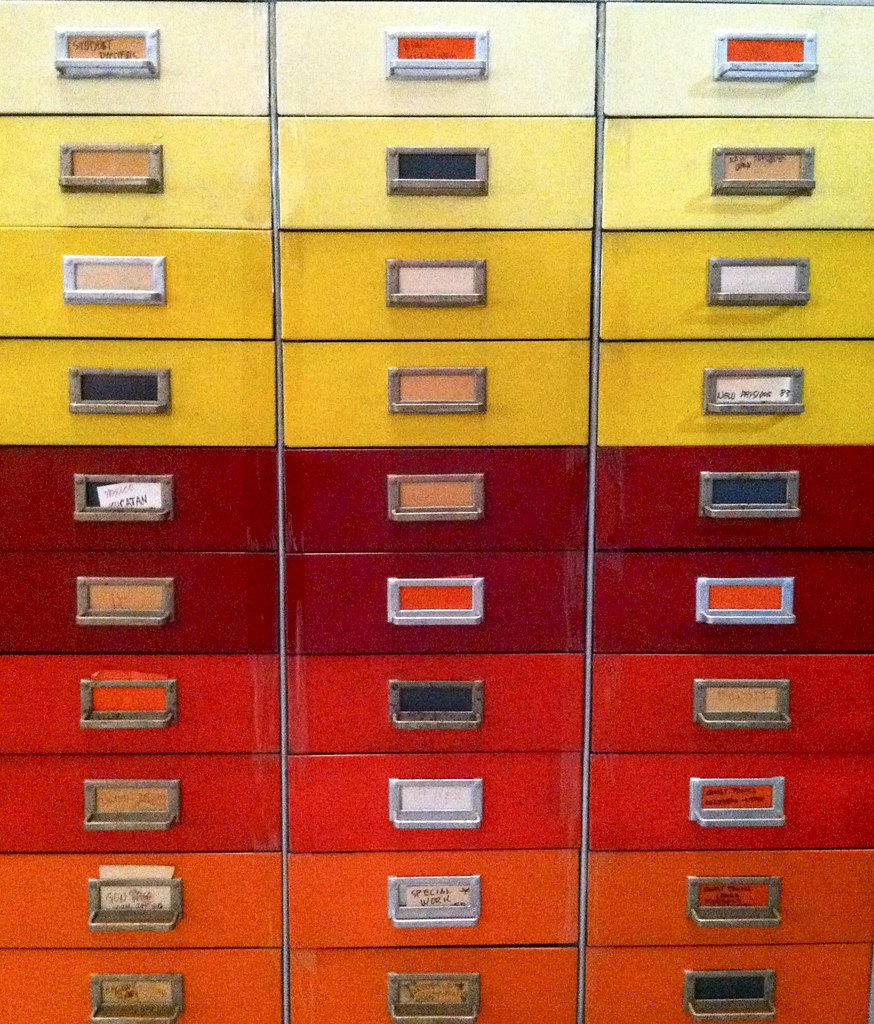 15. PVC drill holder
Keep your cordless drills safe and orderly with these under-shelf PVC holders. Cut the pipe to length and widen it out until it fits the body of the tool perfectly.
Sand any rough edges before attaching them to the shelf. This organisation trick works best for keeping only a few tools.
16. Label the storage bins
Using lidded storage bins works well for storing a variety of things. But if they're in the same colour, they can be confusing when searching for specific items.
Add vinyl lettering or any type of labelling to the boxes to identify the contents. This will save you time when looking for seasonal decorations or camping supplies.
17. Fishing rod holders
Construct a fishing pole rack in your garage to keep your rods protected and tidy. This clever holder is made from two parallel rows of large ceiling hooks screwed to the ceiling.
Long items can also be stored and organised up high out of the way!
18. Create a mudroom
If your garage has an internal door, it can double as an effective mudroom. A garage mudroom can be created near the door leading to the house.
Add a built-in locker with each cubby having a shelf, coat hooks and storage crates. Label them to encourage children to put their outdoor things away when they come in.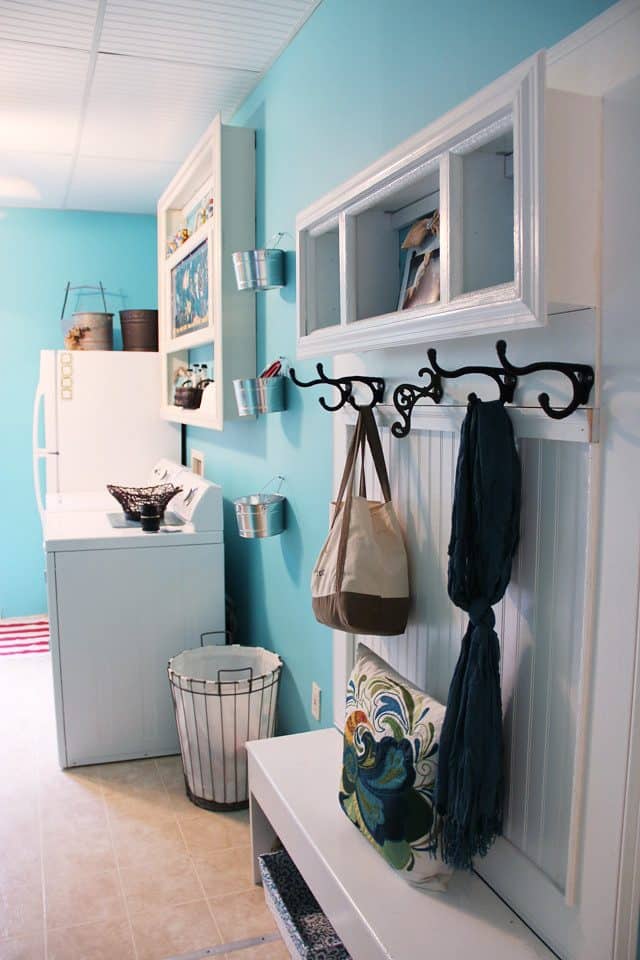 19. Tape dispenser
Use supplies you already have on hand, such as pallets or scrap woods, to create a simple tape dispenser. This handy organiser will keep your tape in place and ensure a roll never gets misplaced again.
Plus, an old hacksaw blade makes the perfect cutting edge for sturdy tape.
20. Invest in safe storage
If you keep hazardous tools or cleaning supplies in your garage, you need a safe environment for them. For flammable liquids and dangerous tools like saws, store them in metal drawers.
Heavy-duty storage totes with lockable lids will do. And if you're looking to store your important keys, go for this Trueshopping Key Safe Box.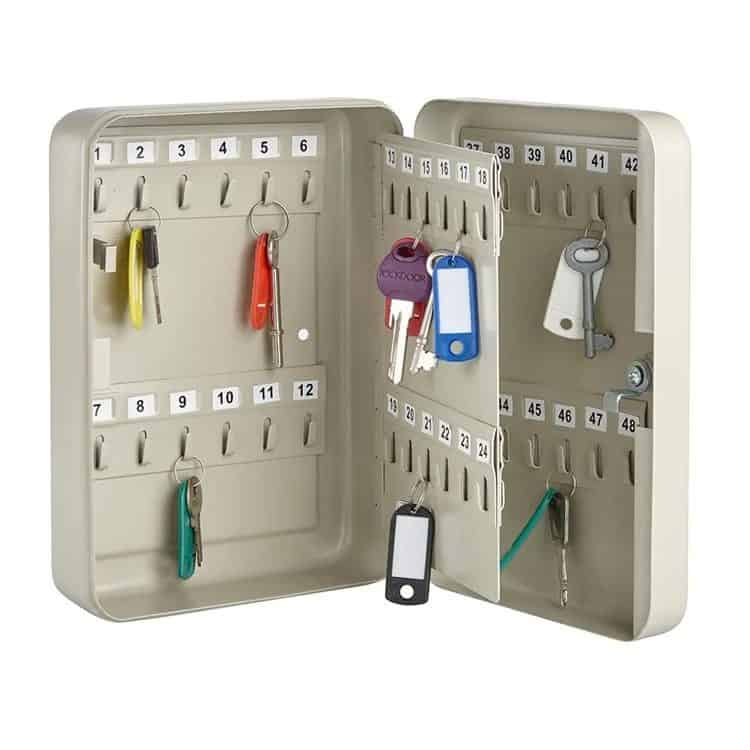 Round-up
Is your garage looking like a disaster zone? Fret not; that happens a lot. But that doesn't mean it's okay to leave it that way!
Too much stuff always creates more clutter. Enter decluttering and storage ideas.
Your first step is getting rid of all the accumulated rubbish. Once the floor has been cleared, your next step is storage for organisation.
We understand that a clutter-free and clean garage isn't a one-size-fits-all project. This is what our Garage Storage Ideas guide is for. And these 6 advantages of wooden garage will inspire you even more!
Shop The Aston Garage
FAQs