A garage is essential to most houses and a necessity for vehicles. It's the go-to storage space not only for cars but also for equipment like garden tools. It has so much potential that it can double as a garden shed – a win-win for future buyers (if you plan to sell the house later).
But if your property lacks one, this may present inconveniences. For one, it leaves your vehicle exposed to the elements, and you have limited storeroom – but it's not the end of the world.
The only way to overcome these drawbacks is to get creative, with some money involved. There are some workarounds, but the most cost-effective solution is a portable garage. We're talking about garden buildings here – particularly wooden car garages.
Keep reading and look into the possibility of a wooden garage addition to your home and how it can benefit you!
Advantages of Garage: Timber Garage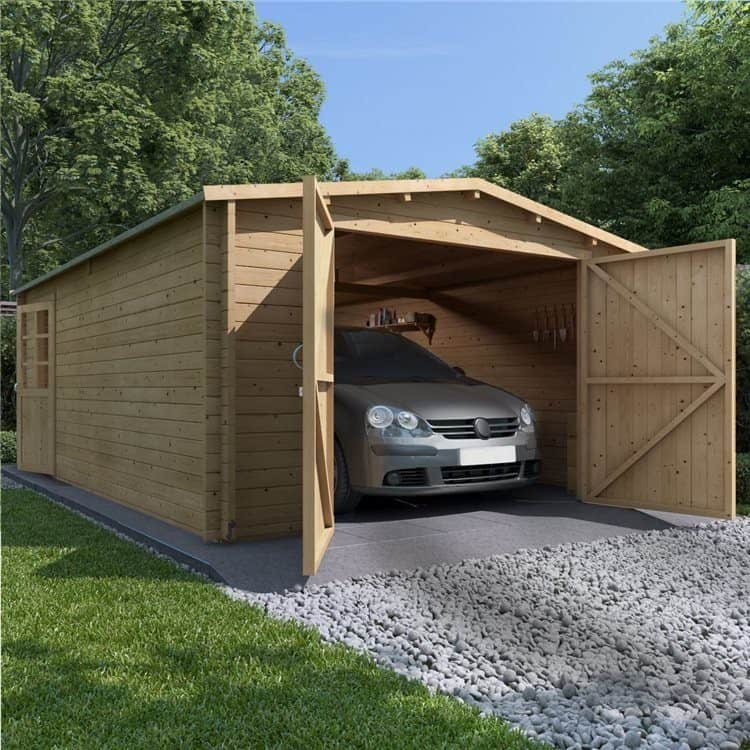 The main use of the garage is they provide you with somewhere to keep your car. Other than that, it's open to many other uses, e.g. as a practical outdoor building. It'd be ideal as an additional storage space for items and equipment that can no longer fit in the house.
The huge range of garages also makes the perfect structures for workshops. One can give you more room for working on your car, doing DIY projects, or carpentry. The wide garage doors let you move large items in and out with ease.
If the space allows, double garages are great, offering extra shelter for more than one thing. Suppose you have a second vehicle to protect, such as a motorbike. Or you wish to have a dual workspace for your vehicle and a room for a workshop or storing items.
When it comes to construction, there are a variety of materials to consider. Options include brick, concrete, metal or wood. Among the four, timber is an excellent choice. But the growing trend of wood garages leads to the question: why choose wooden buildings?
Wood is attractive
The first thing to note is that wood results in a more attractive material for garden buildings. Thanks to its natural material, it blends well into the outdoor environment – in any setting.
The right timber garage can be a standout feature or a focal point of your garden, that's for sure. Wooden car garages can do the job they intend to do while offering aesthetic value.
Wood garage kits are also a much cheaper alternative to building a concrete garage. You can install one on your own, unlike building a brick garage that needs specialised skills. This, again, helps increase the value of your property, making it more attractive on the market!
Authentic style
Wooden structures offer more natural beauty and a rustic look than metal garages. They're easier to paint over and can be much simpler to update. This also translates into lower maintenance, costs and time.
Compared to a steel garage, it doesn't need yearly maintenance for paint. No more dealing with flakes of paint from the structure before applying new coats.
But keep in mind that pressure treatment is necessary to ensure the wood lasts longer than ever. This involves precise steps but results in outstanding quality than the untreated. The good thing about this, though, is you don't need to re-treat your timber garage for decades.
A natural insulator
One aspect of a timber building for garages is it has natural insulation properties. Wooden garage doors, for one, offer additional insulation. This keeps things at a warmer or ideal temperature than structures made of metal or others.
Any holes you may punch into the garage walls for electricity cables will not affect it. The same can't be said for both metal and concrete structures.
Simple foundation
A wooden garage only requires a single concrete slab as a foundation. This saves you a lot of time and money during the installation. Now, what's the need for a foundation, you ask?
The concrete slab plays an important role in distributing the weight of the car evenly on the ground. Heavier garages also need foundations to support the weight of the log walls.
Easy installation
When it comes to timber garage doors, they're easier to install and finish than any other material type. If you decide to install it yourself, you could do so over a weekend without too much hassle.
Unlike a concrete structure, whose construction requires an extra foundation, could take forever! Metal units are also easy to install, but the deep foundations required may take a while.
Damaged parts are easily replaced
The flexibility of wood garage doors enables easy repairs for damaged segments. They can be replaced with other bits of wood to restore the structure's functionality. It's less of a problem than mending a broken or rotten metal shed.
If well-cared-for, a wooden garage can last for 10 to 15 years. But with a pressure-treated unit, you'll be able to enjoy your investment for a lifetime.
Multi-functional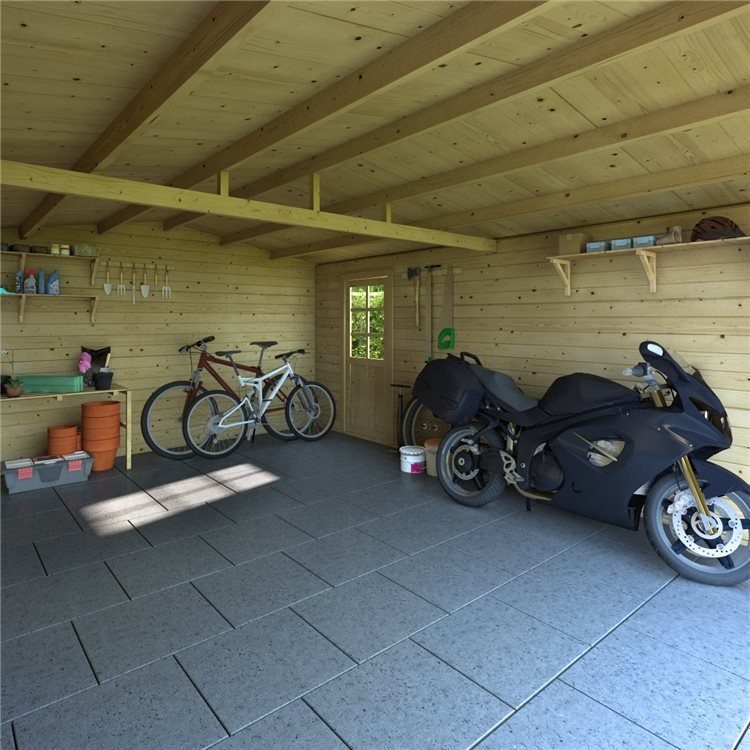 From the get-go, garages these days are much more than just a safe place to keep cars and bulky items. As mentioned, a log garage can almost act as a wooden shed.
This means it's the perfect place to do DIY, woodwork – or if it's big enough, you could turn it into a 'man cave' or 'she shed'. The versatility offered by timber garages gives them an edge over their counterparts.
The Features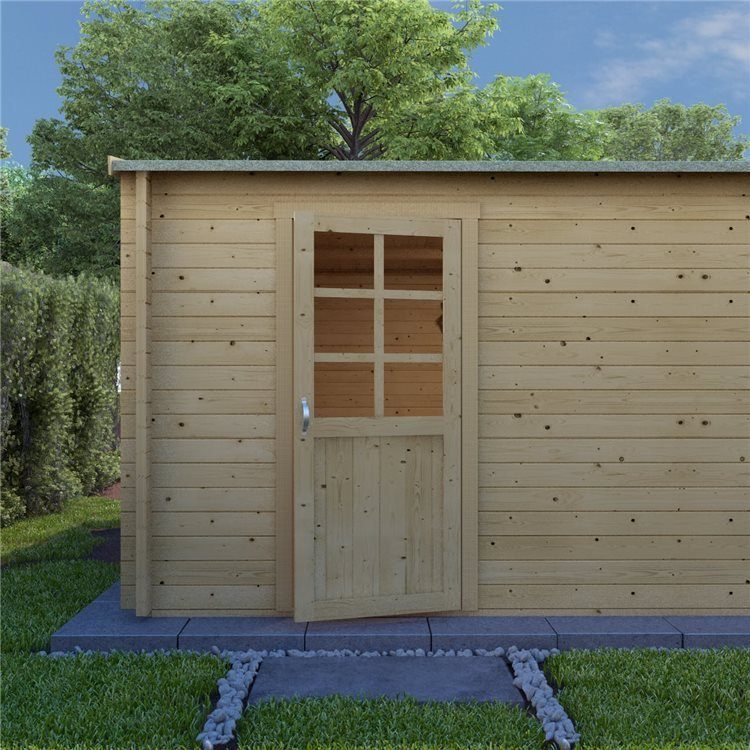 Here at Garden Buildings Direct, our Aston Wooden Garage features 44mm interlocking walls. Designed with heavy duty use in mind with metal brackets on the bottom of the walls. This guarantees an attractive finish and a more robust structure.
Pressure-treated, it comes with a 15-year guarantee against rot and insect infestation. Green mineral roof felt and secure fixings also come as standard. What's more, the 11mm thick tongue and groove ensure more stability. A single side door can also be found on the side for quick trips out of your car or for separate access.
The heavy duty hinges, latches, and handles are galvanised for maximum weather protection. The integrated dual timber doors also create a large opening ideal for small cars and large SUVs.
Your BillyOh Aston comes with detailed instructions on easy assembly. And with fast and free mainland delivery to most of the UK in just 3 – 6 weeks!
Round-up
These are just some of the advantages that a wooden garage has over metal or concrete ones. You can get a package that combines affordability with significant benefits.
Now, it's not a surprise why the wooden garage has increased in popularity in the UK these past few years! More and more homeowners decide to install next to or around their houses, in turn.
And if you're looking for a storeroom, workshop or a place to park your car, take a look at our wide range of timber storage. Garden Buildings Direct only uses European-sourced timber. This ensures your building will be sound and sturdy for decades to come!