You don't just have to rely on garden sheds anymore. These garden storage ideas are here to rescue you from clutter!
When your outdoor space is at a premium, you want to save as much space in the best way possible. And with a generous plot, clutter is especially inevitable – this means you have to keep everything in order.
We have ways that can help you make that happen, including storing your tools so you never lose them again, with our fantastic garden storage units! Keep reading to unlock garden storage secrets.
1. Invest in a garden storage unit
Sheds, in particular, are the best outdoor storage solution. From bulky equipment to patio furniture, a garden shed lets you safely store everything in an efficient and safe manner.
Take this Master T&G Apex Shed, for example. The generous headroom provides convenience and increased mobility while you're inside the shed.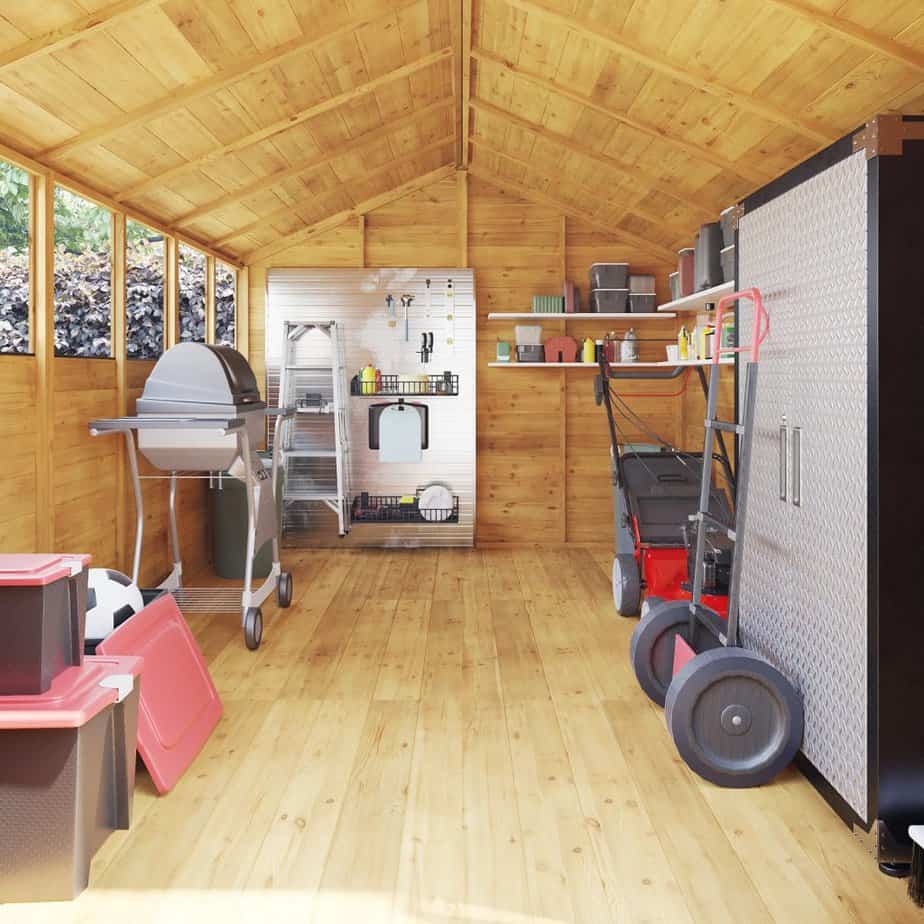 2. Put up a compact potting bench
A potting bench is a win-win piece of furniture to have in your garden. It gives you a surface at the ideal height to do your gardening jobs, rather than doing it on the ground.
Moreover, it doubles as a small storage area for keeping soil, pots, and other tools. Finally, it makes the perfect makeshift planter display!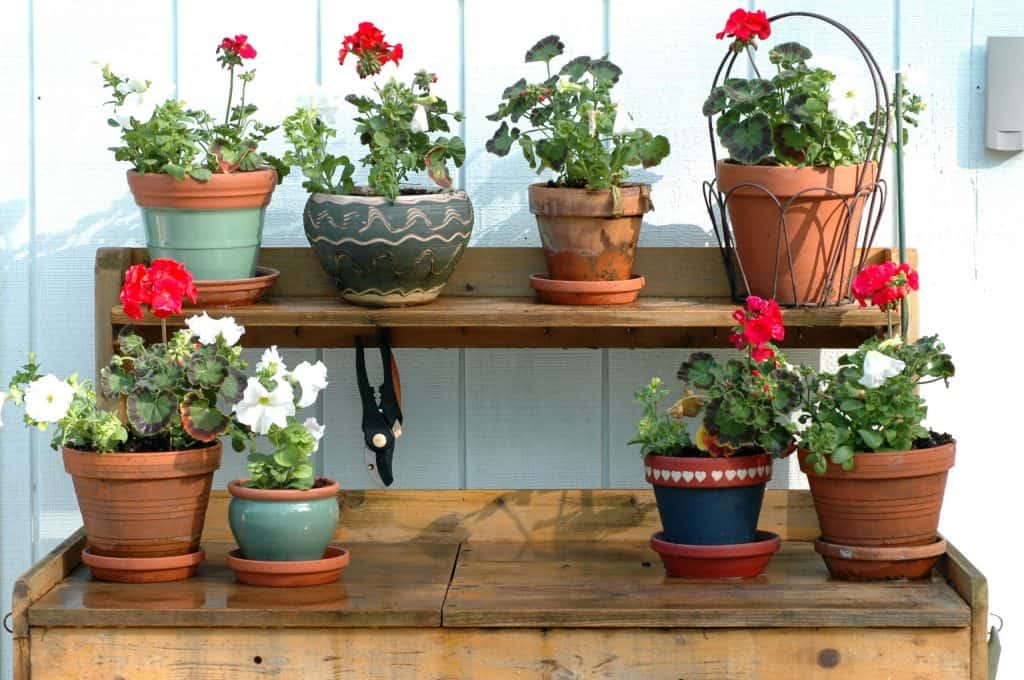 3. Stay space efficient with storage boxes
Most garden storage boxes can fit seamlessly into a corner or against a wall. Ideal for patios, poolsides, and balconies, they take up less space than sheds.
Store your outdoor valuables in this Falcon Heavy-duty Storage Box. The double-bolted key lock ensures outstanding security.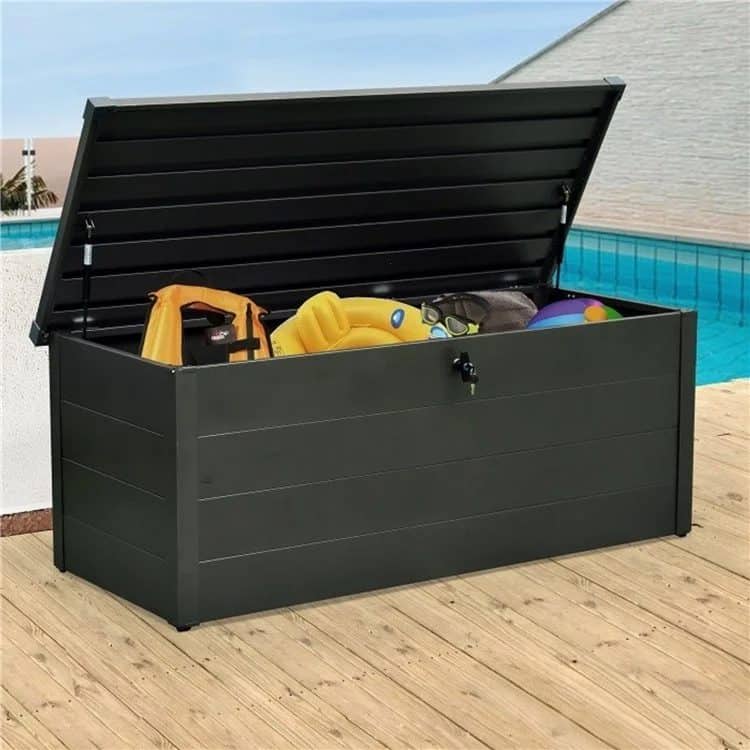 4. A simple pallet shelf
Pallets are great and cheap, not to mention they can be used in different ways in the garden. This grey-painted pallet shelf, for one, is simple yet functional.
It maximises growing space and can be the ideal home for herbs and seasonal flowers while taking them off the floor and reducing clutter.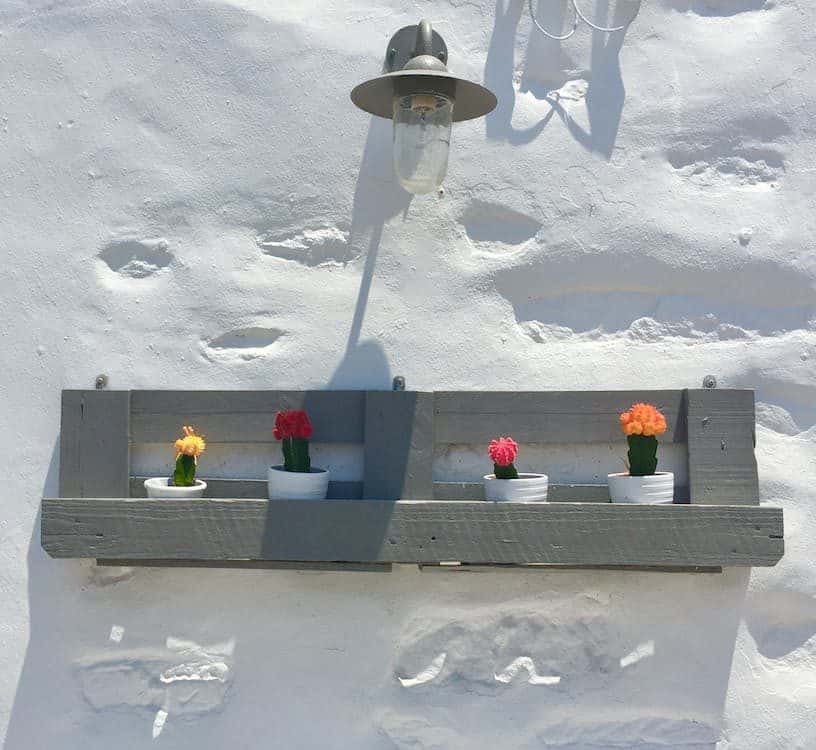 5. Let out the crates
Crates, especially those made from old pallets, can be great for storing items and even fruits. If you have Apple trees in your plot, you'll need a bigger one like this to keep the harvested red fruits off the ground.
Bonus: they're sustainable and will make a practical feature in your eco-friendly garden.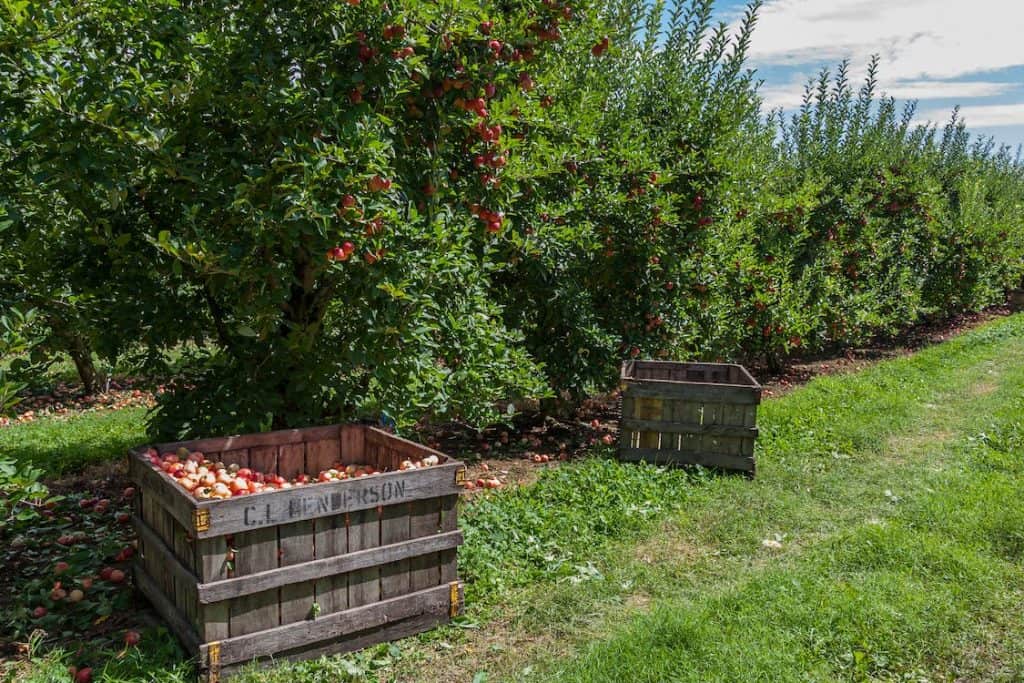 6. Build a firewood shed
A DIY rack or store can help you stack your firewood neatly and off the ground, saving floor space. The storage also lets the logs dry and protects them from rain and snow.
You'll have easy access, and you don't need to store wood piles on your lawn, garage or all over your backyard.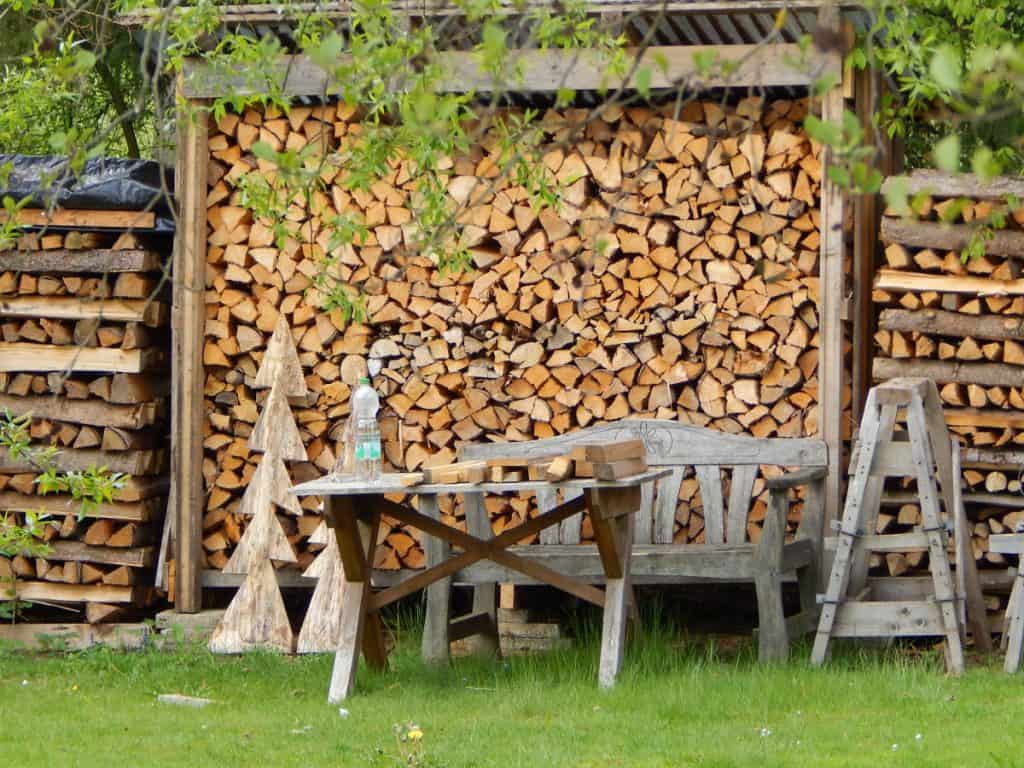 7. Conceal your rubbish
Wheelie bins aren't the most attractive feature to have in the backyard. Luckily, bin storage exists, such as this BillyOh Metal Wheelie Bin Store.
You can tuck your rubbish bags away neatly and securely! It can fit two wheelie bins and has an opening lid for low-effort access.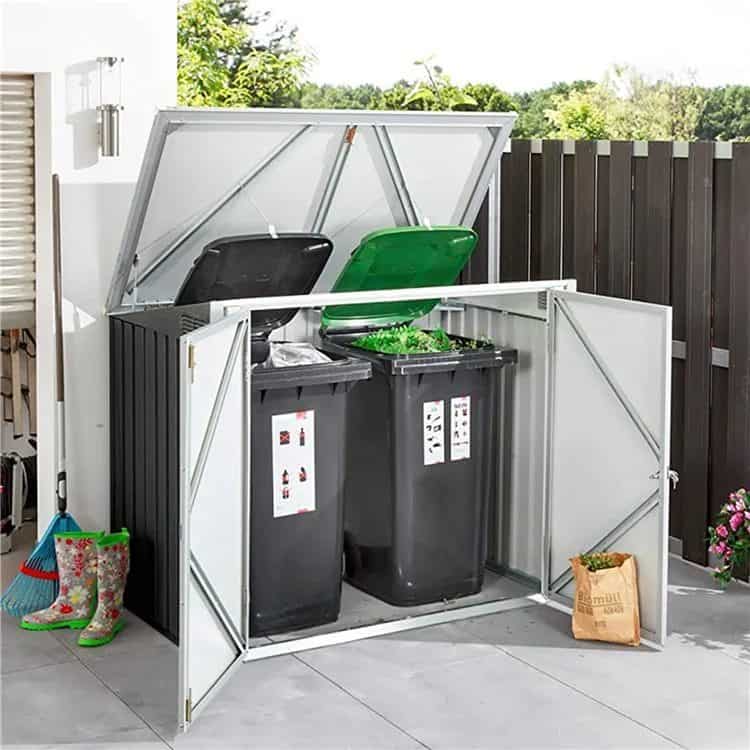 8. Outdoor cookout workstation
A garden kitchen makes outdoor cooking and alfresco dining more convenient. But with an open space, clutter is noticeable. In this case, you need a workstation.
Not only does it offer an extra surface for preparing food but also plenty of storage (especially with cabinets).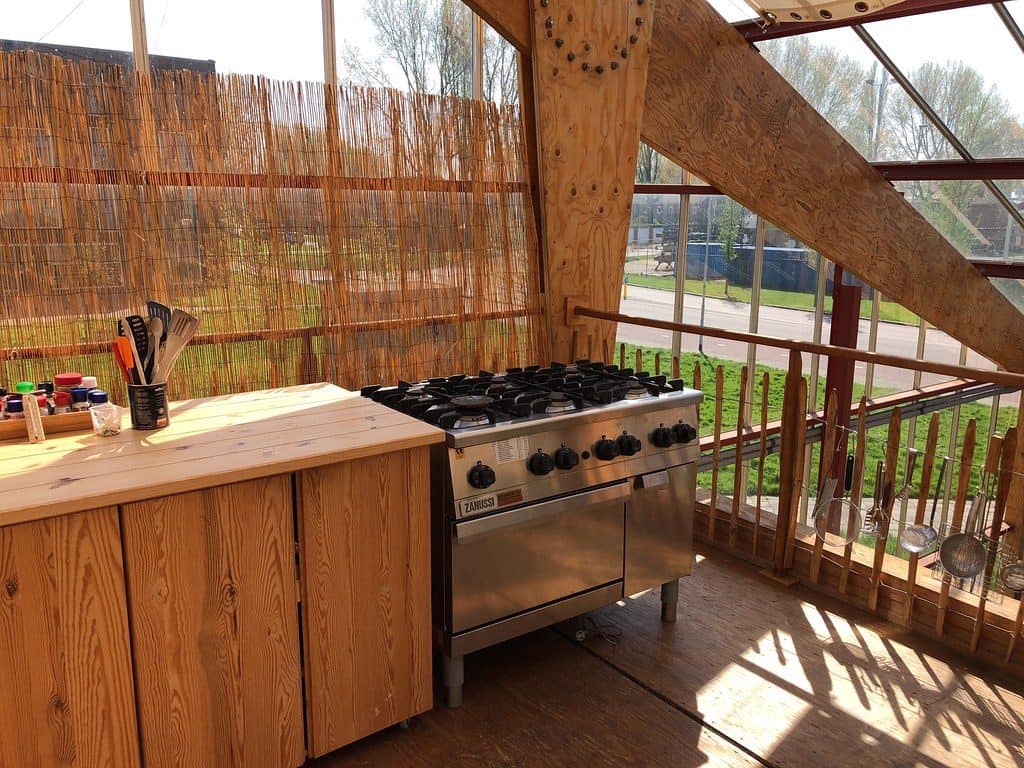 (Image Credit: Flickr – Nicolás Boullosa)
9. Tidy up the hose
A garden hose has a habit of untangling itself, which can cause you to trip on it. Leaving it on the ground can also take up a huge space and look messy.
Hang it on the wall or a hose holder where the water tap needs it, then roll it up!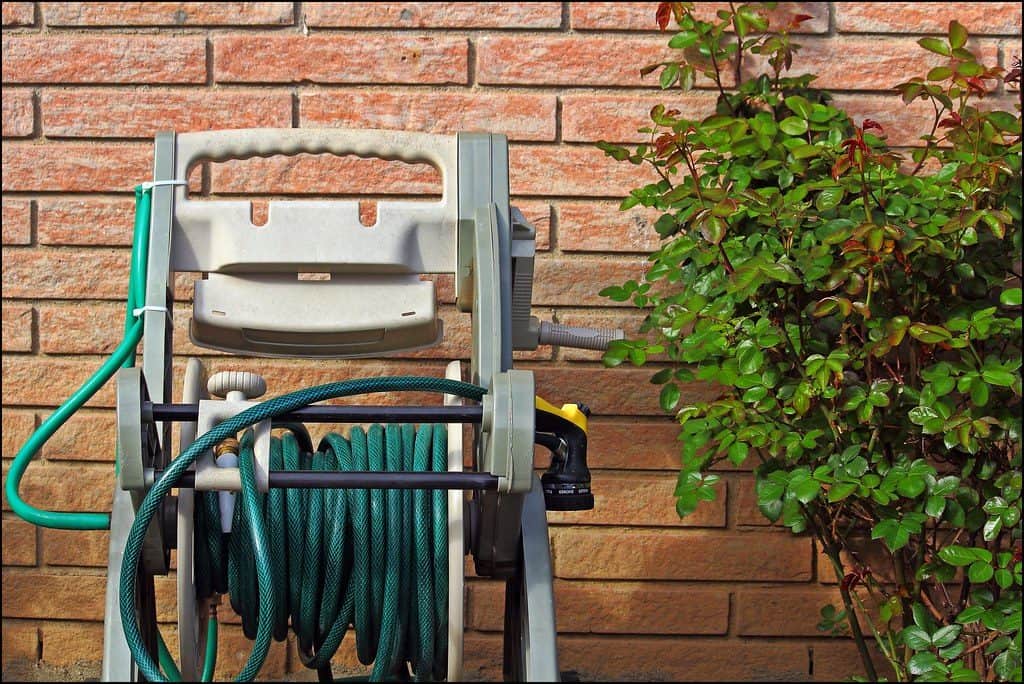 (Image Credit: Flickr – Sue Thompson)
10. Stash everything in a slim storage
This tall store unit can accommodate forks and spades, a broom, a strimmer and even your wellies. It's also a crouch-free design, giving you great utility storage.
Three compact corner shelves are included as standard to maximise the space.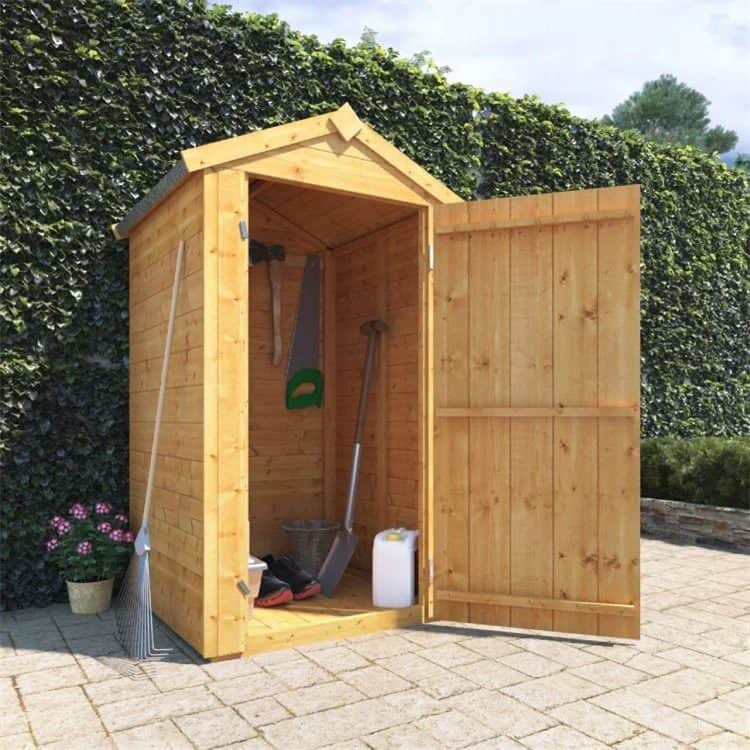 11. Utilise wall space with a storage cabinet
Even the smallest wall area can be put to good use! An open storage cabinet like this is ideal for storing your equipment with easy access. You can also add some hooks to a wooden trellis to create an improvised tool hanger. If it's in a place where wind can get to it, don't store anything fragile on the shelves.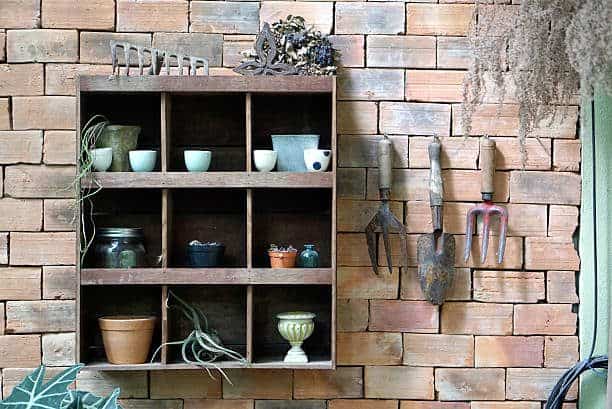 12. Hide your compost
Like wheelie bins, compost heaps aren't pleasing to the eyes, and you don't want them to be all over the place. Place them in a compost bin to keep them intact and hidden.
Build one using wooden pallets or invest in this strong, durable plastic bin that can hold up to 300L of waste.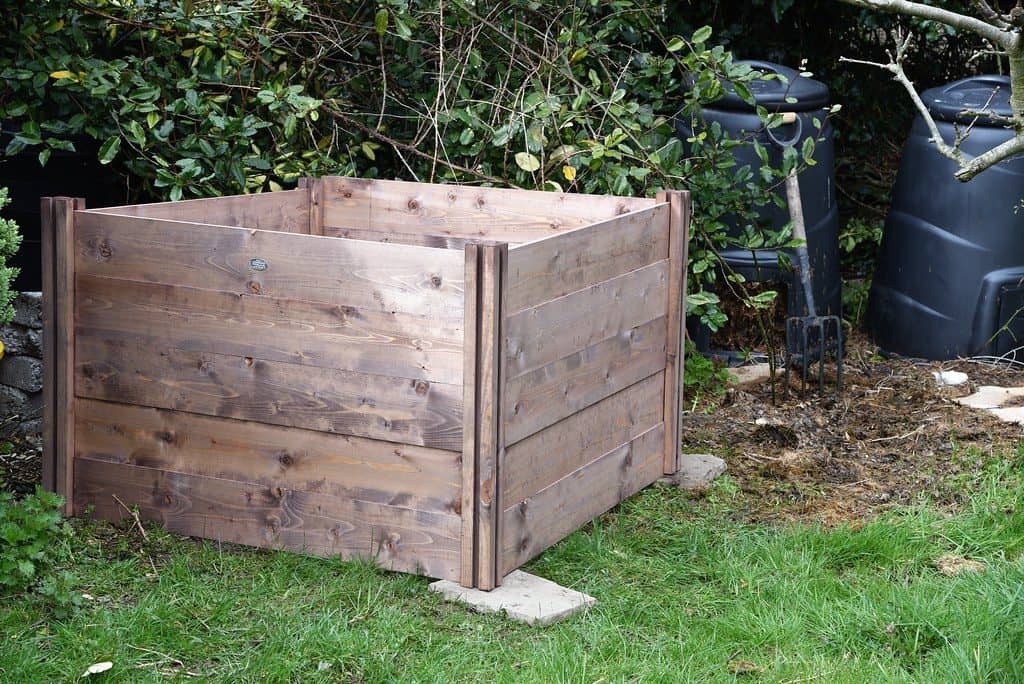 (Image Credit: Flickr – Conall)
13. Consider bench storage
Multi-functional furniture items are great space savers, and this bench storage unit is no exception! Besides seating, it can also be used as storage for outdoor cushions, kid's toys, and more. Purpose-built models, like cushion storage boxes, are especially useful for this.
Never worry about running out of space, thanks to its huge 184-litre capacity!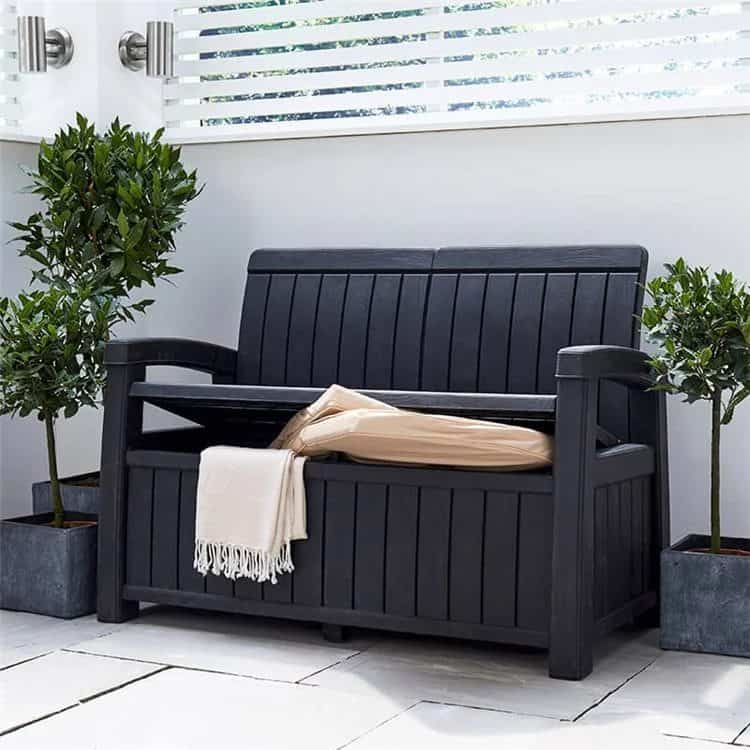 14. Have a tool storage rack on hand
Forget about that rusty old wheelbarrow which adds to the cluttered look of your garden. Your equipment deserves better – something big enough, lightweight and organised-looking.
Go for a design like this garden tool storage rack. You're able to hold up to 40 different tools, and it's easy to move around.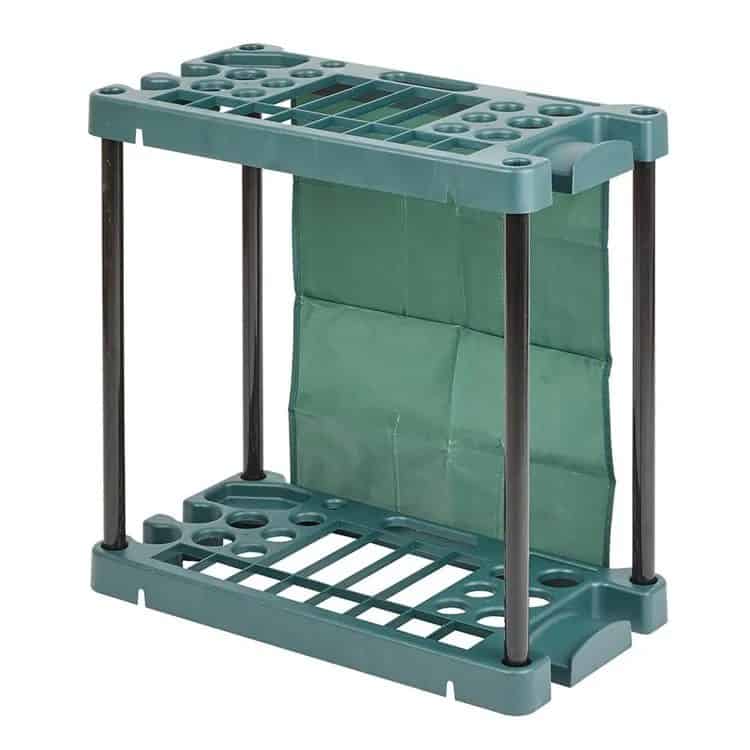 15. Display plants on slimline shelves
If you have container garden collection, you'll need storage to keep all those pots in order. A wide shelving unit like this will do the job and will likely work in any plot style.
It also makes a great addition to your greenhouse to keep it looking orderly.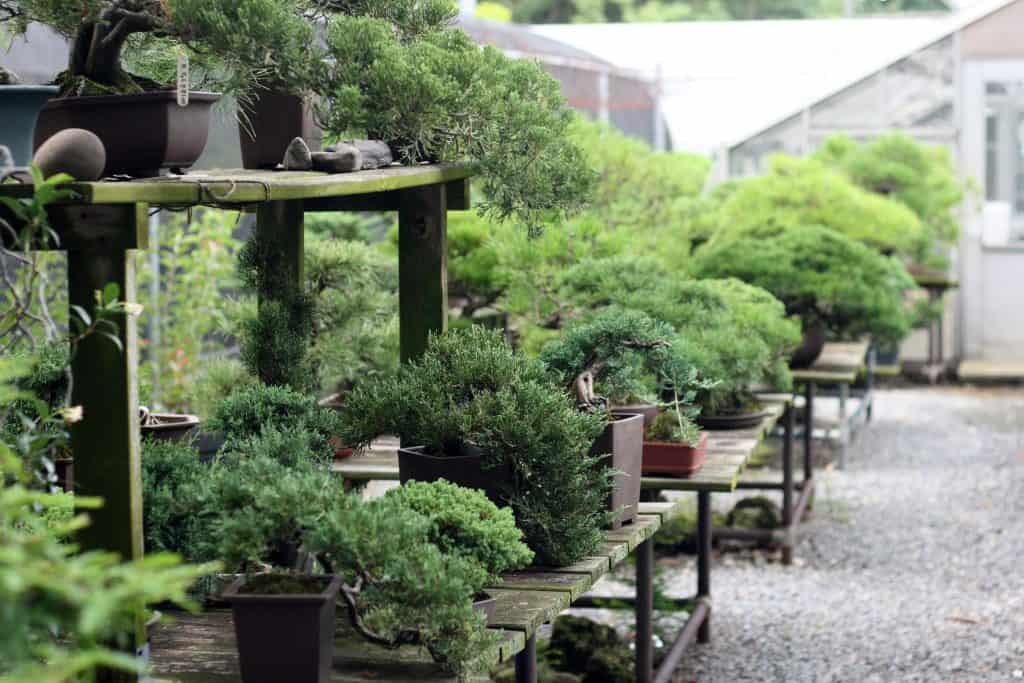 16. Build a mini storage shed
This tool shed might look quite small, but it's great to store a variety of items and keep them out of sight. To do this, you'll need lumber wood, wall studs, rafters, braces, screws, wood filler, wood stain, and more.
It's a great DIY project that you'll be able to slowly construct and then take advantage of for many years!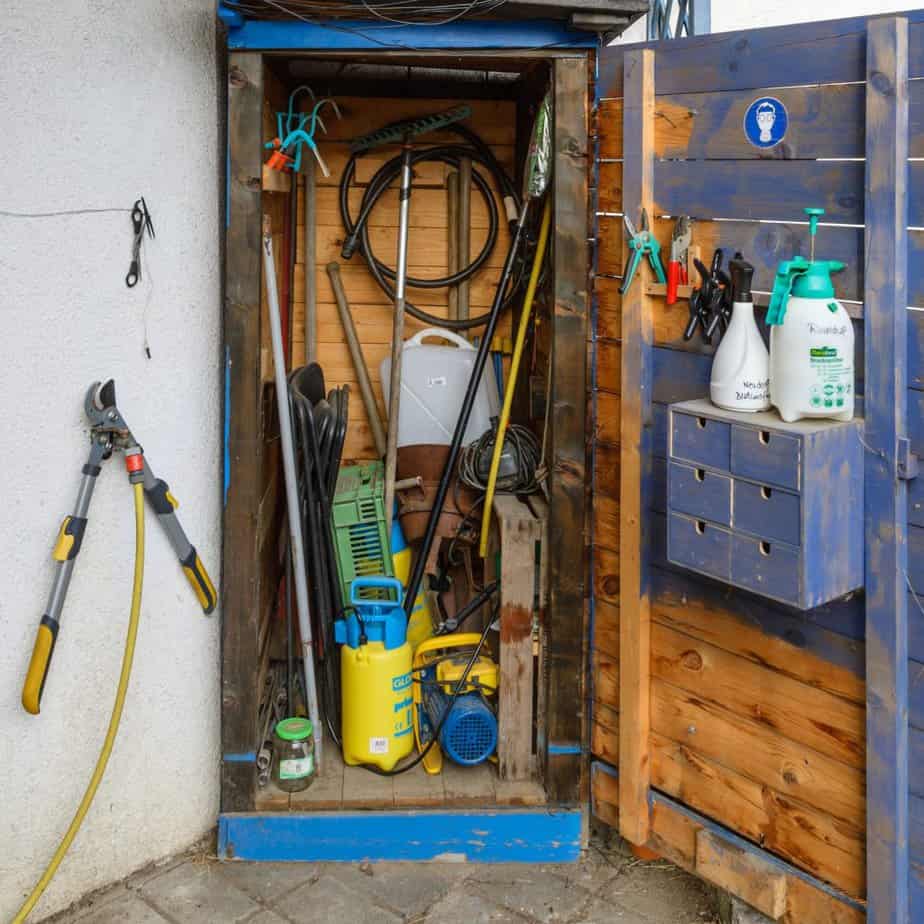 17. Cabinets under the deck
Make the most of your outdoor space with deck storage! Whatever you want to store, putting it "under the deck cabinets" will keep it at hand while you're out in the yard. It could be spare garden chairs, tables or extras for your BBQ.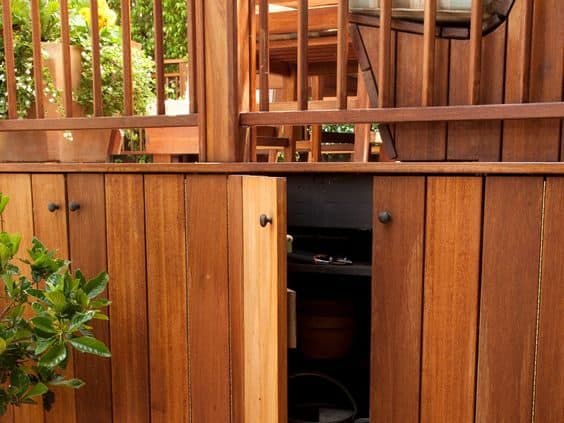 18. Keep bikes out of the way
Bikes are amongst the worst things to cause clutter to your backyard. If you don't have a garage to store them, a bike shed is the perfect storage solution for you.
Go for a sturdy unit for quality weather protection and year-round use, such as this Mini Master.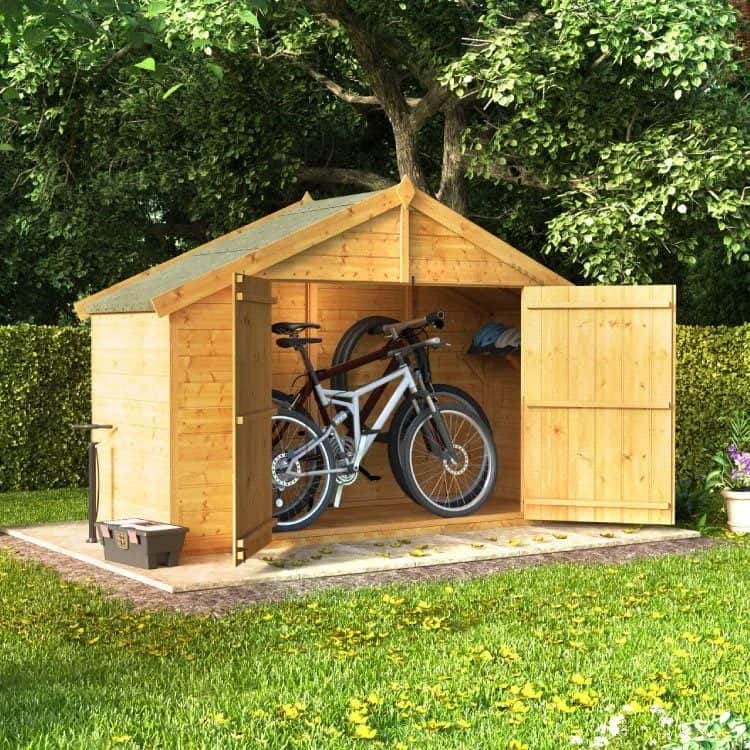 19. Hang a pegboard
When it comes to shed organisation ideas, pegboards are one of our favourites! Installing one on the wall or back door can ensure your shed always stays organised.
A neat backyard and tidy shed provide peace of mind.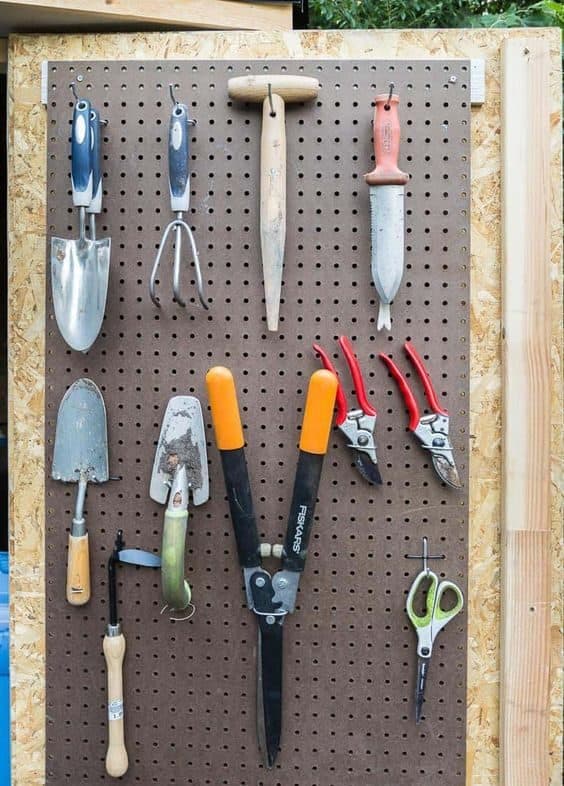 20. Display plants vertically
Gather up pots that are cluttering up your patio and pop them on a stunning vertical shelf. Not only will it free up floor space, but the open shelf can also act as a handy garden divider.
Group together similar items for a cohesive look, but try not to cram the unit full.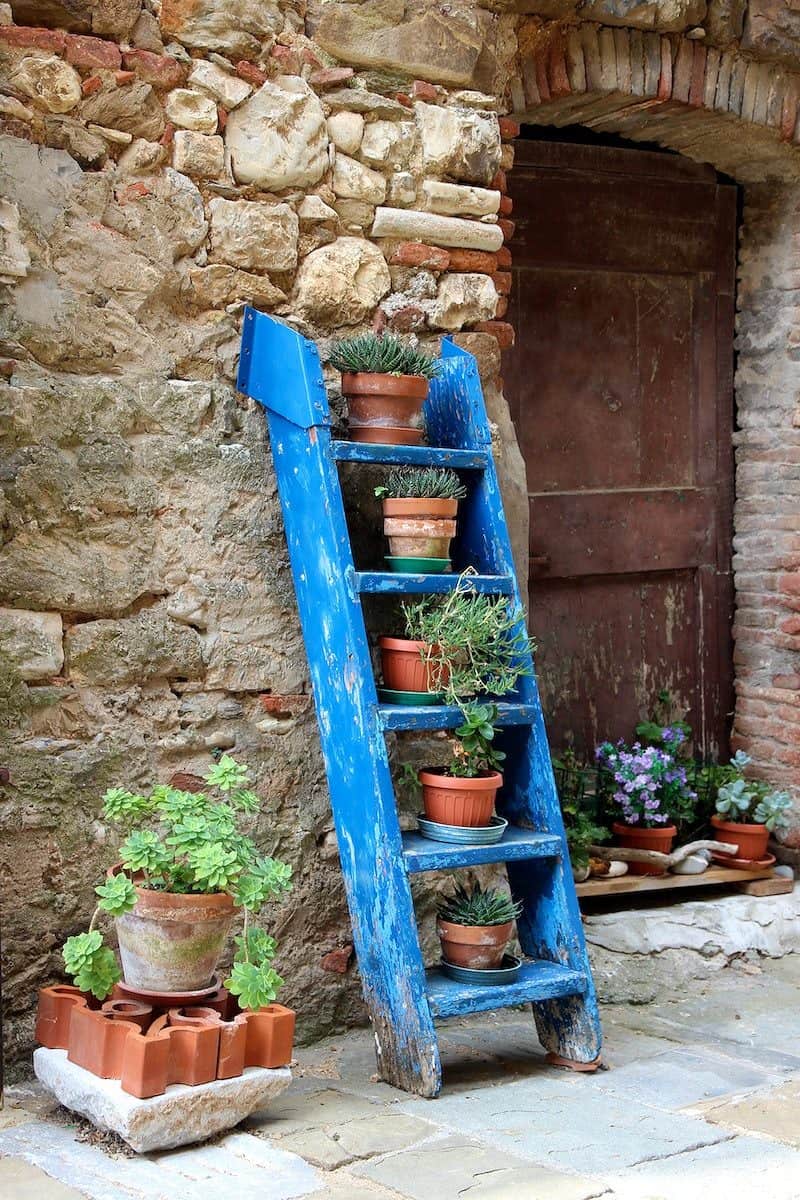 21. Choose a metal shed to add modern flair
Metal sheds are cheaper than their wooden counterparts. Not only that, their durability for storage purposes is unmatched!
Moreover, a steel shed unit can provide increased protection and security. Have a look at this stylish cargo pent metal shed, for example.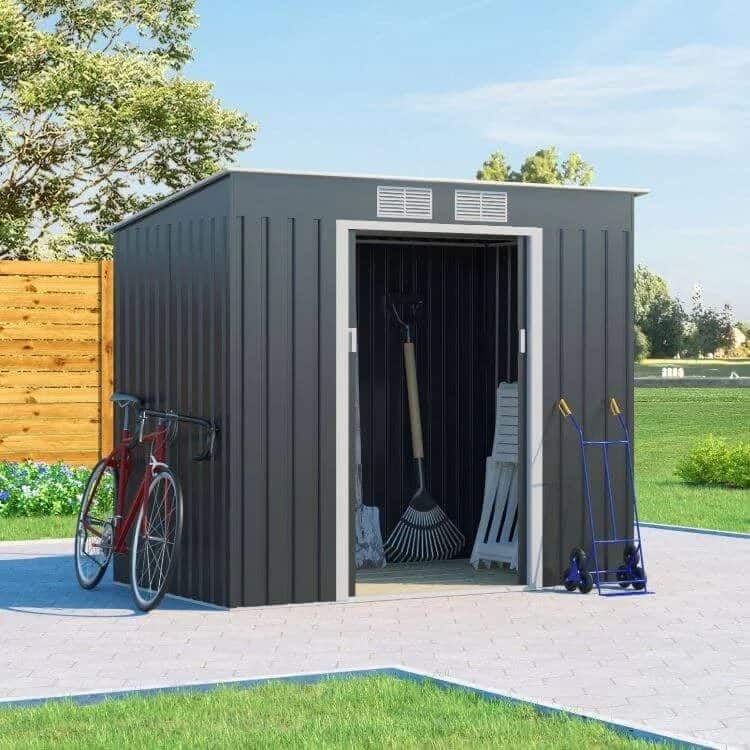 22. Or stick to a lean-to
Due to their weather-resistant nature, plastic sheds can last for ten years. This also means a decade of a clutter-free backyard – but only with the right plastic shed unit!
This BillyOh Newport Lean-to adds valuable secure storage space even to small areas. It ensures to keep your possessions clean and dry year-round.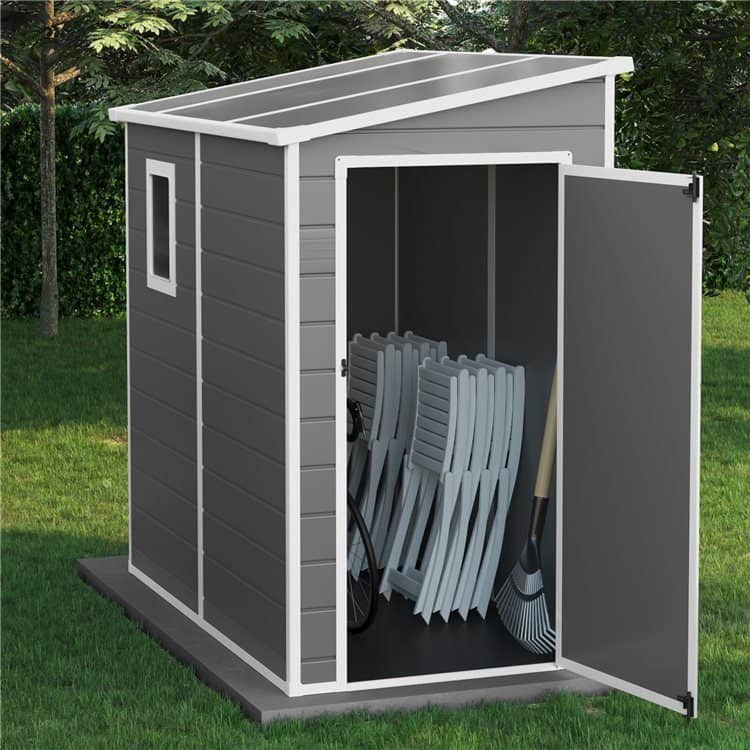 23. Rely on folding furniture
A big advantage of using folding outdoor furniture is it saves space and is easy to store, move and clean. This folding table, for one, can be stored easily, lessening the outside clutter.
It's the perfect all-around table, and you'll always be prepared for a range of events!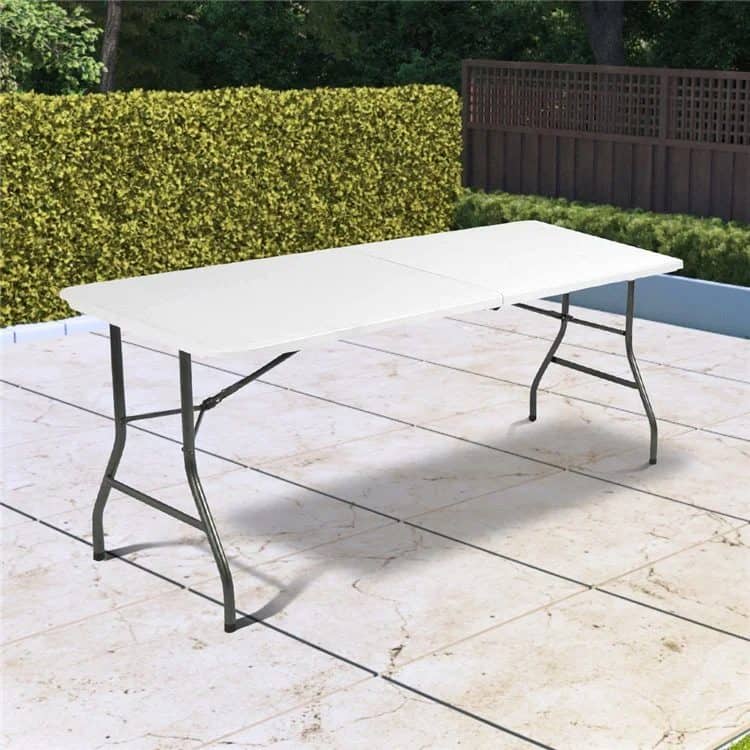 24. Let your trellis double as storage
Take this garden trellis idea and create a practical feature in your space. It can support hanging plants and pots, and there's enough space for you to stow the tools you need to tend them.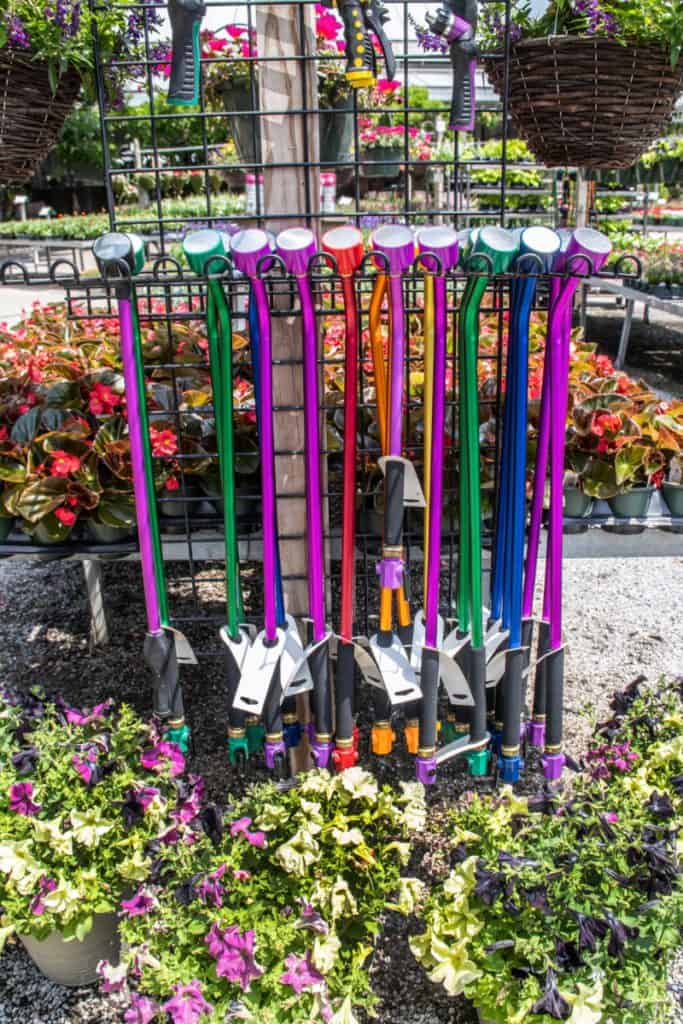 25. Make use of your corner space
Many garden corners are overlooked. But when utilised well, they solve most of the untidiness problems in backyards.
Designed to fit perfectly in the corner of your garden, have a look at this corner workshop shed! It's your best bet for your storage and DIY needs.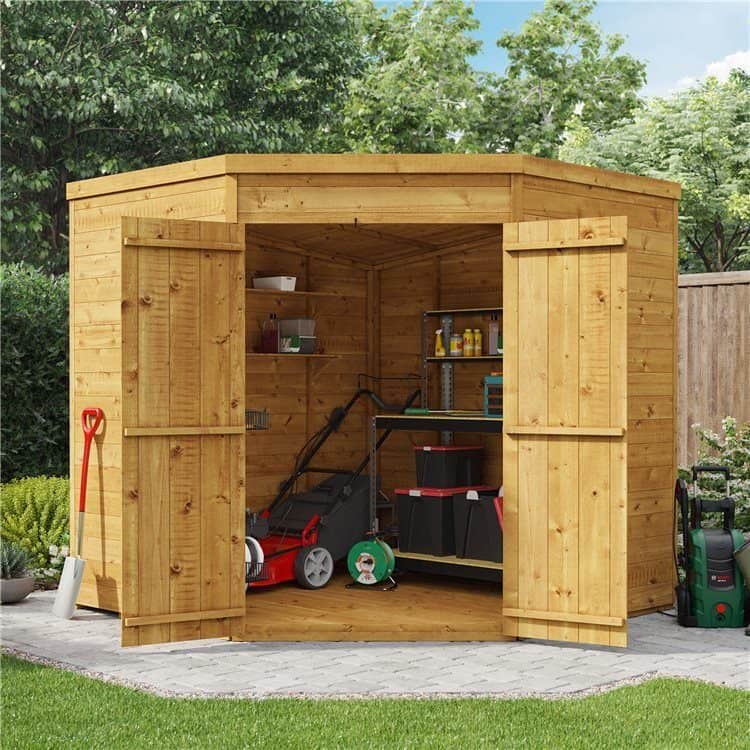 Round-up
Investing in garden storage buildings can make a tremendous difference. But your decluttering options don't stop there.
Thanks to these garden storage ideas, organising your yard doesn't have to be daunting. Take inspiration, and you'll find effective, creative and permanent solutions to restore order. For more garden storage products, check out our Garden Storage range using the button below!
Shop Garden Storage