There's something to be said about cycling as a hobby, but when it comes to bike storage, you might run into a few issues, especially if you don't have a big roomy garage or shed. Thankfully, there are a number of indoor and outdoor bike storage solutions that are perfectly suited to solve all of your garden storage needs.
Let's take a look at hooks, racks, and sheds — storing your bike the right way.
Before You Get Started
Before whipping out your credit card, there are a number of considerations you need to keep in mind as you think about your storage needs.
Is Putting Nails in Your Wall an Option?
Indoor storage solutions often require that you put a few nails in the wall to hang up a hook or a rack. Is that something you're willing to do?
If you own your home, you might not think twice about hammering a few nails into the wall. If you're renting, however, that might not be an option.
If you're not willing/unable to nail into the wall, there are alternatives that work just as well. For example, certain furniture pieces are designed to double as bike stands.
They are very innovative and multifunctional designs that allow you to save the max amount of money while saving on space at the same time. There are also storage solutions that rely upon poles, perfect for those who don't want to nail into the walls.
How Important Is Security?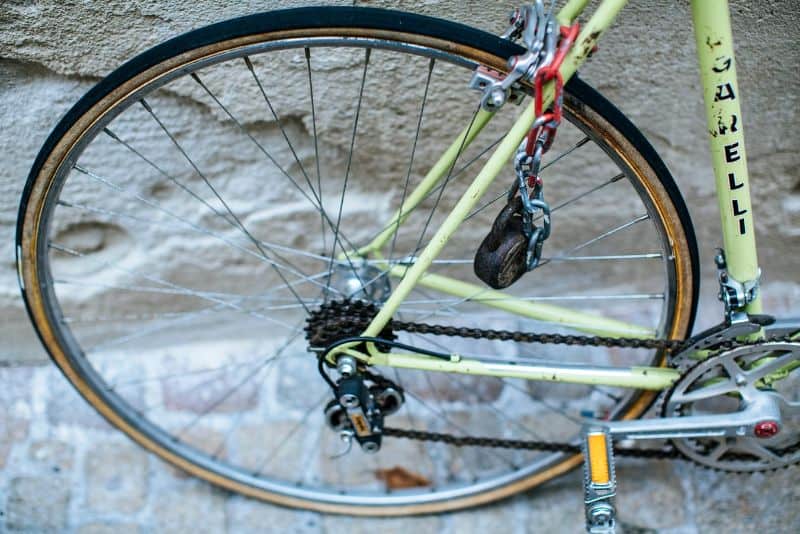 Security can be a major issue for some people even if their bike is locked up within their home or apartment. Think of investing in a storage option that allows you to lock your bike in place both indoors and outdoors.
Are You Trying to Make a Statement With Your Bike?
Some storage options are flashier than others. Take the aforementioned bike storage furniture for instance.
They're functional and will turn heads when you have visitors. You can also hang your bike from the wall with hooks (that's where the nails come into play).
Run these options by the other people you live with to make sure everyone's happy with your display. You also have to put extra care into cleaning your bike before wheeling it into your house. No one wants to see muddy tracks on the wall!
Will Your Bike Be Kept Inside or Outside?
Where do you intend to keep your bike? If you want to keep your floor clean then outside storage is likely the best option. If you opt for outdoor storage, you need to make sure your bike is secure. Thieves love perusing through unlocked garages in the dead of night looking for anything of value.
Garden Buildings Direct has a vast collection of cost-effective bike storage solutions that only require a small amount of space in your backyard. The best part is that many of the sheds offered by Garden Buildings Direct can be used for more than just storing your bike. You can also store outdoor tools, gardening supplies, and yard toys.
Bike Storage Solutions
Now, let's get into the types of bike storage solutions currently available on the market. There are many to choose from, so make sure that you give consideration to your needs before making your final choice.
1. Freestanding Bike Storage Stands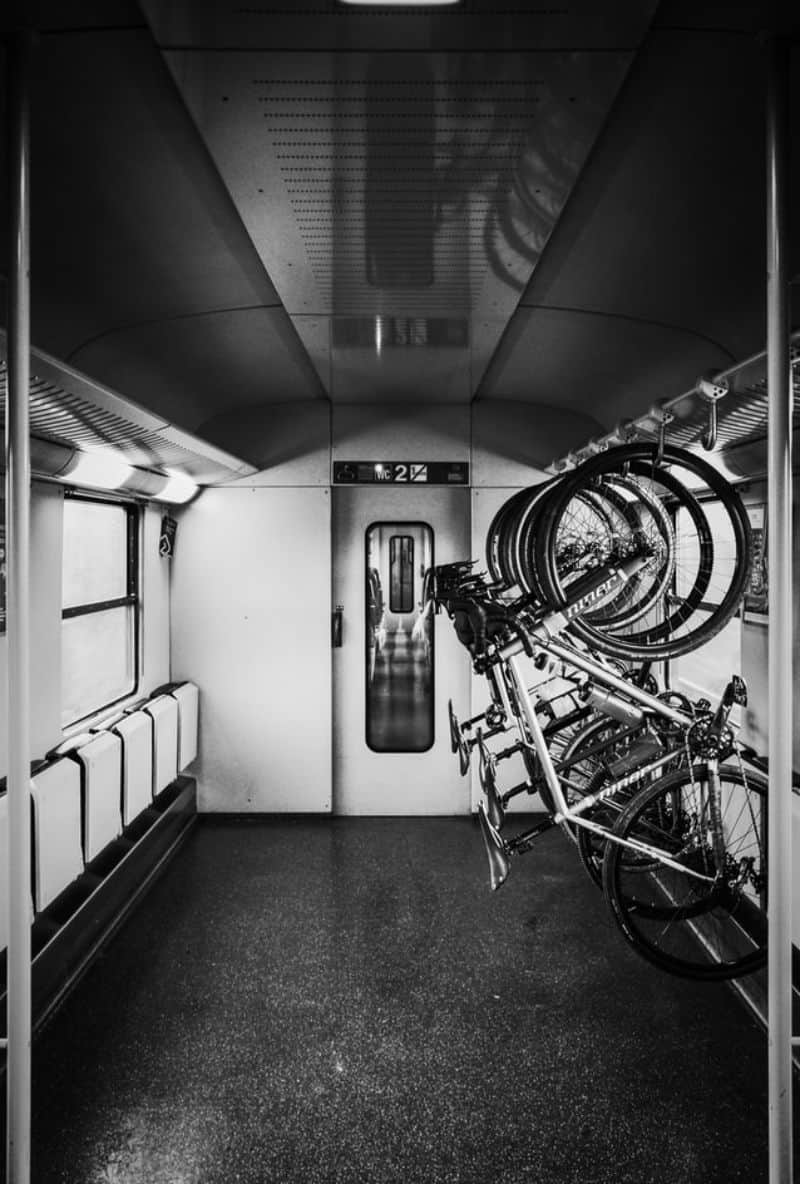 Live in a home with multiple cyclists or do you have more than one bike in your collection? Then a freestanding bike storage stand may be the best option.
Freestanding bike stands are composed of a sturdy pole and a heavy base to keep it anchored to the ground. Cradles hold your bike in place, suspending it off the ground.
In addition, freestanding bike storages are especially useful because they allow you to vertically store more than one bike which ultimately frees up more space. They range from cheap to expensive.
---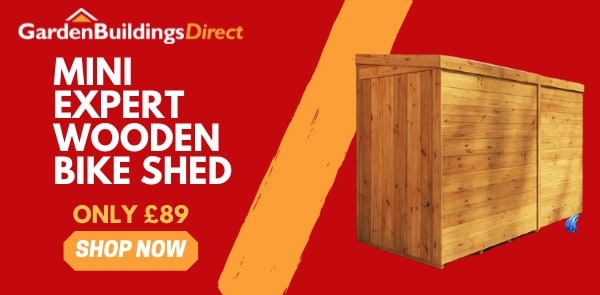 ---
Many stands rely upon tension to keep the bikes suspended off the ground. This is a good storage option to keep in your garage, but it can, of course, be stored in your home as well.
2. Furniture That Doubles as Bike Storage
Looking for a statement piece that's multifunctional? Then look no further than bike storage furniture.
Bike storage furniture typically comes in the shape of a shelf. You can store CDs, movies, books, and more on the shelves themselves.
However, the top of the shelf will have a rack where you can lift and place your bike and secure it in place. The one downside to this concept is that most bike storage furniture is designed for one specific tire width.
That means if you have two bikes of varying tire widths, only the one with the correct width will be able to fit onto the shelf. Still, this is a great indoor storage solution due to its multifunctional design.
3. Pulley and Winch Storage Solution
The biggest problem with bike storage is there simply isn't enough floor space to go around. But what about vertical space?
Pulley and winch systems can be drilled directly into your roof allowing you to use the vertical space in your garage as storage. Think of sailors on a ship who use a pulley and winch system to haul goods up to high places. In your case, however, you'll attach your bike to a hook or harness and hoist it to the roof.
If you're afraid your bike might come crashing down, there's little to fear. Yes, extra caution is key, but many pulley and winch systems come with a secondary attachment to keep your bike securely in place.
That way your bike won't be dangling from the ceiling even if a breeze is blowing through your garage. It's unconventional, but you'll certainly be happy when you have enough space to store your bike!
4. Wall Mounts
If you plan on storing your bike indoors than a great option (and often the most popular) is to use a wall mount. Wall mounts are comprised of hooks that drill into place into the wall.
Once you've drilled your wall mounts in as tightly as they can go, you should have no problems hanging your bike. Bikes typically aren't that heavy, and if you install your wall mount correctly, it should be capable of holding up the weight of your bike with no extra strain on the wall itself.
Wall mounts are designed in a wide variety of shapes and sizes. This is where you have to factor in your budget. Simple wall mounts will, of course, be cheaper than extravagant mounts that double as wall furniture.
As mentioned in the previous section, this may not be an option for those who are renting. Give your landlord a call before you start nailing or drilling into the walls. You might be charged for damaging the property if you jump right in without consulting your landlord first.
5. Bike Sheds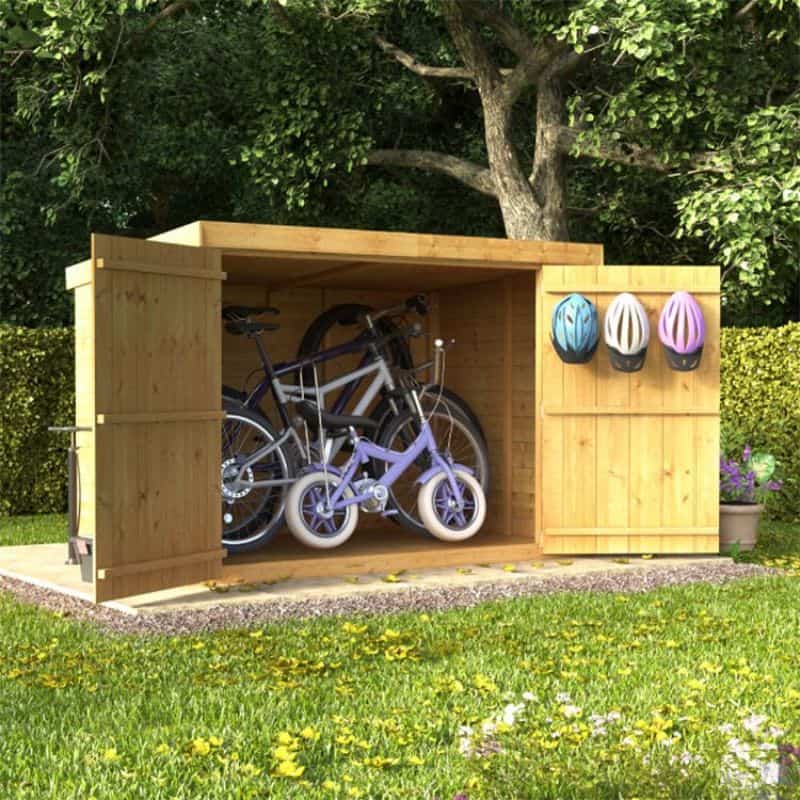 If you're looking for a secure and reliable outside storage solution think about investing in a bike shed. Bike sheds are small and independent, meaning you can fit them into a small corner in your yard without much difficulty.
Bike sheds can be locked, and they add aesthetic appeal to your yard. Furthermore, you can use your bike shed to store your other outdoor items such as gardening tools and outdoor toys. You can store anything in your shed that fits, protecting it from the elements and keeping your goods safe from thieves looking for easy pickings.
Finding the Right Storage Solution for You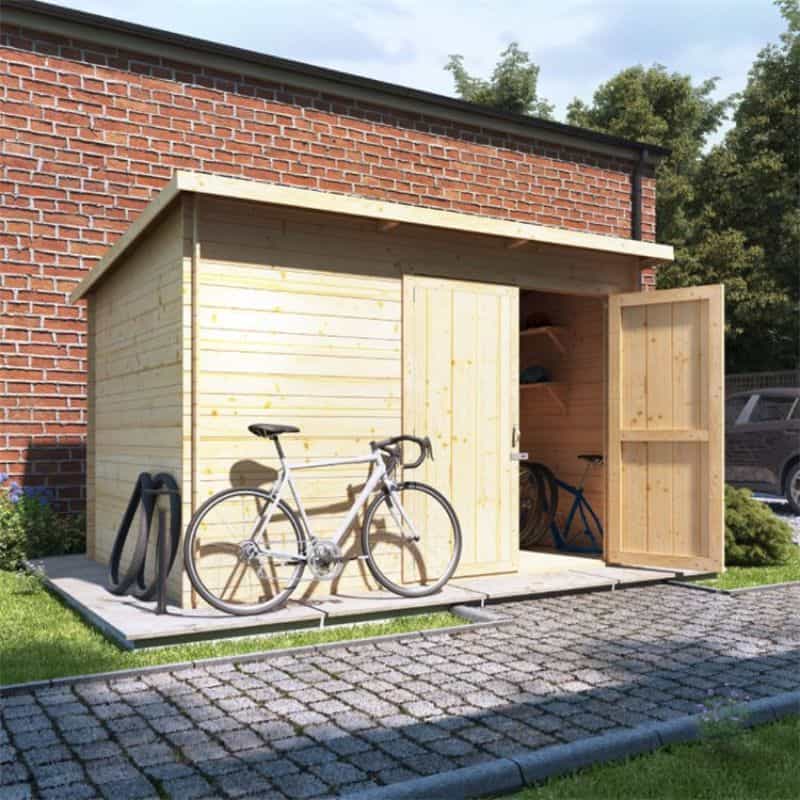 If you're trying to figure out how you're going to store your bike at home, there are many solutions for you to choose from. Remember, consider your needs before jumping in with a purchase.
Will you be storing it indoors or outdoors? How much space do you have? Do you have a garage for more elaborate storage solutions? Once you've figured out your needs, your choice should be simple –  click to shop bike storage from the button below.
Shop Bike Storage