Welcome to the world of pub sheds! A garden bar pub shed is a cosy and stylish retreat for the cheers! It's where you can enjoy your favourite drinks, entertain your friends, and unwind after a long day at work.
But creating one isn't just about having a place to store your beverages. It's also about transforming a plain shed into a warm and inviting space that reflects you. So it needs to be comfortable, functional, and stylish. Here, we'll take you through detailed instructions on how to decorate your outdoor bar.
Garden Pub Sheds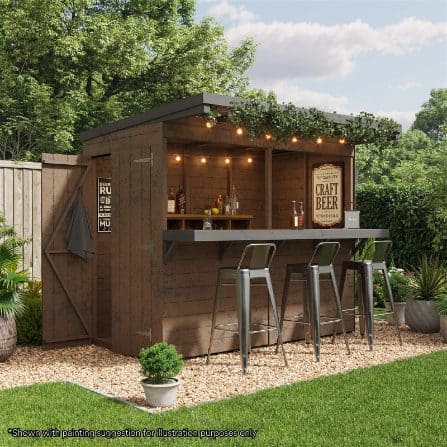 With the rise of DIY culture and the desire for at-home leisure, pub sheds have skyrocketed in fame. A pub shed is a converted garden building into a private bar for entertainment. It's a practical way to turn a small outdoor space into a cosy and inviting gathering place for family and friends.
Decorating it adds up to the fun! Be it a comfy seating, lighting, or entertainment features, all can make a difference. Ready to set up a well-put-together pub shed?
1. Flooring options
The flooring in your pub shed is a critical aspect of its overall design. You want to choose a material that's durable, easy to clean and complements your decor. Some popular flooring options for pub sheds include hardwood, laminate, tile, and vinyl. You can also consider adding a rug or carpet to provide some extra comfort and warmth.
2. Lighting fixtures and placement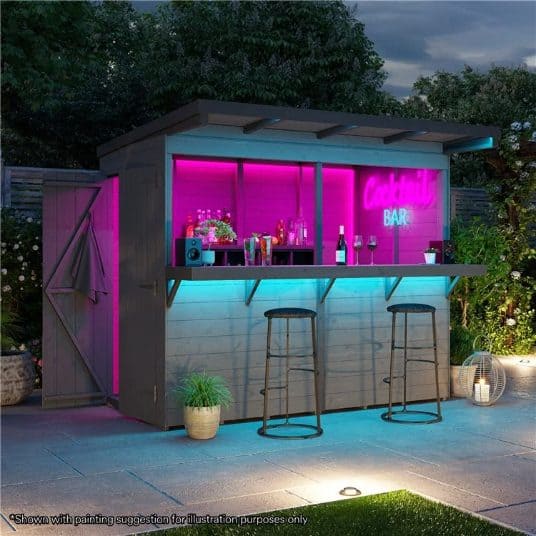 Lighting is another important element to consider when decorating your pub shed. You want to create a warm and inviting ambience, so choose fixtures that are not too harsh or bright.
You can use a combination of ceiling LED lights, table lamps, and task lighting for balance. The placement is also important, as it can impact the overall feel and functionality of the space.
3. Heating and cooling systems
Depending on where you live, heating and cooling systems may be essential for your pub shed. This ensures your space is comfortable year-round, be it summer or winter.
Consider a portable air conditioning unit or a small space heater. Take this Freestanding 1800W Electric Fireplace with Wood Burner Flame Effect, for instance.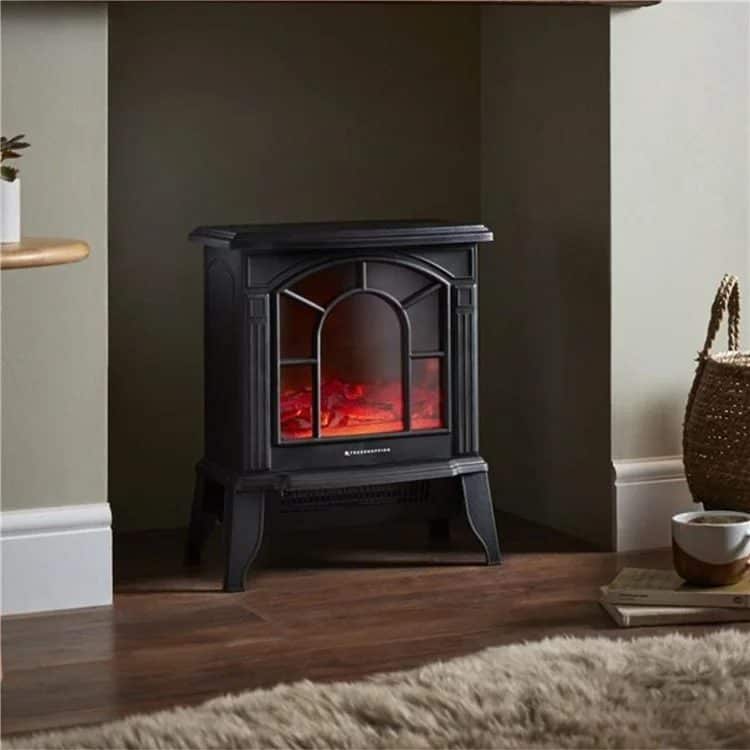 Can't have a real wood fire in your garden bar shed? No problem! This will give you the same real wood-burning effect at a price you can afford. It also features a black cast iron to give that authentic rustic feel.
Note: Ceiling fans also help regulate the temperature and improve air circulation.
4. Seating options
Seating is a crucial component of any pub shed. This portion provides an inviting space for guests to relax and enjoy the company. You can choose from a variety of bar seating options, such as bar stools, benches, or even a comfortable couch. Consider the size of your shed and the number of guests you'll typically have to get the right arrangement.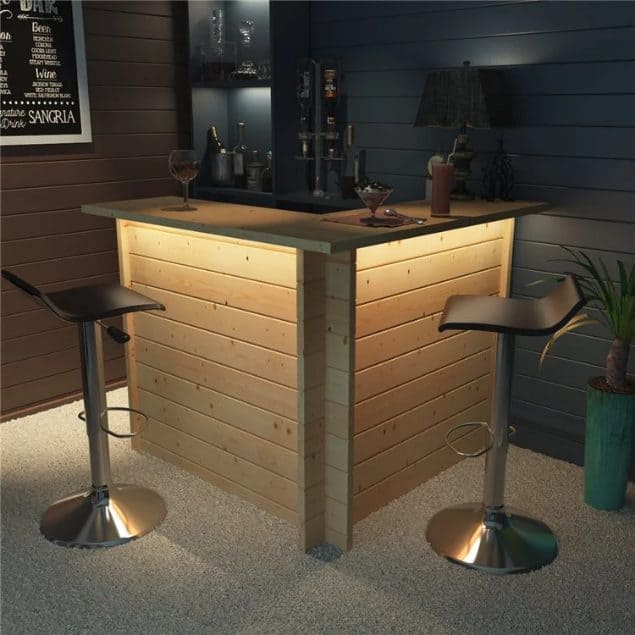 If you own a BillyOh shed or log cabin, this Nightjar Garden Bar is an absolute steal! With a classic L-shaped design and room for 3-4, it's the perfect place to enjoy drinks with friends and family.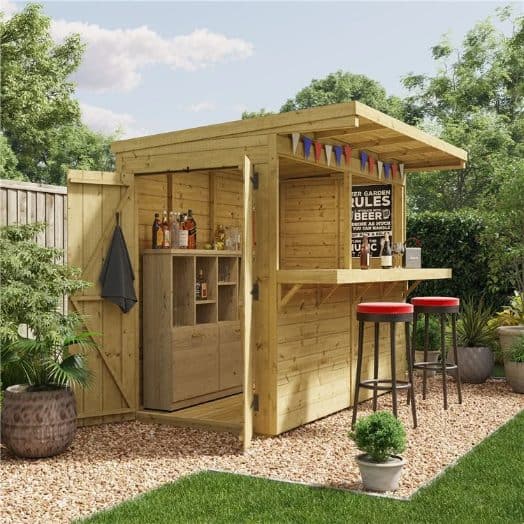 But if you're still on the hunt for the best garden building for your dream pub, look no further than this Garden Bar Shed. It comes with all the amenities of your local pub and the comfort of your own home. The perfect way to elevate your garden experience this summer, indeed!
5. Entertainment features
Such additions can take your garden pub shed to the next level! A television or projector screen, paired with a sound system, calls for a movie night. A dartboard or pool table can also provide endless hours of fun in between drinking and talking. If you lack space, go for board or card games, and you'll have a more intimate and social atmosphere.
6. Bar and beverage essentials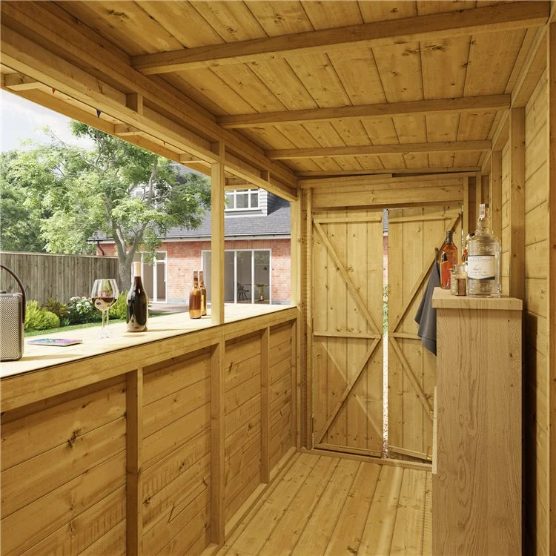 The must-have barware for a bar shed includes the following:
Shaker:

for mixing cocktails and other drinks.

Jigger:

for measuring spirits and other ingredients accurately.

Strainer:

for strain cocktails and other mixed drinks.

Muddler:

for crushing herbs and fruits for cocktails.

Bar spoon:

for stirring drinks and layer cocktails.

Citrus juicer:

used to extract fresh juice from lemons, limes, and oranges.

Bottle opener and corkscrew:

used to open beer and wine bottles.

Ice bucket and tongs:

a combination used to keep ice handy and serve it properly.

Cutting board and knife:

for slicing fruits and herbs for cocktails.
Glassware options and display ideas:
Highball glasses:

for serving mixed drinks and cocktails.

Old fashioned glasses:

for serving whiskey and other neat drinks.

Beer glasses

: for serving beer, lagers, and ales.

Stemware:

for serving wine, champagne, and other sparkling beverages.

Shot glasses

: for serving straight liquor and shooter drinks.

Display racks:

for displaying glassware.
Beverage options and storage solutions:
Alcohol:

a variety of spirits, including whiskey, gin, vodka, tequila, and rum.

Mixers:

tonic water, soda, fruit juices, and bitters.

Beer and wine:

you can also stock your pub shed with a variety of beer and wine, depending on your taste.

Refrigerator:

for storing drinks and keeping them cold and easily accessible.

Wine cooler:

for storing your wine at the ideal temperature and humidity level.

Cabinets and shelves:

for storing alcohol, mixers, and glassware, keeping them organised.
7. Decorative elements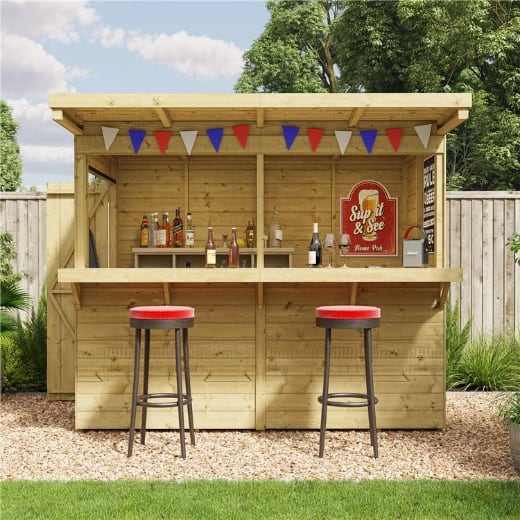 Wall art and signage can create a fun and inviting atmosphere in your pub shed. You can use vintage posters, brewery signs, or custom-made signs to decorate the walls.
The colour scheme and theme you choose can make a big impact on the overall ambience. You can go for a classic, traditional pub look with dark wood and rich colours. Or, opt for a modern and sleek theme with bright shades and metallic accents.
Personal touches and memorabilia are what make your pub shed unique and special, to add! Display photos, trophies, or souvenirs from your travels. You can also incorporate your interests, such as surfboards or vintage motorcycles.
Round-up
Decorating a pub shed is all about creating a space that reflects your style and interests. Think outside the box and have fun with your decor choices. With creativity and inspiration like this guide, you can open your dream garden bar in no time!