Check out how our customers have decorated their own Bunny Tower playhouse and read what they had to say about it! We regularly update our products with the latest customer media, click on an image below to see the full story and all the images!
September 2017
Sharon's Playhouse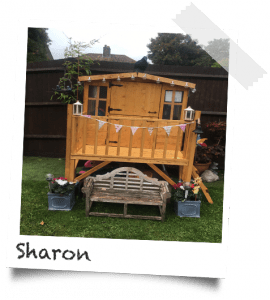 Sharon purchased the Bunny Tower Playhouse 4×4.  She considered the affordability of the playhouse which will also give joy to her grandchildren.
"Service was amazing from the time I began to order to the time it was received, updated throughout."
"I brought my Bunny tower house from Gardens Buildings Direct because it was a reasonable price."
July 2017
Shazad's Playhouse
The Bunny Tower was a magical birthday gift for Shazad's daughter and makes a wonderful addition to the garden.
"My daughter is enjoying it thoroughly. In fact, she even wants to sleep in there!"
"I would absolutely recommend buying from you."
Michaela's Playhouse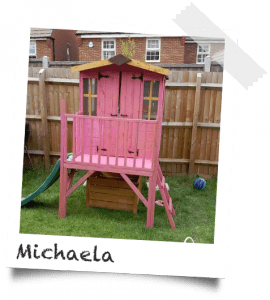 Michaela from Solihull bought the Bunny Tower playhouse as a gift for her granddaughters fourth birthday…
"I'm pleased and so is my Granddaughter."
"I was looking and your site came up with the best prices with free delivery found it a good deal."
For more playhouses information, here is our ultimate playhouse guide.