Garden buildings have come a long way since the days when there were only humble sheds. Today, there's a betterment in construction, design and the use of modern materials. The emergence of log cabins and playhouses are excellent examples. Summer houses are no exceptions, but have you heard of a garden summer house and shed in one unit?
The all-around design is a cross between a garden shed and a summerhouse. Here's everything you need to know before investing in one.
Garden Summerhouses Over the Years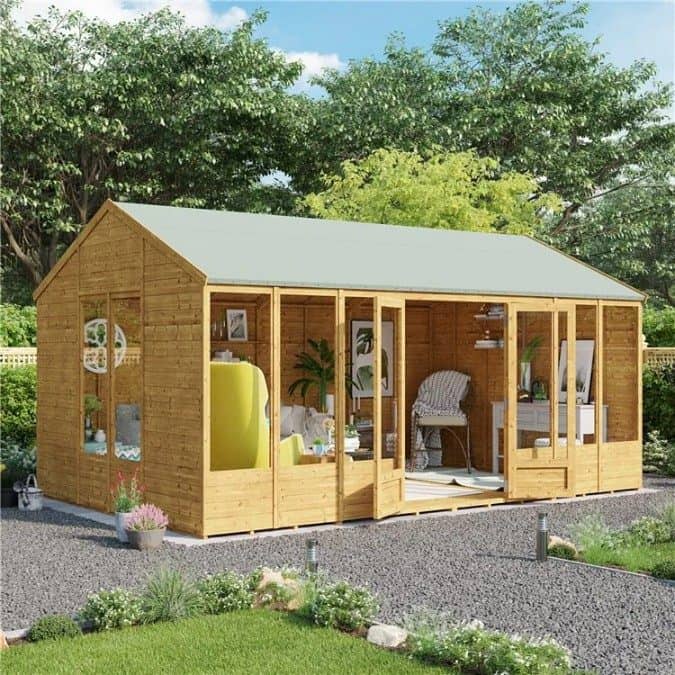 Summerhouses were simple garden buildings used as a place to rest in warm weather. But they evolved to become more ornate and versatile over time, and now they're available in a wide range of styles.
With the added investment of electricity and plumbing, a spacious office awaits you. Or, given the space, planning permission and budget, you can go as far as building a garden gym.
For an awkward plot in an outdoor space, a corner summer house can neatly fill the complicated nook. Combining the beauty of a cabin and summerhouse, and voila – a log cabin summerhouse.
Need a beautiful space for relaxation over the warmer months but also a storage solution? A stylish summerhouse with a side shed might be exactly what you need!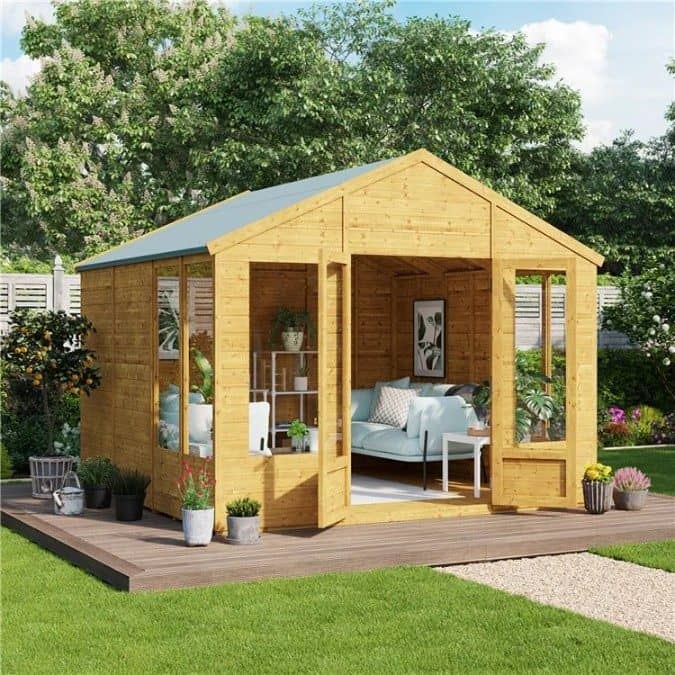 Outdoor structures are no longer meant for just keeping garden tools and furniture. This leads to making them adaptable and flexible. Take summerhouse sheds, for example.
As the name suggests, it's an outbuilding combining a summer house and an attached storage area. The summerhouse portion can be utilised as a place to read, work, or entertain guests. The side shed section is a practical addition for keeping the weather off of your equipment. This combination is ideal if you want to make the most of your garden while also keeping it clutter-free.
Summer garden houses vs sheds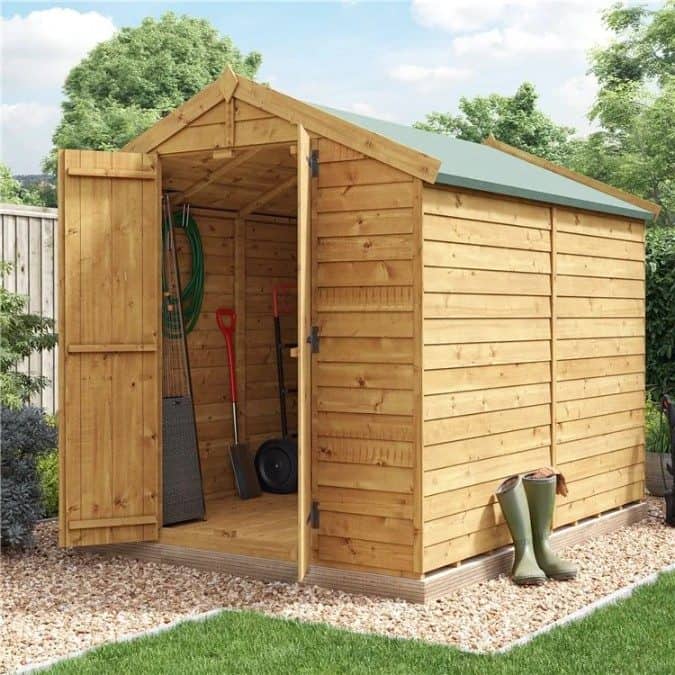 It's interesting that both are often interchangeable even though not being "the same" in any way.
Garden sheds are more suited for storage purposes. Their purpose isn't to be ornamental but practical. They can be made of other materials, such as metal and plastic.
A standard design usually features a single door and a felt roof, depending on the size. Keep in mind, though, that today's sheds for sale can be all-purpose too.
A range of summerhouses, in contrast, is designed to be an attractive addition to the garden. They look incredibly nestled in the yard, making them a luxury garden house option.
The construction will have more glass windows and opening areas. Some models may even have a small porch to fit a bistro set for sitting and tea time.
The common garden shed is found in most gardens across the UK. But a summer house is guaranteed to make your outdoor space stand out from the rest. Now, if you're torn between the two, what's stopping you from having both? The BillyOh Tianna Summerhouse can make your decision easier.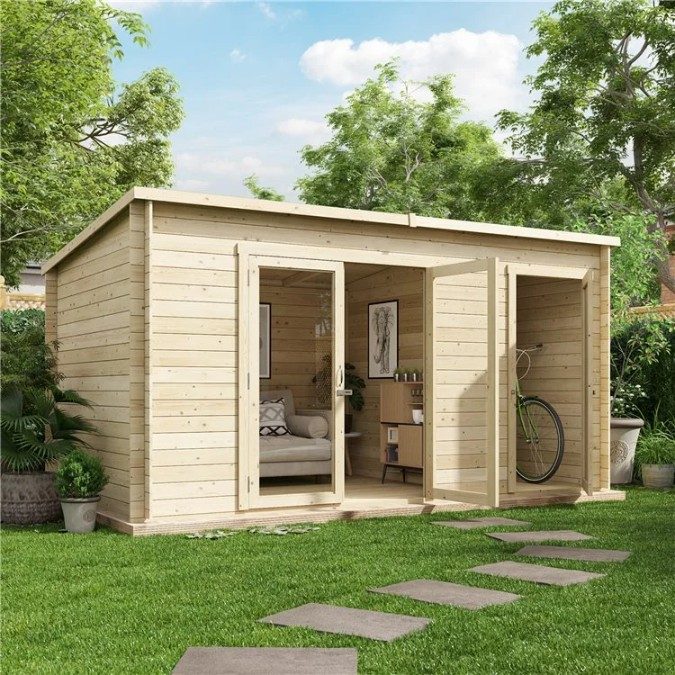 Built with practicality and style in mind, this BillyOh building is dual-purpose. A great way to save space in the garden, Tianna comes with side storage. Meaning you can use the cabin summerhouse solely for leisure and the storeroom for spruce up.
Design insights: As a contemporary summer house and shed, it gives off a stunning unit. The Tianna features a pent roof and wide-opening double doors to maximise space. With a slight roof overhang, there's an increase in the headroom. And as a log cabin, it offers sturdy construction, functionality and style.
The long glazed windows provide you with fantastic garden views. Also, allow the sunlight to enter for a natural lighting boost and an airy feel to the whole room. The wide double doors offer ease of access, and they can be left open to allow the warm breeze inside on a summer's day.
The Tianna summerhouse comes with an 11mm Tongue and Groove floor and roof as standard. The floor can be upgraded to 19mm for more intensive use. Strong Tongue and Groove construction ensure a robust and solid build. The T&G boards form a tight seal offering high-quality weather protection. Optional pressure treatment is available for longevity and a 15-year anti rot guarantee.
The highlight: The key point of the Tianna summerhouse is the convenient side storage. The storage area comes with a boarded single door, offering great access and security. It grants an economical option for storage while keeping your ample summerhouse space.
Even better, the internal wall can be moved to increase the size of either section to suit your needs. Sizes available: 12×8 and 14×8.
If you need a summer house with storage, don't hesitate with this cabin summerhouse!
The Assets and Potential Drawbacks
A shed and summerhouse combined garden structure offers numerous advantages, including:
1. Versatility
Summerhouse sheds serve multiple purposes. They can be used as a garden retreat, a home office, or a playhouse for kids with a storage area. Their adaptability allows you to make the most of your outdoor space.
2. Aesthetic appeal
This fusion enhances the visual appeal of your garden. They come in various designs and materials, adding a charming focal point. Most feature large windows and cosy interiors, creating an inviting and home-like ambience.
3. Extended living space
Summerhouses expand your usable living space. They offer a place where you can relax or entertain guests, even during inclement weather. This extension can be enjoyed year-round with proper insulation and heating.
Here are some tips on how to insulate a summerhouse. Take this opportunity to check our best-selling electric stove heaters UK.
4. Increased property value
Well-maintained summerhouse sheds can add value to your property. This makes it more attractive to potential buyers, provided you plan to sell it in the future.
5. Escape to nature
What's more, it allows you to enjoy the beauty of your garden while being sheltered from the elements. It's an excellent way to connect with nature without sacrificing comfort.
6. Privacy
A garden summerhouse provides a secluded spot for relaxation or work. It gives you the privacy you need away from the main house.
Overall, summerhouse sheds are a versatile addition to your outdoor space. They offer both extra living space and storage options. Plus, the opportunity to enhance the value and functionality of your property.
However, like any garden building, they also come with potential drawbacks, such as:
Space:

Summerhouse sheds can occupy a significant portion of your garden. This can limit your outdoor space for other activities.

Maintenance:

Regular maintenance is required to keep the structure in good condition. This includes painting, roofing, and addressing issues like wood rot.

Planning permission:

Depending on your location and the size of the building, you may need one. This can be a bureaucratic hassle.

Heating and insulation:

For year-round use, you may need to invest in these. Both heating and insulation can increase utility costs.

Resale value:

It's true that they can add value. However, that's not the case with a poorly designed or maintained one. It may not have the desired impact on your property's resale value.
Shed Summerhouse: Round-up
A summerhouse shed can be a versatile and valuable addition to your garden. Providing both practical and aesthetic benefits, it surely is a worthwhile investment.
The extra storage space can help to keep the yard and the summerhouse tidy and organised. Alternatively, you can utilise the shed as a water closet for your garden office, for instance. The fact that you can have two garden buildings in a single unit is already a win-win! To look into one of your own, click the button below.
Discover our versatile two-in-one garden rooms at Garden Buildings Direct – a must-see! Don't overlook our multi room log cabin; it's a smart investment. Your next read awaits: Summer House Furniture Ideas
Shop Summerhouse Sheds