We love to catch up with our customers to see how they're getting on with their garden buildings whenever we have a chance. So that's why this week, we spoke with Brenda to see exactly how she was putting her new summerhouse to use!
It's no secret that here at Garden Buildings Direct, we have a huge selection of summer houses on offer, in a wide range of shapes and sizes to choose from. We pride ourselves on the fact that whatever your requirement – we have the perfect building to get the job done, no matter how big or small.
So when Brenda came to us seeking a brand spanking new summer house to go at the foot of her back garden, we were elated to work with her and tailor to her every need.
She wanted to buy the unit as a retirement gift for her husband – somewhere where they could simply have a cuppa and read the morning newspapers, while being at one with the serenity of nature.
'Having purchased this as my husband's retirement gift, we have used our lovely summer house to read the paper while having breakfast. And we have had more friends and family up this year than any other.'
After hearing recommendations about our brand, Brenda decided to take a look at our website for herself – and instantly fell in love with our 5000 Sunroom Summerhouse.
And although this product has since been discontinued, we have plenty of newer products still in stock, so why not check them out here.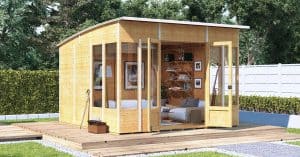 After securing speedy and free UK delivery, Brenda and her hubby set to work building their new relaxing retreat – making the most of our easy-to-read instructions and prefabricated materials.
And in no time at all, they had their new garden unit ready for use.
'Buying was really easy online, all information is clearly laid out and really easy to follow. Would fully recommend Garden Buildings Direct, plus easy to follow instructions for assembly.'
They decided to skip the paintwork, instead opting for a rustic and natural look. But where they spared on colour coating, they well and truly made up for it with interior fittings and decor.
Beautiful canvases were hung on the walls and comfy seating was installed, as well as the must-haves like a sweet stereo system.
And while Brenda initially wanted to use the pad as a chill-out spot for her and her husband, they have since hosted many summer parties and barbecues in it too – such versatility!
You can check out their full makeover below: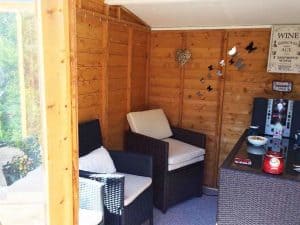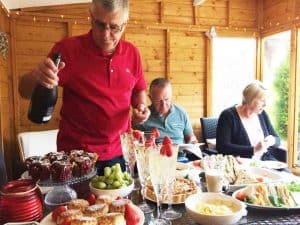 Wow, what a fantastic use of one of our high-quality products, that will surely serve its purpose for an eternity! We're so glad that Brenda's husband is making the most of his new place, and we want to wish him a wonderful retirement – you've earned it, mate!
If you've got a great story about your BillyOh shed, summerhouse, or playhouse conversion – we'd love to hear it! Simply get in touch with us on social media for a chance to feature here.
Or if you want, you can check out more customer stories right here.