Ring the bells and sing it from the rooftops – it's that time again! We've got some brand-new BillyOh buildings fresh from our UK-based factory and available now for purchase.
And this time, it's something for the little'uns. So if your summer holiday has been cancelled and you still want to make the most of the weather – get outside in the garden with the kids.
Just check out our brand-new playhouses below!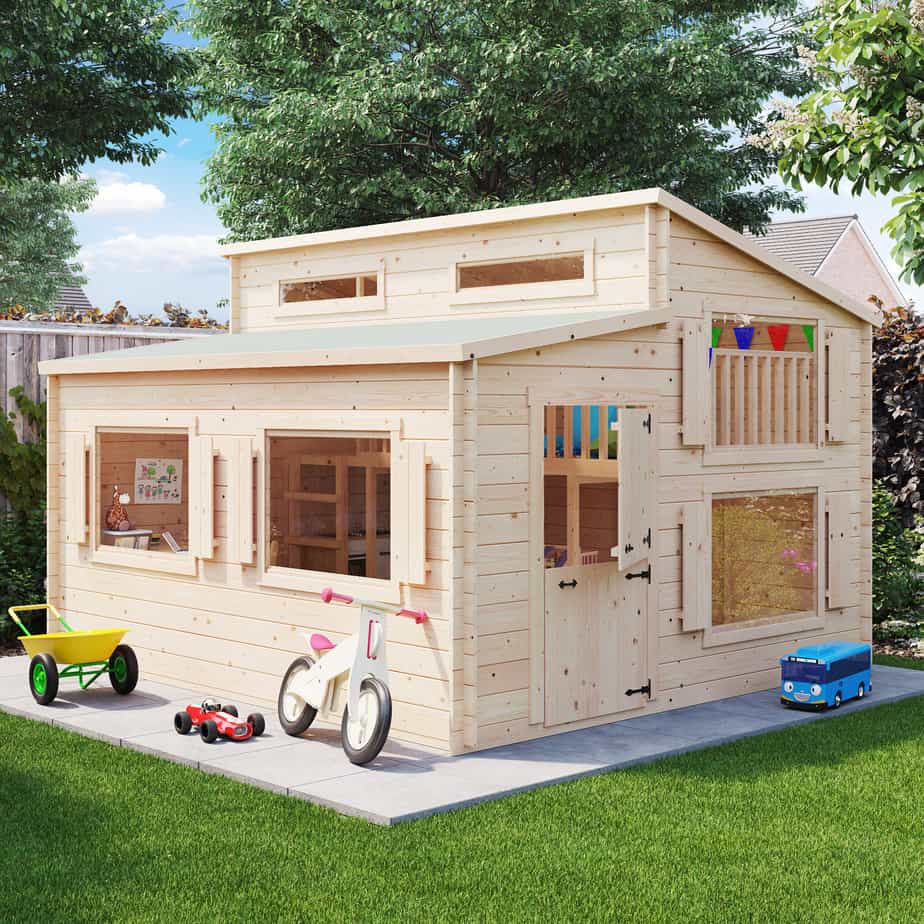 1) The BillyOh Lookout Log Cabin Playhouse
Nothing shouts premium, year-round use like a BillyOh log cabin playhouse. For this range, we've combined tongue and groove cladding with thicker logs to offer warmth and insulation well into the year.
 Here at Garden Buildings Direct, we're always trying to innovate and come up with new product designs. And we think one look at the Lookout will have you agreeing that it's our best one yet!
But don't just take our word for it, let's break down all the awesome features!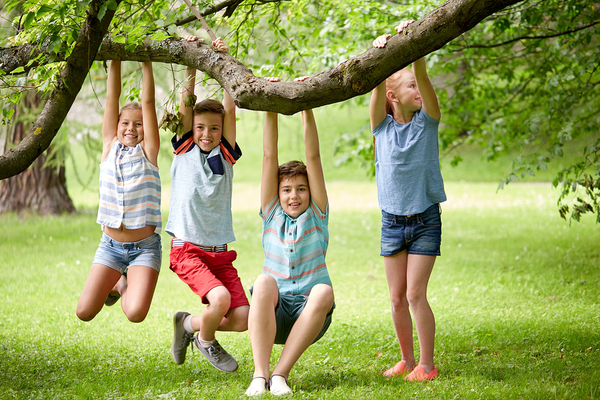 Two Storey For Dynamic Play
Look out, lookout. You may find your kids besting you at hide and seek with the raised internal bunk. By creating an extra level of fun in this playhouse, your kids will have somewhere to nap and play. The internal bunk is also complete with a climbing ladder and rail for safety.
Clerestory Roof and Skylight
The Lookout is as yet our only playhouse with a Clerestory roof and skylights! How exciting. So if you're planning to turn your Lookout into a space station, you and the kids can star-gaze to your heart's content.
Stable Door
The Lookout comes with a beautifully crafted stable door. The stable door provides the option of having the top and bottom half either open or closed. Perfect for re-purposing and theming it as a hole-in-the-wall cafe.
Premium Log Cabin Construction
If it's safety and warmth you're after, you can't go wrong with our 19mm Tongue and Groove boards. Making for a strong and sturdy build, these panels are pre-cut to length. Plus, the interlocking style of this construction means each board will hold the previous board securely in place for easy installation.
---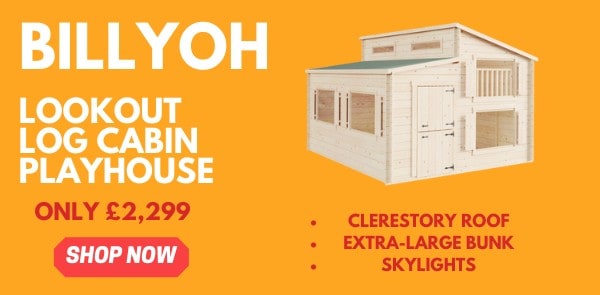 ---
EN71 Compliant
All our Playhouses are compliant with European Standard EN71 for your child's safety. Features include:
Sturdy safety rails on all tower playhouses and interior rails on playhouses with a bunk.
Rounded edges and smooth framing.
Shatterproof durable Single SAN glazing included as standard.
Air holes on the rear of the playhouse for safety and increased air circulation.
Non-toxic treatment or parts
Safety finger gap – A 12mm gap around the door that protects little fingers from being trapped.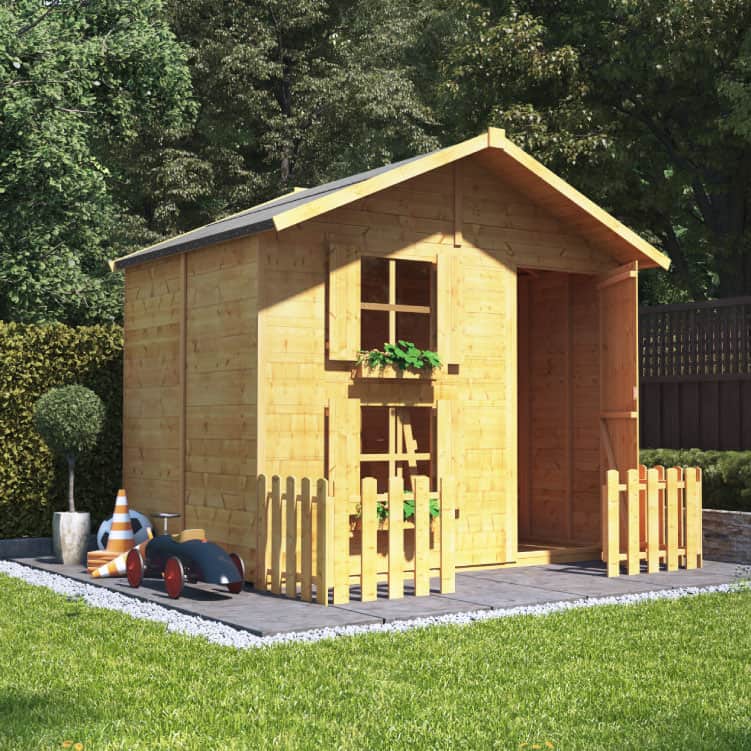 2) The 8×7 BillyOh Peardrop Extra Playhouse
A real fan favourite, we just had to let you know as soon as we dropped the new BillyOh Peardrop Extra in the 8x7ft model!
Let's have a look at the Peardrop Extra and why it's the perfect playhouse for growing kids:
Optional Internal Bunk
Add an internal bunk to create a cosy snug inside your playhouse. The internal bunk is complete with a climbing ladder and safety rail. Or, keep the space free and plan ahead for when your kids have a growth spurt!
---

---
Optional Platform & Picket Fence
Add a slatted wooden flooring outside the playhouse which provides additional space to play. Then, a picket fence easily transforms your little house on the prairie into a lovely traditional garden playhouse.
Green Mineral Felt
All our playhouses come with quick and easy to apply premium mineral felt. Durable and weather-resistance, we want to help you protect your building against harsh weather from the off!
And last but not least we have another completely brand-new playhouse here at Garden Buildings Direct.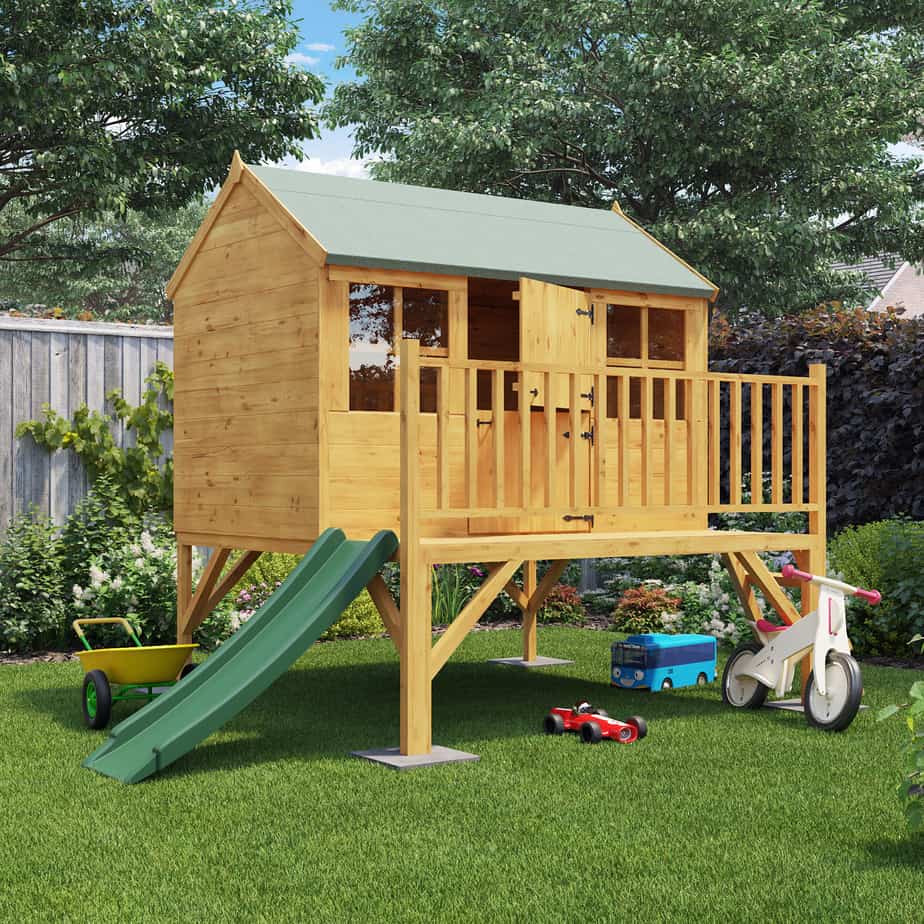 The BillyOh Gingerbread Junior Tower Playhouse
We know just how much our customers love our Gingerbread playhouse range so we decided to expand it! And although we always try to think laterally about design here at GBD, this time we thought vertically!
And so the Gingerbread Junior Tower was born with an optional slide. If we could we sure would go back to spending our days running up a tower and going down a slide! But don't worry parents, it's not just fun features for the kids:
Raised Platform
This tower style playhouse is designed with a raised platform complete with a sturdy safety rail to put your mind at ease.
Optional Slide
The playhouse includes a 2 step ladder, making it easy for your children to get up to and down from the tower. The playhouse is also available with a slide, providing a fun way for your children to get down from the tower and another great feature for them to enjoy!
Playhouses are important for children's development and socialise skills and are also a great way for the whole family to form timeless memories. So if you want to have fun watching your kids have fun, think about investing in one our new, top-of-the-range playhouses.
---

---
Round-Up
We're so glad you swung by to check out our new playhouses – we sure think they're something to shout about.
We've got the brand new:
Log Cabin Lookout – With clerestory roof, skylights, and internal bunk
Peardrop Extra 8×7 – Now available in a larger base size for growing kids
Gingerbread Tower Playhouse – Available with optional slide for hours of fun
And we sure won't stop there! Check back in regularly to see what we cook up next. But for now, you can shop all the playhouses mentioned here and more via the button below.
Shop Playhouses