An activity that involves exercise, mindfulness, and delicious food is hard to find. Or maybe, you've been just avoiding your own backyard.
Gardening takes as much as it gives. It requires energy, time and resources to reap the fruits of your labour. Investing in a greenhouse structure is one thing. It stabilises a suitable environment for the plants to grow. As for the gardener, it's a haven to practise horticultural alchemy.
If you're considering investing in one, we've outlined some benefits and our top five picks below!
Greenhouses for Sale: Why Invest?
A greenhouse has become a staple in many UK gardens that, without one, make the plot somehow half-done. From a chef's perspective, it's like a cook without a stove. Imagine that!
Although it's not a requirement, it certainly makes a huge difference. And you'll need all the advantages you can get, especially if you're a beginner.
A maintained wooden greenhouse structure gives you better control of your growing environment. You can keep consistent temperatures between hot summer days and cold winter nights. Cultivate the best-growing varieties year-round and not worry about the rough weather.
Better control of temperature also lets you grow earlier, unlike doing so outside. What's more, an extended plant season is guaranteed – later into the fall and winter months, too. This means more fresh food to consume and attractive flowers to show off. Farm-to-table is also made simple, in turn.
Plus, the initial costs tend to pay off due to energy savings that result from such an investment. A wide range of greenhouses has much more to offer — read here for more!
5 Best Greenhouses
We know that price and size are important factors, so we've taken that into consideration. Browse through the worthwhile investment greenhouse unit from Garden Buildings Direct below: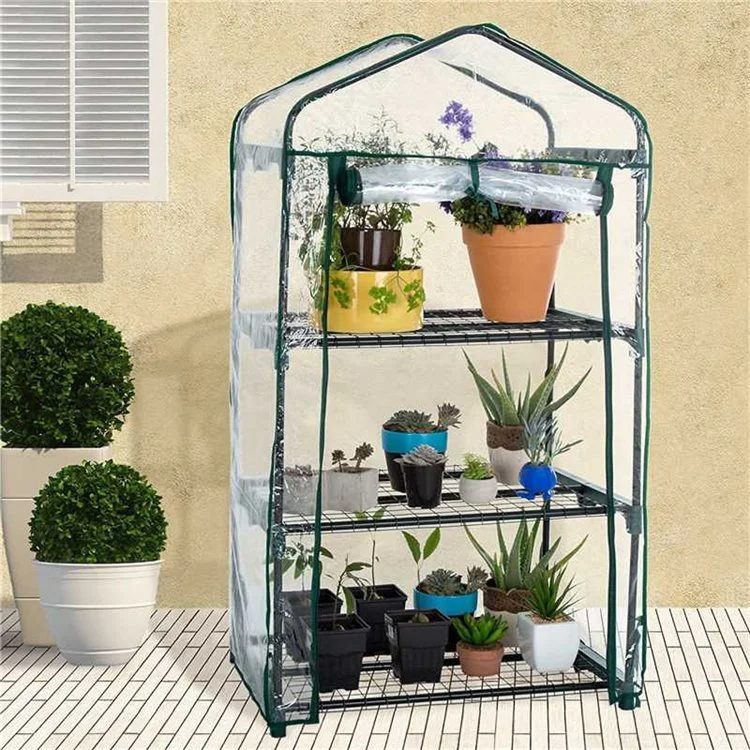 This small but mighty portable greenhouse is packed with big features! It's a great choice if you're looking for an affordable and durable unit that won't break the bank.
Made from high-quality UV-stabilised PVC fabric and comprises a 155 cm (H) x 50 cm (W) x 69 cm (D) footprint. You can take care of your seedlings and tender plants without compromising space.
The PVC cover that wraps the unit ensures plants receive enough light transmission. Also, keeping them shielded from the harsh elements, thanks to their robustness.
Each of the durable, painted steel frames has a loading capacity of 10kg. This allows you to position a good selection of trays and pots in either the 3-shelf or 4-shelf option. And if you need to find more room for a particularly tall plant, you can remove any of the shelves.
To use, simply unzip, roll up and tie the cover whenever you want to gain better access to your greens.
Design insights:
Weight: 7kg

4 strong wire shelves

Heavy-duty roll-up cover that can be unzipped and tied up when needed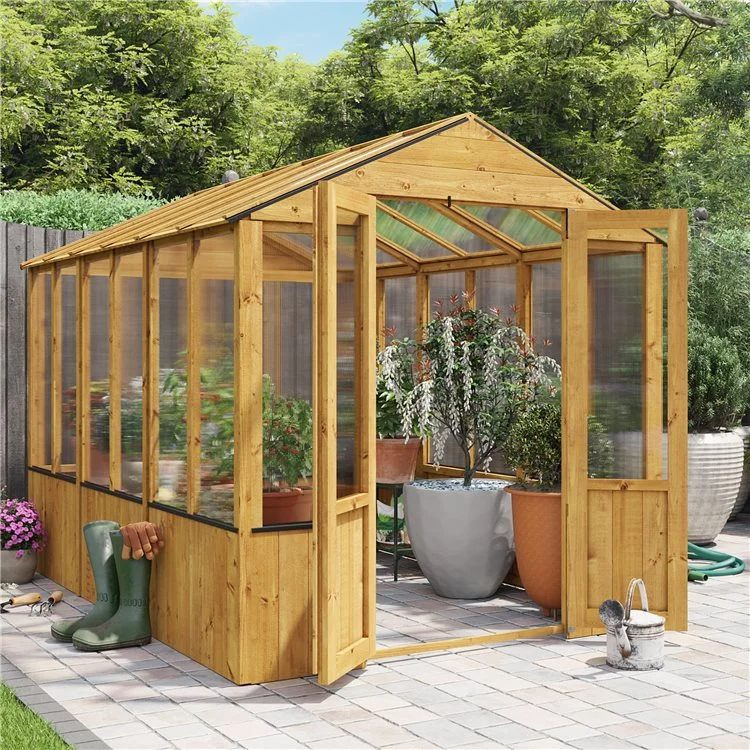 Polycarbonate greenhouses are made of strong plastic material featuring wooden frames. This makes them easier to install as well as move if necessary. For bigger plants and a larger area to work with, consider getting this BillyOh 4000 Lincoln!
The sturdy 11mm T&G cladding is utilised in the sturdy panels of this wooden design. It provides excellent protection against extreme weather conditions while still maintaining adequate airflow.
The setup comes with generous headroom, creating a walkway for couch-free gardening. It's also fitted with small but integral gutters for keeping rainwater at bay from the entrance.
The strong timber frame will come with a golden brown spray treatment. But optional pressure treatment is available for an added level of protection. This greenhouse range comes with a version designed with roof vents and clear walls.
Built to last for years to come, investing in this unit is worthwhile!
Design insights:
Polycarbonate twin-glazing windows

Wide-opening double doors for easy access

Windowed roof for all-round

light transmission

Base coat treated for transit and weather protection

Sizes available: 3×6, 6×6, 9×6, 12×6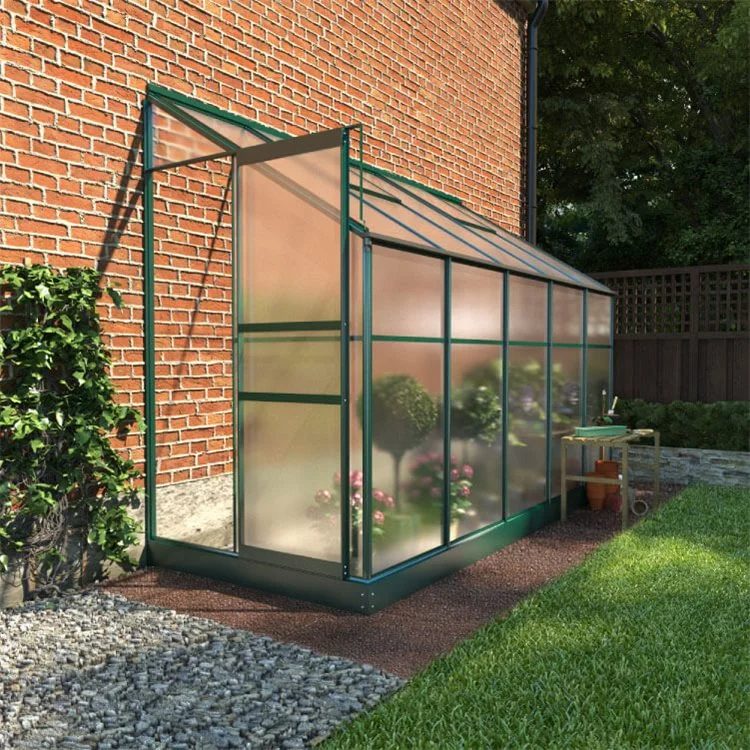 If you have limited outdoor space, then this lean-to greenhouse may turn out to be your ideal solution! It packs all essential features, e.g. gutters for drainage and vents for air circulation. What's more, a horticultural glass and aluminium frame – all packed in a compact 4×6 and 4×8 frame. This ensures the structure is sturdy enough to house any delicate variety of plants.
The unique lean-to design fits effectively anywhere. Despite its compact size, it features an extra head height. It comes in at a nicely-sized 4×6 feet, giving you enough space inside for your plants. But it still stands just over a comfortable 7ft tall, providing enough headroom.
There's also an in-built adjustable roof vent for proper ventilation. Lastly, the sliding polycarbonate door is a fantastic space-saver. It gives you easy walk-in and walk-out access to your plants and potting benches.
Design insights:
Galvanised steel base

Polycarbonate glazing

Low maintenance, rust-free aluminium framing

Finished in green to blend nicely into your garden

44mm hollow twin polycarbonate panels are virtually unbreakable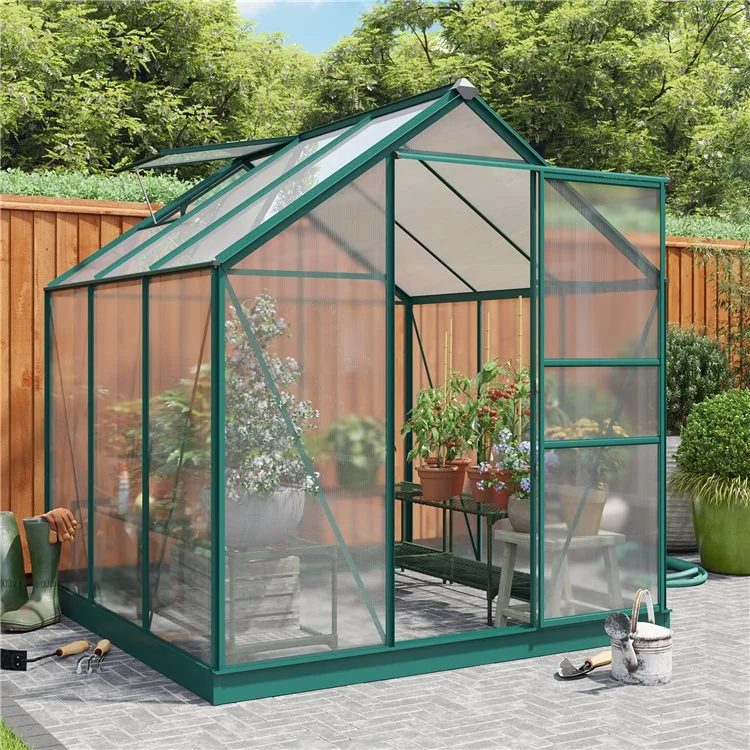 If you want to get more serious and have versatility in your growing setup, you can never go wrong with the Rosette! The beginner-friendly unit is built with rust-proof aluminium frames and toughened glass. This makes the structure stronger and more reliable even in extreme weather conditions.
The panoramic windows are one of the key features. They enable light to reach the interior throughout the day to get the most out of the sun for the plants.
The aluminium framing and galvanised steel base provide years of trouble-free use. This unit also includes metal guttering, giving you effective water drainage. The roof overhang of the guttering is also small and easy to reach, so you won't go through any pain when cleaning.
With insulation and weather protection, you can grow just about anything you like. Whether that's tropical plants or seasonal cheerful flowers!
Simple and easy to install, with 4 sizes currently available on our website. These options ensure all needs can be met no matter what size plot or land boundary shape.
Design insights:
2 opening roof vents

Easy access sliding door

Rust-free aluminium framing

Built-in guttering for drainage

Galvanised steel base included

Solid twin-wall polycarbonate glazing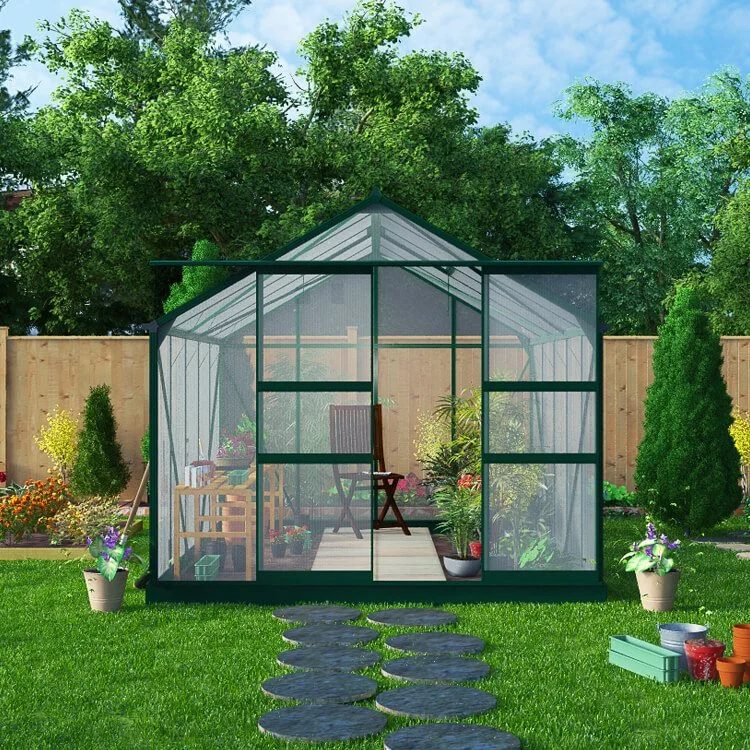 Want that extra bit of performance for strength and durability? The Harvester would make an impressive addition to your garden!
Featuring 100% galvanised steel components, it surely will last for many seasons. The tough aluminium framing gives a strong overall structure. Even better, a galvanised steel base is included as standard to give a strong base to the building.
What makes it exceptional is that the framework includes polycarbonate wall panels. Plus, glazed roof sections guarantee optimal regulation of temperatures. The opening roof vents give great air circulation throughout the year, to add.
The Harvester comes at a nicely-sized 8×12 feet, designed to fit perfectly in your garden. Its sensible sizing is short enough to avoid any planning permission regulations.
Design insights:
Shatterproof glazing

Panoramic windows

Central sliding double doors

Solid twin-wall polycarbonate

Crouch-free design for ultimate space
Exclusive Features & Offers from Garden Buildings Direct!
Get your money's worth with Garden Buildings Direct's greenhouses. Here, we take pride in our quality greenhouse units, most with T&G panels finish. A pressure treatment option is also available for our wooden range for longevity.
Investing in your dream greenhouse from us also means:
Quick installation
All our products are designed for quick and easy installation once they arrive at your house. If you have any issues, contact our super customer support team. Either visit our website homepage and contact us there or give us a call at 01909 768840.
Free delivery
All our garden buildings are available to be delivered free to most of the mainland in the UK. During the order process, you will be prompted to put in your delivery address. After we let you know if it's a valid postcode for free delivery, it'll be on your way and there before you know it! The products are also available to be purchased on Finance.
Finance
We offer a pay by Finance option on any purchase over the value of £560. Our simple finance options allow you to spread the cost of your purchase over 24, 36 or 48 months. Read more about our Pay by Finance option here.
Round-up
Sure, you may still nurture plants without owning a traditional greenhouse. But there's no guarantee you can keep up all season. So take this as a sign to invest in one of the best greenhouses on offer from Garden Buildings Direct!
Our range has something just right for you. Here, we offer an excellent range of greenhouses to suit a variety of growing needs and budgets. Each is perfect for cultivating veggies, attractive flowers and medicinal herbs.
FAQs