Garden greenhouses used to be a "glass-only" kind of structure. Today, there are many options available for materials, including polycarbonate. This type of plastic is the turning point of a cost-effective gardening solution.
The shatter-resistant and excellent heat retention designs are the highlights of polycarbonate greenhouses. These make them a popular choice for many growing enthusiasts, and you may benefit from them, too.
If you're in the market for a new greenhouse kit, this guide ensures to help you make an informed decision. It focuses on the best polycarbonate greenhouses, as well as the important factors.
The Properties of Polycarbonate
Polycarbonate (PC) is a thermoplastic material well-favoured for its unique properties. It's highly resistant to impact and can withstand harsh weather conditions, e.g. strong winds. But the high point is its excellent thermal insulation, which regulates greenhouse temperature.
What's more, polycarbonate is lightweight, durable, and supplies UV protection. It can last for many years without yellowing or becoming brittle.
And have we mentioned the 100% shatter-resistant polycarbonate sheets? These are win-win if you have children or pets running around the garden. In case of repair, you won't need to hire a professional, saving you time and money.
Take advantage of these fantastic benefits with our wide variety of polycarbonate greenhouses. Check our incredible offers below, available in:
full polycarbonate panel with an aluminium frame

wood frame featuring polycarbonate panels
The lean-to greenhouse frame is a two-fold increase in versatility than the standard. It fits easily against a wall, making it the perfect solution for your small garden storage needs.
Design insights: This unit takes pride in its weatherproof nature. The simple and efficient layout provides a water-safe store for your garden tools. Made with aluminium frames and brackets with a galvanised steel base. Plus, the shatterproof glazing ensures a heavy duty design for the wall panels.
The twinwall polycarbonate sheet diffuses natural light and spreads it around the interior. This protects your plants from excessive heat, thanks to the UV-protected material.
Another feature is the opening roof vent that encourages optimum airflow. It comes with a water gutter for an efficient drainage system, as well. Finally, the sliding door prevents it from slamming closed amid strong winds. This limits potential damage to the green house.
Sizes available: 4×6, 4×8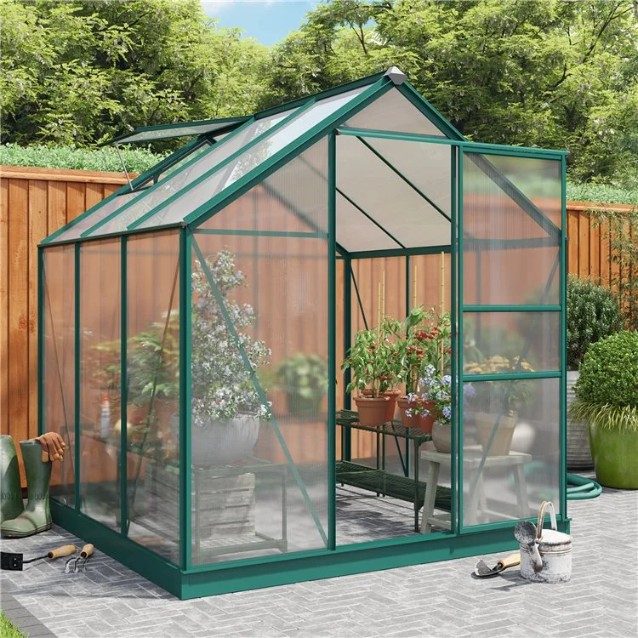 As with all our model ranges, this hobby greenhouse is robust, reliable, and effective. It provides the ideal condition and protection for plants, all while being space-efficient. An aesthetic, compact unit at an affordable price!
Design insights: The Rosette comes with features that make it more growing-efficient. Starting with the tough aluminium framing, with a coat of traditional green paint. Paired with a super-strong galvanized steel base, the unit gives you real value for money!
The extra head height makes up for its crouch-free design. With this extra space, you won't have to bend over when coming in or out of your hobby greenhouse.
The two vents simply need to be propped open to provide easy airflow and air circulation. The sliding doors are a space-saver, too, giving you easy walk-in and walk-out access.
Instead of traditional glass panels, this unit uses double-layered polycarbonate glazing. And the panoramic roof windows are a bonus, ensuring your plants get all that sunlight.
Sizes available: 6×4, 6×6, 6×8, 6×10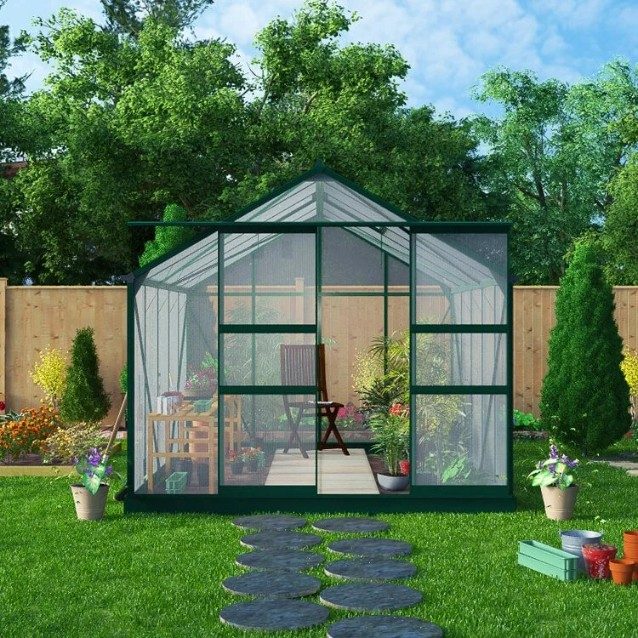 Another worthwhile hobby greenhouse to invest in is the BillyOh Harvester. It's an upgraded version of the Rosette in terms of size and features. But what makes it special is the walk-in design.
Design insights: The walk-in design equates to a large interior space. This means Harvester provides more room for gardening activities.
The UV-resistant panels ensure your plants receive proper sunlight. At the same time, it protects the greens from harmful rays. Aluminium and polycarbonate-made, you get the best of both worlds in a single unit!
This greenhouse kit has been designed to fit perfectly in any garden, available in 8×12. It stands at 7ft, offering lots of headroom while being short to skip planning permission. Overall, this should give you ample room for the plants and for you to walk around.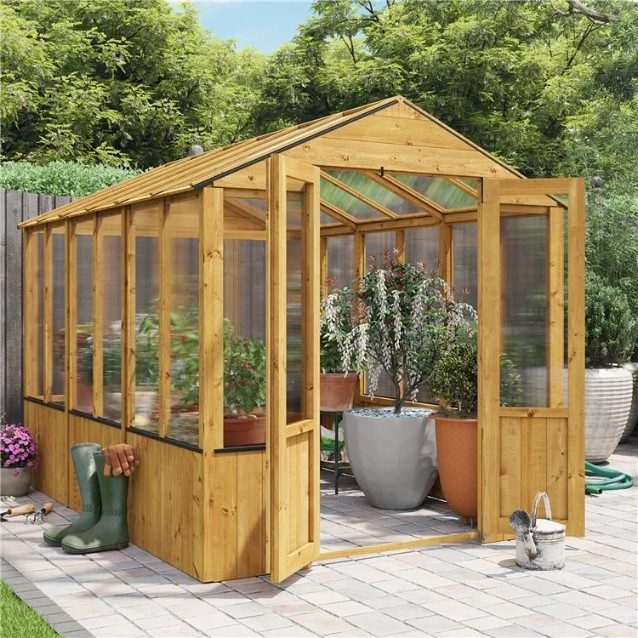 A wooden polycarbonate greenhouse is a structure made of wood and PC panels. The timber frame caters to stability and durability. While the polycarbonate panels let sunlight in, providing a natural heat source. The BillyOh 4000 Lincoln makes an outstanding model example.
Design insights: The strong timber frame comes with a golden brown spray treatment. Optional pressure treatment is also available for maximum protection and an increased 15-year guarantee.
Galvanised steel ironmongery is used in all the fittings. Twinwall polycarbonate panels are featured throughout the walls and windowed roof, to add.
The Apex roof gives you a tall design with great head height, complemented by double doors. Small yet integral gutters also help keep rainwater at bay.
Sizes available: 3×6, 6×6, 9×6, 12×6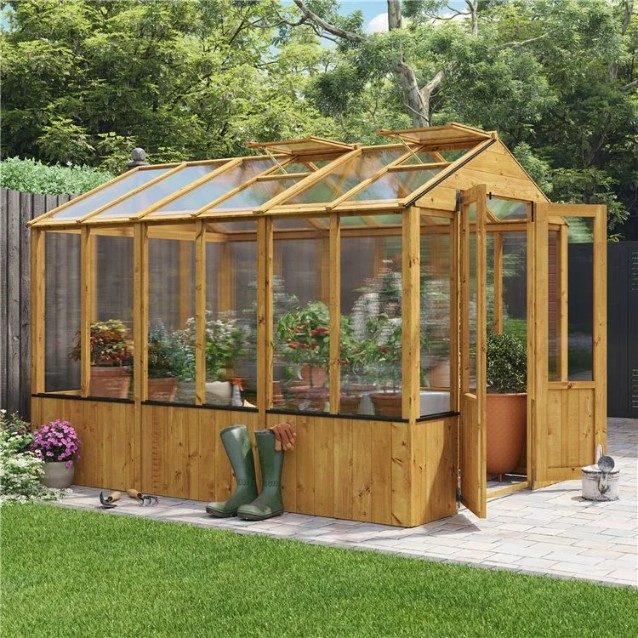 A unit that combines natural wood with the modern technology of polycarbonate material. It's the 'improved' model of the first Lincoln unit, featuring the addition of a roof vent. Its unique blend of classic and modern features is what makes it invaluable!
Design insights: The vents allow for proper ventilation, an essential for plant growth. Keep them open as needed, and they'll prevent humidity and mould build-ups. Moreover, the opening windows allow for better ventilation control and air circulation.
The wooden frame also provides insulation. This helps regulate the temperature, creating an ideal environment for plants to thrive. All these while still allowing ample sunlight to enter the hobby greenhouse.
With a ridge height of 6ft4 and eaves height of 5ft, the Lincoln offers generous height. You can even add shelving as an optional extra to make the most of your usable space. And with in-built guttering and roof overhangs, it offers excellent runoff.
Sizes available: 3×6, 6×6, 9×6, 12×6
Round-up
Here at Garden Buildings Direct, we invest time and manpower so our products are the very best they can be. Maintaining reasonable prices, you can invest in an excellent unit for a little. Thus, we're confident that our polycarbonate greenhouses are absolutely worth checking out!